SHELTER
Creating a New Model for RENEWABLE POWER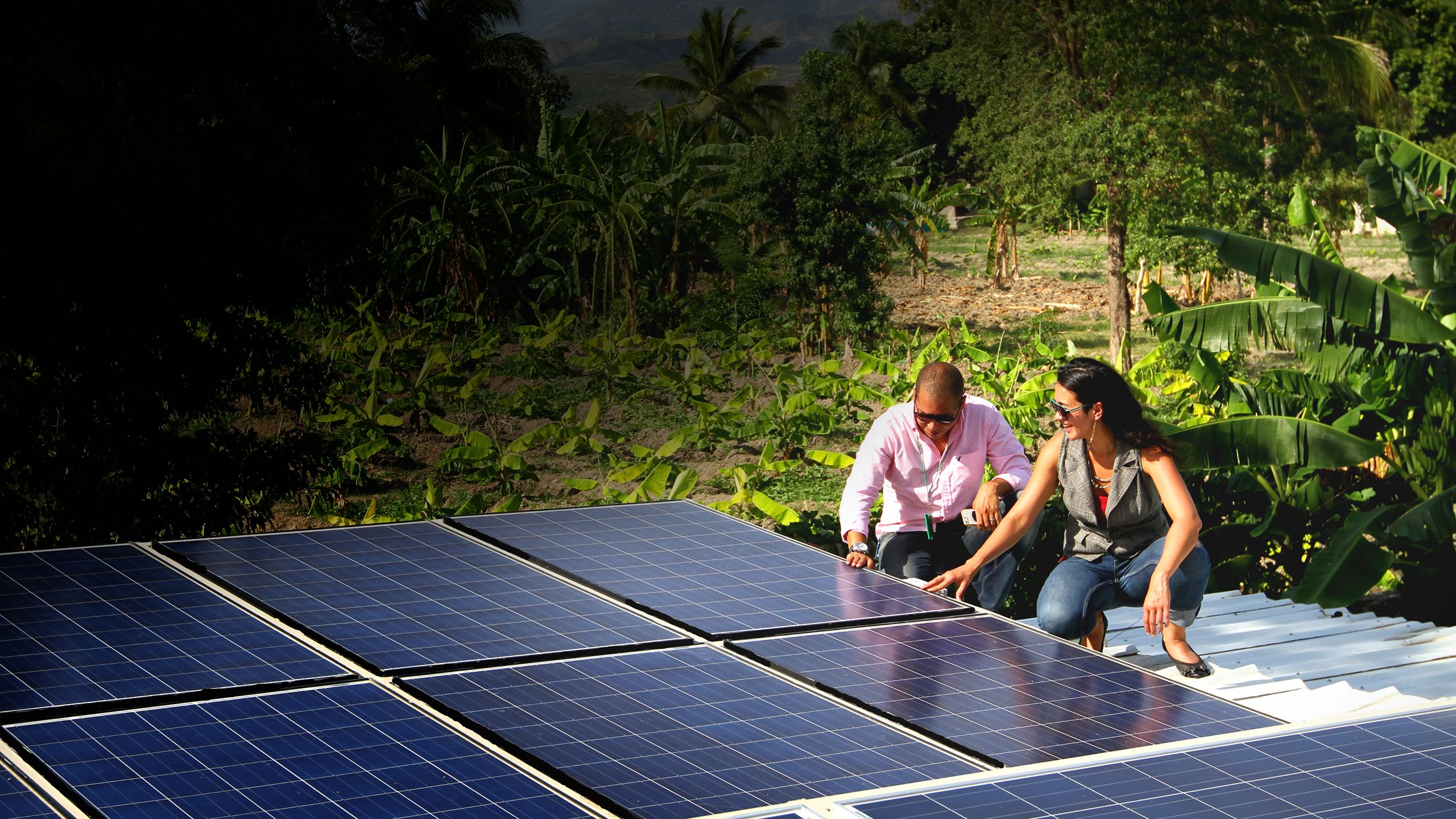 Alumna Sandra Kwak is on a mission to help Haiti
— and the rest of the world —
by using the power of solar to solve widespread energy and environmental challenges.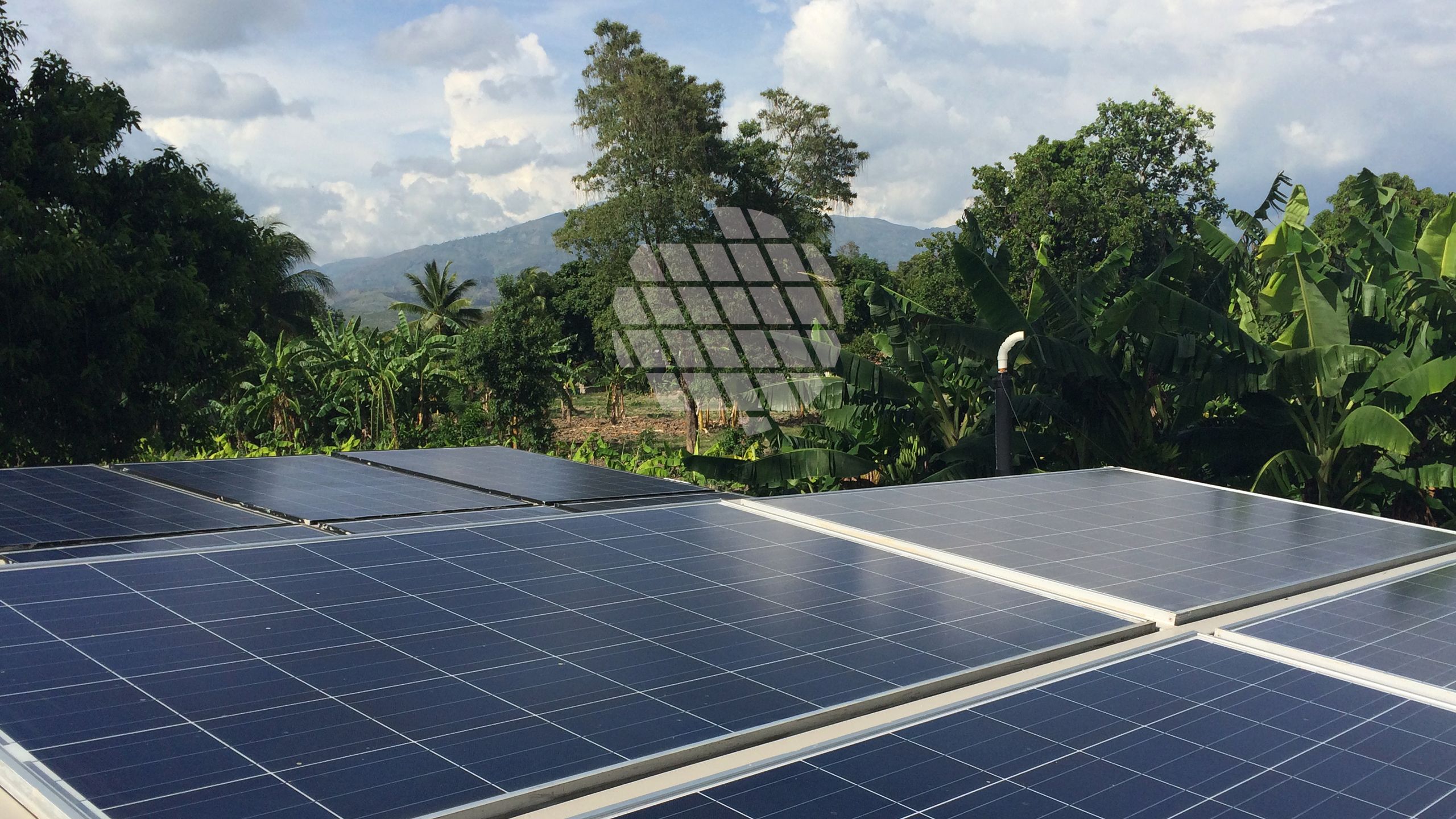 Noted inventor and futurist Buckminster Fuller once wrote: "You never change things by fighting the existing reality. To change something, build a new model that makes the existing model obsolete."
Emory alumna Sandra Kwak 04C has used these words as something of a mantra in her mission to provide renewable energy to the close to one billion people across the globe who don't have electricity. She founded social impact company 10Power in 2015 to create a new model for human development that provides clean energy and water, regenerates the natural environment, builds local economic opportunity, and empowers women of all ages. 
"In many ways, my journey through Emory helped seed some of the inspiration driving me and my work with 10Power today," Kwak says. "I was a rebellious kid, and when I came to Emory, I quickly found my group of renegades on campus and spoke out against global injustices. The university helped make me unafraid to speak truth to power. Over time I recognized that I can't swim against the stream and change the system — that in order to drive the massive changes that the climate crisis demands, I needed to make a change from within. And that's what I hope we achieve with 10Power."
Today, San Francisco-based 10Power finances, engineers, and installs commercial-scale solar energy projects in Haiti that customers can pay back over time. Kwak and her team see renewable energy as the gateway to improve lives and build sustainable communities.  
An early deep-data dive zeroed in on Haiti as 10Power's initial focus market. Kwak mapped all countries in the world on three axes respectively charting the cost of electricity, percentage of the population with electricity, and cell phone penetration. Haiti — the seventh-poorest country in world, where 70 percent of the population lacks access to electricity — clearly stood out. 
"Haiti's economic and political structure is currently collapsing due to dependence on imported fossil fuels," Kwak says. "Haiti is a precursor for what could happen to our global economy if we don't invest in climate solutions and start addressing the rich-poor divide now."
A 10Power team in Port Au Prince sub-contracts with Haitian solar installers to support local economies and employ a workforce directly from the communities being served. The firm has installed solar and energy storage capacity at the UNICEF Haiti headquarters — the largest clean energy project on any UNICEF base in the world — as well as solar panels on two water purification facilities that provide clean drinking water to rural communities and schools. These energy projects support more than six hundred micro enterprises, most of which are operated by women. 
Most recently, the company partnered with Tesla's Give Power Foundation to build a solar-powered water desalination system that will provide clean drinking water to forty thousand people on La Gonave, an island off the coast of Haiti.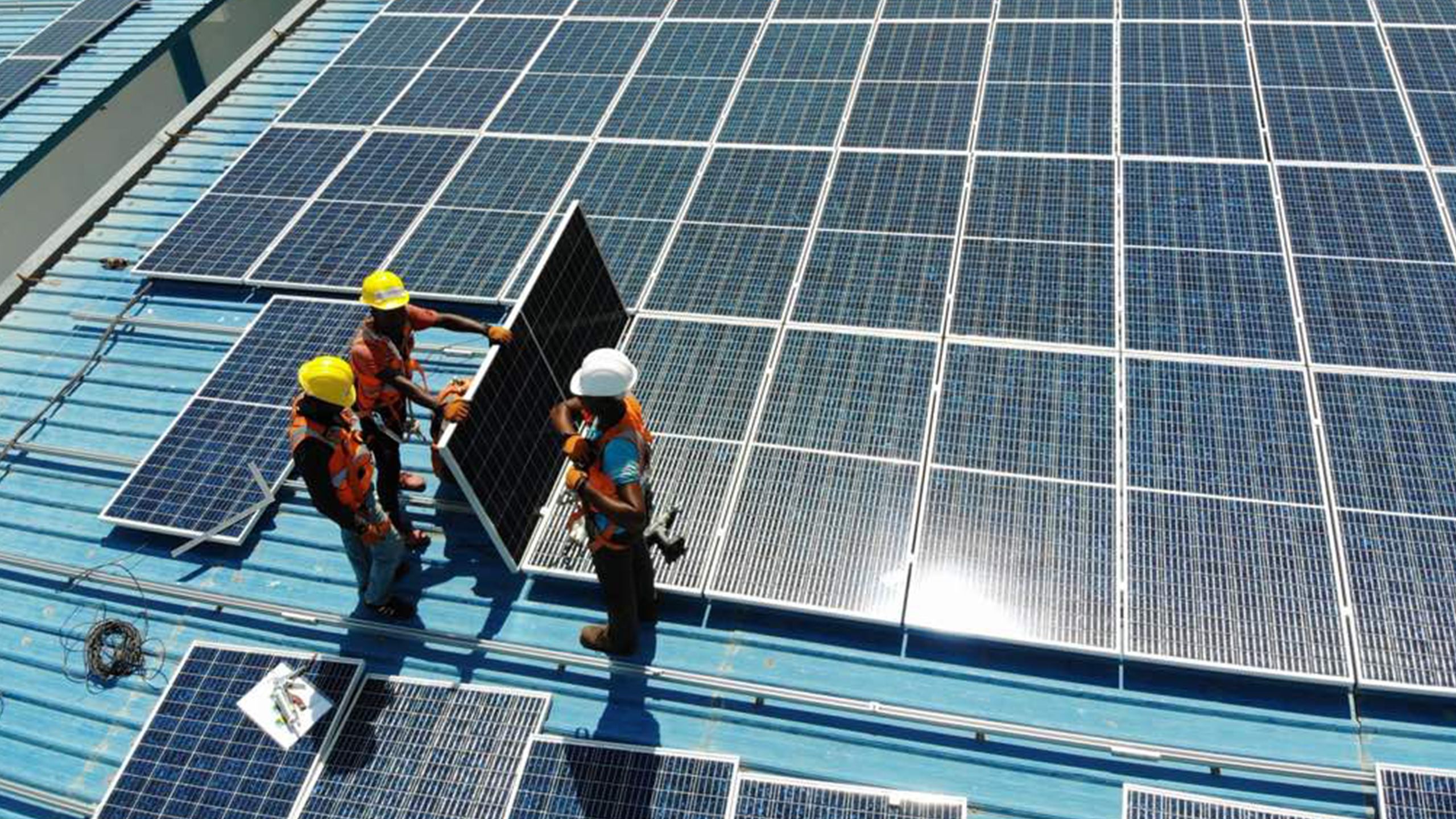 'We Can Scale Sustainability Exponentially'
The 10Power name was inspired by the "each one, teach one" moniker. "I remember hearing it and thinking, 'Why not each one, teach ten?'" says Kwak, who serves as the company's CEO. "If each of us could inspire ten people in a way that's so impactful that they, in turn, are moved to inspire ten more people, then we can scale solutions from the ground up. We don't need to wait for institutions to make decisions. We can take power into our own hands and start to shift our system. We can scale sustainability exponentially."
Achieving B Corporation certification was part of the 10Power plan from day one, Kwak says. B Corps meet rigorous standards of social and environmental performance, transparency, and accountability to use the power of business as a force for good.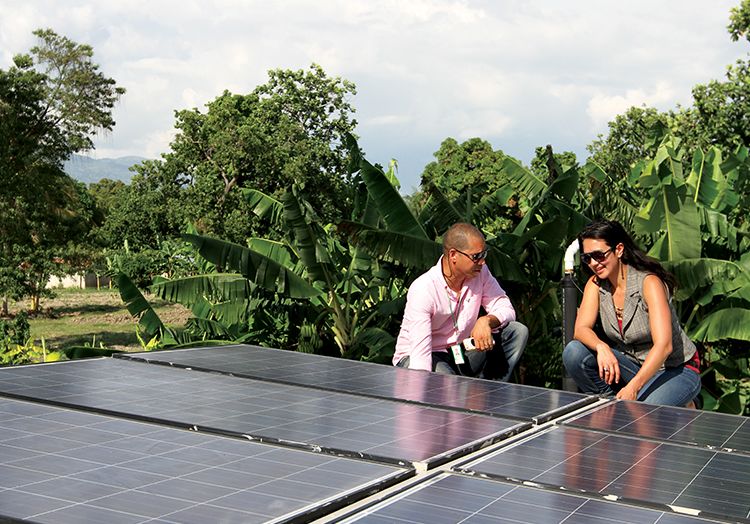 10Power Founder/CEO, Sandra Kwak with Haitian solar partner Fred Brisson at an installation.
"The B Corp framework accurately represents what I stand for as an entrepreneur," Kwak says. "The common thread for me, and for all of my teammates, has been leading with heart. As with all B Corps, our fiduciary responsibilities come secondary to our social and environmental mission."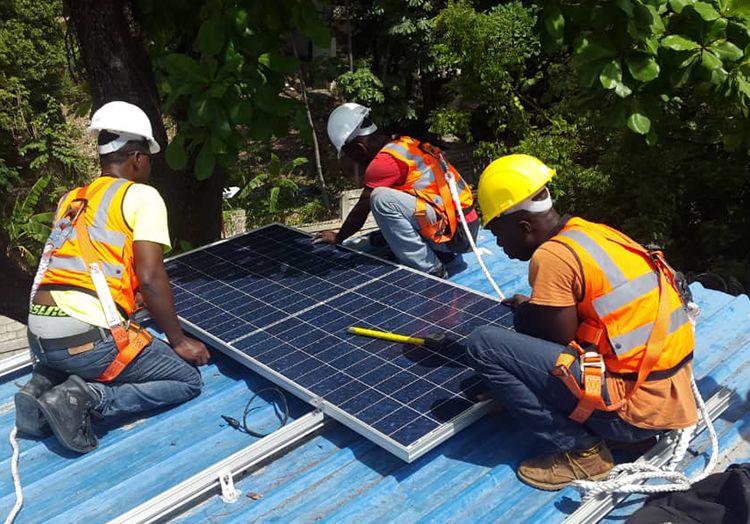 A 10Power crew of Haitian solar installers working on a solar project for UNICEF Haiti Headquarters. 
10Power was named a 2019 Best in the World Environment B Corp, and at the COP25 climate conference in Madrid, it announced — along with five hundred other B Corps — a commitment to net zero emissions by 2030. 10Power measures its progress in accordance with the United Nations Sustainable Development Goals, specifically: 
• No poverty
• Gender empowerment
• Affordable, clean energy for all 
• Climate action now
These goals provide a helpful framework for 10Power to both map its impact and guide conversations with investors and NGOs, Kwak says.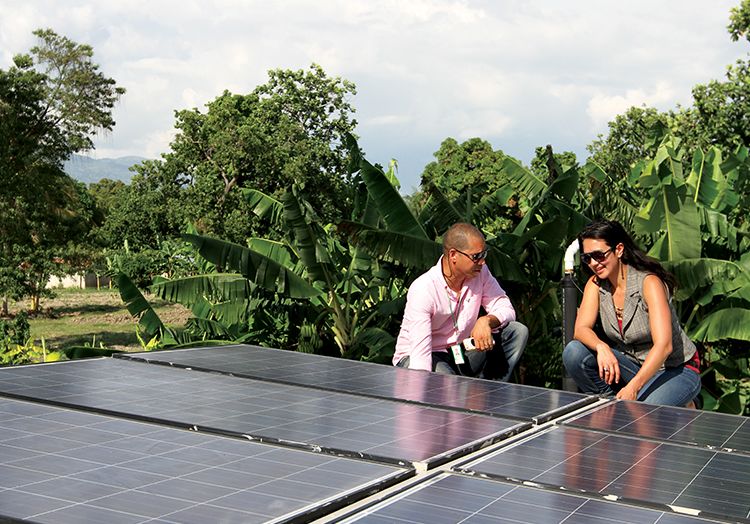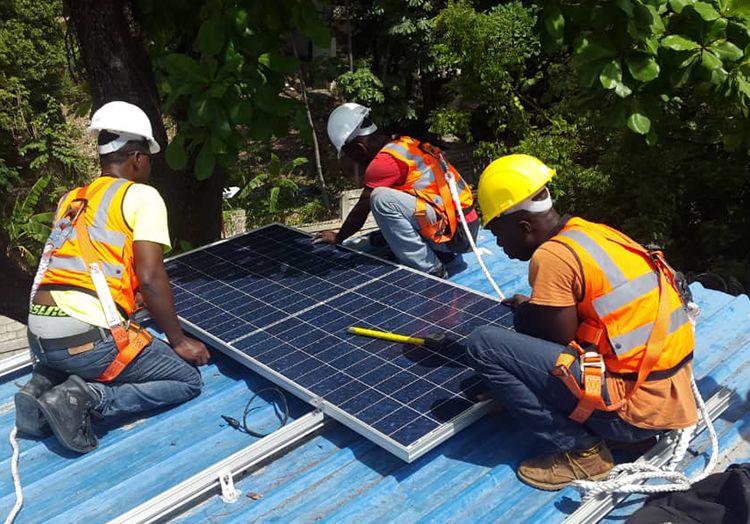 From Big-Picture Idea to Social Enterprise
Kwak's professional path to 10Power was assisted, in part, by the 2008 recession. Not long after finishing her joint bachelor's degrees in political science and visual art through Emory College of Arts and Sciences, she went on to complete a sustainable MBA from Presidio Graduate School at a time of domestic economic collapse. President Barack Obama's recovery package outlined measures to modernize the country's energy infrastructure, including the installation of smart meters. 
"Before, utilities would have maybe one meter reading per month, but suddenly they were awash with real-time energy usage data," Kwak says. "That propelled me into working with big data for the smart grid." 
As director of marketing and ecosystems partnerships for AutoGrid Systems, she helped grow and scale the company — which uses energy data to help utilities balance supply and demand by providing customers with rebates, pricing plans, and energy-saving apps — into a global brand. The move was a logical segue from her prior role as cofounder of Poweroza, a pioneering smart building start-up focused on the commercial sector.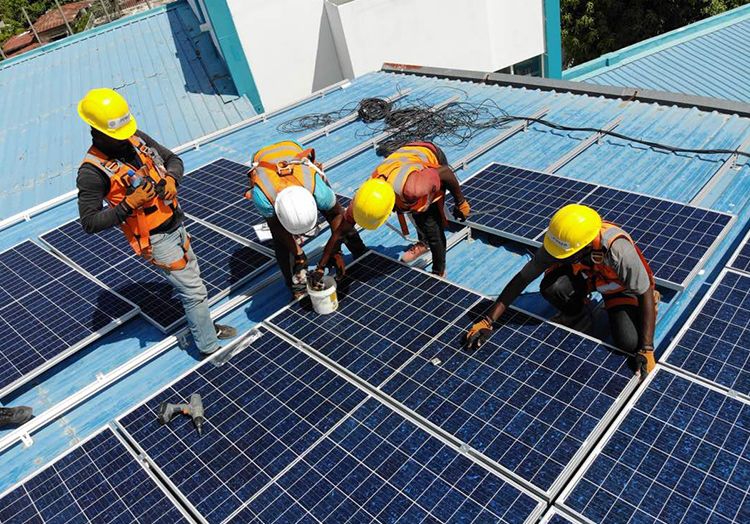 The UNICEF Haiti Headquarters boasts the largest solar and energy storage of any UNICEF base in the world.  
While Kwak's work at AutoGrid fulfilled her passion for the environment and technology, something was missing. A lifelong organizer and activist, she felt pulled to address social injustices plaguing the world. 
"Saving a ton of electricity feels really good," Kwak says. "But you know what feels even better? Helping the environment while helping people. I knew I wanted to identify a large-scale challenge and use my skill set to make a big impact." 
While manifesting her next step, she reflected on the most rewarding experiences of her life. In grad school, she developed a micro finance model to help organic farmer cooperatives in Nicaragua secure solar-powered irrigation systems.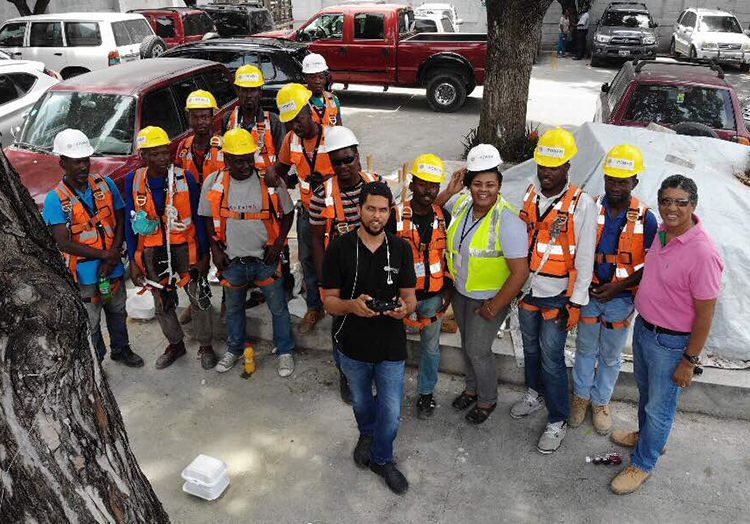 10Power builds capacity in Haiti with every solar installation. 
"That project sparked a big-picture idea to start a clean-energy-for-clean-water enterprise that promotes regenerative development, gender empowerment, and access to technology," she says. "I wanted to create prosperity without compromising our natural systems' ability to support life." 
This mindset meshed with emerging movements like Extinction Rebellion and the Green New Deal. "People were beginning to talk about how we can create a more socially just and equitable world while simultaneously reversing climate change," Kwak says.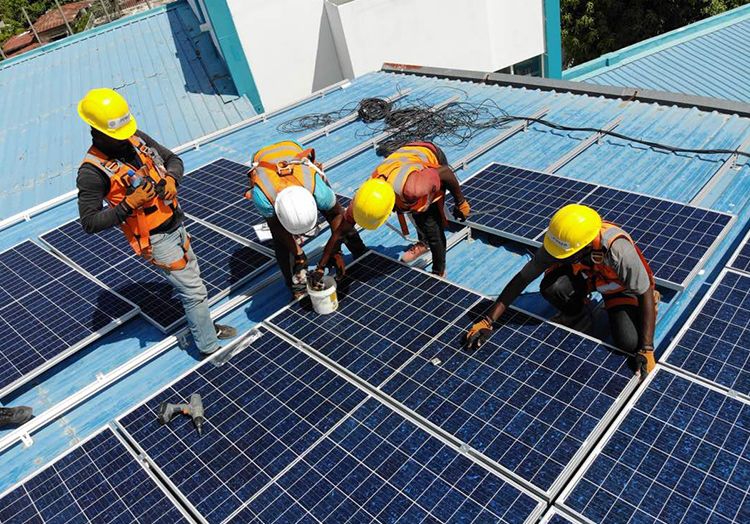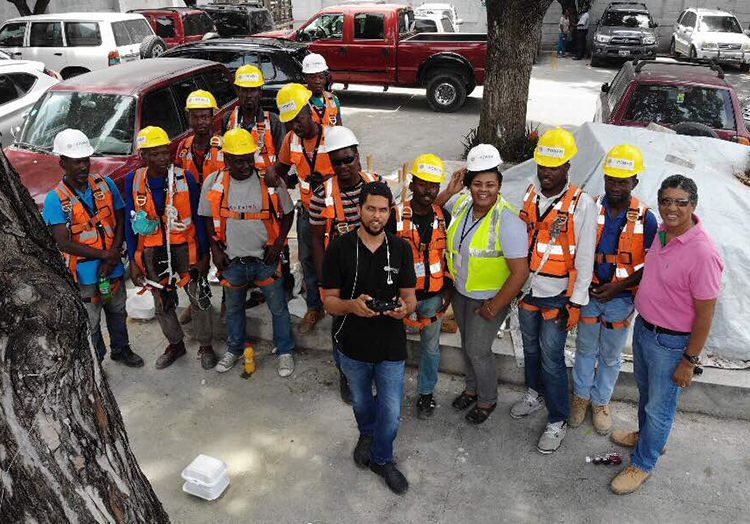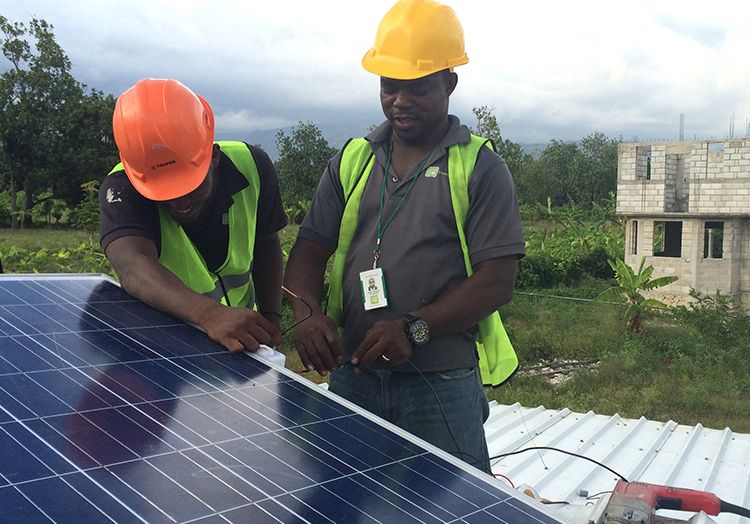 Making the Case for Investing in Sustainability
In fact, 10Power just launched a Renewable Energy Access Donor Advised Fund (DAF) to raise philanthropic capital to underwrite solar loans in "risky" markets like Haiti.
DAFs have come under fire of late, with many seeing the funds as tax shelters for wealthy, would-be philanthropists. Less than 20 percent of the $100 billion currently invested in DAFs goes to charitable causes, Kwak says.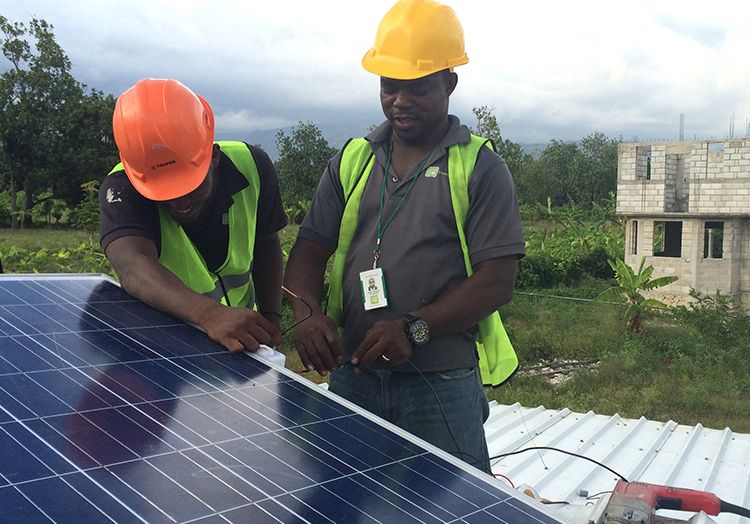 A Haitian team installs a solar project developed and financed by 10Power. 
"We're creating a case study that demonstrates how for-profit social impact enterprises can use DAFs to create pools of capital for businesses like ours to grow and ultimately help solve some of the world's biggest challenges," she explains. "From the donor's perspective, this is attractive because it puts the money to work. And opposed to a one-time grant that supports a single project, this money can be returned again and again to our fund. We're using it to underwrite more and more solar projects so it could potentially have an exponential impact." 
Kwak notes that while companies exploiting the earth are swimming in financing options, ironically, social enterprises like 10Power are largely shut out. "If you factor climate into investment risk, no extractive companies should be able to raise capital," she says. "Investors should be fighting over companies like ours, but the way capital markets are structured, it's just the opposite. Social and environmental impact companies are struggling to find appropriately matched capital sources. That's what I want to change."
---
By Jay Moye. Photography courtesty of 10power. Design by Elizabeth Hautau Karp