SERVING STUDENTS WHO SERVED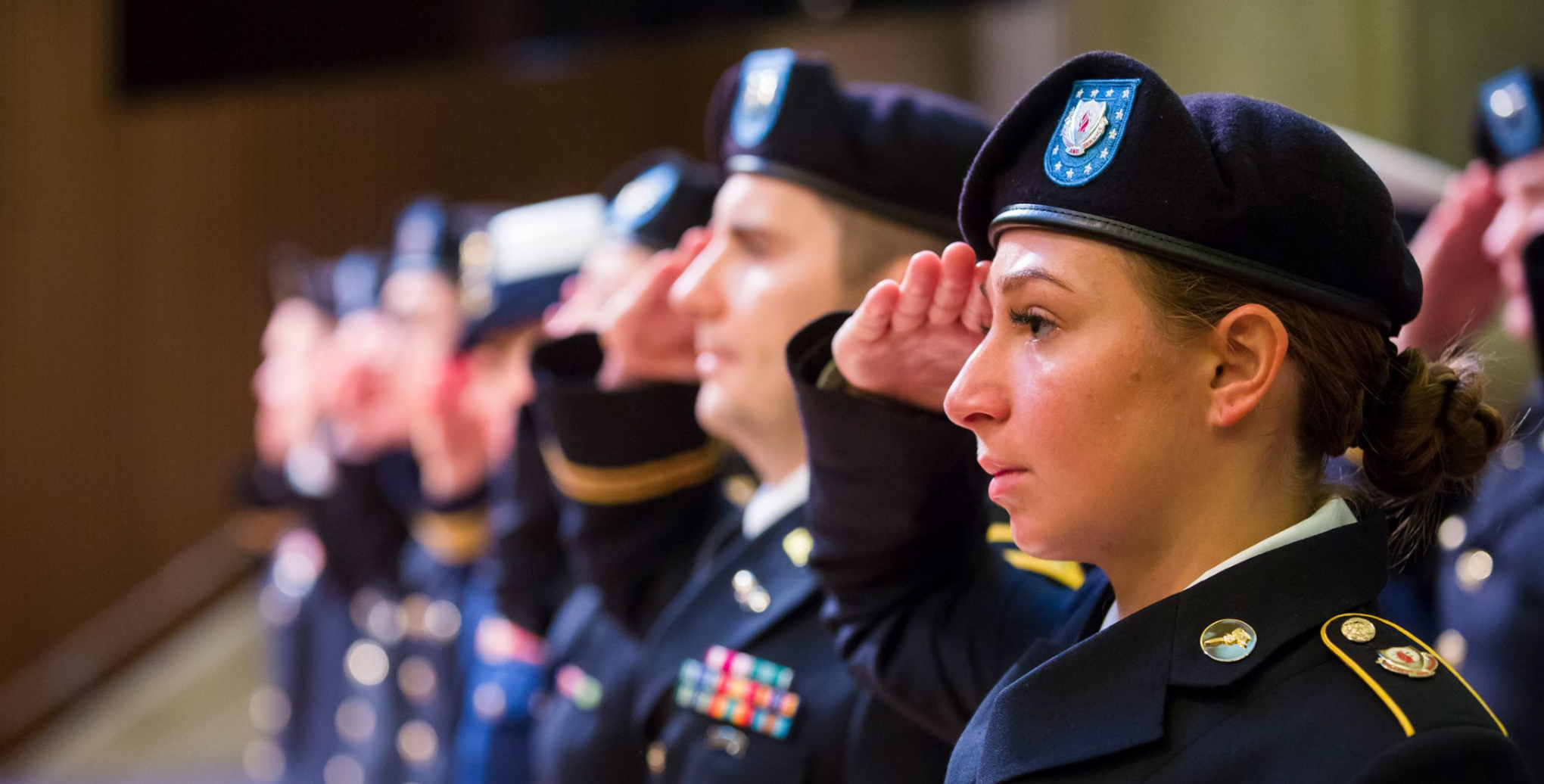 Building on extensive service to veterans through health care and legal aid, Emory increases outreach and support for veterans as undergraduate and graduate students.
Chris Weakley stands out from many of his fellow undergraduate students at Emory University.
At 33, the former U.S. Army explosives ordnance disposal (EOD) specialist has a perspective on what he is learning in the classroom that is built on 15 years of experience in the Army — including deployments to Iraq and Afghanistan and a stint with an EOD response team protecting the White House.
When injuries led Weakley to leave the military in 2016, he enrolled in college as a freshman.
"I spent a lot of time getting impatient and getting worked up in my first year of college. I was very hard on myself mentally. I put way too much strain on myself to be perfect," Weakley says. "I had to be better than everyone else. Then I realized it was so absurd to stress out about getting a B. It is a lot easier to be relaxed about simple things now. There are more serious things out there than having to be perfect on every test."
Recently, when he saw some younger classmates stressed about an accounting midterm, Weakley did his best to share the lessons he's learned outside the university.
"I told them that I treat the test like I would handle a roadside bomb — I do the things that are going to take me the longest first, then worry about the smaller stuff later," he explains.
It is important to him to serve in that mentorship role because he values the support he has gotten from other veterans at Emory and from the university.
Emory has long supported the health care needs of veterans — changing lives through initiatives such as the Emory Healthcare Veterans Program — and that commitment has expanded in recent years to encompass the academic goals of the nation's growing population of military veterans.
It is estimated that more than 5 million post-9/11 service veterans have transitioned from the military into civilian life to date, with about 200,000 veterans leaving the military each year. And while many will head directly into the workforce, others will seek university degrees under the GI Bill.
Emory is an ideal destination for those veterans, says retired Lt. Gen. Ken Keen, associate dean of leadership at Goizueta Business School. Keen came to Emory following a 38-year career in the U.S. Army. Shortly after arriving at Emory, he began working with Julie Barefoot, associate dean of engagement and partnerships at the business school, to improve veteran access and recruitment.
Beyond helping educate men and women who had served their country, veterans in the classroom "enrich the student experience for Emory at large," Keen says. "Emory prides itself on diversity; this is part of that diversity."
Weakley transferred to Emory in fall 2018 with the ultimate goal of working in the film and television industry.
"I applied to Emory because Atlanta has a huge film scene and Emory has an excellent reputation. I wanted to do a business-centric degree and luckily I can do both here," says Weakley, who is pursuing a finance degree. "The university has done a fantastic job of making me feel at home, and the MBA students who are veterans have gone out of their way to help me."
Keen emphasizes that veterans bring drive, discipline and a solid work ethic to their academic journey.
"They've already proven they can be successful; they just need to know how to translate those skills to be successful in an academic environment," he says. "We needed to help create an environment for them to succeed, and Emory is doing that in a very aggressive way."
Speaking at a New York Times-moderated discussion Emory hosted in March 2019 about obstacles veterans face in the civilian workplace, Emory President Claire E. Sterk described the university's multi-dimensional mission and "the value that veterans bring to our community."
"We offer programs and opportunities across the university to serve veterans — health care, legal support and much more," noted Sterk, whose husband, Emory research professor Kirk Elifson, served as a captain in combat intelligence for the U.S. Army during the Vietnam War. "We also have veterans who are employed at Emory. But it's realistic to recognize there is much more we can and should do."
To borrow a phrase, "if you build it, they will come," Sterk said. "Our veterans need to know that we are building it. We want them to come here, be it as a student, a professor, a staff member, or someone who contributes to Emory Healthcare — you need to know that door is open."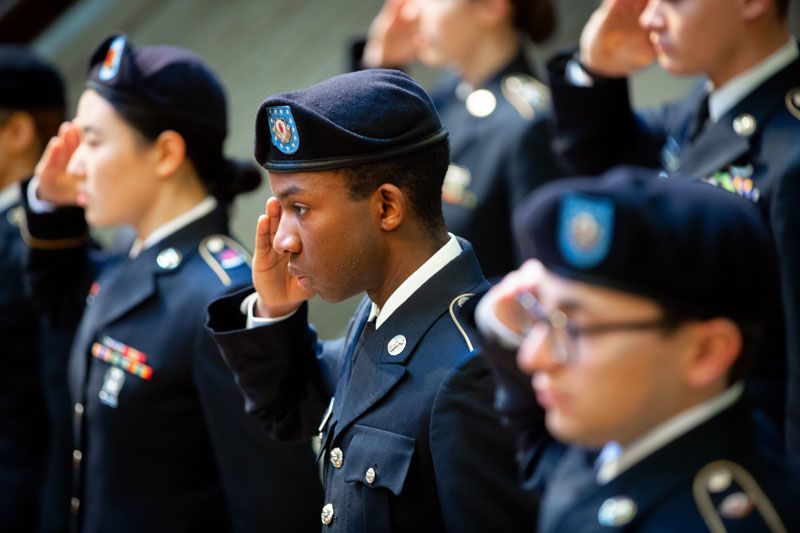 Emory Veterans Day Ceremony: The Emory community gathered Monday, Nov. 11, in Cannon Chapel for the 11th annual Emory Veterans Day commemoration, just one of the many ways Emory strives to support veterans on campus.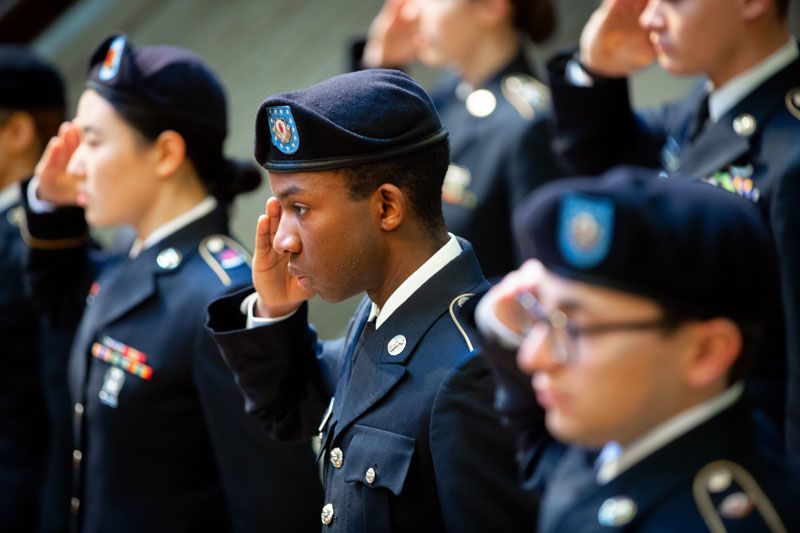 ---
Growing the ranks
---
Across the U.S., many of the nation's leading universities have awakened to the strengths that veterans bring to the classroom, Keen notes. And at Emory, he found strong administrative support for bolstering their ranks.
Today, Emory's student veteran community numbers just under 100, though not all veterans choose to disclose that status. Overwhelmingly, they tend to favor graduate studies.
Emory is dedicated to growing the number of veteran admissions in both graduate and undergraduate programs. Giles Eady, associate dean of undergraduate admission, has been charged with leading a focused effort to help grow Emory's undergraduate veteran population.
He works with Service2School and visits community college veterans groups to help identify veteran candidates for admission. Too often, he says, the competency is there, just not the confidence to pursue higher education at highly selective institutions. Eady makes a sincere effort to get to know prospective student veterans with a goal of helping them see how Emory can be a possibility for them.
"You might have a candidate who has attended a highly specialized military training school and has become highly proficient in a discipline, but may not have attended a traditional college," Eady says. "I inform them that the kind of studiousness those schools require makes me confident that they have the ability to be successful at Emory."
Eady also coordinates events such as the Emory Veterans Muster, a program hosted by the Office of Undergraduate Admission designed to encourage high-achieving veterans to join the Emory community. Attendees tour campus, attend classes, connect with campus services and meet current students — both veterans and non-veterans. Last year's event included a private dinner with Sterk and Elifson. The next event will be held in spring 2020.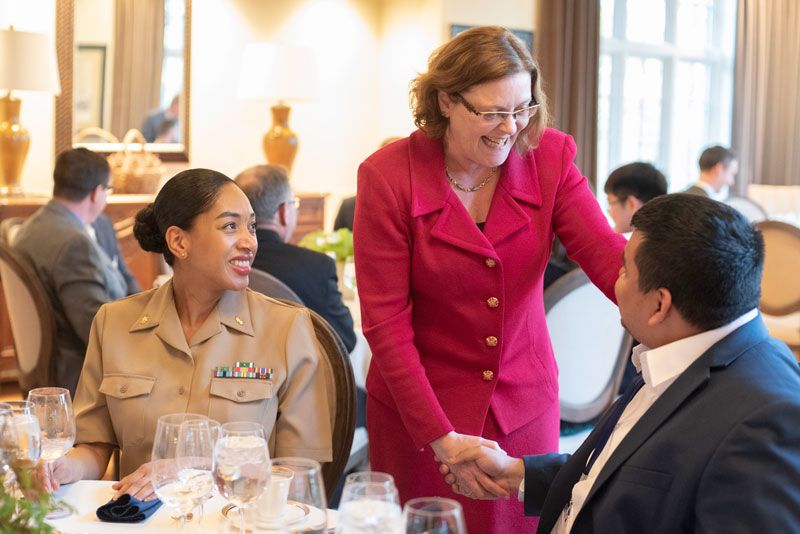 Once veterans enroll as students, the university wants to ensure they have the support and resources they need, says Bridget Riordan, assistant vice president of Campus Life, who is heading a new Emory Veterans Interest Committee evaluating ways Emory can enhance its environment for veterans.
"We have many faculty and staff throughout the university who are veterans themselves and who are very interested in helping. We are researching best practices at universities who have similar numbers to us and we want to fulfill any needs we find," she says.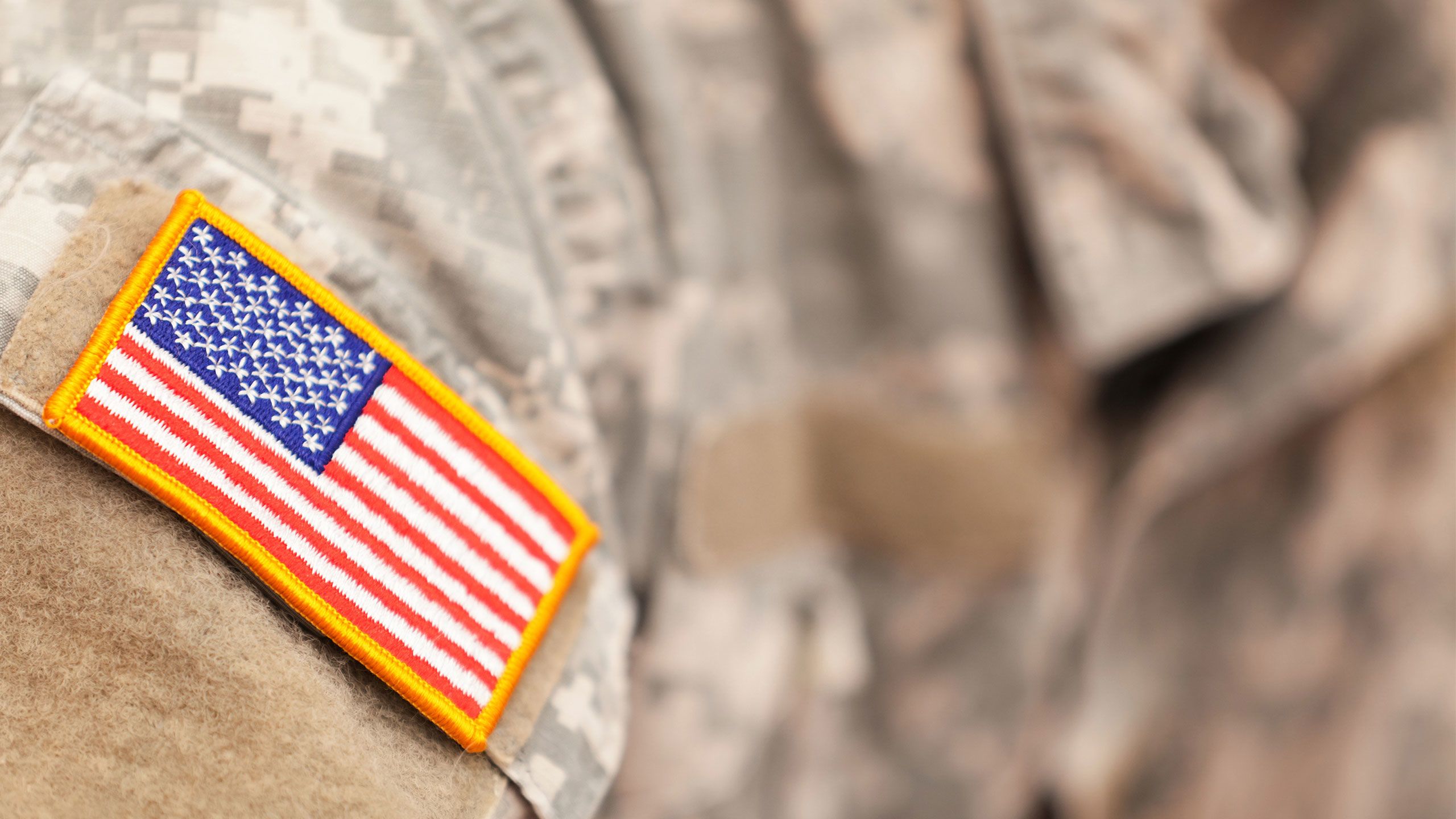 ---
Support for veterans on campus
---
Tyler Freeman, a dual MBA/juris master degree candidate at Goizueta and Emory Law, understands firsthand the cultural leap required to transition from service to school.
Growing up in Baton Rouge, Louisiana, he graduated high school intent on entering a four-year college. After a half-semester, he knew it wasn't the right fit, dropped out and joined the U.S. Marines, engaging in counter-terrorism work in Africa and Afghanistan.
More than five years and three deployments later, he emerged focused and determined. Aided by the GI Bill, Freeman began pursuing a bachelor's degree in business administration at the University of North Carolina while working at Ameriprise Financial Services.
Pondering post-graduate options, he applied to Emory with nine years of work experience.
"As a veteran, I knew I needed a community where veterans felt supported," he says. "And I knew I could find that in Emory and Atlanta."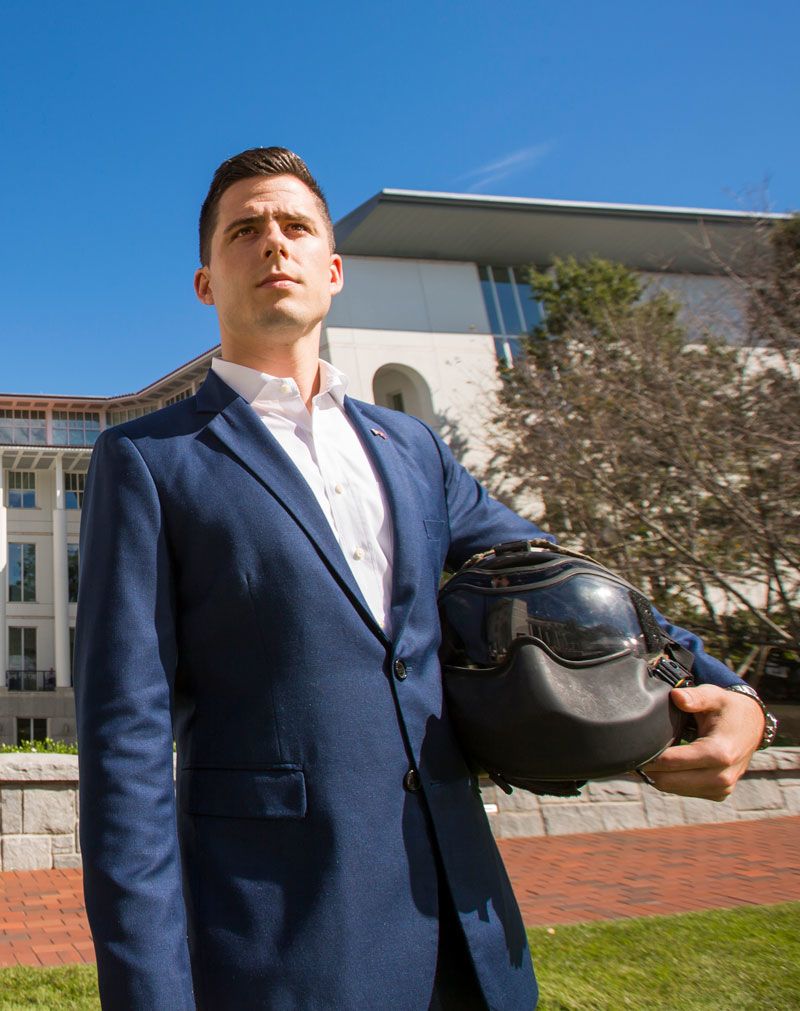 After serving in the Marines, Tyler Freeman is now a dual MBA/juris master degree candidate at Goizueta Business School and Emory Law.
Since arriving in 2018, Freeman has become president of the Emory Veterans Association, a student-run group focused on providing support and opportunity for student veterans at Emory. EVA strives to make Emory a top destination for student veterans, offering networking, support and developmental opportunities for veterans and their families.
For Freeman and students like him, Emory's commitment to providing veterans' education benefits through all of the university's undergraduate and graduate schools has been a game-changer.
Through the Yellow Ribbon Program, degree-granting institutions of higher learning in the U.S. voluntarily enter into an agreement with the Veterans Administration to fund tuition expenses that exceed the annual VA tuition and fees benefit. In 2017, Emory contributed more than $1.6 million in education support of veterans across the university's nine schools and colleges.
"Veterans are traditionally underrepresented at top universities. A lot of veterans think they can't get in, and then comes the cost factor. Whether they are public or private, top colleges and universities are often the most expensive in the state," Freeman says. "Emory does a great job of saying to our veterans who are here, 'Here's how we are going to help you afford it.'"
Undergraduate students planning military careers can also participate in Army or Air Force ROTC through a cross-enrollment agreement with Georgia Tech. Students complete their undergraduate degrees at Emory and military training at Tech.
In addition to robust admission advice and financial support, veterans also are seeking "the community feel that they had when they were in service," Freeman says. "These students need to find people who have something in common, someone who relates to them and who they can off-the-bat associate with, and that is the first part of developing that community."
"We want veterans to know, when they are looking at Emory, that they will be able to find the resources they need."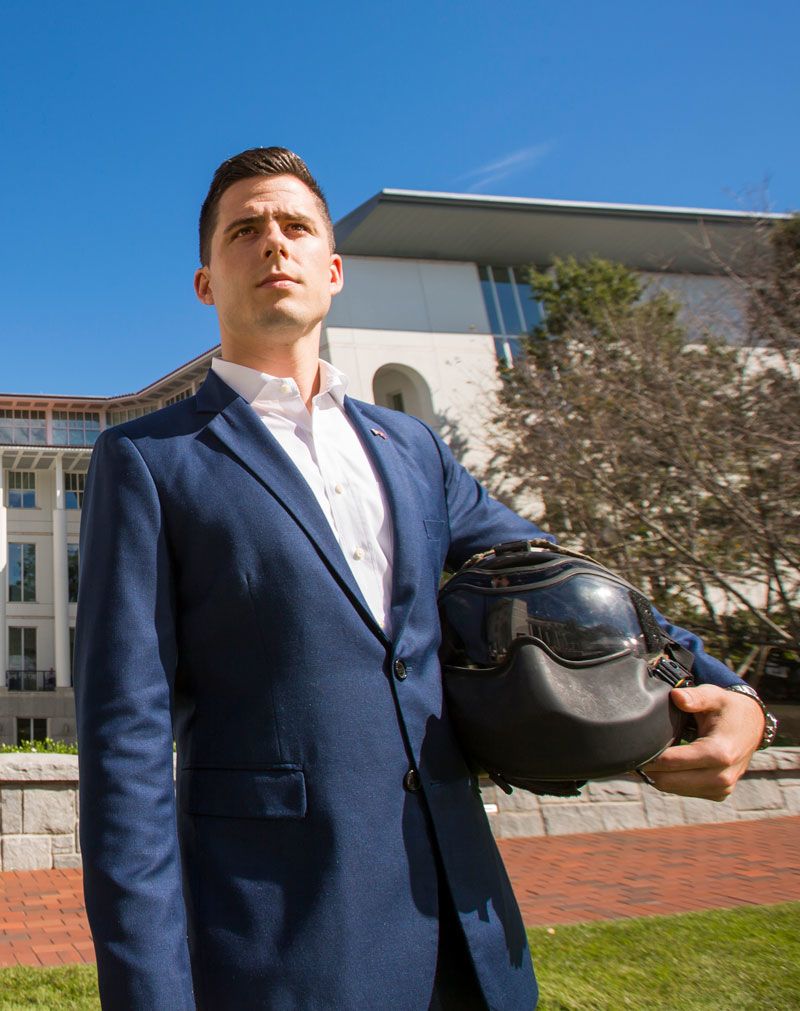 ---
Mentoring from faculty and fellow students
---
As a young man searching for purpose in South Texas, Raye Perez started college, but didn't find what he was looking for in the classroom.
"I grew up playing football, I'd picked cotton and worked on ranches throwing hay and working cattle during summers," Perez recalls. "I wanted to work with my hands and I didn't see how I was going to get anything that I was looking for out of higher education."
At 22, he decided to follow the example of his father, a U.S. Army combat veteran who served two tours in Vietnam. Perez signed up with the U.S. Army and was stationed at Fort Benning, Georgia, where he finished basic training and was selected for the elite 75th Ranger regiment. He was assigned to the 3rd Ranger battalion, and has served for 13 years, including 12 combat deployments to Afghanistan and Iraq.
Along the course of his service, Perez began to realize the value that higher education could have. Between deployments, he earned his degree in organizational management in 2013 through an online program with Ashford University. He says his degree has helped him advance in his military career.
Perez was selected as the certified non-commissioned officer in charge of small unit Ranger tactics, the pre-Ranger training and selection program for soldiers interested in undertaking Ranger training. Using his education and experience, Perez helped restructure the program. As a result, the graduation rate for the program jumped from 50% to 73% over a two-year period.
"My education changed everything about the way I looked at training," Perez says. "We wanted to create an environment where people wanted to produce and to give some intrinsic value to the individual that they could carry forward and use as a tool for growth."
The success of the program got Perez a lot of "face time" with high-ranking officers including Colin Smith, a former senior leadership instructor with the infantry officer leader development course at Fort Benning, who wanted to incorporate the concepts Perez had implemented in the Ranger course into the infantry officer leadership training. Smith, a 2019 MBA graduate from Goizueta Business School, suggested that Perez look into applying to the weekend executive MBA program at Goizueta.
With guidance from Keen and the help of recruitment and pre-enrollment coordinator Caroline Grimes, Perez applied for and was accepted to the Weekend EMBA program in fall 2019. Perez says he finds himself using concepts from his classes in his current role as the only enlisted member of the strategic design team for the 75th Ranger Regiment.
"We are attacking big organizational problems, including a needs assessment for the entire organization," Perez says. "I wouldn't have had the framework to know we even needed that without the education I have received.
"What I am learning is directly feeding into how effective I am in my work. Not only can I address these issues, but I know where I can look for information and support because I have the Emory faculty behind me. It has been a phenomenal experience."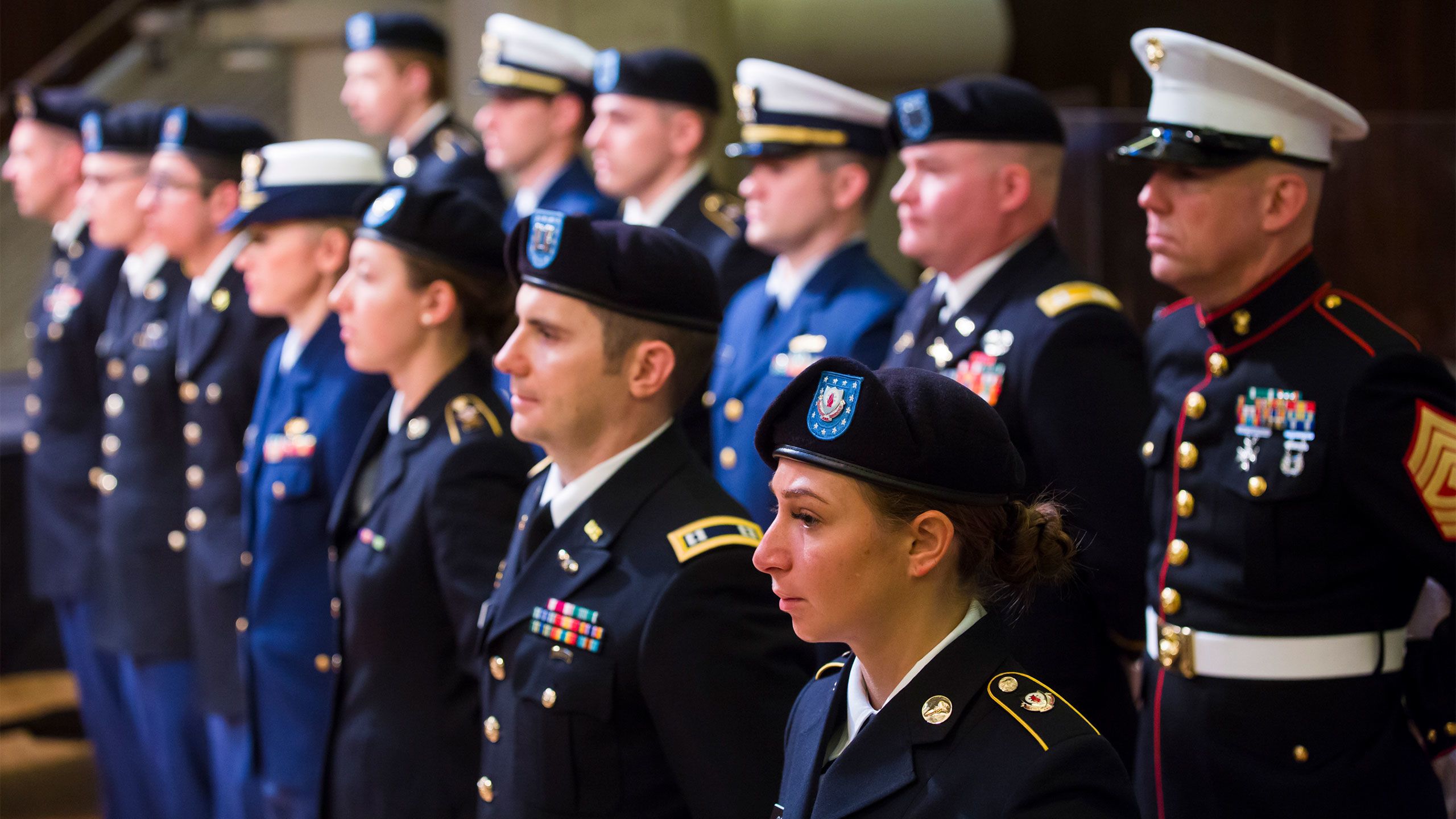 ---
Continuing to serve others
---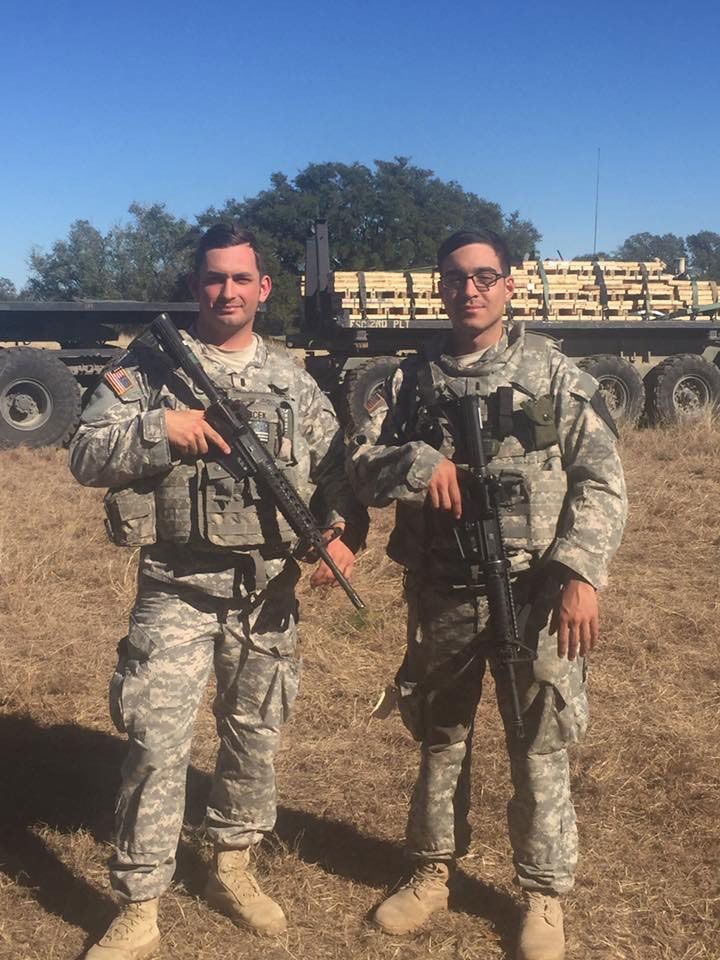 After serving in the Army, Grant Tucek (left) is now a second-year student in Emory Law. Photo courtesy of Tucek.
Like many of his generation, second-year Emory Law student Grant Tucek was influenced by the tragedy of 9/11, which happened when he was in elementary school. By the time he'd graduated from Harrison High School in Kennesaw, Georgia, in 2009, he'd put in the significant work required to earn an appointment to the U.S. Military Academy at West Point.
He served in the Army after graduating from West Point in 2013, serving in Texas and Korea before leaving active duty and applying to law school.
Tucek applied to six law schools, but chose Emory for its high national rankings and location in a job market where his wife could find employment. When he enrolled in fall 2018, he became involved with the EVA to have a group of students with similar experiences. 
From the beginning, Tucek says he received valuable advice from another veteran, Earl Porter, who was in his third year of law school at the time and graduated in May.
"He was someone to talk to about your goals and who gave me tips on law school and understand the life changes you are going through," Tucek notes. "While it is great to meet people with different experiences, it was nice to have a group of friends who have similar experiences of getting out of active duty and going to school full-time."
Since then, Tucek has done his part to support other veterans at Emory, consulting with the admission office at Emory Law, offering to speak to other veterans who are prospective students. 
"We all want to make the veterans' group stronger at Emory," he says.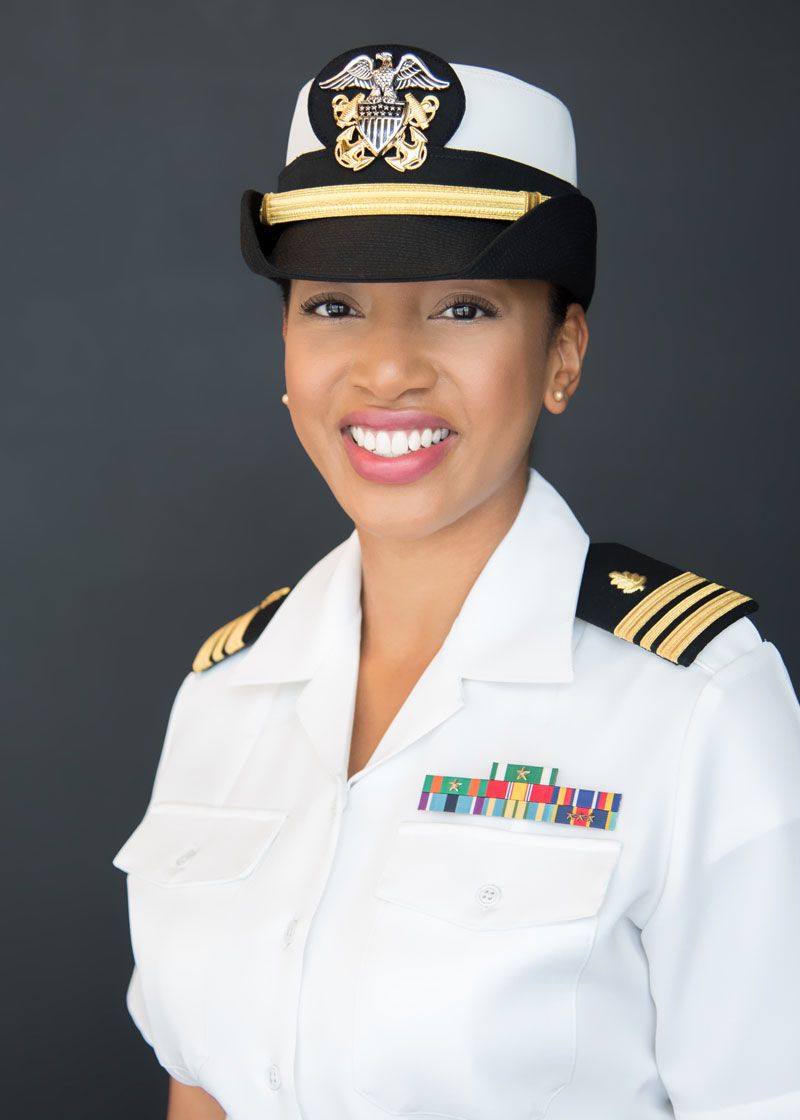 An active duty Naval officer, Christina Higgins is pursuing a doctor of nursing practice degree in the Nell Hodgson Woodruff School of Nursing. Photo courtesy of Higgins.
The daughter of a retired Navy chief petty officer, Christina Higgins accompanied her father on regular visits to the Veterans Affairs clinic while growing up in rural Kentucky. Watching her father cope with the aftereffects of exposure to Agent Orange while serving during the Vietnam War, she discovered early her desire to help others through medicine and to serve her country.
After graduating with a bachelor's degree in nursing in 2006, Higgins was commissioned into the Navy in January 2007, serving in Pensacola, Florida. She followed with serving in Japan in international medical community relations leadership roles, including organizing international perinatal care symposiums.
Beginning with one class in 2008, she earned her master's degree in administration in 2016 while serving full time, including a four-month deployment in 2015 as part of the U.S. Navy's Pacific Partnership, an annual humanitarian assistance and disaster-relief preparedness mission.
While assigned to the hospital ship USNS Mercy, Higgins — who is board certified in both obstetrics and forensic nursing — headed the sexual assault response division, doing training and providing obstetrical care alongside host nation midwives during stops in Fiji, Papua New Guinea, the Philippines and Vietnam.
Through a unique program that allows Naval officers to apply for graduate school to earn degrees in needed fields, Higgins was chosen as one of five officers allowed to attend graduate school full time while maintaining active-duty status.
She chose Emory's Nell Hodgson Woodruff School of Nursing for its doctor of nursing practice program in midwifery after reaching out to MaryJane Lewitt, clinical assistant professor and co-coordinator of the nurse-midwifery specialty at Emory.
"Emory has a big footprint in Atlanta; they have partnerships with the Veterans Affairs Medical Center and the CDC is right across the street. They offered incredible resources that other schools could not compare to," Higgins says.
She didn't openly discuss her status as an active duty Naval officer for her first year and a half at Emory, preferring to blend in with the other students in her cohort.
"I am already older than the traditional student and I didn't want to cause tension or a sense of competition in the learning environment. I wanted my experiences to be a resource, not intimidating to other students," she explains.
As she prepares to graduate in December and move on to her next duty station in Jacksonville, Florida, Higgins says she has appreciated both the support she has received at Emory from fellow students, faculty and her adviser, who is also a veteran.
"In the midst of it all, my husband and I had a baby girl, who just turned 6 months old. During that time and afterward, I have seen the most support from Emory — as a mother, as a graduate student and as a service member," she says.
Much as her father's example influenced her, Higgins hopes to be an example to others through her service and education.
"In life you establish connections with people that are formative in your life and in their lives, that influence the things that they create that go out into the world," she says. "I want to continue finding ways to contribute through my education by reaching back and reaching around to make sure I don't advance without bringing someone else with me."
---
About this story: Written by Maria Lameiras and Kimber Williams. Photos by Kay Hinton and Ann Borden except where noted.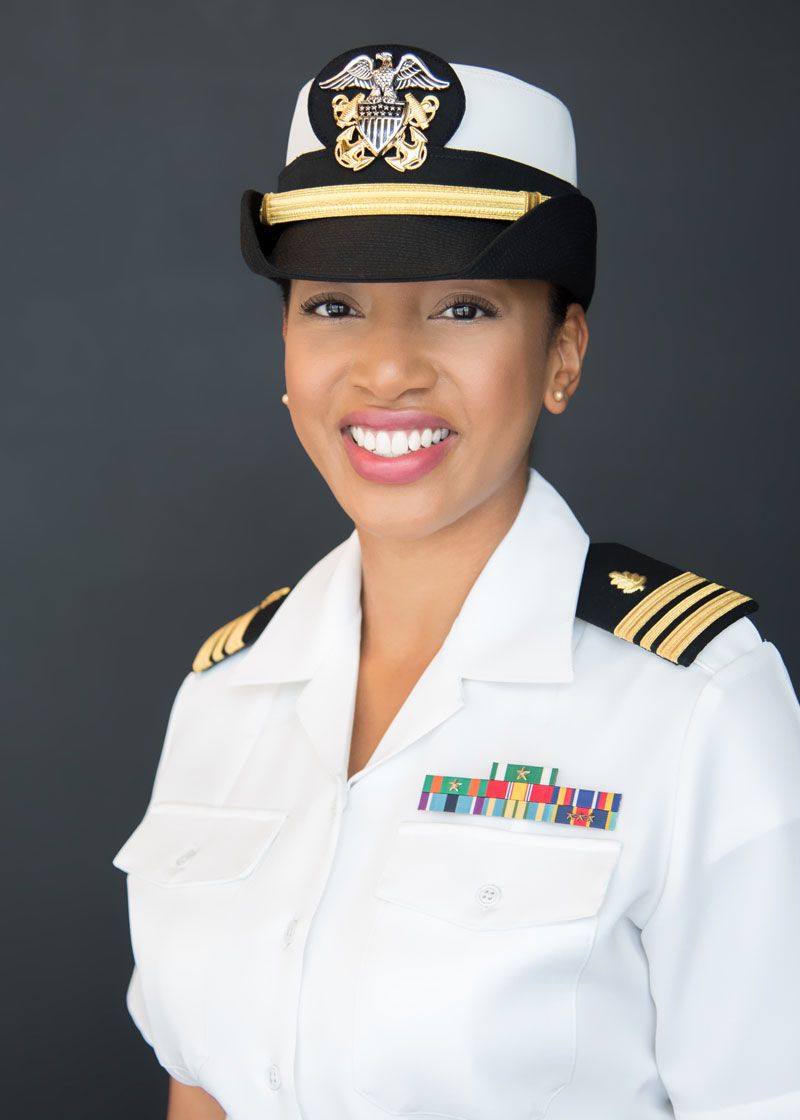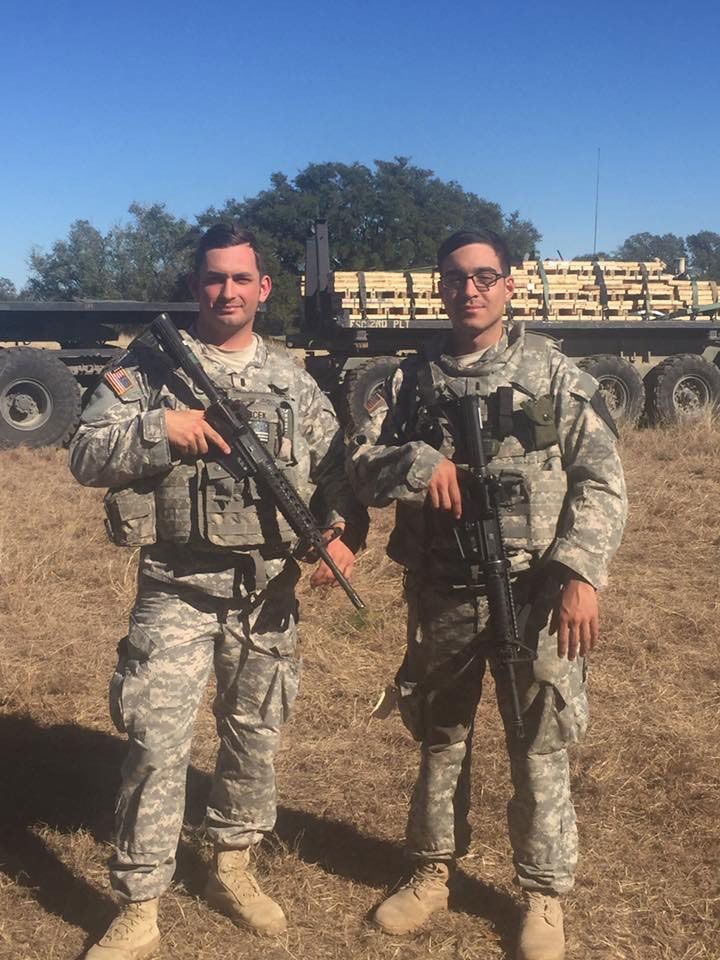 MORE EMORY PROGRAMS FOR VETERANS
How Emory supports veterans through health care and legal aid
---
Helping wounded warriors heal
---
Since 2015, the Emory Healthcare Veterans Program (EHVP) has been providing expert, collaborative care for post-9/11 veterans and service members who suffer from the invisible wounds of service. 
EHVP is one of four U.S. academic medical centers supported by the Wounded Warrior Project's Warrior Care Network, a national network committed to connecting wounded veterans and their families with quality mental health care.
Emory experts provide world-class care for post-traumatic stress disorder (PTSD), traumatic brain injury, military sexual trauma, depression and anxiety at no cost to the veteran. Wide-ranging treatment options include outpatient and intensive outpatient programs integrating behavioral health care, including psychiatry and neurology, sleep, rehabilitative medicine, wellness and family support. 
The unique, intensive outpatient program takes two weeks to complete and offers customizable evidence-based PTSD treatment for veterans with extended assistance to optimize their chances for success. 
Veterans and service members from across the country who qualify for the program have access to a wide range of services including daily individual therapy, group therapy, family therapy, wellness services, finance and career classes, and various recreational activities. Results show that the program is highly effective and leads to large reductions in PTSD symptoms, including suicidal thoughts and actions.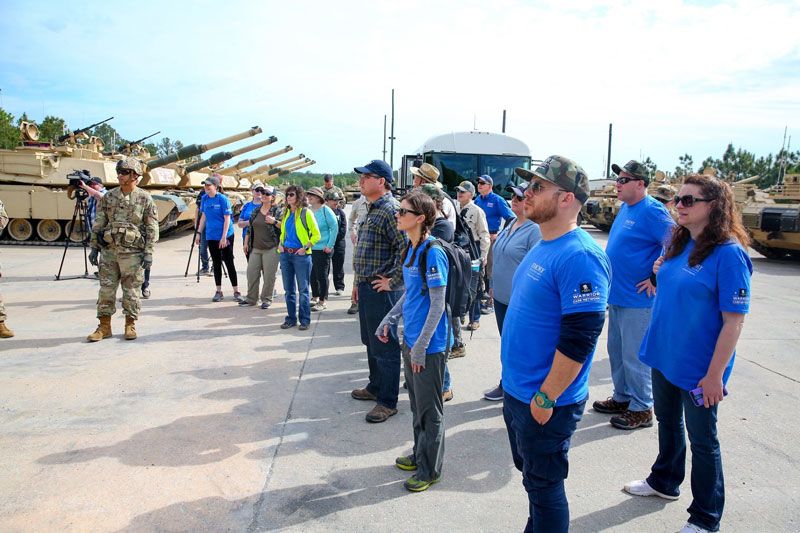 The Emory program also supports the training of behavioral health providers in Georgia and throughout the country to increase evidenced-based care for veterans.  
"Veterans are strong and resilient members of our society, but even the strongest need support," says Emory Healthcare Veterans Program executive director Barbara O. Rothbaum, professor of psychiatry and behavioral sciences at Emory University School of Medicine. 
"The treatments we provide are highly effective and can transform lives forever. Veterans can heal and move forward," says Rothbaum, a world-renowned clinical psychologist who has been working in the PTSD field since 1986. She pioneered virtual reality exposure therapy now used widely in the mental health field to treat PTSD and other issues.
In May 2019, the Emory Healthcare Veterans Program celebrated the opening of new patient treatment and office space and the expansion of its health care services for veterans, allowing Emory to reach twice as many veterans. Made possible by a grant from the Wounded Warrior Project, the Emory program has doubled its current office and clinical space to 10,000 square feet and increased its treatment capacity from 12 to 24 veterans treated each week. 
"We are thrilled with our continued growth and the opportunity to allow our life-changing efforts to be extended to more veterans than ever before," Rothbaum says.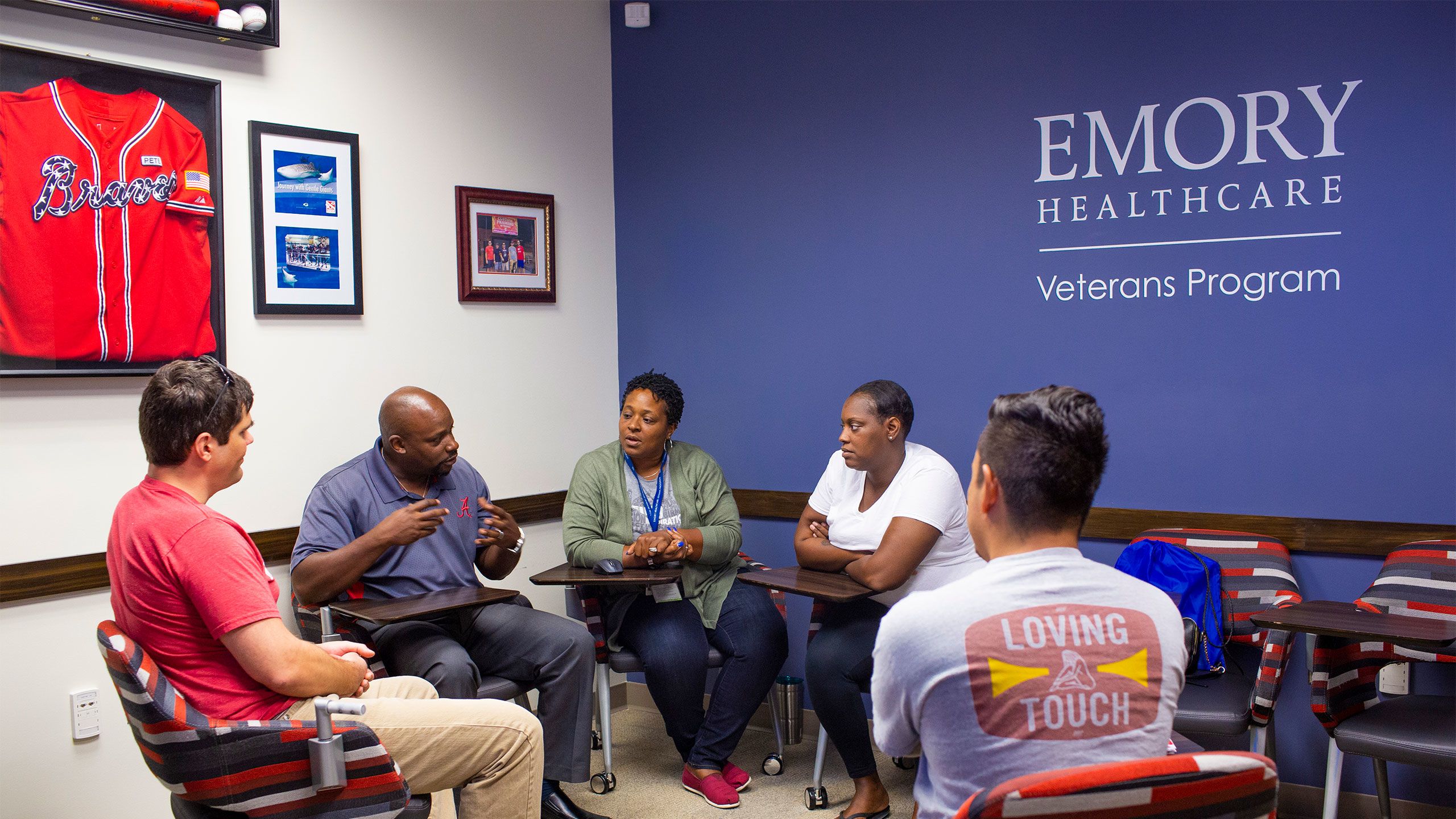 ---
Training nurses about veterans' needs
---
Emory's Nell Hogdson Woodruff School of Nursing is training tomorrow's nurses in quality care for our nation's veterans.
Partnered with the Department of Veterans Affairs, Emory's Nursing School is one of 18 competitively selected U.S. nursing schools to take part in the VA Nursing Academic Partnership (VANAP). The school has two VANAP programs, one for undergraduate nursing students and one for graduate nursing students.
"Our veteran-centric educational programs are designed to prepare the next generation of highly qualified BSN-prepared nurses and nurse practitioners working in the primary care setting to meet the unique health care needs of veterans and their families," says Lisa Muirhead, principal investigator for both VANAP programs and co-director of the graduate program.
In addition to two years of nursing courses at Emory, undergraduate students perform clinical rotations at the Atlanta VA Health Care System. Undergraduates are trained in various aspects of veteran care, including mental health, traumatic brain injury, home-based health, women's health and homeless care.
Graduate students receive advanced training in primary care, women's wellness, mental health, geriatrics, home-based primary care, palliative care and HIV/AIDS care.
New this year, the VANAP Graduate Education (VANAP-GE) program has expanded to recruit and enroll family nurse practitioner students. The expansion includes the program's existing efforts to enroll adult gerontology primary care nurse practitioner students.
The VANAP program is helping build nursing capacity for both inpatient and outpatient care. Since it was instituted in 2013, 112 BSN students have completed the Emory program, with another 38 students currently enrolled.
An associate professor of nursing, Muirhead says that the two programs meet a critical need to develop a competent nursing workforce.
"Nurses need to recognize and address the needs of veterans and their families as they integrate into civilian life and create a new normalcy post military service."
"There are 18 million veterans in the United States that represent multiple conflicts and generational spans," says Muirhead. "Every health care provider needs to be knowledgeable of the physical, psychological and social implications of military service."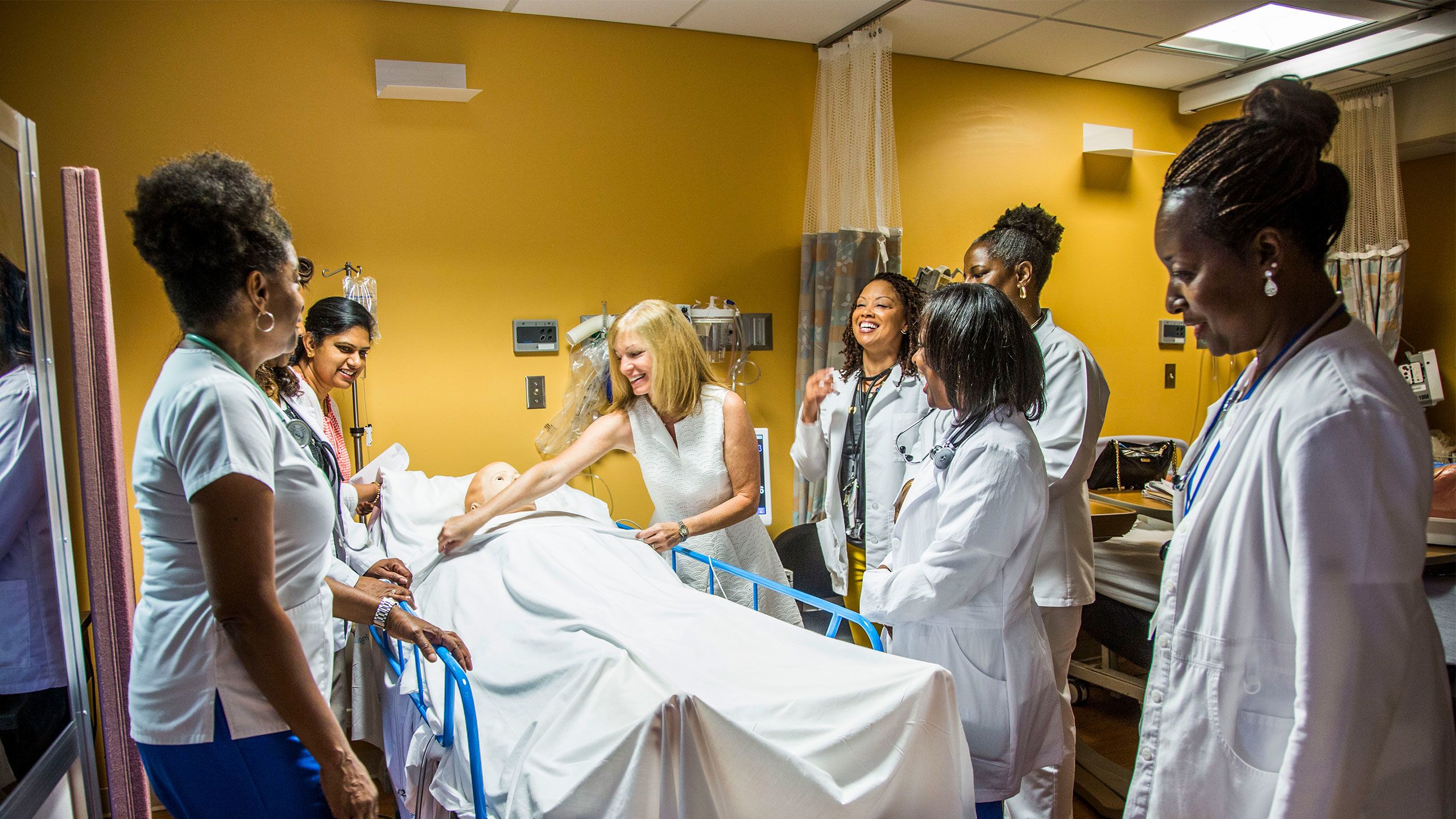 ---
Free legal help for veterans
---
The Emory Law Volunteer Clinic for Veterans provides pro bono legal services for veterans, assisting them and their families with legal issues including disability claims before the Veterans Administration and subsequent appellate proceedings, estate work and discharge upgrades before the Department of Defense.
Launched in 2013, the clinic provides services statewide. Based in Atlanta, clinic representatives also travel to provide outreach, training and roughly 380 consultations annually in Augusta, Macon, Hall County, Savannah and Columbus. Students who work in the clinic assist faculty and other lawyers.
In 2018, clinic volunteers recovered over $520,000 for veterans in annual VA benefits alone, which is transformative for disabled veterans seeking financial stability. The vast majority of clinic clients are financially insecure and at risk for homelessness.
Veterans transitioning from active duty to civilian life may struggle with mental health issues caused or exacerbated by their military service. Veterans may need attorneys to ensure that the military provides adequate and responsive treatment, particularly if the veterans' symptoms have resulted in disciplinary infractions.
For example, in 2018 the clinic obtained medical coverage and treatment for a combat veteran previously denied medical treatment due to the unfavorable discharge status he received as a result of his PTSD symptoms. Once he received medical coverage, he was able to access medications he needed in order to pursue stable housing and employment.
Emory's clinic has actively participated in the development of Veterans Treatment Courts across the state of Georgia, both referring clients to the clerks for processing and accepting clients enrolled in the judicial programs.
Through pro bono partnerships, in 2018 the clinic also assisted in providing wills and other estate documents to more than 50 veterans receiving treatment at the Atlanta VA Medical Center. A recent grant from a local foundation will allow the clinic to hire a part-time paralegal to focus on wills and estate planning.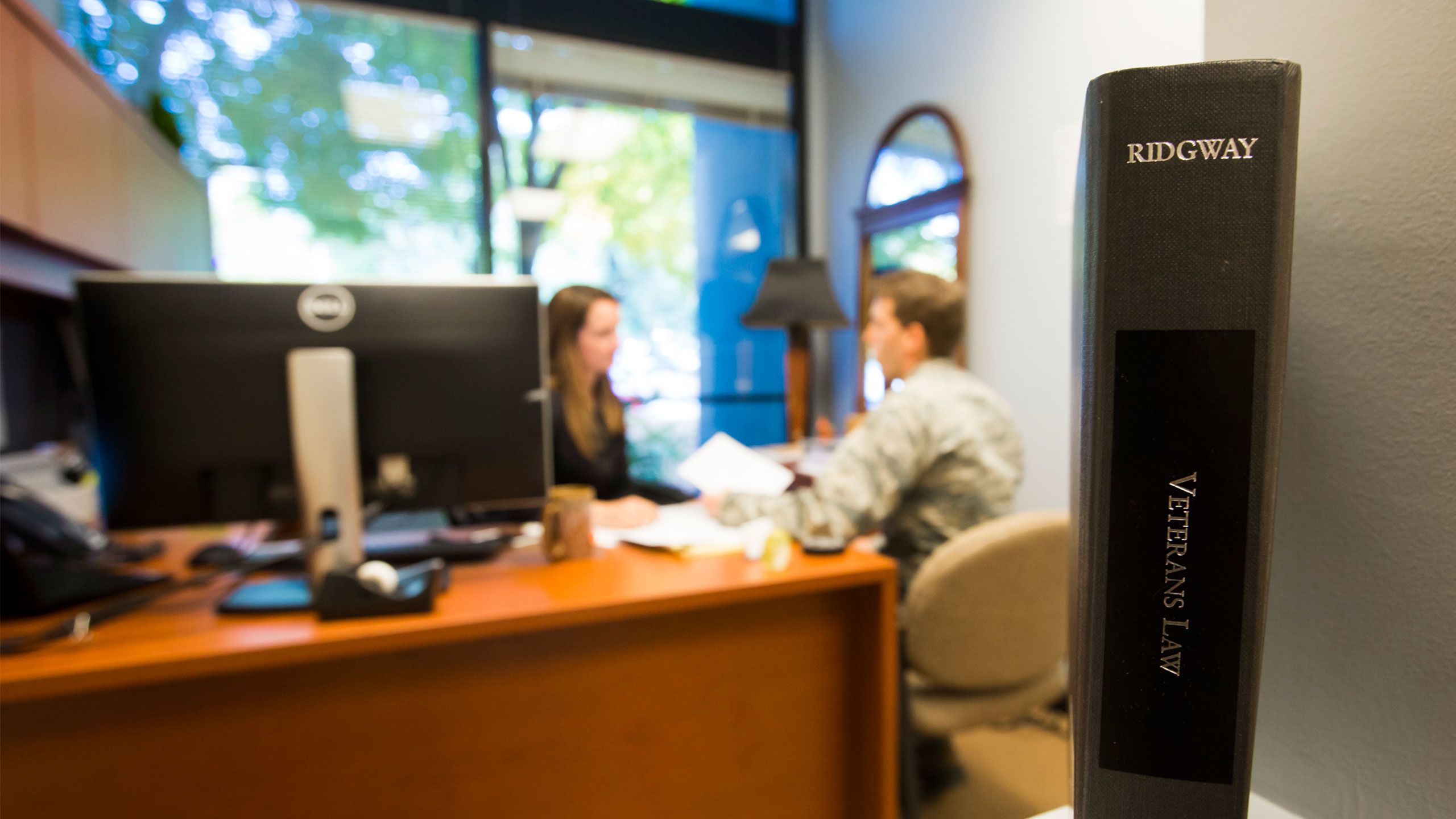 ---
Help Emory serve those who served
---
You can support Emory's work with veterans through four funds:
Emory Veterans Association: The student-led association's mission is to promote, inform and support Emory's military-connected student community while they're enrolled and after they've completed their studies by serving as the lead campus advocacy and community engagement group.
Yellow Ribbon Scholarships: The Yellow Ribbon Program is a provision of the Post-9/11 Veterans Educational Assistance Act of 2008. Emory has partnered with the Department of Veteran Affairs to fund tuition expenses that exceed the highest public in-state undergraduate tuition rate.
Emory Law Volunteer Clinic for Veterans: Emory Law's clinic provides pro bono legal services for veterans, assisting them and their families with disability benefit claims both before the Veterans Administration and in subsequent appellate proceedings
Emory Healthcare Veterans Program: Free to qualified post-9/11 military service members and veterans, the program is designed to treat conditions such as post-traumatic stress disorder, traumatic brain injury, military sexual trauma, anxiety and depression related to past military service