HOMECOMING & FAMILY WEEKEND
Emory celebrates reunions, milestone anniversaries & more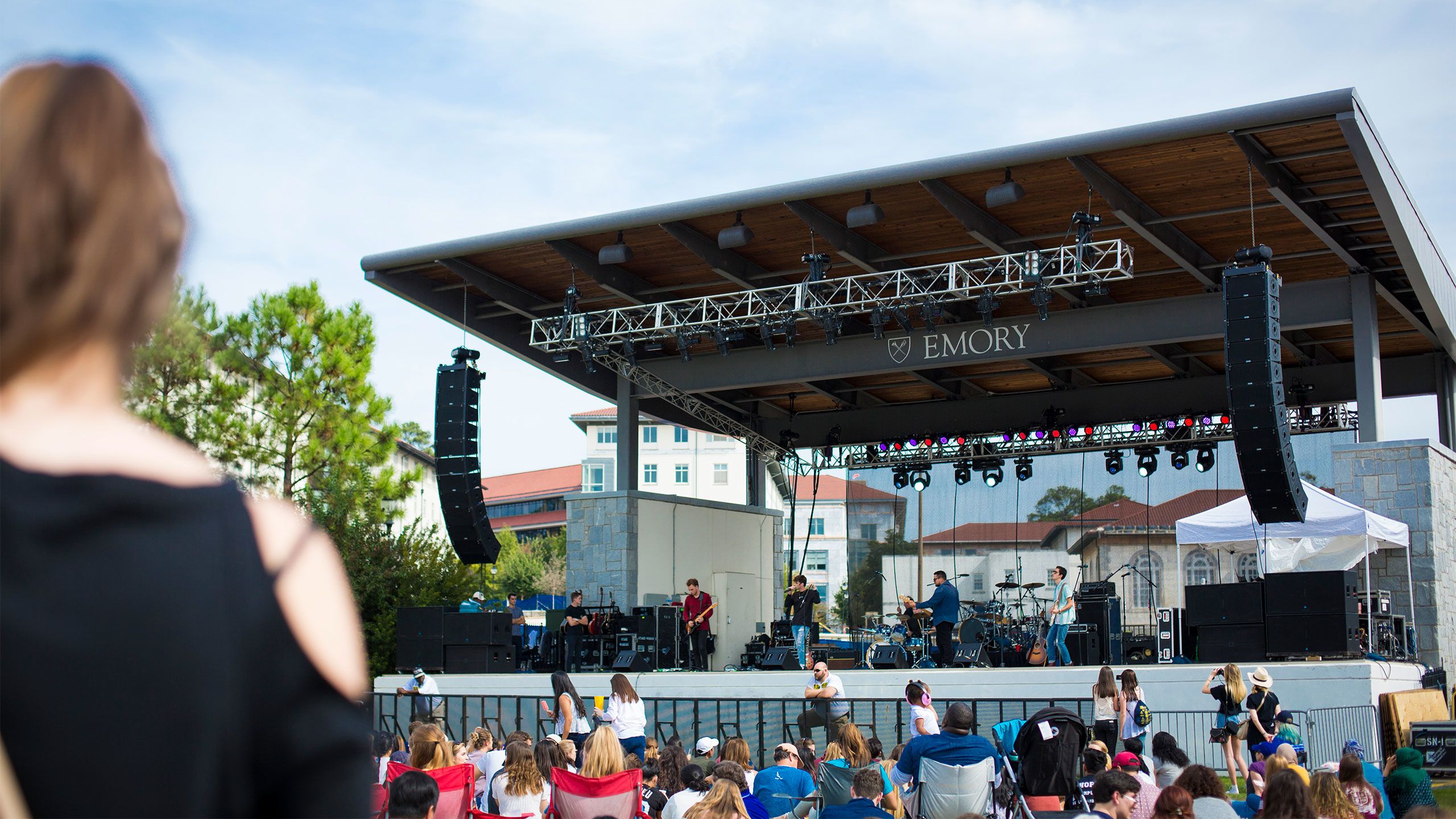 EMORY'S SPIRIT IS ON DISPLAY THIS WEEKEND,
AS ALUMNI AND STUDENTS BRING THEIR FAMILIES TO CAMPUS FOR A FULL SCHEDULE OF EVENTS AND ACTIVITIES.
As in years past, Homecoming Weekend converges with Family Weekend, bringing dozens of events, from concerts and class reunions to opportunities to learn about Emory's past and its future.
Alumni, families and students are invited to a "One Emory, Many Voices" town hall and discussion with Emory President Claire E. Sterk on Friday, Oct. 25, at 5:30 p.m. in the Emory Student Center, room 104.
Activities culminate on Saturday, Oct. 26, with the annual Homecoming Parade, Festival and Concert. Bring family or friends and snag a viewing spot at the Emory Student Center or around Asbury Circle for the parade, which will begin at 1 p.m.
Then stay for a concert and festival sponsored by the Emory Alumni Association. Stop by McDonough Field from 2 p.m. until 5 p.m. for lots of food, fun and music from Grammy Award-winning singer, songwriter, producer and multi-instrumentalist Kristian Bush. An Emory alumnus and Atlanta resident, Bush sold more than 22 million albums with partner Jennifer Nettles as Sugarland and continues to perform as a solo artist.
Every year is special, but 2019 brings several important anniversary celebrations. Look for special events celebrating 100 years of the Goizueta Business School, 100 years of Laney Graduate School, 100 years of The Emory Wheel and 150 years of Greek life.
The Carlos Museum also is celebrating 100 years, and is offering free admission to all alumni and student families during Homecoming and Family Weekend.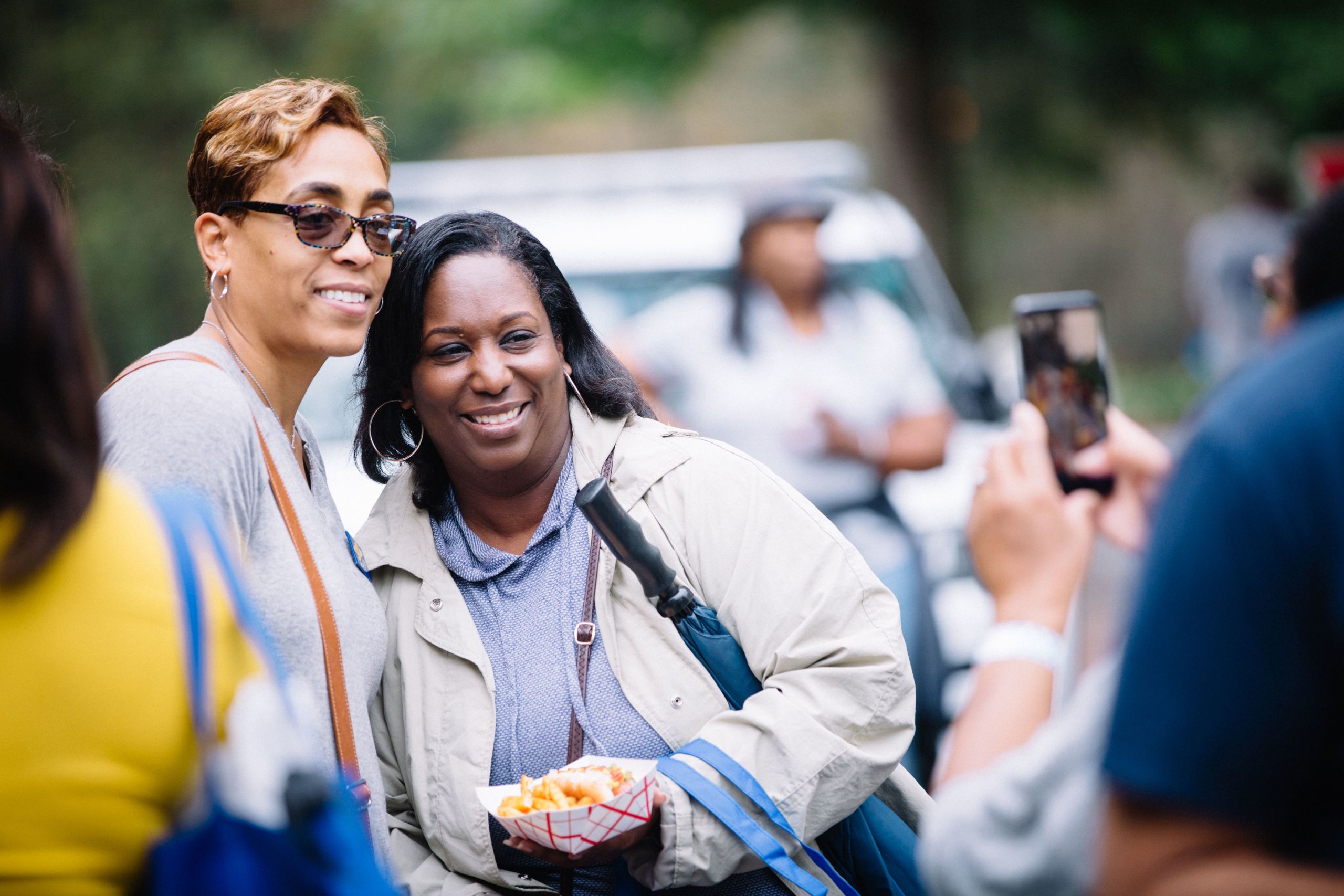 ---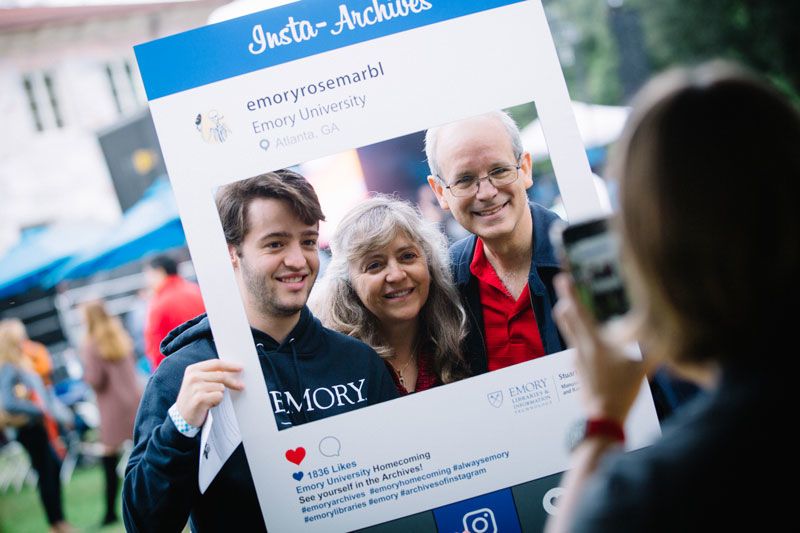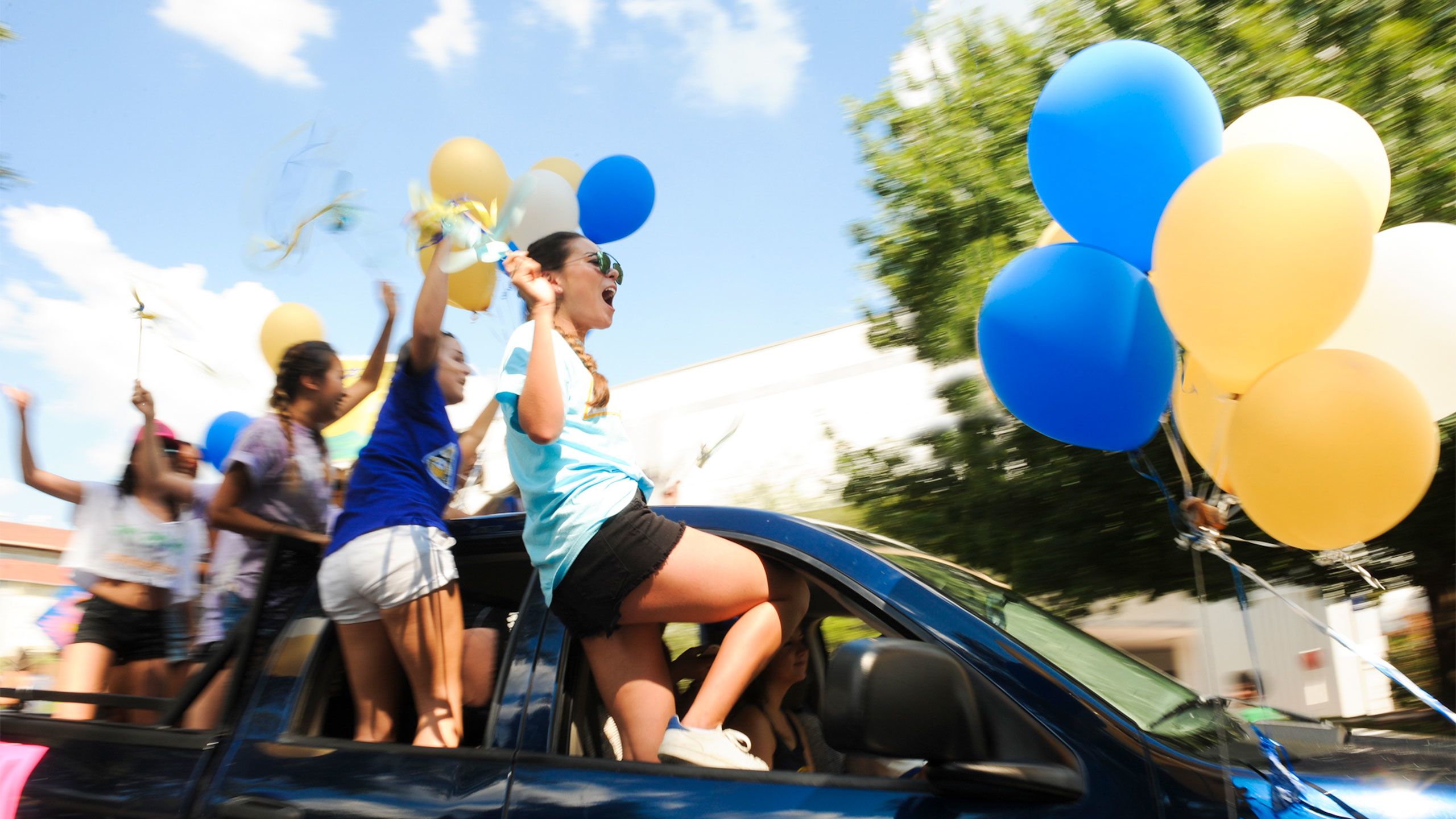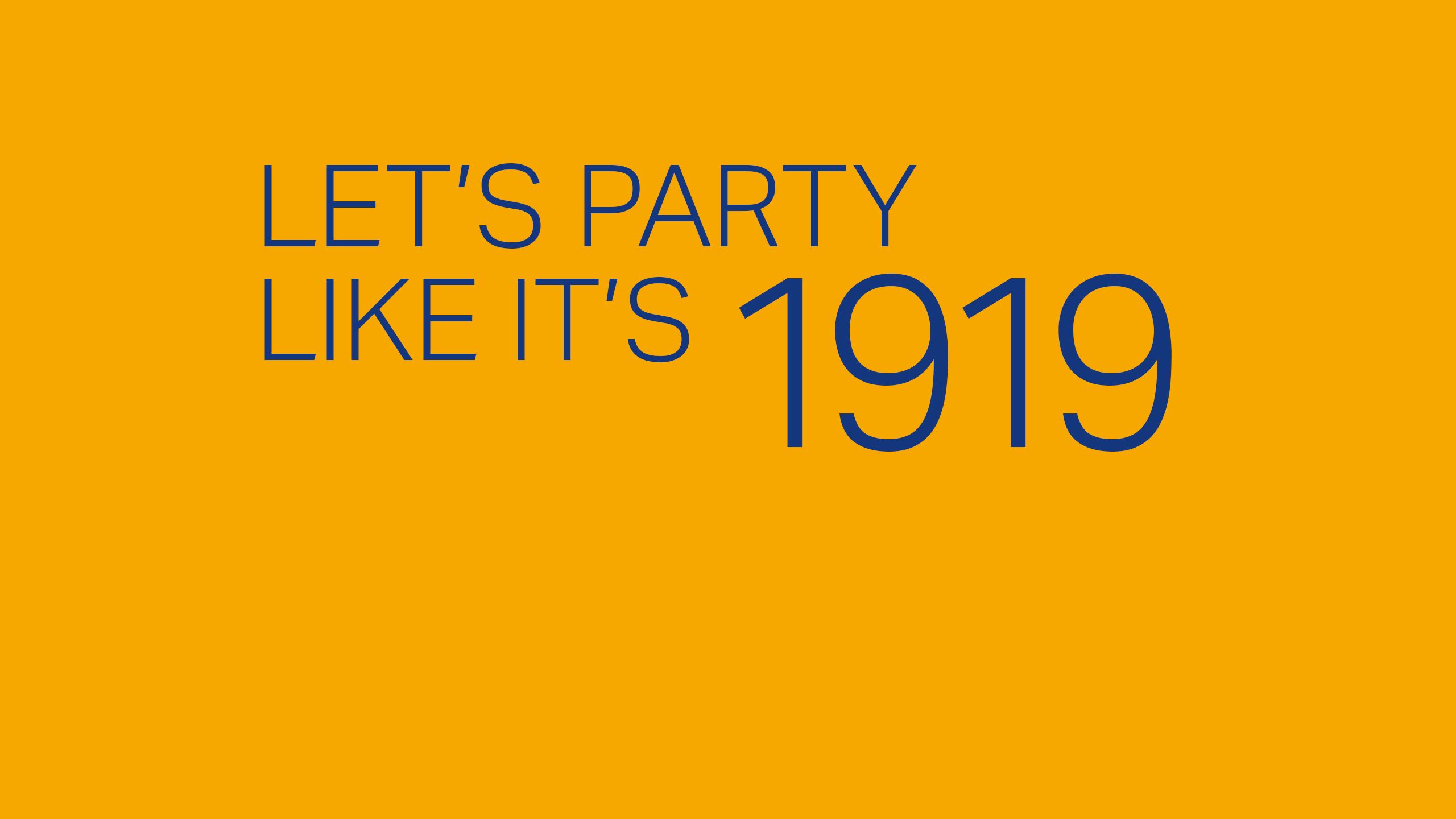 It was a big year for Emory.
Four years after the university was granted a charter in DeKalb County in 1915, Emory College joined the law school, the theology school, and the preclinical program of the medical school on the Druid Hills campus.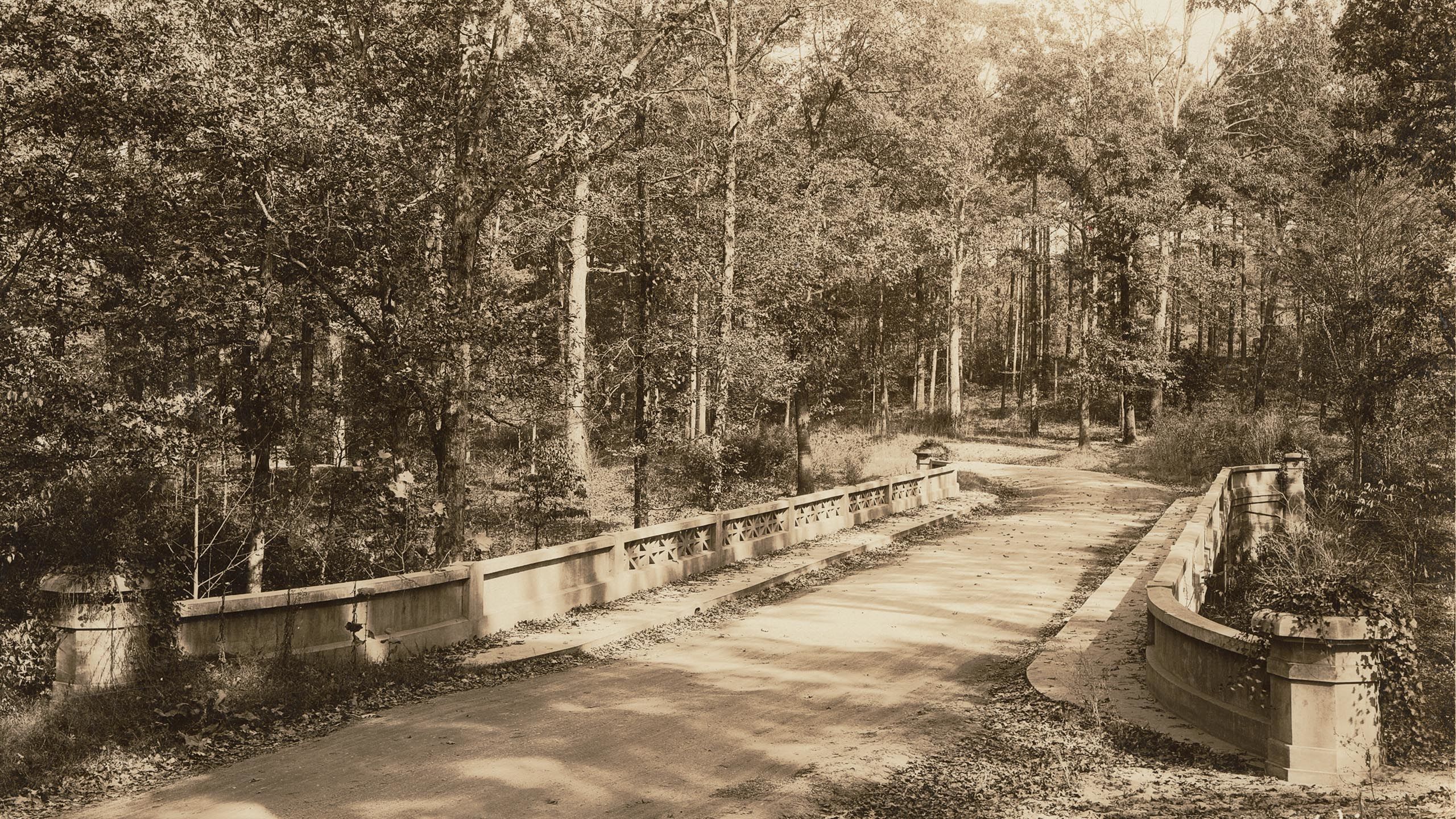 First bridge onto campus, circa 1918
First bridge onto campus, circa 1918
That same year, 1919

, the graduate and business schools became distinct divisions and the university's museum and independent student newspaper were established.

Happy 100 to all — and happy 150 to Greek Life, celebrating a huge anniversary of its own.

Read on to learn about milestones for each of these Emory institutions and their special anniversary events this weekend.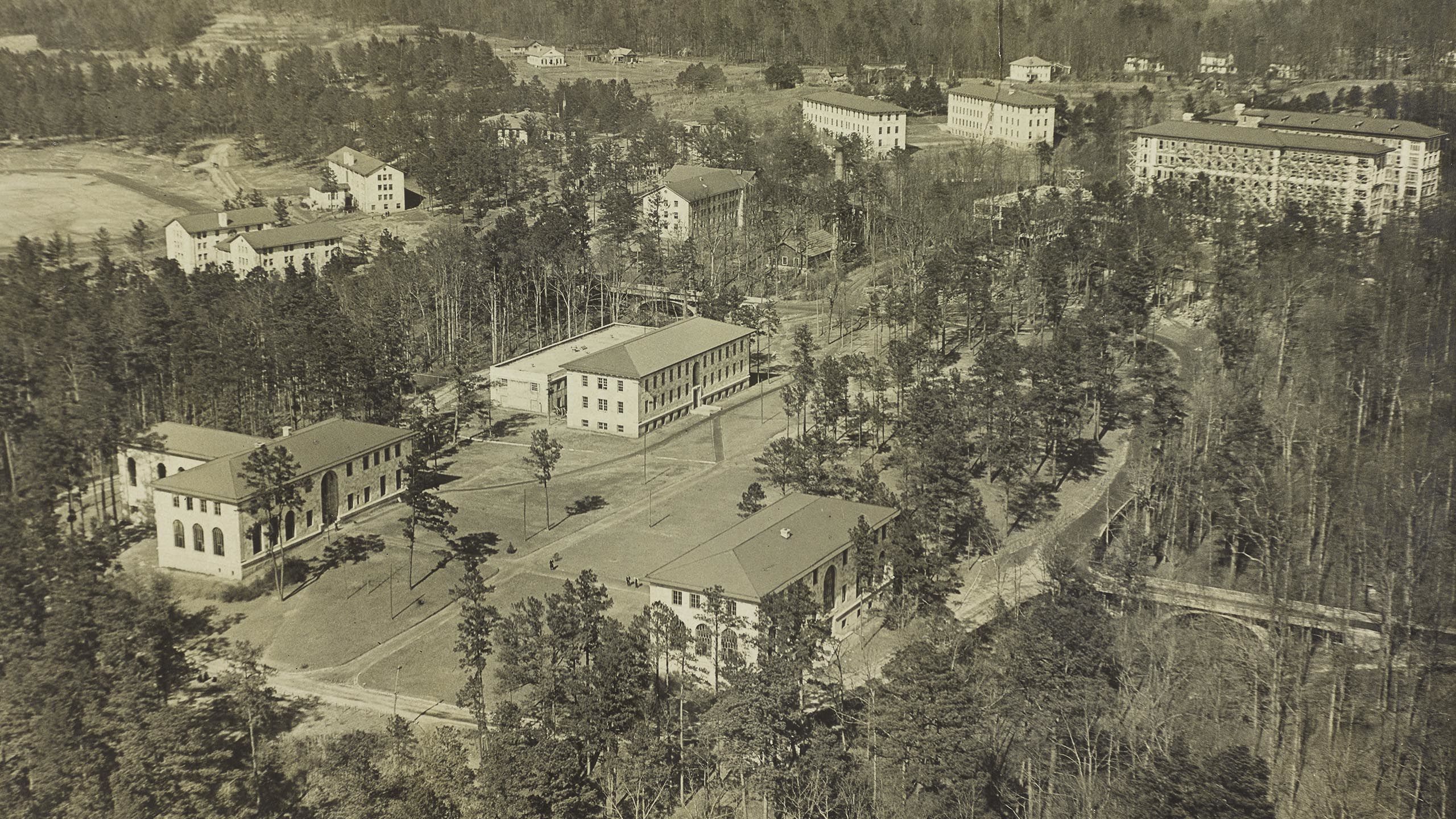 Aerial view of Emory University's campus, circa 1922
Aerial view of Emory University's campus, circa 1922
1876: A museum is formed on Emory's original campus in Oxford, Georgia, displaying objects such as artifacts collected by Methodist missionaries and Emory faculty working in Asia.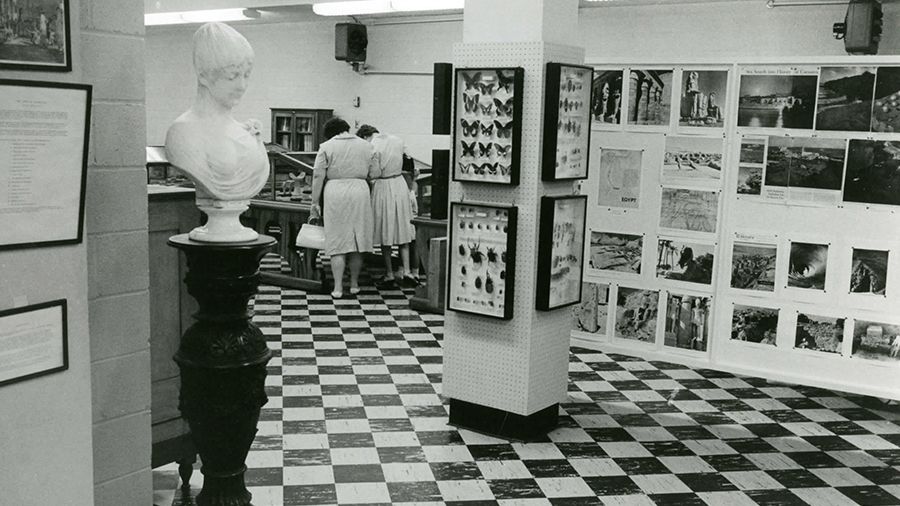 1919: The Emory University Museum is founded on the Druid Hills campus to "preserve and display university collections of ethnic, biological, geological, archaeological, and historical material." 
1921: William Arthur Shelton, a professor in Candler School of Theology, purchases an Old Kingdom mummy from the sacred site of Abydos in Middle Egypt. After spending more than ninety years in storage, it will be conserved and go on view as the oldest mummy in the Western Hemisphere.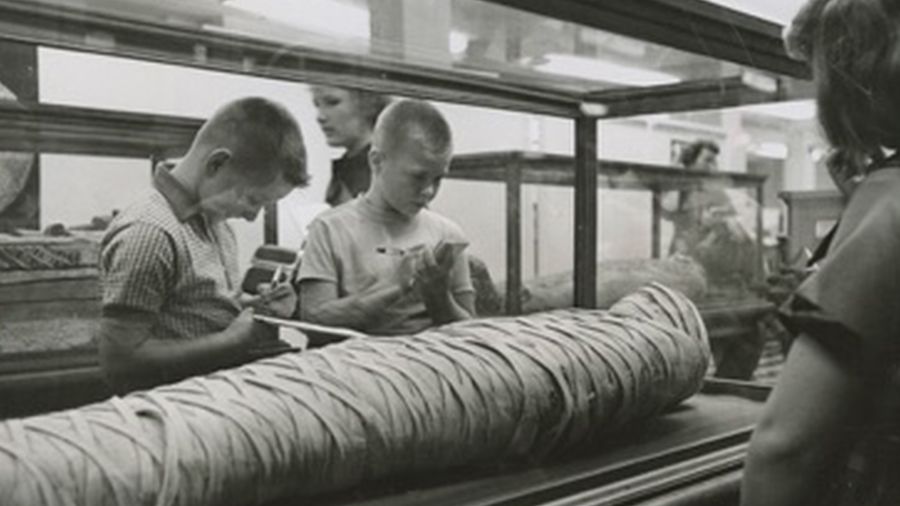 1954: Woolford Baker is named director of the museum. He initiates programs for local schools and establishes the museum as a valuable resource for all ages. 
1985: With the support of local philanthropist Michael C. Carlos, the museum moves into the old law school building, whose renovation is designed by Michael Graves. When it reopens as the Emory Museum of Art and Archaeology, it presents a reorganized collection that aligns with Emory's teaching and research.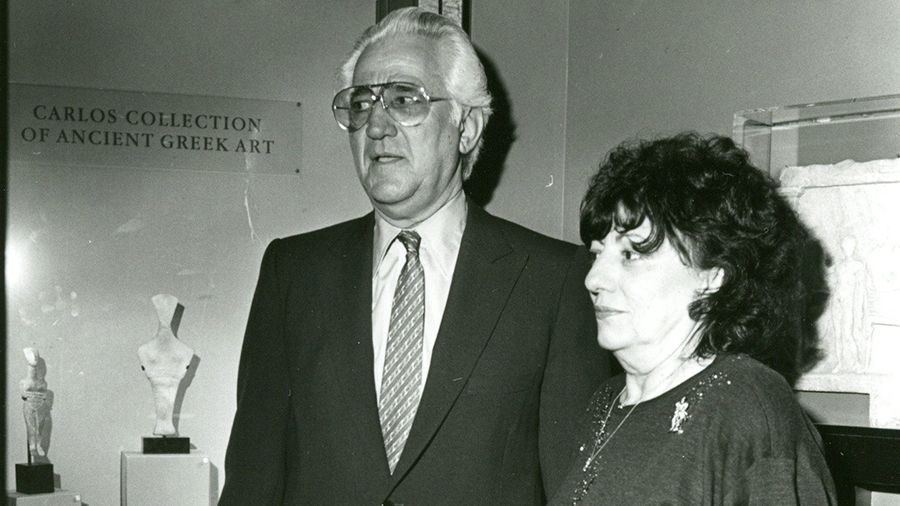 1993: An expanded museum, also supported by Carlos and designed by Graves, opens as the Michael C. Carlos Museum.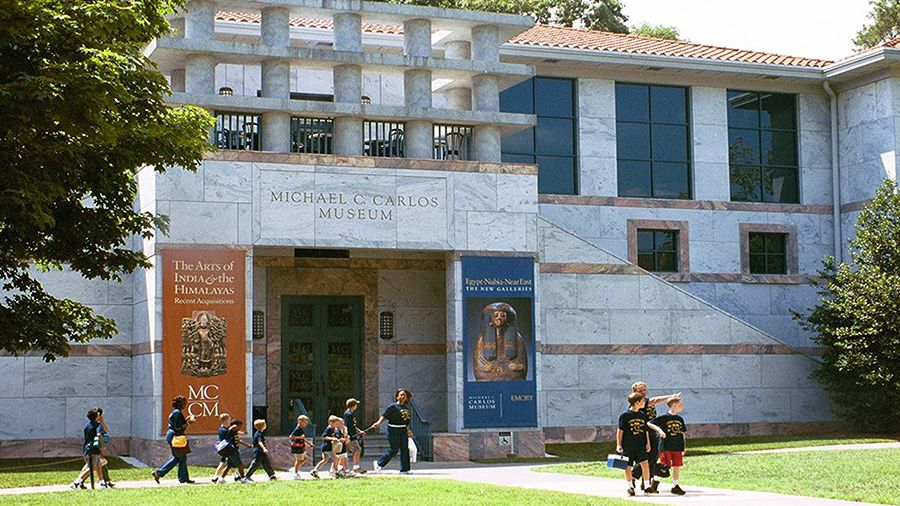 1999: The Carlos museum acquires the Egyptian collection of the Niagara Falls Museum, which was going out of business.
2003: The museum makes international headlines by returning a mummy believed to be royalty to Egypt.
2018: The museum opens the renovated Morgens West Foundation Galleries of Ancient Near Eastern Art.
2019: The museum celebrates its centennial by announcing the gift of the Senusret Collection, offering one hundred free admission days, and hosting a live reading of the Iliad.   
---
2019 Homecoming Events with The Carlos Museum
Tour of the Michael C. Carlos Museum (Saturday, Oct. 26, at 11:30 a.m.)
"Coco" on the Quad (Saturday, Oct. 26, at 6 p.m.): Stop by the museum beginning at 6 p.m. to enjoy exhibits before watching the Disney Pixar animated film "Coco" at 8 p.m. Plus, purchase fresh handmade empanadas, cold Jarrito drinks and Mexican hot chocolate from Mami's Empanadas prior to movie time.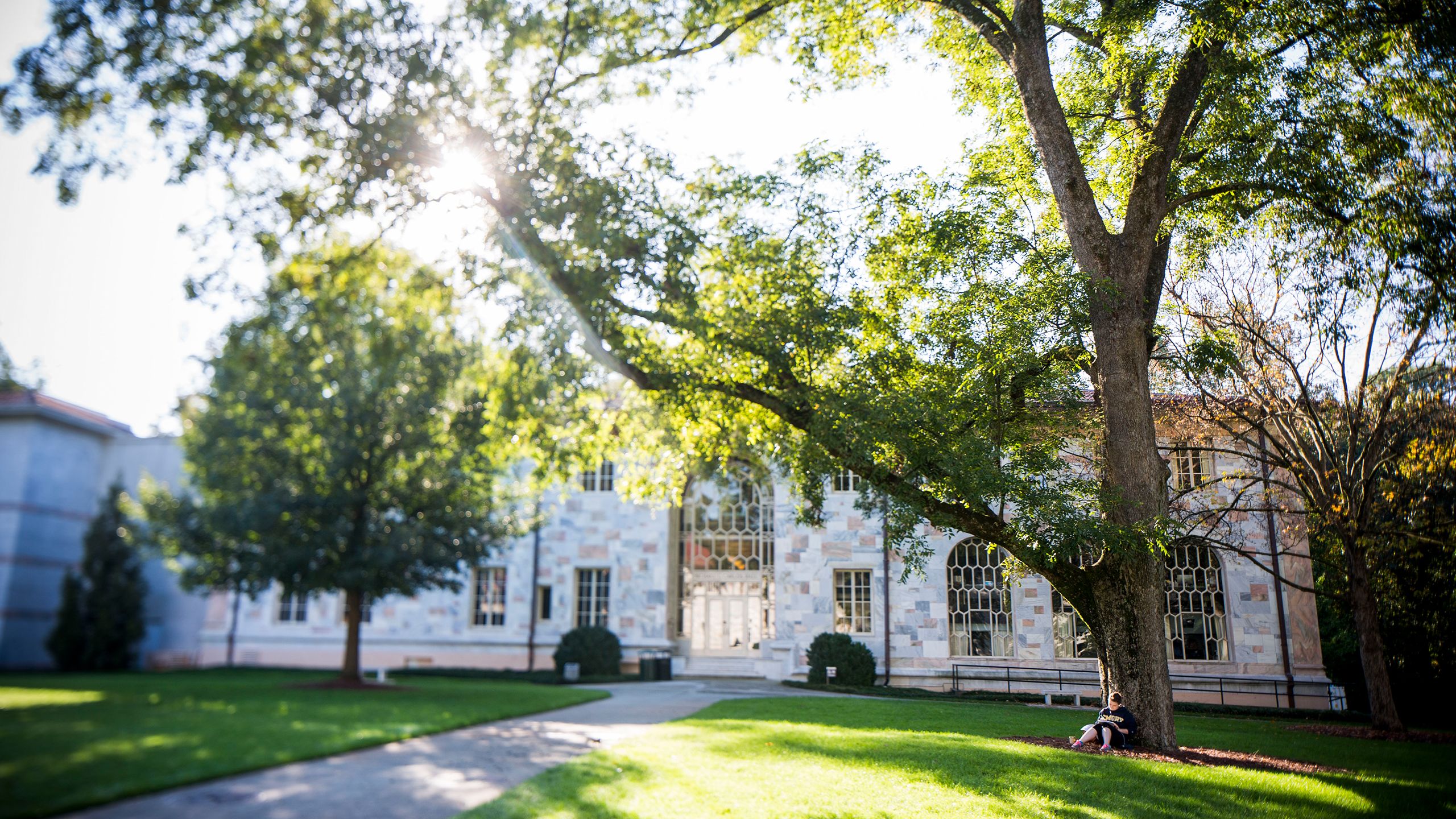 1919: Emory's Graduate School was organized as a distinct division of the university in 1919 with thirty-six graduate students enrolled. The first degree awarded was an MA to Charles Starnes.
1920: The first woman to earn a graduate degree from Emory was Cecelia Branham—coincidentally, the same year that Eléonore Raoul, the first woman to enroll for credit at Emory, earned her law degree, and the first year that women could vote in national elections after ratification of the Nineteenth Amendment.
1948: The first blue and gold doctor's hood was draped on the shoulders of Thomas Johnston 40C 41G as he received the first Emory PhD degree, in chemistry. 
1952: The Graduate School establishes the Graduate Institute of Liberal Arts, which served as a multidisciplinary program until 2017 and continues today for undergraduates.
1962: Robert Steele was the first African American to register for credit at Emory in 1962. He enrolled as a part-time student in a special program in the Graduate School.
1965: The Graduate School offers an MA degree in twenty-three subjects, an MS degree in eleven, an MAT in eight, a master of education, and a master of librarianship.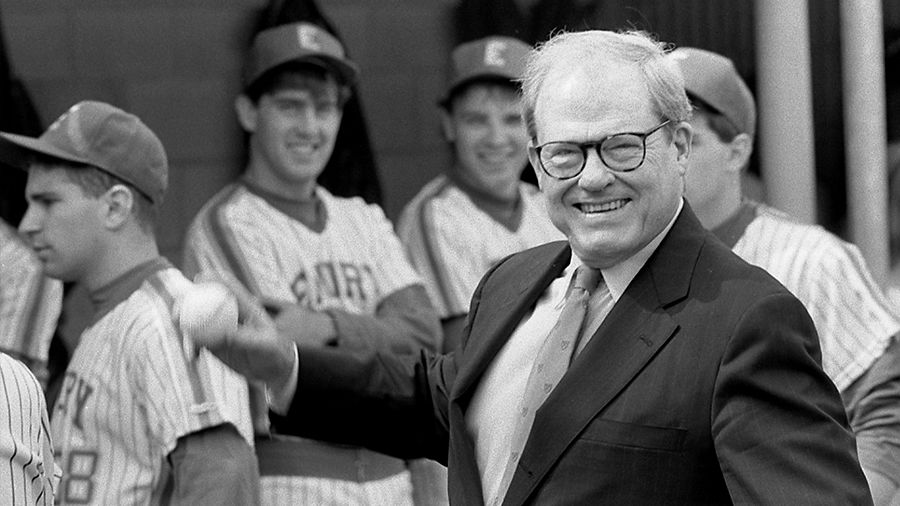 2009: The Graduate School is named for James Laney, president of Emory from 1977 to 1993.
2019: The Laney Graduate School celebrated its Centennial and the legacy of 16,118 graduate students. 
---
2019 Homecoming Events with Laney Graduate School
Graduate and Professional School Alumni Tailgate (Thursday, Oct. 24, at 6:30 p.m.): Alumni of Laney Graduate School, School of Medicine, School of Nursing, Rollins School of Public Health, Candler School of Theology, School of Law and Goizueta Business School can kick off Homecoming Weekend at New Realm Brewing Company.
Laney Graduate School Network Exchange (Friday, Oct. 25, at 12 p.m., Emory Student Center, first floor): Current and former Laney students will network over a light lunch.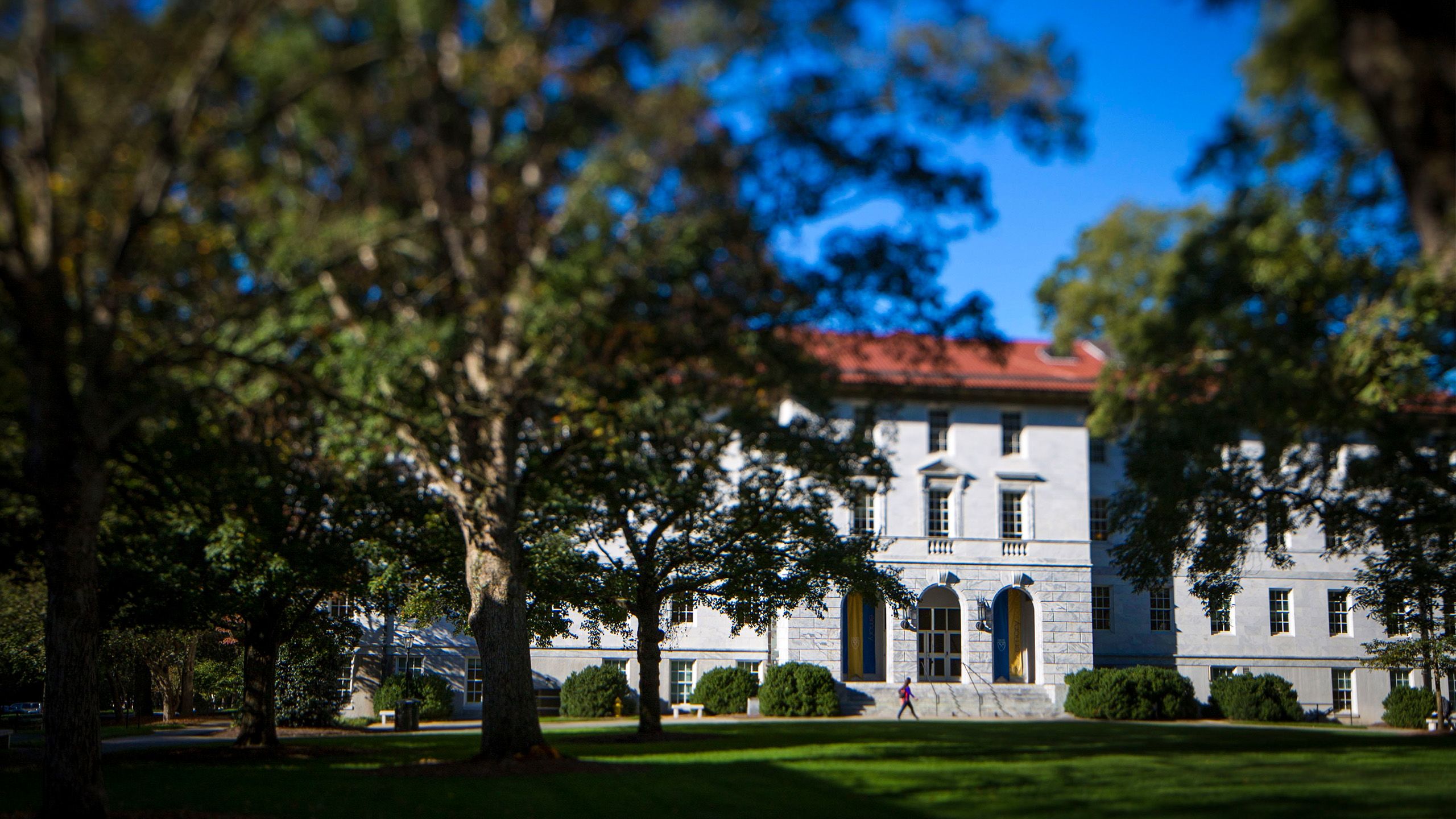 1919: Chartered by the Student Government Association, Emory's independent student newspaper is founded as the Emory Wheel—a play on emery wheel—to "sharpen the intellect of the university community."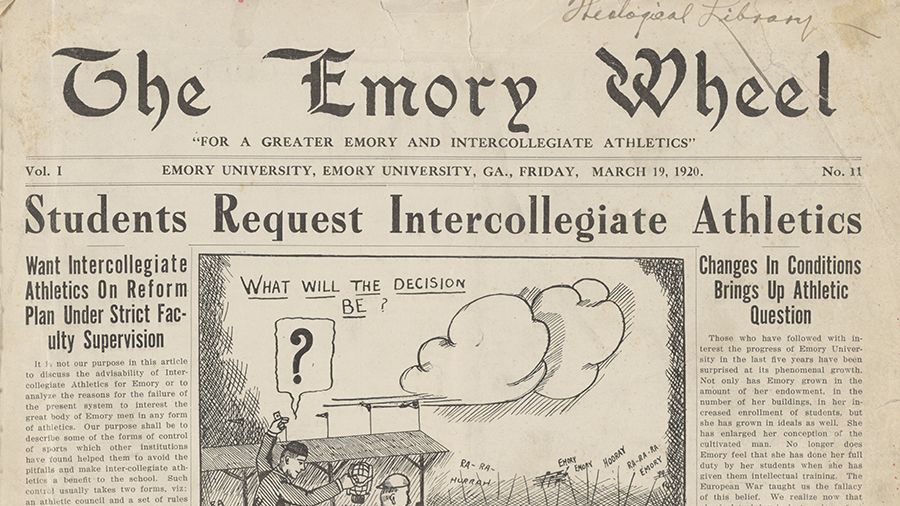 1970: An editorial leadership dust-up spawns a competitor newspaper, the Emory New Times; the two eventually merged and settled their differences.
1972: Noted author Carl Hiaasen 74C begins to develop his trademark irreverent style as a frequent contributor of satirical humor columns to the Wheel (he went on to graduate from the University of Florida); the Wheel claims many illustrious Emory alumni as former staff members and editors.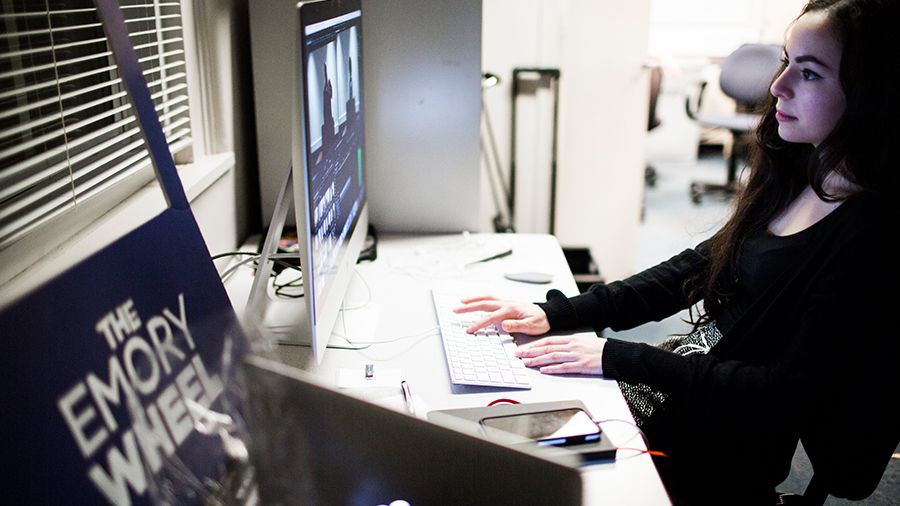 2015: The Wheel significantly boosts its online and social media presence while going from two to one print issue per week.
2016: An independent editorial board for the Wheel is formed, which discusses and develops the paper's official opinion on campus, local, and national issues.
2019: The Wheel continues to print three thousand copies weekly for the campus community, produced entirely by students.
---
2019 Homecoming Events with the Emory Wheel
A conversation with alumni of the Emory Wheel (Friday, Oct. 25, at 4 p.m., Harland Cinema): The Wheel will host a panel of alumni from prominent news outlets to celebrate its anniversary.
Tours of the Emory Wheel offices (Saturday, Oct. 26, at 12 p.m., Alumni Memorial University, 4th floor): Take a look inside The Wheel's offices anytime between noon and 4 p.m. Current editors and staff will be on hand to answer questions.
The Emory Wheel 100th Anniversary Reception (Saturday, Oct. 26, at 5 p.m., Convocation Hall): Alumni of the Wheel are invited to attend this cocktail-style reception.
The Emory Wheel Brunch (Sunday, Oct. 27, at 11 a.m.): Wheel alumni and their families are invited to join current editors at Krog Street Market.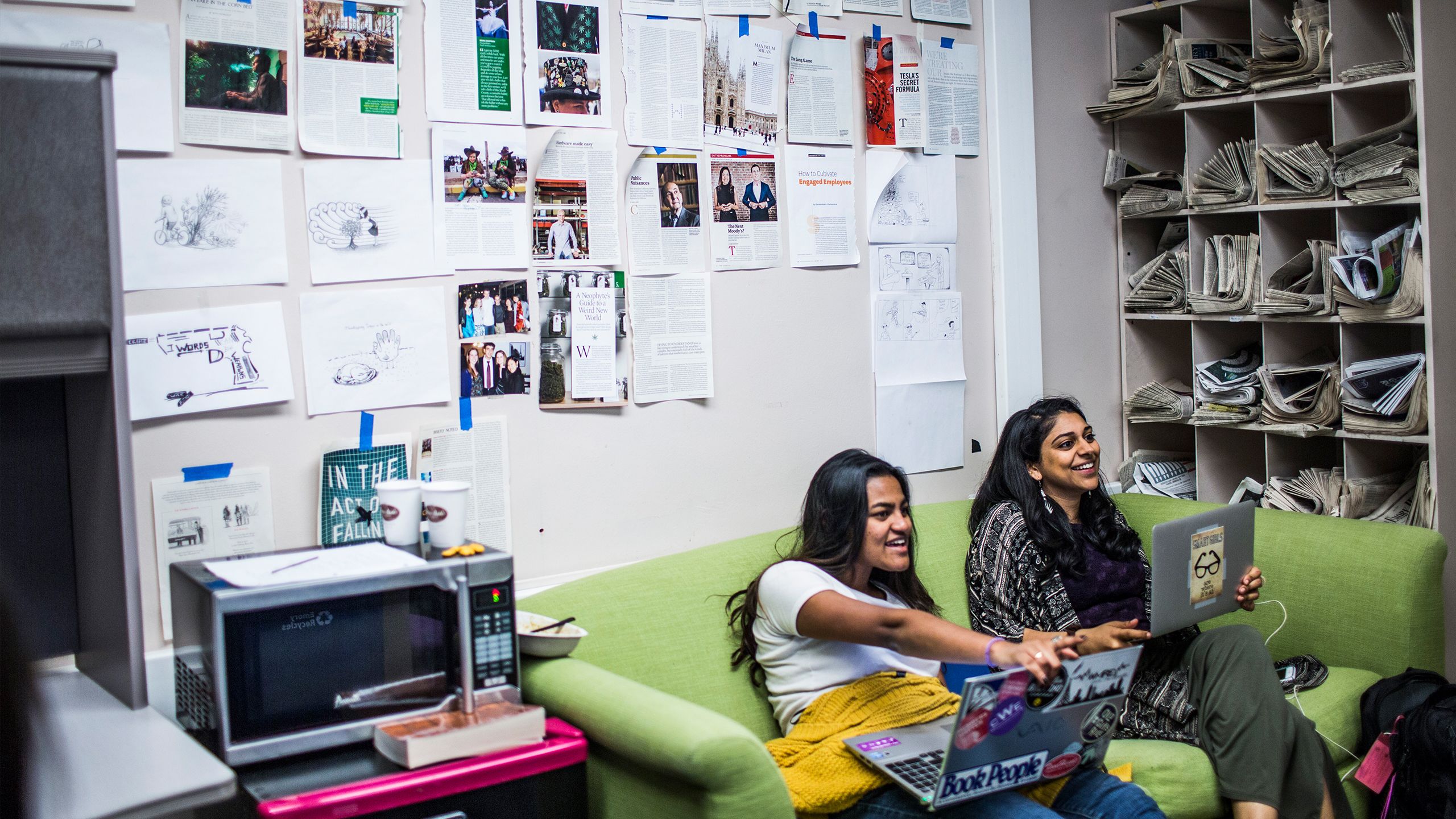 1919: The dean of Emory College recommends the creation of a school of economics and business administration. The Board of Trustees approved the motion the same day. The purpose of the school is public service, training in business methods, and "training in social efficiency alongside financial development."
1936: The school moves to its home in the C. L. Fishburne Building.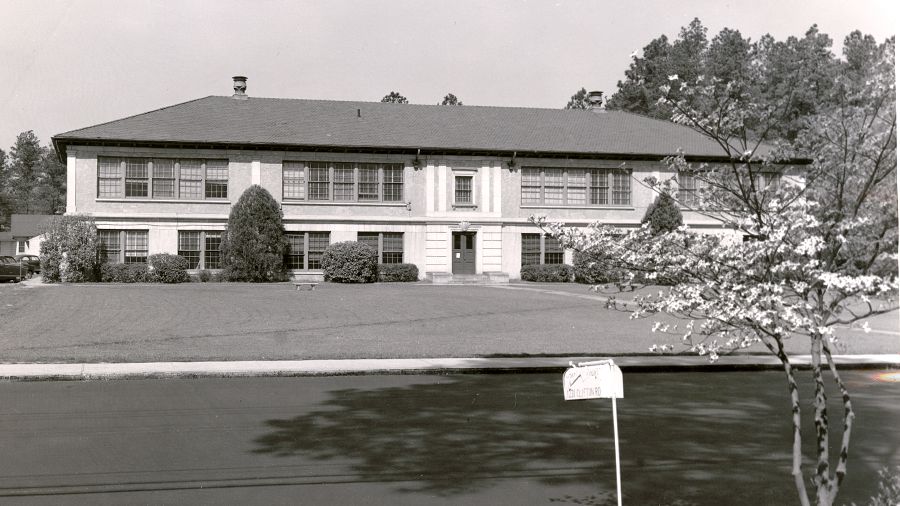 1947: The school receives a gift from the Rich Foundation, facilitating  a move into a building of its own. (As enrollment increases, the school will moves into the first of two buildings at 1300 Clifton Road, due to a gift from the Woodruff Foundation.)
1954: The full-time MBA program is launched.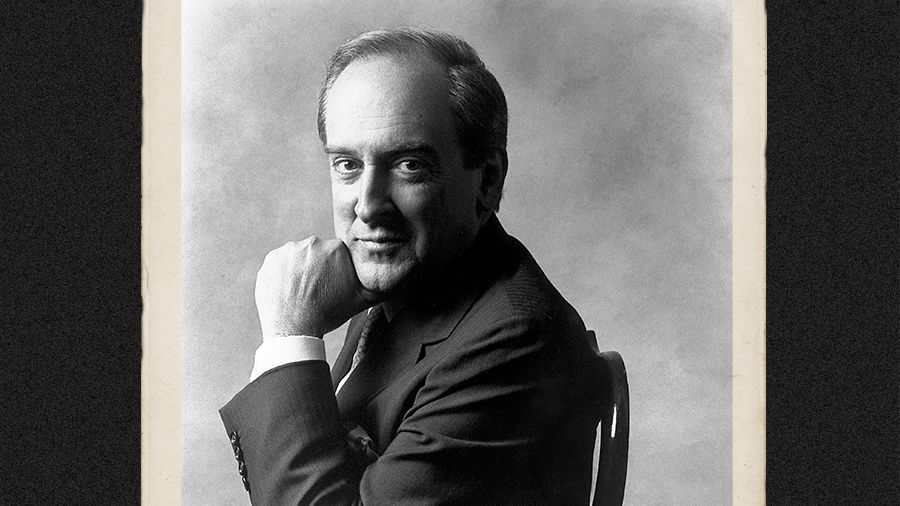 1994: The school is named in honor of Roberto C. Goizueta, former chair and CEO of The Coca-Cola Company.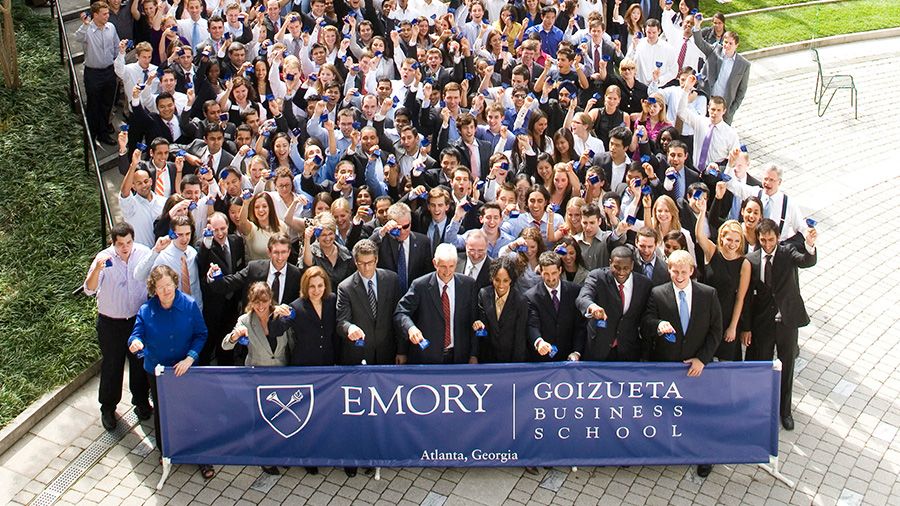 2009: The closing bell of the NYSE is rung in the Jenkins Courtyard, the first time ever that the bell has been rung from any educational institution.
2019: Ranked among the top-20 U.S. business schools, Goizueta continues to drive business forward with its BBA, MBA, MS in business analytics, PhD, and executive education programs.  
---
2019 Homecoming Activities with Goizueta Business School
Emory College and Goizueta undergraduate alumni (Friday, Oct. 25, at various times): This year's celebrations will honor the milestone classes of 1979, 1989, 1994, 1999, 2009 and 2014.
Goizueta Business School BBA Suite Visit (Friday, Oct. 25, at 6:30 p.m., GBS, 3rd floor): Mix and mingle while enjoying the newly renovated suite for undergraduates studying business.
Party on Patterson (Friday, Oct. 25, at 7 p.m.): All Goizueta alumni (plus families and friends) are invited to the Centennial Welcome Party on Patterson Green.
Goizueta Business School Centennial Alumni Breakfast (Saturday, Oct. 26, at 9 a.m., GBS). Registration was required by Oct. 20.
Goizueta Business School time capsule burial (Saturday, Oct. 26, at 10 a.m., Jenkins Courtyard): Commemorate 100 years of shared alumni memories with the 100th Time Capsule.
Goizueta Business School Speed Learning Tracks (Saturday, Oct. 26, at 11:30 a.m., 12 p.m. and 12:30 p.m., GBS): Join Goizueta faculty in these quick sessions about career-related topics.
Goizueta Business School Faculty/Staff Hosted Reunion Lunches (Saturday, Oct. 26, at 1 p.m., GBS classrooms)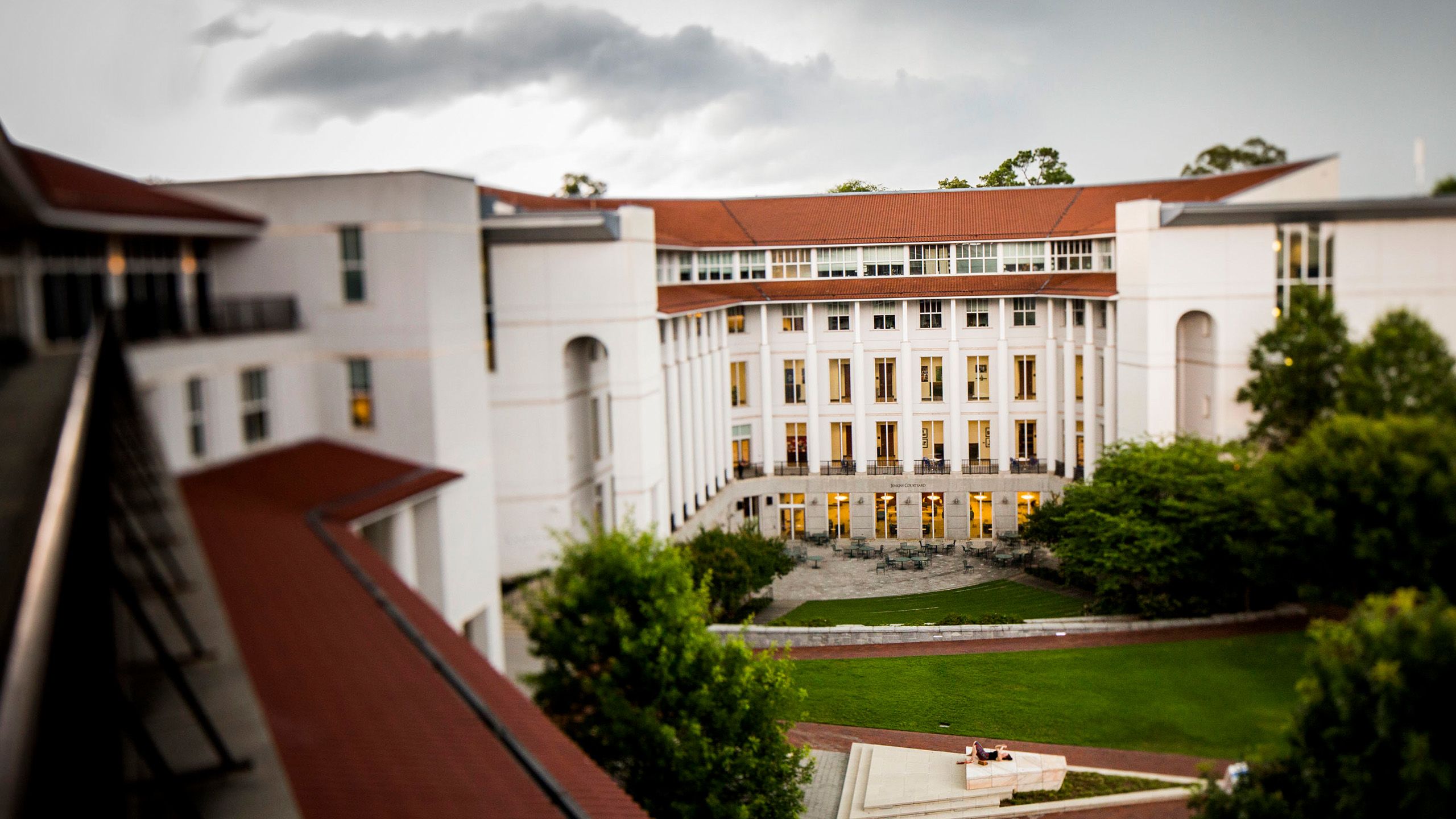 1869: The Board of Trustees lifts the ban on fraternities imposed twelve years earlier and gives official sanction to national chapters of Chi Phi and Kappa Alpha.
1959: The Emory Panhellenic Council is created, chartering nine national sororities, now celebrating six decades on campus.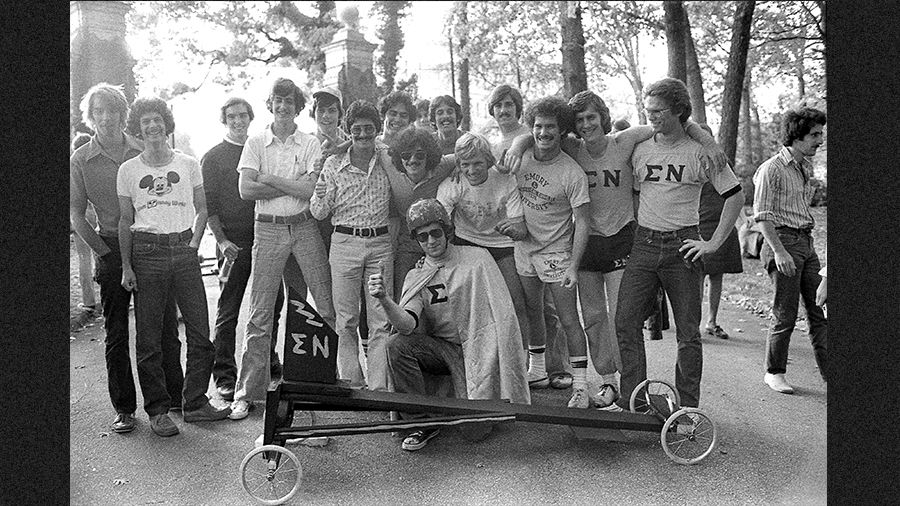 1976: Alpha Phi Alpha, a member of the National Pan-Hellenic Council, becomes Emory's first historically African American fraternity.
2002: The first multicultural Greek organization (Delta Phi Lambda Sorority, Inc.) was founded at Emory.
2011: The Multicultural Greek Council was established.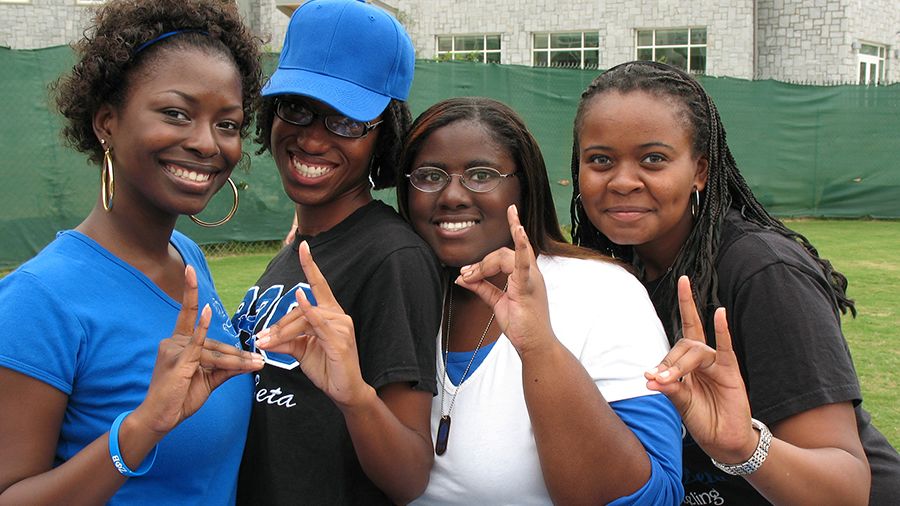 2016: Lambda Sigma Upsilon becomes Emory's first Latino fraternity and a member of the Multicultural Greek Council.
2019: Approximately 30 percent of Emory students belong to one of thirty-five Greek organizations. Members have earned collective GPAs near 3.5, have donated more than $75,000 to philanthropies, and have given more than twenty-five thousand hours to community service.
2019 Homecoming Activities with Greek Life
Greek Life 150 Year Anniversary Coffee and Conversation (Saturday, Oct. 26, at 9:30 a.m., Emory Student Center, Rooms 105 & 106): Greek Life alumni, students and parents are invited to a celebration with opening remarks by President Claire E. Sterk and Dean Enku Gelaye, vice president and dean of Campus Life.
Greek Life 150 Year Anniversary Open Houses on Eagle Row (Saturday, Oct. 26, at 11:30 a.m.)
Greek Life 150 Year Anniversary Tent at Homecoming Festival (Saturday, Oct. 26, at 2 p.m., McDonough Field)
CEBA/NPHC Homecoming BBQ (Saturday, Oct. 26, at 4:30 p.m., BSA House): All current students and alumni are invited to this annual CEBA/NPHC barbecue hosted by the Caucus of Emory Black Alumni (CEBA) and Emory's National Pan-Hellenic Council (NPHC).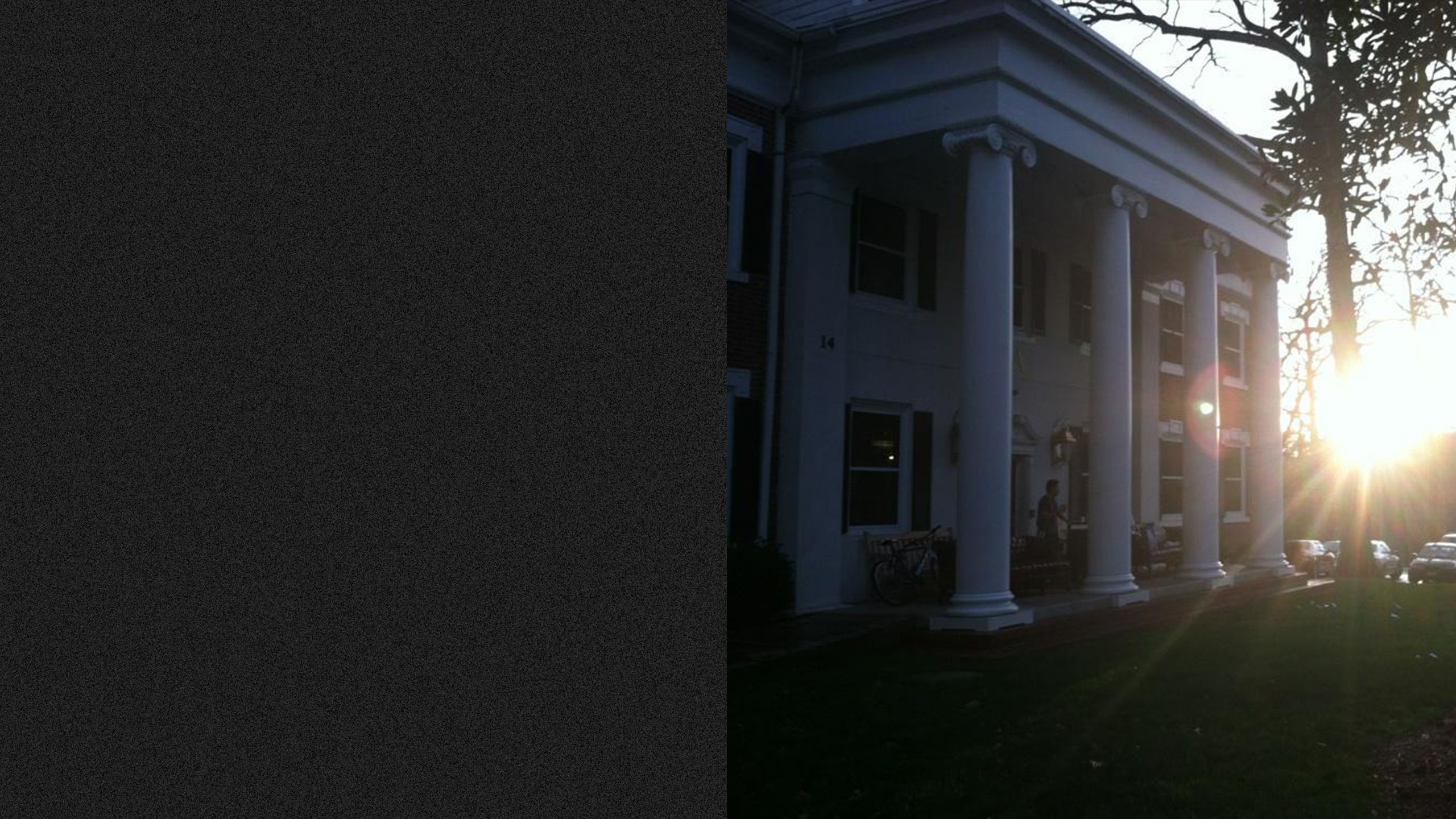 Learn more about Emory's history
---
2019 Activities with Emory University Historian, Gary Hauk
Historical Walking Tours of Campus (Friday, Oct. 25, at 3 p.m., and Saturday, Oct. 26, at 10:30 a.m.): Meet at the Cox Hall clock tower.
Book Signing (Saturday, Oct. 26, at 12:30 p.m., Emory Student Center, first floor): Get your copy of "Emory as Place: Meaning in a University Landscape" signed by author Gary Hauk.