Five years later, Ebola patients return to Emory
University reaffirms commitment to advancing prevention and care for global infectious diseases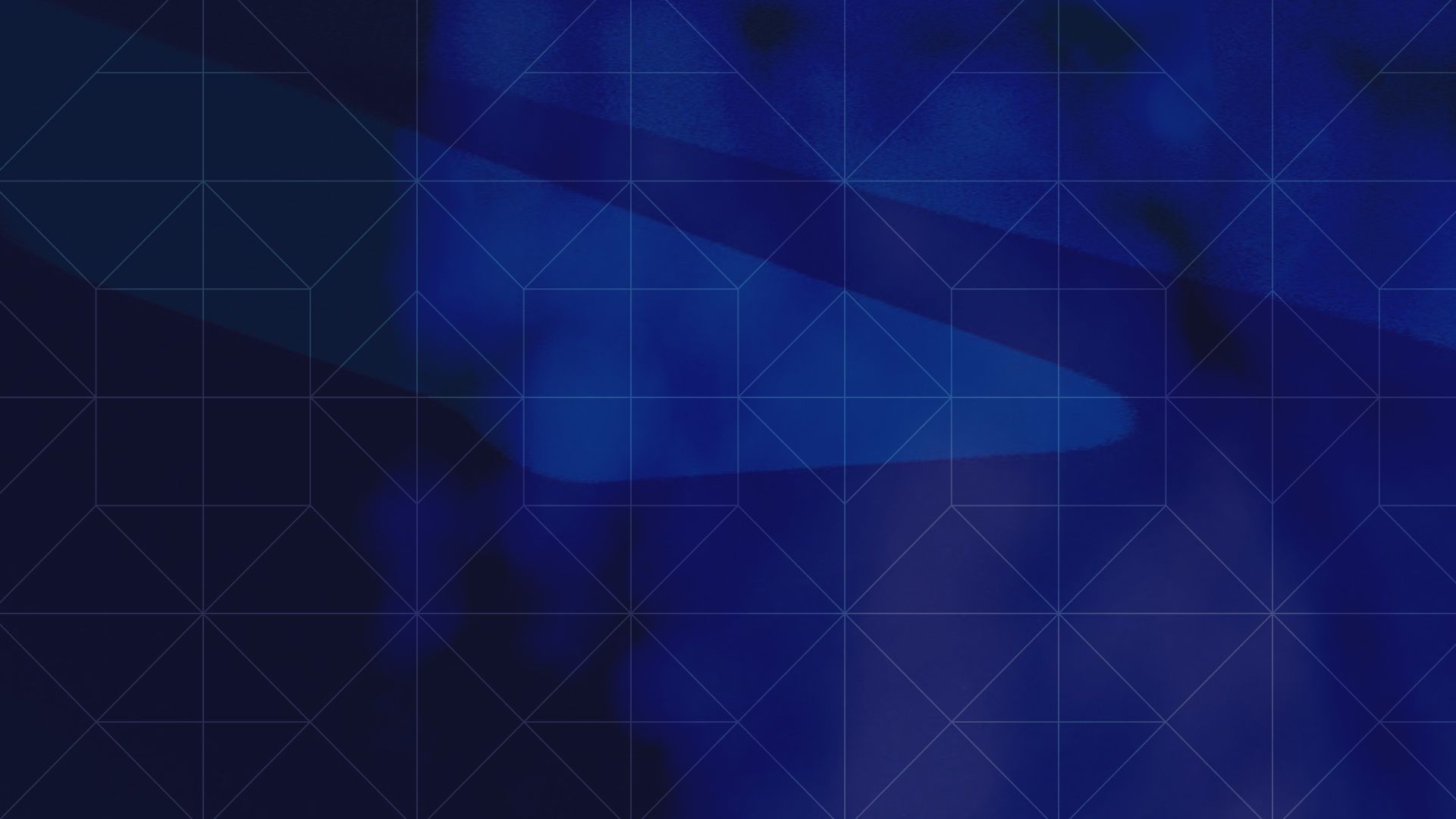 On Aug. 2, 2014, Kent Brantly stepped from an ambulance and slowly made his way into Emory University Hospital, becoming the first person with Ebola virus disease treated in the United States.
On Aug. 2, 2019, Emory welcomed Brantly and fellow missionary and Ebola patient Nancy Writebol back to campus as the university reaffirmed its commitment to fighting Ebola and other infectious diseases around the world.
"Five years ago, the world watched as the first of four patients with Ebola virus disease arrived at Emory University Hospital," says Jonathan S. Lewin, MD, Emory executive vice president for health affairs and president, CEO and chair of the board of Emory Healthcare.
"At a time when little was known about caring for these patients, our Serious Communicable Diseases Unit (SCDU) successfully treated individuals with Ebola virus disease, creating protocols that have evolved into internationally recognized standards for caring for patients with deadly infections."
Emory has played a lead role in expanding the learning curve from experiences with Ebola virus disease. Emory physicians, nurses and other health care providers have continued to refine and share protocols in infectious disease prevention, safety patient care across Emory's health care system and with institutions and partners throughout the U.S. and globally.
Examples of that work were shared with media Aug. 2, including comments from Emory experts and two of the four patients who were treated at Emory for Ebola virus disease in 2014: Dr. Kent Brantly and Nancy Writebol, Americans who contracted Ebola while caring for patients in a missionary hospital in Liberia.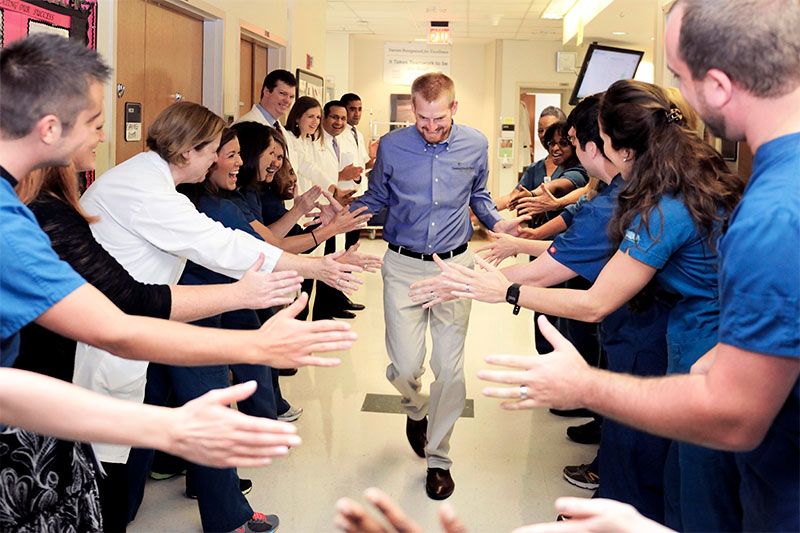 Looking back: Kent Brantly, the first Ebola patient treated in the U.S., on the day he was discharged from Emory.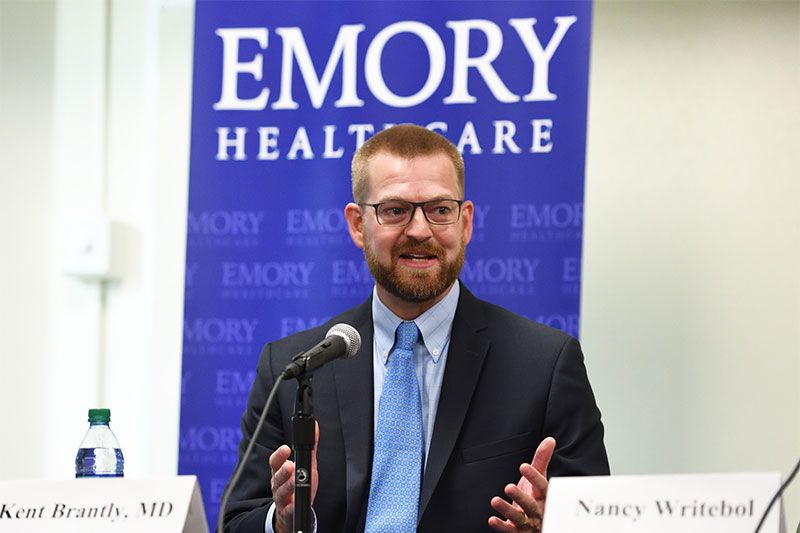 Looking forward: Speaking at a press conference on the fifth anniversary of his arrival at Emory, Kent Brantly said his family will return to Africa where he will once again serve as a medical missionary.
The event at Emory University Hospital was part reunion, part call to action. Before taking the podium, physicians and patients shared hugs and memories as cameras clicked.
But even as they marked a milestone for Ebola treatment, participants stressed that there is much work to be done.
"Five years ago today the worst Ebola outbreak was raging in West Africa," said Bruce Ribner, MD, Emory professor of medicine and medical director of the Serious Communicable Diseases Unit. "Sadly, a few days ago we marked the one-year anniversary of the second largest outbreak of Ebola virus disease which is currently going on in the Democratic Republic of Congo. Most concerning, there is now transmission of Ebolain a second city, Goma, which was not previously in the outbreak area.
"We certainly have a lot more to offer individuals in the DRC in terms of medical countermeasures and medicines to treat their disease than we did five years ago," Ribner added. "We've also seen a large impact from a new vaccine, but clearly these kinds of numbers are telling us that we have a lot more work to do."
Colleen Kraft, MD, associate professor of pathology and laboratory medicine and associate medical director of Emory's Serious Communicable Diseases Unit, agreed.
"We learned so much at the time in the care of these patients," she said. "Now we have the benefit of seeing what those lessons have taught us over the last five years. I hope, with the advances happening in the field, that we can eliminate Ebola virus disease in the human population."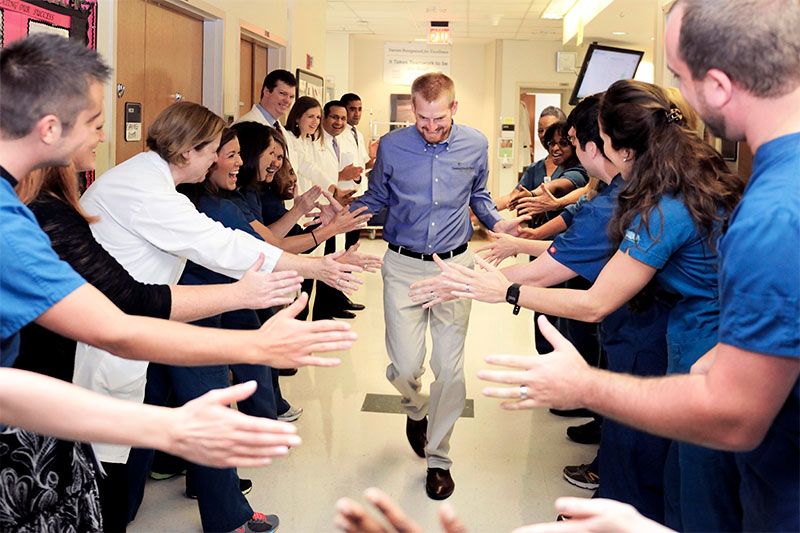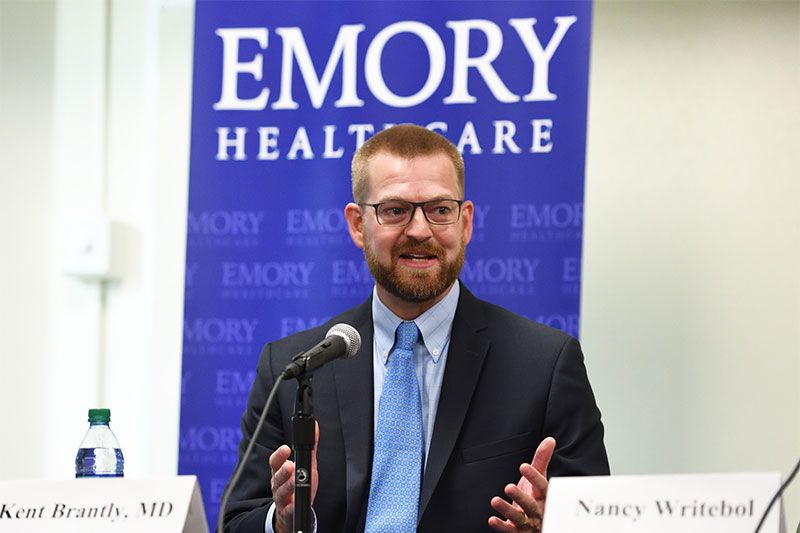 "When I got here": Kent Brantly recalls his first moments at Emory University Hospital.
"When I got here": Kent Brantly recalls his first moments at Emory University Hospital.
Stepping back into the past
Both Brantly and Writebol shared memories of feeling their care givers' compassion and appreciating their encouragement throughout their time in the hospital.
"Emory said yes to us," Brantly says. "They had compassion for us when we were in a tough place. I remember when I got to the unit there was a message on the white board in the room that said, 'Welcome! We're glad you're here.' I was really thankful to know that, even though I was still very sick and didn't know if I would survive. So many people played a critical role in making it possible for Nancy and me and the others to receive care here."
Brantly also shared how he watched on TV as Writebol was brought to Emory three days after his arrival. "I was glad she would receive the same compassionate care I had for those three days and to know that there was a chance we both might survive this," he recalled.
"The amount of emotional and physical support here were so great," Writebol said. "They were very concerned about where we were emotionally and what was going on in our heads. How can you measure that?"
Following the media conference, Writebol and Brantly visited the SCDU with their families. Brantly showed his young children the room where he was once so sick, then later paused to wash his hands at the sink, after recalling how the smell of the hospital soap took him back to his days as a patient.
Rather than fear, he said his primary feelings were nostalgia and gratitude.
"It is a real blessing to be able to walk into this place five years later and see the faces of the people who took care of me, hug them and tell them thank you again," he said. The smell of the soap, he explained, reminded him of "what it felt like in that time when things had been so bad, but to know that things were going to be OK."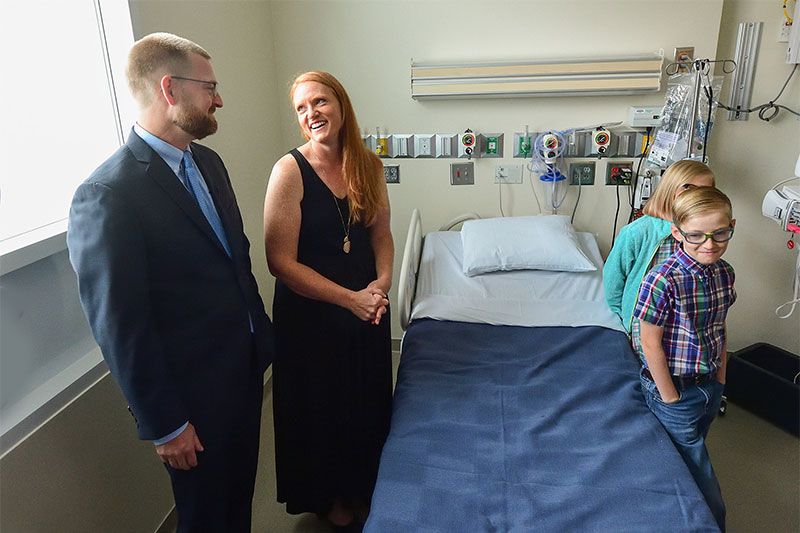 Kent Brantly, his wife, Amber, and their two children visit the room in Emory's Special Communicable Diseases Unit where he was treated for Ebola virus disease.
The rooms where Brantly and Writebol were treated are separated by an anteroom where staff would don protective gear before entering the patient rooms. Writebol told of how she and Brantly would call each other on the phone from their rooms to talk through their experiences in Liberia and to also encourage each other through the journey. They had known each other already through their work, but contracting Ebola and being treated together at Emory connected them and their families on a new level.
"Our relationship will always be very dear and special," she said.
"Our friendship didn't start with fighting Ebola," he added, "but it certainly was forged more deeply."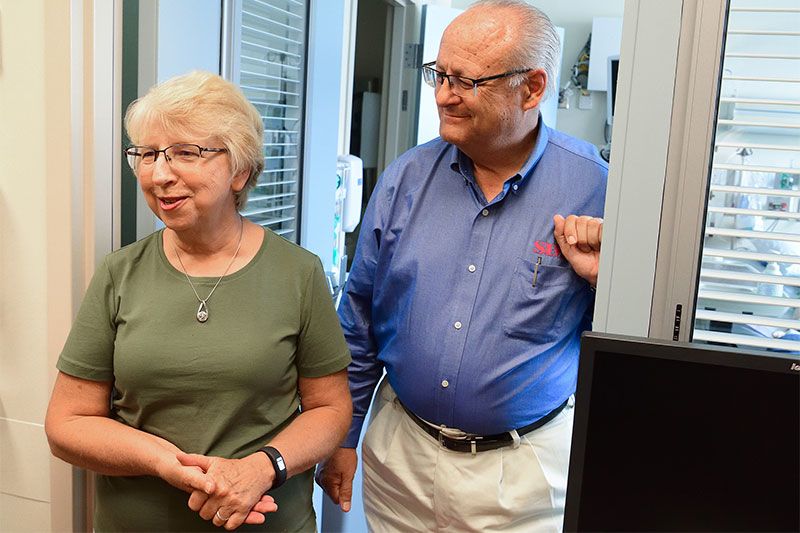 Nancy Writebol and her husband, David, in the doorway of the hospital room where she stayed in the Serious Communicable Diseases Unit.
---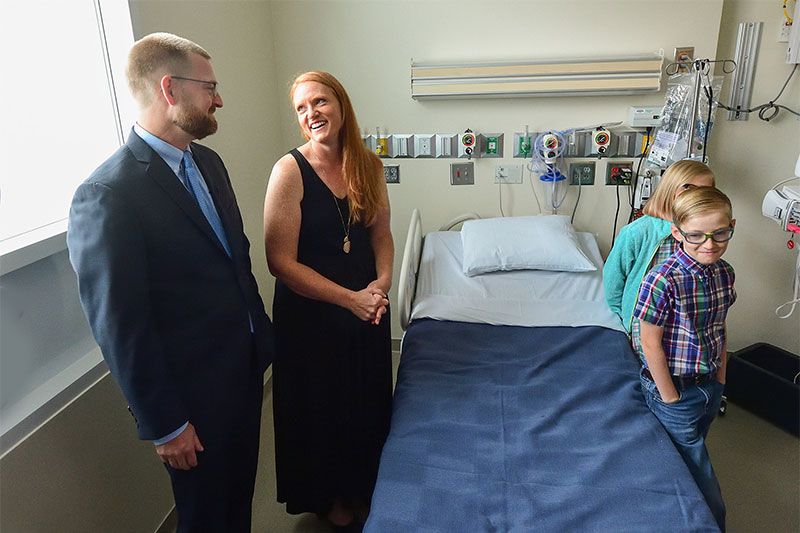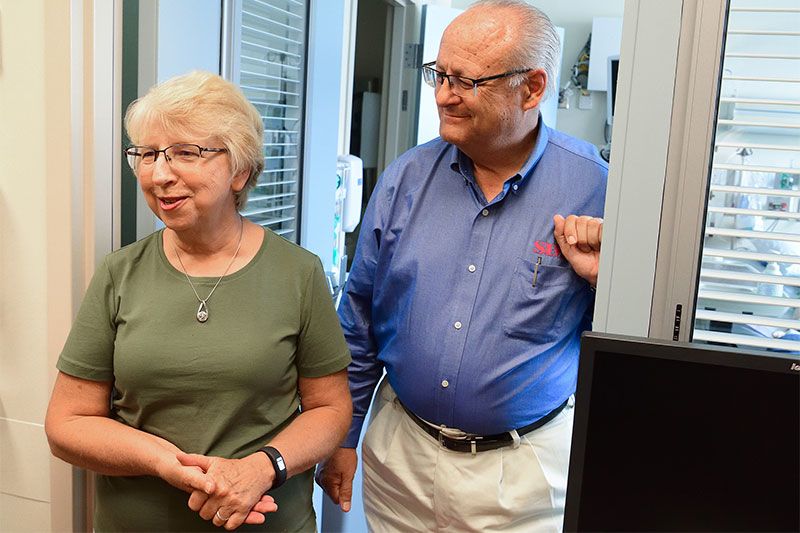 Commitment to the future
From August through October 2014, Emory successfully treated four patients with Ebola virus disease: Brantly; Writebol; Ian Crozier, a doctor who volunteered with an Ebola treatment unit in Sierra Leone; and Amber Vinson, a nurse who was treated at Emory by request of the CDC and Texas Health Resources after becoming infected while caring for a patient with Ebola virus disease in Dallas.
The work that saved these patients continues today across Emory. Some tangible ways the experience is helping health care workers worldwide include:
Emory evaluated how health care workers took off personal protective equipment (PPE), then carefully refined the process to limit exposure. These lessons, and other safety protocols, are now used for broader hospital applications, and 360-degree virtual reality videos have been developed for training.
Emory's SCDU team, which successfully treated patients with procedures not previously used to care for patients with Ebola virus disease, has continued to advance and improve safety protocols and methods of care for patients with serious infections, and has shared their findings and experiences with health care providers across the country.
Infectious disease experts at the Hope Clinic of the Emory Vaccine Center have played key roles in testing vaccines for Ebola virus disease, both for pre-exposure and post-exposure prophylaxis.
Immunologists at the Emory Vaccine Center have led studies on Ebola antibodies, in an effort to design anti-viral therapies and better vaccines.
The work will continue around Ebola and other infectious diseases affecting countries worldwide.
One example of the grants that make this possible is a $24 million federal contract, awarded to Emory along with Nebraska Medical Center and Bellevue Hospitals, to establish the National Ebola Training and Education Center (NETEC), which has provided training to 48 designated health care institutions around the U.S. In addition, as the global health emergency continues in the DRC, the National Institutes of Health recently awarded the Emory Eye Center a $3.2 million grant to continue studying vision-related issues in Ebola virus disease survivors.
"With Ebola still very much a global threat, our infectious disease physicians, nurses and researchers are using the learnings from 2014 in everyday patient care and working to find more therapies for Ebola and other challenging infectious diseases," Kraft said. "We believe this can be a game-changer in the future of health care."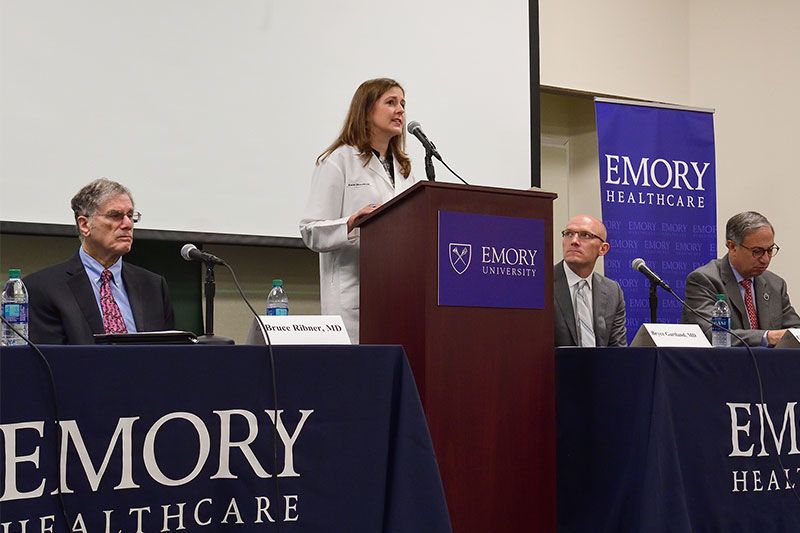 At the Aug. 2 press conference, Emory physicians and leaders (left to right) Bruce Ribner, Colleen Kraft, Bryce Gartland and Carlos del Rio reaffirmed the university's commitment to advancing prevention and treatment for Ebola and other infectious diseases.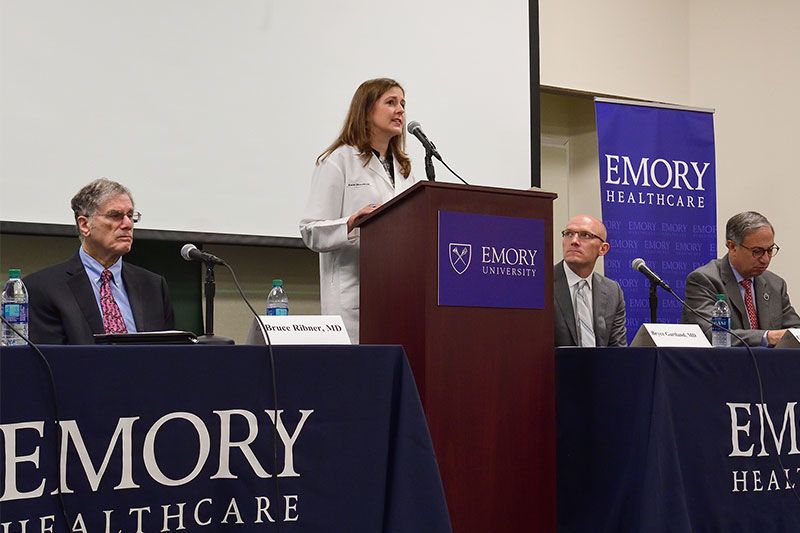 From containment to innovation
After the press conference and tour, a scientific symposium, "Ebola Virus Disease and Emory: From Biocontainment to Healthcare Innovation," was held at the Rollins School of Public Health from 11 a.m. to 4 p.m.
"As we think about these life-saving efforts, we are realizing five years later that a lot of the changes that occurred, a lot of the new thinking, a lot of the new ways of doing things still are with us today," Emory President Claire E. Sterk told attendees. "We live in a world where very often people think that we have enough knowledge and skills and technology to tackle any public health problem. And then we realize that we are not there. So we can't get arrogant, we must stay focused."
Speaking to a full house of students, researchers, medical and public health professionals and other community members, Sterk urged the audience to remember that "recent studies have started emphasizing how as the planet warms and global resources are stretched thin, we must be prepared that there will be many previously unknown pathogens that will become a problem for us.
 "Our need really remains urgent," she said. "In many ways, it is much broader than thinking about Ebola."
Kraft, the SCDU's associate medical director, and Ribner, the unit's founder and medical director, recalled how the SCDU was created in 2001 in collaboration with the CDC and was the first civilian biocontainment unit in the U.S. of its type. But it was used only twice before Emory's four Ebola virus disease patients arrived in 2014.
"I used to carry a pager that went off once a year for the drills we would do," Kraft said.
Ribner joked that the unit used to be called "Ribner's Ark." "You can't be impatient," he said. "I knew we needed an isolation unit where excellent care could be provided safely. We had to be convinced that what we were doing was important."
When the Ebola patients came to Emory, reaction was strong—both positive and negative. A satellite postal area had to be set up for all the letters and packages addressed to the SCDU, says Ribner — "some of which didn't have return addresses, which was scary."
The symposium continued with a talk by Brantly about Ebola and Liberia, where he acquired the virus while caring for Ebola patients as a medical missionary; U.S. State Department and CDC personnel on the need for safe transport and clinical management of infectious disease patients; and doctors and nurses who spoke to the status of the current Ebola outbreak in the DRC, which has been declared a global health emergency by WHO.
Finally, Kraft and Sharon Vanairsdale, DNP, program director of the SCDU, closed out the gathering by speaking about how what they learned while caring for the four Ebola patients in Emory's SCDU is sparking a revolution in infectious disease care, from the proper use of personal protective clothing to an emphasis on input from all members of the health care team.
Both the press event and the symposium included a message from Tedros Adhanom Ghebreyesus, the director-general of World Health Organization, about the importance of recognizing that global epidemics are a shared concern that impact the safety of all. "We spend too much effort responding to outbreaks" and too little preventing them, he said.
"We need to fix the roof before it rains," he urged. "The U.S. has long been a powerhouse of scientific research, and more than ever, we need your support not only to develop better tools but to develop better systems to keep the world safe. Your support can help us to build a better world."
ABOUT THIS STORY: Written by Leigh DeLozier, Mary Loftus and Laura Douglas-Brown. Photos by Jack Kearse. Video by Damon Meharg and Ann Watson. Published Aug. 2, 2019.