Meet Emory's Class of 2023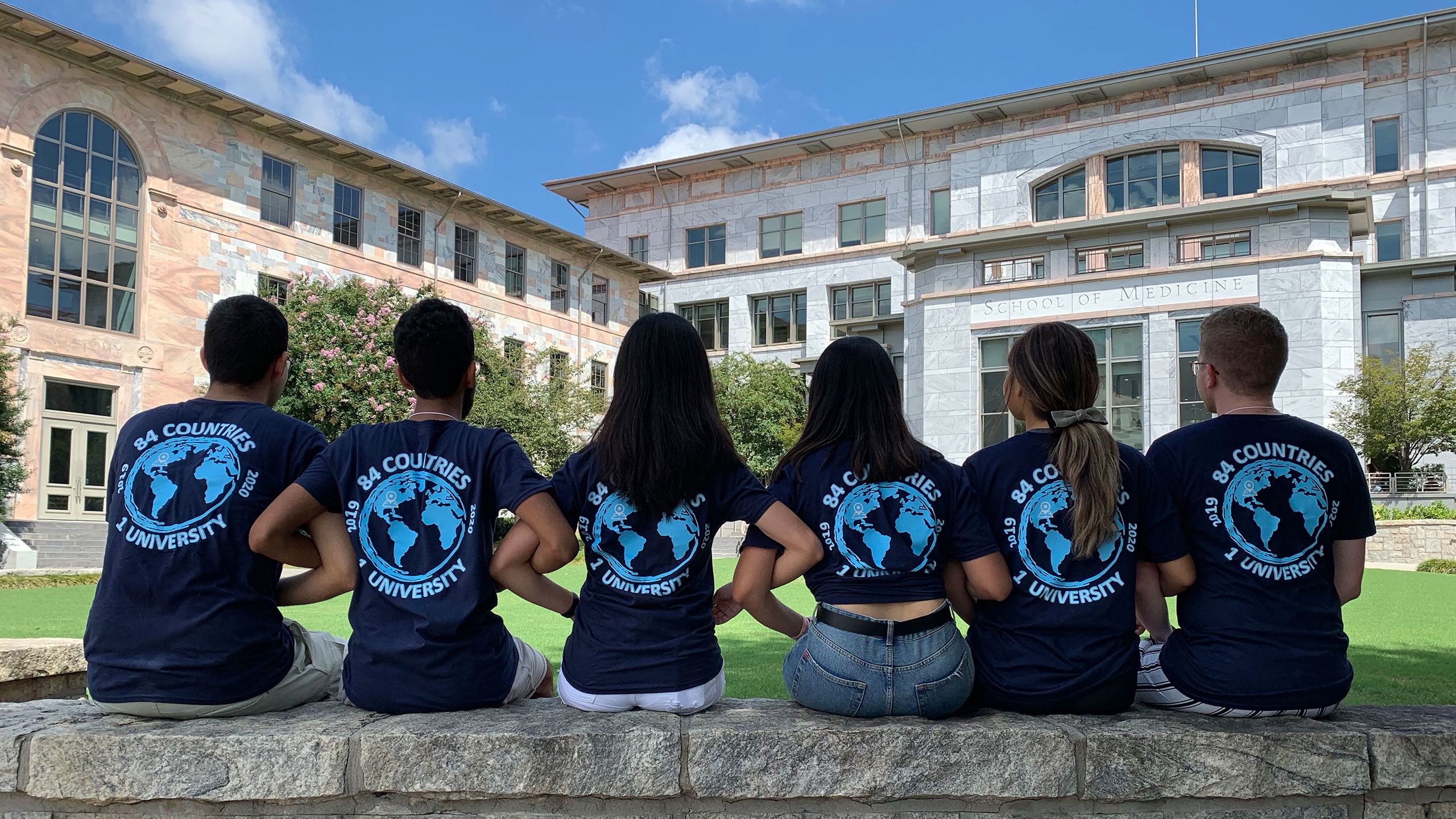 Riding a wave of excitement and eager to launch the next chapter of their academic journey, Emory's new first-year class arrived on campus this week primed to step into college life.
They were greeted by hundreds of enthusiastic volunteers waiting to help carry boxes, laundry baskets and luggage as they welcomed Emory's Class of 2023 to their new campus home. Students, faculty and staff members joined Emory President Claire E. Sterk and her leadership team in unpacking cars, greeting families and ushering Emory's newest students into the undergraduate experience.
"I'm thrilled to welcome all of these talented and engaged students to Emory," Sterk says. "Their energy and enthusiasm for learning are already clear, and I look forward to the impact they're going to have—both at Emory and around the world."
"As an eminent research university, Emory offers unique opportunities for undergraduate students to explore their interests and passions with guidance from leading experts," says Dwight A. McBride, provost and executive vice president of academic affairs. "I'm excited to see how our students will contribute to our community at Emory and beyond."
Taken together, the Class of 2023 is distinguished by its own soaring potential — bright, accomplished students from all over the world selected to attend Emory College of Arts and Sciences and Oxford College from among a record-breaking pool of 30,372 applicants.
"That represents a tremendous amount of talent," says John Latting, associate vice provost for enrollment and Emory dean of admission. "It's a very diverse group with a definite sense of purpose, which is characteristic of the students who are drawn to Emory. And they bring with them a stunning breadth of experiences and backgrounds."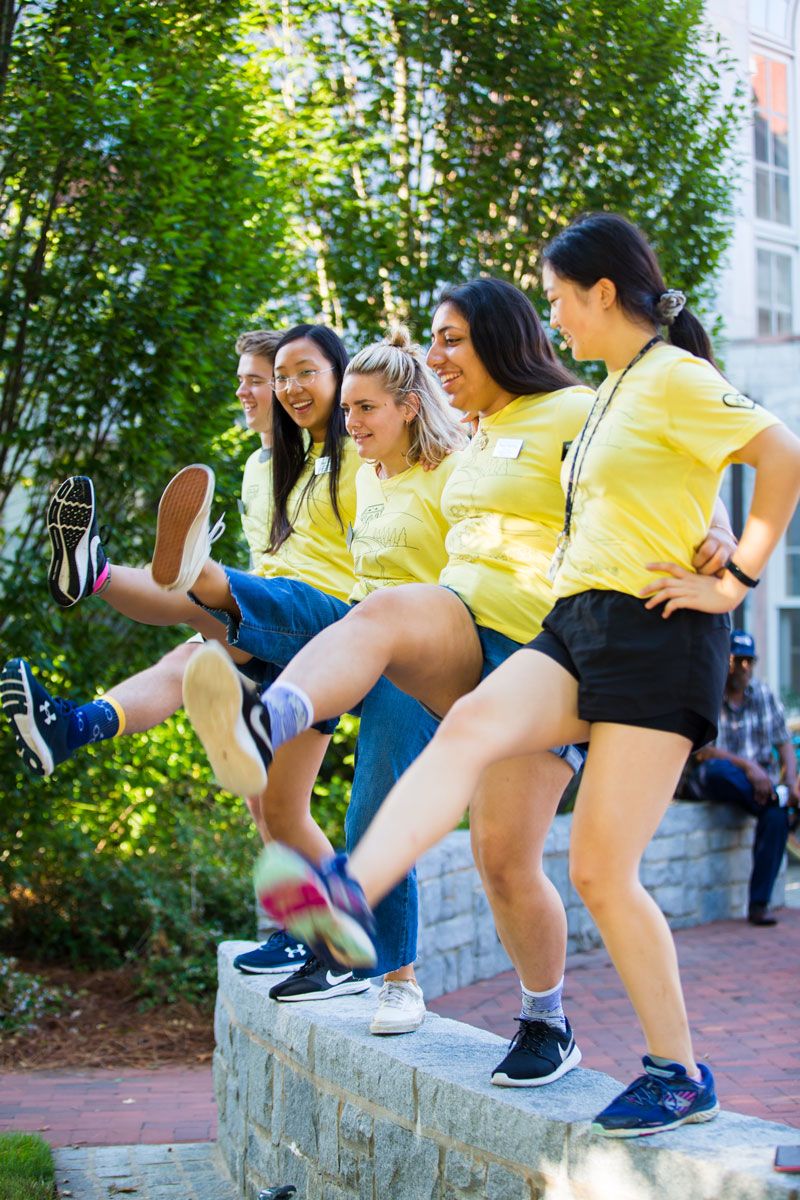 Welcome home: On Move-In Day, Emory College and Oxford College students were greeted with cheers, dances, signs and plenty of helping hands.
With some of the nation's top academic scores, engagement in both school and community life, literary, athletic and artistic talents, and strong academic preparation, the Class of 2023 has already demonstrated a deep commitment to learning, Latting notes.
Motivated by Emory's academic experience, leadership opportunities and campus environment, these first-year students are seekers, looking at their four-year undergraduate experience "as a time of growth and acquiring skills they can use in service to others going forward," he says.
"Increasingly, we see Emory applicants thinking about the arc of the future that lies ahead of them and anticipating how an Emory education supports that," he adds. "The decision to come here is about preparing for their whole lives."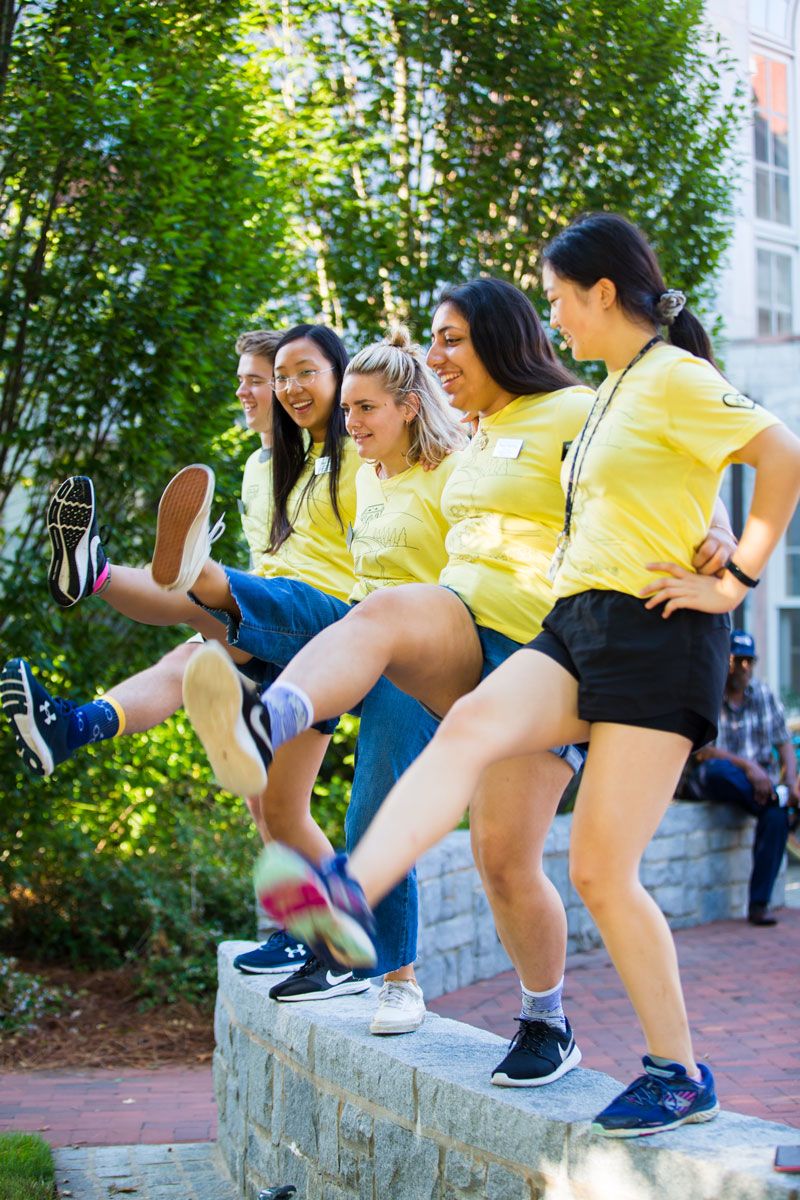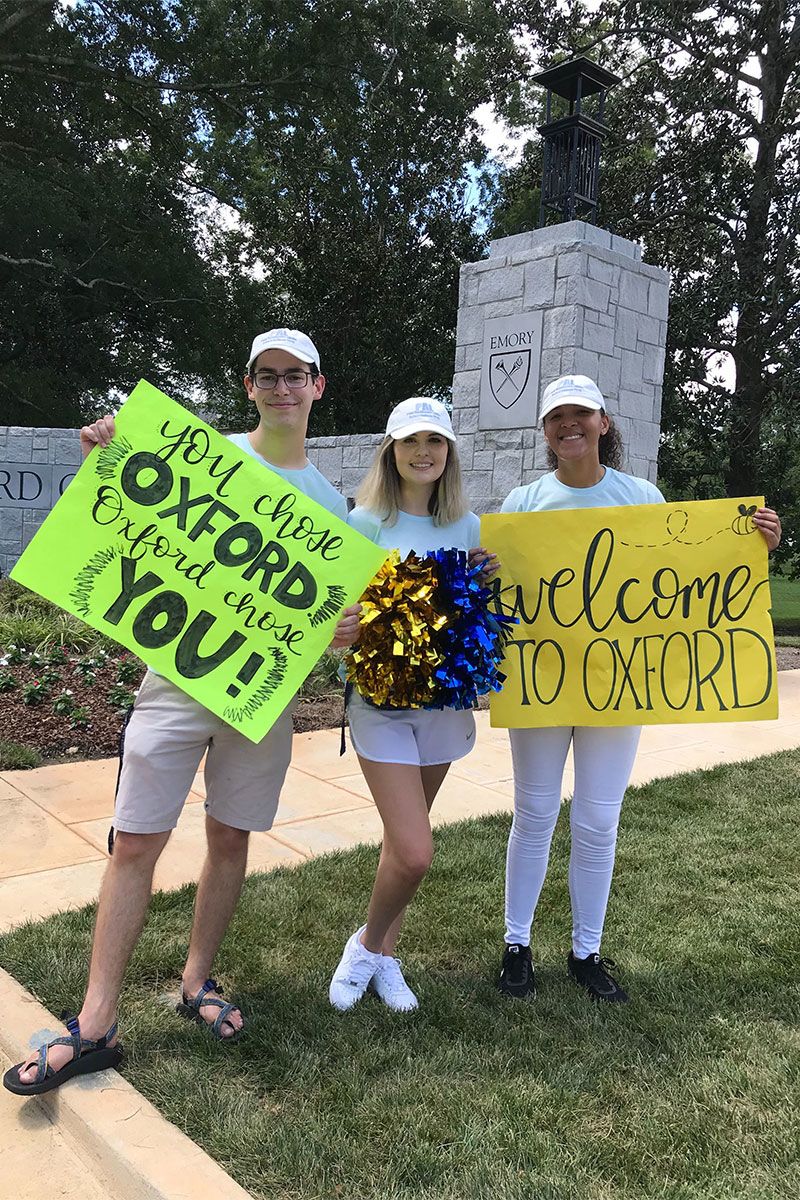 Move-In in a Minute: Watch Emory's Move-In Day condensed into one minute of cheers, hugs, dancing and lots and lots of luggage.
Move-In in a Minute: Watch Emory's Move-In Day condensed into one minute of cheers, hugs and lots and lots of luggage.
Move-In in a Minute: Watch Emory's Move-In Day condensed into one minute of cheers, hugs and lots and lots of luggage.
A warm welcome
Emory University offers two unique starting points for first-year students: They may enter Emory College on the Atlanta campus or study for their first two years at Oxford College, on Emory's original campus in Oxford, Georgia. 
After the sophomore year, all students complete their undergraduate degree on the Atlanta campus through Emory College, Goizueta Business School or the Nell Hodgson Woodruff School of Nursing. 

On the Atlanta campus, international first-year students began arriving Tuesday, Aug. 20, to participate in an array of pre-orientation programs. But the majority of the new class arrived on Saturday, Aug. 24, as 1,382 first-year students, plus transfer students, began the four-day orientation for Emory College on the Atlanta campus.
Their introduction to campus life included moving into residence halls and meeting academic advisers, a rousing Songfest practice, campus tours and peer discussions. Returning Emory students and continuing students from Oxford College moved in on Sunday, Aug. 25.
"We're excited to welcome this exceptional class to campus and into our academic community," says Emory College Dean Michael A. Elliott. "I look forward to seeing what they will discover and create through their liberal arts education over the next four years, and how they will impact the world after they graduate."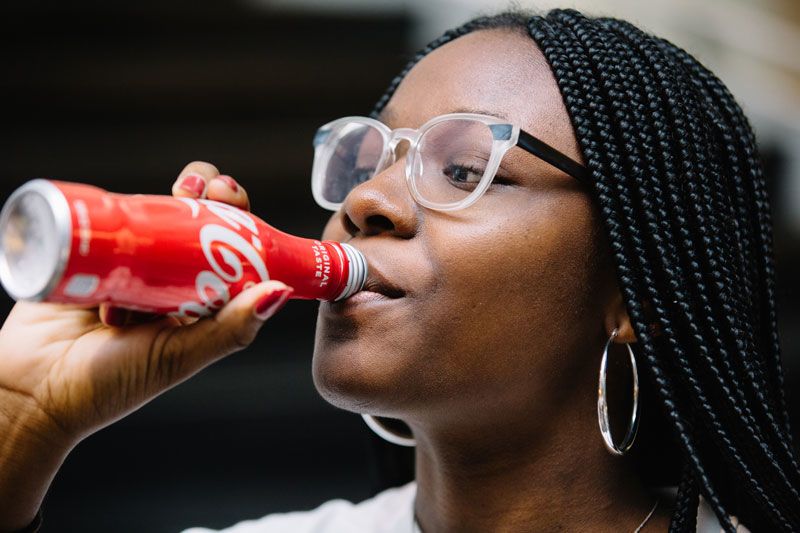 Cheers to the next four years: First-year students on Emory's Oxford and Atlanta campuses joined in the traditional Coca-Cola Toast to celebrate their transition into college students.
Oxford College welcomed 474 first-year students, who began new student orientation on Friday, Aug. 23. Sophomores at Oxford moved in Tuesday, Aug. 27, in preparation for the first day of classes. International students began arriving throughout the week for preorientation activities. 
"We are welcoming such an extraordinary and highly talented group of first-year students to Oxford," says Oxford College Dean Douglas A. Hicks. "They arrive on campus from all over the country and across the world, and the faculty and staff are as eager as they are to get started on a year of learning through discovery, exploration and reflection."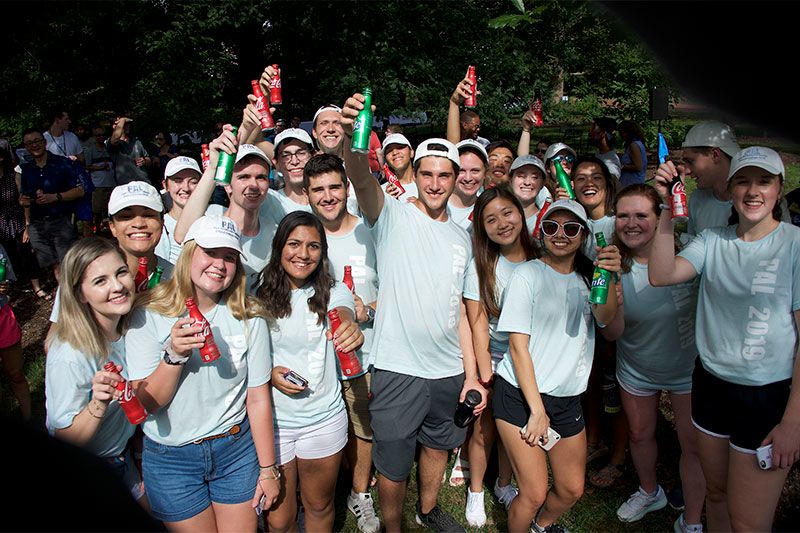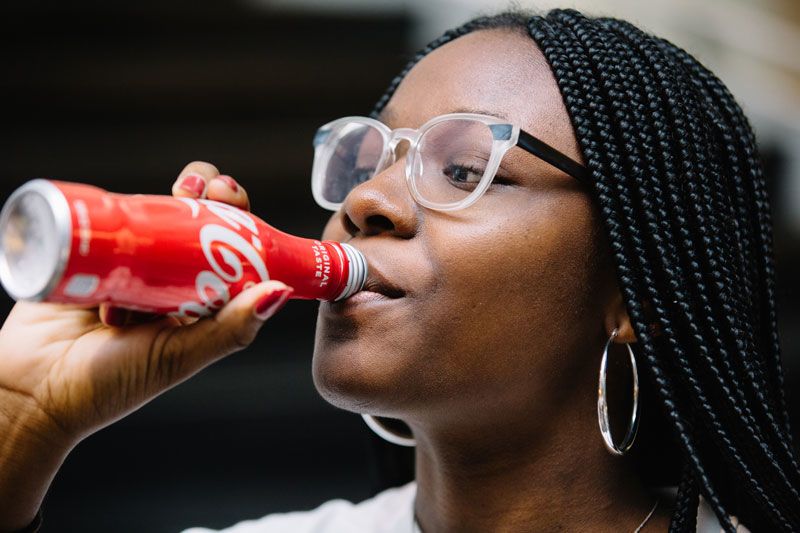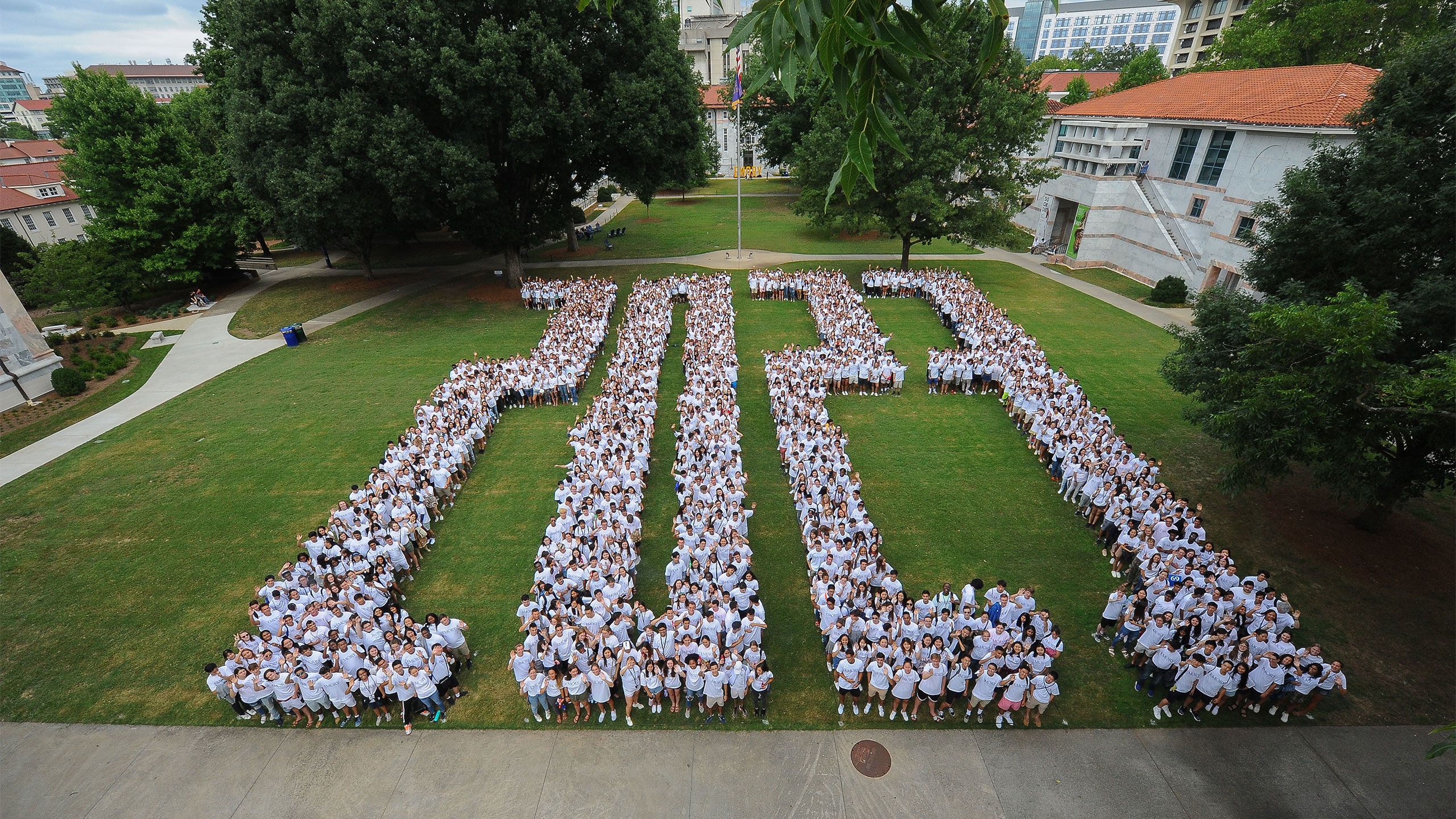 One Emory, one Class of 2023: First-year students in Emory College and Oxford College came together Aug. 25 on the Emory Quad for a photo of their graduation year.
One Emory, one Class of 2023: First-year students in Emory College and Oxford College came together Aug. 25 on the Emory Quad for a photo of their graduation year.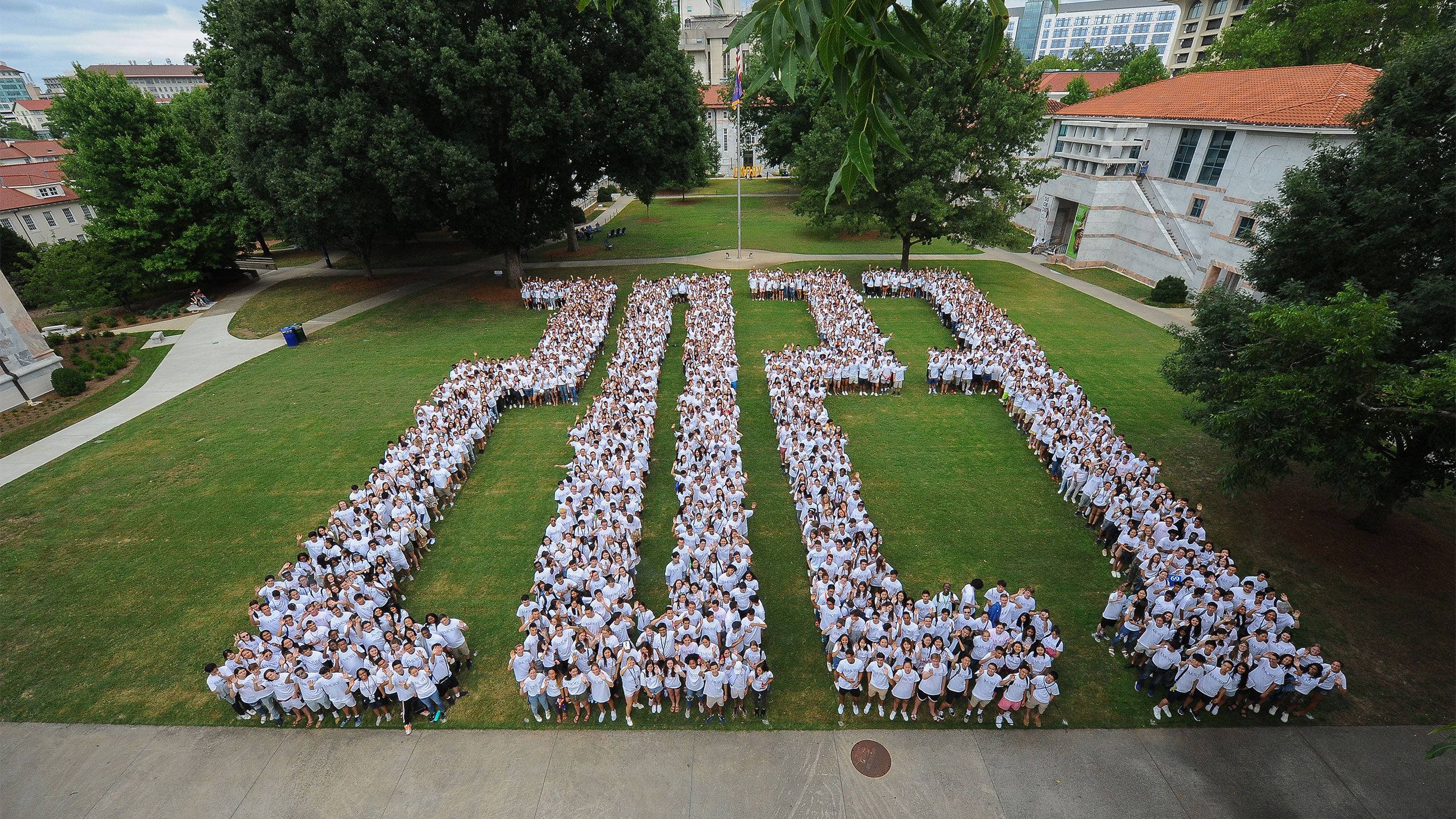 One Emory, one Class of 2023: First-year students in Emory College and Oxford College came together Aug. 25 on the Emory Quad for a photo of their graduation year.
One Emory, one Class of 2023: First-year students in Emory College and Oxford College came together Aug. 25 on the Emory Quad for a photo of their graduation year.
Accomplished, diverse scholars
Bright and talented, with an established record of engagement in their schools and communities, the Class of 2023 comes to Emory representing some of the nation's most promising young scholars.
"We see a true spirit of the liberal arts in the incoming class," says Kelley Lips, dean of enrollment services for Oxford College. "These students have distinguished themselves as scholars and significant contributors in their communities. They are poised to do good work and we are looking forward to experiencing their impact."
On both campuses, the first-year class is comprised of accomplished individuals offering a diverse mixture of backgrounds, perspectives and lived experiences — from first-generation college students to those who grew up deeply entrenched in the world of academia, from students from across the globe to those raised in small-town America.
Together, the class represents students from some 48 U.S. states, plus Puerto Rico, the District of Columbia, the U.S. Virgin Islands and the U.S. Mariana Islands.
"Family income, geographical locations, the languages they speak, their religious backgrounds and ethnicities — I think we're at the forefront of attracting a broad, rich base of students — to bring together and to build upon," Latting says.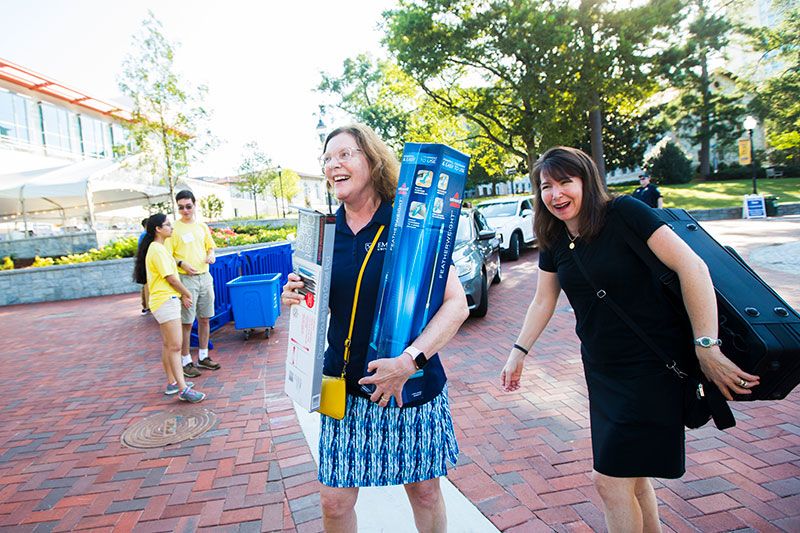 Emory President Claire E. Sterk and other university leaders lend a hand on Move-In Day, greeting students and helping carry their belongings to their new homes.
International students make up 18 percent of the first-year class at Emory College and 19.4 percent of the first-year class at Oxford College. Incoming Emory College students speak 54 unique languages; at Oxford, first-year students speaking 37 languages are represented.
New this year is a growing cohort of Native American students — representing five tribal nations — as well as increasing numbers of military veterans and a 24 percent increase in first-year Hispanic and Latino/Latina students, Latting notes.
And the first-year class on both campuses includes students who are the first in their families to attend college. At Emory College, 11 percent are first-generation college students; at Oxford College, 6.5 percent are first-generation.
To assist students with acute financial need, this semester Emory has enrolled 152 students through a partnership with the QuestBridge National College Match program, which helps outstanding low-income high school seniors gain admission and full four-year scholarships to the nation's most selective colleges.
Emory annually enrolls one of the largest QuestBridge cohorts in the country — a response to the university's commitment to diversity and an effort to ensure that an excellent liberal arts education is accessible for qualified students, Latting notes. 
"It's because of our commitment to educating the best students regardless of financial need," says Latting. "When we admit students, we're looking for talent."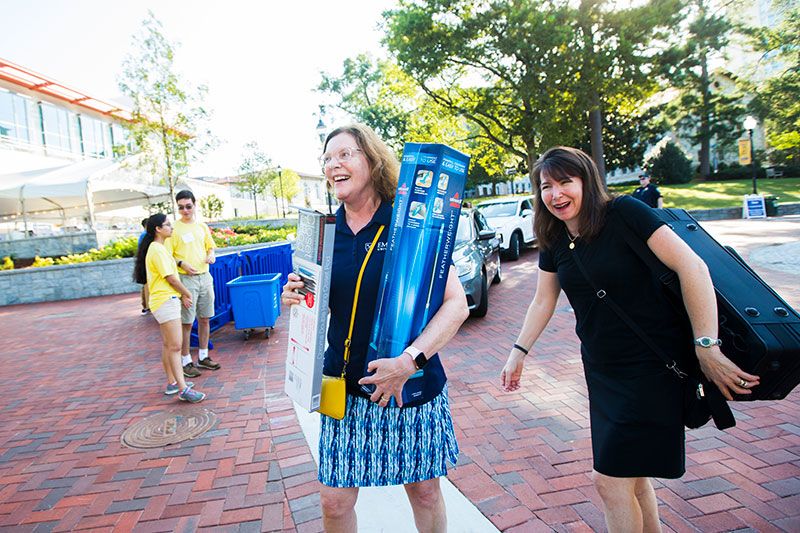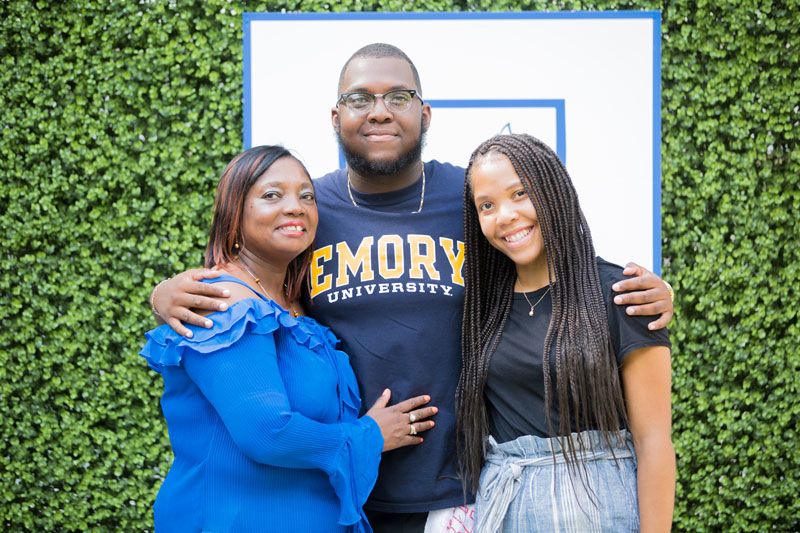 Ready to make their mark
So what's the common thread among the diverse students within the Class of 2023?
They all are seeking what Emory has to offer:  Challenging academics. Acclaimed faculty. Undergraduate research opportunities. A student body drawn from across the nation and the world. Leadership experiences. Bridges to community service and engagement. Nationally ranked athletic programs. Expansive student resources and support services.
In addition to a demonstrated  commitment to learning, it's a first-year class that also recognizes the distinct advantages that come with studying within a supportive campus community at a top liberal arts research university anchored in a vibrant urban setting, Latting says.
Here are a few of their stories: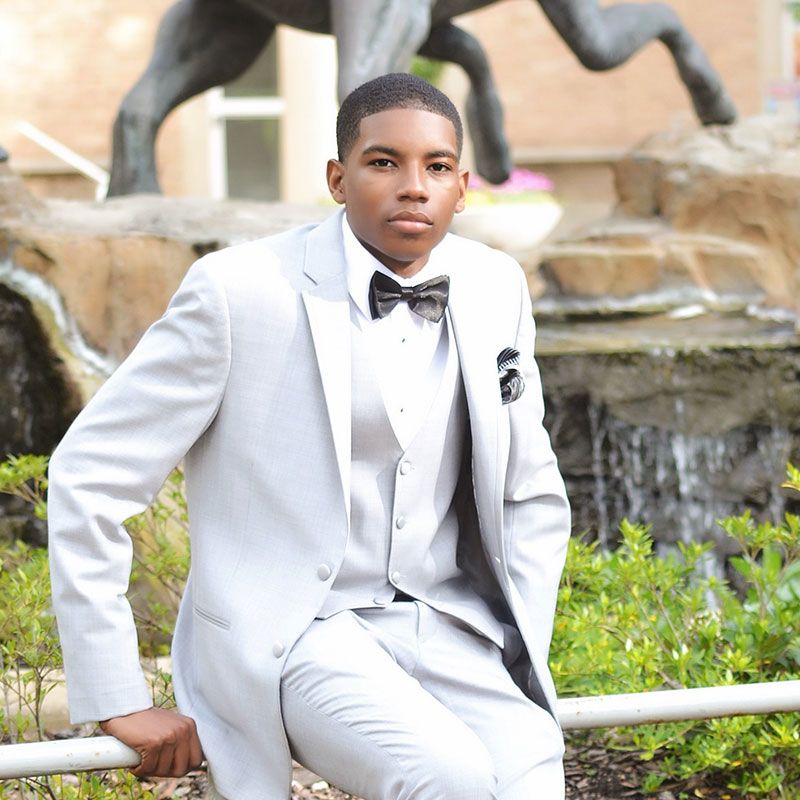 Myles Dunn
When Myles Dunn learned he would be attending Emory College of Arts and Sciences this fall as a Woodruff Scholar, a Gates Scholar and a QuestBridge scholar, it was almost too much to absorb — there were so many emotions.
A video of him discovering the news captures his disbelief. "Oh. Oh. Oh," he stammers, on a phone call to his mother. "I … I got into Emory …"
"Oh my goodness, Myles," she responds. "You are going to Emory…"
To Dunn, that possibility was a glorious long shot.
"Growing up in Atlanta, you know how amazing Emory is," he says. "It was always on my radar."
But without financial support, attending an elite liberal arts research university wouldn't have been an option. "When I was seven, my mom and dad got a divorce — she had to raise my siblings and me all by herself," Dunn explains. "I knew we received food stamps, but I didn't know how much we struggled until I was older, because she hid it so well."
His mother would find a career within the Atlanta Public School system, first as an elementary school secretary, then a budget analyst and now a school business manager. Education, she demonstrated, could change lives.
"She used to joke around with my brother and I, 'if you guys don't find a way to get a full ride, I don't know how you will go to college,'" he recalls. "I took that very seriously."
By middle school, Dunn was looking for ways to advance his education, including participating in the C5 Georgia Youth Foundation, a five-year youth leadership program. He would go on to attend high school at Carver Early College, the state's first early college program, which helps underrepresented students from disadvantaged backgrounds.
From his involvement with student government — he was SGA president his senior year — The Esquires, Inc. (a big brother/little brother program), and math, science, social studies and honors societies to playing football and performing in the band, "I was very active in high school," he says.
In the end, those experiences taught him about himself, as well as his communities. "I plan to do the same thing at Emory, to get involved," he says. "I don't like to box myself in, I prefer to try as many things as possible. That's just who I am."
Dunn's ambition? To study business — a summer internship in the City of Atlanta's Office of Film and Entertainment honed an interest in pursuing marketing with a concentration on film and media at the Goizueta Business School.
"I was drawn here by the community and the diversity," he says. "And I already have a list of the clubs and organizations that I want to check out. I'm definitely ready to explore all the opportunities Emory has to offer."
---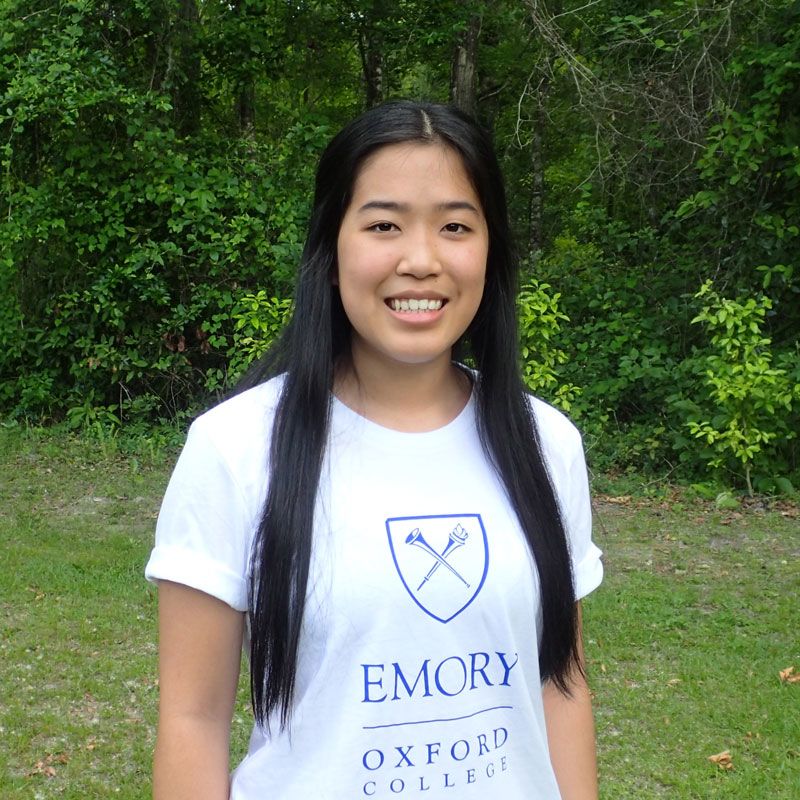 Joyce Liu
Growing up with parents who were both college professors, Joyce Liu was encouraged to indulge her curiosity, a hunger she satisfied through education.
"As immigrants to America, my parents' academic journey definitely influenced me," she says. "They succeeded because they came here for college, then found jobs (both teach at Valdosta State University) and started a family. The lesson was that education is not only important, it was transformative. It can help you go places."
In high school, Liu found herself pulled toward science, which offered the freedom to ask questions and pursue answers. "Why does this happen? How does that work? I loved learning how the body works, how everything in our world fits together," she explains.
When she discovered that her high school didn't have a Science Olympiad team, Liu helped establish one. "I recruited a bunch of my friends who were also nerdy and into science and we competed regionally."
Scientific inquiry would provide a flood of new experiences, from attending the Georgia Governor's Honors Program and being selected for a Junior Academy science mentorship through The New York Academy of Science's Global STEM Alliance Summit to attending Princeton University's Creative Arts and Humanities Symposium.
By her senior year Liu was president of her school's Science Club, coordinating guest speakers and community service projects, and winning regional awards through her high school science and math teams.
"Growing up in a smaller town pushes you to create opportunities where they don't always exist," Liu says. "It helps bring out the leadership within you."
Liu says it feels as if she's moving from one small, supportive community into another. And she looks forward to the opportunities that await her.
"On my first visit, I fell in love with Oxford College," she says. "Everyone is so kind, the community so tight-knit. And for freshmen and sophomores, there are already plenty of leadership and research opportunities, which is a plus."
Her academic focus? "In the past two or three years, I've felt myself drawn toward medicine," she says. "Through volunteer work, I've been able to talk with doctors, nurses and patients about issues they face accessing health care in a small town. I know I want to work with an under-served community, and there are plenty of those across America."
Oxford College will be her first step in that journey. And she's ready. "It's a very international community, and I'm really looking forward to meeting people from all across the world," Liu says.
"Making new friends who bring so many perspectives, cultures and viewpoints — that's what really excites me."
---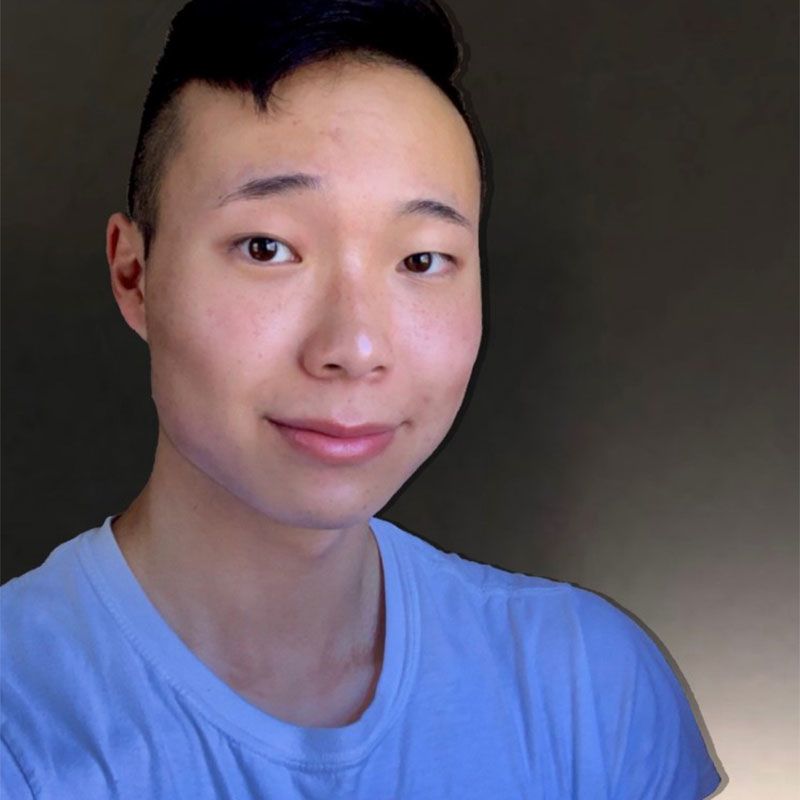 Hyun Tae "Paul" Lim
Hyun Tae Lim was two years old when he left South Korea with his parents to begin a new life in San Diego, California.
Together, they wrote their own chapter of the American dream, building a family dry-cleaning business that Lim and his brother would eventually help with too, working after school and during summer months.
When people struggled to pronounce Lim's birth name, his parents chose an Americanized nickname. Inspired by a suggestion from his Catholic grandfather, Hyun Tae (pronounced hee-yun tay) became "Paul," after St. Paul, the apostle.
In high school, Lim began examining the impact of that decision. That's when he learned about a campaign called "My Name, My Identity," which encourages the correct pronunciation of student names to emphasize a sense of belonging and build positive, respectful relationships.
"I grew up in a Korean household immersed in Korean culture and speaking Korean at home," Lim says. "For immigrants, it's embarrassing when people can't pronounce your name in school or the workplace, or worse, don't even try. And it's not just a problem in San Diego; it happens all over the country."
In accepting new names, Lim sensed a dilution of cultural identity. A teacher encouraged him to bring the issue before the local school board. So he did, offering his own experiences and practical suggestions, including creating a resource to provide phonetic pronunciations of common immigrant names.
"It really became a passion," acknowledges Lim, who hopes to bring the project with him to Emory. "Names carry so much meaning."
An interest in health care also drew Lim to his high school's chapter of Health Occupations Students of America, which provided a bridge to internships at local hospitals. "I just loved meeting new people, new personalities and helping people," he says.
But it was working with oncology patients that would prove a gamechanger. "Seeing people confronting the end of their lives with my own eyes changed me," he says. "I saw moments of profound beauty and sadness at the same time."
"As a nurse, that's when you can really make a difference," he adds. "I realized I genuinely cared about patients, really wanted to help them."
He was drawn to Emory by the reputation of the Nell Hodgson Woodruff School of Nursing. "I also like that Emory emphasized diversity, a commitment to offering educational opportunities for every single student — a place that cares about its students, wants them to feel accepted."
Financial support, in the form of a merit scholarship, made coming here possible, Lim says. And there's so much he's looking forward to: meeting people from different backgrounds, living among changing seasons, exploring Atlanta and embracing new classes and experiences.
"One of my classes this semester looks at how the LGBTQ+ community changed after the Stonewall riots," he says, "I just came out in December, so I'm very motivated to learn more about that history."
"Honestly, I'm just ready to leave my bubble and am looking forward to living somewhere entirely new. That's part of my education, too," he says.
---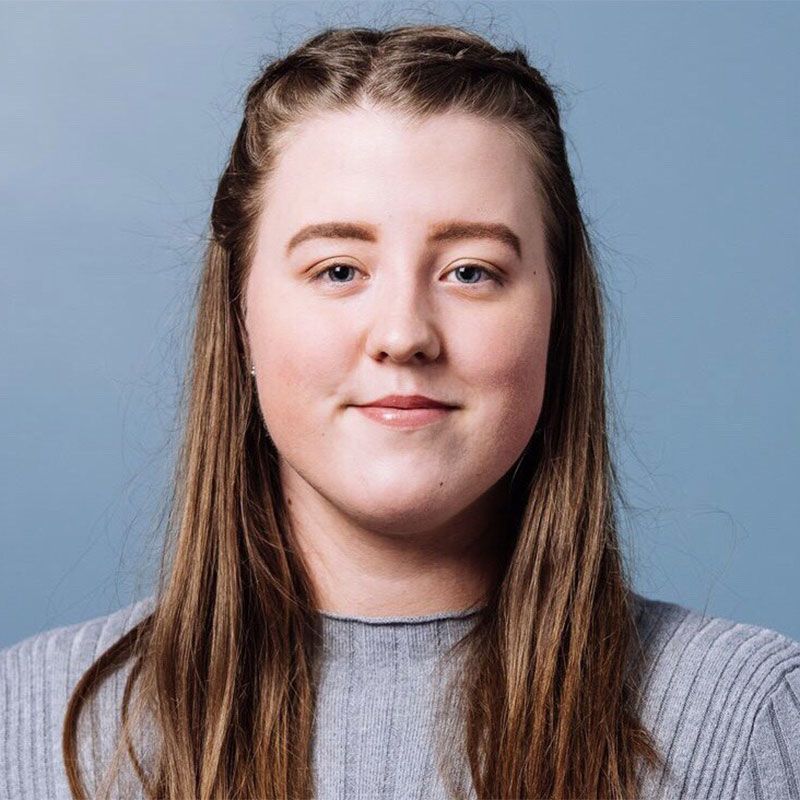 Ruby Vickers
Ruby Vickers wrote her first book at the age of 10, then started her first full novel four years later. Today, she's actively working on her second novel, which she hopes to see published.
Since she was old enough to understand the stories her parents were reading to her, Vickers has loved literature. Reading it, writing it, reviewing it and more recently blogging about it to an international audience.
Through her posts on "bookstagram" – or book Instagram — she has attracted more than 10,000 followers, who anticipate her musings about book releases old and new.
"As a teenager I've really valued having my blog and Instagram as a safe space and a creative outlet," says Vickers, who lives is Worcester, England — "where Worcestershire sauce is made!" she explains.
Within her online following, built over the last five years, she's grown to value her virtual community. "It can be difficult to navigate social media, and there are a lot of negative perceptions about online life. However, I've always had an overwhelmingly positive experience — I've met people from all over the world who share my passion for reading."
Throughout high school, Vickers found herself gravitating toward the humanities: English literature, classical civilization, psychology, government and politics. But creative writing is her passion, in the classroom and beyond.
"I volunteered at a local charity bookshop, which was perfect for me, because I love recommending books and the money went to a good cause," says Vickers, who plans to study English, literature and creative writing with the goal of becoming an author.
As a first-generation college student from modest financial means, higher education never seemed within reach. But for Vickers, it's remained a stubborn dream. "I have a lot of motivation to make the most of my education," she explains.
She discovered Emory through the Sutton Trust U.S. Programme, which helps low-income students in the U.K. study in the U.S. "I was interested in a medium-sized university near a big city," Vickers says. "As for studying in the South, I found it fascinating researching the culture and history. I'll admit I didn't have a lot of knowledge about Atlanta, but the more I researched, the more excited I became."
"I've always loved academic environments," she adds. "In the U.K., you apply to university for a specific subject, so the liberal arts curriculum (at Emory) sounds amazing to me."
It will be her first time living away from home, her first time stepping foot on the Emory campus. And she's so ready.
"The prevailing emotion is excitement for the unknown," Vickers says, "I don't know exactly what my future holds, but I'm excited to figure it out at Emory."
---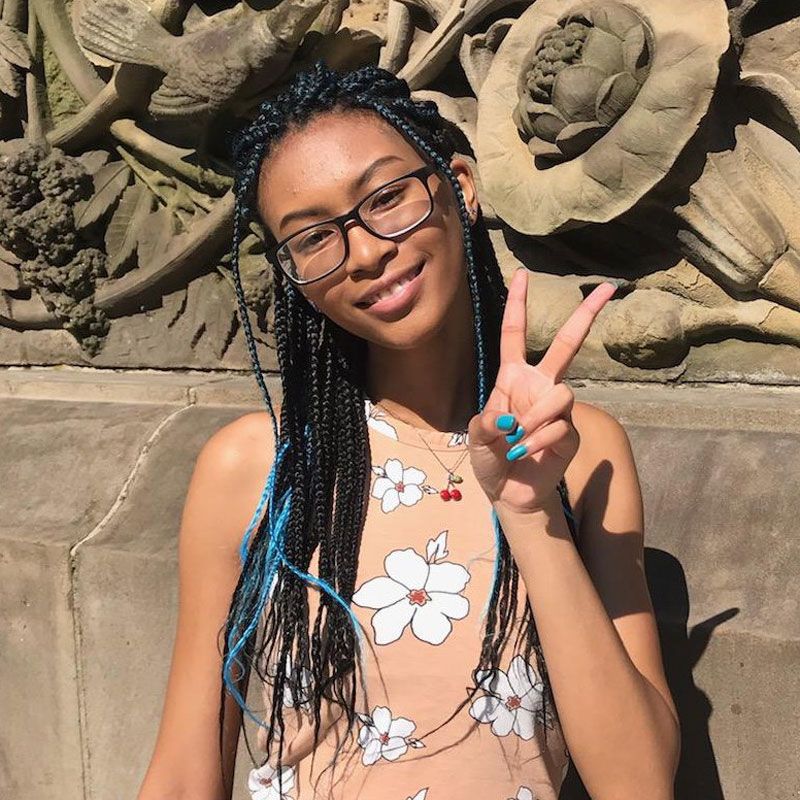 Kyla Settle-Jones
Languages, literature and writing have always captivated Kyla Settle-Jones.
Whether studying French and Spanish or competing on her high school's Latin Quiz Bowl team, winning writing competitions, or capturing gold medals through the American Classical League's National Latin Exam, she's happiest navigating a world of words, cultures and ideas.
Growing up in Cordova, Tennessee, just outside of Memphis, Settle-Jones transferred to a high school with a strong international baccalaureate program because it was a pathway to studying Latin.
"I love the way it helps with understanding the roots of English and other languages," she says. "Any time we got new vocabulary words, I felt like I already knew them, understood them. And I loved reading the works of ancient Roman poets and writers — learning about the Aeneid, all the history, the mythology."
As a freshman, Settle-Jones joined her high school's Wordsmith team, which competes in timed writing contests. "In competition, you cover many different genres: descriptive, narrative, persuasive," she says. "It was so much fun and it really helped develop my writing."
So what's the class on her schedule that most excites her at Emory this fall?
"Korean," she says. "I am of Korean descent on my dad's side and have long had an interest in east Asian cultures — I loved Japanese anime in middle school and more recently have really gotten into K-Pop music."
"I thought it would be really interesting to explore a part of my own culture that I haven't connected with yet," says Settle-Jones, who plans to pursue East Asian studies and is already excited about study-abroad opportunities.
Coming to Atlanta has been a homecoming — she was born here and moved to Tennessee with her family when she was 13. "My aunt earned a master's degree from the Candler School of Theology and is always wearing Emory sweatshirts," she says. "She was so proud to hear that I'd been accepted."
Beyond a bit of nervousness, Settle-Jones is excited about stepping into college life. "When I came to visit campus last March, it all seemed so inviting. I loved the atmosphere, the traditions, the friendliness, the possibilities. It just seemed like a place I could call home."
---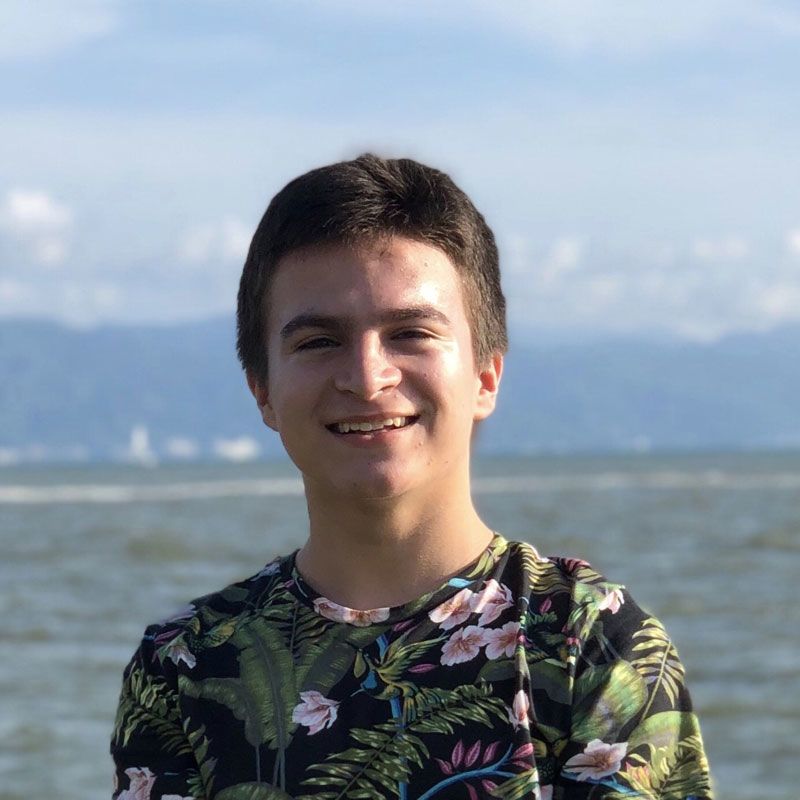 Fabian Robles
Long before Fabian Robles had a chance to shadow physicians and volunteer in local hospitals, before he began researching America's top medical schools and exploring pre-medical curricula, his mother knew he was destined to study medicine.
"When I was very small, probably in the second grade, she says I was drawing pictures of myself in a lab coat working in an office," laughs Robles. "I just kept drawing doctors."
Growing up in the border town of Laredo, Texas, Robles says it was hard not to see gaps in the local health care system. "Where I live, it's not always easy to see someone like a pediatric specialist," he says. "They usually have to come from out of town, and sometimes a family may have to wait a few days."
In high school, Robles chose classes that focused on the medical field. Medical terminology. Anatomy and physiology. During his senior year, he spent six weeks shadowing doctors across the city. "That was the cherry on top of the sundae, being able to visit hospitals and clinics," he says.
Each week offered exposure to a different medical specialty. And Robles enjoyed it all. "I think what really touched me was seeing the trust that a patient has with their doctor."
His ultimate goal is to become a pediatrician. "I'd like to return to my hometown and give something back to my community," he explains.
Robles discovered Emory simply by googling the best schools that offer a pathway to becoming a physician, he says. Learning the university was located next to the U.S. Centers for Disease Control and Prevention (he's a big fan) sealed it.
So when he was selected as a QuestBridge finalist, Emory was his top choice. "It was such an amazing feeling," he says. "In my family, money can be a struggle. Being a QuestBridge scholar is a huge weight off our shoulders. I'm so grateful that I could partake in this journey."
This fall, he's excited to begin studies at Oxford College, where he hopes to pursue a major in biology or a dual engineering degree offered jointly through Emory and Georgia Tech.
"Coming from Laredo, the scenery is just amazing," he says. "The buildings, the people, the resources, the chance to work one-on-one with professors — I'm just so ready to give it my all."
---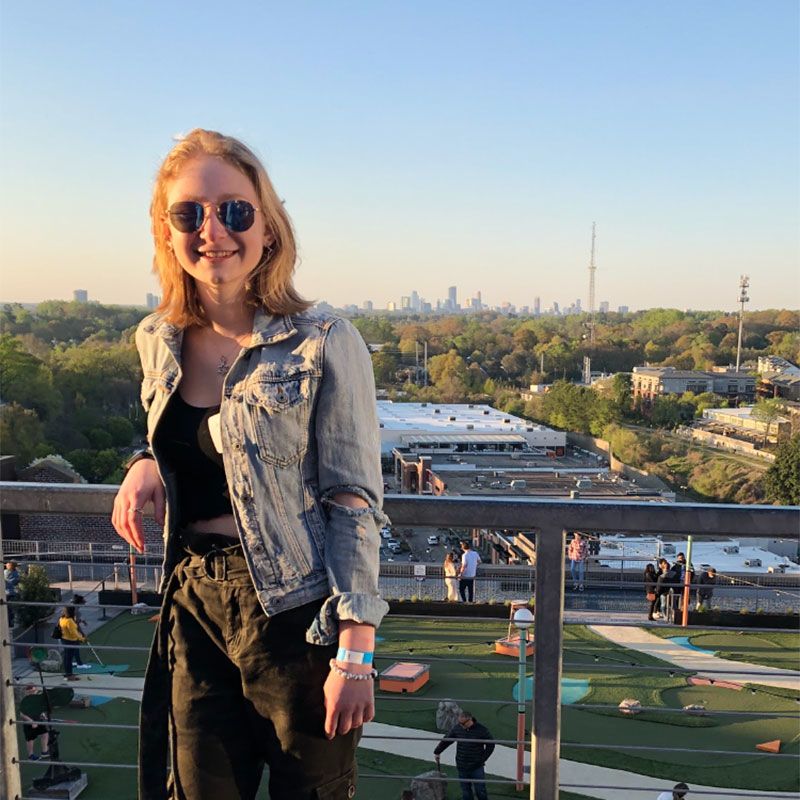 Emma Rosenau
Sometimes the most remarkable experiences happen when you aren't expecting them.
Throughout high school, Emma Rosenau was no stranger to community engagement, from playing varsity softball and tutoring peers as a writing fellow to serving as a counselor at a local Hebrew school in her hometown of Bala Cynwyd, Pennsylvania, and at a summer camp in the Poconos.
But she couldn't have predicted the rewards she would find volunteering with her high school's chapter of Best Buddies, a program that pairs students with peers who face intellectual or developmental challenges.
For her buddy, Rosenau was paired with a student living with Asperger syndrome. They worked together four years. When she served as a co-president of their school chapter, he served as the "Buddy Director" — an officer position for students with disabilities.
"I fell in love with the program," she says. "It gives you a chance to really get to know someone you might otherwise never meet. And no one judges anyone; there was so much acceptance."
Those lessons stuck with Rosenau. So when it came to choosing a university, she wanted a campus that offered not only academic rigor, but student diversity and opportunities for real engagement.
When her parents — Jennifer and Ira Rosenau, both Emory graduates — suggested she look at Emory, she initially wondered if the South would be a good fit.
But on her first campus visit, "I loved what I found," Rosenau says.
"Learning more about how academics come first but there is room for extracurricular engagement, about Emory Hillel, the political science program, how they have a pride alliance for LGBTQ+ students in Greek Life — I totally saw myself here."
After two hours, "I got in the car and told my mother, 'I want to go here,'" she says. "I ended up applying Early Decision. I knew I needed to be here."
Rosenau is looking forward to re-establishing herself in a new place, meeting new people "and studying what I really want to study."
And with a burgeoning interest in political science and civil rights, it turns out the American South has much to offer.
"I'm excited to explore Atlanta, to get out there and see everything," she says. "And I definitely want to join Best Buddies again —they have a chapter at Emory."
---
ABOUT THIS STORY: Written by Kimber Williams. Emory campus photos by Stephen Nowland and Kay Hinton. Oxford campus photos by David Cannon. Video by Corey Broman-Fulks. Infographic by Angela Vellino. Design by Laura Douglas-Brown.