Wedding Days
Many Emory alumni choose to return to locations on campus to celebrate a new life transition—their marriage. The Miller-Ward Alumni House, Glenn Memorial Auditorium, Cannon Chapel, the Quadrangle, and Asbury Circle have served as the backdrop for never-to-be-forgotten weddings and marriage proposals. As the June wedding season draws to a close, we thank these couples for sharing their stories with Emory Magazine.
To learn more about planning a wedding at Emory, please visit http://www.millerward.emory.edu/.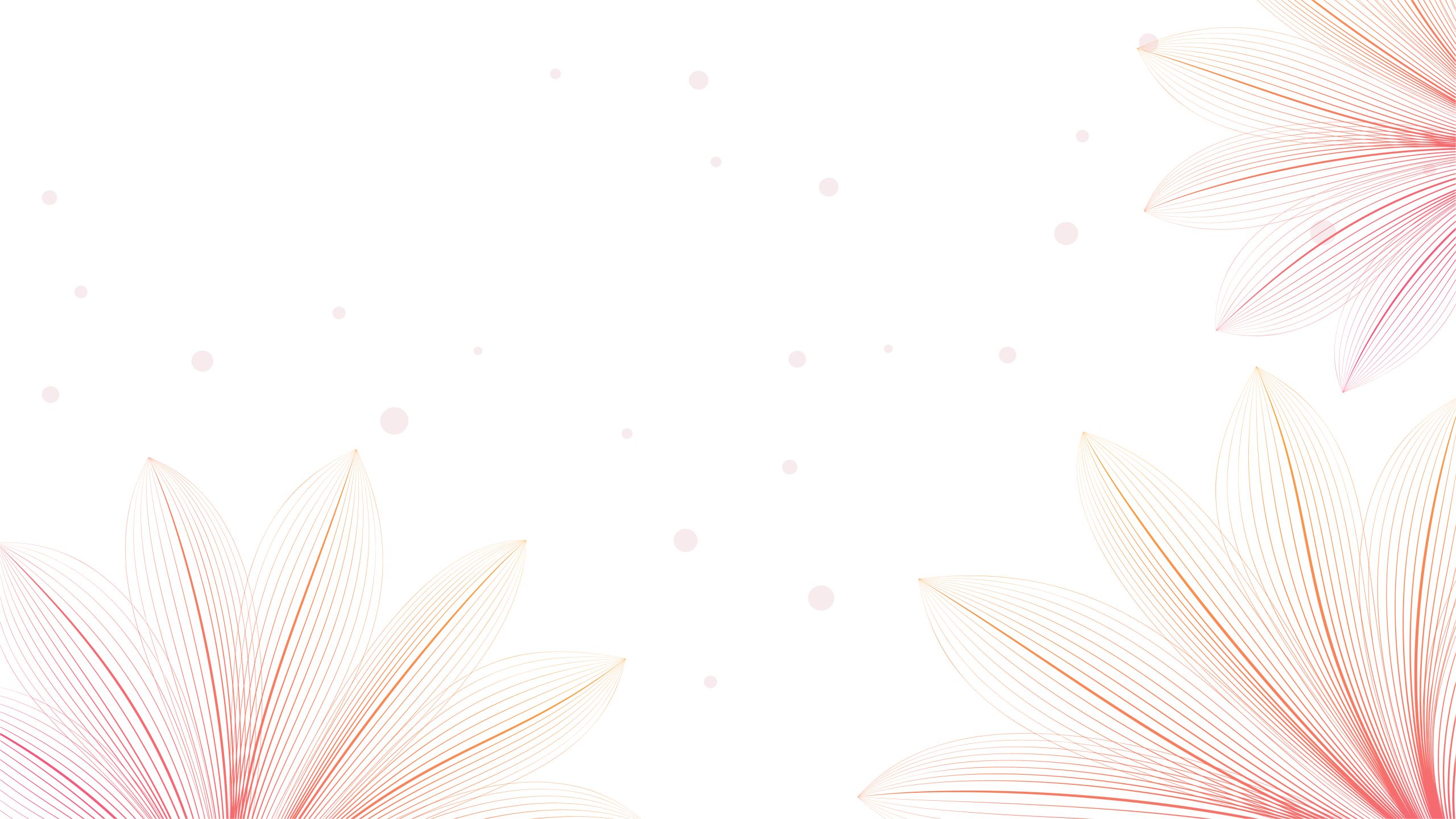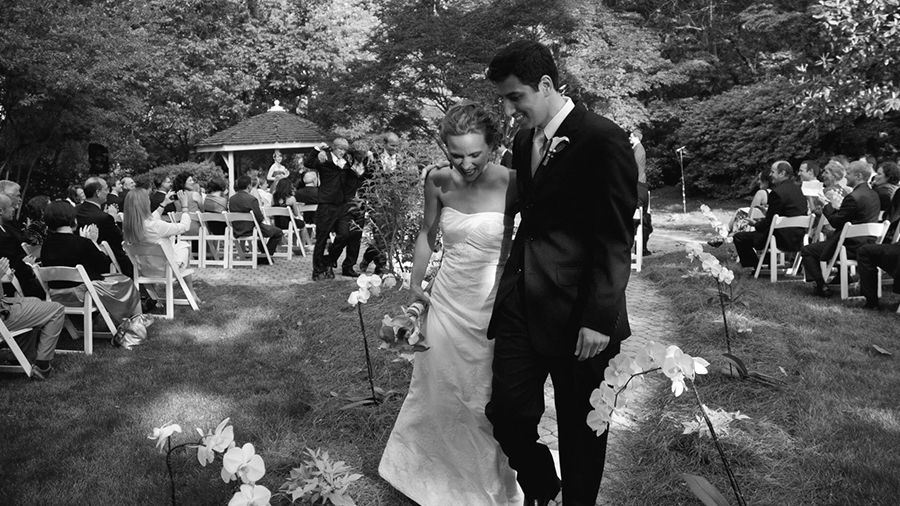 Ruth + Feras
Ruth Laney Vaughan 06C
__________
Feras Akbik 06C
April 30, 2011
Miller-Ward Alumni House
Ruth and Feras met the first week of orientation—and there was no spark at all. "Now that we are married and have two kids, we laugh about how there was no magical moment," says Ruth. But they did become great friends, so when their first date happened at the end of that semester, that was it. And, as Ruth has particularly deep Emory roots, it was only natural that they get married on campus. "I spent my summers at Lullwater visiting my grandparents," says Ruth of the time she spent with former Emory President James T. and Berta Laney, adding that Emory was instrumental in bringing her to Feras. "Emory was the place where Feras and I grew up together and with each other," she says. Those roots have only deepened over the years. Beloved professor Bobbi Patterson performed their marriage ceremony while a host of Emory friends and mentors attended. Now, after a few years away in Boston, Ruth and Feras are right back where they started. While Feras completes a medical fellowship at Grady Hospital, he and Ruth live in Decatur. "Our sons go to the Clifton School on Emory's campus," says Ruth. "We take them to the Emory pool where we went as students. And now, I walk my sons down Starvine Way and wait to see the train."
---
Cheryl + Fred
Cheryl Seavey Murphy 77N 06P 08P
__________
Frederick Bruce Murphy 77C 81M
September 3, 1977
Glenn Memorial auditorium
High school sweethearts, Cheryl and Fred chose Emory together, and Glenn Memorial became the natural choice for their wedding. "One of the first events I attended as a freshman was Convocation at Glenn," says Cheryl. "Nursing school graduation happened there and all the events in between." Her bridesmaids carried a single white rose, the Kappa Delta flower. Cheryl's strongest memories are of joy. "We were so young and happy, and we loved Emory," says Cheryl. "Our future was set. Fred was going on to medical school, and I had a job at Emory Hospital."
---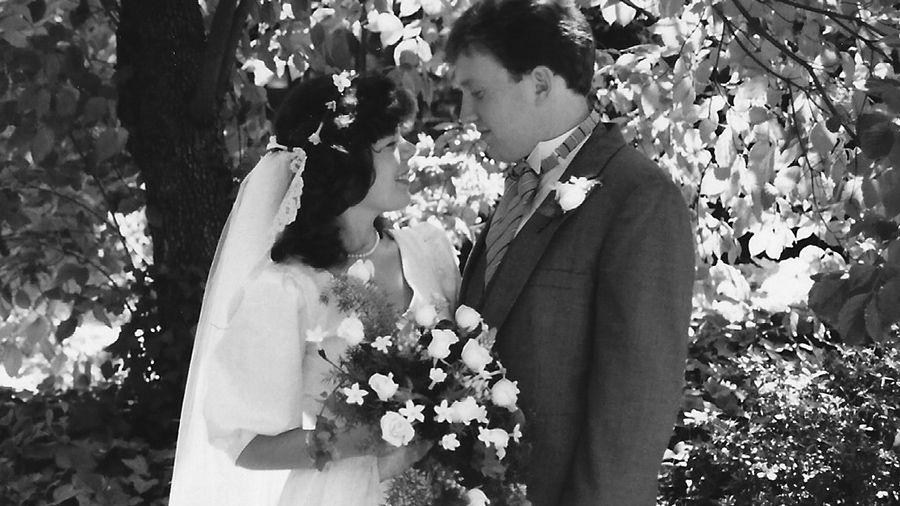 Elizabeth + Phil
ELIZABETH MILES SCHROEDER 86C 88C
__________
PHILIP DANIEL SCHROEDER 90B 90T 11P
MAY 9, 1987
THE LITTLE CHAPEL AT GLENN MEMORIAL
After waiting in line for hours to register for graduate school classes, Elizabeth and Phil hit it off, and Phil had her number before his schedule was set. As few days later, Jay Leno was performing at Glenn Memorial, so it was a somewhat fitting first date for the Candler School of Theology student. By early May, the couple was walking down the aisle. "We just stumbled into something that worked," says Elizabeth. And the ceremony location was an easy choice. "We wanted to get married at a place that meant something to both of us," says Elizabeth.
---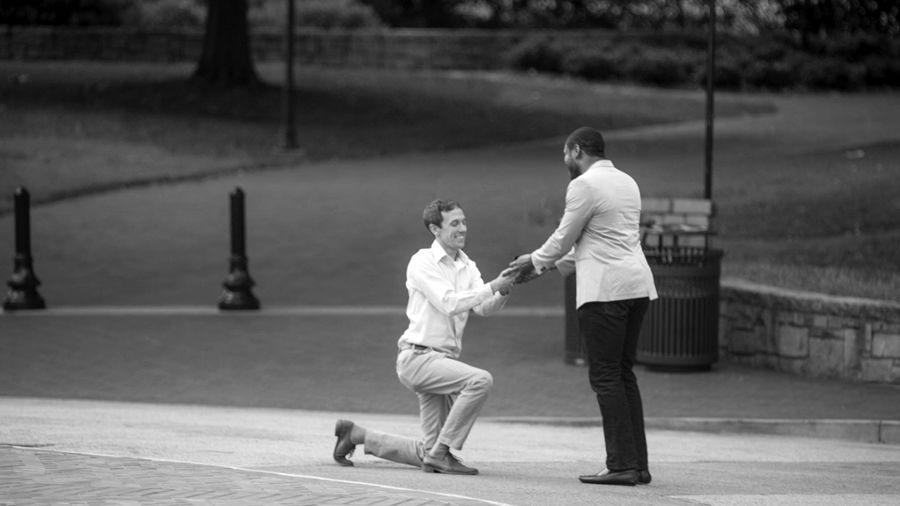 Pierce + Scot
Scot Seitz 10C
__________
Pierce Hand 11C
June 29, 2016
Asbury Circle
Scot Seitz 10C and Pierce Hand 11C have slightly different stories about how they met. According to Pierce, he first noticed Scot in Asbury Circle on Wonderful Wednesday 2010, the day before Class Day, where the founders of Ben & Jerry's ice cream were the speakers. Scot was one of several student leaders scooping ice cream—Chunky Monkey, to be exact—dressed in a costume to show his spirit for the occasion. "Obviously, of all the people serving ice cream, I had to get mine from the attractive guy wearing the monkey outfit," Pierce jokes. Later, Scot recruited Pierce to the Emory Issues Troupe, a group that performs skits to build awareness around diversity. During rehearsals and social time, they got to know each other, and eventually, Pierce worked up the courage to express his interest. His public acknowledgment of his sexual orientation was at the final Issues Troupe performance that year. "My phone was vibrating for hours after that, but it was all very positive, so that was good," he says. Several years later, after both men did stints with Teach for America and established careers, Scot proposed to Pierce in Asbury Circle, where they first saw one another. He invented an excuse to visit campus for dinner and posted a "Will You Marry Me?" banner near the statue of Dooley. "I was so excited that I didn't even put the ring on, I just kissed him," Pierce remembers. "He said you have to, one—answer the question, and two—put the ring on." Afterward the couple met their families in the DUC for food and champagne. They have since legally married and are debating whether to have a big wedding (their parents are waiting), but what is certain is that their different stories have merged into one.
---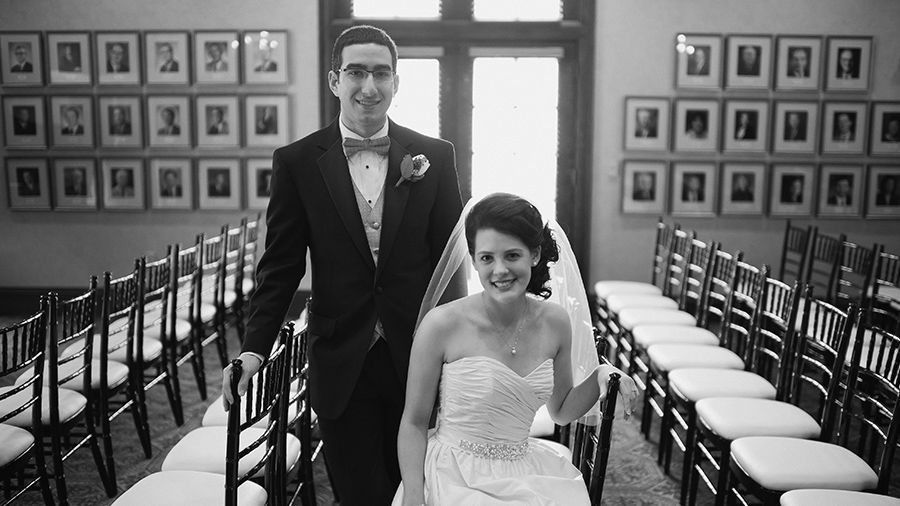 Kristen + Jordan
KRISTEN GWOCK SILTON 10C
__________
JORDAN SAMUEL SILTON 10B
MARCH 3, 2012
MILLER-WARD ALUMNI HOUSE
They met the first week of freshman year as part of the production staff for Ad Hoc, a student theater group. Jordan was handling lighting design and Kristen was serving as assistant stage manager. After connecting as undergrads over their love for theater, it seems appropriate that Kristen and Jordan had a somewhat dramatic wedding. Dooley appeared, showed off his dance moves, and hopped in the photo booth. Instead of raising glasses of bubbly, the couple honored their Emory connections by hoisting glass bottles for Coke toasts instead. "Emory is such a big part of our relationship," says Kristen. "It's our foundation as a couple, so it felt like a really great launching point for the next part of our lives."
---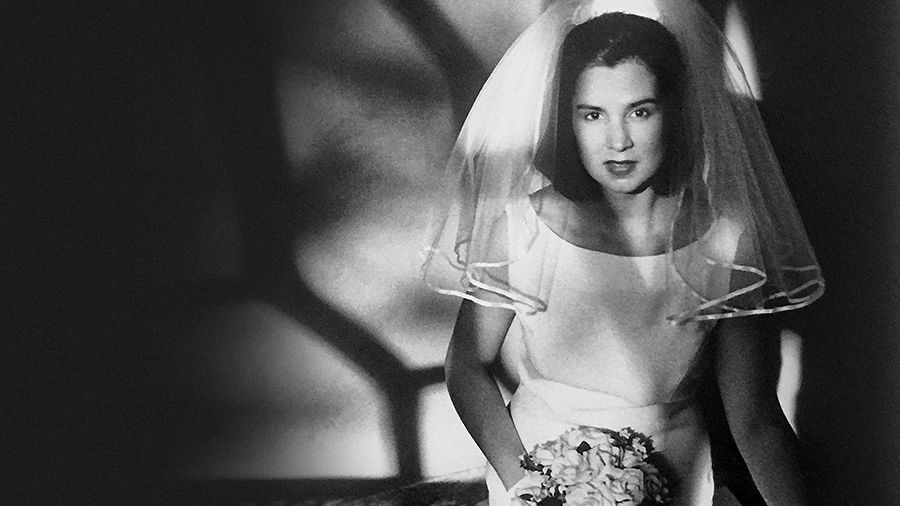 Clay + Elizabeth
DANIEL CLAIBORNE STONE 80OX 82C
__________
ELIZABETH WALLACE STONE 90C
SEPTEMBER 9, 1995
EMORY QUADRANGLE
If Elizabeth's boss hadn't been too busy on that particular Friday night, Clay and Elizabeth might have never met. Emory was hosting a weekend-long alumni showcase called Emory Assembly to highlight Emory's achievements. Elizabeth had moved on to graduate school and was working for a fellow alum, Doug Landau 81C, who had been invited to the event. Landau couldn't make it, and asked Elizabeth to go in his stead. So, that night, she ended up sitting next to Clay at dinner under a big white tent on the Quad. A few years later, Clay and Elizabeth thought, "What better place than where we had our first dinner and met each other?" says Clay. The couple hosted an intimate ceremony at 8:00 a.m. on the Quad, then a large brunch at the Miller-Ward Alumni House a few hours later. After brunch, the two went over to the Emory Inn, where their guests were staying, and spent the rest of the afternoon at the pool. "It was a great day," says Clay. "Every time I see Doug, I thank him."
---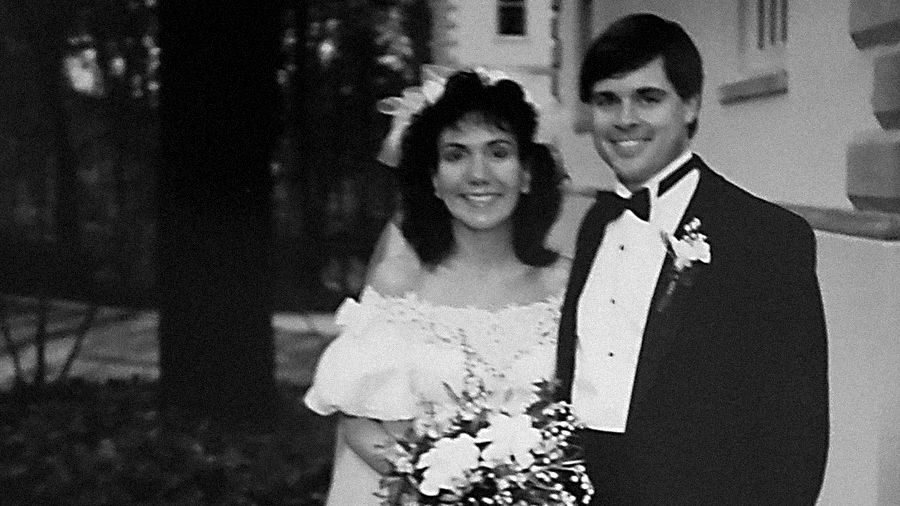 Warner + Jo Ann
A. WARNER WALKER JR. 85B
__________
JO ANN SCOTT WALKER 84N
FEBRUARY 10, 1990
GLENN MEMORIAL AUDITORIUM
It was September 6, 1984, and the Pointer Sisters were on the speakers at P. J. Haley's, the legendary 1980s bar and favorite Emory student hangout. Jo Ann was about to leave with her girlfriends when Warner asked her to dance. She recognized him from campus as the guy she spotted wearing a Grand Tetons National Park sweatshirt. "It was my favorite place in the whole world, so I stayed to dance and talk about the Tetons," says Jo Ann of the night that lasted until closing. It's been almost thirty years, but the Walkers sound like newlyweds when they describe the wedding, finishing each other's sentences and laughing at the memories. "We got married on Emory's campus because that is where it really all started," says Jo Ann. "It's still so vivid, seeing Warner just walking by one morning. And, yes, we still have the hoodie."
---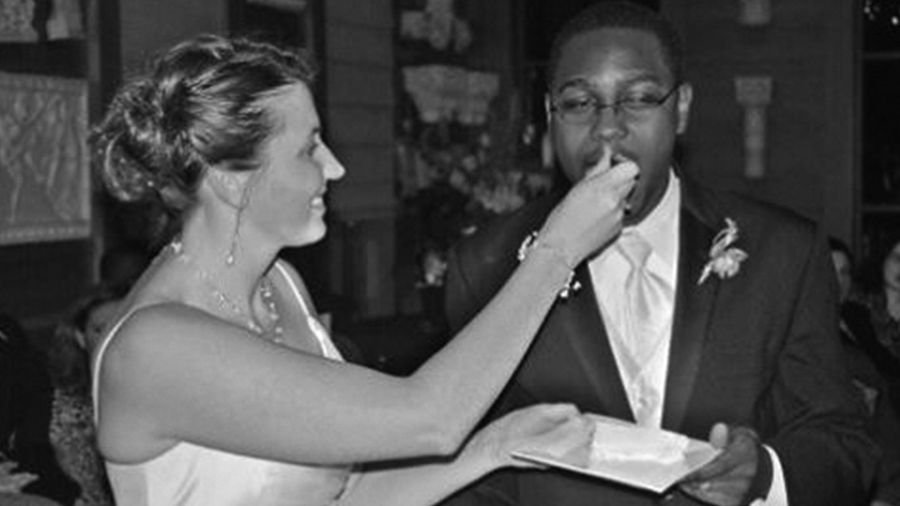 Laura + Sam
LAURA JEANNE QUAYNOR 12G
__________
SAMUEL D. QUAYNOR
DECEMBER 22, 2007
CANNON CHAPEL
Laura and Sam met at a fraternity party when he asked her to dance. "He was tall, dark, and handsome, so of course I said yes," says Laura. Sam, from Accra, Ghana, was wearing an African necklace. Laura, from Chicago, mentioned her work on a farm in Togo and her African American Studies major. And that was all it took. A few years later, the couple got engaged and moved to Atlanta so Laura could work on a PhD in educational studies while Sam worked in the neuroscience lab of Emory's Allan Levey before beginning medical school. As soon as they got settled in Atlanta, they chose Cannon Chapel for their ceremony and the Michael C. Carlos Museum for their reception. "It was lovely and so happy, but also so, so intense," says Laura. "The caterer was late. We had to have our first dance too early, but part of the reason we chose the Carlos was because they let us stay longer. We didn't close down the dance floor until at least midnight."
---
—Stories compiled by Elizabeth Cobb Durel