IGNITING
CURIOSITY
Emory takes science out of the lab and into the community for the Atlanta Science Festival
Watch for serious fun to spring up on campus and all around town as Emory joins in the 2019 Atlanta Science Festival, March 9-23.
"We're passionate about sharing the beauty of science, technology, engineering, and mathematics with the whole Atlanta community," says Jordan Rose, executive co-director of Atlanta Science Festival, who earned his undergraduate and master's degrees at Emory. "And there's no better place than Atlanta, which continues to be a global leader in scientific innovation."
Founded by Emory, Georgia Tech and the Metro Atlanta Chamber, the first Atlanta Science Festival was held in 2014. In five years, it has brought programming to more than 200,000 people in the metro region, reaching a diverse audience of a wide variety of ages. This year's schedule includes more than 100 events.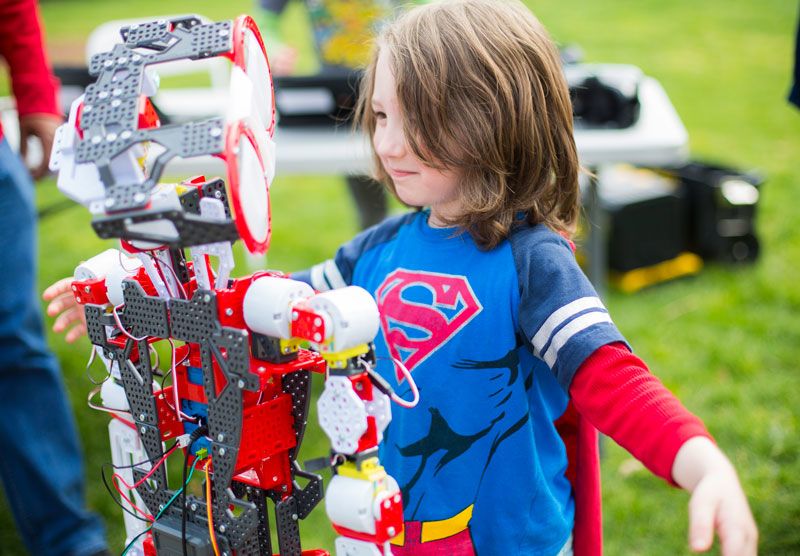 The 2019 festival launches with a Wow in the World Pop Up Party (already sold out, but you can join the waitlist) on Saturday, March 9, at Emory. And there are more than 20 other events featuring Emory experts scheduled at Emory's Druid Hills campus, Oxford campus and venues throughout Atlanta.
This year, Emory scientists will lead a walk with Mesozoic dinosaurs, discuss how neuro-engineering is blurring the lines between mind and machine and describe the physics of how babies learn to talk.
They will also examine popular understandings of outer space, how to communicate the science of the Georgia coast, and take a deep dive into how the internet works.
View the full Emory schedule.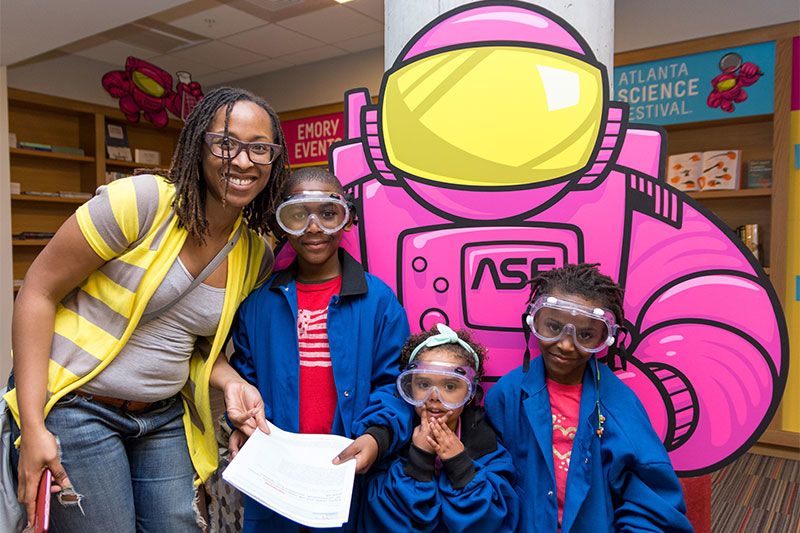 Young scientists: Emory's Chemistry Carnival and Physics Live! events draw hundreds of families for an afternoon of hands-on experiments and demonstrations. Photo courtesy ASF.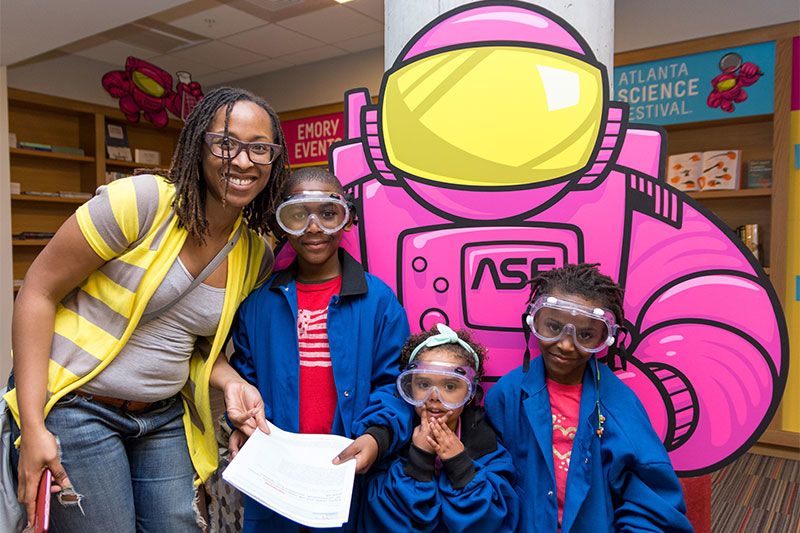 SCIENCE ON STAGE
Two Emory events highlighting the convergence of science and the liberal arts are sure to draw crowds.
"Science on Stage: The Forgotten Organ" — set for March 20 and starring the bacteria, fungi and viruses within the human microbiome that shape every one of us from birth — is almost sold out, so act fast if you want to attend.
The event is based on a project last summer where the Emory Center for the Study of Human Health teamed up with Theater Emory to have playwrights quickly produce short plays about the microbiome.
"Theater offers an exciting communication mechanism to convey cutting edge-research findings to a wide audience, while simultaneously encouraging curiosity and imagination," says Amanda Freeman, instructor in the Center for the Study of Human Health.
The playwrights drew their inspiration from a New York Times bestselling book by acclaimed science writer Ed Yong, "I Contain Multitudes: The Microbes Within Us and a Grander View of Life." Yong will join the playwrights for readings of their works and a panel discussion of this unique collaboration between art and science.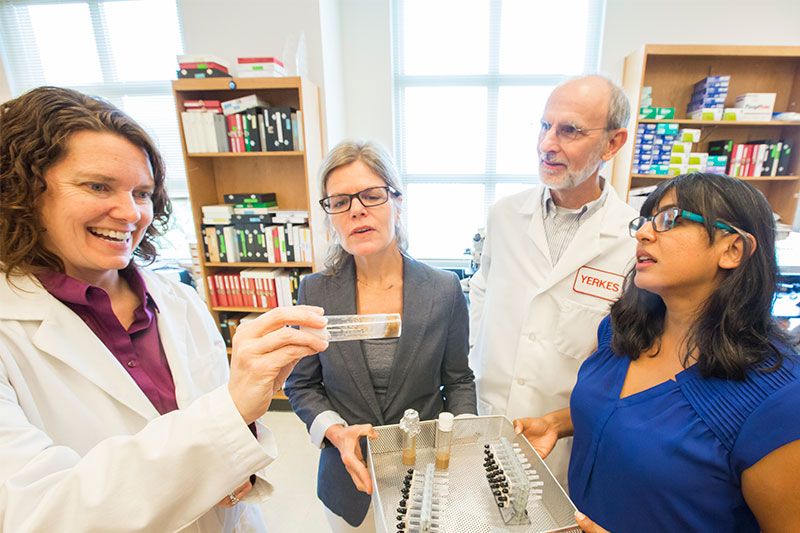 Creative collaboration: Emory scientists Amanda Freeman (left) and Lary Walker visit a campus lab with playwrights Margaret Baldwin and Natasha Patel to prepare for writing plays based on the human microbiome. Learn more about their collaboration.
There is still time to get tickets to another convergence of science and the arts, as Emory's Oxford College hosts a play and interactive gallery for the festival.
Oxford invites the public to view a play written by an Emory alumna about women in the STEM field – science, technology, engineering and math – combined with an interactive art gallery showcasing women in history in STEM.
"This event evolved from a seed of an idea where we wanted to do something that combines art and science, but weren't sure what," says Sarah Fankhauser, assistant professor of biology at Oxford. "We realized we wanted a more all-encompassing event so that people felt immersed in the world of women's contributions to STEM."
In seven performances through March 23 at Tarbutton Theater, Oxford presents "Ada and the Engine," a play written by Lauren Gunderson, the acclaimed playwright who graduated from Emory in 2004.
During the British Industrial Revolution, Ada Byron Lovelace, daughter of the flamboyant and notorious Lord Byron, works as a poet, mathematician and computer programmer, envisioning a world where art and information converge. It portrays her struggles as a female in the male-centered field of STEM.
"The piece is funny and moving, and the ending is surprising and theatrical," says Nick Fesette, assistant professor of theater studies at Oxford.
The March 21 and 22 shows are officially part of the Atlanta Science Festival, but each performance is open to the public.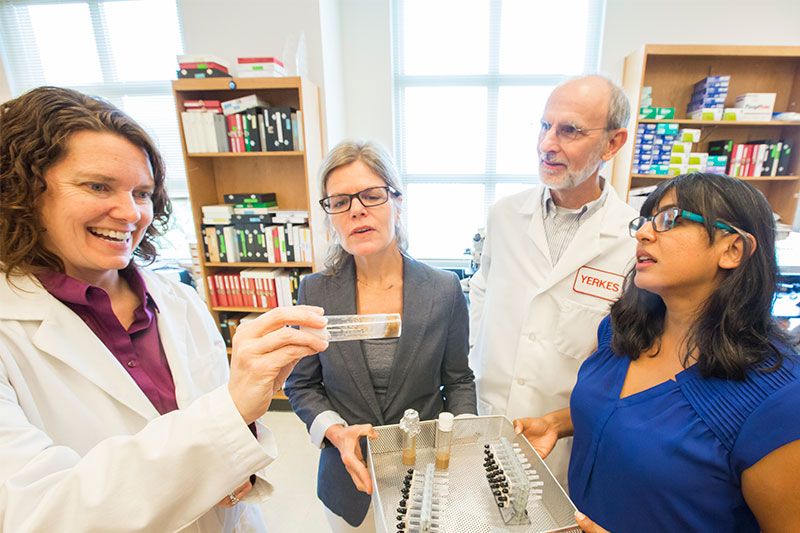 HANDS-ON FUN
The Emory event "Become an Archaeologist" returns on Thursday, March 21, from 6 to 8 p.m. This year the faculty and students involved are taking their bones off campus, to Brownwood Park in East Atlanta Village. The Emory experts will teach community members how to extract DNA and put pieces of ancient objects back together like a puzzle.
"It's a great example of the festival taking events that we know are popular and setting them in other parts of the city so that we can continue to reach new audiences and connect in different ways," says Meisa Salaita, co-director of the Atlanta Science Festival. "Our goal is to keep broadening access to our programming."
Two perennial festival favorites — Chemistry Carnival and Physics Live! — return this year to the Emory campus on Friday, March 22, from 3:30 to 7 p.m.
Emory science faculty and students will explain their research, give lab tours, and entertain with games like Peptide Jenga, a chance to play with giant soap bubbles and tastings of liquid nitrogen ice cream.
Hundreds of visitors are expected to turn out for the events, held in the Mathematics and Science Center and Atwood Chemistry Center.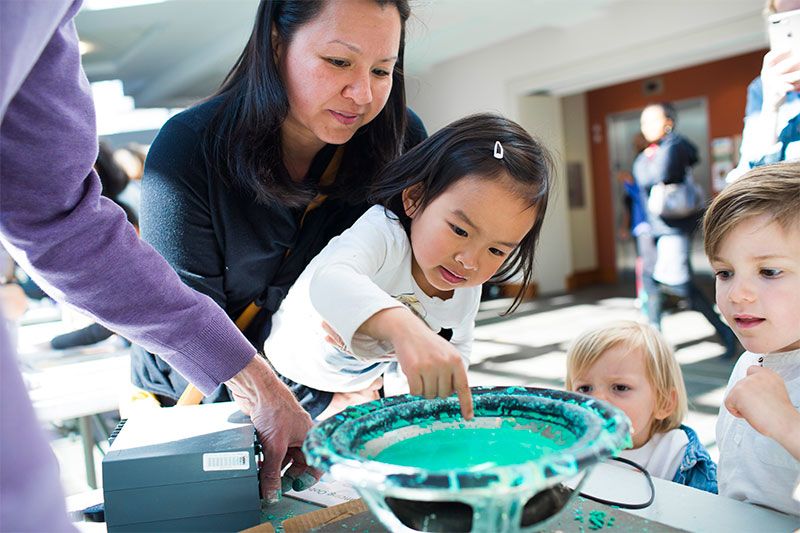 Good, slimy fun: Children and adults alike enjoy hands-on experiments led by Emory faculty and students.
The festival culminates on Saturday, March 23, with the Exploration Expo at Piedmont Park — a day-long, free carnival of science with hundreds of hands-on activities.
More than a dozen booths will feature Emory faculty and students, who will engage crowds in activities with names like "Air Pollution Particle Toss," "Opening a Can of Worms: Exploring Biomaterials and Nanotechnology with Alginate Gummy Worms," "Smell the World," and "Can You Guess What Your Brain is Thinking?"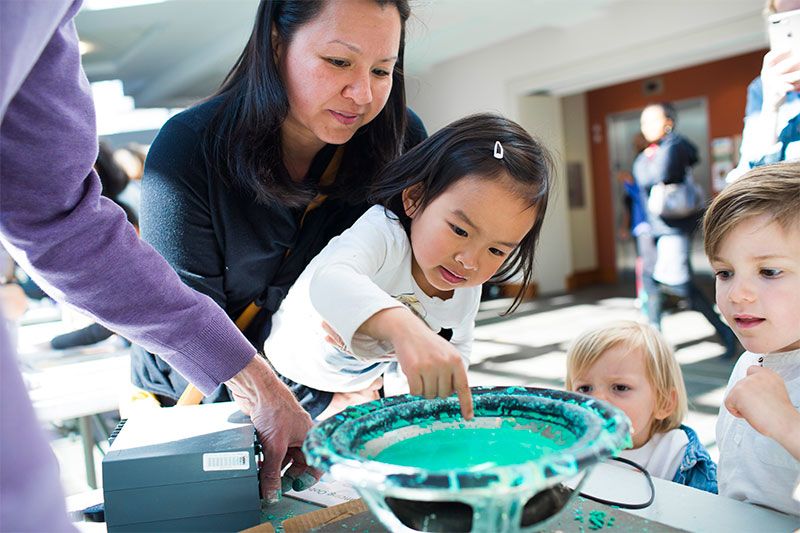 YEAR-ROUND IMPACT
Special funding from sponsors such as Delta, the Arthur M. Blank Family Foundation and others is helping the science festival soar to new heights and extend some of its programming and events year-round.
A chief science officer program charges student representatives from middle schools and high school to foster science communities at their schools.
"These chief science officers, who are elected by their student bodies, receive leadership training, meet with state legislators and learn about the role of science and policy," Salaita explains.. "We launched the program this year with 22 students and we plan to grow exponentially over the next three years to 200 students."
Another program piloted this past year by the Atlanta Science Festival is a science communication training fellowship for graduate students and post-doctoral fellows.
"We've started with eight students who met monthly to learn about narrative in science communication, data visualization and other communication techniques," Salaita says. "They will use their new skills to create events for the science festival and give informal talks to the general public."
Another new component is a year-round calendar of STEM-themed activities. "We want people to stay connected to science," Salaita explains. "Our new events calendar is a guide for family-friendly activities in the metro Atlanta area when the festival's not happening."
Story by Carol Clark. Photos by Emory Photo/Video unless otherwise noted.