PRESIDENTIAL
LEADERSHIP
LESSONS
Oxford College students gain insights
from Emory professor and former
President Jimmy Carter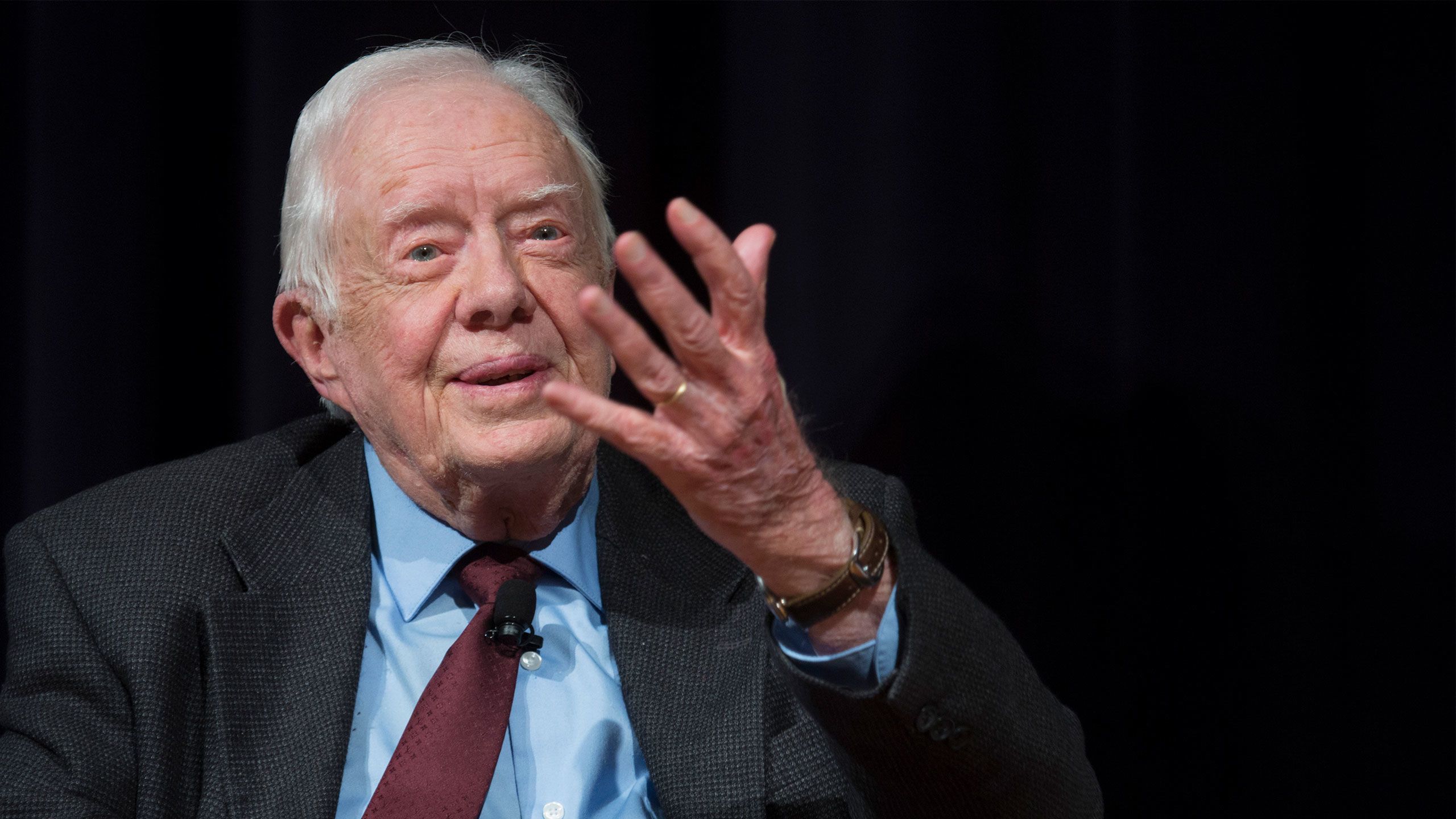 With leadership education a core theme of its mission, it's natural that Emory's Oxford College would seek out voices of experience to help enrich student perspectives.
And when it comes to leadership, why not reach for someone with a record of courage, character and integrity, who has demonstrated expertise across state, national and international platforms?
That's how former U.S. President Jimmy Carter came to join in discussion with Oxford College Dean Douglas A. Hicks at The Carter Center before a rapt audience of more than 300 Oxford students, faculty and staff.
"Understanding and Practicing Leadership: A Conversation with President Jimmy Carter" offered a candid exploration of issues and insights with the 94-year-old global humanitarian and statesman, who also serves as an Emory University Distinguished Professor, a position he's held since 1982.
Led by Hicks, who has written extensively on the intersection of leadership, ethics and faith, the hour-long Feb. 13 exchange took a deep dive into the role that leadership has played in Carter's life.
Carter acknowledged that he never thought seriously about leadership until he was an ensign at the U.S. Naval Academy in Annapolis, Maryland, where he began to hear discussions about how to achieve promotions.
There, he took an incisive course about leadership and came to accept that "the first mandate for a leader was to tell the truth," he explained. To violate that code at the naval academy meant immediate dismissal. Moreover, he realized that a lack of truthfulness would dissolve confidence in your leadership among subordinates.
Years later, Carter would carry that lesson with him into his 1976 presidential campaign, promising that he would "never tell a lie" — a quality he still values in life and leadership and one he strives to achieve.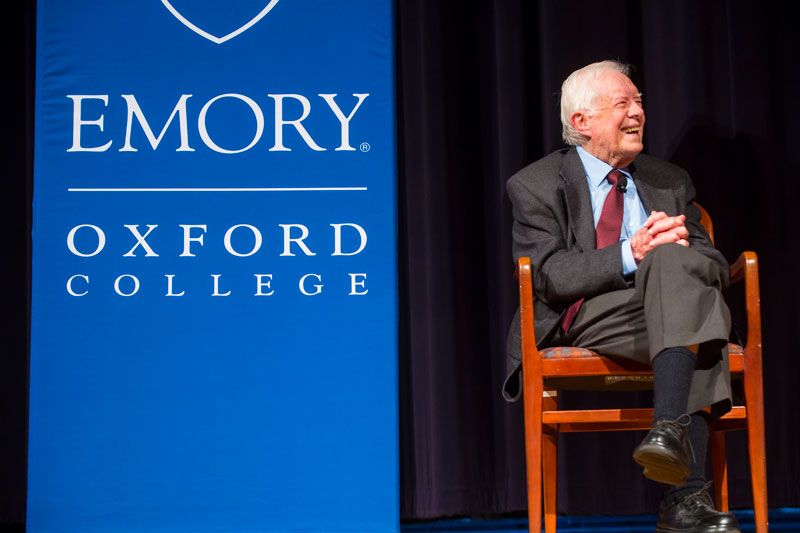 DECIDE WHAT MATTERS
Growing up in Plains, Georgia, Carter credited his high school English teacher, Miss Julia Coleman, for instilling the importance of identifying personal principles and allowing them to serve as a life compass.
In fact, Carter would quote her in his 1977 presidential inauguration and his speech upon receiving the Nobel Peace Prize in 2002: "We must accommodate changing times, but cling to principles that never change..."
And he challenged Oxford College students to do just that, identifying personal principles that can serve as a guide moving forward. "Those standards that we set for ourselves … they are the ones that shape us," he said.
Carter said he might have been re-elected in 1980 if he'd agreed to abandon his own values during the Iran hostage crisis. "I was advised by almost everybody that we needed to attack Iran," he recalled.
Yet he was driven to preserve peace, fearing American hostages would be killed. "My goal was to bring the hostages back, safe and free," he said. "That was one of the times when I maybe did the right thing — that turned out well, by the way. And that may have cost me the election."
Hicks noted that throughout public life, Carter has talked openly about his faith and asked why that's been important. As a Christian, Carter explained that he's committed to promoting peace, equality and justice.
"I think the main foundation of all human rights is to seek equality among people," he said. "For me, as president, I think the essence of it was to keep the peace and to provide equality of treatment."
"If we want to succeed in trying to make the world better, we have to do what we are capable of doing and not be afraid to try."
— President Jimmy Carter to Oxford students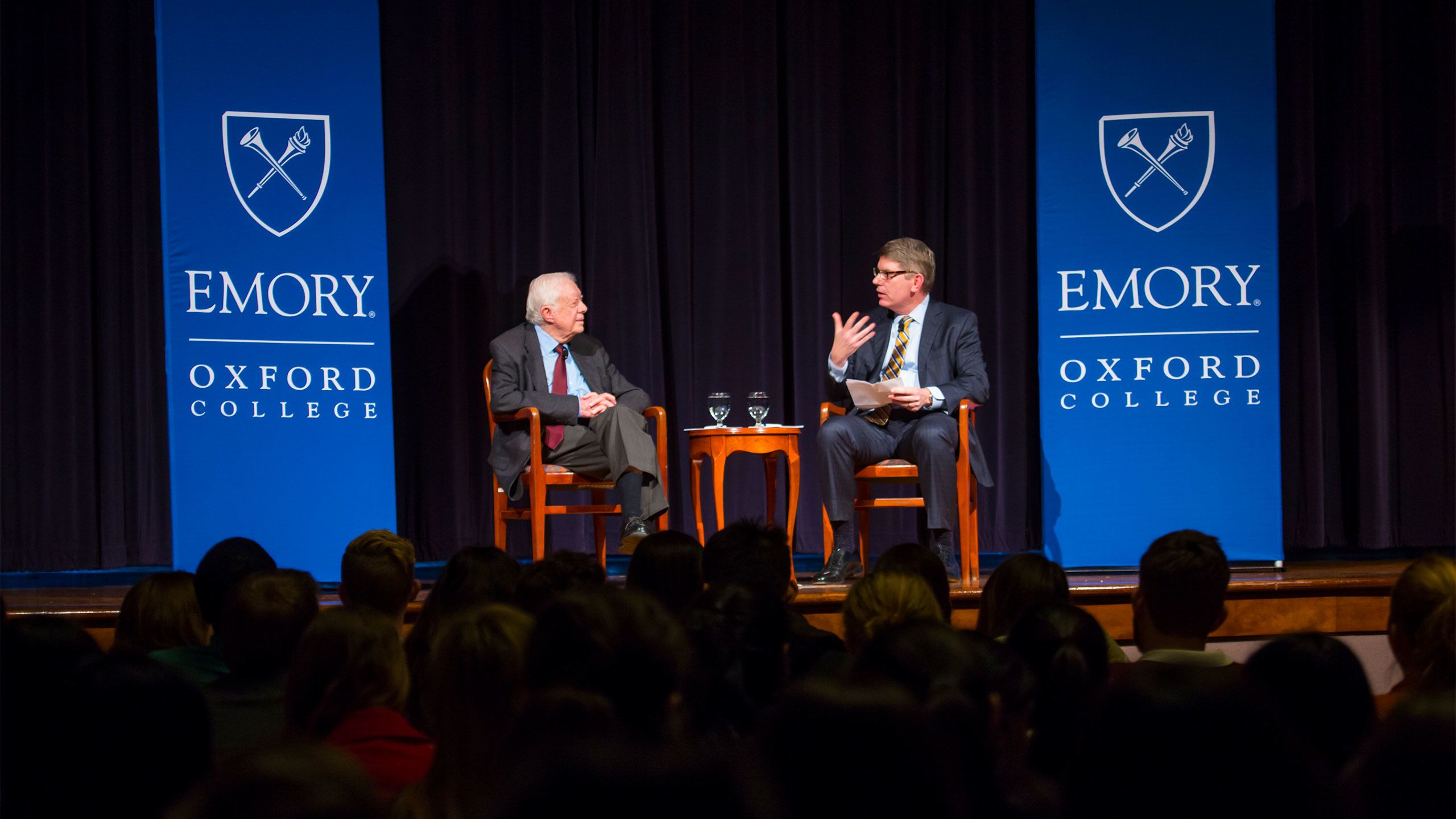 President Jimmy Carter discusses leadership with Oxford College Dean Douglas A. Hicks.
President Jimmy Carter discusses leadership with Oxford College Dean Douglas A. Hicks.
BE WILLING TO RISK FAILURE
Discussing his role in the 1978 Camp David Accords — negotiations with Egyptian President Anwar Sadat and Israeli Prime Minister Menachem Begin that led to an Egypt-Israel Peace Treaty — Carter credits much of his success to shared values.
"All three of us were deeply religious," Carter explained. "Begin was a very devout Jew. Sadat (who was Muslim) had a brown spot on his forehead from where he had kneeled down and put his face on the ground (in prayer) since he was a child."
Working together, "we tried to extract from our own individual religions a guidance for us in trying to make sure that everyone was treated equally before God," he reflected. "I think all of our religions elevate the importance of peace."
Sometimes, he acknowledged, leadership means risking failure.
"Throughout our life, we'll have some disappointments and setbacks and failures … we need to be willing, as we explore goals for ourselves in life, to accept the possibility of failure if you think that the success is worthwhile."
That philosophy continues to guide The Carter Center, which has worked in partnership with Emory to wage peace, fight disease and bring hope to some of the world's poorest, most disadvantaged people — a daunting task.
Through it all, Carter said their team knows, "if we want to succeed in trying to make the world better, we have to do what we are capable of doing and not be afraid to try."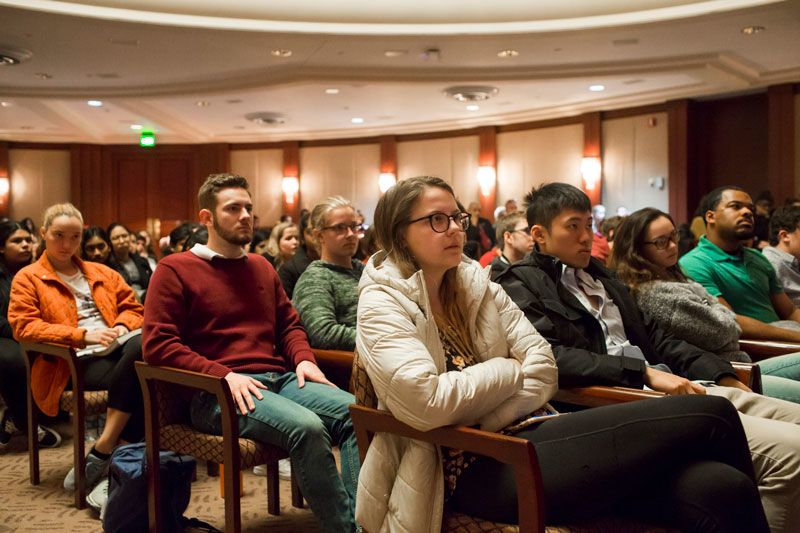 THINK GLOBALLY, ACT LOCALLY
To prepare for leadership and impact change, Carter urged young people to identify principles and causes they care about and to engage with issues, even on a local level.
"I think our country would be better if everybody would just try and help the people next door."
Looking back on his presidency, Carter identified the normalization of U.S. relations with China as a major accomplishment in global affairs, along with promoting peace and human rights.
As for his failed re-election bid, Carter was helped in overcoming disappointment "by trying to convince my wife that there were some good things about it," he recalled, with a genial grin.
Becoming a University Distinguished Professor at Emory and creating The Carter Center would provide a "tremendous boost in spirits and commitment and ambition," he acknowledged. "I have valued my life since the White House just as much as what I did in four years I spent in the White House."
Asked how he handles the stress that comes with leadership, Carter smiled. "I was lucky enough to choose the right wife," he said, praising the benefits of time with family and friends.
Together, he and Rosalynn made a commitment to discover new pursuits — learning to play tennis, downhill ski (at 59 and 62), engage in birdwatching (their life list includes 1,300 species), and fly-fishing around the world.
"When we go on vacation, we turn off our cell phones," he emphasized.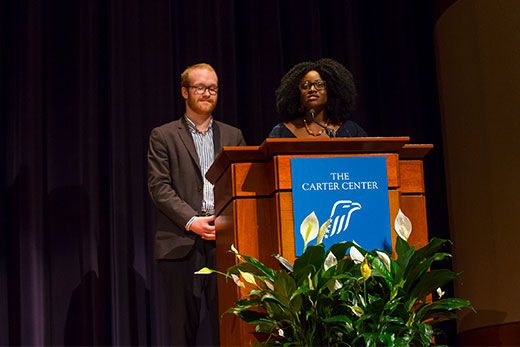 Following a standing ovation, Oxford students reflected on lessons shared by the former president, Nobel Laureate and acclaimed global humanitarian.
"He's one of a kind," said Emilio De la Mora Contreras, a second-year student from Peachtree City, Georgia.
"It was such an amazing experience, having the opportunity to hear one of the greatest minds to ever hold the office of president share his thoughts," he said. "I would listen to him every day, if I could."
For Josephine MacArthur, a second-year student from Ghana, who came to Oxford College by way of Horizon City, Texas, the experience was inspiring.
"To see a man of such authority, who has ideas that resonate about what we can do to make the world a better place, is incredible," she said. "It was an honor to be here."
Story by Kimber Williams. Photos by Kay Hinton / Emory Photo Video.