Emory's Got Game
As Atlanta welcomes the Super Bowl, our sports docs, faculty and alumni take their positions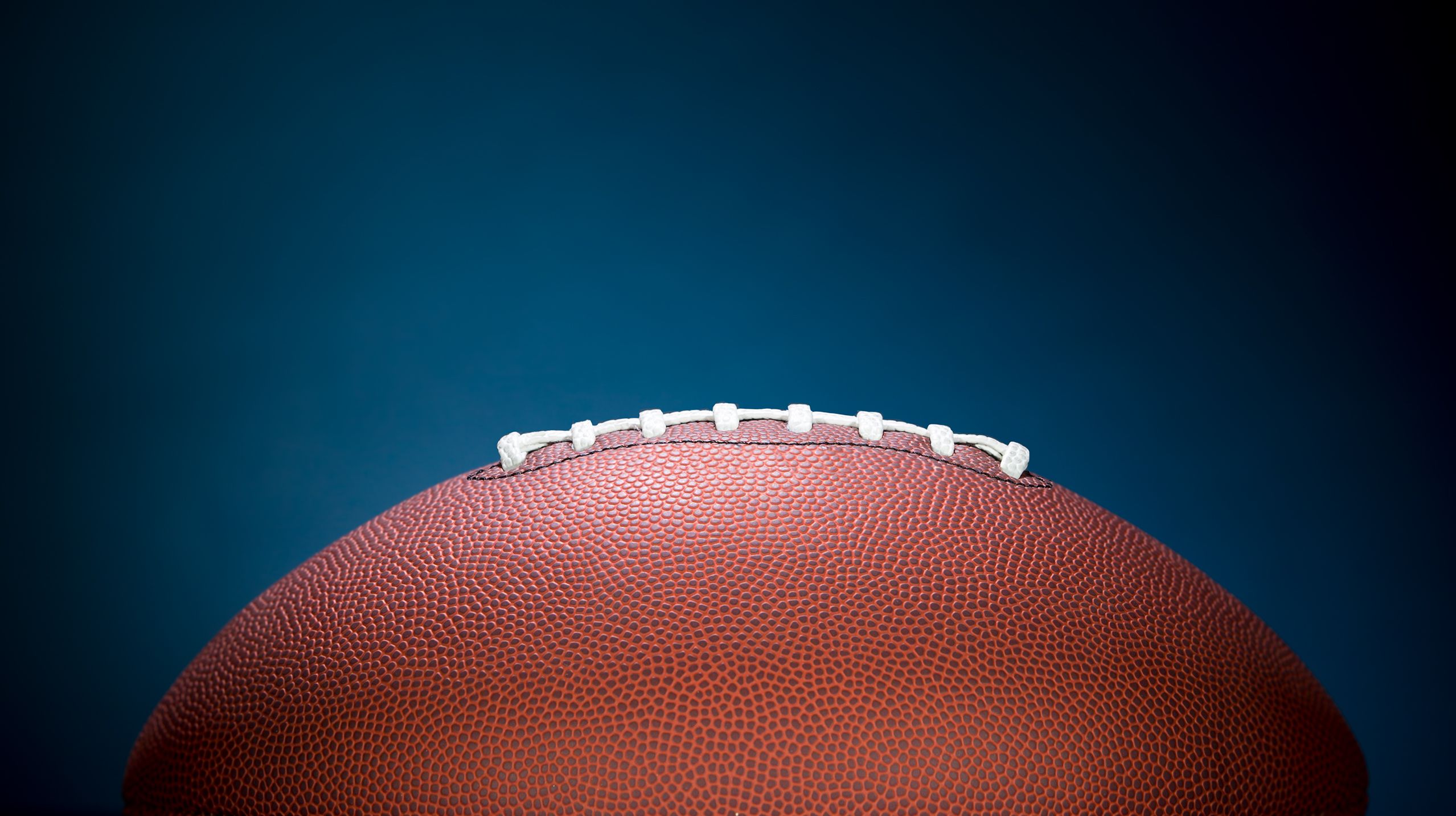 By Scott Henry, Patrick Adams 08 MPH, and Eric Rangus / Photography by Stephen Nowland and Ann Watson
By Scott Henry, Patrick Adams 08 MPH, and Eric Rangus / Photography by Stephen Nowland and Ann Watson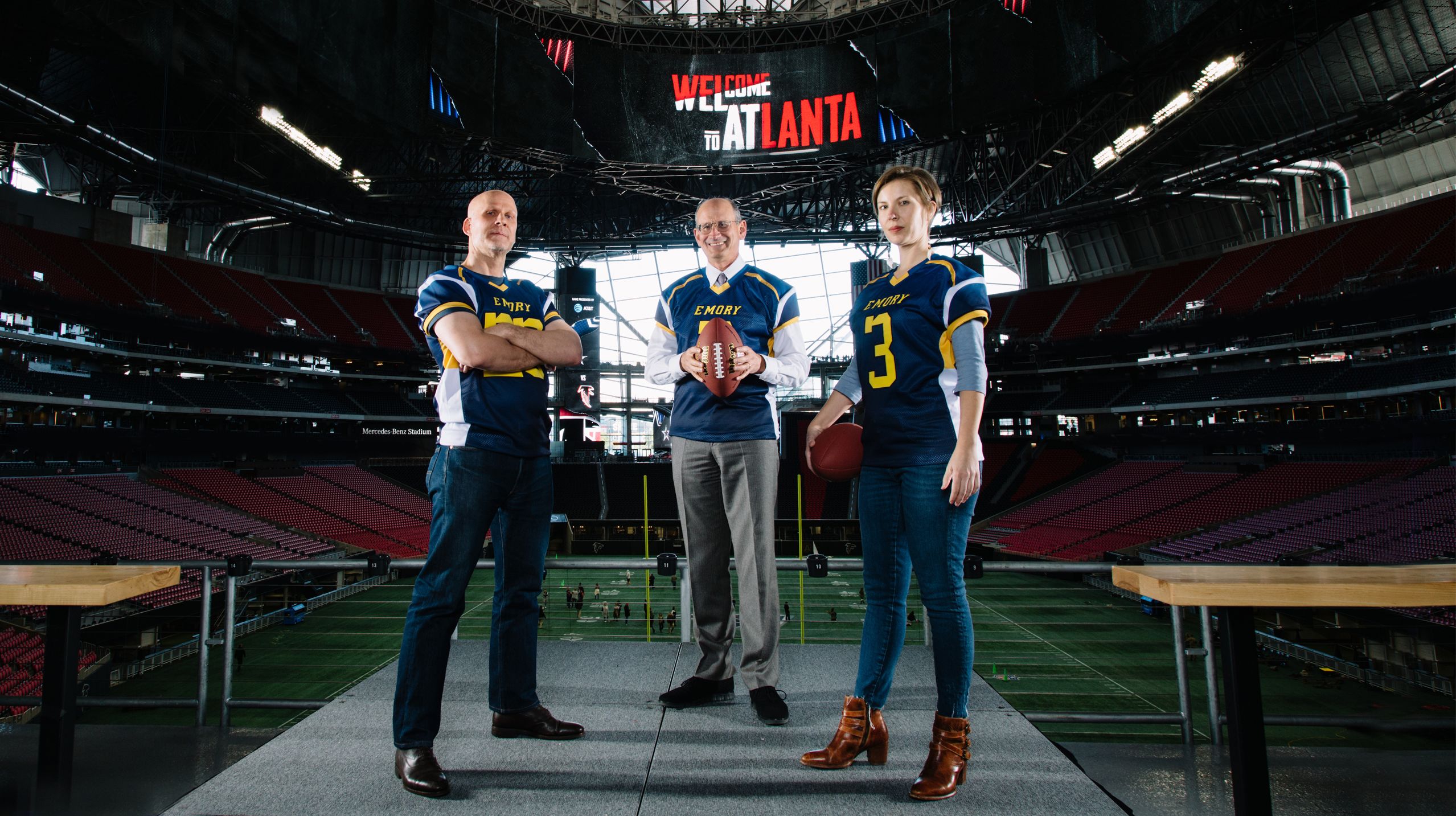 HOME FIELD ADVANTAGE
With Atlanta as the line of scrimmage,
Emory's experts are ready for game day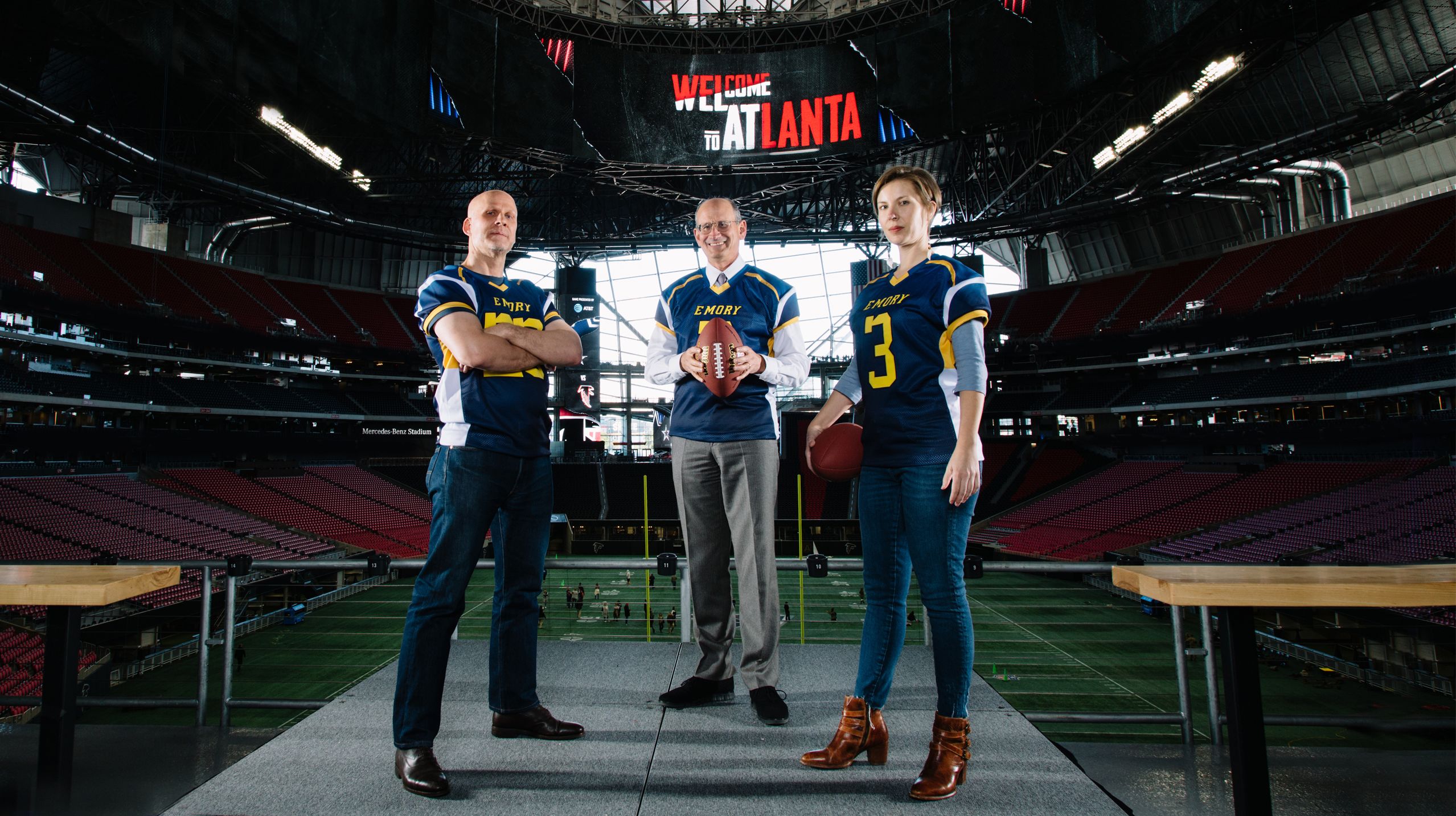 Michael Lewis (from left), A. J. Robinson, and Erin Tarver
Michael Lewis (from left), A. J. Robinson, and Erin Tarver

ATLANTA IMPACT
When the final whistle blows at Super Bowl LIII in Mercedes-Benz Stadium in February, it will signal not just the end of the game, but of months of planning and preparation by thousands of Atlantans—including a number of key Emory players.
But the city and the region as a whole will continue reaping the rewards long after the championship rings have been handed out and the crowds have gone home.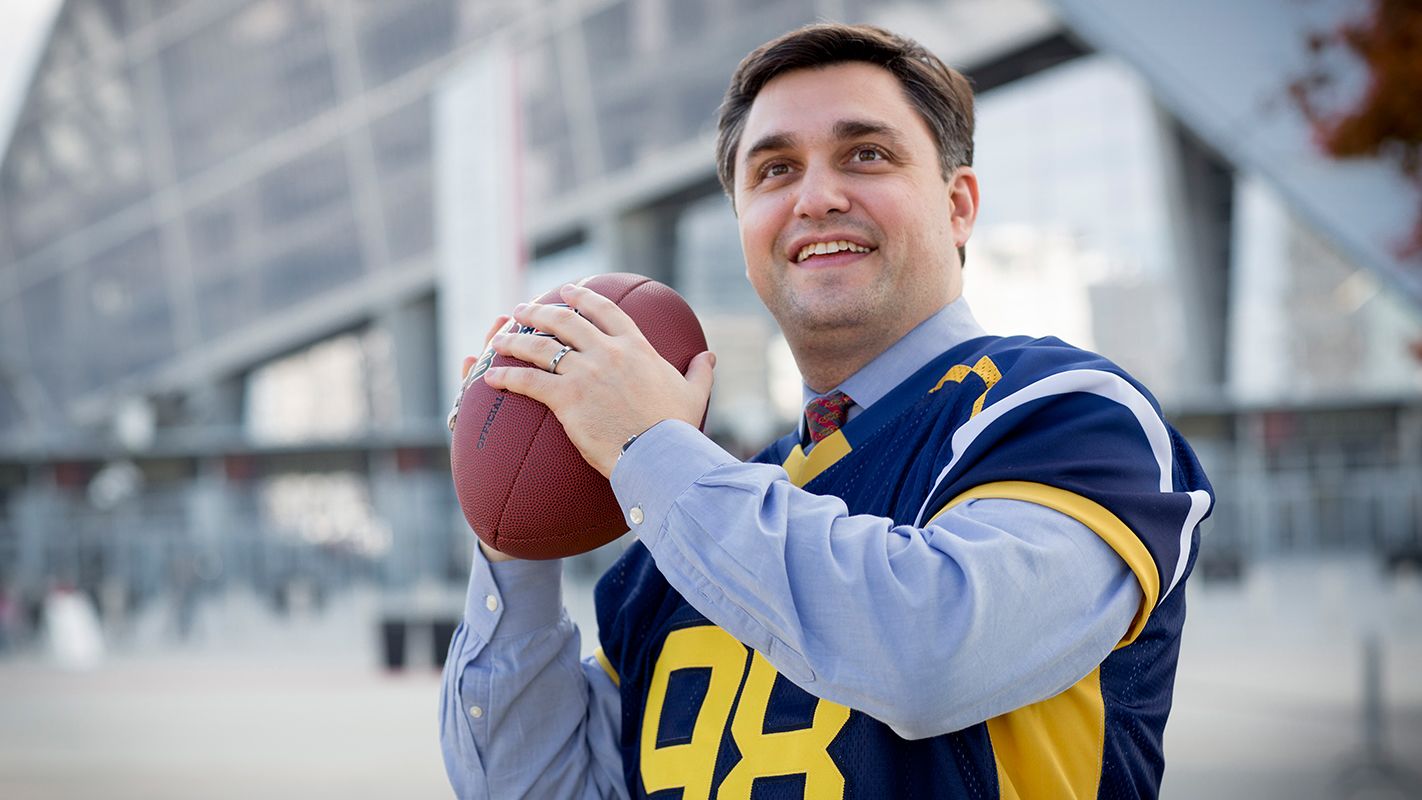 "Hosting the Super Bowl keeps Atlanta on the national and international stage, especially since football now enjoys a worldwide following," says Dan Gordon 99C 05MBA, chief of staff in the Emory Office of the President and a member of the Super Bowl Advisory Board. "It is a true testament to our people, capabilities, and city that we have been selected to host the 2018 College Football Playoff National Championship, 2019 Super Bowl LIII, and 2020 Final Four within a three-year period. I am honored to be one of many volunteers from Emory who are excited to showcase all Atlanta has to offer."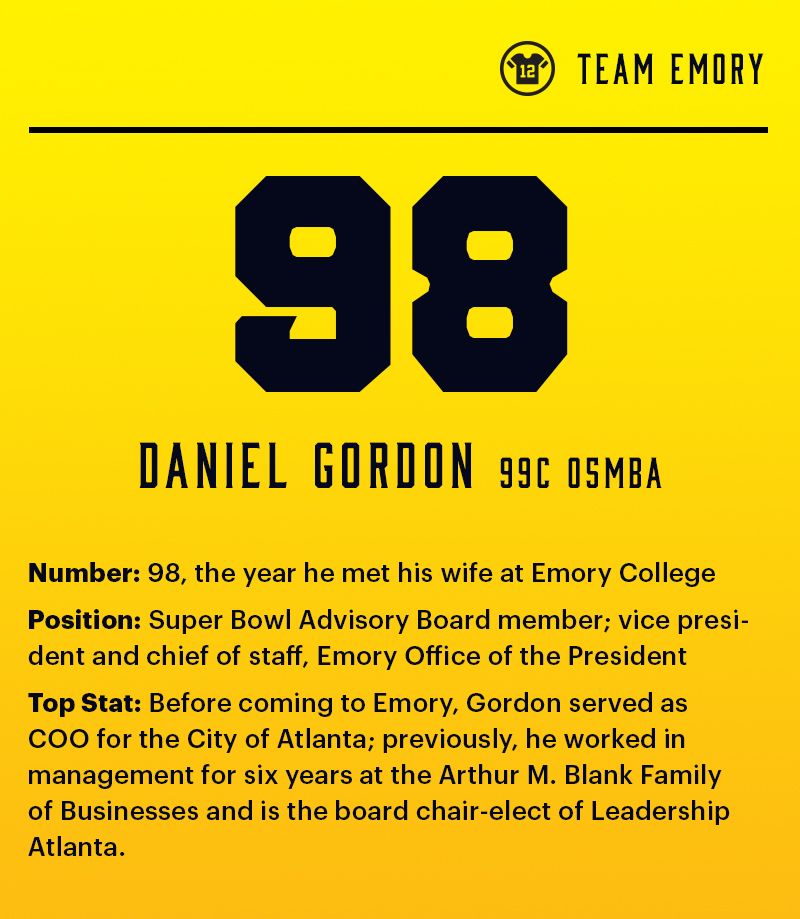 Ryan Hamilton, associate professor of marketing at Goizueta Business School, agrees that hosting the Super Bowl—for the third time—can only help burnish Atlanta's image as a top-tier American city.
"Any coverage is good for the city's brand, and this spotlight is likely to show people that the city is more cosmopolitan and diverse than they might have thought," he explains.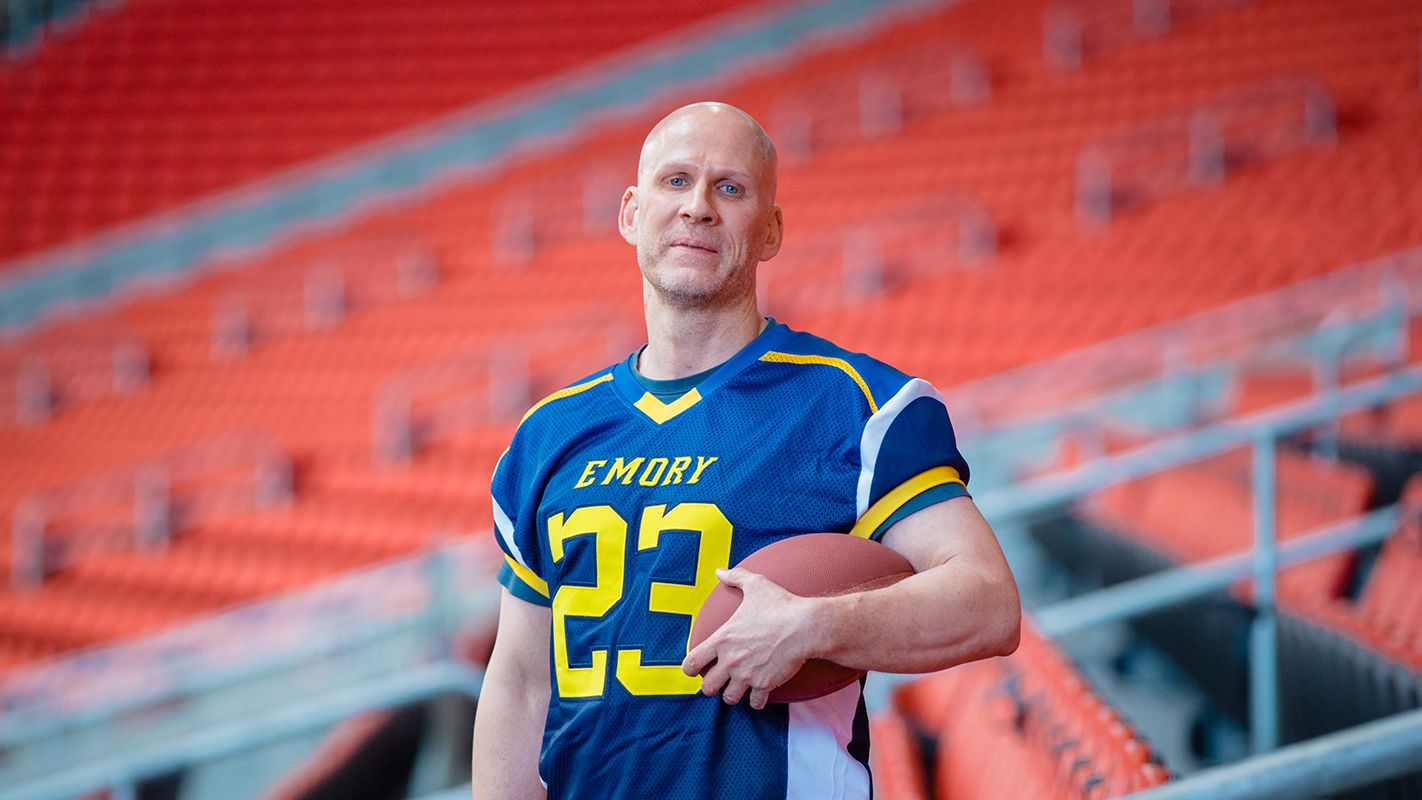 Goizueta marketing professor Michael Lewis adds that hosting the big game could help improve Atlanta's image as a sports town, despite a history of also-ran teams.
"This is one of the best things the city can do to get its name out there and gain credibility and legitimacy," he says. "We've just built a world-class stadium, and team owner Arthur Blank [an Emory trustee emeritus] has done a great job of boosting fandom for the Falcons and Atlanta United."
And local sports fans are all warmed up. In December, Atlanta United electrified the city with its Major League Soccer championship victory.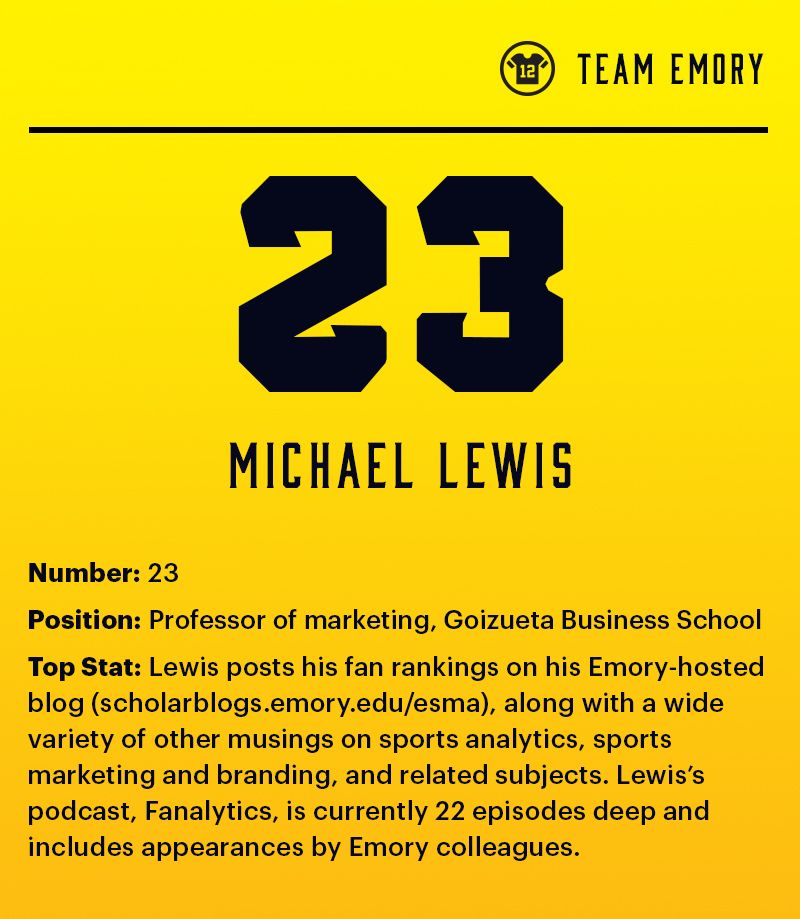 Of course, someone has to help make sure that Atlanta lives up to the hype. That's where the nine board members of the Atlanta Super Bowl LIII Host Committee come in. 
A. J. Robinson 77BBA, the longtime president of Central Atlanta Progress and Atlanta Downtown Improvement District, is another Emory team member calling the plays. He and his fellow committee members are responsible for coordinating with Centennial Olympic Park, the Georgia World Congress Center, and other public venues to ensure they're ready; lining up the ten thousand volunteers who will help shepherd more than one million expected visitors around town; and raising local sponsorship money to be used by the NFL in staging events such as free concerts.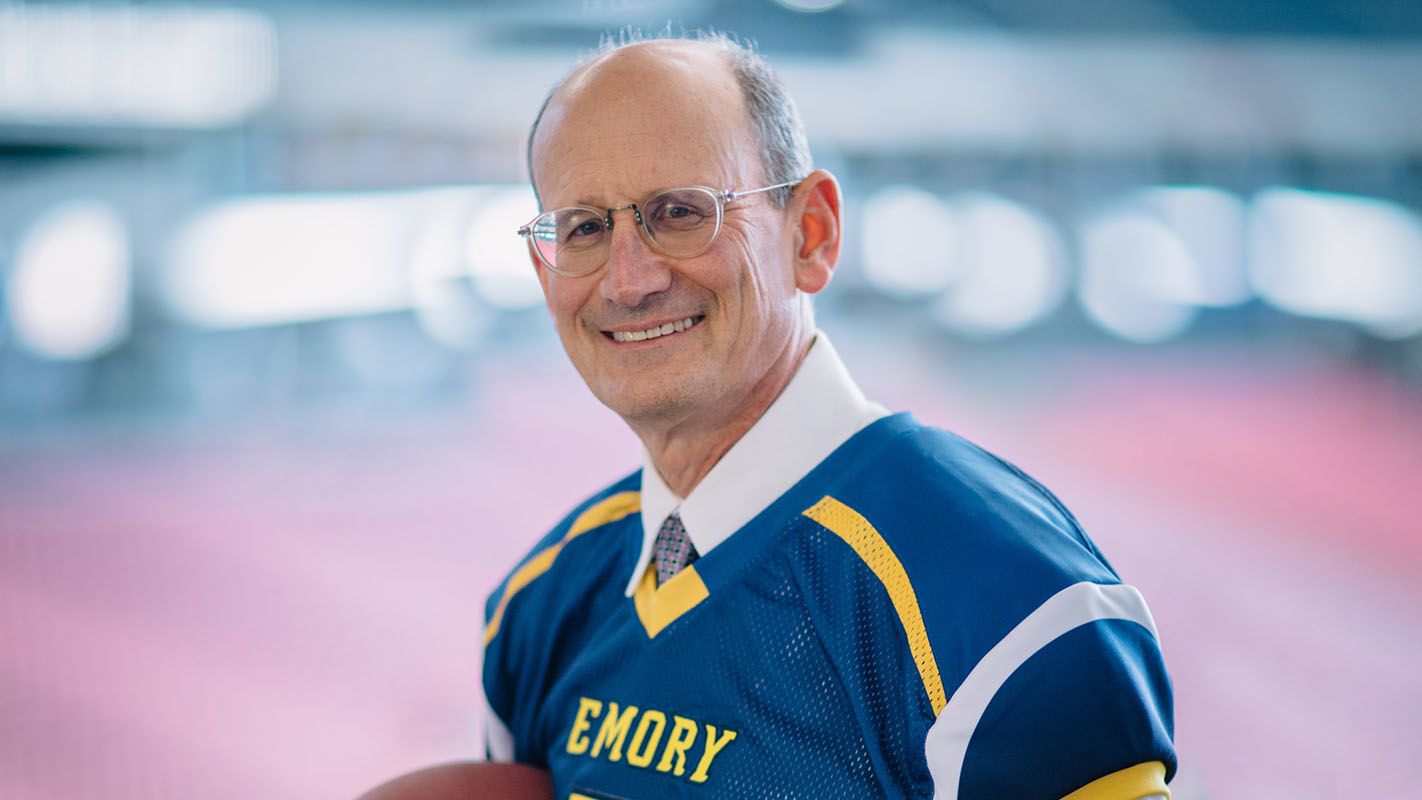 The committee also has worked with local authorities on providing public safety and transit services during Super Bowl week, including an inclement weather plan to help fans get to the stadium in the event of an ice storm—like the one in 2000 that froze downtown just before Super Bowl XXXIV.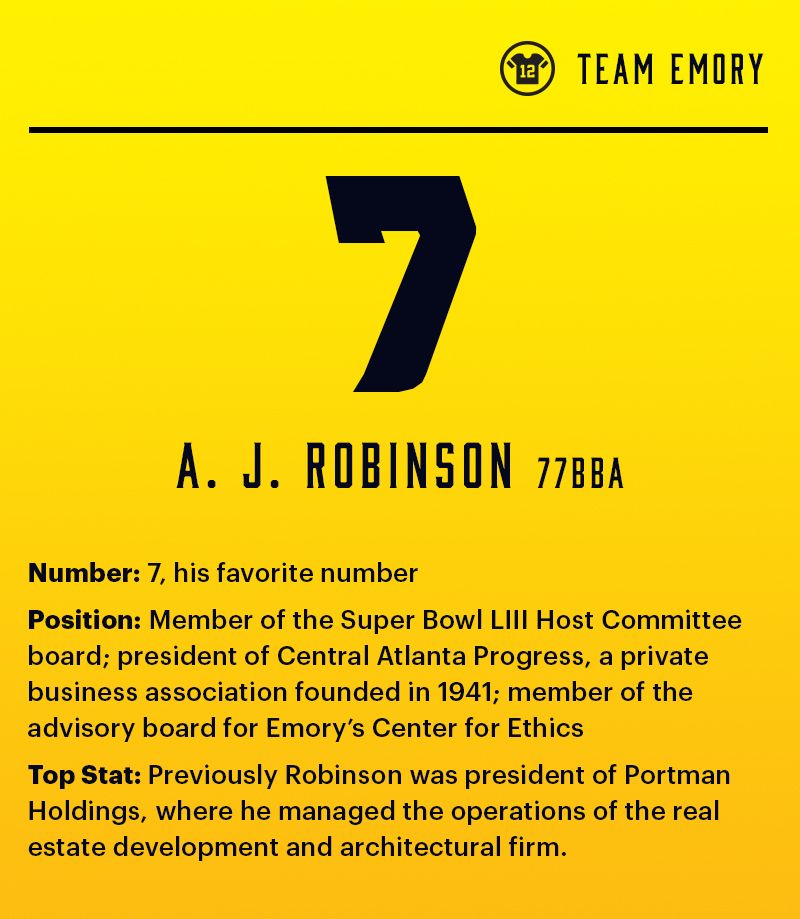 "The legacy of the Olympics is that Atlanta has become a major destination for large events," Robinson says. "The feeling here is that anything is possible, that the city can rise to any challenge."
One of those challenges is the potential for emergencies, from a single football player with a head injury to an unanticipated public incident or natural disaster that could send multiple patients to the nearest ER. The city's investment in emergency preparedness was a major factor in earning Atlanta the Super Bowl LIII bid. 
Alexander Isakov, Emory director of prehospital and disaster medicine and of the Center for Critical Event Preparedness and Response (CEPAR), has helped to craft contingency plans and training for the past two Super Bowls in Houston and Minneapolis, and he is doing the same in Emory's hometown.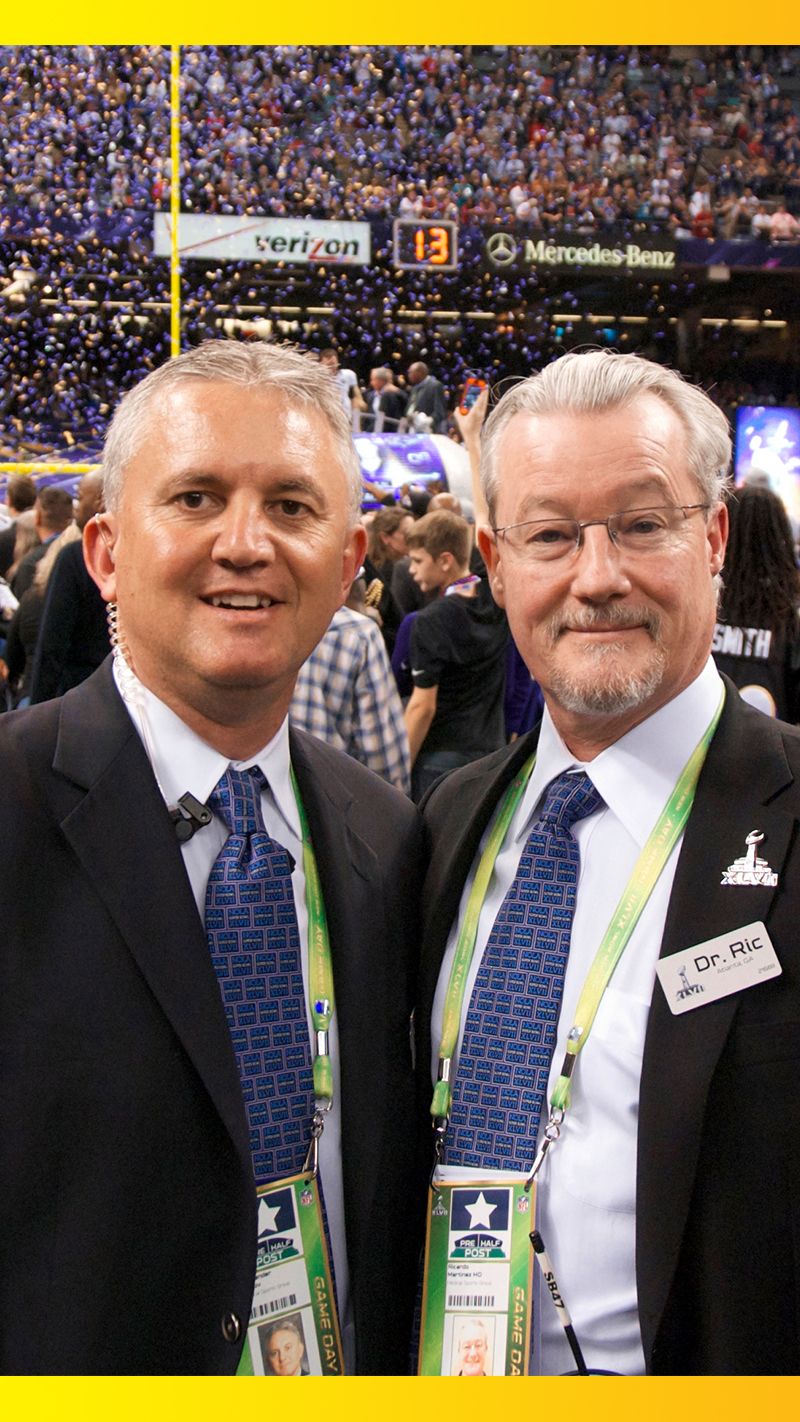 Because of the large crowds that can clog city arteries on game day, emergency medical responders need to be ready to provide urgent care while minimizing transports, he says—meaning the possible need for more immediate, on-site care.
"In every host city, we work with professionals dedicated to serving their community," he says. "There is a distinct difference in how a venue plans for a regular season game and how they plan for the Super Bowl, because it is so complex and high-profile."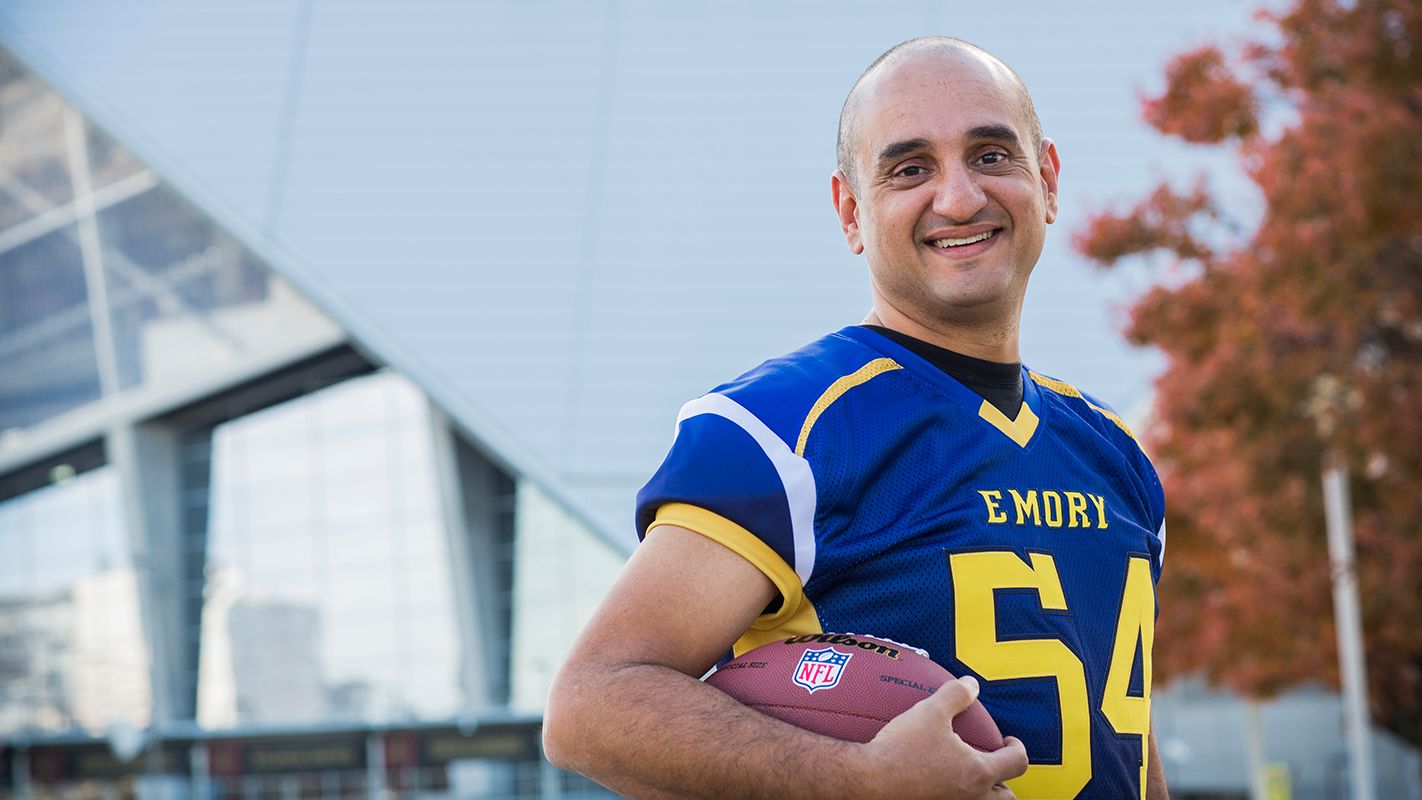 Another point that worked in Atlanta's favor was the top-flight level 1 trauma center at Grady Memorial Hospital, closely affiliated with Emory's School of Medicine. Last spring, Hany Atallah, Emory associate professor and Grady's chief of emergency medicine, was part of a high-level public discussion about preparations for the big day.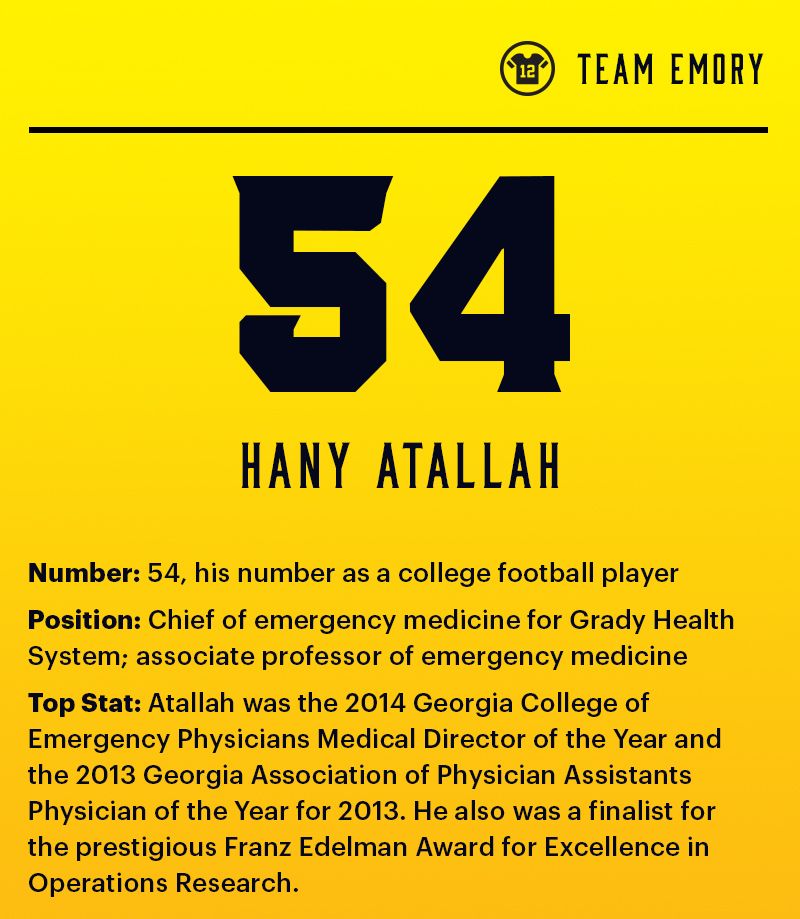 Atallah said Grady will be prepared "hospital wide" for any eventuality and will increase staffing during Super Bowl weekend. "You really need to be able to provide medical support if there's a disaster or something like that," Atallah said.
The Emory support team also includes Anwar Osborne, an emergency medicine doctor who will be the airway management physician on the field on game day.
As a city leader, Robinson is especially pleased that the Host Committee decided to take on a selection of projects with local impact. 
For starters, the group invited the Atlanta-based International Human Trafficking Institute to train Super Bowl volunteers in identifying possible victims of sex trafficking. And in August, the committee held a groundbreaking for $2 million worth of upgrades at John F. Kennedy Park in the Vine City neighborhood just west of the stadium. 
One of the committee's proudest achievements is a public art initiative called Off the Wall that supported the creation of some thirty permanent murals in visible places around the city. Curated by the local WonderRoot arts organization, the $1 million program has artists from across the country create works on the theme of civil and human rights, a subject with which the hometown of Martin Luther King Jr. is strongly identified. 
Carlton Mackey 05MDiv, director of the Ethics & the Arts program at Emory's Center for Ethics and a former WonderRoot board member, helped coordinate public forums to give local community members input on the murals' messages. 
"The Super Bowl is providing us a canvas and a huge audience, but our hope is that the neighborhoods will embrace the artwork and that the murals will continue to provoke dialogue long after the game is over," Mackey says. "By exploring Atlanta's civil rights history—past, present, and future—this project should further advance Atlanta as a city where social justice is a major concern."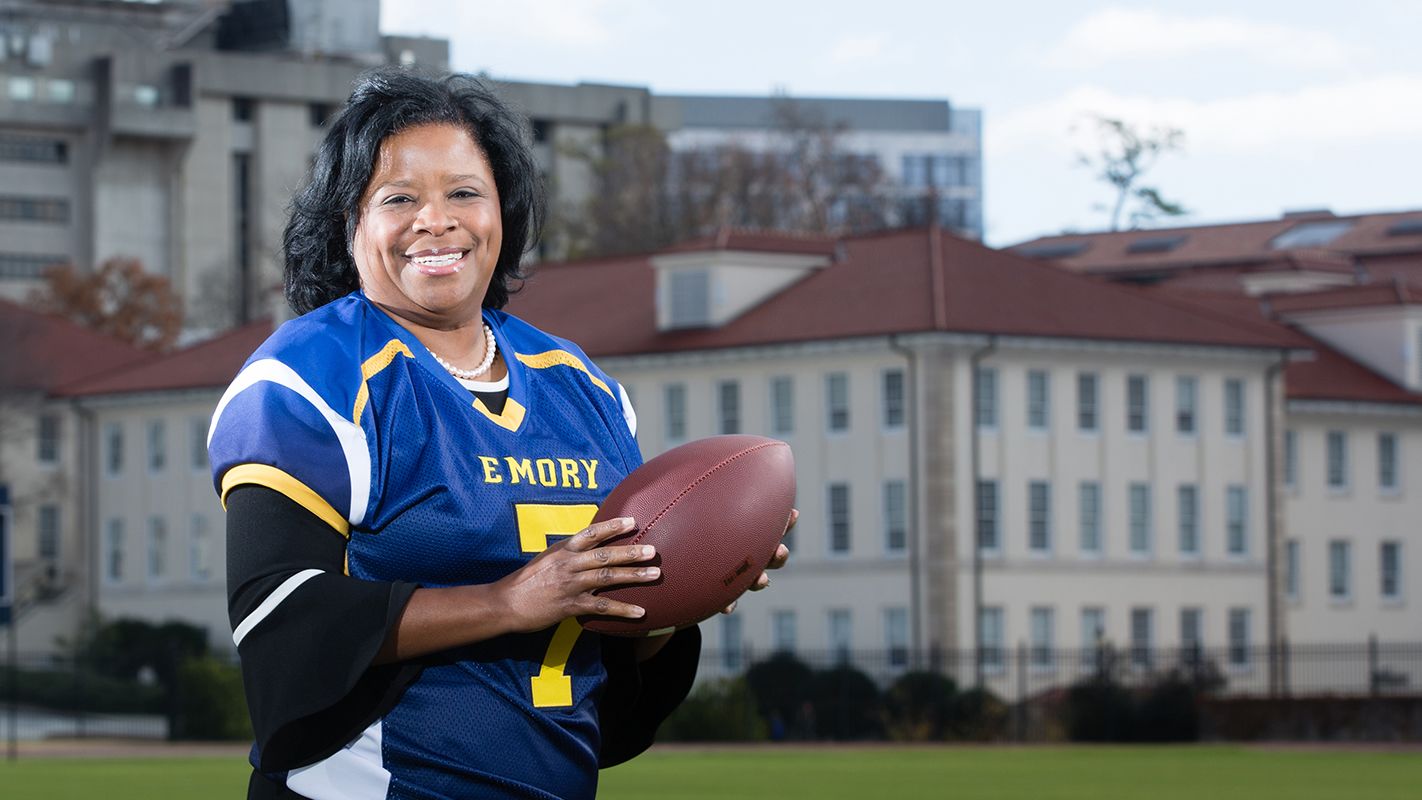 Host Committee board member Shan Cooper 89C 95MBA, executive director of Atlanta Committee for Progress and an Emory trustee, believes the mural project offers Atlanta a lasting opportunity to showcase its best side.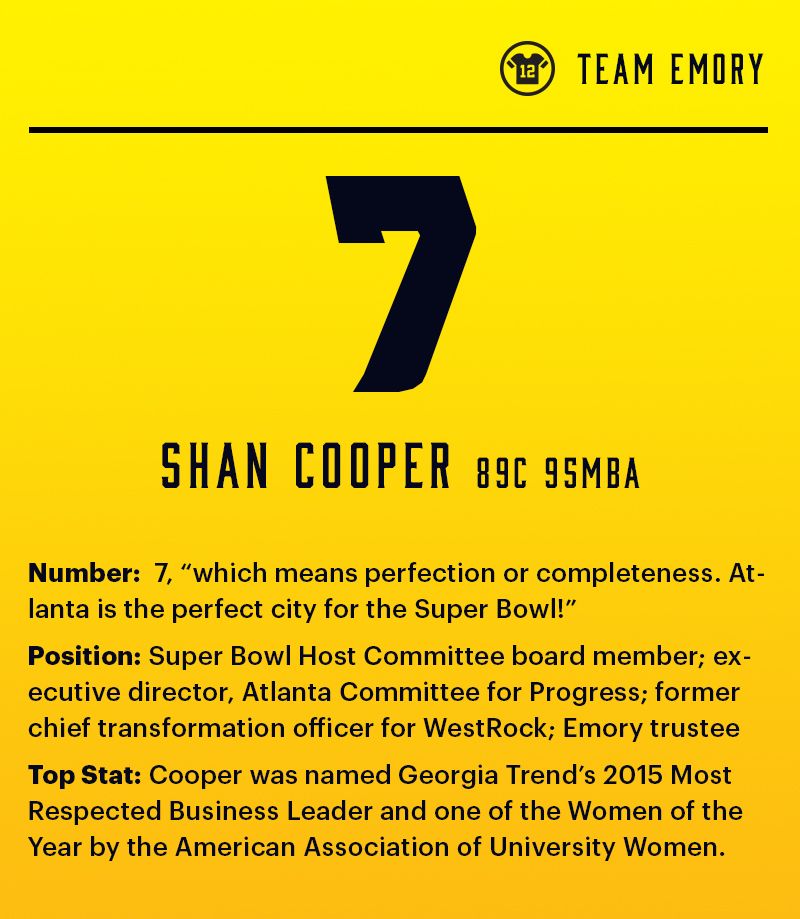 "We really wanted to tell our story as a city where people work together," she says.
It was also important for the committee to be able to leverage Super Bowl week to provide a positive experience to the city as a whole—not just those lucky enough to have a ticket. 
"Our goal was to enable people who couldn't make it to the game to still participate," Cooper says. A self-described huge football fan and Falcons booster, she says she'll be watching the game on TV.
While the Super Bowl will certainly be a windfall for Atlanta's hospitality industry, Gordon, who served three years as the city's chief operating officer, believes the event's biggest payoff may be in providing a weeklong showcase for Mercedes-Benz Stadium and other amenities.
"We're doing all we can to make sure that all of Atlanta benefits from this event," he says. "Atlanta is unique in its ability to focus on a certain challenge and bring people together to make sure it's a success."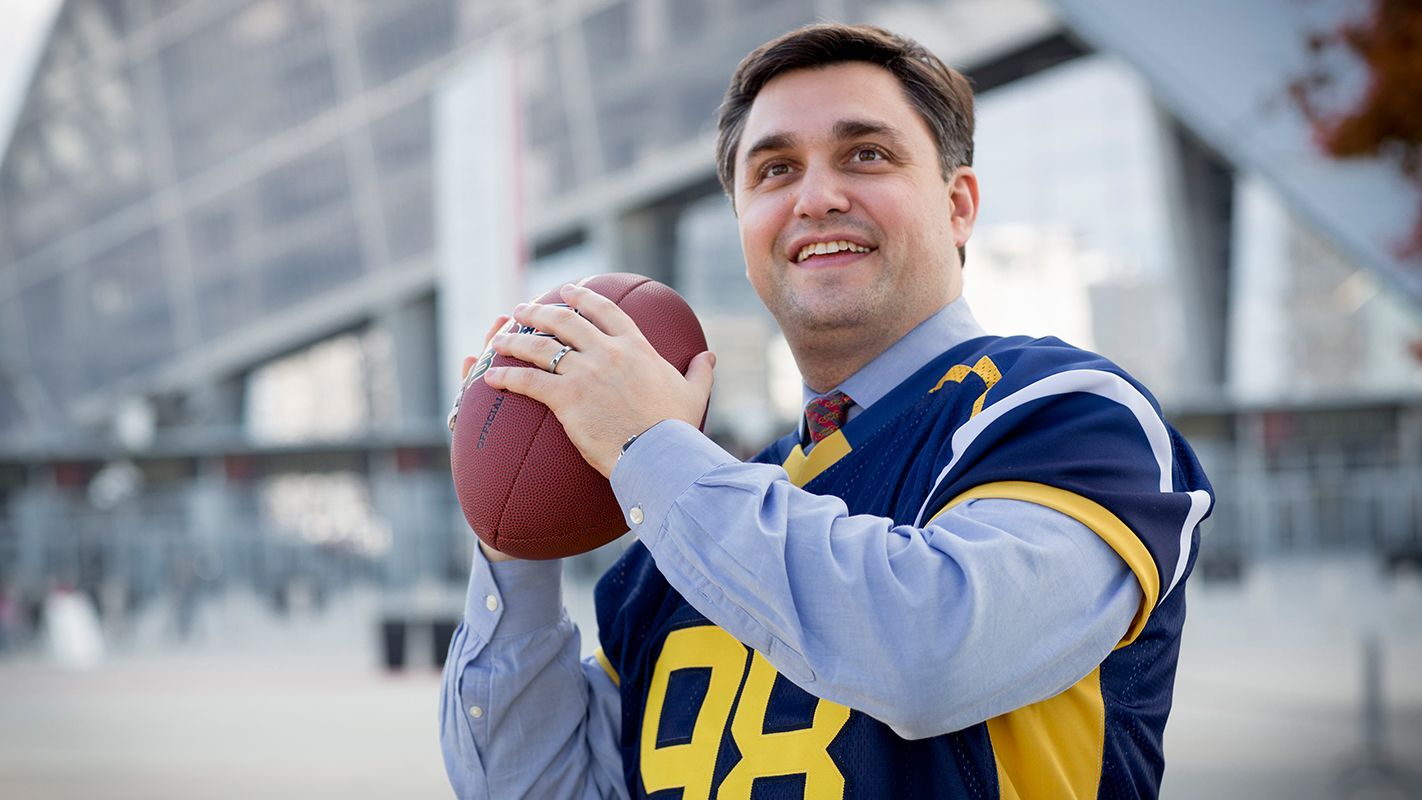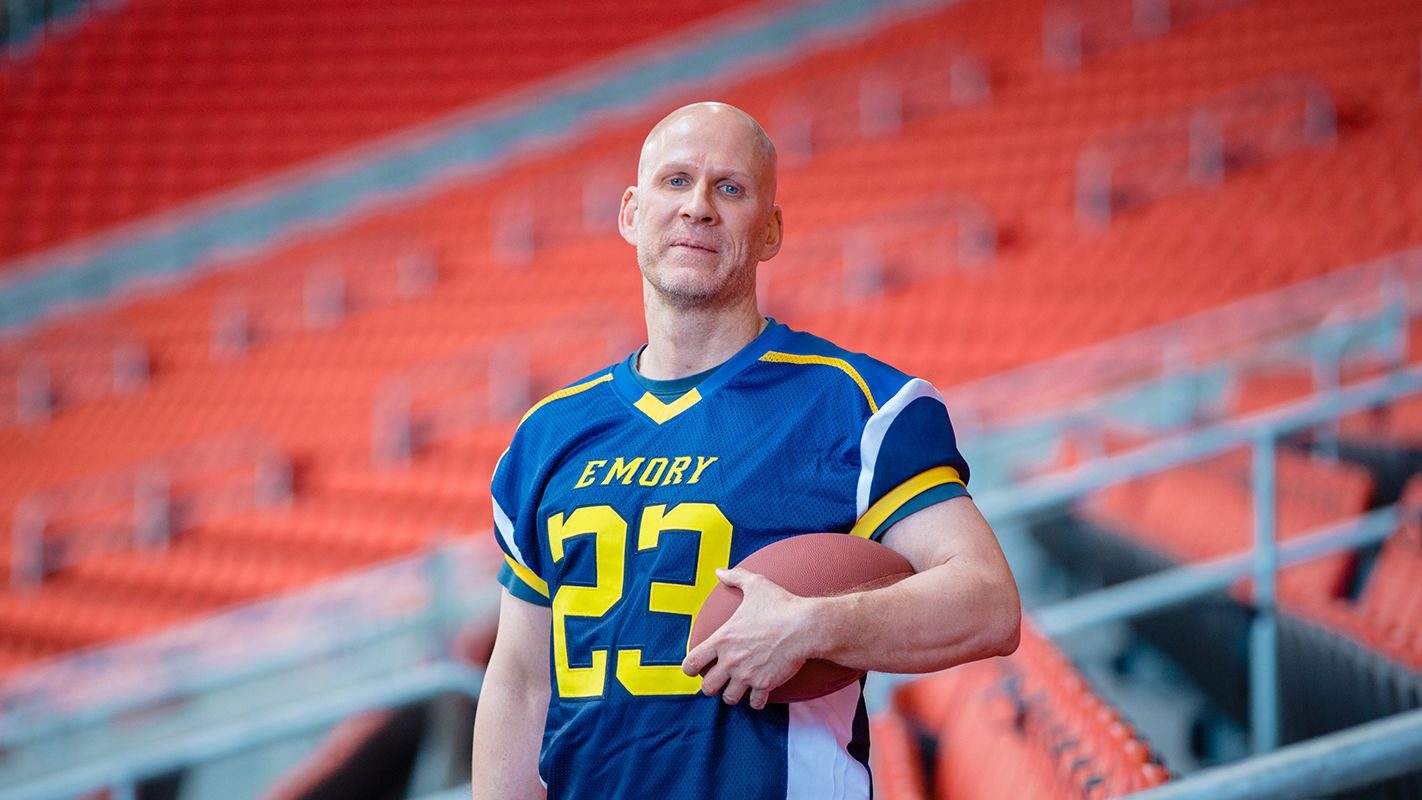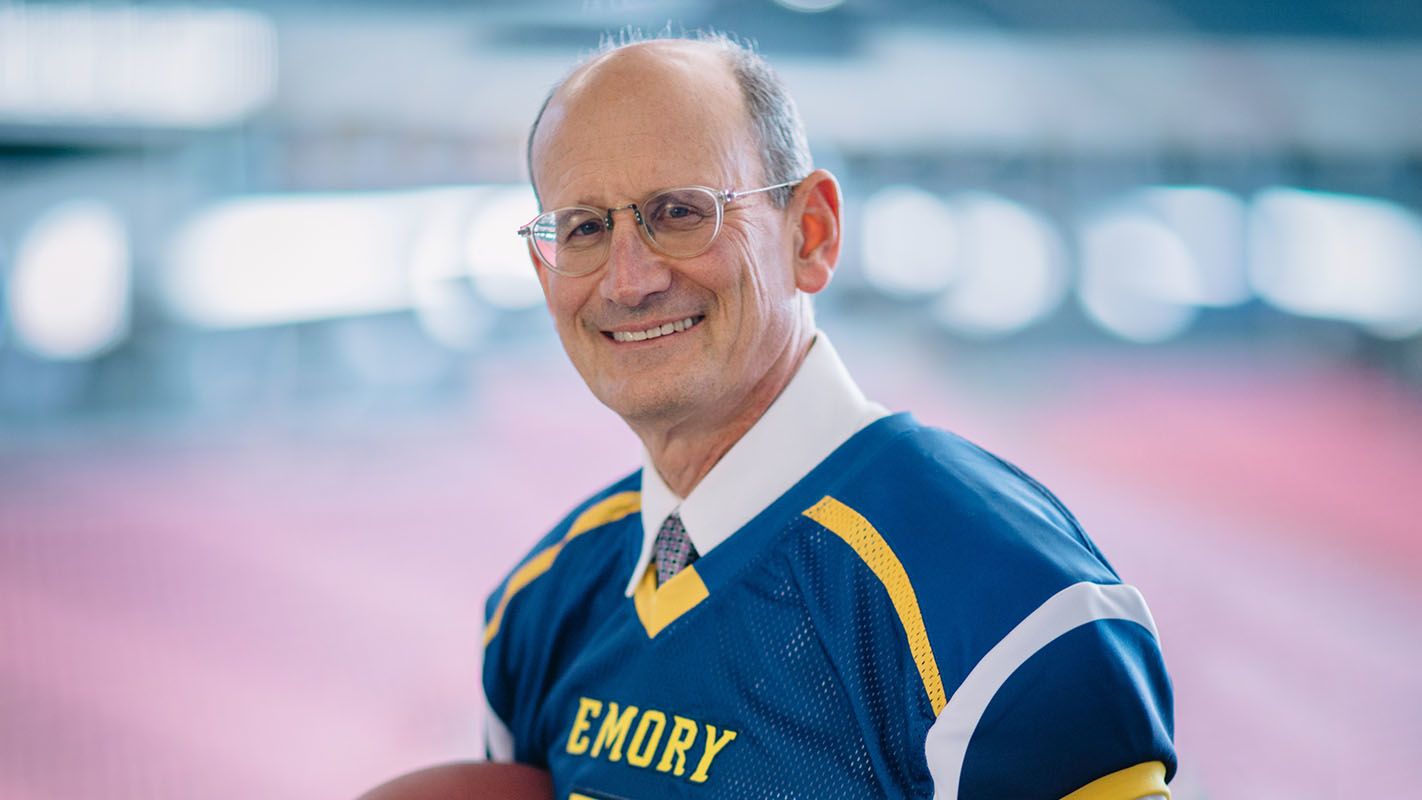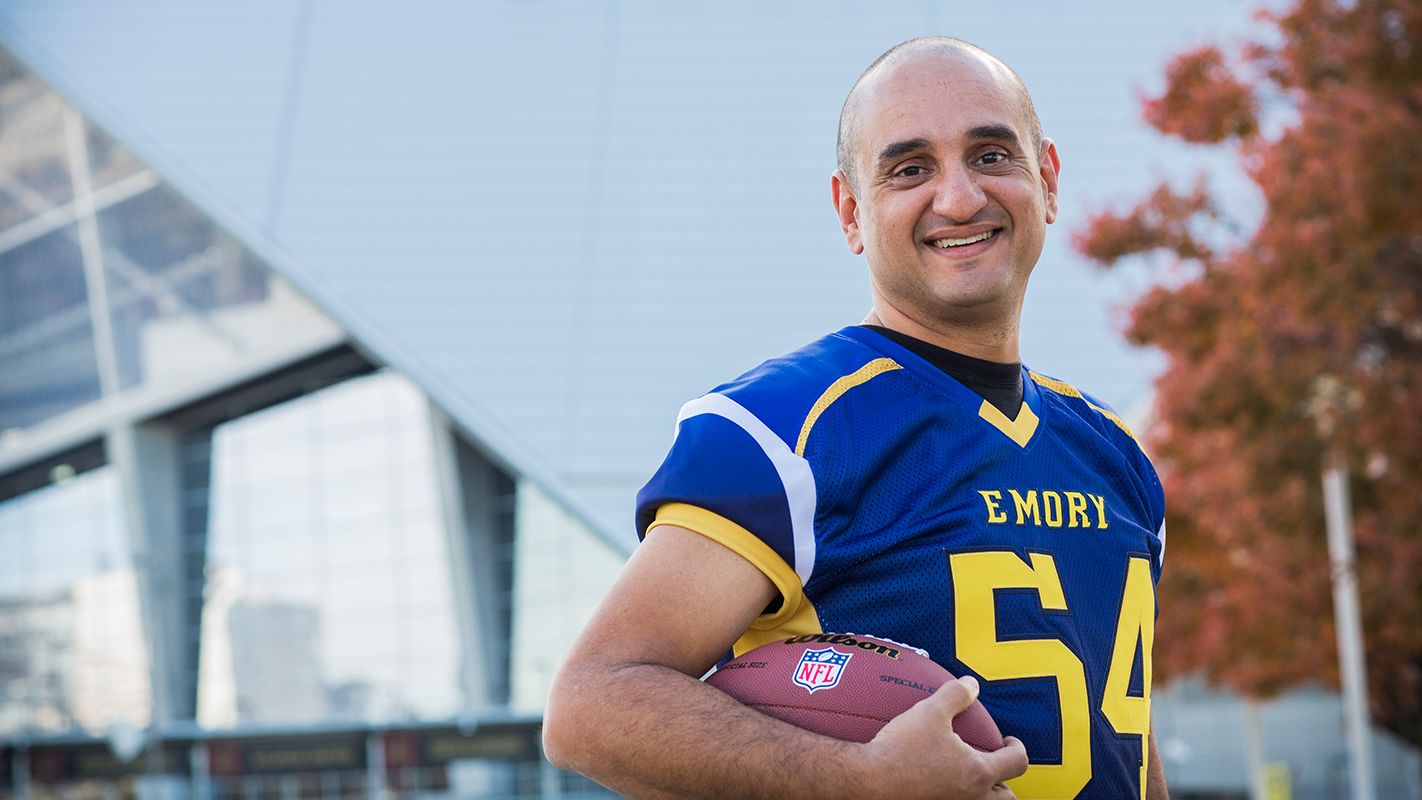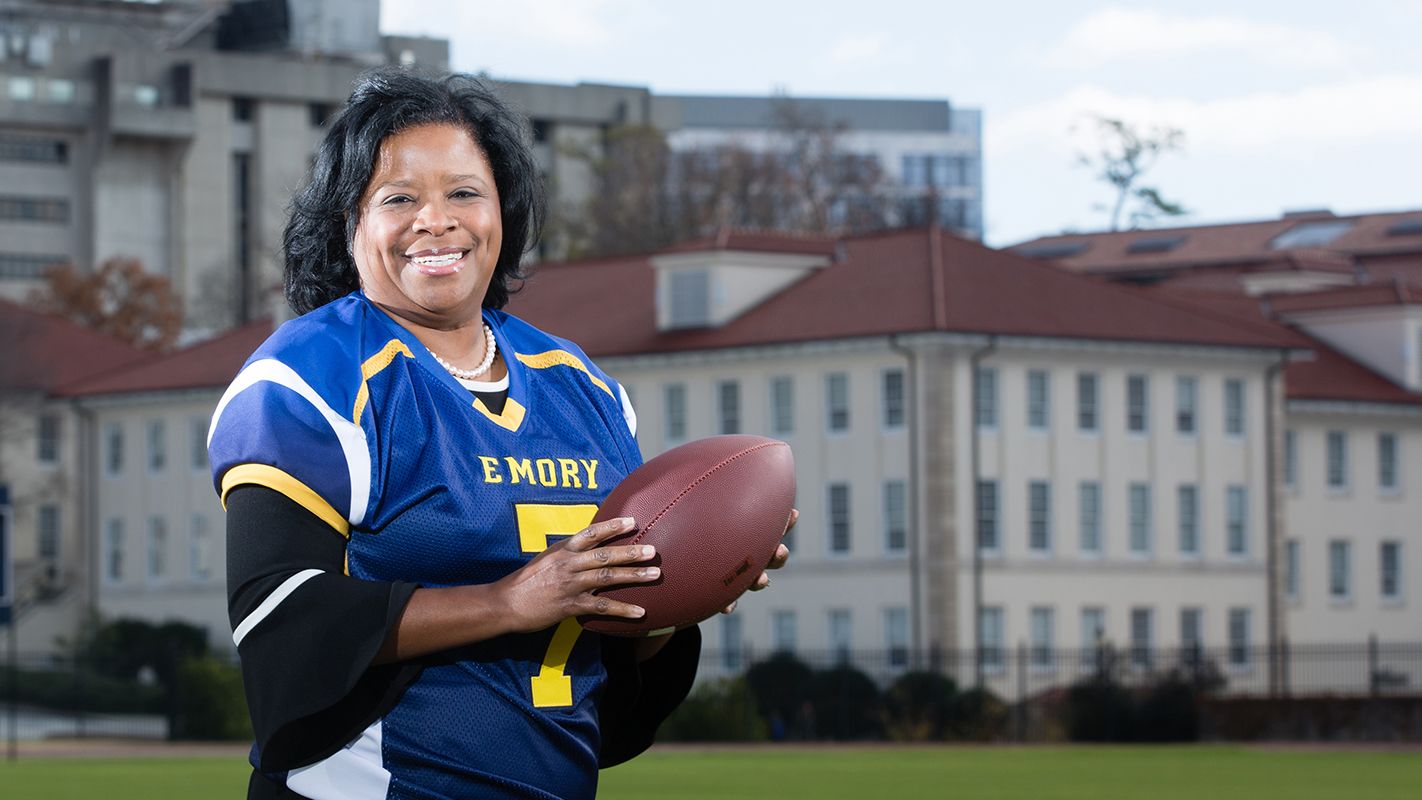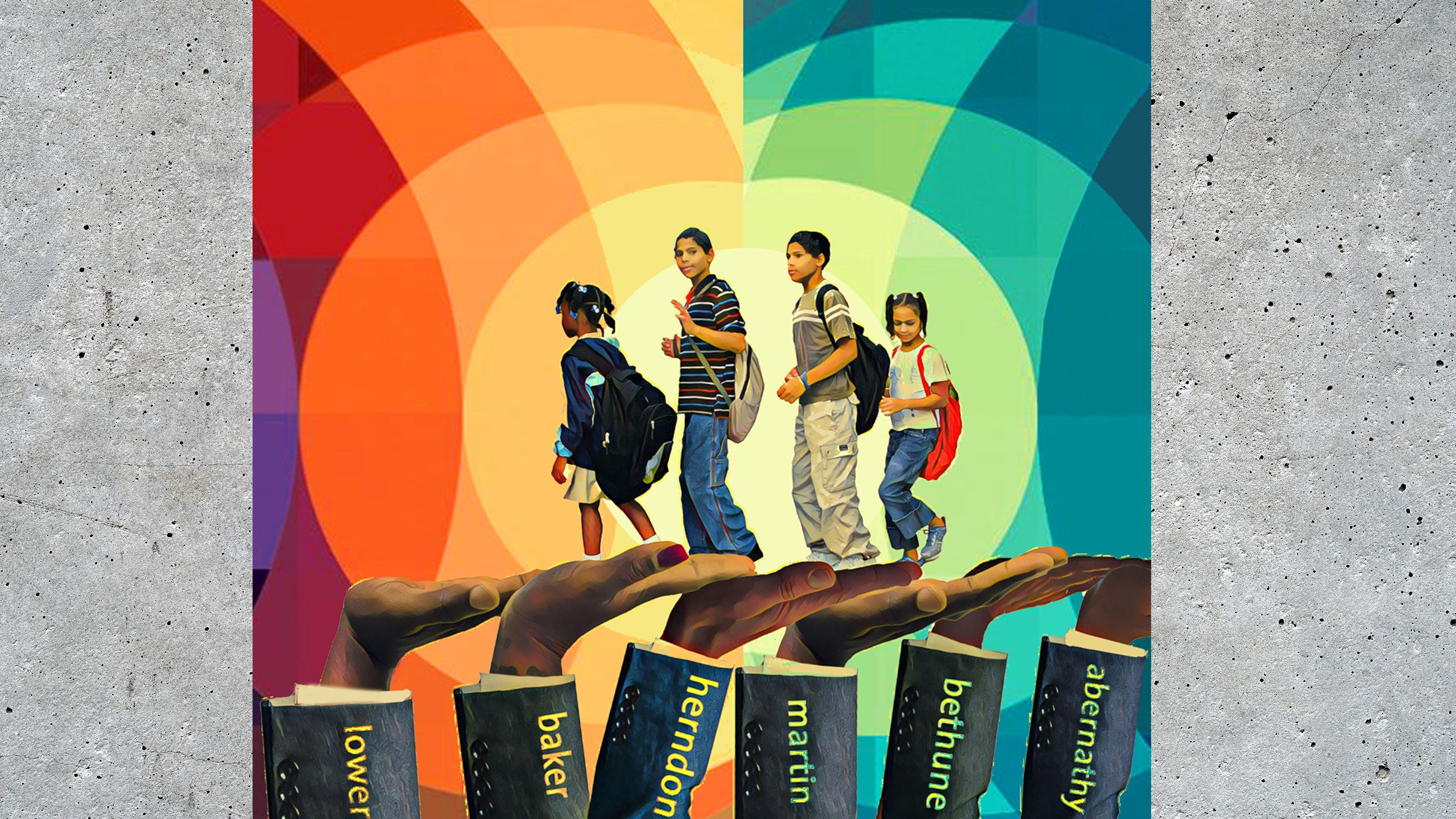 HANDOFF TO THE NEXT GENERATION
Artist Muhammad Yungai's Helping Hands, one of the Off the Wall murals, celebrates major figures who have moved Atlanta forward.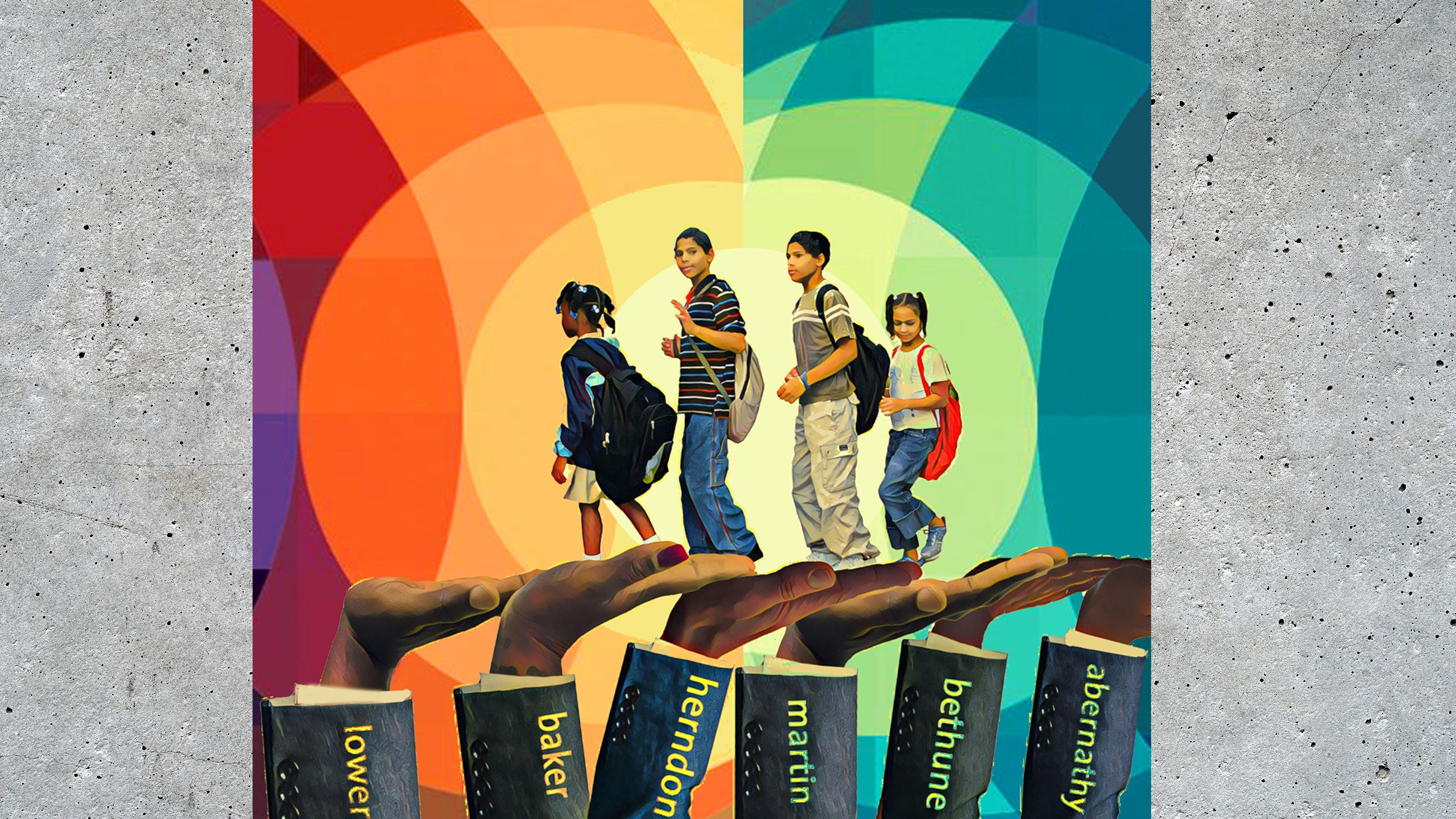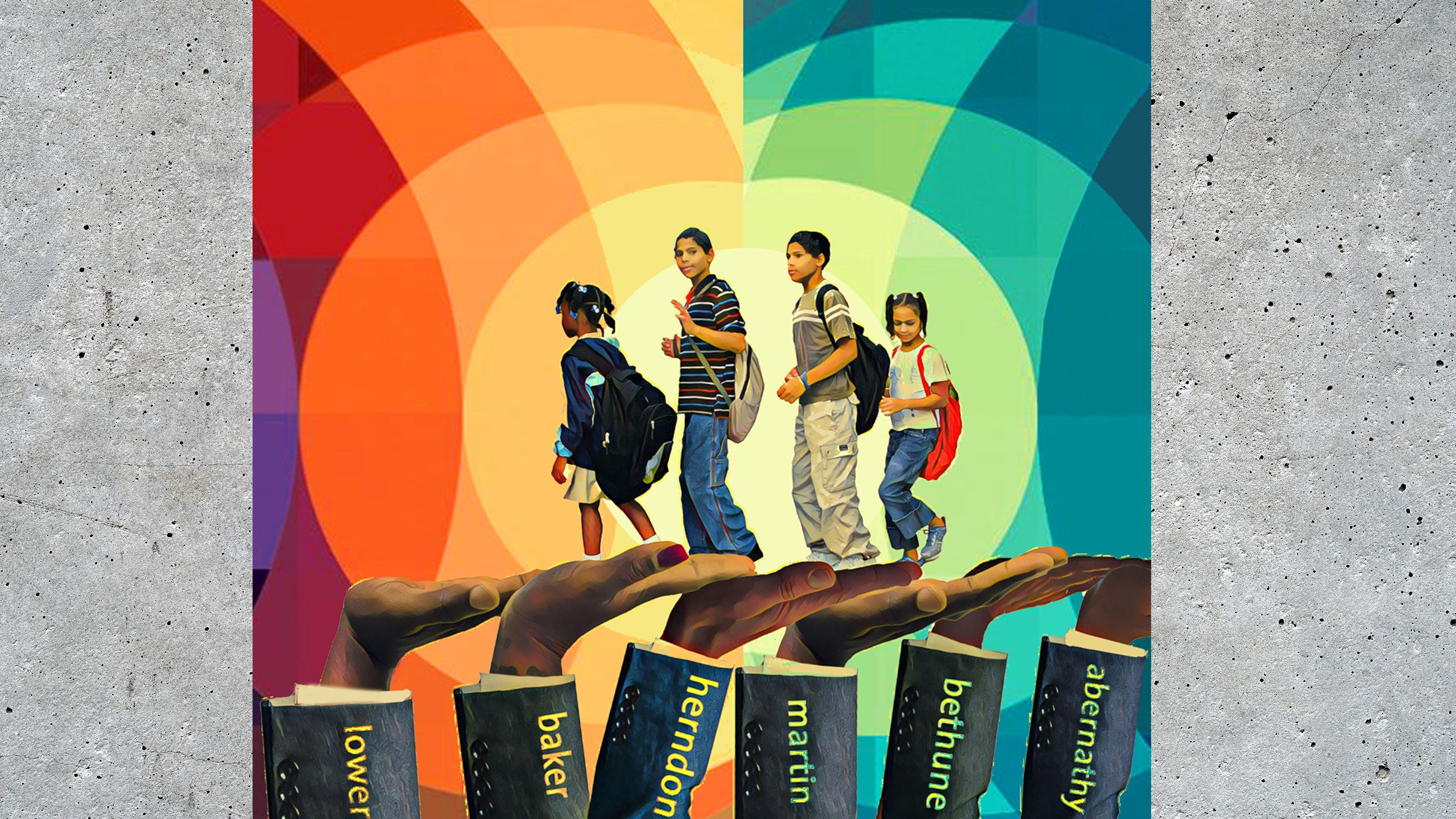 Artist Muhammed Yungai's Helping Hands, one of the Off the Wall murals, celebrates major figures who have moved Atlanta forward.
Artist Muhammed Yungai's Helping Hands, one of the Off the Wall murals, celebrates major figures who have moved Atlanta forward.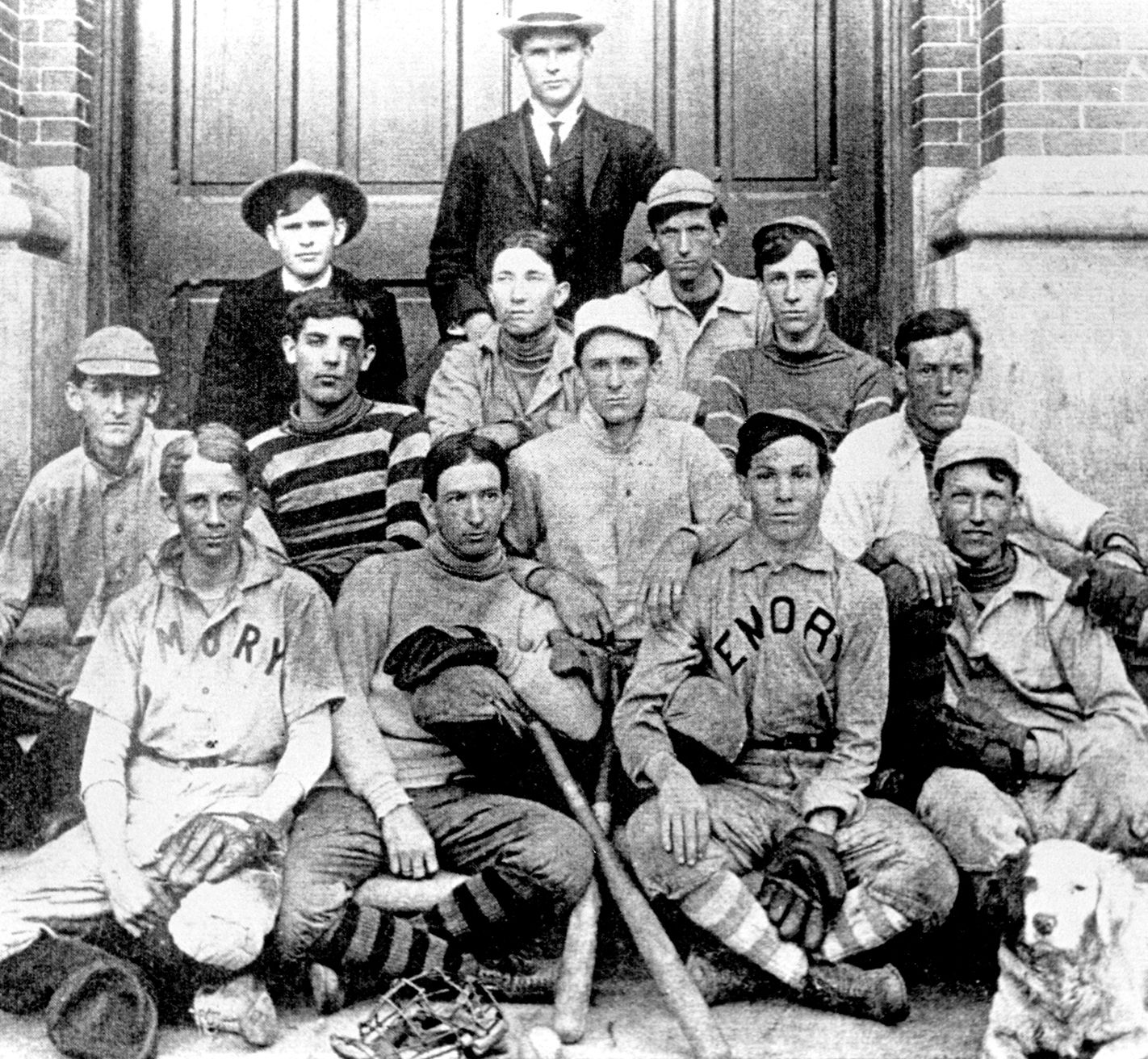 WHAAAT, NO FOOTBALL TEAM?
Oddly enough, Emory's lack of a football team can be credited to baseball. In 1884 and 1886, the university played the University of Georgia and was soundly beaten both times, amid rumors of gambling and other unsportsmanlike activities. In 1891, Emory's Board of Trustees passed a resolution against intercollegiate sports "in view of [their] demoralizing influence ... upon the habits of students and the strong tendency to gambling which such games foster."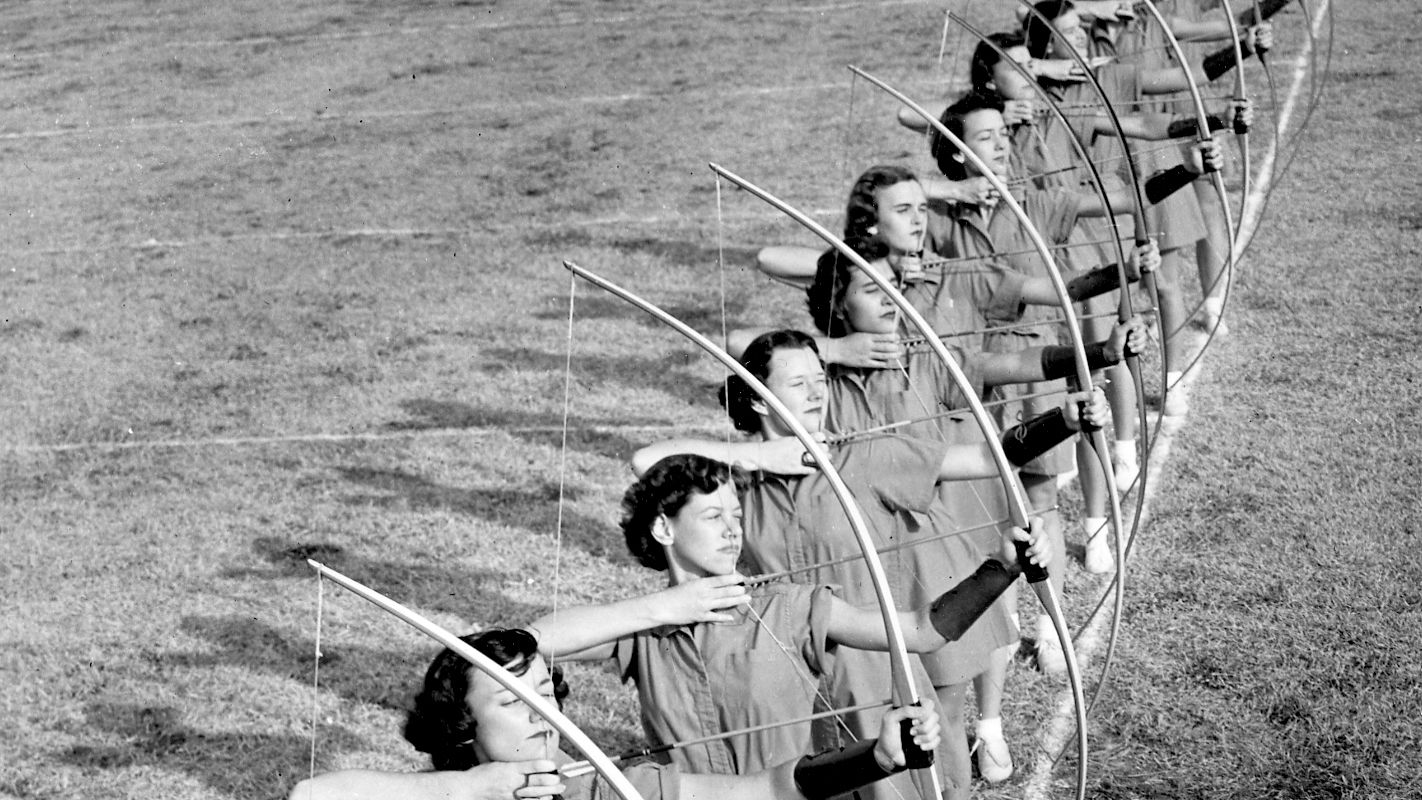 ATHLETICS FOR ALL
President Warren Candler's contention in 1919 that intercollegiate sports are "evil, only evil, and that continually" didn't help Emory in the athletics arena. Competition with other schools was forbidden until 1945, but that didn't stop students from playing. Emory's intramural program, summed up by the motto "Athletics for All," flourished from its beginnings and remains lively today. Student participation is about 50 percent, thriving alongside the eighteen varsity sports programs (which still do not include football).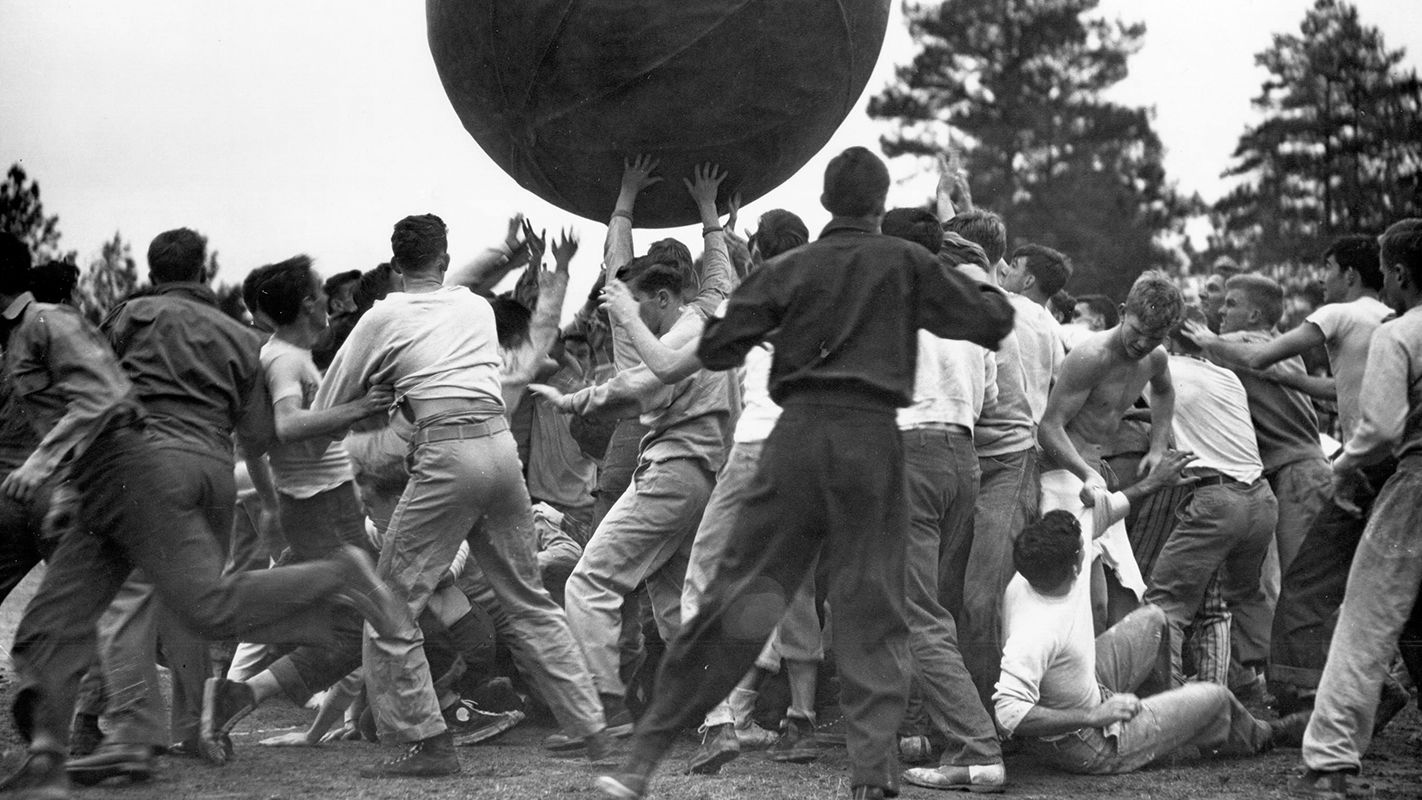 STOP PUSHING  
From 1923–1955, the game of pushball was a campus tradition between freshmen and sophomores. It was played with a 180-pound leather ball and 25 people per team on the field, with the goal to push the ball into the other team's end zone. It was banned in 1955 because it caused too many injuries. A modern-day version of pushball was brought back for a day as part of Emory's 175th anniversary celebration.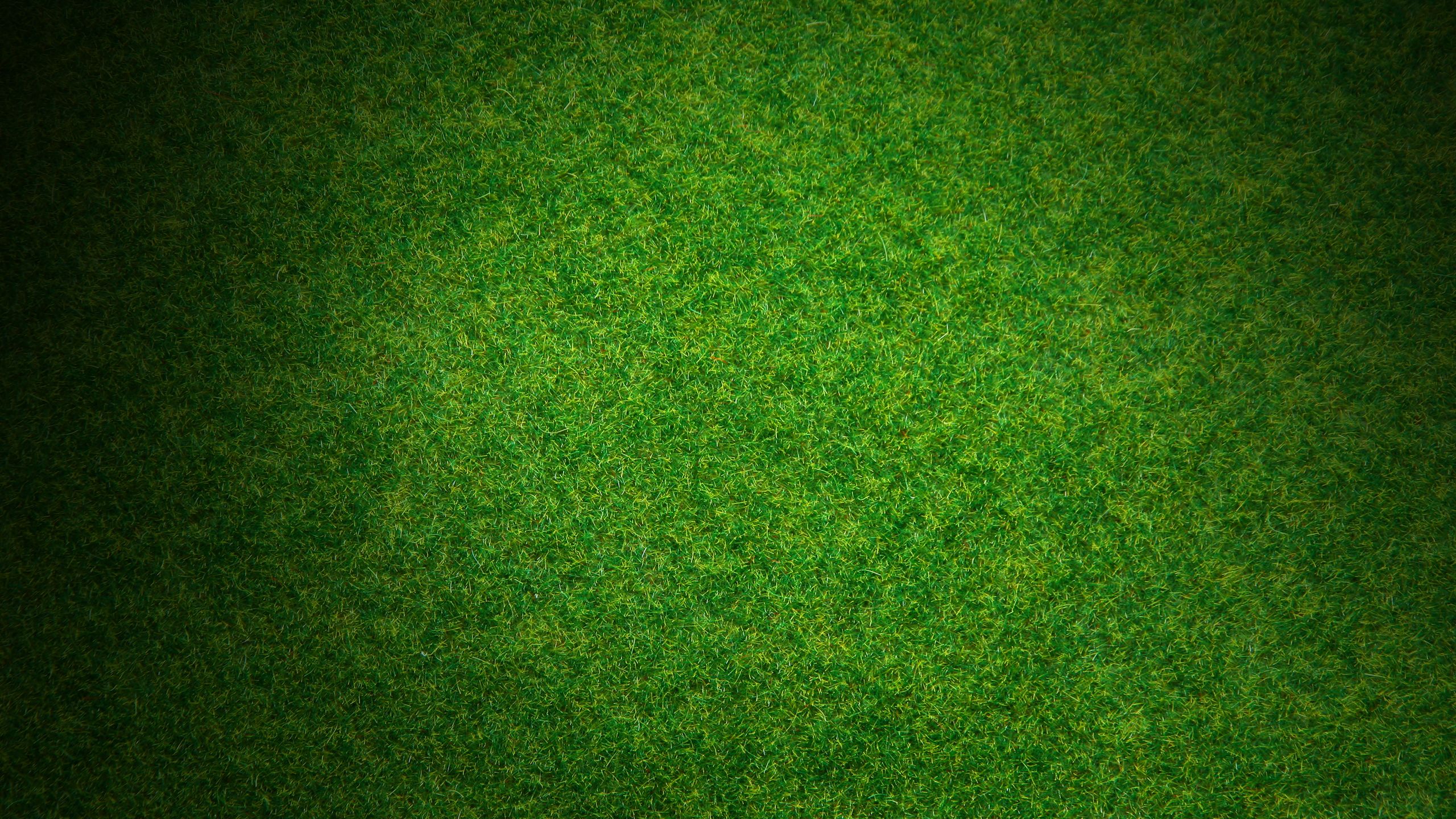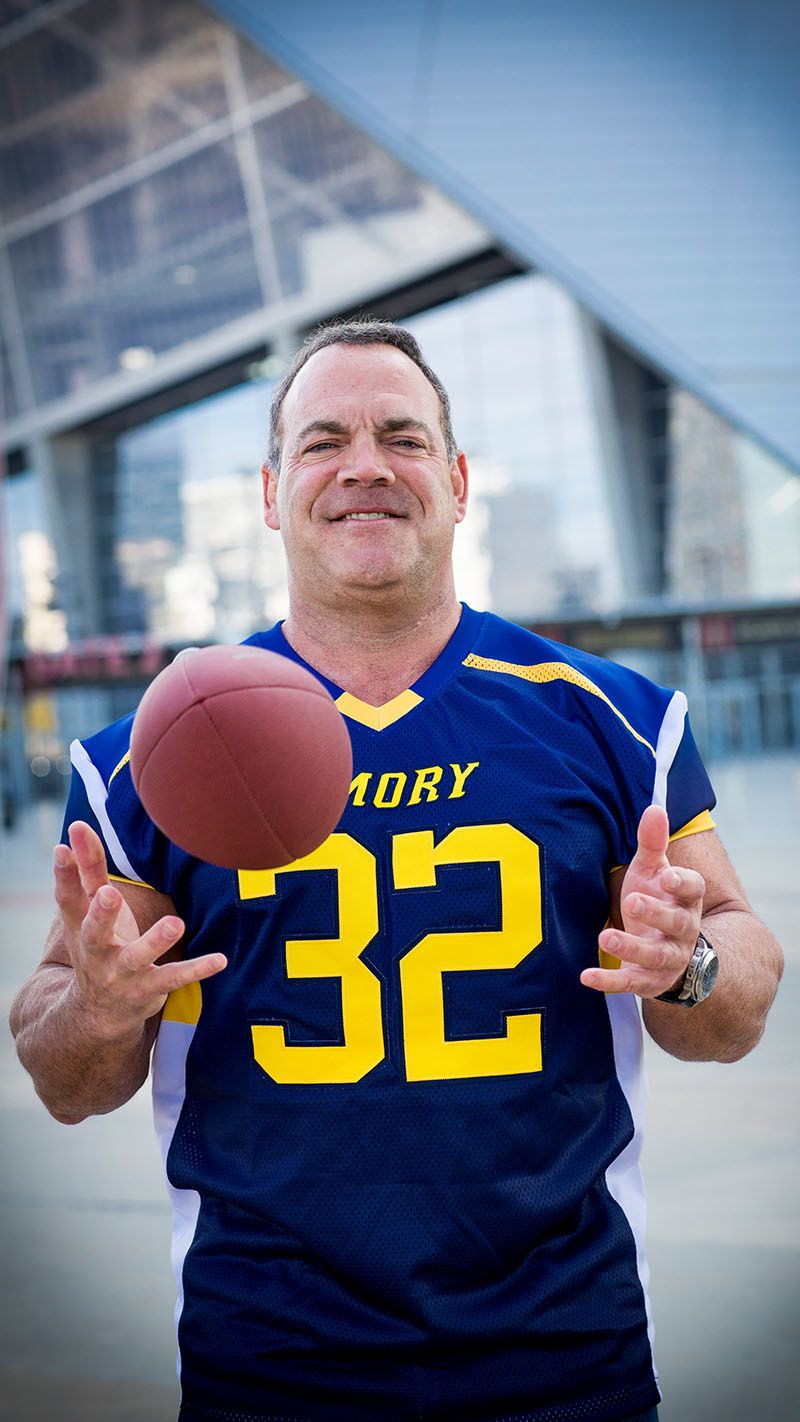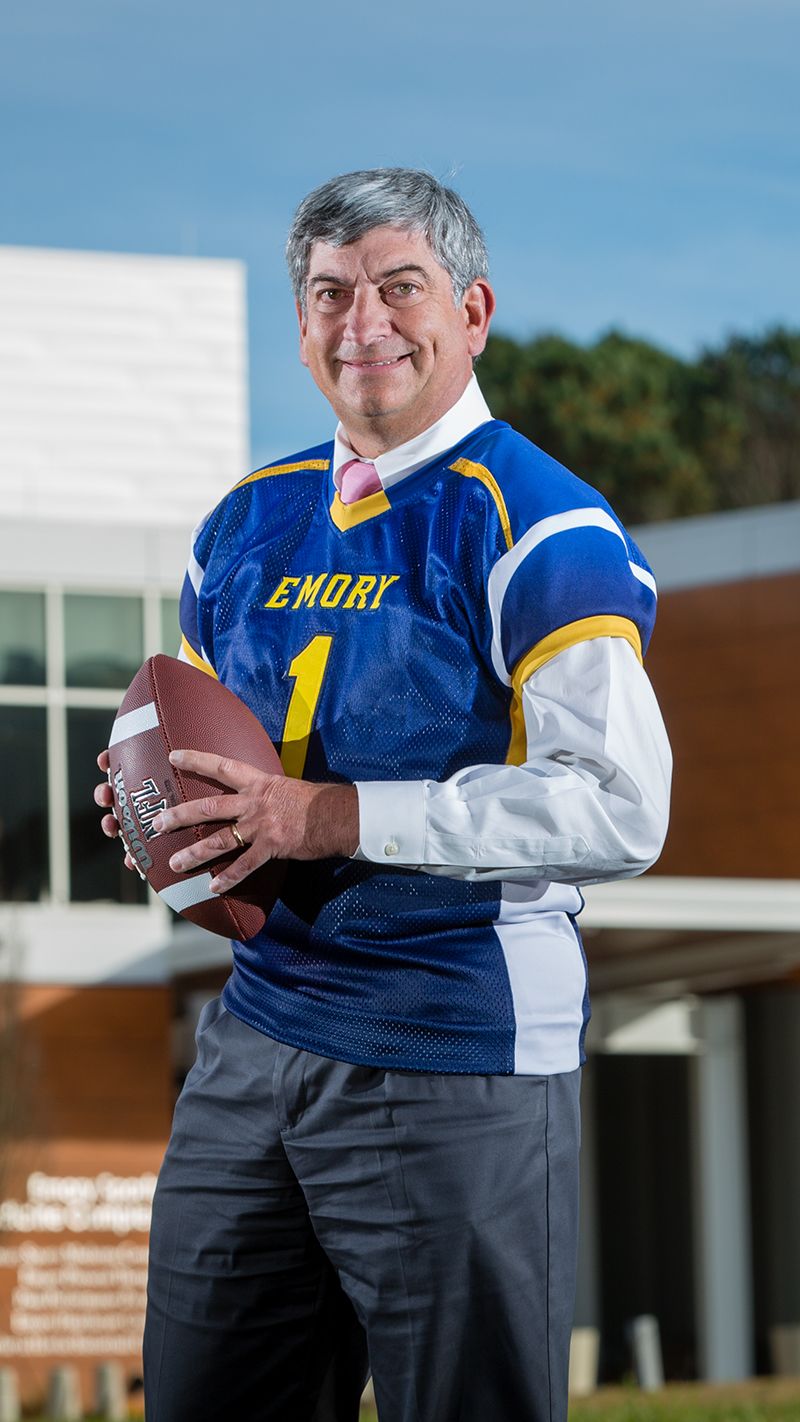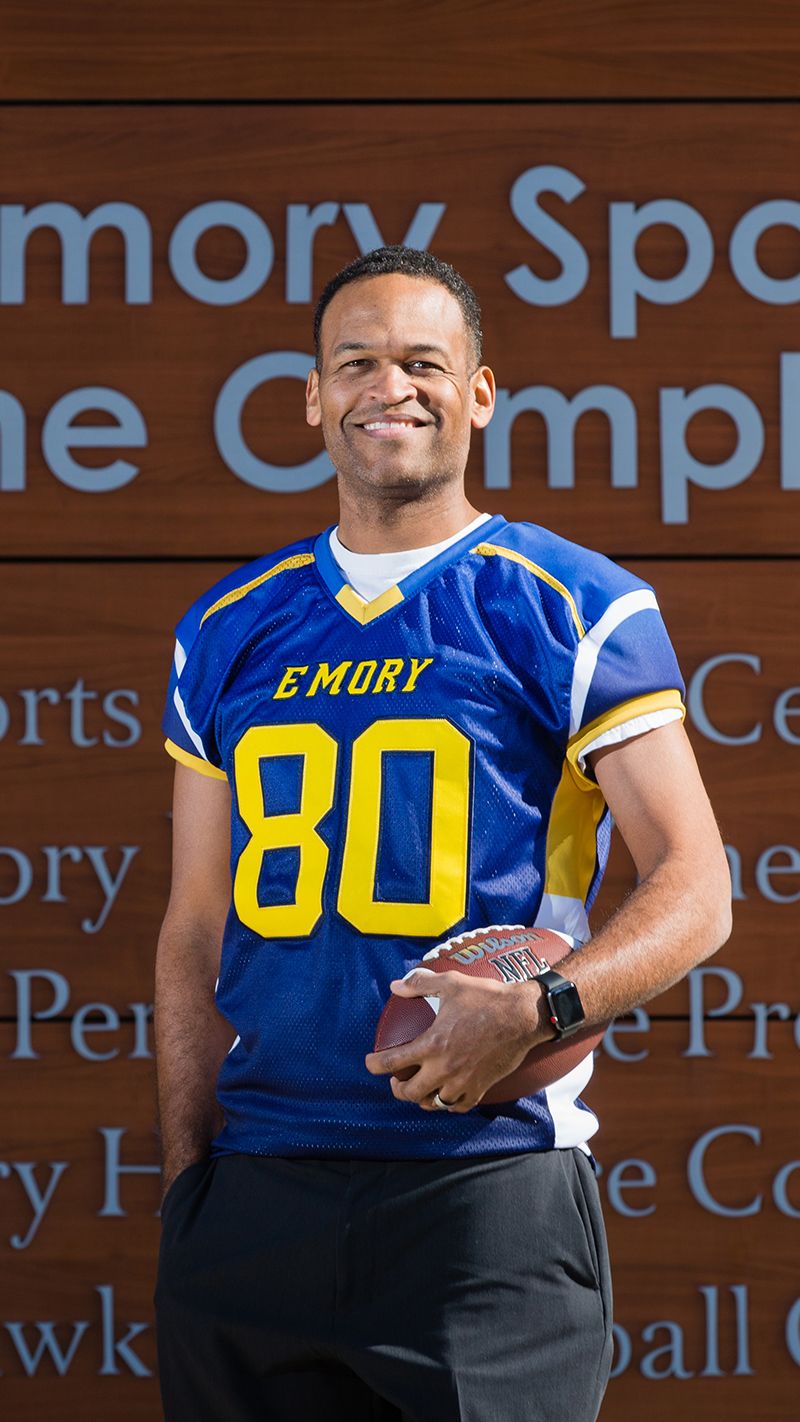 DOCS TO THE PROS
WHEN MATT RYAN, the All-Pro quarterback of the Atlanta Falcons, drops back to pass, he might look for Tevin Coleman in the flats, or Mohamed Sanu on a slant, or his favorite target, the superstar receiver Julio Jones, streaking up the sideline. 
But Ryan knows that no matter what the play-call, one thing never changes—at every game, in every city, Spero Karas, Emory associate professor of orthopaedic surgery, is on the thirty-yard line, eyes fixed on the field, ready for whatever the day may bring.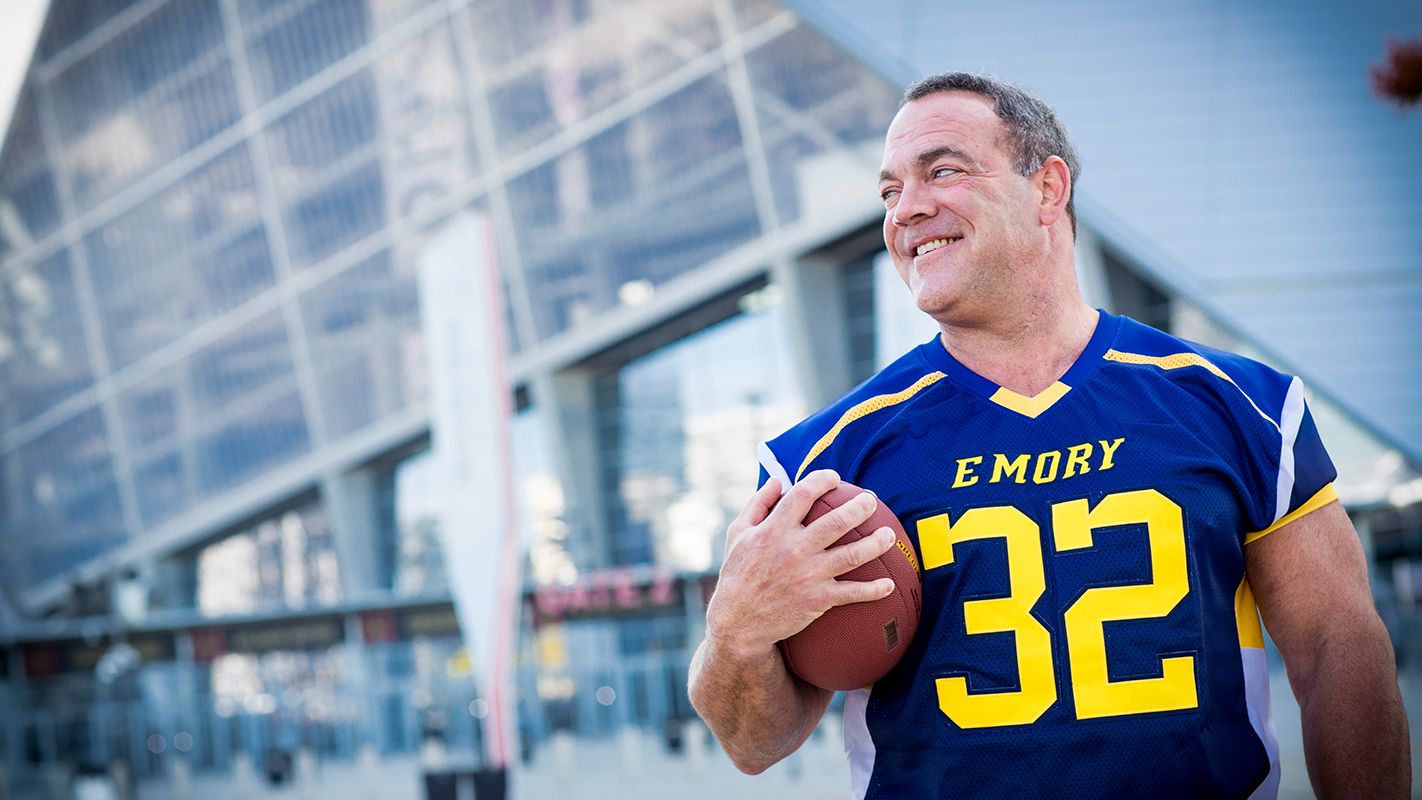 "My mantra is stay detached, stay clinical, stay alert," says Karas, who, as the Falcons' head team physician, sees to it that players are, as he puts it, "wrapped in a blanket of world- class care." 
That care extends far beyond the sidelines. It starts with preseason screenings of eye and heart health, continues with training in injury prevention, and invariably involves the surgical and medical care of injuries and illnesses—everything from torn ligaments and broken bones to dehydration, the common cold, and concussions.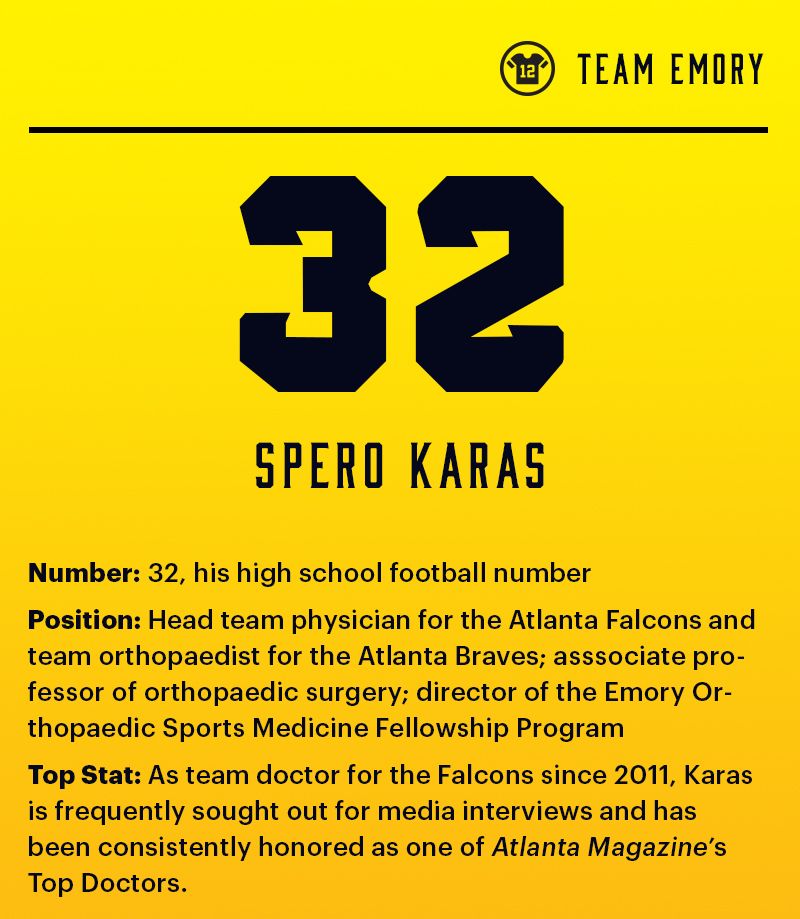 For all of it, Karas draws on the resources of Emory Healthcare—now the official team health care provider of the Atlanta Falcons with some of the finest specialists in the field.  
Among them is Brandon Mines, Falcons team physician and an assistant professor of orthopaedics with expertise in conditions of the knee, wrist, ankle, and upper extremities. 
"I enjoy helping the players stay healthy and get back to the game they love," Mines says. "It's great to build a rapport with them and help them stay focused when there are so many distractions around them."
Jeffrey Webb, an assistant professor of orthopaedics and the Falcons' concussion specialist; Kyle Hammond, an orthopaedic surgeon specializing in ligament injuries to the knee, shoulder, and elbow; and John Xerogeanes 92M, chief of the Emory Sports Medicine Center and associate professor of orthopaedic surgery. 
"I was always frustrated when I got hurt and couldn't get back to play," Xerogeanes, who is known to his patients as "Dr. X," recalls of his college days as a linebacker at the University of California–Davis. "I had a great team doctor who helped me out a lot, and I knew that's what I wanted to do."
A former collegiate athlete himself, Karas lettered in wrestling at the University of Notre Dame and was a three-sport star in high school in Indiana. He saw his first action with the NFL while completing his sports medicine fellowship in Colorado, where he served as an assistant team doctor for the Denver Broncos. Several years later, he signed on with the Falcons, becoming the youngest head team physician in the league.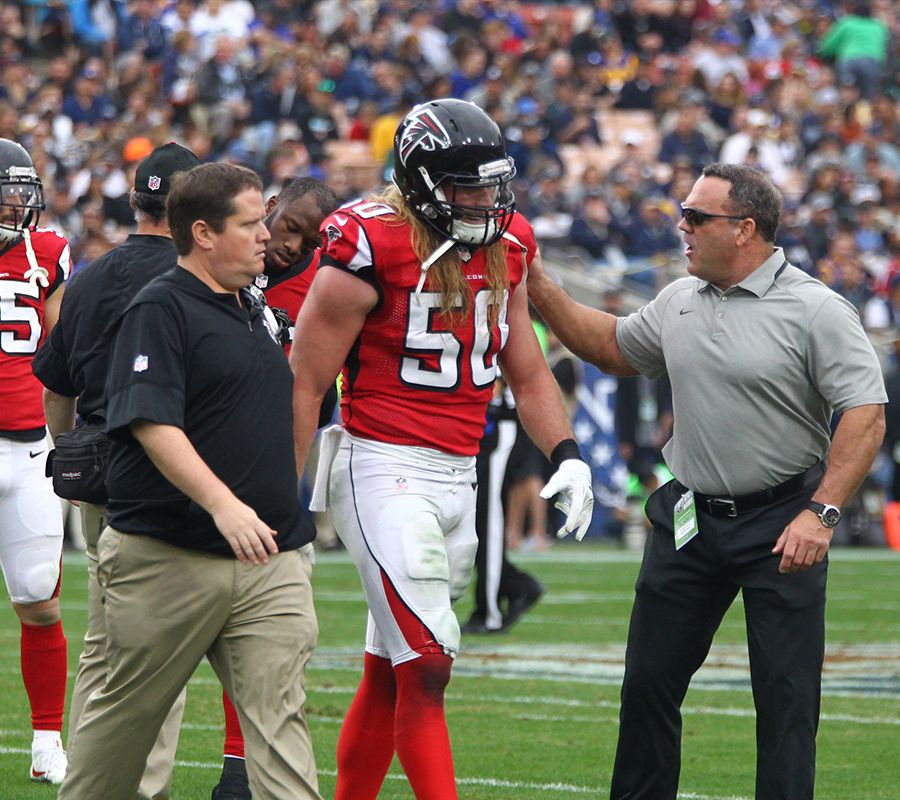 But Karas's work isn't confined to the clinic. A distinguished researcher, he's contributed to significant advances in rotator cuff repair surgery. And as director of the Emory Orthopaedic Sports Medicine Fellowship Program, he oversees the training of young surgeons just starting their careers. 
With its wealth of resources and roster of renowned specialists, Emory is a particularly attractive place to do that. Sports medicine fellows get to work closely with elite athletes—and not only the Falcons. Emory Healthcare also serves as the official team health care provider for the Atlanta Hawks, the Atlanta Braves, and the Atlanta Dream, as well as Georgia Tech and several other college and high school athletic associations.
"They travel with the teams, help out at the games, and sit in on the evaluations," says Karas. "And that has a lot of appeal."
Long a niche specialty within the field of orthopaedics, sports medicine has exploded during the past two decades, a product in large part of the exponential growth of organized sports. Kids are starting sports earlier and increasingly playing them year-round, while adults are more frequently engaging in vigorous exercise, with many staying active well into their eighties. 
All that exercise has been a boon to public health, but it's also led to a sharp increase in sports-related injuries. Emory Healthcare has responded to the need, adding faculty members, forging partnerships, and building new facilities.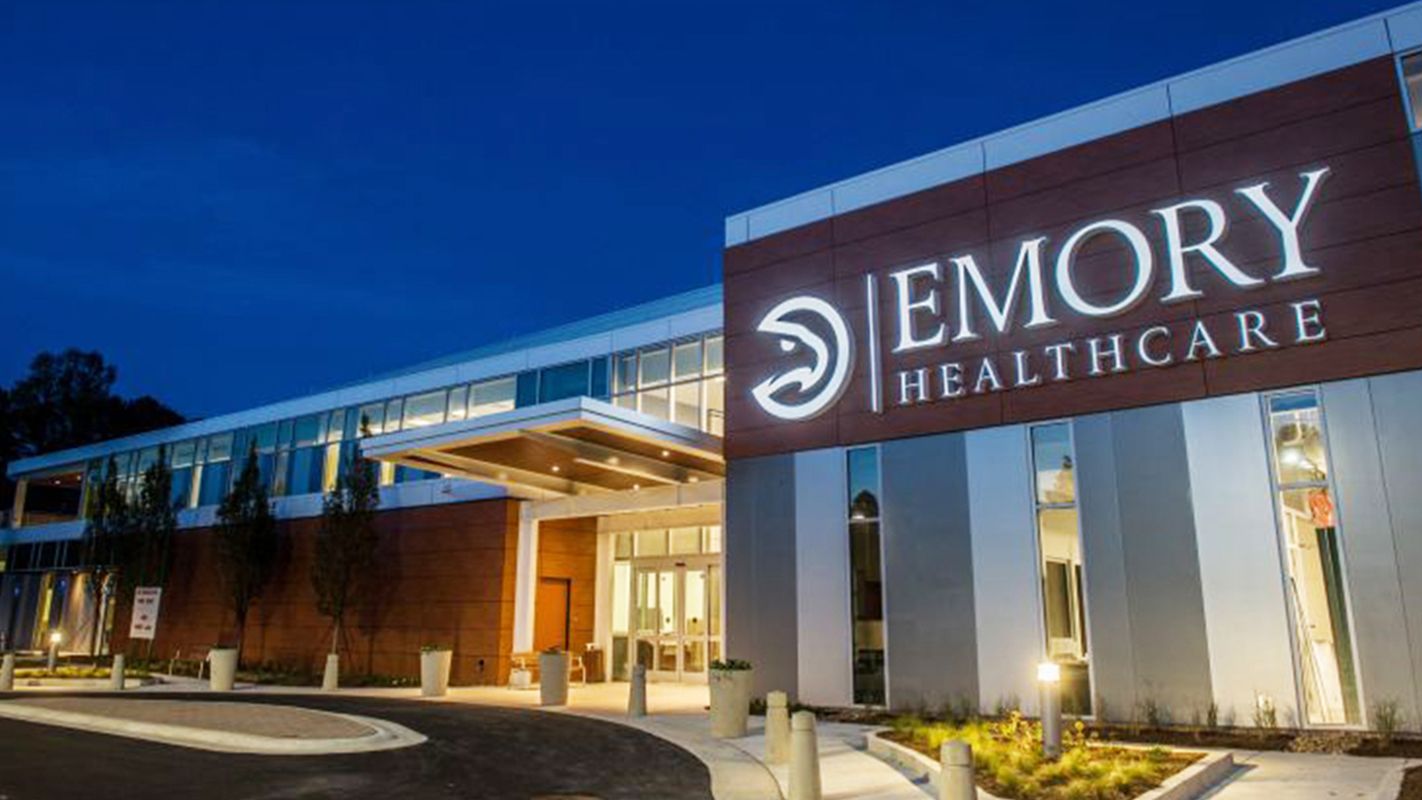 Emory's Sports Medicine Center now has digs in the Sports Medicine Complex, a new, state-of-the-art facility that doubles as the official practice and training site for the Atlanta Hawks. Not surprisingly, it features a pair of full-length basketball courts and adjacent training areas, a film room, a recovery room, and a separate entrance for the big guys.
But Atlanta's pros are hardly the only patients who receive care at the 90,000-square-foot facility.
"We take care of ordinary recreational athletes and high school kids with the same doctors and therapists, and in the same place, that we take care of Olympic athletes and professionals," says Scott Boden, chair of orthopaedics and director of the Emory Orthopaedics and Spine Center. 
Founded in 1994 with just four physicians, the center now boasts two dozen specialists in every aspect of spine care, with a hospital and seven full-service clinics throughout metro Atlanta in addition to the Sports Medicine Complex.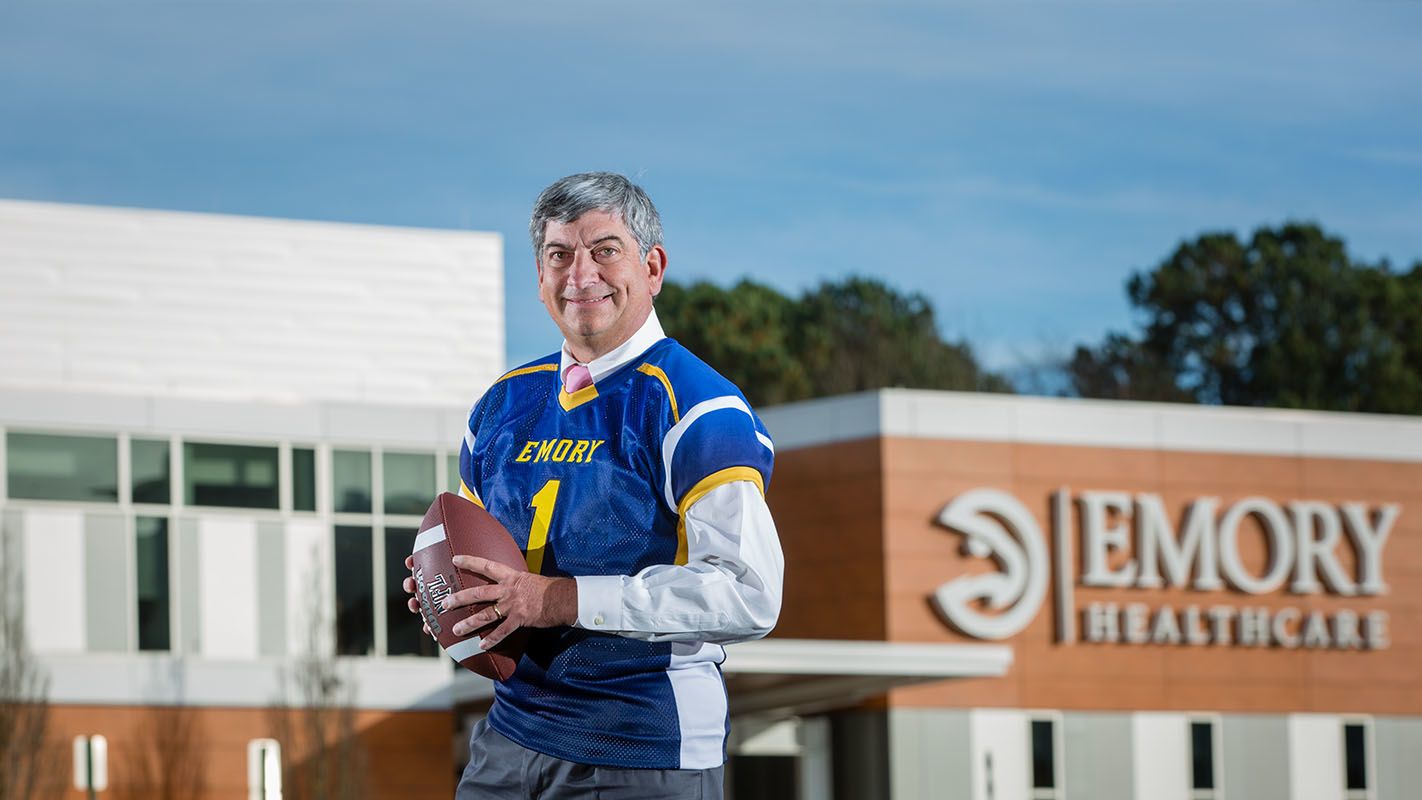 "We're blessed to be one of the largest spine centers in academic medicine in the country," says Boden.
The accumulation of noted expertise has made the center one of a select few to be listed as a preferred provider for retired NFL players—who come with a different set of physical challenges than current players.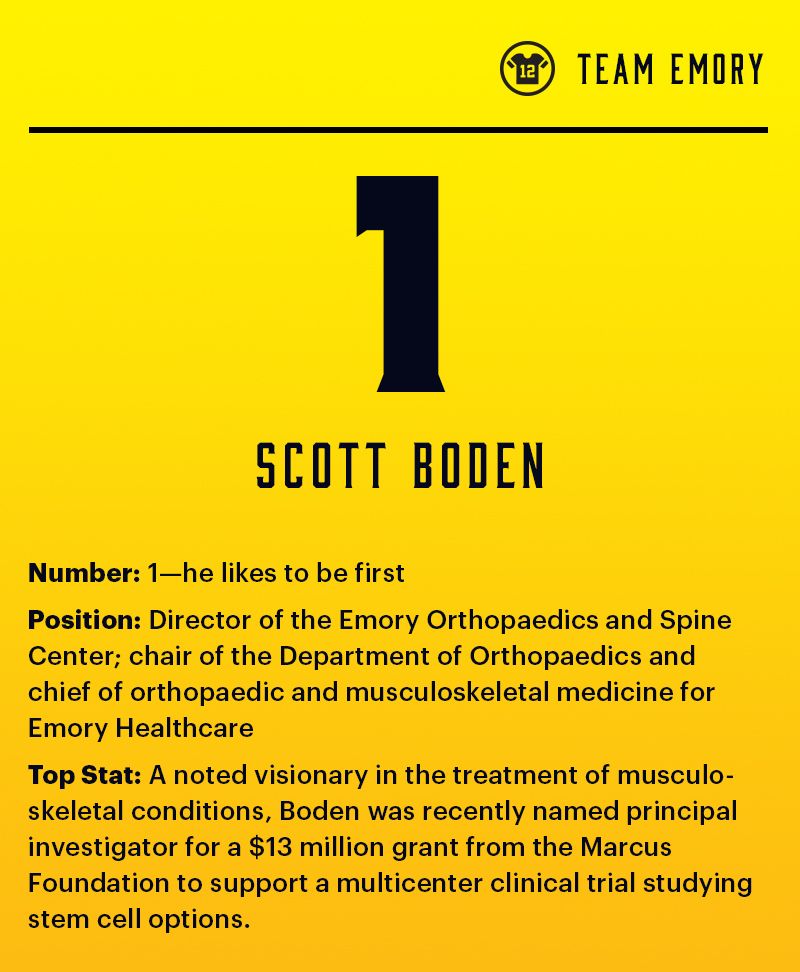 "The retired players have more chronic arthritic problems and less acute injuries," Boden says.
The sports medicine team also is vigilant about the now-well-documented effects of repeated blunt-force trauma to the head.
There was little public awareness of the link between football and degenerative brain diseases like chronic traumatic encephalopathy, or CTE, until a decade ago. That's when sports medicine experts, including from the NFL, began to acknowledge and draw attention to the long-term effects of concussions. 
The 2015 movie Concussion and other real-life stories brought to light by players have led to greater understanding of the long-term risks of football, accompanied by increased precautions, improved prediction models, and new treatments. Still, the intense scrutiny has fueled fears of CTE among players both active and retired. 
"What we're seeing now is a huge amount of anxiety around this condition," says Anthony Stringer, Emory professor of rehabilitation medicine. "There's a whole mishmash of symptoms associated with [CTE], so players are frightened that they could get it or that they have it." 
A clinical neuropsychologist, Stringer focuses on helping people maintain their cognitive independence after an impairment—whether from brain injury, stroke, or simply aging. 
"Truthfully, sports concussion is a very small part of our patient population," he says. "The majority of our patients are experiencing difficulties because of brain injury in a car accident or a small stroke."
But with all the publicity surrounding CTE, he says, football players have become hyper-vigilant about any small blip in cognition. During the past decade, dozens have come to him with concerns.    
"We've even had Canadian Football League players come in to see if what they're experiencing matches what we call CTE or what their risk is for developing it," he says. "I saw a  player recently who looked good, but had some memory impairment in excess of what one should for his age, and he was worried about his children." 
That player decided to retire, he says—but with their athletic careers at stake, "Others are willing to take the risk." 
Stringer says his job is often just to allay players' fears, to let them know it's normal to forget where they left their car keys or why they walked into a room. But not always.
"There are those times," he adds, "where we do see things that advise us to tell the athlete, well, yeah, you are showing problems and you have to think about whether or not you want to put yourself at further risk."
With Atlanta set to host Super Bowl LIII, Emory's sports doctors are prepared to get their heads in the game—whatever role they might be called on to play. 
"We can be a liaison for the teams' medical staffs," says Karas. "Whatever they need, we're here to provide resources."
But the players are only part of the production. Emory Healthcare is offering priority medical services to the "NFL Family," the organization's family members and myriad contractors—about three thousand total—through a dedicated phone line staffed by specialists during the events.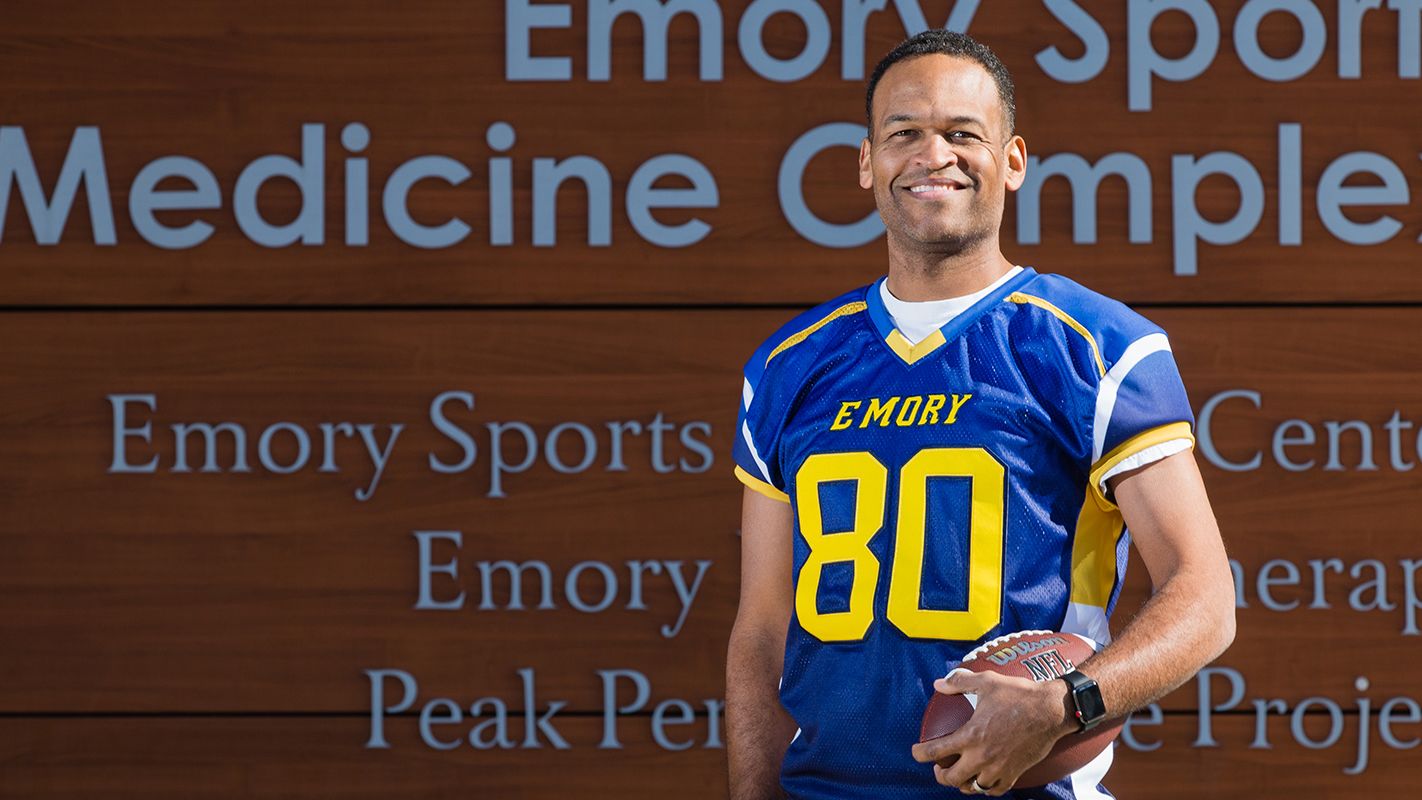 And when the big game is over, Emory's sports medicine team keeps on practicing. You could be a WNBA Atlanta Dream player, or an Atlanta Rollergirl, or a college or high-school soccer player—and still be treated by Falcons docs like Brandon Mines.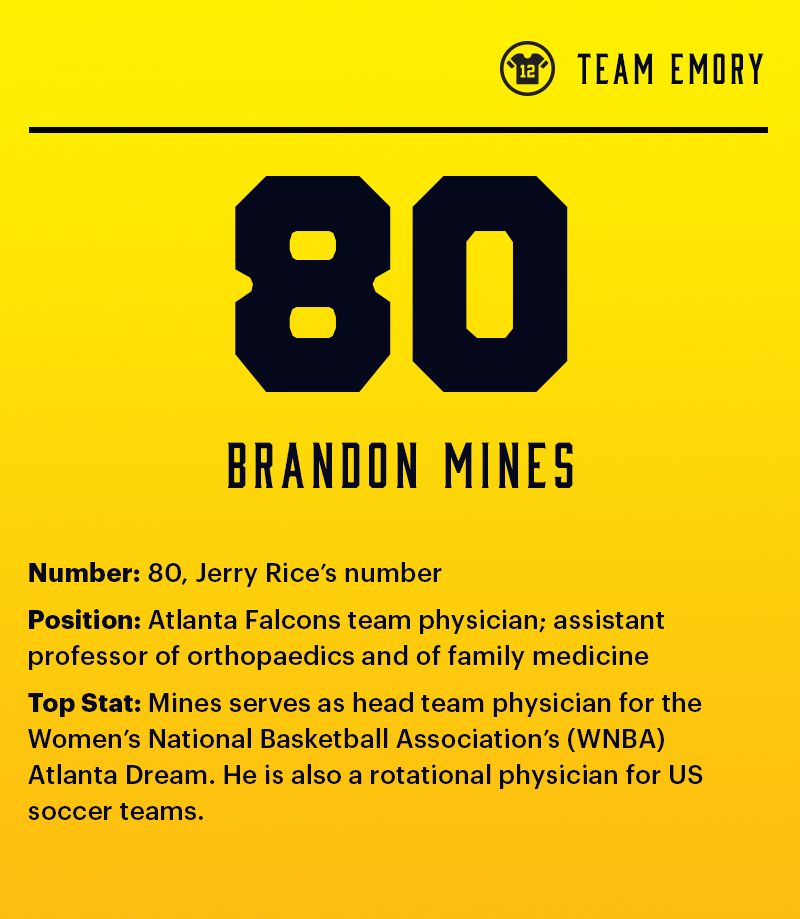 "I chose sports medicine because it really does encompass patients who are excited about exercising and like to stay fit," Mines says. "I like to help people get back to their sports after an injury, because it's very important to them."

WHAT DEFINES A FAN?
YOU TURN ON the television and see a sea of blue. Or black. Or red. It depends on what game you're watching. 
The color palettes of the stands at any college or pro football game will tell you who's rooting for whom, but how do all those fans decide to pull for this team or that one? Is it as easy as rolling out of bed and throwing on whichever jersey is clean, or is there some deeper meaning behind fandom? 
Maybe. Or maybe we're fated from day one to root for the teams we do. Two Emory professors want to find out.  
According to the research—and the personal experience—of faculty members and sports fans Mike Lewis and Erin Tarver (right), fandom is most frequently the product of one's family or one's geography. But while their conclusions are similar, the paths they take to reach them, and the ways they incorporate fandom in their work, are notably different. 
Growing up, Lewis loved football, but his English father was much more enamored with rugby and soccer. So, sportswise, Lewis bonded with his grandfather, a native of western Pennsylvania, and became a Steelers fan. Lewis spent his 1980s teenage years in Illinois and adopted the Chicago Bears. It was an easy thing to do, as the Super Bowl XX champion Bears were one of the most successful teams of their time and they unified the city in fandom in a way rarely seen before or since.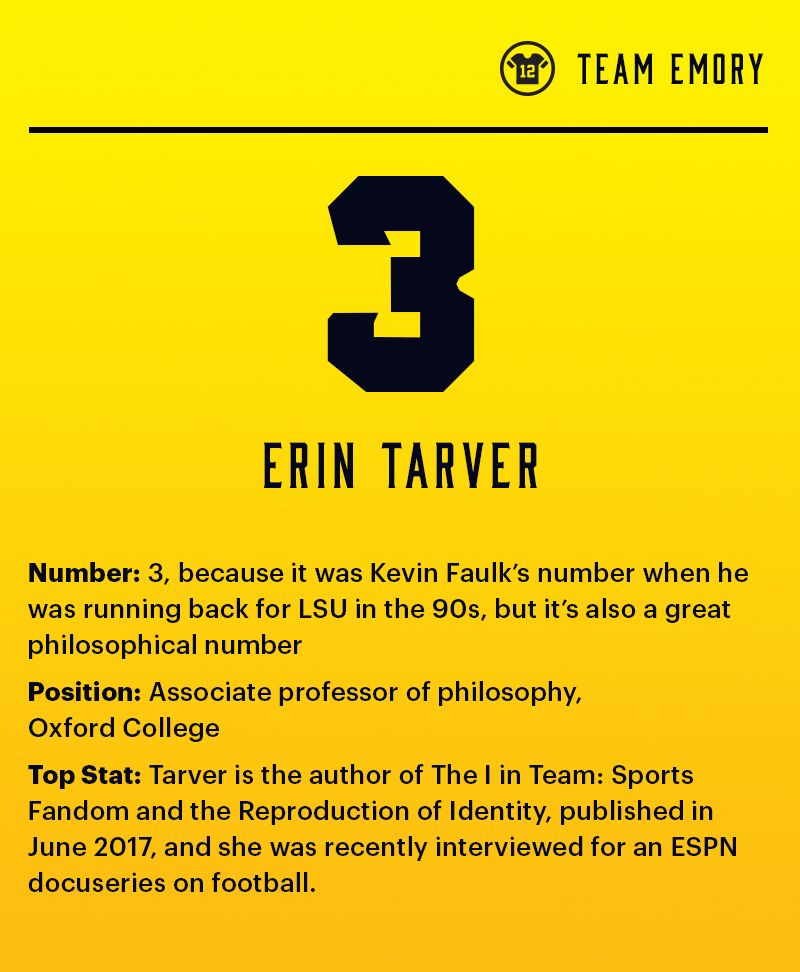 "But can you even be a fan of two teams? If you are a fan of two teams, are you a fan of anything?" asks Lewis, professor of marketing at Goizueta. It's a question that comes up frequently in his sports marketing classes. 
"Fandom is an interesting type of customer loyalty," he says. "It just blows away every other category you can come up with, except maybe politics. And it's absolutely part of your identity."
Tarver, associate professor of philosophy at Oxford College, is from Baton Rouge, Louisiana, and a Louisiana State fan from birth. She grew up going to Death Valley (as LSU's home field is called) with her father, and with only a little bit of prompting, she dives deep into Tiger trivia and personal game memories, both good and bad. Although Tarver moved away from Louisiana more than a decade ago, she says she still bleeds purple and gold.
"This metaphor of blood has a double meaning," Tarver says, switching into philosopher mode. "It links me with people—my family and my community." 
As a child, Tarver didn't question that community, but as she got older, she began to notice some of the disturbing trends of fandom. Most of the fans in the stands were white; most of the players on the field were black. Inside the stadium, there was a close relationship between the two. Outside of it, that relationship was divided, even hostile. 
As Tarver got older, she wanted to make sense of these seemingly contradictory experiences. And as she entered the academic world and began to explore feminist philosophical thought, she noticed a distinct lack of research in sports and its various cross-sections. 
"Feminist philosophers don't often write about sports," Tarver says. "Why is that? It's so important to the communities we exist in that we should be talking about it more. It became this perfect and obvious thing for me to talk about, both to deal with my own experience and also try to critique it." 
Switch gears from philosophy to statistics. Since 2015, Lewis has published an annual ranking of the NFL's best fans. It's a subject that's been debated in bleachers and bars since the invention of the face mask, but Lewis takes pains to quantify what is often an overheated conversation. 
To determine the best fans, Lewis ranks teams in three categories: Fan Equity (team revenues based on performance and market characteristics), Social Equity (fan participation across social media channels) and Road Equity (how well teams draw away from home). Once the numbers are crunched and the list compiled, it's the usual suspects who come out ahead. The top five for 2018 are, in order: Dallas Cowboys, New England Patriots, Philadelphia Eagles, New York Giants, and Pittsburgh Steelers. 
"I'm a statistician," Lewis says. "Fandom is an interesting combination that you can look at from a variety of perspectives, but because of who I am, I'm always going to try and take the logical argument and quantify that if at all possible." 
According to Lewis, the strongest sports team brands do have similarities. They tend to be located in large metro areas. They often have a long history. And they prove themselves as winners over time. 
The Atlanta Falcons, Lewis says, are an interesting case. The Falcons have been trending upward in Lewis's rankings, and in 2018, they sit at No. 13 out of thirty-two NFL teams. They've had some recent success, and the Mercedes-Benz Stadium is a jewel, but Atlanta is a tough town. It's one of the nation's largest metro areas, but a transient one, too. A lot of Atlanta football fans came from somewhere else, and they brought their hometown jerseys with them.
"When students come to Emory from out of state, they already have teams," Lewis says. "In class I see a lot of Giants, Jets, and Patriots jerseys. It's tough for the Falcons to break through that. Sports brands are generational. You can move them, but they move slowly. Still, the Falcons are doing a lot of the right things with the new stadium, star players, and a better team."
The attraction to winning teams isn't lost on Tarver. But it's not altogether attractive, either. As an LSU fan, her team "would always be the one to snatch defeat from the jaws of victory." That changed when the Tigers won the national championship in 2004 and again in 2008.
"That's the thing about winning, it's addictive. You come to expect it and you become kind of an insufferable person as a fan," Tarver laughs. "As a sports fan as well as someone who is critical of it, that's not a good look for anyone. When your team wins, it's not like, 'I feel so happy for those guys. It's like, 'WE won!' The victory is radiating from you, because you so closely identify with it. That's why people are fans."
Social scientists call this BIRGing: Basking in Reflected Glory. It's nice work if you can get it. Lots of teams don't win, though. In fact, a lot of the losing can be downright painful. So there has to be some reason fans remain drawn to the many, many teams that don't win championships. 
"BIRGing doesn't deal with the minutiae of sports fandom," Tarver says. "Keeping up with trades, arguing with people about pitching changes, reading about front-office drama. These are disciplinary practices that become a part of a fan's daily habits. It's similar to a religious practice. Even if you never have a victory, there is still quite a lot of payoff. You become a member of a group that has significance beyond yourself." 
Tarver's first book, The I in Team: Sports Fandom and the Reproduction of Identity, published in 2017, was originally envisioned as a defense of sports fandom. After all, she'd been a sports fan all her life; what better way to legitimize that experience? 
But as she began doing research, the fan experience got a bit murkier. As a child, Tarver saw how sports could divide people as well as unite them—over gender, race, even hometown loyalty.
"What I decided to do through the book is do a little soul searching myself and try to explain to myself and others how fandom works and why it's meaningful to so many people," Tarver says.
Public reaction to the book has been positive, although it's not without the predictable lamentations: Can't we just enjoy things? 
Tarver has an answer. 
"As a philosopher, I just want to say . . . no," she laughs. "It's my job to get you to think about the things you don't want to think about. We are all involved in things that are meaningful but are nevertheless ethically problematic. We need to change the way we relate to them. Let's pay attention to the ways that these things that may be deeply meaningful to us are, in fact, harmful, so that we can do something about it."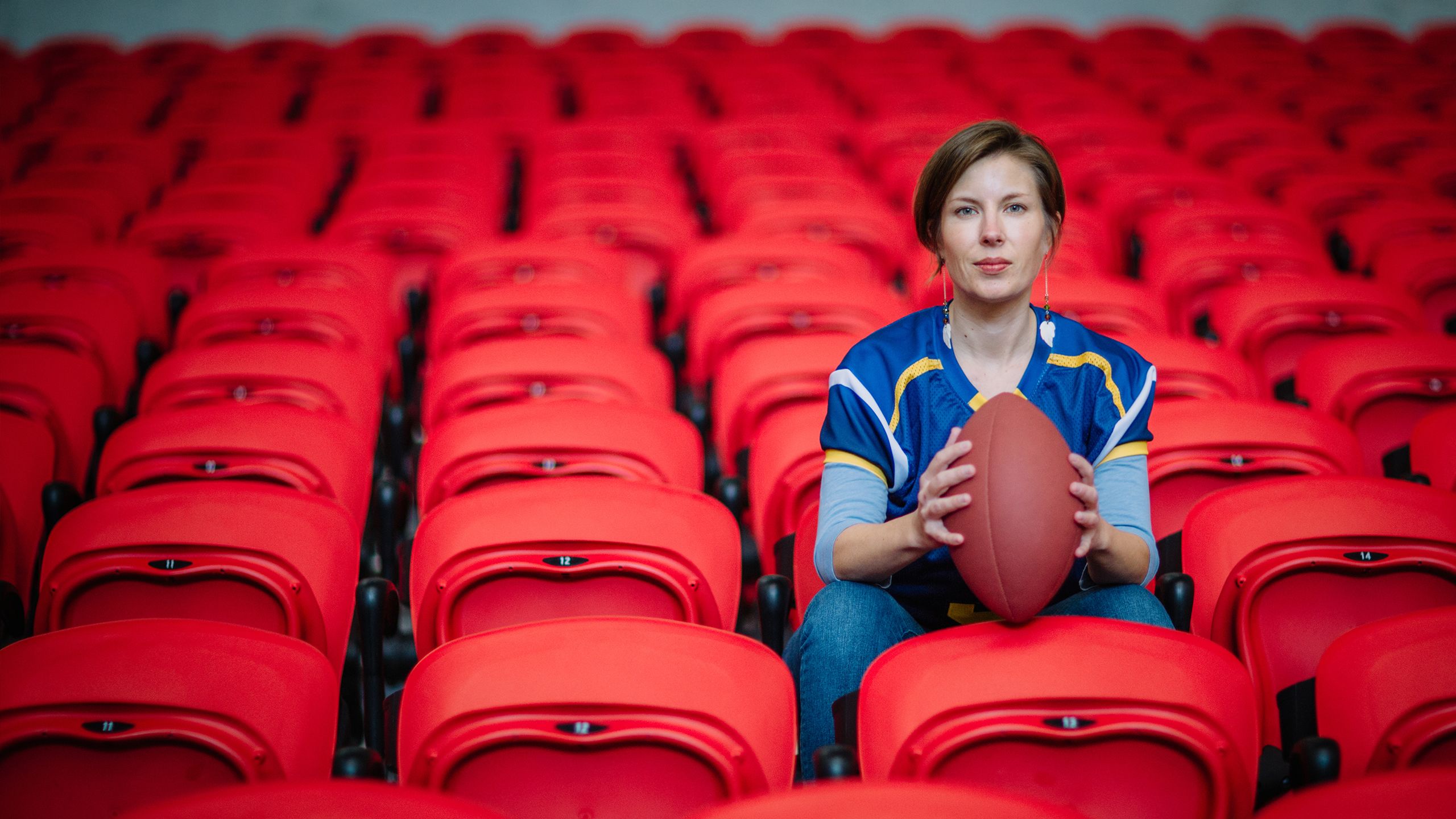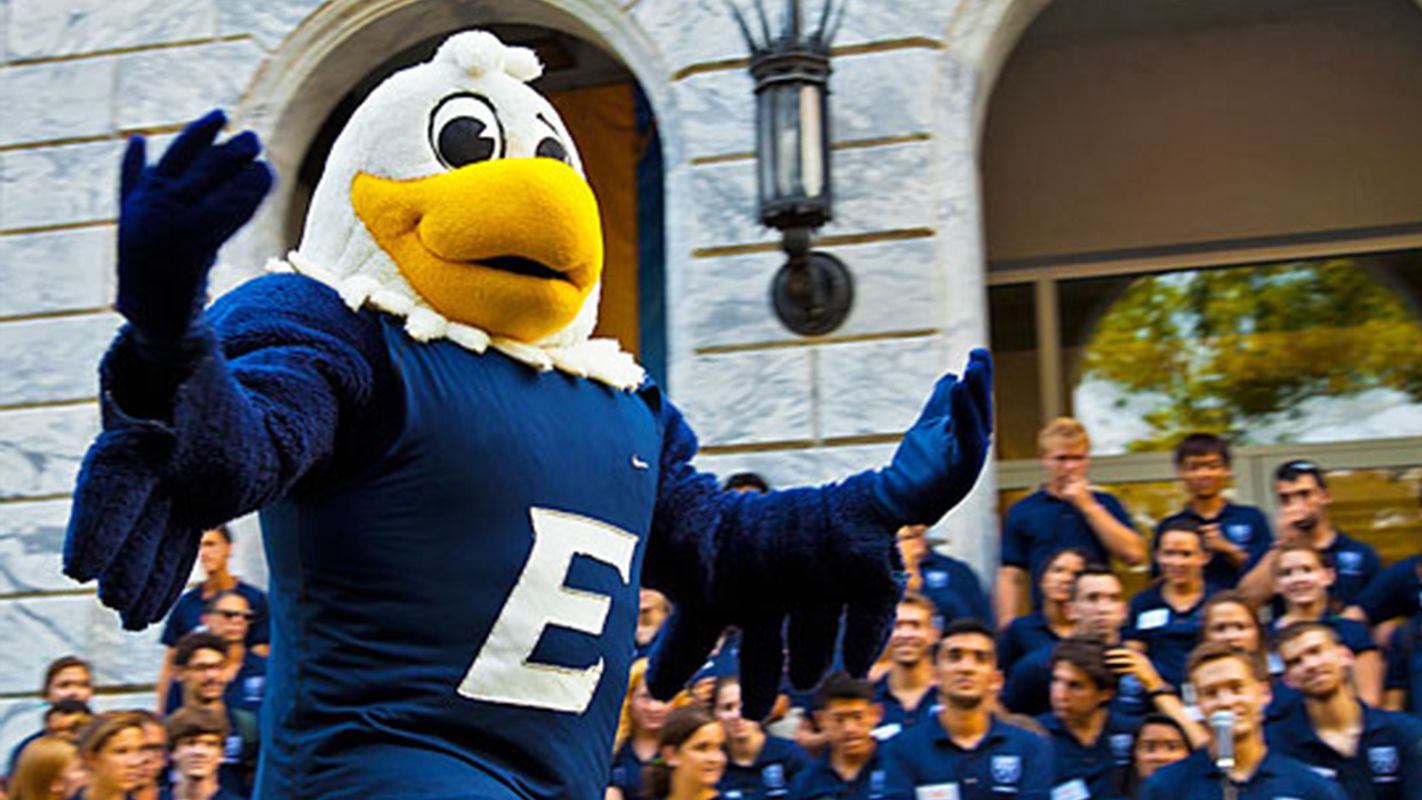 EAGLES TAKE FLIGHT  
In 1960, Wheel sports editor David Kross decided it was time Emory's varsity squads had some kind of identity. Captain of the university's first soccer team, Kross said other schools "just calling us the Emory nothings was not enough". What moved him to choose an eagle? "It was just alliterative, and it sounded good," he told the Wheel in a recent interview. "Also, it was short, and it was almost the same number of letters as in [Emory], so it looked good, too. It didn't take up a lot of room, it was easy to say, and eagles can be reasonably hostile, even though we were not very hostile in those days as athletes. But eagles can be reasonably mean when they are provoked."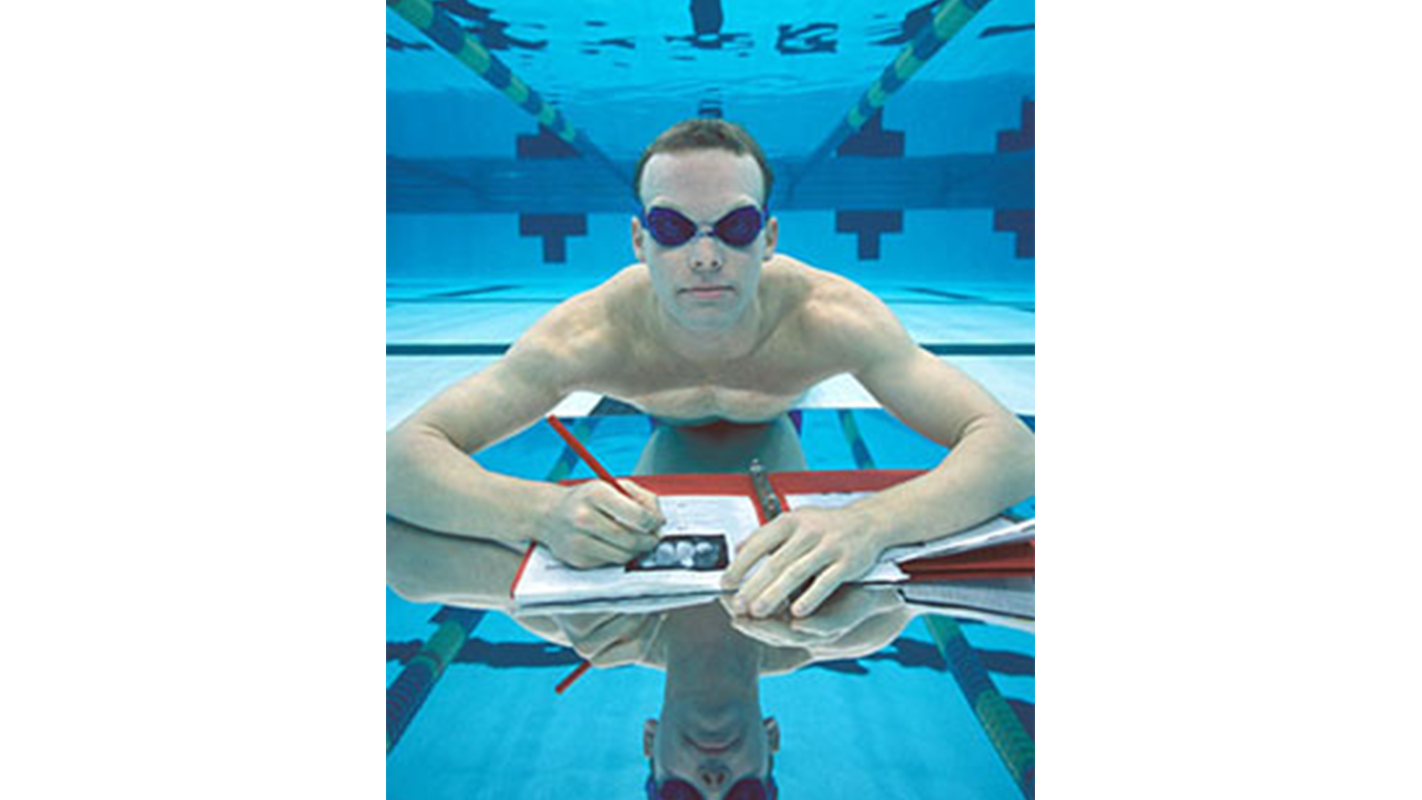 SPORTS AND SMARTS  
Since 1983, 989 Emory student-athletes have earned All-American status. They also have distinguished themselves on the academic front; 184 student-athletes have been selected as CoSIDA Academic All-Americans. Since the fall of 2000, the Eagles have earned 134 CoSIDA Academic All-America honors, topping all non-football playing institutions.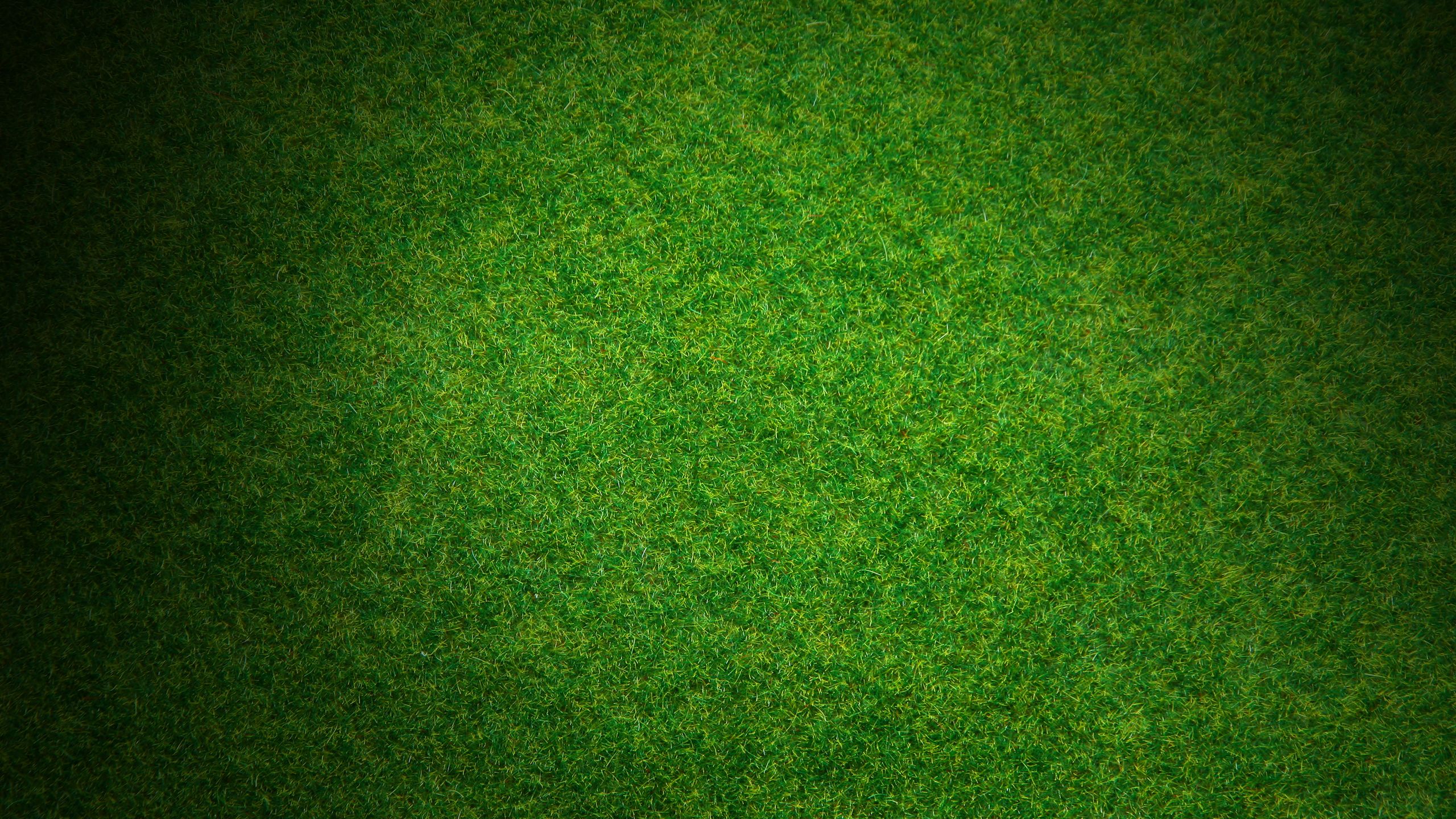 PASSING LESSONS
By Pellom McDaniels III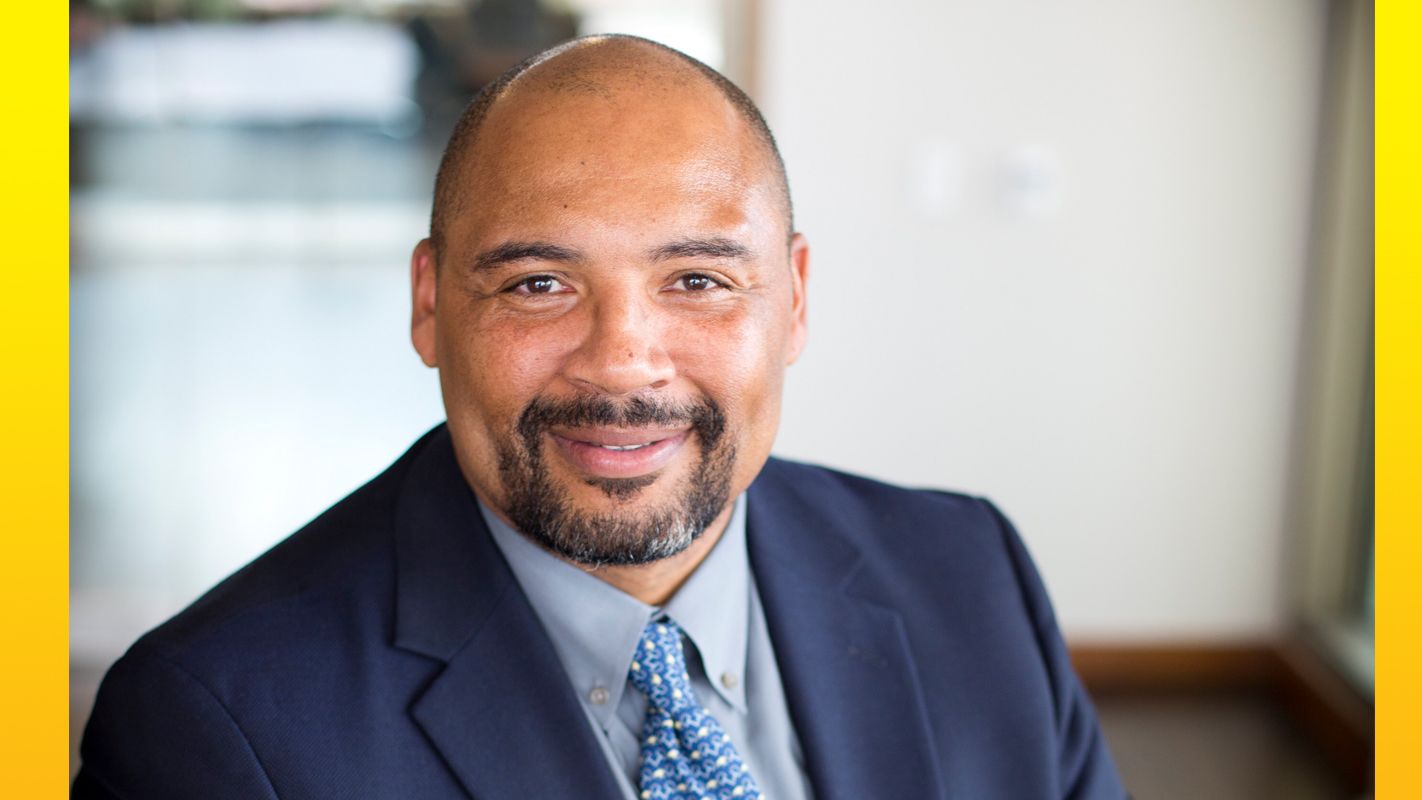 MY OLDEST FOOTBALL MEMORY is of watching the Houston Oilers play against the Los Angeles Rams on television in 1978. I was ten years old. I don't recall if I was watching the game at my grandparents' home or in my parents' living room. All I remember is one play that has been forever emblazoned in my mind, and it was the single most important influence on my desire for and eventual pursuit of a professional career in football. 
The Houston Astrodome, which at the time was recognized as a marvel of modern architecture, was the site of this epic battle. In 1978, the star of the Oilers was a rookie running back named Earl Campbell. To a ten-year-old, he looked like a giant of a man in his uniform. His shoulder and thigh pads seemed to be a part of him and not standard issue for football players. His powder blue silk-screened jersey with his number, 34, was like any other team uniform. How- ever, after a Rams' turnover, the Oilers gained possession of the ball on the opposing team's twenty-two-yard line, and Campbell's number 34 jersey became a symbol of football glory. 
I vividly recall the drama as it unfolded: It's first down and ten, Campbell is lined up in the "I" formation directly behind his fullback. On the snap, the quarterback, Dan Pastorini, quickly tosses the ball back to Campbell, who is moving to his left. As the play is unfolding, the full- back dives to cut block the penetrating defensive end, forcing Campbell to change course. Just as he plants his right foot, a Rams linebacker appears three yards in front of him, naively settling into position to absorb the charging Campbell. What happened next is still exciting after forty years. 
As Campbell starts toward the line of scrimmage, he lowers his shoulders and accelerates towards the waiting linebacker. In an instant, Campbell's helmet explodes into the chest of the unprepared player, who is instantly "poster-ized" forever. For athletes, that means that you have been embarrassed by an opposing player in such a way that if it was caught in camera, it would be worth publishing as a poster to account for a significant moment in sports history.
As Campbell continues down the field, it seems as if no one can stop him. He breaks not one, but three tackles. Rams players bounce off of him, grab at his jersey, but he can't be stopped. With half the Rams team reaching at him, Campbell tears out of his now shredded powder blue jersey. When he was finally brought down, it takes three men to do it. And after the play, he was the first to bounce up, jog to the sideline, replace his jersey, and get ready for the next play.
What an awesome sight for a ten-year-old boy to see. He was a revelation. Earl Campbell was my first superhero. 
When I had a chance to get my own authentic number 34 powder blue Oilers jersey with Earl Campbell's name on the back, I wore it with pride. Who could have known that one play would have such a tremendous impact on my life? Looking back now, I realize that in that single play there were lessons to be learned, all of which went well beyond game itself.
In that one play, Campbell demonstrated an ability to overcome adversity, run through obstacles, and what to do if you have the shirt literally torn off your back in the process: you pop up, get another shirt, and get back to work. What's been even more remarkable for me to realize is that hundreds—no, thousands—of ten- and eleven-year-old African American boys watched the same play, at the same time, and thought to themselves, "I want to do that when I grow up." In that one moment, we saw our futures not as athletes, but as superheroes: kicking ass and taking names.
When I reflect on that moment of pure childhood freedom to dream of what I would like to be when I grew up, it's hard to imagine that at one point in our country's history, professional football and similar opportunities were once denied to African Americans due to America's race prejudice. Seeing examples of men who looked like me, who were successful and celebrated, was inspirational, to say the least.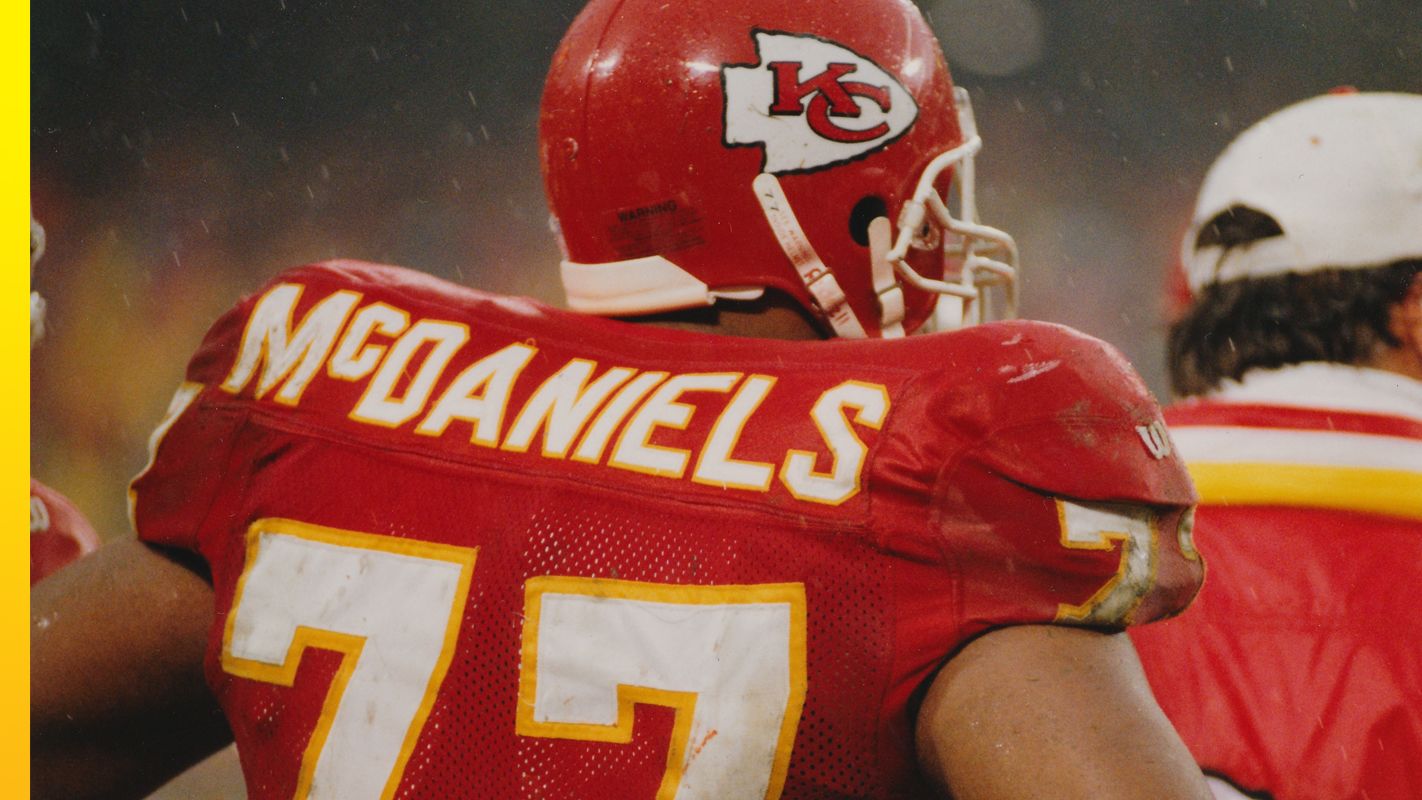 My career in professional football from 1991 to 2000 was an adventure I will never forget. Playing in the World League of American Football (1991–1992) and the National Football League (1992–2000), I was able to not only travel the world, but have experiences and create memories that have shaped who I am today. I have had hundreds of teammates, including NFL Hall of Famers Joe Montana, Marcus Allen, Derrick Thomas, and Will Shields. While I was never part of a Super Bowl–winning team, the teams I played on were competitive and perennial contenders.
Today, as discussions of the sport swirl around whether or not athletes should have the right to kneel during the playing of the national anthem, or what the future holds for the NFL with the discovery of chronic traumatic encephalopathy (CTE), one thing holds true: Sports matter and are a part of our national conversation. 
I recognize the sensitivity surrounding the American flag controversy is significant. It should be; it's important. Unfortunately, outside of sports and entertainment venues, African Americans are still perceived of as "the problem" with what is wrong with America. While not new, blackness continues to be criminalized, and as a result African American males are seen as suspects before they are prospects. Categorically, African Americans are invisible as human beings in the country built with the sweat equity and blood sacrifices of their ancestors. From this standpoint, it would make sense to stage a protest at a moment, and in a venue, where everyone in the world can see you. Former San Francisco Forty-Niners quarterback Colin Kaepernick recognized that he had an opportunity to bring attention to the killing of innocent African Americans at the hands of police officers charged with protecting the lives of citizens. Kaepernick's identity as an African American male with his own experiences as a target of police resonated with other African American athletes, who recognized that they too have an obligation to make a statement.
Colin Kaepernick has created a movement that has excited young people to raise their voices in protest against the injustices that have an impact on all of us. Across the country, he has become a model for students to speak up and speak out against police violence and other injustices that impact the marginalized in our society. Most important, he has forced us to reflect on what it means to be a citizen in the United States. Who says that sports can't provide a platform to influence our ideas about who we are as a society, and what we want out of life for ourselves, as well as our communities?
The origins of African Americans in the game of football, and sports in general, need to be understood within the context of American history, culture, and politics. In this way, the resilience and perseverance demonstrated by athletes like the jockey Isaac Murphy, the boxer Jack Johnson, the baseball player Jackie Robinson, the football player Marion Motley, and of course Earl Campbell are recognizable as acts of resistance, similar to the protest by Colin Kaepernick.  
As a result, with every victory on the racetrack, every knockout in the boxing ring, every stolen base on the baseball diamond, and every touchdown on the football field, they proved their humanity and manhood. For African American boys and men, these superheroes provide life lessons that can be shared in the continued struggle for their humanity. And they offer a glimpse of a kind of freedom available through sports.