Promising poet
Emory senior Christell Victoria Roach wins national writing awards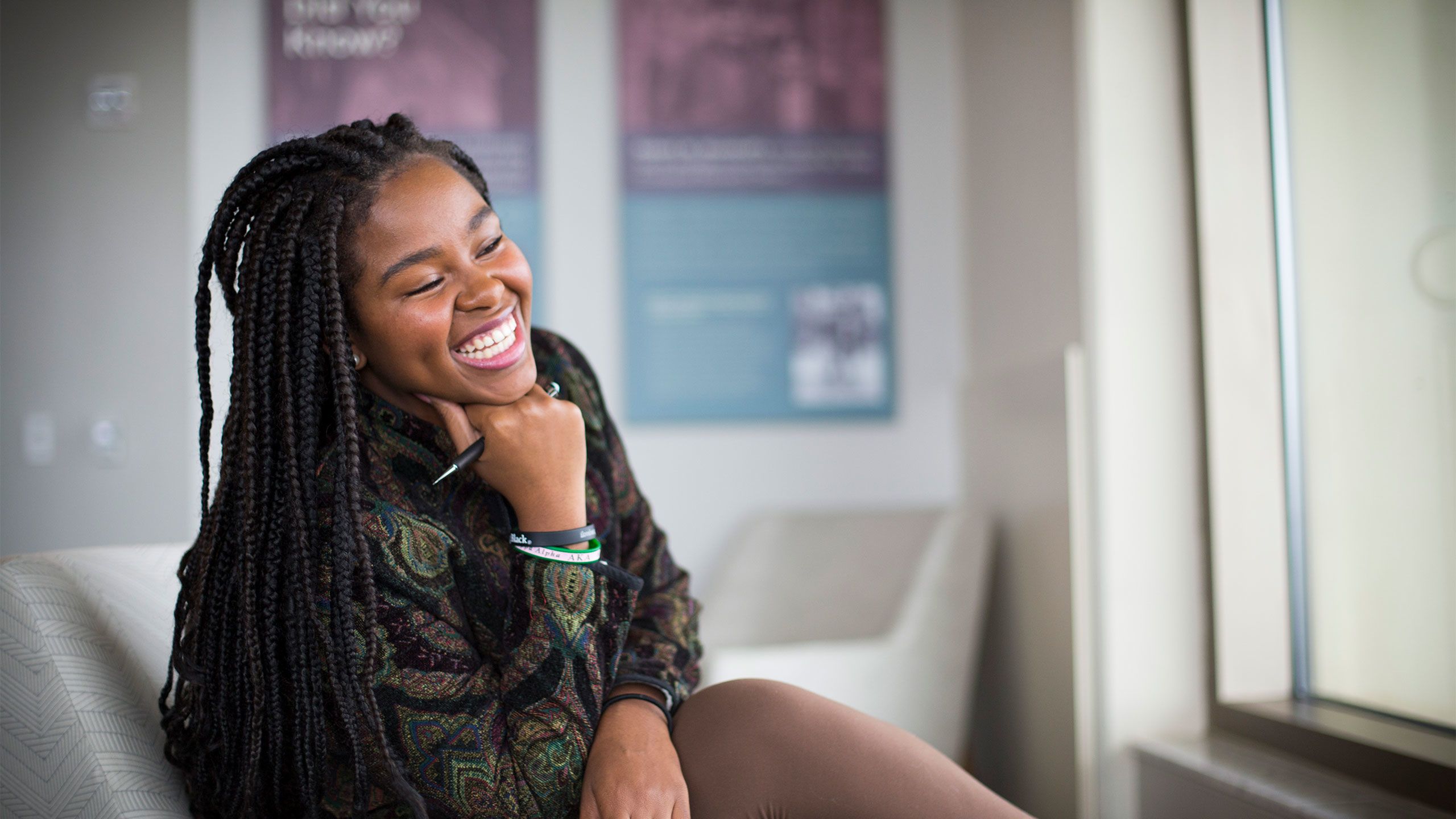 Christell Victoria Roach was gathering fruit in her Miami yard and watching her dad swim laps when the TV broke news that Missouri police shot and killed a teen named Michael Brown.

Roach, thousands of miles away from Ferguson and enveloped by the security of family and home, suddenly felt what she describes as "heavy." Brown was her age, 18, and also African American. He could have been her brother. He could have been her.

"It's racial arthritis, a tension that hits your joints, and you have to deal with the chaos that comes from something being so personal yet far removed," says Roach, now a senior in Emory College of Arts and Sciences.

It took years, and careful study at Emory, to capture that physical sensation with her poem "On the End of Mango Season, and Still Falling Fruit." The work recently won a 2018 Academy of American Poets Prize.

It was also part of a collection that won Roach this year's Hurston/Wright Foundation Award for College Writers, an honor that puts her in professional company with acclaimed author Tayari Jones, who joined Emory as a professor of English and creative writing this year. Jones won the foundation's award for college fiction in 2000.
The poem anchors Roach's honors thesis in creative writing, a chapbook on untold stories of black South Florida. Just this week, Honeysuckle Press announced Roach's work was on its shortlist for the 2018 Honeysuckle Chapbook Contest.

"I know I was meant to be at Emory," Roach says. "Coming here, I felt I had access to words I hadn't been able to find before. It has been integral for me to see who I am as a writer by developing as a student and researcher first."

Jericho Brown, director of Emory's nationally recognized Creative Writing Program and himself an award-winning poet, describes Roach as the embodiment of the type of student the program strives to nurture.

"A hallmark of our students is doing the art, but Christell is doing that and the research that allows her to create the kind of singular experience that gets to the universal," says Brown, associate professor of English and creative writing. "She's very special."
Watch Christell Victoria Roach perform a selection from her poem "Rhapsody." See her perform the full poem on Emory's YouTube channel.
Music was Roach's first passion, a talent that earned her a spot in the Miami Arts Charter High School. But after teaching Roach, the school's creative writing director steered her from the viola toward performance poetry.

Roach went on to perform with the Tigertail Miami International Spoken Word team for three years, including annual shows at the Brave New Voices competition.

"Her words and how she puts them together is very musical, and she's a natural performer," says Jen Karetnick, who served as the high school's creative writing director at the time and has been nominated twice for the Pushcart Prize for her poems. "As she was leaving high school, I couldn't help but hope she threatened a lot of writers out there."

Roach was accepted to 12 schools, but not Emory, when she decided to take a creative writing scholarship from Columbia College in Chicago.

Her writing stalled there. When she found out in the fall of her sophomore year that her father was postponing heart surgery to help pay for college, she refused to go back that spring.

Instead, she cobbled together six internships – working at poetry festivals, leading writing workshops and other arts-related work – and began researching creative writing programs.

Emory stood out for its academic rigor and allowing students to hone their craft by engaging with a core faculty of writers and visiting lecturers. Just as importantly, there was an expectation she would learn how to delve into research.

Consumed with Zora Neale Hurston in high school, Roach knew that Pulitzer-Prize winning author Alice Walker had found Hurston's unmarked grave in the 1970s, reviving interest in the Florida writer.

Then she learned Walker had donated all of her papers to Emory's Stuart A. Rose Manuscript, Archives and Rare Book Library. When Emory offered her a scholarship to transfer, she couldn't wait to get on campus.

"My uncle died the day I was supposed to be born, so I have grappled all my life with who lived or who survived historically for me to be here today," Roach says. "I found my literary country in Alice Walker, through the Rose archives. I know now more about whose shoulders I stand on."

Perched atop Woodruff Library, with stunning views of campus and the Atlanta skyline, the Rose Library is home to one of the most extensive African -American collections in the country.

Roach immersed herself in Walker's papers for three hours on her first visit. She returned after being selected as a Mellon Mays Undergraduate Fellow, intent on finding something in Walker's collection for the undergraduate research initiative.

That's where Pellom McDaniels III, curator of the Rose Library's African American collections, found her. When their conversation revealed Roach's musical background, McDaniels shared stories about writer Mari Evans.

"The beautiful thing about immersing yourself into someone's life through research is that you get to examine and reflect upon your own life experiences," McDaniels says. "For someone her age, it's breathtaking to see how quickly she has learned how to do that and convey ideas with such clarity and authenticity."

Like Roach, Evans was known for her poetry but was also a performance artist and committed activist. And, she was a musician who had long worked with her mentor, Langston Hughes. Emory University Distinguished Professor Kevin Young has written that Hughes was "the first to write poetry in the blues form."

What Roach spotted — which would spark her writing like nothing before — was that Evans' writing contained that complicated duality, too. Evans was a blues woman. For that matter, so was Walker. So was she.

They had all been overlooked. But because the blues was designed to raise voices meant to be silenced, Roach recognized women's role in the rich African -American storytelling tradition.

"I read Evans and think, is she not singing? It was like church for me," Roach says. "There is a call and response. I did the work, did the research, to see who she was responding to, and I answered my own calls by writing in the archive."

The work first led to Roach's research paper for Mellon Mays on Evans, explaining the idea of a blues woman and the writer's overlooked contributions to the Black Arts Movement.

She also paired with Rose archivist Charmaine Bonner to develop an event and exhibit called "The Rebel," featuring poetry readings and a panel made up of Evans' peers and pupils such as Althea Tait.

Then she renewed her writing by framing experiences through the blues. The anxiety and the relief embedded in blues music, forged in the black experience from more than a century ago, gave her the language to understand the dualities she had experienced, like the fear even as she was safe at home.

The resulting poems are part of Roach's honors thesis. Her research, meanwhile, has become chapters for what she expects will become a doctoral dissertation after she graduates this spring with a double major in creative writing and African American studies.

"At Emory, through research, I've found my lineage," Roach says. "My challenge is to write myself into it."

On the End of Mango Season, and Still Falling Fruit
by Christell Victoria Roach
Love does not want this body
swelled as a June-split mango,
bruised as all tree fruit pre-fall,
sitting atop tufts of dead grass
and snakeskin. This body been
baked for hours in the sun, has
stung the fence and leaves sweet
and untouchable. The branches,
bare and brown, been pulled down
like the arms of hopeless mothers. 
Each pulp-stained head, a shade
of summer we call red. One ripe
stone-fruit, firm on one side, half-
eaten, brown or bruised on the other.
The pulp darkened in the heat, sap
lost all color overnight, and where
the mango sat rotting, a face-like
indent marked the once-alive grass.
Three months of fruit gathered
beneath the tree, brown, bodies. 
The leaves gave up their green
as witness, were blown apart
by the constant fall. The tree takes
the shape of my mother, bending
to collect a basket-full of mangoes,
each one she names. The sound
of tree-fruit, thumping to the ground,
is an ever-growing toll. Sounds
like skin hitting skin, like dead weight,
like August. 
My father dragged the television out
to the patio, so he could watch the news
and wade in the pool. His stereo played
bluegrass folk from the Florida room.
I was gathering bulbs while he lay.
When the news rung out, I stilled
my hand. When daddy said not another
one, I bent down again. A brown boy
grown ripe in the sun, while a garden
snake began shedding at my feet. 
The snake wound like a tongue,
wrung itself free of the dead skin;
as I picked up a half-eaten mango
it calmed. Black, it sat, with splotches
of red, looking moist beneath a dry shell.
A black widow twitched on a leaf. It, too,
is black and red. Across the yard my father
swims laps. The television has yet to pick
up the boy on the ground. In the house,
mother is making jam, calling for my brothers.