For Faculty and Staff of Emory University
🎙 Check out Emory: In Case You Missed It, a new audio update of the biggest news from the past week, now available on your favorite podcast app. Listen and subscribe at Apple, Spotify or wherever you get your podcasts. You can also listen and view with our interactive Giide.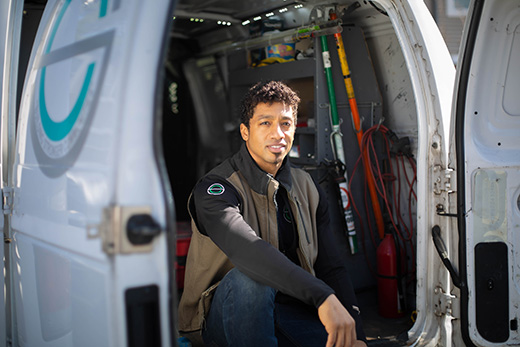 Emory unveils new community engagement strategy
Musa Abdus-Saboor credits Emory's Start:ME program with giving him confidence to start his own electrical business. The university's new community engagement strategy will amplify Emory's impact in areas of social and economic mobility; health and well-being; and arts, science and cultural enrichment.
---
Emory president responds to tragic murders in Atlanta
"Our hearts go out to all who are hurting today throughout Atlanta and in the Asian and Asian American communities," Emory President Gregory L. Fenves said March 17. "All of Emory stands united in the face of this atrocity." Read the full statement.
---
---
Emory nursing students administer COVID-19 vaccines
Helping give the COVID-19 vaccine is a historic learning opportunity for any student nurse. Administering it to a retired nurse who was part of the polio vaccine rollout makes the experience even more memorable.
Make a difference: Join faculty, staff and others in creating life-changing opportunities through Day of Giving on March 24. Support an area that inspires you and earn an Emory face covering by contributing during the early giving period March 17-21.
Raymond Danowski Poetry Library Reading Series: Poetry Reading by Joy Harjo
U.S. Poet Laureate Joy Harjo will give an online reading as part of Women's History Month for the Rose Library at Emory University. A member of the Muscogee (Creek) Nation, Harjo is the first Native American to hold the position.
When: March 20, 4:00 p.m.
Where: Online
Admission: Free; registration required
Emory President Gregory L. Fenves: First Address
In his first address to the university community, Emory President Gregory L. Fenves will speak on the unprecedented journey we've undertaken during the past year, our bright future as a university and how we can build on our rich legacy of excellence and impact.
When: March 23, 3:00 p.m.
Where: Emory.edu home page
Admission: Free
Editor: Leigh DeLozier
Vice President for Enterprise Communications: Douglas Busk
Senior Vice President for Communications and Public Affairs: David Sandor

Emory Report is published by  Communications and Public Affairs
Read the Emory Report Guidelines
Copyright 2022 Emory University | All Rights Reserved
201 Dowman Drive, Atlanta, Georgia 30322 USA | 404.727.6123