For Faculty and Staff of Emory University
🎙 Check out Emory: In Case You Missed It, a new audio update of the biggest news from the past week, now available on your favorite podcast app. Listen and download at Spotify or wherever you get your podcasts. You can also listen and view with our interactive Giide.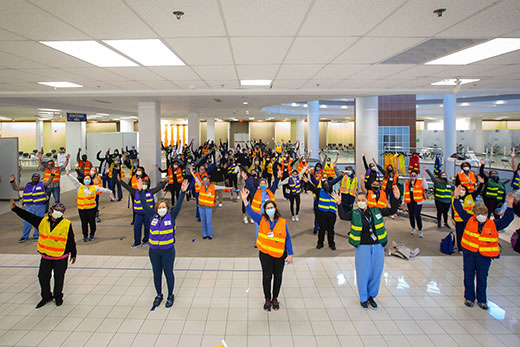 COVID-19: One year later
On March 11, 2020, Emory leaders informed the community that all classes would transition to remote learning. Through photos and headlines, take a look back at an extraordinary year, as students, faculty and staff met unprecedented challenges.
---
---
---
Water temperature key to schistosomiasis risk and prevention
About one billion people worldwide are at risk for schistosomiasis — a debilitating disease caused by parasitic worms. A new study led by Emory researchers finds that water temperature and snail removal are key to understanding and preventing risk.
---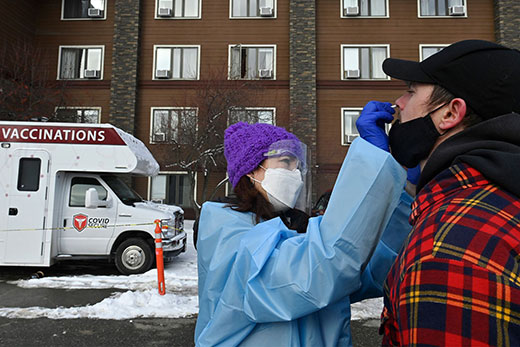 Emory epidemiologist braves Alaskan tundra for COVID-19 testing at Iditarod
The Iditarod, the largest sled dog racing event in the world, began March 7. Emory epidemiologist Jodie Guest is the 2021 Iditarod COVID-19 czar, working to plan and adapt for every scenario.
Get your news: Emory University faculty, staff and students have free access to the New York Times, Wall Street Journal, Chronicle of Higher Education, the AJC, and many other newspapers, including foreign language publications. The periodicals can be accessed through the Emory Libraries' institutional subscriptions with an active Emory ID. Visit this blog for instructions on how to access various publications.
Emory President Gregory L. Fenves: First Address
In his first address to the university community, Emory President Gregory L. Fenves will speak on the unprecedented journey we've undertaken during the past year, our bright future as a university and how we can build on our rich legacy of excellence and impact.
When: March 23, 3:00 p.m.
Where: Emory.edu home page
Admission: Free
Editor: Leigh DeLozier
Vice President for Enterprise Communications: Douglas Busk
Senior Vice President for Communications and Public Affairs: David Sandor

Emory Report is published by  Communications and Public Affairs
Read the Emory Report Guidelines
Copyright 2022 Emory University | All Rights Reserved
201 Dowman Drive, Atlanta, Georgia 30322 USA | 404.727.6123