For Faculty and Staff of Emory University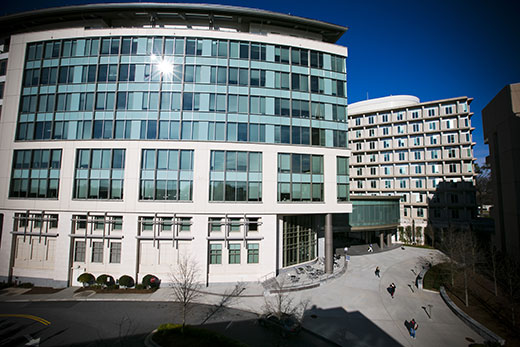 Rollins Foundation gift to Emory University advances public health
The O. Wayne Rollins Foundation has pledged $65 million to Emory toward construction of a third Rollins School of Public Health building on campus. Groundbreaking for the new facility, to be named the R. Randall Rollins Building, is tentatively set for 2020.
---
Printmaker Tom Hück explores the art of provocation
Tom Hück brings his brash sociopolitical commentary to Emory with "Rival Cuts," a new exhibition at the Michael C. Carlos Museum. Hück will be artist-in-residence Feb. 16-23 with a series of events for students and the broader community.
---
Emory professors nominated for NAACP Image Awards
Carol Anderson's "We Are Not Yet Equal" is a nominee for the NAACP's award for most outstanding literary work for youth, while Tayari Jones' "An American Marriage" is a nominee in the fiction category.
---
Reporter's mystery illness leads to a challenging diagnosis
In 2016, political broadcast journalist Jamie Dupree lost his ability to speak. He was later diagnosed with oromandibular dystonia, a disorder where the muscles of the mouth and tongue do not move as they should when speaking, chewing or swallowing.
---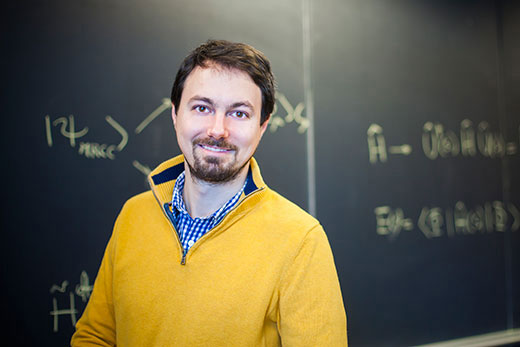 A new spin on computing: Chemist leads $3.9 million DOE quest for quantum software
The Department of Energy has awarded theoretical chemist Francesco Evangelista $3.9 million to lead research into the development of software to run the first generation of quantum computers. The tools the team develops will be open access, made available to other researchers for free.
Get your gadgets: Emory faculty, staff and students can check out a variety of electronic gadgets from Woodruff Library. Use one of the library's laptops or check out adaptors, cameras and other devices and accessories. Borrow an iPad or Nook. Check-out varies from three hours to a week. 

Candler Blood Drive
Candler's Black Student Caucus invites staff, students, faculty and alums to consider rolling up their sleeves and donating to help someone else.
When: Feb. 18, 9:30 a.m.
Where: Theology Atrium
Admission: Free
Reading: Tayari Jones, prose writer
Acclaimed novelist Tayari Jones, who just joined the Emory faculty, will give a reading of her work. A reception and book signing will follow.
When: Feb. 19, 6:30 p.m.
Where: Cox Hall, Ballroom
Admission: Free
 

WaterHub Tour
When: Feb. 15, 9:30 a.m.
Where: WaterHub at Peavine Drive
Admission: Free

 
 
 
 
 
 
 
 
 
 
 
 
 
 

Print Matters: Tom Hück
When: Feb. 19, 7:30 p.m.
Where: Michael C. Carlos Museum, Ackerman Hall
Admission: $25 for Carlos Museum members; $35 for nonmembers

 

Meet Me @ the Tunnel
When: Feb. 20, 12:00 p.m.
Where: Emory University Hospital Tunnel, Entrance
Admission: Free

 
Director of Communications and Content: Laura Douglas-Brown
Vice President for Enterprise Communications and Reputation Management: Doug Busk
Senior Vice President for Communications and Public Affairs: David B. Sandor

Emory Report is published by  Communications and Public Affairs
Read the Emory Report Guidelines
Copyright 2022 Emory University | All Rights Reserved
201 Dowman Drive, Atlanta, Georgia 30322 USA | 404.727.6123