For Faculty and Staff of Emory University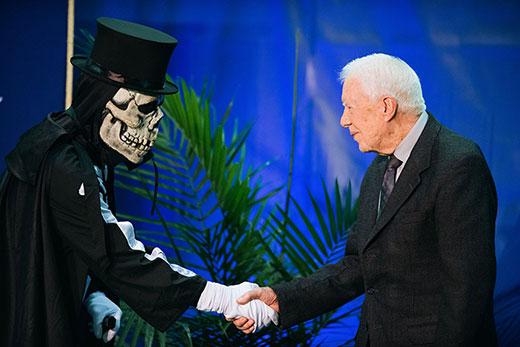 From politics to peanuts, Carter fields questions from Emory students
Former U.S. President Jimmy Carter, Emory University Distinguished Professor, addresses immigration, global health, human rights and more in the 36th Carter Town Hall.
---
---
Philosopher examines how sports fandom shapes identity
With football season underway, the mania of American sports fans is on full display. Oxford philosophy professor Erin Tarver's new book, "The I in Team: Sports Fandom and the Reproduction of Identity," takes a deeper look at what it means.
---
---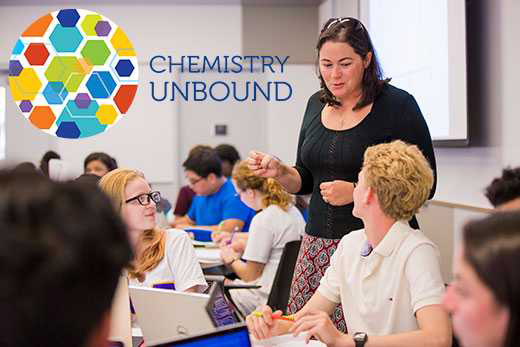 Chemistry synthesizes radical overhaul of undergraduate curriculum
Emory is one of the first major research universities to completely overhaul how it teaches chemistry, from introductory courses to capstone senior seminars. The new curriculum, called Chemistry Unbound, is supported by a $1.2 million grant from the Howard Hughes Medical Institute.
Hurricane donations: Help the victims of Hurricane Harvey and Hurricane Irma by joining Emory's donation drive, hosted by the Office of Student Success Services and Programs and the Office of Spiritual and Religious Life. Bring donations to five campus locations by Sept. 21.
Frankenstein's Creation: Unveiling and Creativity Conversation
Attend the presentation of an original oil painting by acclaimed artist Ross Rossin, part of the Frankenstein 200th Anniversary Celebration at Emory.
When: Sept. 19, 7:00 p.m.
Where: Schwartz Center for Performing Arts, Emerson Concert Hall
Admission: Free
Film screening: "To Be or Not to Be" (1942)
A troupe of Warsaw actors makes a mockery of the Nazis' expansionist regime in this 1942 comedy of disguise.
When: Sept. 20, 7:30 p.m.
Where: White Hall, Room 208
Admission: Free
 

Gary Motley Trio
When: Sept. 17, 4:00 p.m.
Where: Schwartz Center for Performing Arts, Emerson Concert Hall
Admission: Free

 
 
 
 
 
 
 
 
 
 

Workshop: "Know Your Rights"
When: Sept. 19, 12:00 p.m.
Where: Candler School of Theology, Rita Anne Rollins Building, Room 322
Admission: Free

 
 
 
 

Intro to ArcGIS
When: Sept. 19, 2:00 p.m.
Where: Woodruff Library, Room 312
Admission: Free

 
 
 
 
 
 
 
 
 
 
 
 
Editor: Laura Douglas-Brown
Executive Director of Communication: Susan Carini
Interim Senior Vice President for Communications and Public Affairs: Vince Dollard

Emory Report is published by  Communications and Public Affairs
Read the Emory Report Guidelines
Copyright 2022 Emory University | All Rights Reserved
201 Dowman Drive, Atlanta, Georgia 30322 USA | 404.727.6123