For Faculty and Staff of Emory University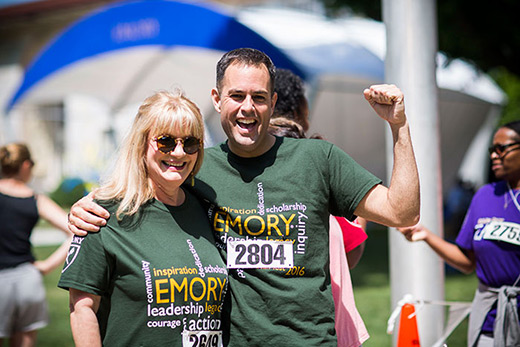 Staff Fest serves up food and fun for Emory employees
Staff Fest, the annual celebration of Emory staff members, is set for Friday, May 12, from noon to 3 p.m. on the Quad. Come out to enjoy lunch, games, a climbing wall, dancing, the Fun Run-Walk and the volleyball tournament.
---
Emory Center for AIDS Research receives $10 million NIH renewal
Emory's Center for AIDS Research will receive $10 million from the National Institutes of Health to further its work to decrease HIV incidence, improve the well-being of people with HIV, train the next generation of researchers and clinical leaders, and ultimately find a vaccine and cure.
---
---
---
---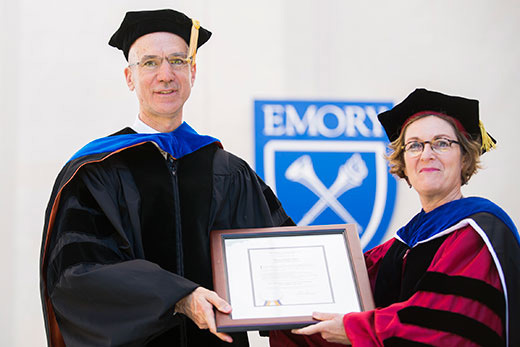 Faculty, staff recognized for teaching, mentoring and more
Faculty and staff were honored with multiple awards at the 2017 school diploma ceremonies, including the Emory Williams Award for Distinguished Teaching.
More scenes from Emory University Commencement
Sunshine and smiling faces were in abundance as a crowd of about 15,000 filled the Emory Quadrangle on Monday, May 8, for the university's 172nd Commencement. View more photos from the day.
Summer schedule: This is the last Thursday edition of Emory Report for the academic year. Look for Emory Report in your inbox every Tuesday throughout the summer; twice-weekly publication returns the week of Aug. 29. Visit the Emory News Center for daily headlines and upcoming events.
NCAA Tennis Championships: Opening Rounds
Emory hosts opening rounds of the NCAA Division III Men's Championships from Friday through Sunday. The Emory Eagles' first match is Saturday at 10 a.m.
When: May 12, 1:00 p.m.
Where: Woodruff P.E. Center
Admission: Free
Compassion Meditation Group
All are welcome to this free weekly meditation group, held every Wednesday.
When: May 17, 5:00 p.m.
Where: Cannon Chapel, Room 206
Admission: Free
Atlanta Master Chorale: "Ein Deutsches Requiem"
The Atlanta Master Chorale performs work by Johannes Brahms. Second performance Sunday at 4 p.m.
When: May 20, 8:00 p.m.
Where: Schwartz Center for Performing Arts, Emerson Concert Hall
Admission: $30; $25 discount categories; $10 students
 
 

Staff Fest
When: May 12, 12:00 p.m.
Where: Emory Quadrangle
Admission: Free

 
 
 
 
 
 
 

Canvas 101
When: May 18, 1:30 p.m.
Where: Woodruff Library, Room 314
Admission: Free

 
 
 
 
Editor: Laura Douglas-Brown
Executive Director of Communication: Susan Carini
Interim Senior Vice President for Communications and Public Affairs: Vince Dollard

Emory Report is published by  Communications and Public Affairs
Read the Emory Report Guidelines
Copyright 2022 Emory University | All Rights Reserved
201 Dowman Drive, Atlanta, Georgia 30322 USA | 404.727.6123