For Students of Emory University
Student COVID-19 testing: Please remember if you live on campus, you must get a COVID-19 test twice a week. Students who live off campus and visit Emory must have a test within 7 days of coming to campus. View a video from President Fenves and visit Emory Forward for more guidelines.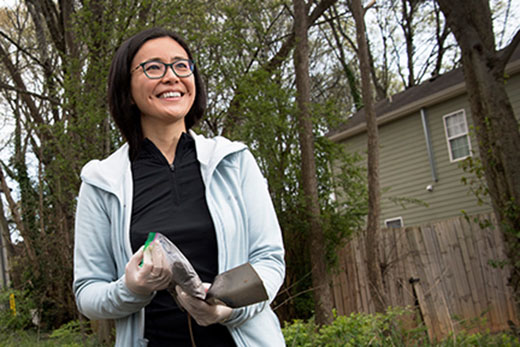 Fighting toxic soil contamination
When Emory environmental scientist Eri Saikawa and her student tested soil samples from Atlanta's Westside neighborhood, what they found was "shocking and heartbreaking." Learn more about Saikawa's work in the series "I am an Emory Researcher."
---
---
---
Students celebrate Dooley's Week 2021
Dooley's Week, Emory's annual celebration of school spirit, was held April 5-11, giving a nod to icons from childhood in the 2000s. "Dooley2k" was packed with in-person and online events ranging from painting and indoor mini-golf to a virtual yoga session and mechanical bull riding.
Telehealth through TimelyMD: Don't forget that enrolled undergraduate, graduate or professional Emory students have free, 24/7/365 access to licensed medical and mental telehealth care through TimelyMD. Students who sign up in April will be entered to win a pair of Apple AirPods. Just go to timely.md/emory and use your .edu email address. Contest rules here.
Panel Discussion: "Decolonizing Global Health"
Emory faculty members and visiting scholars/panelists discuss global health, colonialism and how to foster change in global health research, education and practice. This session will examine "Disrupting and Rebuilding Global Health Care Systems."
When: April 20, 10:30 a.m.
Where: Online
Admission: Free; registration required
Denim Day
Wear your jeans or any denim clothing as a visible means to protest misconceptions around sexual violence. Use the hashtag #EmoryDenimDay to share your photos and highlights from conversations about preventing sexual violence and supporting survivors. An initiative of the Office of Respect.
When: April 21, 9:00 a.m.
Where: On campus and virtually
Admission: Free
Editor: Leigh DeLozier
Vice President for Enterprise Communications: Douglas Busk
Senior Vice President for Communications and Public Affairs: David Sandor

Dooley Report is published by  Communications and Public Affairs
Read the Dooley Report Guidelines
Copyright 2022 Emory University | All Rights Reserved
201 Dowman Drive, Atlanta, Georgia 30322 USA | 404.727.6123