For Students of Emory University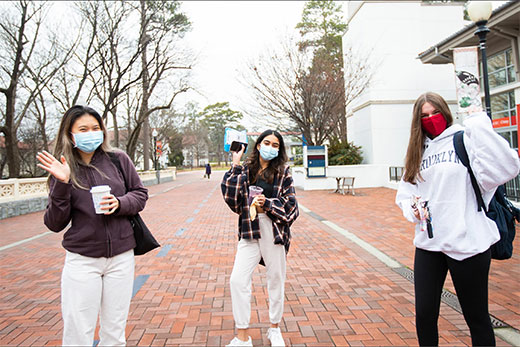 Photos: Spring classes begin
The Emory campus gained renewed energy Jan. 25 as most spring classes got underway. Face coverings and physical distancing are required for students, faculty and staff on campus, while many continue to learn, teach and work remotely.
---
---
---
COVID-19 update: Because of the rising prevalence of COVID-19 in our region, the university is adjusting the campus gathering status until Feb. 8. Visit the Emory Forward website for details and to learn about the onboarding process and COVID-19 testing for students coming to campus this spring.
Nix Mann Endowed Lecture: "The Shifting Shape of Classical Art"
Caroline Vout of the University of Cambridge and the University of Leiden examines how different periods have reinvented what classical art is through digging, dealing, drawing. The lecture ends by asking whether classical art has a future.
When: Jan. 31, 2:00 p.m.
Where: Online
Admission: Free; registration required
2021 Pellom McDaniels Sports History Lecture Series: "Bigger Than Sports"
Just days before Super Bowl LV, join author and ESPN senior writer Howard Bryant, New York Times columnist William C. Rhoden and Emory history professor Carl Suddler for a timely discussion about sports, politics and African American history.
When: Feb. 4, 4:30 p.m.
Where: Online
Admission: Free; registration required
Race Beyond Borders: "Understanding Race as a Global Concept: Power, Access and Policy"
This event will launch the multi-institutional Race Beyond Borders initiative and offer a first step in bringing voices together to begin a dialogue and process of inquiry about race: how we can start developing a shared understanding of race as a global concept, how concepts of race are constructed in different parts of the world and more.
When: Feb. 5, 12:00 p.m.
Where: Online
Admission: Free; registration required
Editor: Leigh DeLozier
Vice President for Enterprise Communications: Douglas Busk
Senior Vice President for Communications and Public Affairs: David Sandor

Dooley Report is published by  Communications and Public Affairs
Read the Dooley Report Guidelines
Copyright 2022 Emory University | All Rights Reserved
201 Dowman Drive, Atlanta, Georgia 30322 USA | 404.727.6123