For Students of Emory University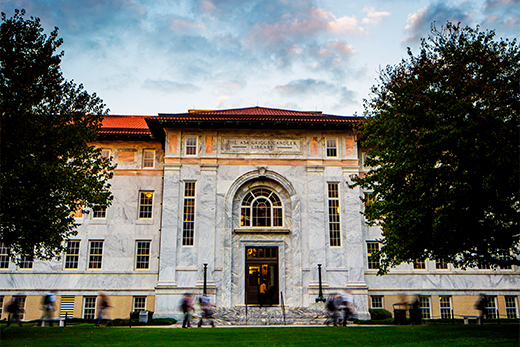 Virtual town hall answers student questions about fall return to campus
Campus leaders provide insight into what academics and student life will look like for Emory College students in the next school year, as well as how they're working to protect everyone's health and safety.
---
Emory commemorates Juneteenth
Emory commemorated Juneteenth as an opportunity to learn and unite, featuring a series of conversations on race and social justice that continued this week. Emory's Center for Creativity and Arts also provided supplies for a mural in South Atlanta. Learn how you can view these video discussions.
---
Emory University affirms support for DACA students
In a message to the Emory community, President Claire E. Sterk and President-elect Gregory L. Fenves reiterated support for DACA students and staff, following the Supreme Court ruling to allow the federal Deferred Action for Childhood Arrivals program to continue.
---
---
Emory suspends SAT/ACT requirements for 2020-21
Emory University will not require standardized tests for first-year applicants for the 2020-2021 academic year. The disruptions to testing availability caused by the COVID-19 pandemic are the impetus for this decision.
---
Cleaning tips from a chemist who researches disinfectants
Many people have become more "clean conscious" due to COVID-19, but that doesn't mean common household cleaners are being used correctly. Chemist Bill Wuest shares insights on key ingredients and how to best use these products in the home.
Stay informed: The new Emory Forward website serves as a hub for information and resources as the university community continues a phased-in return to campus. Visit regularly to view videos, gain self-care tips and explore Emory's detailed health and safety plan.
Summer schedule: Weekly publication of Dooley Report is resuming because there is much to share about current activities and preparations for fall semester. Expect an issue in your inbox on Thursdays for the remainder of the summer. Please visit the Emory News Center for daily headlines and events.
Webinar: 'Emory Climate Talks'
Emory alumnus John D. Sutter is a National Geographic Explorer and CNN climate analyst. Hear about his work, including the documentary series "Baseline" that tells the story of the climate crisis beyond a lifetime.
When: June 29, 3:00 p.m.
Where: Zoom
Admission: Free; registration requested
Panel Discussion: 'Health Care Work as a Vocation'
Hear perspectives and ask questions as health care professionals reflect on their personal experience of the COVID-19 pandemic and how it has challenged or strengthened their sense of vocation.
When: June 30, 1:00 p.m.
Where: Zoom
Admission: Free; registration requested
Virtual Book Club: 'Atticus Finch: The Biography'
Professors Joseph Crespino and Patrick Allitt discuss Crespino's book, which reveals how Harper Lee's father provided the central inspiration for each of her books.
When: July 2, 7:00 p.m.
Where: Zoom
Admission: Free; registration needed
Editor: Laura Douglas-Brown
Vice President for Enterprise Communications: Doug Busk
Senior Vice President for Communications and Public Affairs: David B. Sandor

Dooley Report is published by  Communications and Public Affairs
Read the Dooley Report Guidelines
Copyright 2022 Emory University | All Rights Reserved
201 Dowman Drive, Atlanta, Georgia 30322 USA | 404.727.6123