For Students of Emory University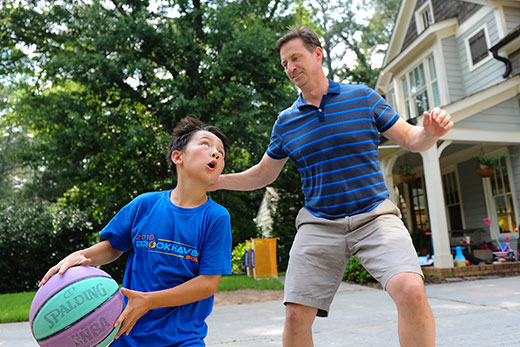 Five surprising facts about fathers
Want to do something special for a father on June 16? Try asking him what he finds most rewarding about being a dad. Emory anthropologist James Rilling interviewed 120 new fathers, finding most reported an increase in how enthusiastic, proud and inspired they felt after talking about their experiences as fathers.
---
---
Emory names chief diversity officer
Emory has named Carol E. Henderson vice provost for diversity and inclusion, chief diversity officer and advisor to the president. She will assume her new role at Emory on August 1, 2019.
---
Video: 'Conversations with Claire' featuring President Carter
Watch Emory President Claire E. Sterk's interview with President Jimmy Carter, who has been granted tenure after serving as Emory University Distinguished Professor for almost 40 years.
---
Emory hosts national conference on LGBTQ health
Sexual and gender minority health issues took center stage as Emory hosted the National LGBTQ Health Conference, including a keynote from Chasten Buttigieg, who recalled his own struggles growing up gay in a conservative town.
---
---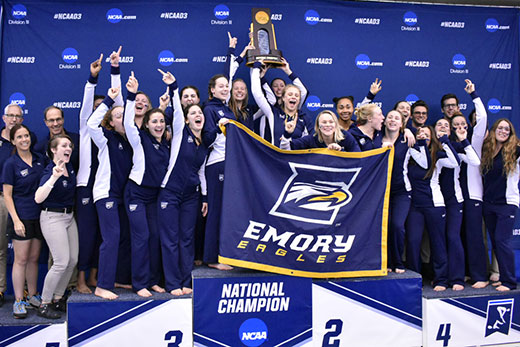 Emory Eagles wrap up the year with three NCAA D-III Championships
Emory's varsity athletics teams won three NCAA Division III national championships in the 2018-19 season, with volleyball, women's swimming and diving, and men's tennis bringing home top honors.
From life-changing medical advances to important studies in the humanities to trailblazing research in the social sciences, Emory is hard-wired for the bold pursuit of discoveries that aid human understanding and improve our world. Explore how Emory is a leader in Discovery.  
Put your summer reading in OverDrive: Through Emory's OverDrive collection, you have access to popular e-books and audiobooks, including beach reads, inspirational titles, biography, true crime, a variety of non-fiction and more. Using the OverDrive platform, users can download titles to Mac, Windows or a variety of mobile devices such as a Kindle.
WaterHub Tours
Take a tour of Emory's unique, nationally renowned hub that cleans and recycles water. Summer tours are held twice weekly on Tuesdays at 11 a.m. and Fridays at 10 a.m.
When: June 14, 10:00 a.m.
Where: WaterHub at Peavine Drive
Admission: Free
Dive-In Movie
Enjoy a family-friendly film in the cool waters of the SAAC's Olympic size pool
When: June 14, 8:30 p.m.
Where: SAAC Pool
Admission: Free for members; fees for guests and walk-ups
 

Men's Health 5K
When: June 13, 7:30 a.m.
Where: Woodruff Residential Center
Admission: Free

 
 
 

Guided Meditation
When: June 13, 6:00 p.m.
Where: Cannon Chapel, Room 106
Admission: Free

 
 
 
 
 
Editor: Laura Douglas-Brown
Vice President for Enterprise Communications: Doug Busk
Senior Vice President for Communications and Public Affairs: David B. Sandor

Dooley Report is published by  Communications and Public Affairs
Read the Dooley Report Guidelines
Copyright 2022 Emory University | All Rights Reserved
201 Dowman Drive, Atlanta, Georgia 30322 USA | 404.727.6123