For Students of Emory University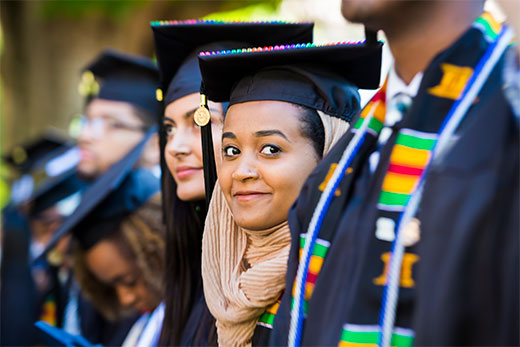 Celebrating Emory's Class of 2019
Emory's 174th Commencement celebrated the soaring achievements of the Class of 2019, as this year's talented graduates prepare to transform the world as tomorrow's leaders. Take a look back through videos, photos and more.
---
Young calls on graduates to embrace uncertainty and keep learning
In a keynote address drawn from his own experiences in activism, politics and international diplomacy, civil rights leader and former U.S. Ambassador Andrew Young reminded the Class of 2019 that life's challenges "are not stumbling blocks -- those are stepping stones."
---
Lewis encourages Oxford graduates to 'roll up your sleeves'
Giving the Commencement address at Emory's Oxford College, civil rights leader and U.S. Rep. John Lewis called on students to "be bold, be courageous, and continue to build a world, to build a beloved community, where no one is left out or left behind."
---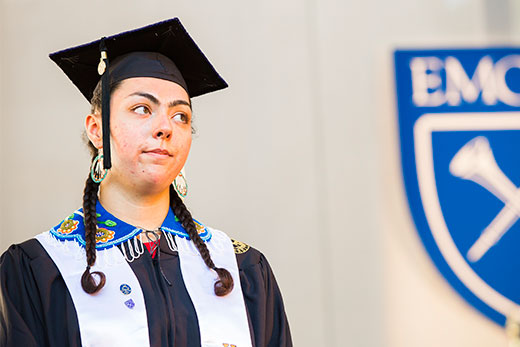 Brittain Award winner explores Native American heritage through advocacy and anthropology
Recipient of Emory's highest student honor, Klamath Henry has shaped Emory's campus as an advocate for Native American students and racial and social justice. Her future plans include graduate studies in anthropology.
---
---
---
---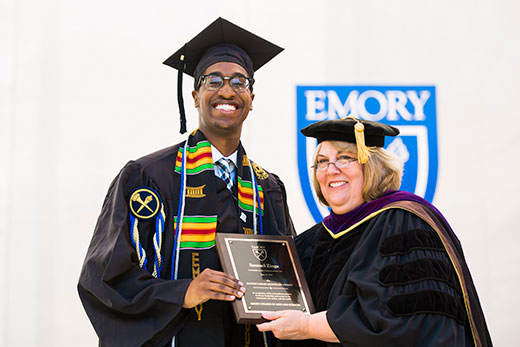 McMullan Award recipient excels in science while striving to give back
A refugee raised in Atlanta, Samuel Zinga plans to pursue both a PhD and MD. Along with extensive academic research, his legacy at Emory includes building an education pipeline for other refugee, immigrant and low-income students.
---
---
---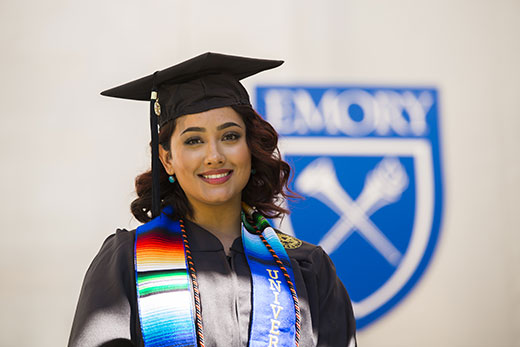 Emory College class orator focuses on power of community
When Dania Quezada spoke to her fellow graduates as the 2019 Emory College Class Orator, she focused on the impact of community, specifically the Emory community that welcomed and supported her as an undocumented student.
Rent a bike for the summer: Emory partner Bicycle South offers rental bikes for $50 from May through August. Transportation and Parking Services will contact you to schedule a pick-up time at the Parking Office. You can also lease a bike lock for $15, $5 of which will be refunded to you when you turn it in. 
Summer schedule: With the academic year concluded, Dooley Report shifts to twice-monthly publication. Look for Dooley Report in your inbox every other Wednesday throughout the summer; weekly publication resumes Aug. 21. Visit the Emory News Center for daily headlines and events.
Guided Meditation
Everyone is welcome for guided meditation taught by ordained teachers from different Buddhist temples and traditions.
When: May 16, 6:00 p.m.
Where: Cannon Chapel, Room 106
Admission: Free
Bike to Work Day
Join others from Emory and the CDC who bike, or are interested in biking, to work.
When: May 17, 7:30 a.m.
Where: Emory Point
Admission: Free
 
 
 

Datathon 2019
When: May 17, 11:00 a.m.
Where: Atwood Chemistry Center, Room 260
Admission: Free
Editor: Laura Douglas-Brown
Associate Vice President for University Communications: Nancy Seideman
Senior Vice President for Communications and Public Affairs: David B. Sandor

Dooley Report is published by  Communications and Public Affairs
Read the Dooley Report Guidelines
Copyright 2022 Emory University | All Rights Reserved
201 Dowman Drive, Atlanta, Georgia 30322 USA | 404.727.6123