For Students of Emory University
Emory grads poised for musical breakthrough as The Shadowboxers
In 2008, Emory sophomores Adam Hoffman, Matt Lipkins and Scott Tyler decided to form a band. Nearly 10 years later, The Shadowboxers are working with Justin Timberlake, on the cusp of releasing what they believe will be career-changing music.
---
Nair named president of Arcadia University
Ajay Nair, Emory's senior vice president and dean of Campus Life, will serve as the next president of Arcadia University in Pennsylvania. Nair will remain at Emory through March 31.
---
---
Course puts moral issue on trial in unusual final project
Instead of a typical final paper, students taking the religion course 'Nazi Medicine on Trial' held a tribunal on whether forced sterilization is immoral, judged by experts from Emory's Center for Ethics and Office of the General Counsel.
---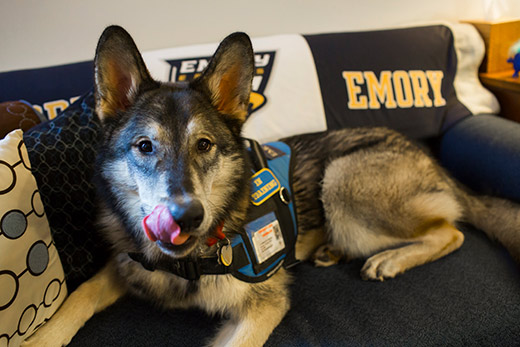 A new fuzzy face in Emory's Counseling and Psychological Services
Meet Finn, the little brother of Emory's first therapy dog, Beowulf. Expect to see this friendly fellow helping out at special events throughout the year.
---
Debating the ethics of head transplants
Led by Emory experts, the official journal of the International Neuroethics Society examines the ethical questions raised by the possibility of the world's first head transplant, planned to take place in China.
---
From tiny seeds communities flourish
Thanks to a community grant from Emory's HERCULES Exposome Research Center, low-income West-side Atlanta residents have been planting food gardens in their yards. It is only one of several community outreach projects the center has funded in Atlanta.
---
---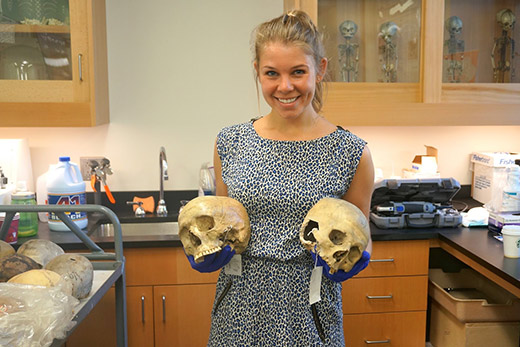 Have skull drill, will travel
"Anthropological genetics is a huge and growing field," says Kendra Sirak. The Emory graduate student has developed a specialized technique for drilling into ancient skulls to remove DNA samples.
Pet Therapy Study Break
Adorable dogs greeted students at Woodruff Library on Thursday, Dec. 7, for the sixth-annual Pet Therapy Study Break. View more photos of the fun.
---
Emory in the snow
Emory was blanketed in white Friday, Dec. 8, when a rare early December snowstorm prompted the university to close for the afternoon, reopening at noon on Saturday. While students enjoyed an unexpected break from final exams, staff leapt into action to keep roads safe and essential services running. See more photos.
Today's edition concludes Dooley Report's publishing schedule for 2017. To keep up with university happenings, please visit the Emory News Center. Look for the next Dooley Report on Wednesday, Jan. 10, 2018, when regular publication resumes. Best wishes for the holidays and the new year!
Editor: Laura Douglas-Brown
Associate Vice President for Media Relations: Nancy Seideman
Interim Senior Vice President for Communications and Public Affairs: Vince Dollard

Dooley Report is published by  Communications and Public Affairs
Read the Dooley Report Guidelines
Copyright 2022 Emory University | All Rights Reserved
201 Dowman Drive, Atlanta, Georgia 30322 USA | 404.727.6123