For Friends of Emory University
Welcome to Emory Update, a new monthly communication that highlights Emory's impact in academics, health care, research, community service and more. I hope you find it inspiring and engage with us in whatever ways you find meaningful.

Emory's passion is rooted in an academic experience where students discover a culture of open and civil discourse, work closely with academic experts, and connect with a set of peers as diverse as the world around them. At the heart of our mission is a distinct purpose: to think beyond oneself.

And, as I hope you will see, Emory is also about resolve. We are wired for curiosity and committed to forging strong partnerships across metro Atlanta and well beyond. Thank you for making the time to learn more about our work.


Claire E. Sterk
Emory University President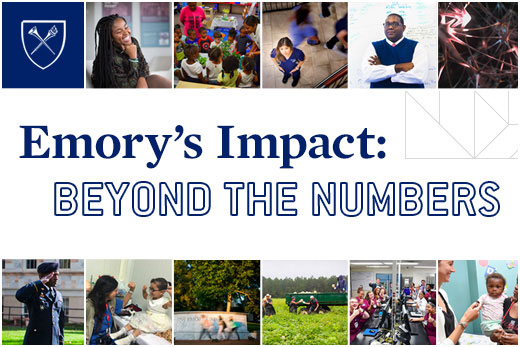 Measuring Emory's impact
In the classroom, in the lab, at a patient's bedside, or helping a remote community half a world away, Emory is about impact. Through a dynamic digital interface, learn more about Emory's impact in academics, research, health care, the economy, Atlanta, the surrounding region and the world.
---
---
---
Civil War plant medicines blast drug-resistant bacteria
Studying a guide to plant remedies commissioned during the Civil War, Emory researcher Cassandra Quave finds that three plants have antimicrobial activity against dangerous species of drug-resistant bacteria associated with wound infections.
---
'Your Fantastic Mind' TV series explores brain health
This spring, Emory partnered with Georgia Public Broadcasting on "Your Fantastic Mind," a TV series featuring the compelling stories of patients like Ja'lisa Thomas who have been helped by Emory's Brain Health Center. Watch episodes and learn more about the Emory doctors and researchers.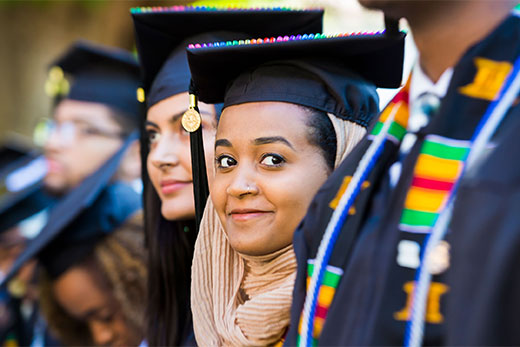 Celebrating Emory's Class of 2019
The Class of 2019 was celebrated Monday, May 13, at a ceremony marking Emory's 174th Commencement, featuring a keynote address by U.S. civil rights icon and global humanitarian Andrew Young. Learn about outstanding graduates and honorary degree recipients.
---
Young calls on graduates to embrace uncertainty and keep learning
In an address drawn from his own experiences in activism, politics and international diplomacy, civil rights leader and former U.S. Ambassador Andrew Young reminded the Class of 2019 that life's challenges "are not stumbling blocks -- those are stepping stones."
---
Lewis encourages Oxford graduates to 'roll up your sleeves'
Giving the Commencement address at Emory's Oxford College, civil rights leader and U.S. Rep. John Lewis called on students to "be bold, be courageous, and continue to build a world, to build a beloved community, where no one is left out or left behind."
Emory's WaterHub is capable of recycling up to 400,000 gallons of water each day, nearly 40 percent of Emory's total campus water needs. Learn more about the WaterHub.
Emory Farmers Market
Every other Tuesday through Aug. 27, shop for fresh, local produce and enjoy healthy snacks and lunch options at Emory's campus farmers market.
When: July 2,  11:00 a.m. - 3:00 p.m.
Where: Emory campus, Cox Hall Bridge
Contact Us
Emory University
201 Dowman Drive
Atlanta, Georgia 30322
404-727-6123