For Faculty and Staff of Emory University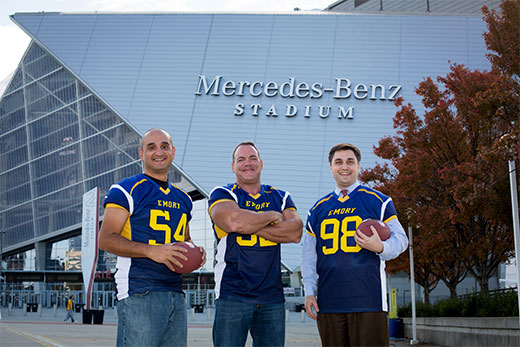 Ready for the big game
How will hosting the Super Bowl impact Atlanta? What defines a fan? Who takes care of Atlanta's pro athletes? And why doesn't Emory have a football team, anyway? Get ready for game day with insights from Emory faculty, physicians and alumni on these questions and many more.
---
---
Uncovering more options in cancer immunotherapy
If scientists want to boost immune cells' ability to kill cancer cells, vast libraries of potential drugs are available for screening. The Fu lab has developed a platform for sorting through them.
---
---
---
Convocation Hall opens on Emory's main quadrangle
Originally constructed more than 100 years ago, one of the first buildings on Emory's Atlanta campus is now open after an extensive renovation, ready to again serve as a hub for community, leadership and scholarship. An open house is slated for Feb. 7.
Want to make your career move? The Faculty-Staff Assistance Program offers a webinar series with sessions on job searching, resume writing and interviewing skills. Access Making a Move Within from your computer at your convenience.


The Bach Bowl!
Emory organist Timothy Albrecht and friends perform an hour of Bach classics and still get you home in time for that other "bowl" happening in Atlanta.
When: Feb. 3, 4:00 p.m.
Where: Schwartz Center for the Performing Arts, Emerson Concert Hall
Admission: Free
WaterHub Tour
Tour the award-winning WaterHub with trained undergraduate and graduate students and learn how Emory is recycling millions of gallons of water.
When: Feb. 4, 10:00 a.m.
Where: WaterHub at Peavine Drive
Admission: Free
Emory's Annual Camp & Learning Expo 2019
Learn about new programs added to the nearly 100 camps and academic opportunities for summer fun and learning for children aged 5-17.
When: Feb. 7, 10:00 a.m.
Where: Woodruff PE Center, Auxiliary Gym
Admission: Free
 
 
 
 
 
 
 
 
 
 
 
 
 

Meet Me @ the Tunnel
When: Feb. 6, 12:00 p.m.
Where: Emory University Hospital Tunnel, Entrance
Admission: Free

 
 
 
 
 
 
 
Director of Communications and Content: Laura Douglas-Brown
Vice President for Enterprise Communications and Reputation Management: Doug Busk
Senior Vice President for Communications and Public Affairs: David B. Sandor

Emory Report is published by  Communications and Public Affairs
Read the Emory Report Guidelines
Copyright 2019 Emory University | All Rights Reserved
201 Dowman Drive, Atlanta, Georgia 30322 USA | 404.727.6123