For Faculty and Staff of Emory University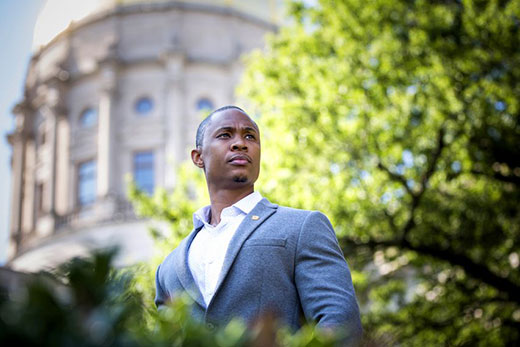 Stepping up
Wherever they live, whatever their profession, Emory alumni share a common pursuit: service to their communities. Meet seven Emory alumni who have built upon a foundation they say was strengthened on Emory's campus — to not only do well but to do good in the world.
---
---
---
---
Emory celebrates Homecoming, Family Weekend
The convergence of Homecoming and Family Weekend brings a calendar packed with concerts, social events, tours and more, culminating on Saturday with the Homecoming Parade, Festival and Concert.
Free flu shots: An annual flu vaccine is the best way to protect yourself and your family from the flu. Emory faculty and staff who are on the Emory medical plan (and their covered dependents) can receive a free flu vaccine. Learn more about your options.
Emory marches in Atlanta Pride parade
A large contingent from Emory joined in the Atlanta Pride Parade on Sunday, Oct. 14, taking to the streets of Midtown Atlanta to celebrate the fight for LGBTQ equality. 
Concert: Momoro Ono, piano
Hear virtuoso pianist Momoro Ono, winner of multiple prizes, perform chamber music.
When: Oct. 19, 12:00 p.m.
Where: Michael C. Carlos Museum, Ackerman Hall
Admission: Free
Emory Homecoming Parade, Festival and Concert
See the Homecoming parade wind its way through campus, then head to the Quad for the festival and concert by Oxford alum Keri Hilson.
When: Oct. 20, 1:30 p.m.
Where: Emory Campus and Quadrangle
Admission: Free
Mummies & Mixers
This is the ticket for viewing permanent and special collections, face painting, scary stories, specialty cocktails and more.
When: Oct. 24, 6:30 p.m.
Where: Michael C. Carlos Museum, Ackerman Hall
Admission: $40 general admission; $35 alumni/faculty/staff; $30 museum members
 

WaterHub Tour
When: Oct. 19, 9:30 a.m.
Where: WaterHub at Peavine Creek Drive
Admission: Free

 
 
 
 

Emory Wind Ensemble
When: Oct. 21, 4:00 p.m.
Where: Schwartz Center for Performing Arts, Emerson Concert Hall
Admission: Free

 
 
 
 
 
 
 
 
 
 
 
 
 
Editor: Laura Douglas-Brown
Associate Vice President for University Communications: Nancy Seideman
Senior Vice President for Communications and Public Affairs: David B. Sandor

Emory Report is published by  Communications and Public Affairs
Read the Emory Report Guidelines
Copyright 2018 Emory University | All Rights Reserved
201 Dowman Drive, Atlanta, Georgia 30322 USA | 404.727.6123