For Faculty and Staff of Emory University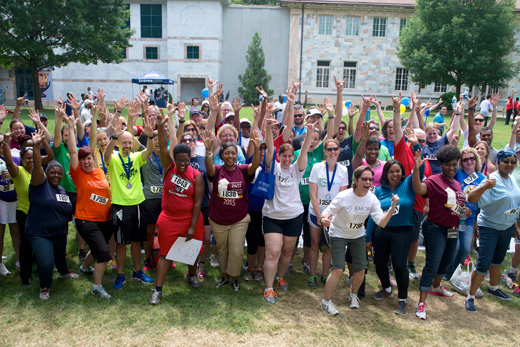 Staff Fest celebrates Emory employees
Emory shows its appreciation for staff members on Friday with a festival on the Quad featuring music, dancing, food, games, giveaways, a volleyball tournament and the Fun Run-Walk.
---
---
---
---
---
Zika conference highlights knowledge, but many questions remain
Scientists and public health leaders who gathered at the Emory Conference Center last week to focus on Zika virus disease agreed that while much work remains to be done in understanding and combating the disease, they are optimistic about the level of global collaboration.
More scenes from Emory's 171st Commencement
Steeped in tradition, Commencement is a milestone for graduates and their families, as well as Emory faculty and staff. Enjoy these additional photos from Monday's ceremony.
"Aid workers place themselves in harm's way in order to fulfill their professional duties. The deliberate targeting of the health sector in conflict settings increases that risk. Legislation needs to be implemented here in the United States in order to protect military and civilian Americans working abroad."
Dabney Evans and Lara Martin, The Hill, May 6, 2016
The Vega String Quartet
World premiere of Richard Prior's String Quartet No. 3
When: May 14, 8:00 p.m.
Where: Schwartz Center for Performing Arts, Emerson Concert Hall
Admission: Free
WaterHub Tours
Student-led tours of Emory's water reclamation facility
When: May 17, 10:00 a.m.
Where: WaterHub on Peavine Drive
Admission: Free; register in advance
 

Shut Up and Write
When: May 17, 11:00 a.m.
Where: Kaldi Coffee or online
Admission: Free

 
 
 
 
 
 

Panel: Compassion and Global Health
When: May 23, 4:00 p.m.
Where: Rollins School of Public Health, Claudia Nance Rollins Building, Lawrence P. and Ann Estes Klamon Room
Admission: Free

 
 
 
 
 
 

Under the Sea: A Percussive Adventure
When: June 4, 3:00 p.m.
Where: Woodruff Health Sciences Administration Building Auditorium
Admission: Free; donations accepted for School of Medicine PA Program Migrant Farm Worker Health Project

 
 
 
 
 
 
Summer schedule: Emory Report shifts to our summer publishing schedule next week, with new issues every Tuesday. To keep up with University news and events between issues, please visit the Emory News Center.
Editor: Laura Douglas-Brown
Executive Director of Communication: Susan Carini
Associate Vice President for Communications and Marketing: David Johnson
Senior Vice President for Communications and Public Affairs: Jerry Lewis

Emory Report is published by  Communications and Public Affairs
Read the Emory Report Guidelines
Copyright 2018 Emory University | All Rights Reserved
201 Dowman Drive, Atlanta, Georgia 30322 USA | 404.727.6123