Making their mark on Emory
Students from across campus join forces to create artistic tribute to Atlanta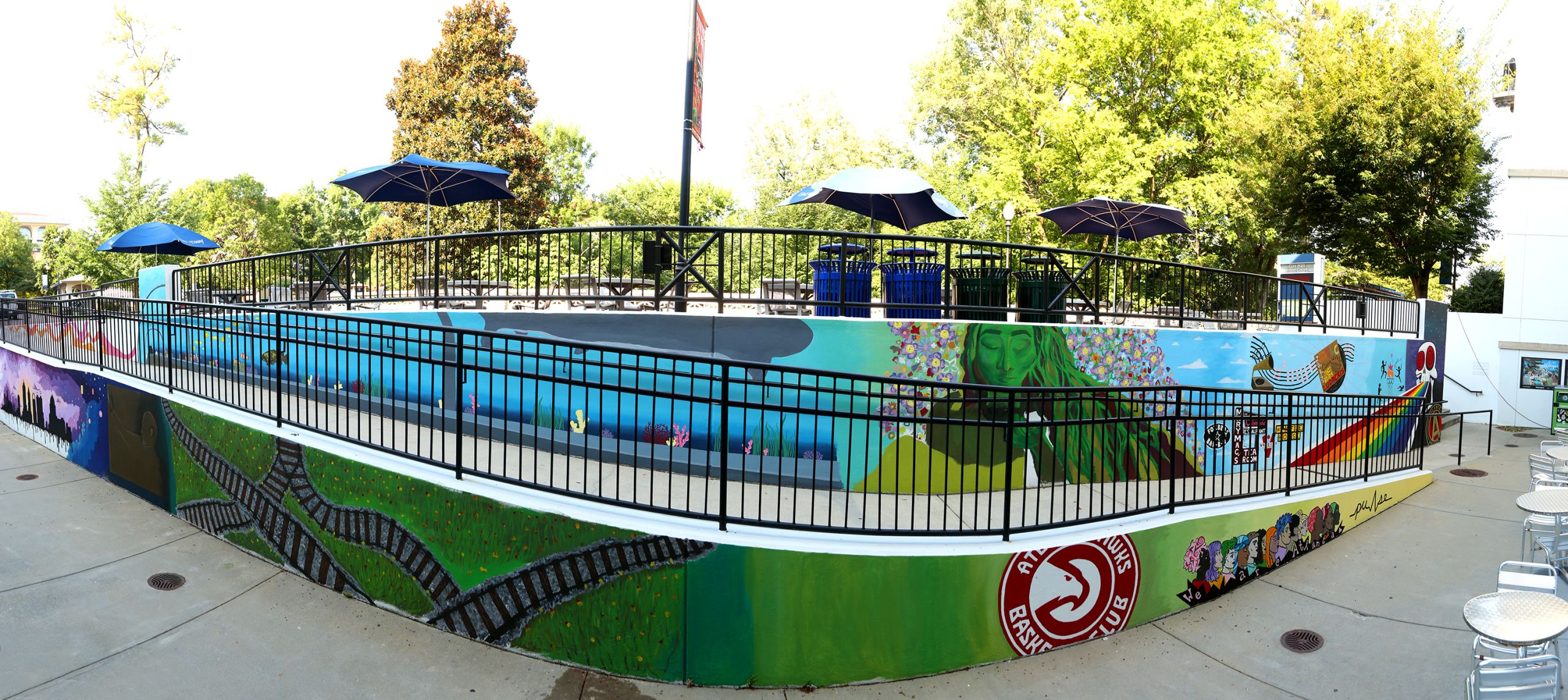 A year ago, Emory student Claire Pomykala had never painted a mural. She had never organized a project that pulled together students of all ages and interests. She had never gone through gallons and gallons of paint covering the full spectrum of the rainbow. 
But none of those things stopped her from becoming the driving force behind a new focal point on campus: a colorful mural of Atlanta icons spanning both sections of the triangular wall outside Cox Hall. The idea surfaced during an executive board meeting of The Pulse, Emory's literary and arts anthology, in October 2018.
"Our president at the time, Nava Amalfard, told us that if there was something we wanted to do on campus, to go for it and The Pulse would support us," says Pomykala, a junior majoring in human health. "Sitting there, I decided I wanted a mural. A bright, loud, colorful mural."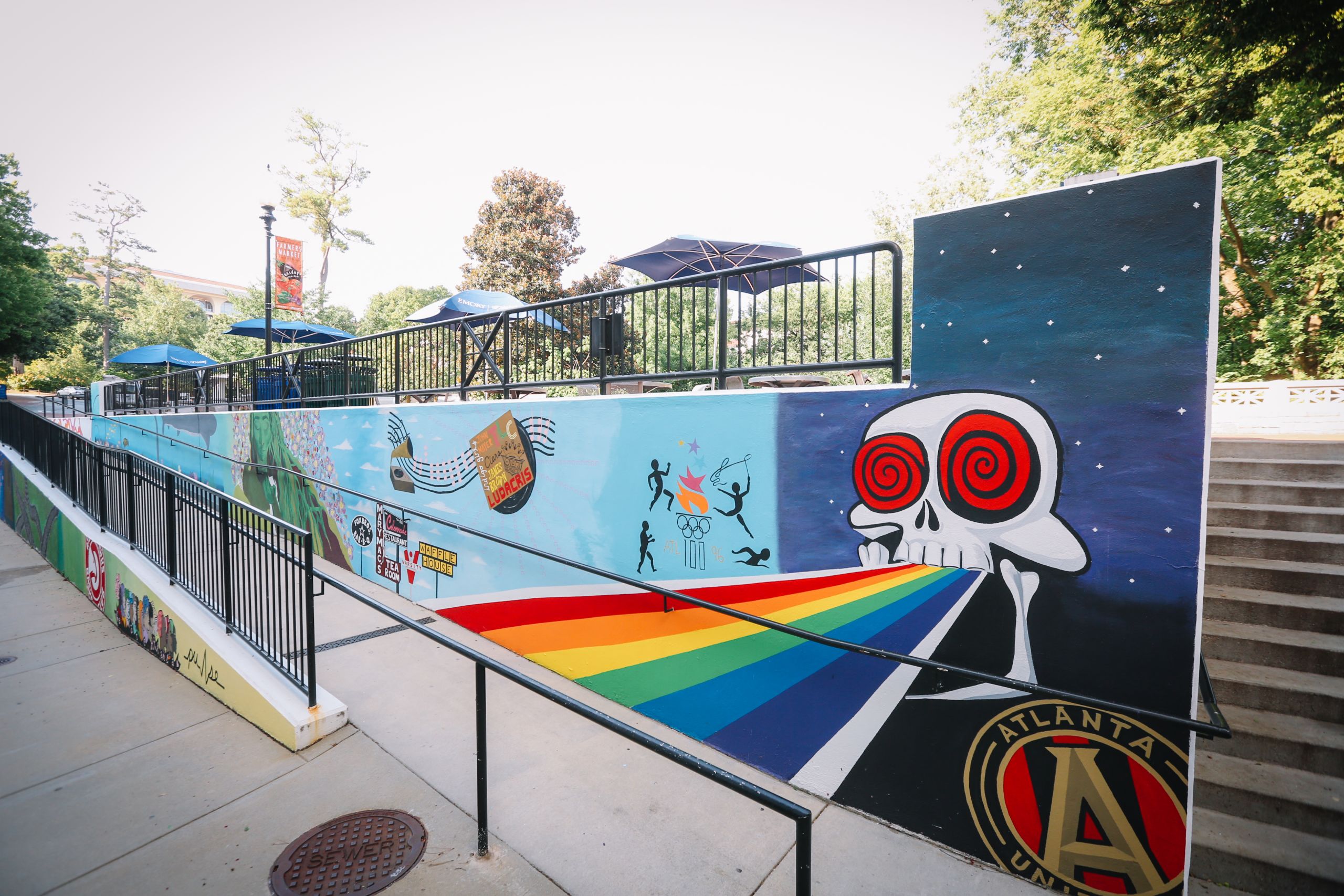 Emory junior Claire Pomykala's desire to add more art to campus led to the creation of the colorful mural outside Cox Dining Hall.
Once Pomykala shared her idea, she was directed to talk with Campus Life representatives David Clark, associate vice president, and David Furhman, senior director of operations. 
"Our job in Campus Life is to support students," Furhman says. "When Claire came to us, we agreed wholeheartedly that a mural was a great idea. We had been looking for ways to brighten up Cox Hall and the blank wall beside the outdoor dining area seemed like the perfect spot. We took a site visit together and the students loved it." 
Pomykala's next step was to determine the mural's theme. "I had no idea what to paint," she says. "The concept of Atlanta kept coming up over and over again among The Pulse executive board. The artists and David Furhman loved the idea when I told them, so I decided to go with it."
She adds that the Atlanta theme is especially fitting since the Emory campus is now part of the City of Atlanta. "You see murals in neighborhoods all around Atlanta, whether you're at the Krog Street Market, in Kirkwood or biking on the BeltLine. Why shouldn't Emory be part of that? It only makes sense that Emory has murals, too."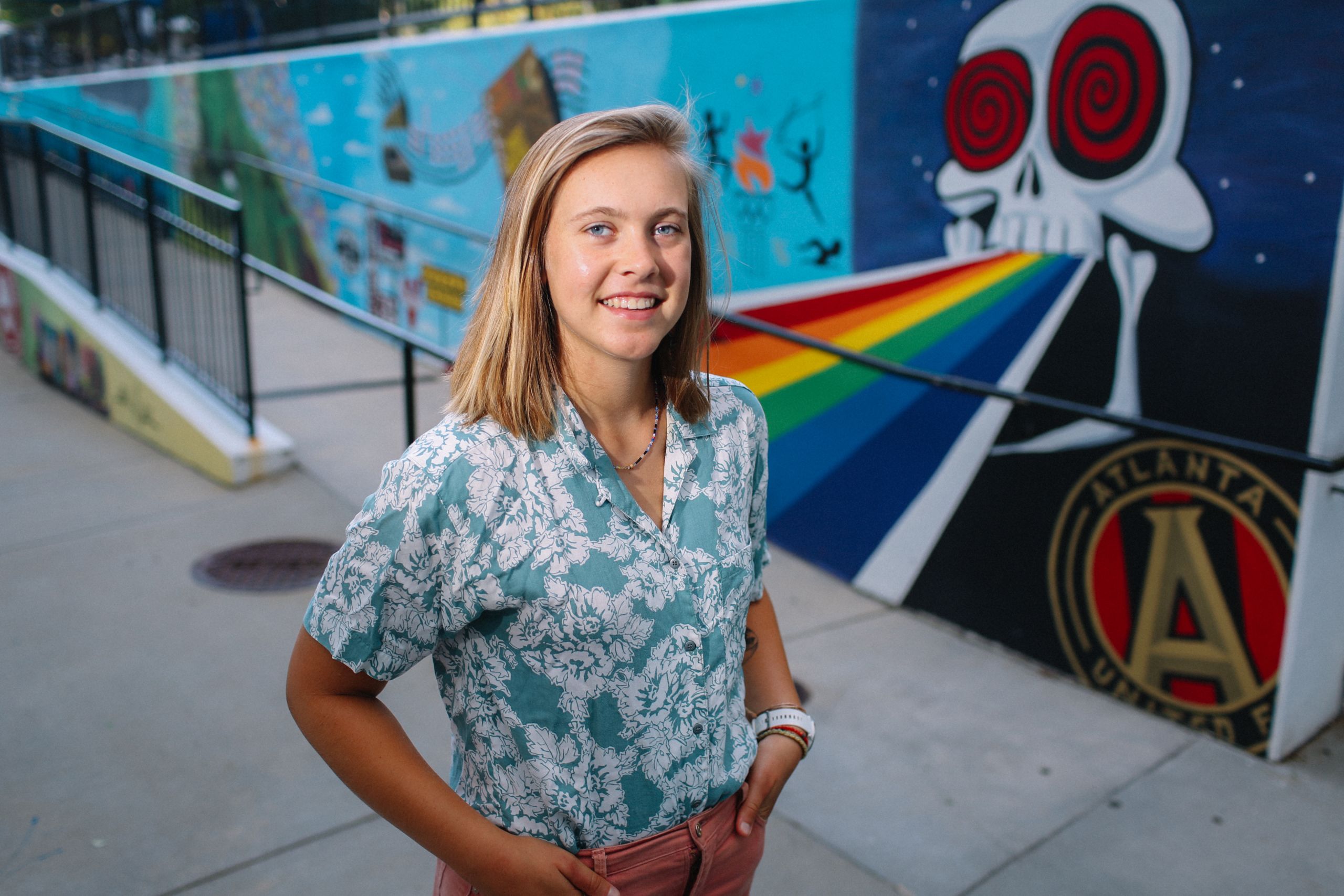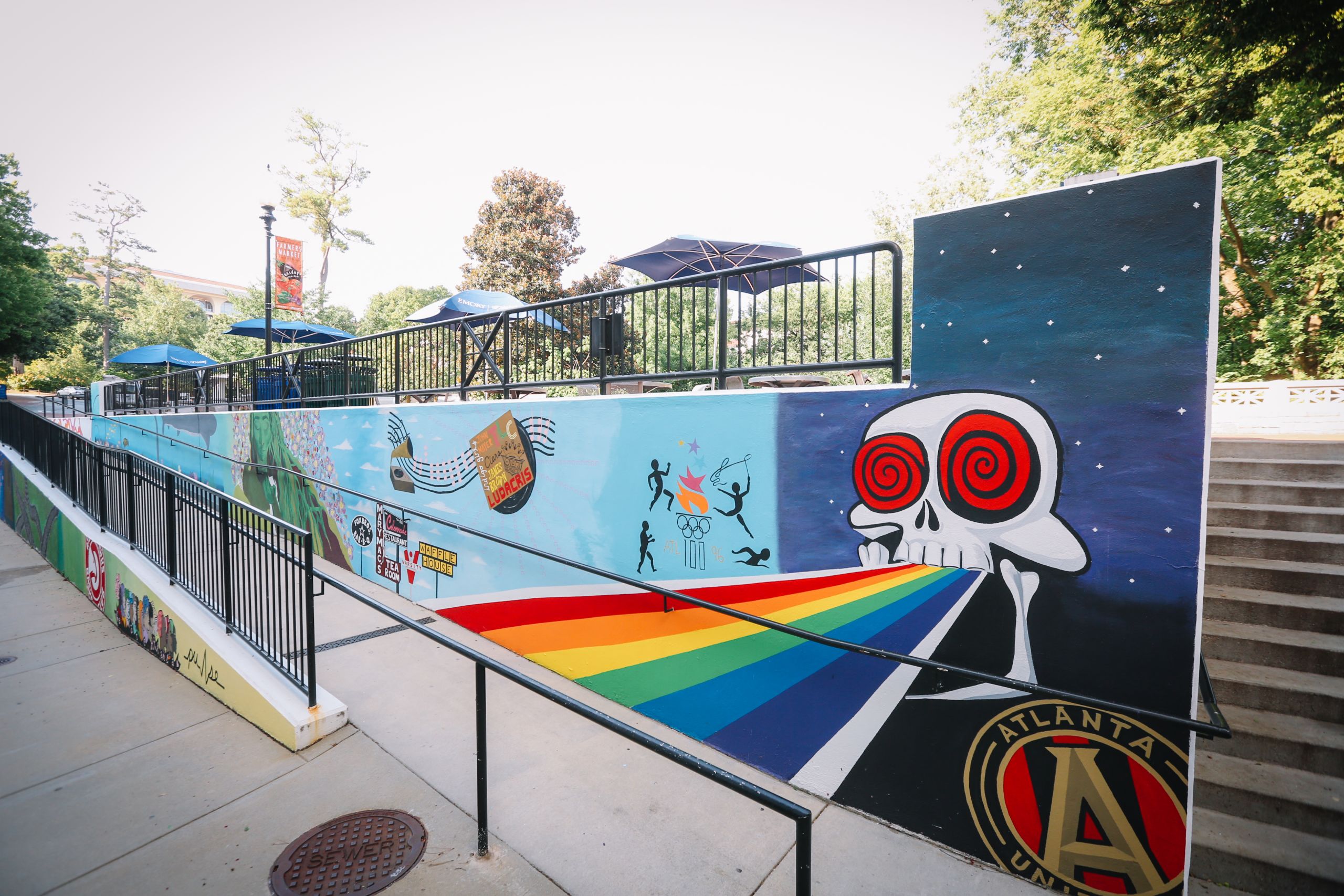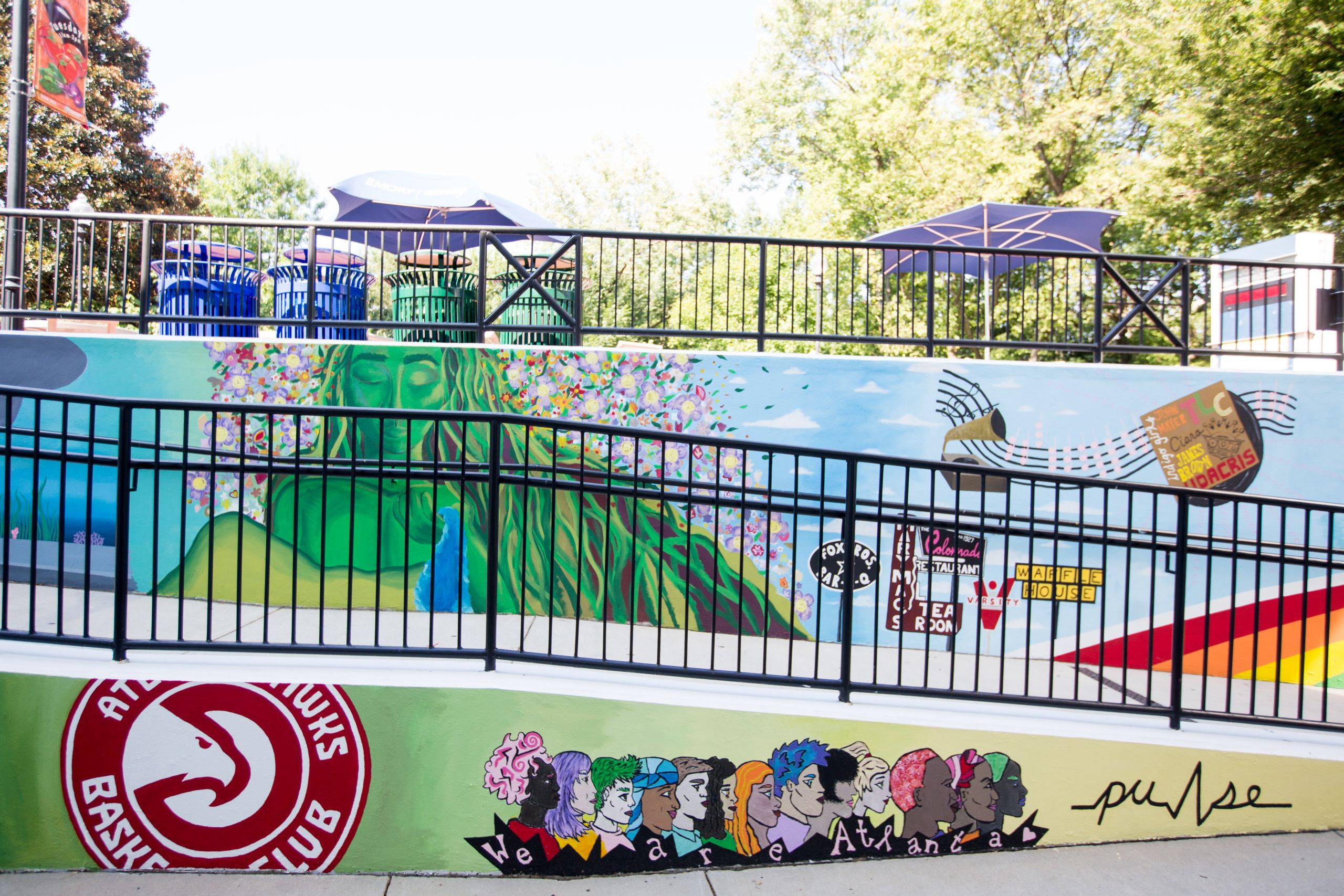 Armed with the theme, Pomykala pulled together a list of ideas centered on Atlanta: the city's skyline, music, Martin Luther King, Jr., Atlanta United and more. As word of the mural spread through social media and other arts-related organizations on campus, so did the excitement.
"It's been a dream of mine to paint a mural," says Sierra Basquez, a junior marketing and entrepreneurship major. "I loved the idea of sharing my work publicly and giving back to the school that changed my life by giving me access to a higher education."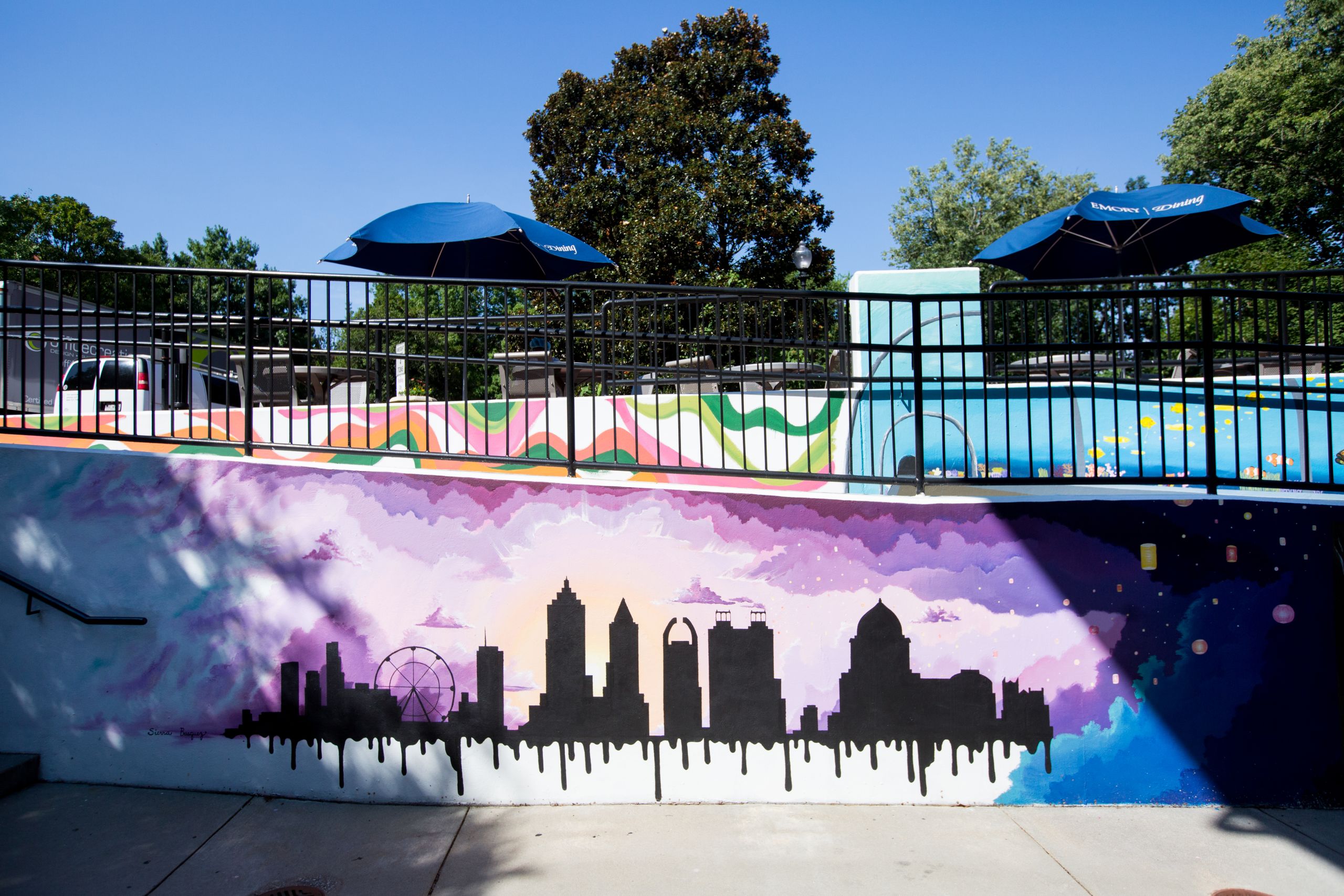 The mural includes images that represent Atlanta, such as the city skyline, Martin Luther King Jr., railroad tracks and the Georgia Aquarium.
"I saw someone advertising the project on Instagram and thought it sounded like a really interesting thing to work on," adds Mallika Kolachala, who graduated in May with a degree in human health and a minor in sociology. "I attended the initial interest meetings and ended up becoming one of the lead artists." 
People who wanted to help were given Pomykala's list of ideas. "They were free to take whichever subject they wanted and create their own design," she says. "Then we used their designs to create a cohesive piece."
The students showed their concept sketches to Furhman, who was enthusiastic about the project's direction. 
"When we saw what they wanted to do, it was a real 'wow' moment for us. We loved how the design represented Atlanta and its diversity. The students are so incredibly talented and were so excited about the project." 
Pomykala and Basquez set to work making colored sketches on large paper and mapping the design on the wall. They dedicated hours to perfecting the final design, determining colors, purchasing paint and supplies with Furhman's assistance, and scheduling painting sessions that wouldn't conflict with Cox Hall activities. 
Anyone who did not have a specific section to work on helped with smaller tasks. Katelyn Roebuck, for example, refers to herself as a "helping hand" rather than a lead artist. "I helped with the Atlanta United seal, the backdrop behind the row of faces and the Pulse symbol," the sophomore says. "I also helped with any touch-ups that were needed."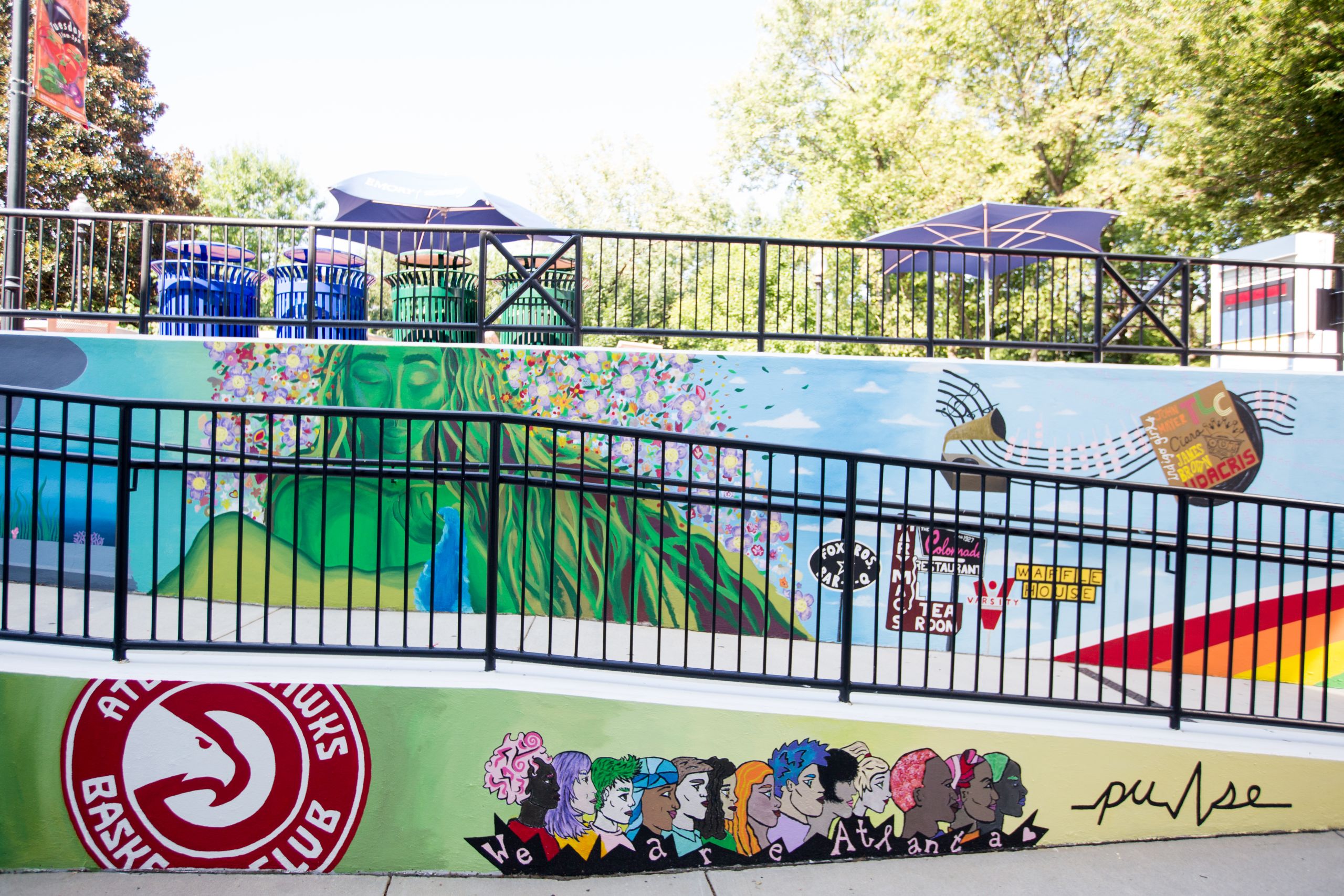 Images invoking Atlanta-based musicians and restaurants join a collection of people who represent the diversity of Atlanta and Emory.
Hayden Hadley, a junior studying strategy and management consulting, designed and painted the row of 13 colorful faces that proclaim "We are Atlanta."
"I felt that it was vital for part of the mural to exemplify the incredible diversity that exists at Emory and in Atlanta overall," she says. "I sat on the ground for many hours painting those faces. Friends and a few strangers sat with me to help if they had time. People would pass by and just thank us for working on it, saying that the mural made them feel happy. It was amazing to meet appreciators and creators of art at Emory." 
Maggie Fagan agrees, saying that her favorite aspect of the project was the collaboration between artists. "It initially felt a little like a random collection of artists from all corners of the university," says the junior who is studying NBB (neuroscience and behavioral biology) and French. "It was really cool to see everybody's individual styles and ideas come together into one unified piece."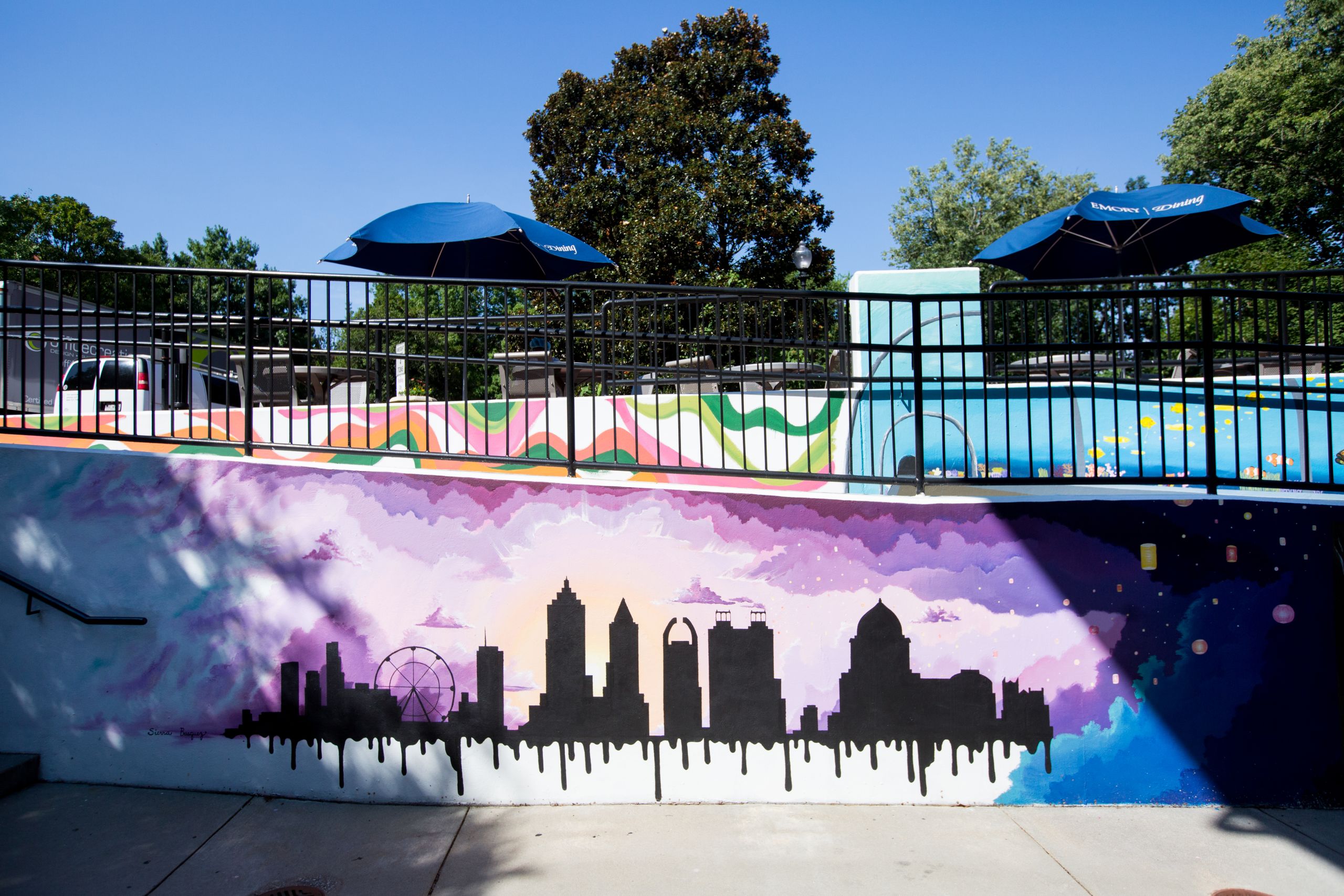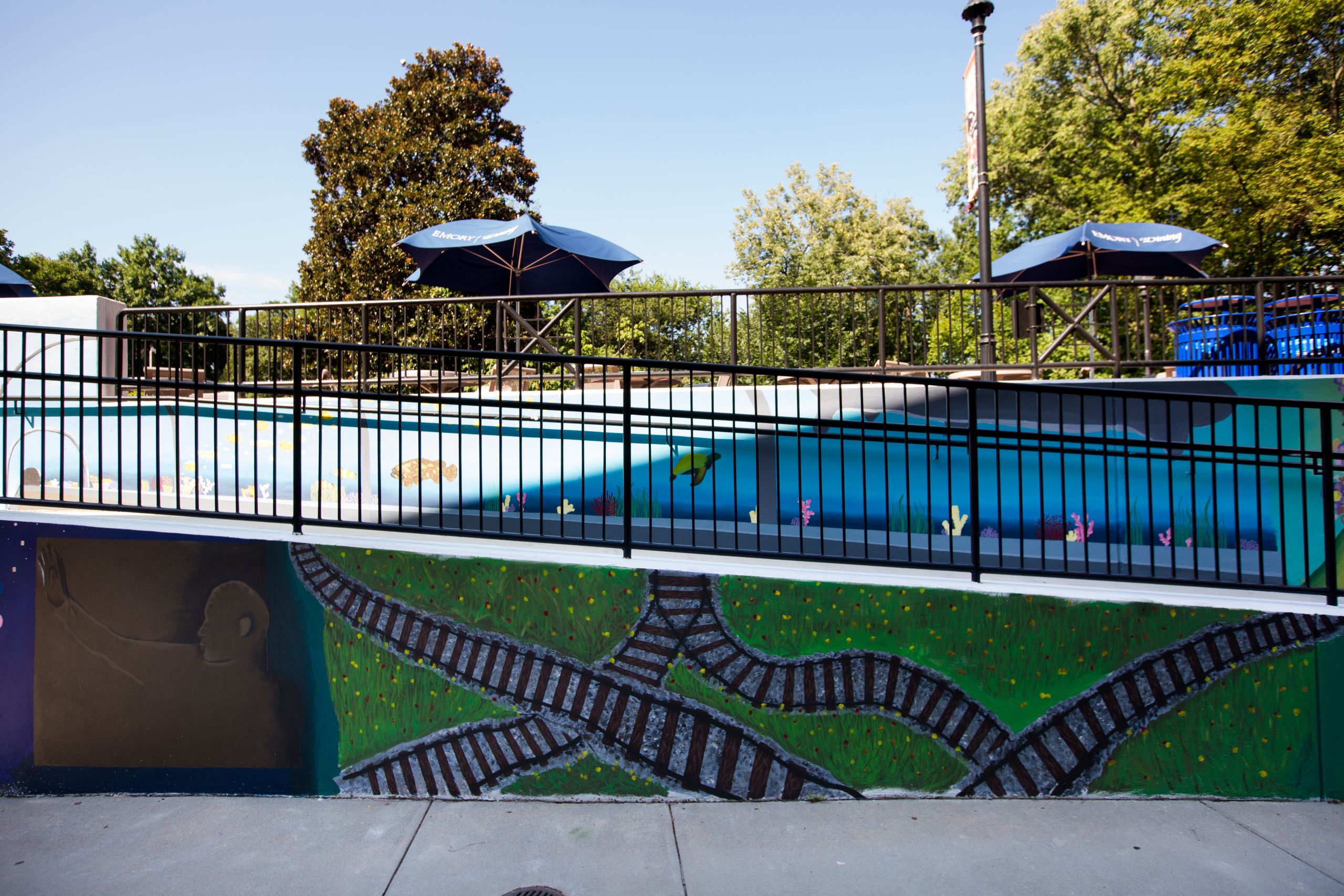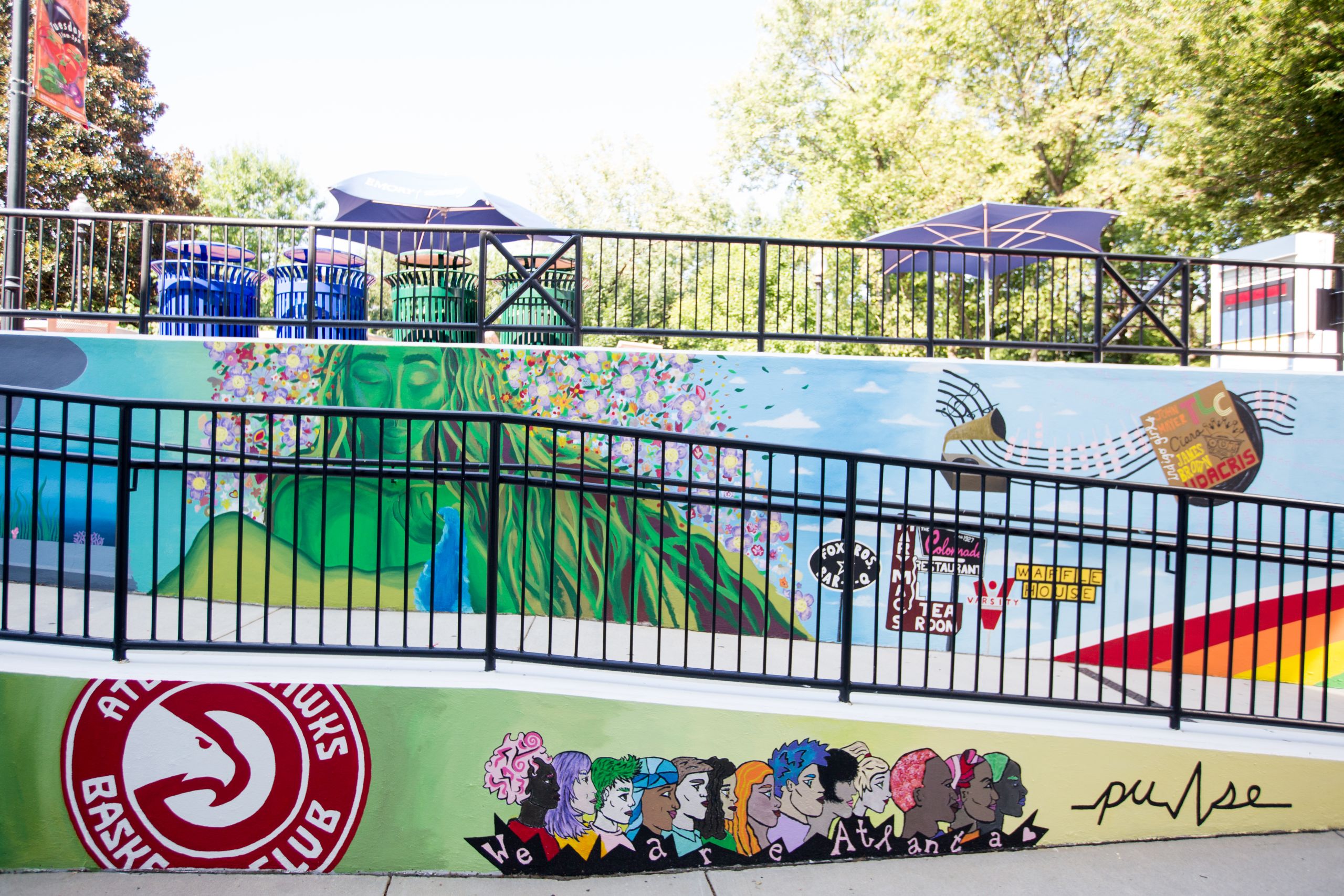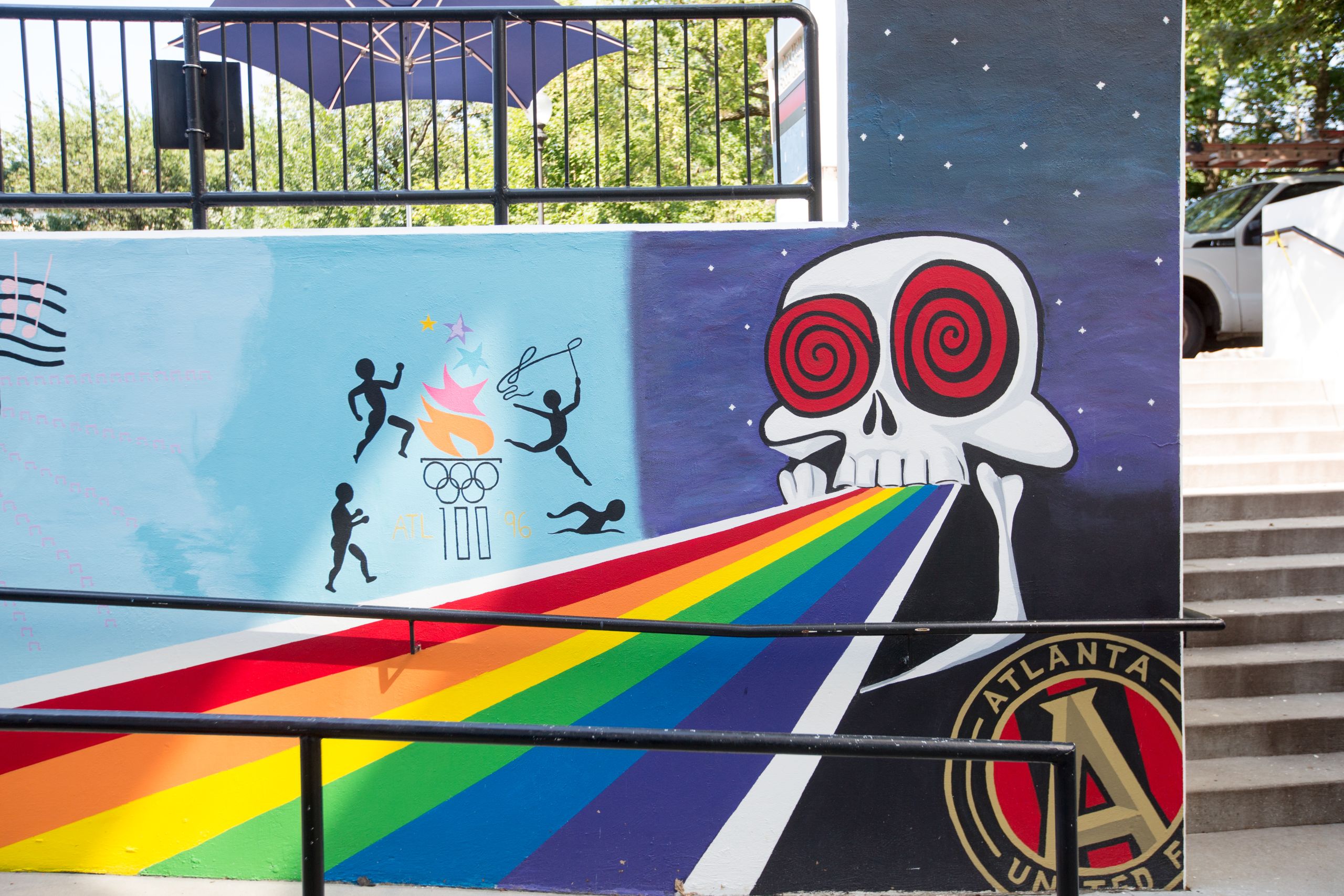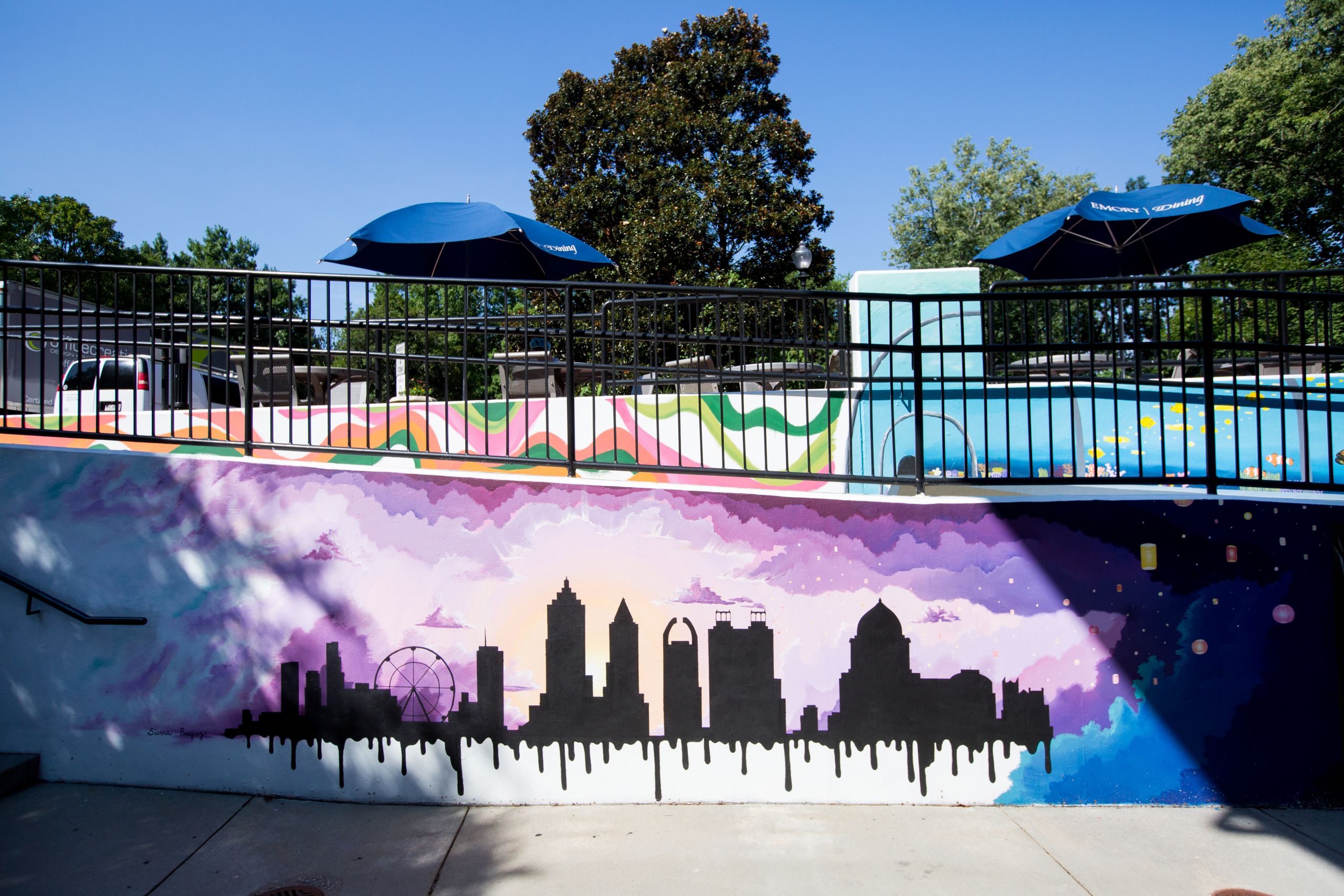 The result was a double-level mural showcasing past and present touchpoints for Atlanta including the 1996 Centennial Olympics, destination restaurants such as the Varsity and Mary Mac's Tea Room, Midtown's rainbow crosswalks, Georgia musicians, the Georgia Aquarium and the Atlanta skyline. 
"The mural is intended to bring together key things that represent Atlanta so that it hopefully helps students, faculty and staff feel more at home on campus. It's a nice way to brighten up campus and acknowledge the benefits of including the arts in academic spaces." 
"At The Pulse, we're always looking for new ways to bring arts to campus," adds Rebecca Neish, a senior majoring in human health and minoring in dance. "I feel like the mural does a fantastic job to remind members of the Emory community of the wealth of artistic talent on this campus." 
"I think it adds beauty to the campus and also inspires others to contribute to Emory in the same way," says Neha Vaddepally, who just graduated with degrees in human health and philosophy. "We live busy lives and having this mural at Emory is a reminder that there is still time for art."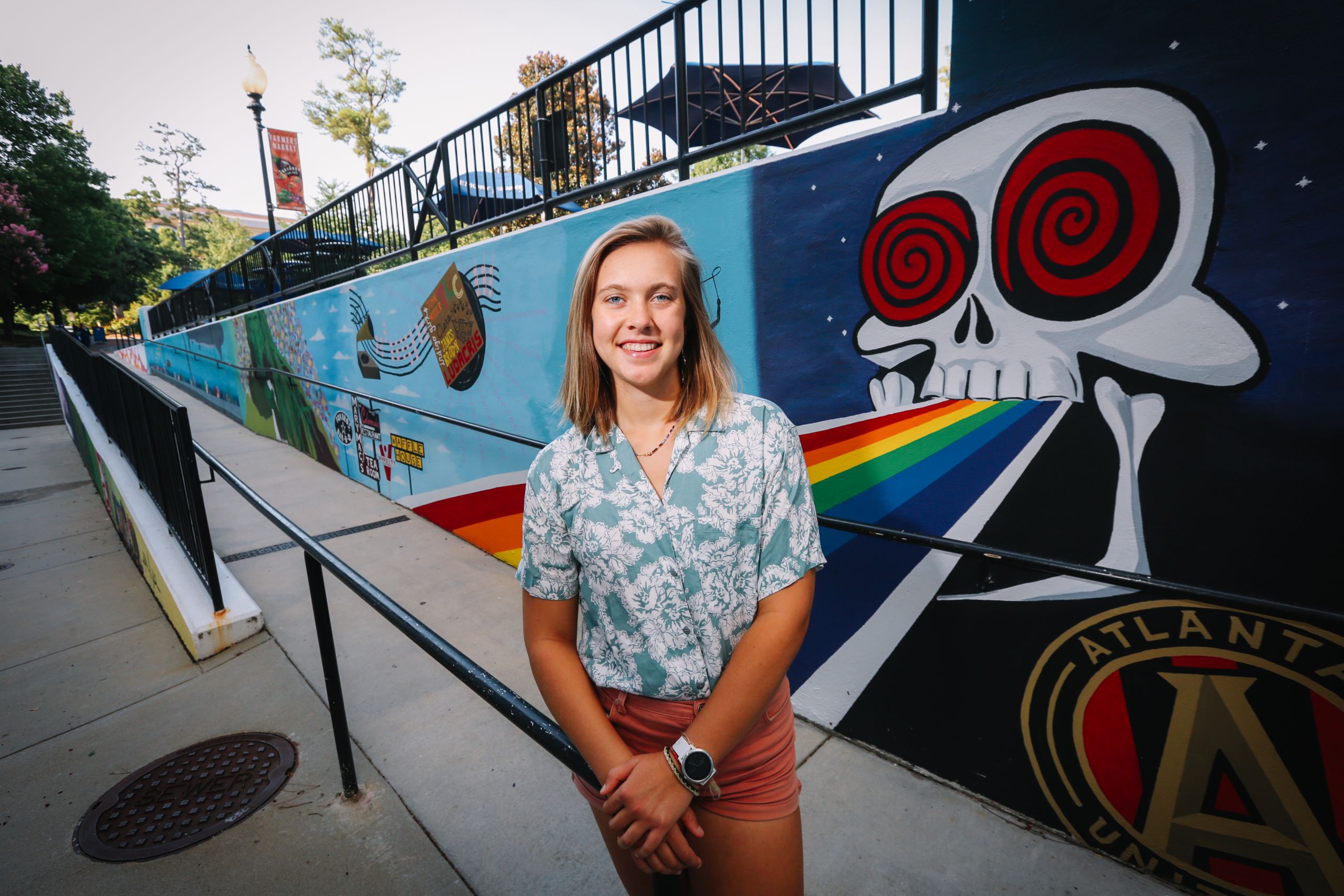 Pomykala and her fellow student artists hope their work will encourage others to share art with Emory.
Pomykala echoes that hope. 
"My favorite part of this experience has to be the reactions I'd hear from strangers and friends," she says. "I can't remember a single day when someone didn't bring me a cup of water and compliment me on our work. Art is such a big part of people's identities. It was a very satisfying project for us as artists, but also for the Emory community."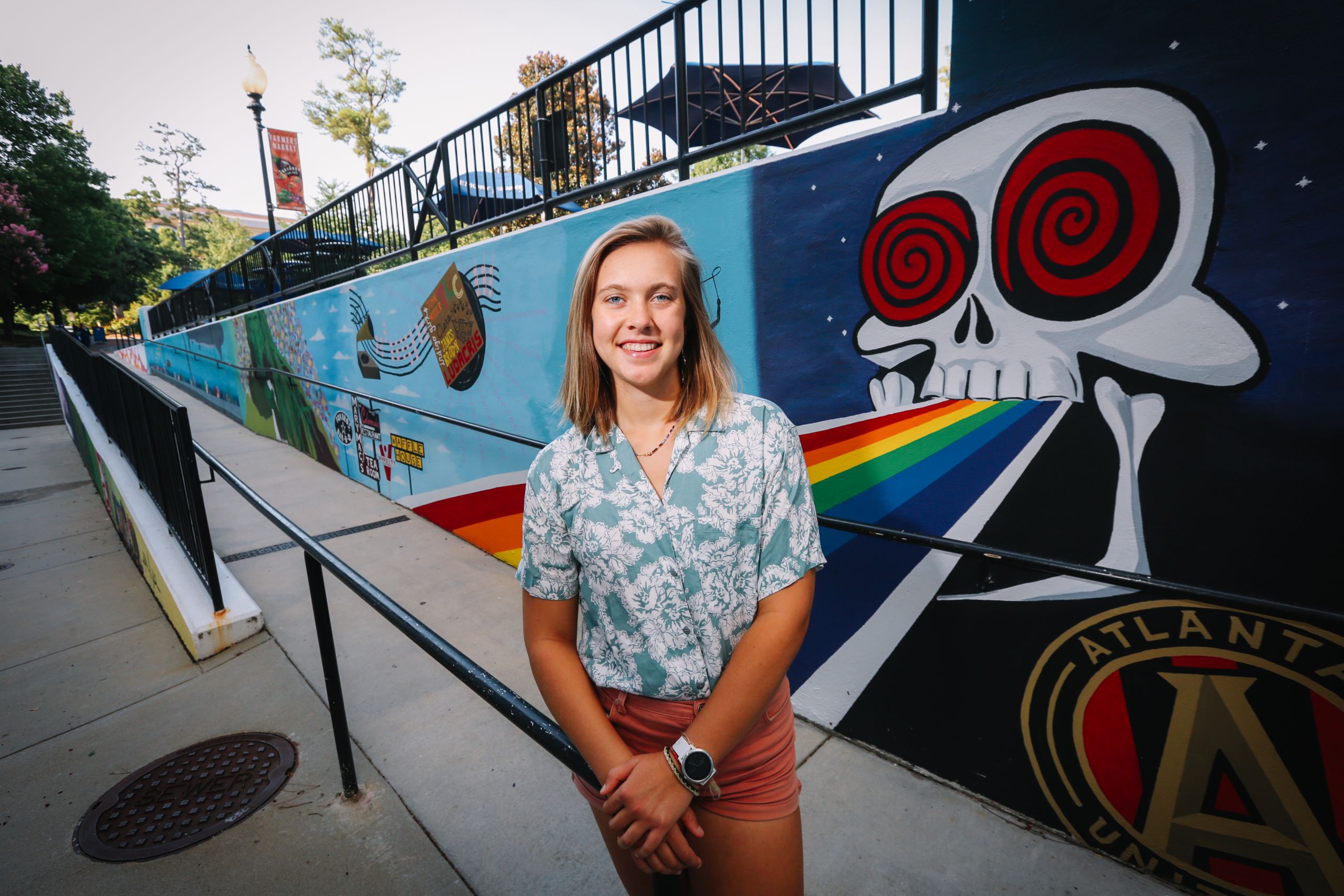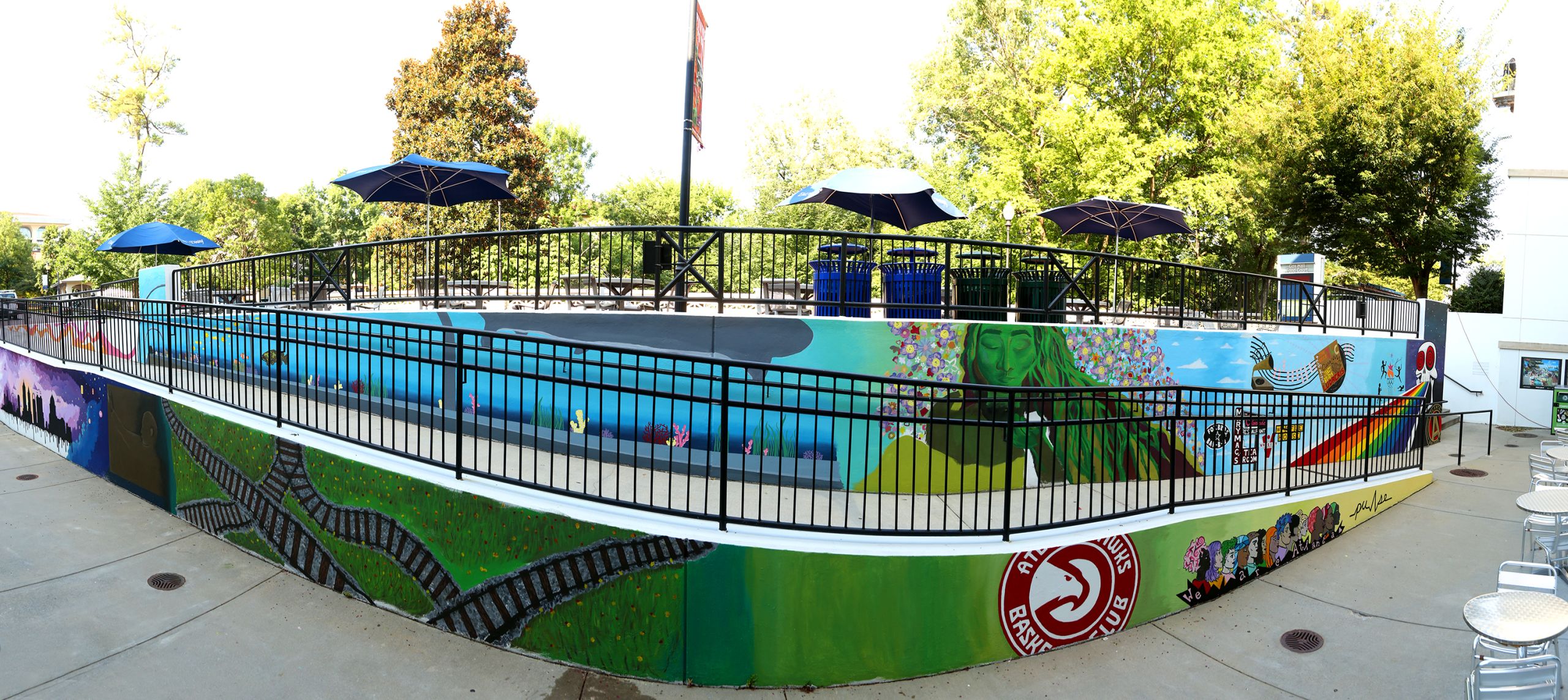 Sierra Basquez –Junior / Marketing and Entrepreneurship
Carolina Jaime Chinchilla – Junior / Business Administration and French Studies
Maggie Fagan – Junior / Neuroscience and Behavioral Biology and French Studies
Hayden Hadley – Junior / Strategy and Management Consulting
Celia Jacobs – Sophomore / Undeclared major 
Jessica Kang – Sophomore / Quantitative Sciences 
Mallika Kolachala – 19C / Human Services, Sociology minor
Saayli Kokitkar – 19C / Anthropology, Human Biology and Religion
Michelle Mugo – Senior / Psychology
Rebecca Neish – Senior / Human Health, Dance minor
Claire Pomykala – Junior / Human Health
Katelyn Roebuck – Sophomore / Undeclared major
Annie Schiffer – Senior / Environmental Science and Biology 
Neha Vaddepally – 17Ox, 19C / Human Health and Philosophy
---
About this story: Written by Leigh DeLozier. Photos by Stephen Nowland.