Celebrating Emory's
Class of 2019
174th Commencement
May 13, 2019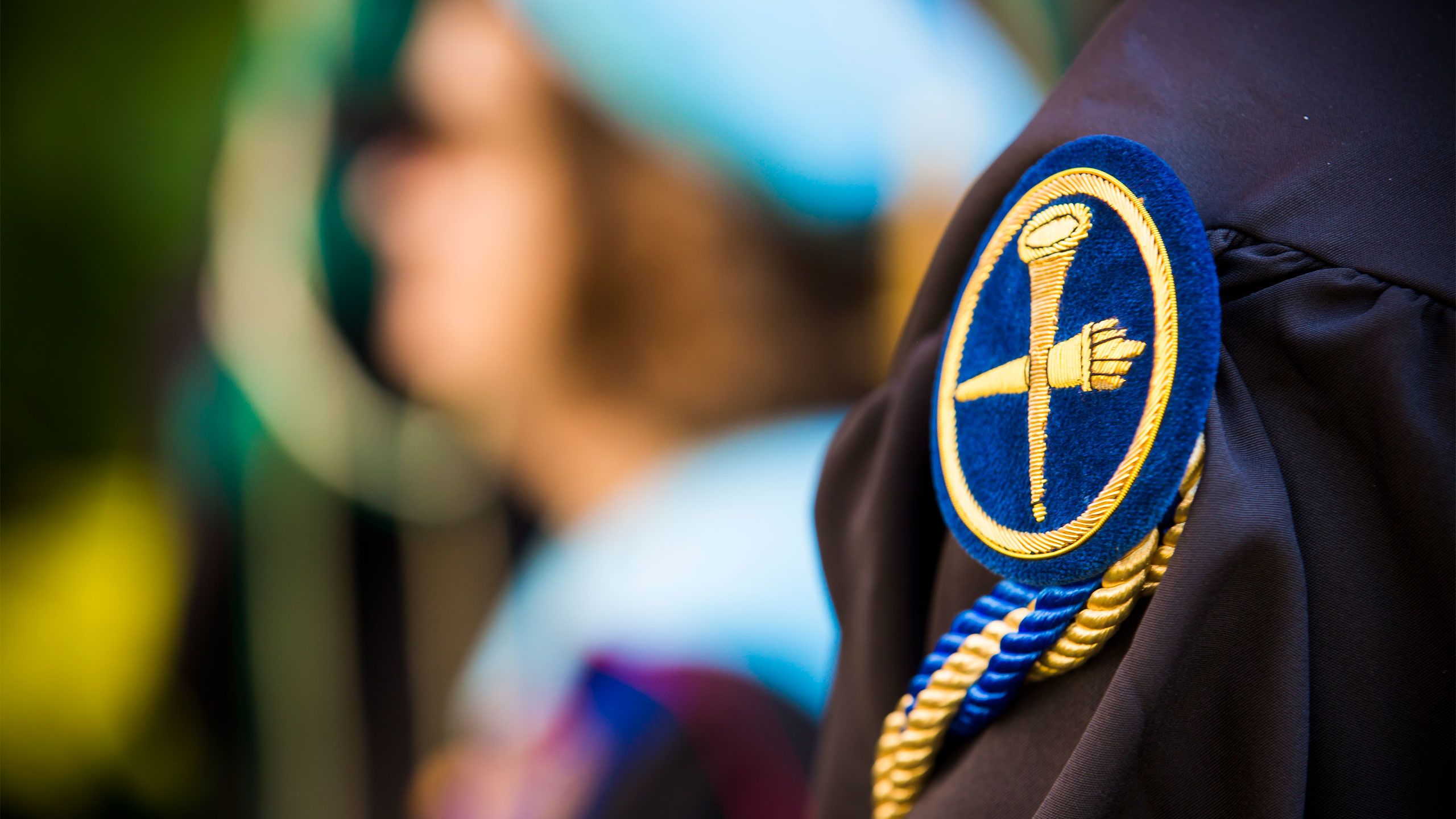 Emory's 174th Commencement celebrated the soaring achievements of the Class of 2019, as this year's talented graduates prepare to transform the world as tomorrow's leaders.
As they move forward to start their own next chapters, Emory's newest graduates were urged to embrace the lessons and the mysteries posed by life's unexpected turns — because great change can happen when you least expect it.
"The challenges that life has put in your path, those are not stumbling blocks — those are stepping stones that will take you into a future that neither you nor I can imagine," said former U.S. Ambassador Andrew Young, a U.S. civil rights icon, humanitarian and global diplomat.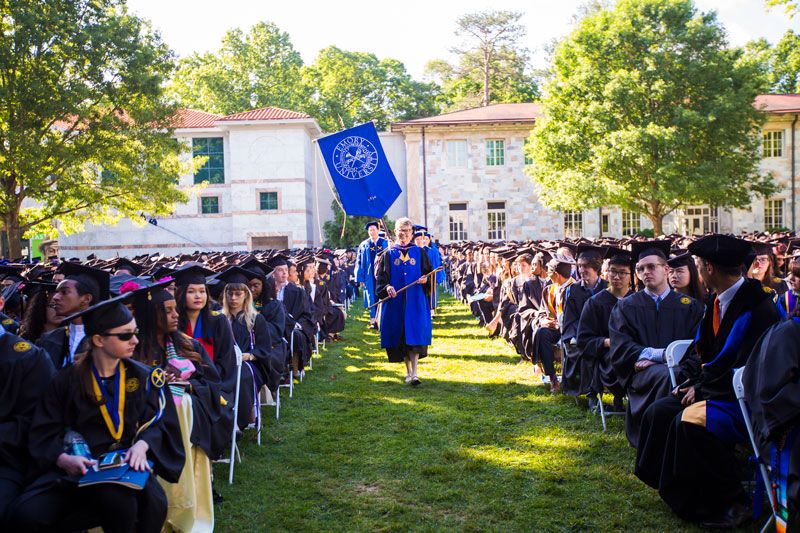 Students and faculty process onto the Quadrangle dressed in caps and gowns and colorful academic regalia.
In a keynote address drawn from his own experiences in activism, politics and international diplomacy, Young told graduates that he understood the emotions that can emerge at graduation, as students step out to confront the challenges of an increasingly complex world.
The good news is that Emory graduates are beginning that journey with the gift of "a wonderful education," he said. "You have tremendous opportunity, you have tremendous training."
The harder truth? Despite the most carefully drawn plans, graduates will always face uncertainties about exactly where their journeys will lead and what their roles should be in trying to create change in the world around them, he said.
Young urged Emory graduates to remain open to the experiences that await them and ready to keep learning from life's classroom.
"With the kind of love and investment that has been made in you, the kind of future that we dream for ourselves and for you, this is a great day and you are a great people created for just such a day as this," Young said.
"God has blessed you. Pass those blessings throughout his creation."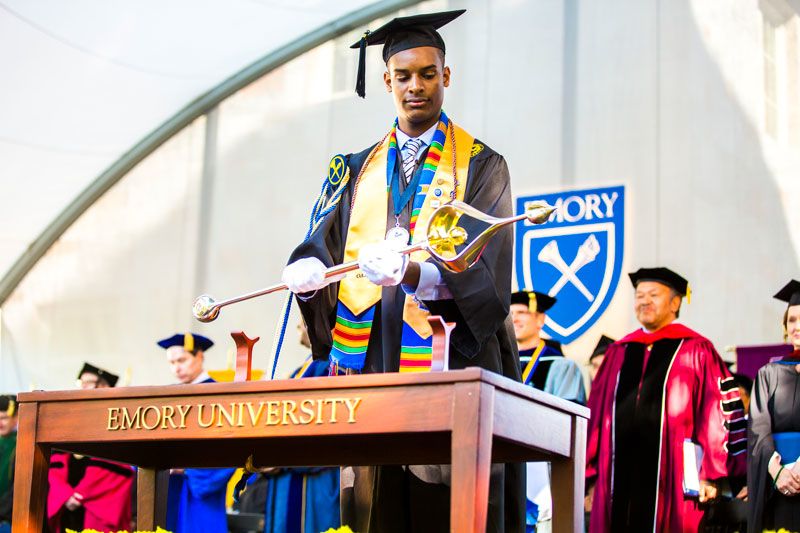 Serving as bedel of the university, John Ethan Priddy places the Emory mace as the ceremony begins. Priddy graduated from Emory College with a major in political science and history.
Themes of service, lifelong learning and the transformative power of education were woven throughout the May 13 ceremony, as 4,835 graduates assembled on the Emory Quadrangle for the conferral of degrees from the nine schools that comprise Emory University.
Blue skies and golden sunshine provided a bright canopy for about 15,000 guests who gathered to celebrate the Class of 2019. Emory President Claire E. Sterk congratulated graduates on their achievements, commending their eagerness to discover, sense of purpose and commitment to positive transformation.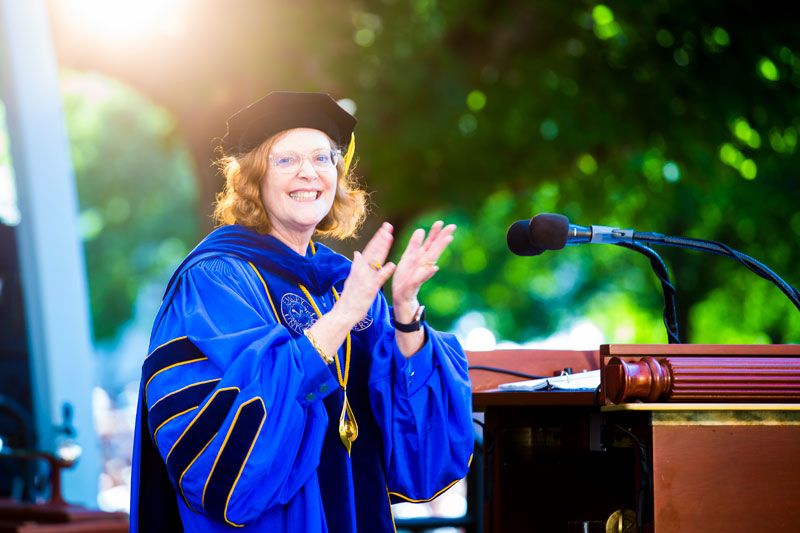 "Education — the life of the mind — is fundamental to human rights. It's the key to equality, to fighting poverty, to creating health and wellbeing for all," Sterk said.
"Graduates, use your education," she said. "It's the most powerful tool you have to change the world — your world, the world close to home and the world far away, as well as the world into the future. A better world that we cannot even begin to imagine today."
With confidence, Sterk predicted that the Class of 2019 "will do much more than survive — you will flourish," she said. "And the journey is all yours."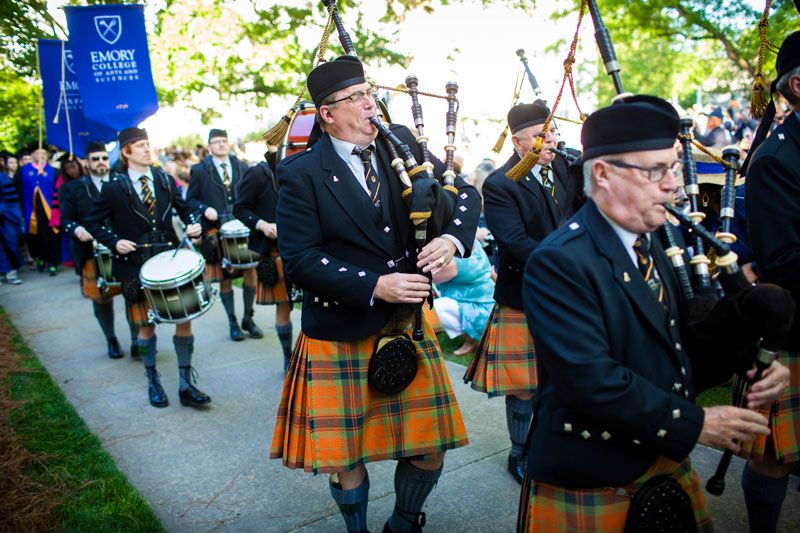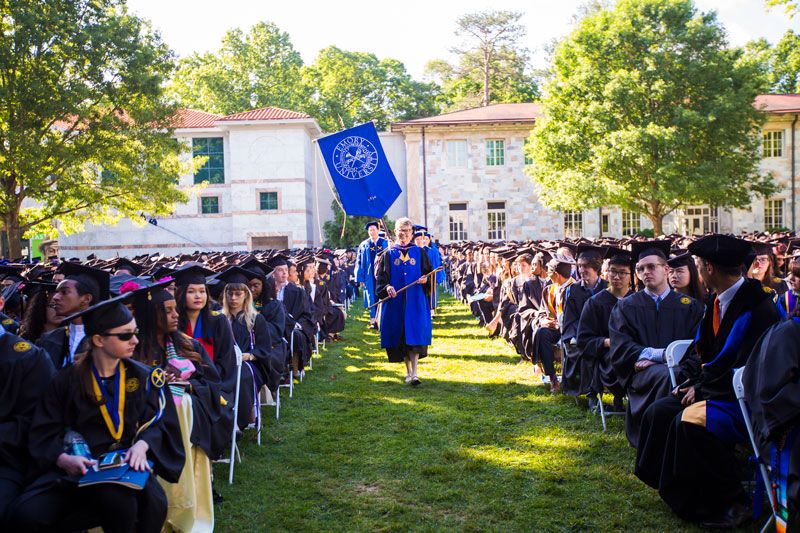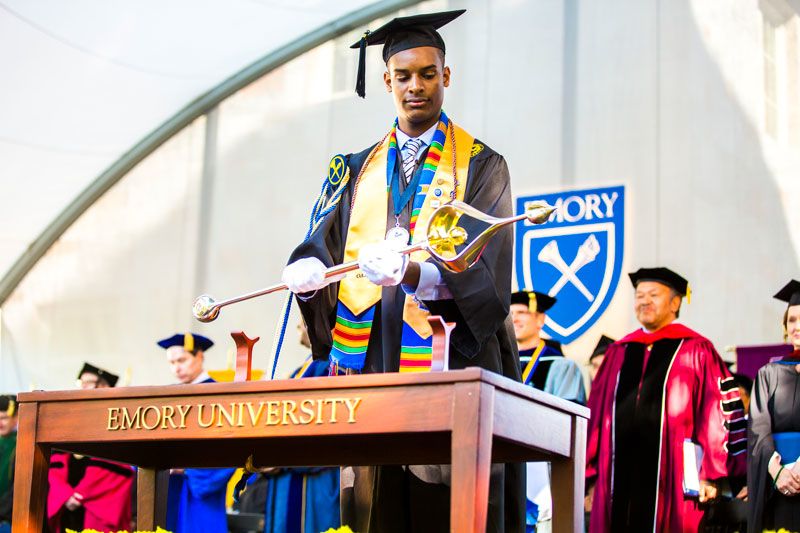 View highlights of Emory's 174th Commencement.
View highlights of Emory's 174th Commencement.
The power of change
In his keynote, Young recalled how his own graduation from Howard University some 68 years ago had filled him with a flood of questions.
And with them came nagging doubts, "when you realize what there is left to do and that this education — as wonderful as it is — only scratches the surface of the world in which we live, and where do we go from here?"
Young recounted how he fought feelings of despair as he drove with his parents from Washington, D.C., to New Orleans after his 1951 graduation. When they stopped for a church conference in the community of Kings Mountain, North Carolina, Young decided to go for a run in the foothills of the Blue Ridge mountains.
Scaling the steep incline and refusing to slow, Young pushed himself to utter exhaustion. Reaching the top, he paused, barely able to breathe.
"It was a moment, for me, of terrible frustration until I caught my breath and opened my eyes," he recalled. "All the sudden I saw a blue sky — like this one — I saw trees like those around, I saw fields of corn, and I saw an earth in which everything seemed to have purpose."
"It suddenly hit me — whoever made heaven and earth … he couldn't have left me out. There's something there for me too," said Young, who began his career as a pastor. "In fact, I could not conceive of a creator, that would create a generation like this, that did not each have a special, specific divine purpose."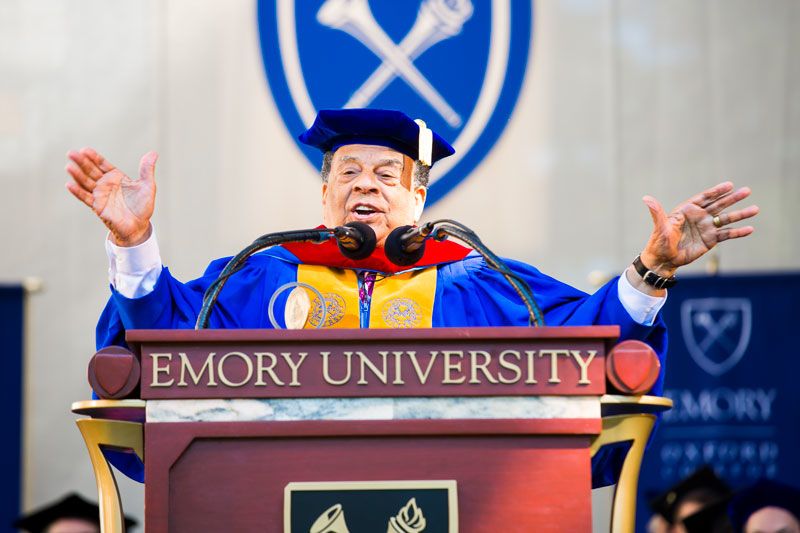 Reflecting upon his early work in the U.S. civil rights movement alongside the Rev. Dr. Martin Luther King, Jr., Young acknowledged not knowing where their efforts would lead.
"We did kind of change the world in some ways," he said. "But I'll let you in on a little secret — we really didn't know what we were doing. We had no idea how this country could change."
In the end, their activism would lead to landmark legislation — passage of both the Civil Rights Act of 1964 and the Voting Rights Act of 1965. Young would continue to shape history, twice elected mayor of Atlanta, serving Georgia in the U.S. Congress, and as U.S. ambassador to the United Nations.
Young told graduates that he believes "we are all part of a spiritual universe which we don't fully understand, which we're just beginning to reach into. The mysteries of our lives far outweighs the burdens and the challenges and the successes that we have achieved."
As they encounter obstacles along their own roads, he urged students to "relax and let go, then something divine is liable to happen in your lives."
"We are more than human beings dealing with the frustrations of an earthly life," Young said. "We are spiritual beings."
"And somehow in the realization of the spirituality of our being, there is a power that we do not understand and maybe should not try," he said. "But when we release ourselves to the ultimate imagination of our divinity, glorious things happen."
In recognition of his contributions to creating peace and cultural achievements, Sterk presented Young with the President's Medal. Honorary degrees also went to Helene D. Gayle, president and CEO of The Chicago Community Trust, who received a doctor of humane letters; and Patricia Flatley Brennan, director of the National Library of Medicine, who received a doctor of science.
U.S. Rep. John Lewis gave the Commencement address at Emory's Oxford College on May 12. See highlights from his speech and Oxford Commencement.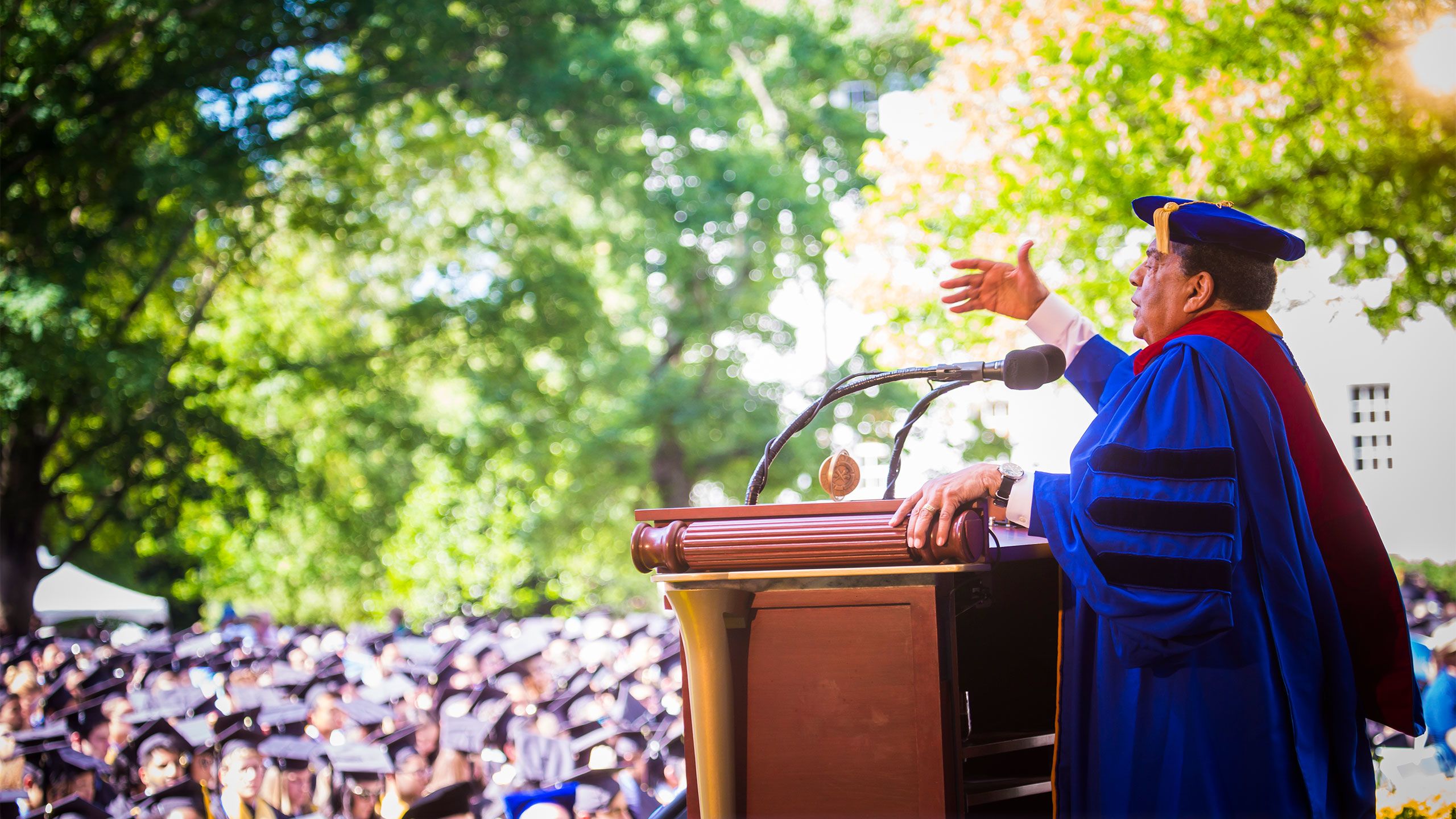 Achievement and inspiration
For the Class of 2019, Commencement was a day of joyful new beginnings and proud reflection — a celebration infused with smiles and selfies, hugs and hearty handshakes as students eagerly contemplated their next steps.
And their supporters came from far and wide — from Monaco to Dubai, Vermont to California — to celebrate the wide-ranging accomplishments of Emory's graduates.
For Shilpa Joshi, being here to see her daughter, Samika Joshi, graduate with a bachelor's degree in biology meant a 21-hour trip from Mumbai, India.
But she wouldn't have missed it. "I'm a mom, after all," she said.
For some, graduating from Emory was the fulfillment of a lifelong dream. For others, academic passions would be discovered here, sparked in the classroom and community, the laboratory and the library, nurtured by academic mentors.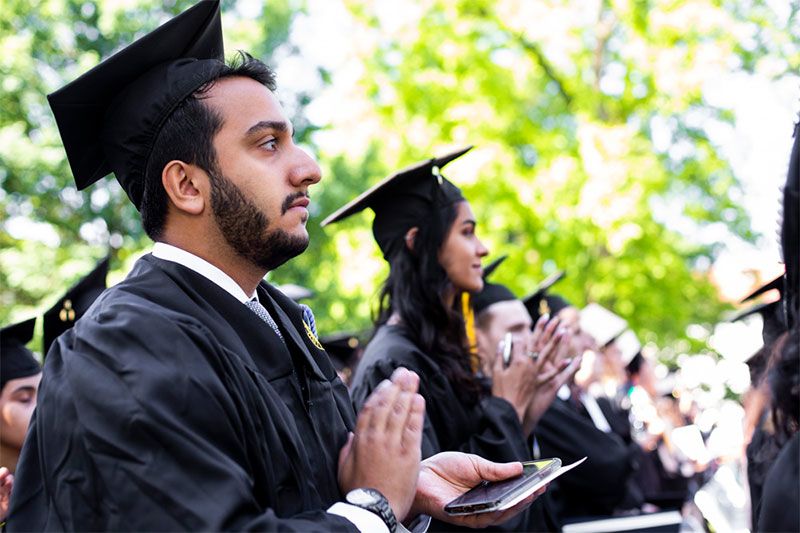 Jordan Pincus, an Emory College graduate from Boca Raton, Florida, majored in neuroscience and behavioral biology and looks forward to beginning research at the Marcus Autism Center. "For me, Emory was almost love at first sight," she said. "The people, the support — it's been an absolutely amazing experience."
After receiving her master's degree from Rollins School of Public Health with a focus on biostatistics, Allyson Mateja will begin working for a science and technology company engaged in a project at the National Institutes of Health in Reston, Virginia. With a bachelor's degree in political science, Jonathan "Jessie" Jemison, a scholar-athlete from Marietta, Georgia, looks forward to working for U.S. Rep. Lucy McBath, of Georgia's 6th congressional district, before applying to law school.
A sociology major, Malachi Gonzales already has his eye on graduate school. He found his passion in food sociology, encouraged that communities could be empowered through sustainable behaviors, as an undergraduate studying under Deric Shannon, an associate professor of sociology at Oxford College.
"I'm not from a place where graduate school is normal. I had some professors who changed my life," Gonzales says. "I would love to be able to do that for someone else."
And while Dana Hanington, of Norcross, Georgia, looks forward to applying her master of divinity degree teaching bible history at the Mount Bethel Christian Academy, she will miss what she found at Emory.
"It's been awesome," said Hanington, a Candler School of Theology graduate. "But I'm going to miss the people and being in a place where everybody wants to learn and grow together. It was challenging, but it was good."
Emory School of Medicine graduates Mfon Umoh, Patricia Cheng, Dave Mathews and Nicole Treadway spent the morning happily getting used to the idea of seeing a string of new initials behind their names: both MD and PhD, as they also earned doctoral degrees through Laney Graduate School.
For Umoh, who will soon begin an internal medicine residency at Johns Hopkins Bayview Medical Center in Baltimore, Maryland, the day marked the culmination of eight years of study at Emory. "It's flown by," she said. "My experience at Emory has exceeded all of my expectations."
Just ask her personal cheering section, which included, "27 of the biggest smiles you have ever seen," she laughed .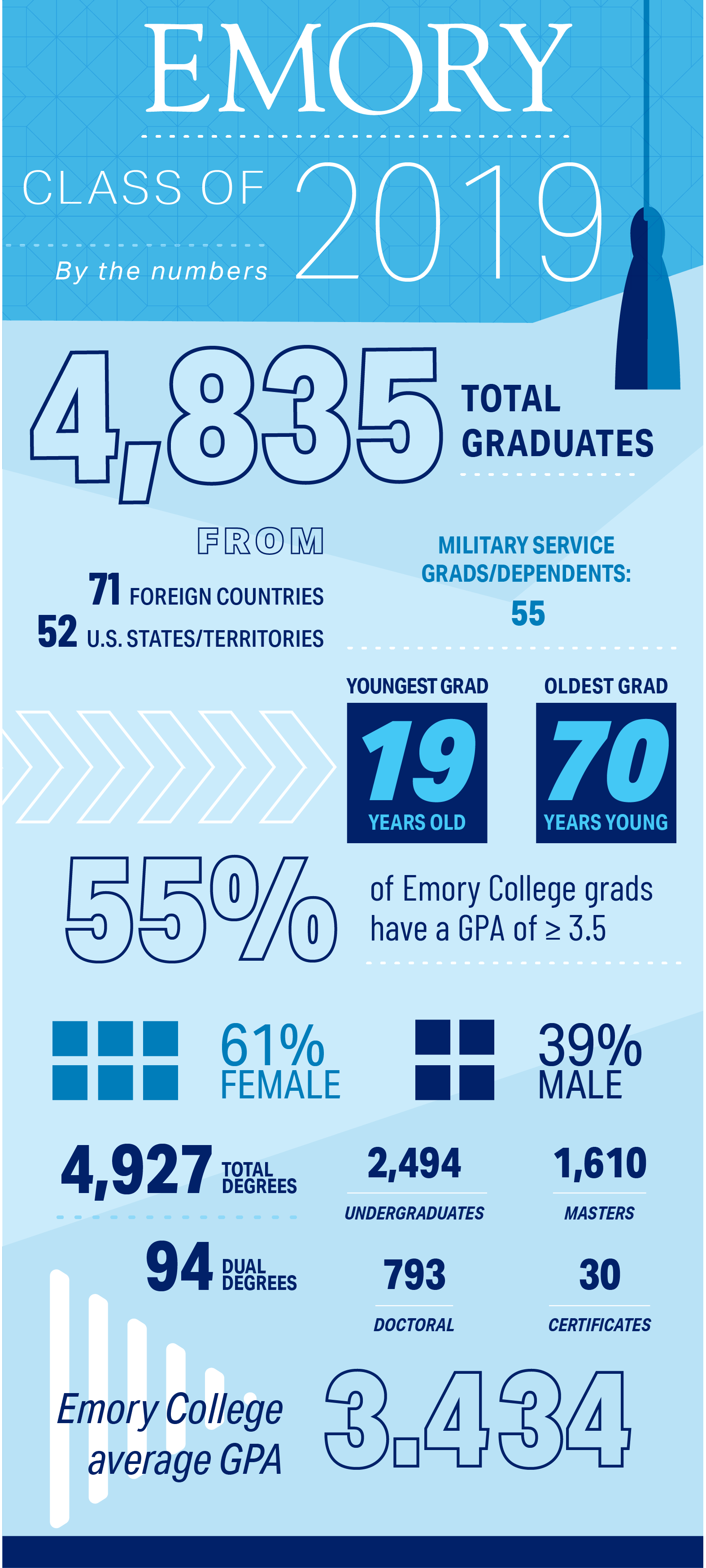 ABOUT THIS STORY:
Writing by Kimber Williams. Photos and video by Ann Watson, Kay Hinton, Corey Broman-Fulks and Stephen Nowland, unless otherwise noted. Infographic by Elizabeth Hautau Karp and Peta Westmaas. Layout by Laura Douglas-Brown. Production by Beth Savoy.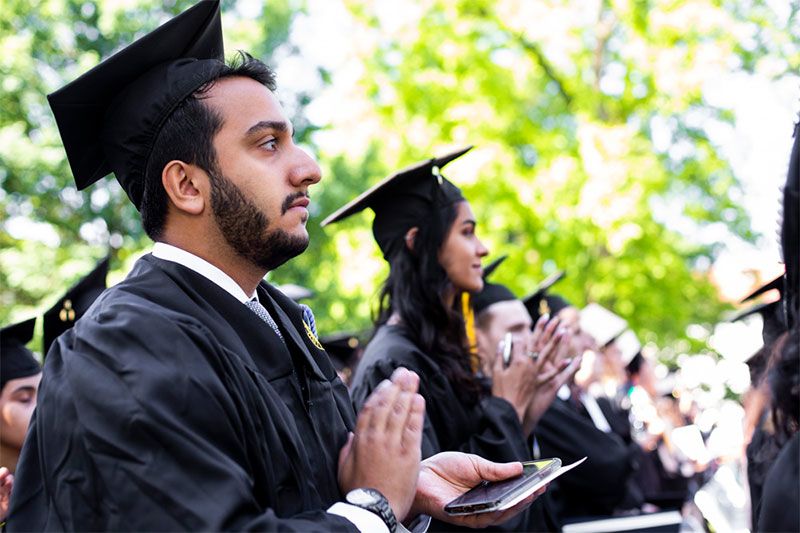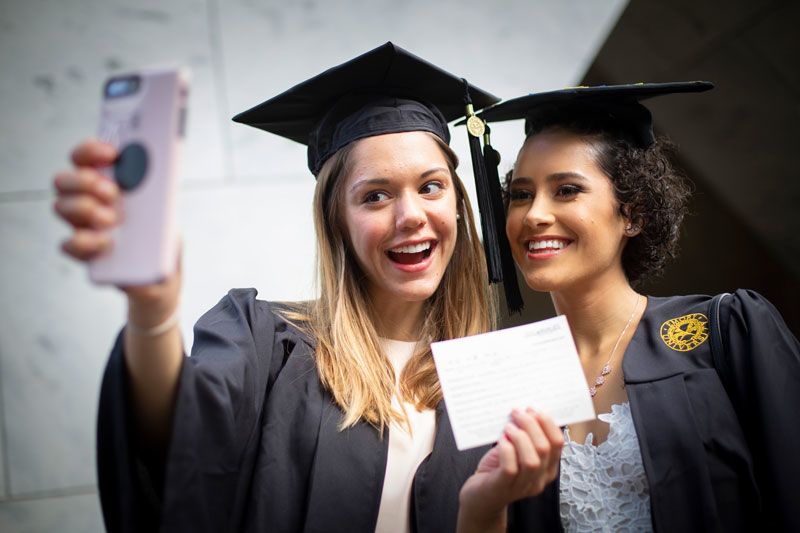 Awards & Honorary Degrees
Students, faculty and members of the community who received Emory's top honors at Commencement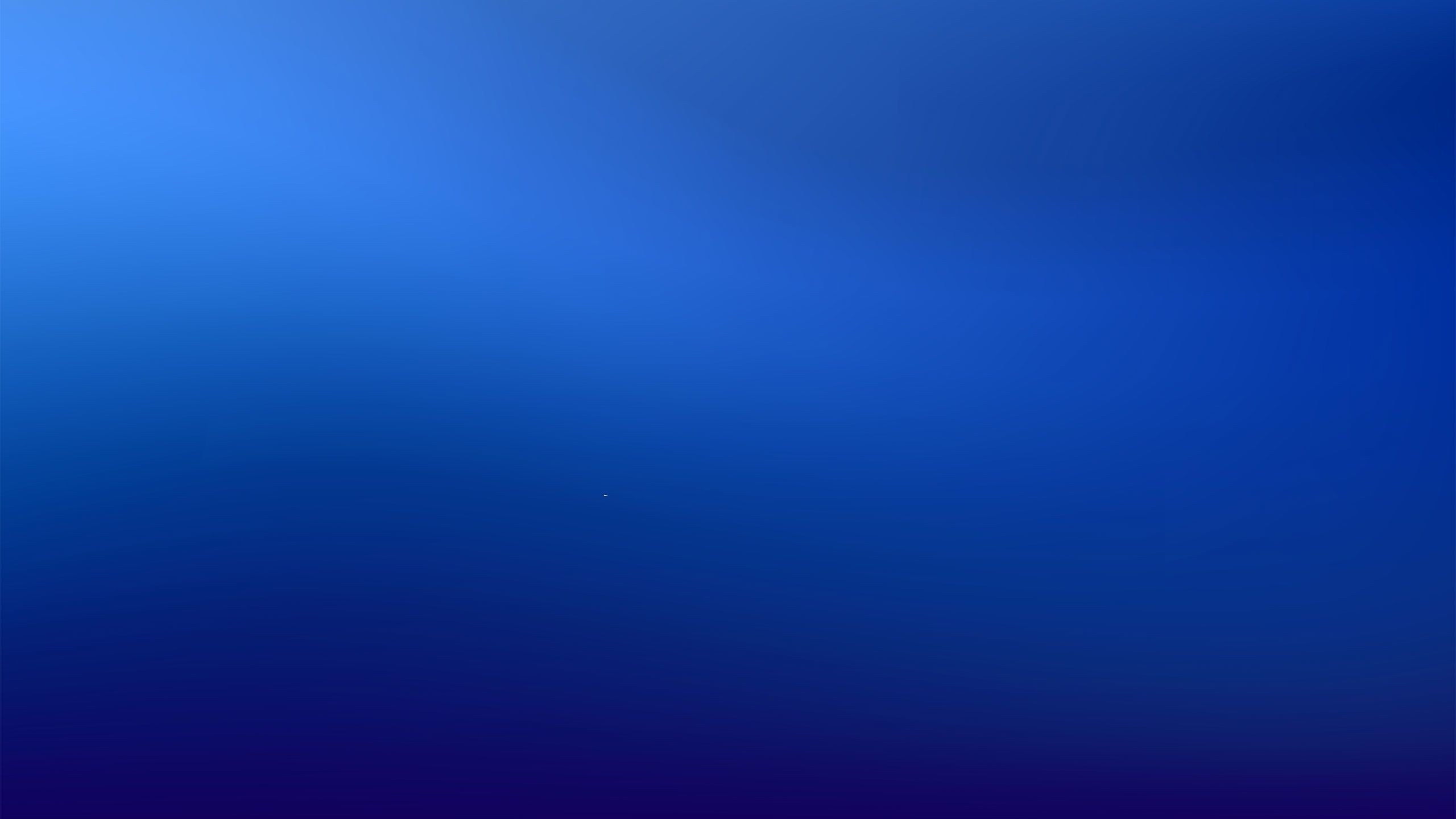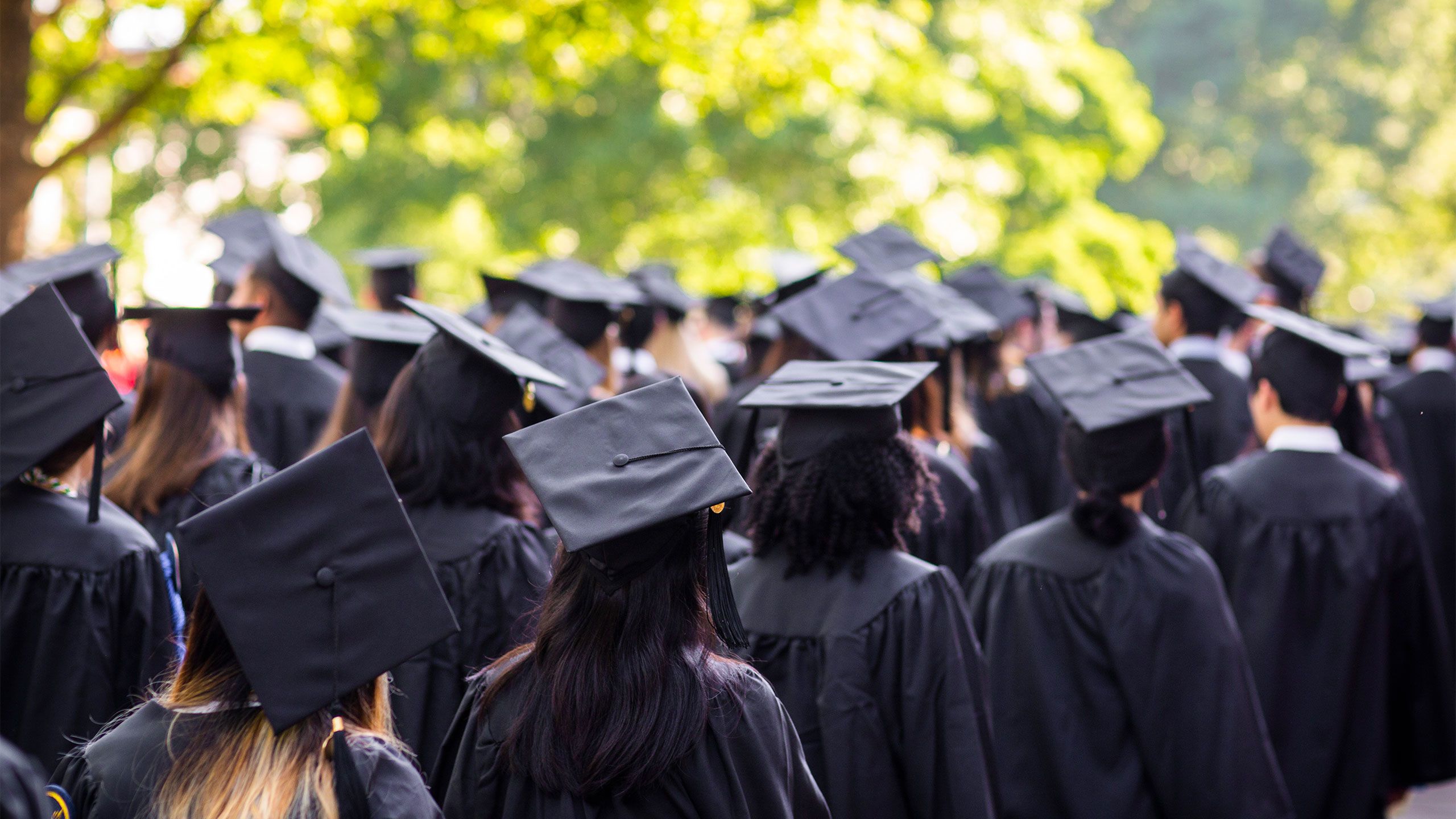 Outstanding Graduates
Exemplary students from each of the nine schools that make up Emory University