THE
PLAY'S
THE
THING

Theater Emory's
ambitious work catches
the conscience of the country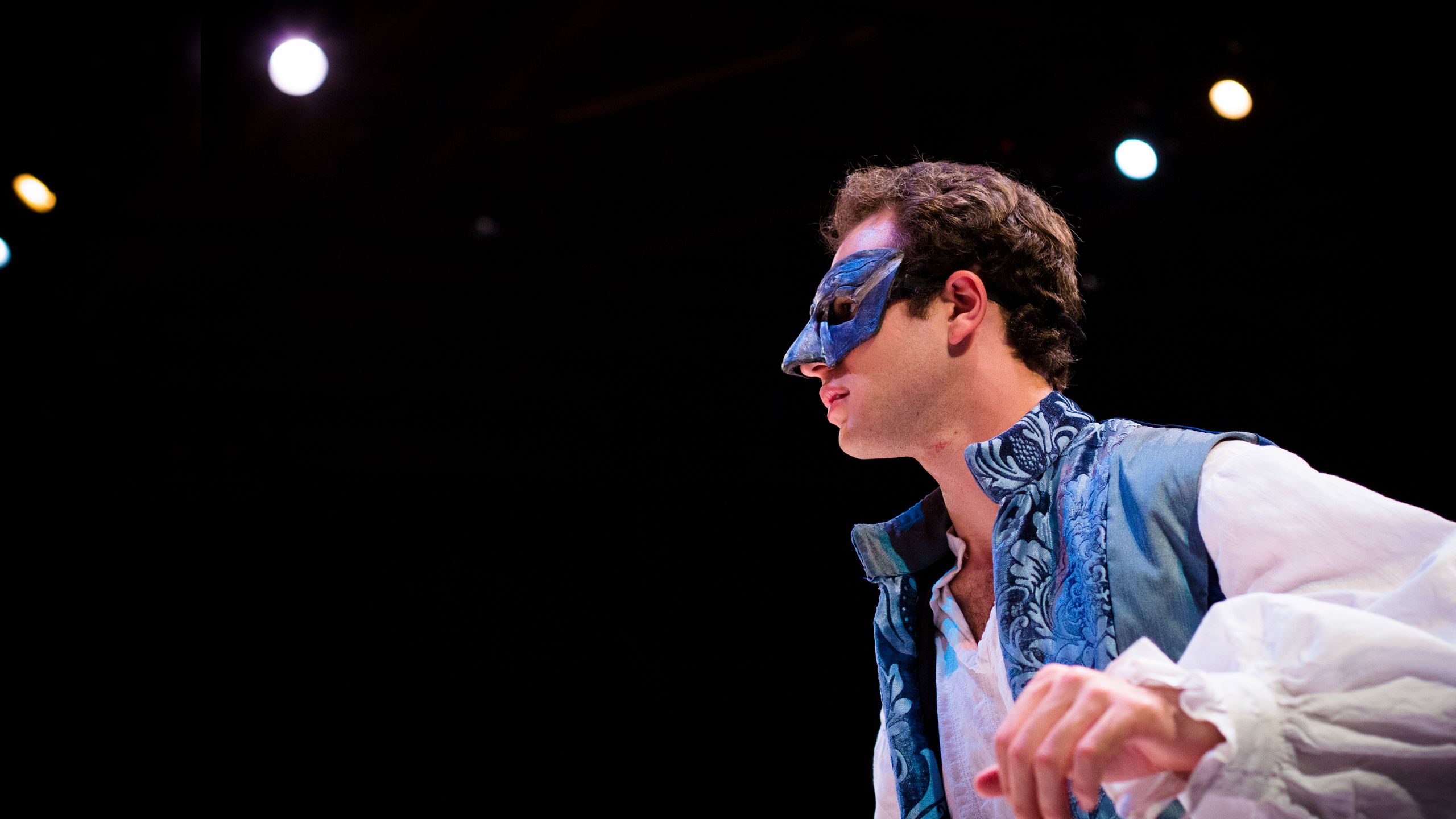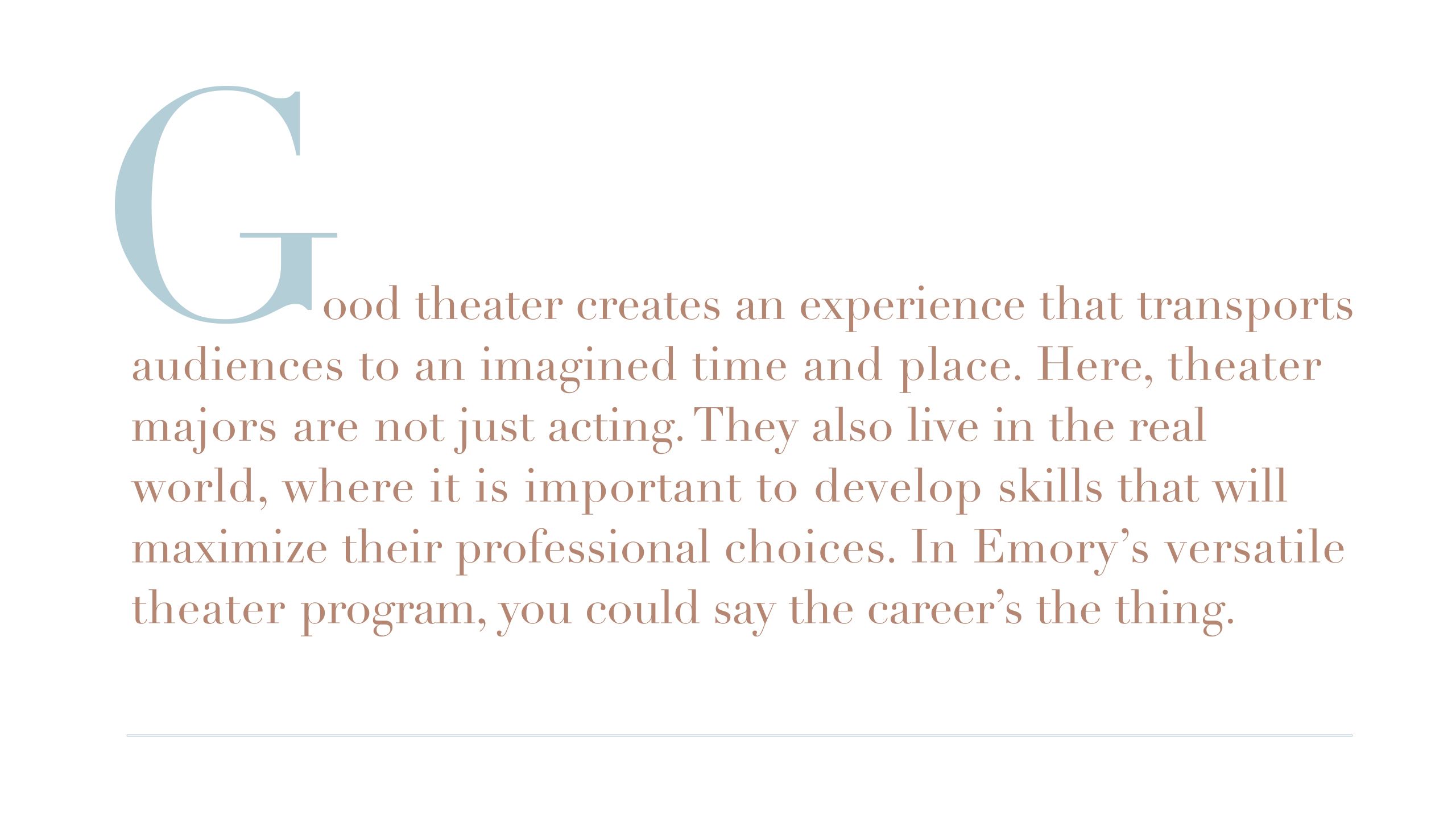 Lisa Paulsen, chair of Emory's department of theater and dance, sees theater as more than a creative art form; it's a dress rehearsal for life, building cross-disciplinary skills that enhance performance in almost any career pursuit.
"A lot of people think a theater major is impractical unless you want to be a professional theater artist," says Paulsen. "In truth, theater students end up trained in a surprising range of workplace skills—collaboration and cooperation, creative problem solving, accepting and applying feedback, as well as working under pressure within strict deadlines and tight budgets."
Another aspect of real-world focus is that, in the department's arts administration course, students design and execute projects that support arts organizations on campus and beyond. The class is a requirement for students taking part in the Arts Management concentration, a collaboration between Goizueta Business School and performing arts departments on campus.
For his capstone project, Cameron Frostbaum 18C created a plan for Microtheatre Emory, a venture he successfully executed twice on campus.
Frostbaum, a theater studies and political science double major, first experienced microtheatre on a warm, summer evening while studying abroad in Salamanca, Spain. He instantly fell in love with the form, which stages intimate, short plays in flexible spaces for small audiences.
"I returned to Emory determined to bring microtheatre to Atlanta and inspired to find a new relevance for theater for the next generation of spectators," says the Atlanta native.  
Microtheatre Emory drew in hundreds of spectators, many of whom were new to theater. "Throughout the events, I encountered students and adults who do not regularly attend performing arts events enjoying microtheatre."
Frostbaum, who is currently doing a yearlong internship with Baltimore Center Stage, believes microtheatre is a tool for reaching new audiences who may not consider traditional theater their "thing." 
"My next step will be to launch another microtheatre event in the Atlanta area collaborating with area theater–makers. My vision for the future of Atlanta includes arts organizations as centers of discourse and community growth."
If microtheatre is innovative, push that up a notch and imagine four Atlanta playwrights writing four news plays in forty-eight hours—all at the forefront of art and science.
That was the premise of Theater Emory's "4:48," a frenetic, yet focused, showcase of new works performed in July at the Schwartz Center for Performing Arts. The annual speed-writing challenge invites local playwrights to come together at Emory and quickly produce plays based on common source material—in this case, the microbiome.
For the first time, the Playwriting Center of Theater Emory teamed up with the Emory Center for the Study of Human Health for "4:48"—an innovative, interdisciplinary collaboration that pushed the boundaries of both fields. The project introduced the human microbiome—the trillions of microorganisms that live in us and on us—to a whole new audience, providing a spotlight for research being done at Emory.
"Theater offers an exciting communication mechanism to convey cutting edge-research findings to a wide audience while simultaneously encouraging curiosity and imagination," says Amanda Freeman, instructor in the Center for the Study of Human Health.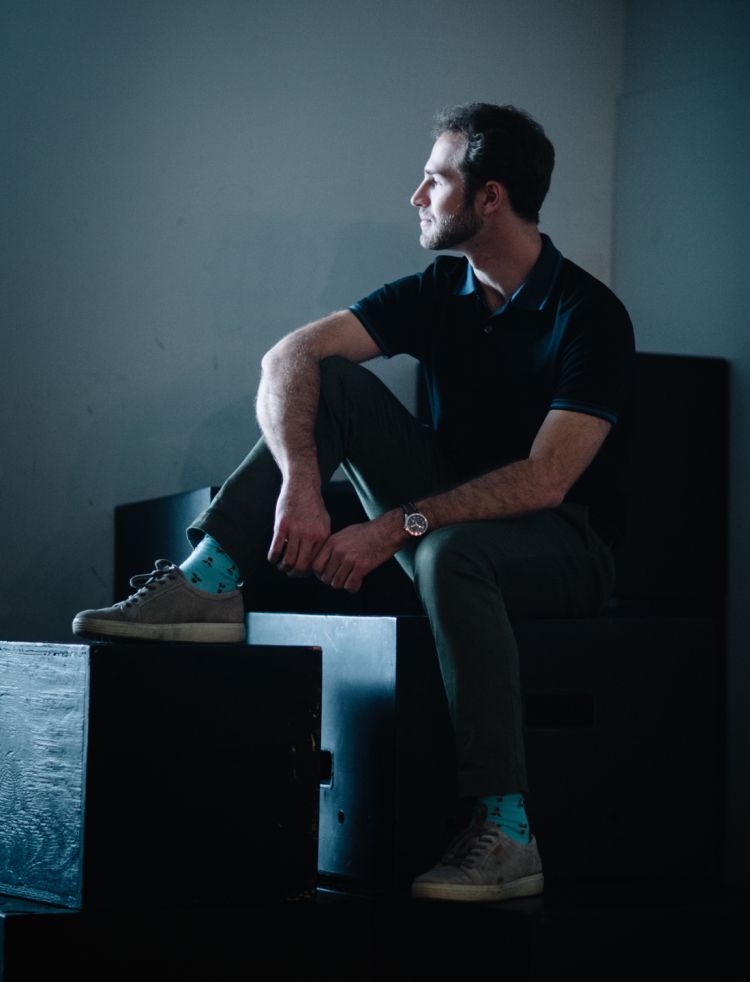 Cameron Frostbaum, who launched Microtheatre Emory while a student here.
Cameron Frostbaum, who launched Microtheatre Emory while a student here.
HAVING THE SKILLS TO RUN THE SHOW
For Christina Wallace 05C, the theater was a testing ground for skills that would go on to catapult her into a successful career in business. She currently serves as vice president of growth at Bionic, a New York–based tech company that helps large companies adopt an entrepreneurial approach to innovation. Wallace runs business development and marketing for Bionic and handles the bulk of the communications and public speaking engagements for her company, "literally putting to use skills developed through my theater career in the business world," she says.
In addition to her responsibilities with Bionic, Wallace is a columnist for Forbes.com and cohosts the podcast "The Limit Does Not Exist" with Cate Scott Campbell. Together, Wallace and Campbell interview people who have built careers at the intersection of STEM and the arts.
"We're trying to dispel this idea that creativity and technology are on opposite ends of the spectrum, that the right-brain-versus-left-brain thing is not real—it's actually based on really poor science," says Wallace. "People have this perception that you are either a creative person or a techie, and that's just not true."
Studying theater at Emory, where an emphasis is placed on the creation of new work via the Playwriting Center of Theater Emory, Wallace was entrenched in all aspects of the creative process. 
"There was such a focus on new plays and on workshopping, getting to live with a piece of art and make it your own," says Wallace. "It was very much about making theater a living, breathing thing that you have the ability to make in response to the world as you see it."
As an entrepreneur, Wallace has put her creative ingenuity to good use, founding three start-ups between her time at Harvard Business School and her current position. In 2016, she wrote a piece for Forbes.com championing her theater background, because, as she says in the article, "creating startups is basically the same process and skillset as creating theater."
Recently, she visited campus and spoke with students studying theater about their marketability as self-starters and creative visionaries.
"I want to get students excited about the idea that, of course, you can make theater as a career, but it's also an amazing skillset and applies to all the ways that jobs are transforming in the future."
For Leah Hamos 08C, a theater agent at the Gersh Agency, her studies at Emory provided a blueprint for her life in arts administration.
"The design of Emory's theater program forces you to experience all aspects of creating the work," says Hamos. "I don't think I'd be able to wear so many hats and work with such a wide variety of artists in my job, and, frankly, keep such a wonderful mess of a calendar both professionally and personally without that breadth of experience and opportunity."
Charlie Henn 95C spent much of his time at Emory performing onstage with improv troupe Rathskellar, student theater groups, and Theater Emory. Now a lawyer litigating trademark disputes, Henn believes his performance background gives him an advantage in the courtroom.
"I tell young lawyers all the time that what I do in court is much more influenced by what I learned in theater than anything I learned in law school," says Henn. 
"Being in court is like putting on a play where you are both an actor and a director. The jury or judge is an audience. In making an opening statement or a closing argument, you're doing a monologue, you're telling a story. When cross-examining a witness, you have to think about things like blocking and physicality. That all comes from my theater training."
Even with a successful career in law, Henn remains an avid patron of the arts and supporter of arts organizations in Atlanta, serving on the boards of Out of Hand Theater, Theatrical Outfit, and ArtsATL.com, among others. 
"Our alumni continue to show us that studying theater prepares students, among other things, for arts leadership and advocacy careers," says Paulsen. "We are proud of how many have gone on to found their own theater companies or serve as arts leaders in Atlanta institutions and across the nation."
"Emory has long produced theater and arts folks who have pursued many types of creative careers—from arts management to TV, marketing to technology, we've seen arts graduates making an impact in Atlanta and beyond across numerous industries," says Doug Shipman 95C, president of the Woodruff Arts Center. "The opportunity going forward is to impact the 'creative economy,' which is driving a large amount of innovation and growth. The confluence of arts, entertainment, marketing, and technology makes the pursuit of arts-related topics more valuable no matter the ultimate pursuit. Emory has the opportunity to help integrate arts into a broad range of majors and studies which will sustain future innovators."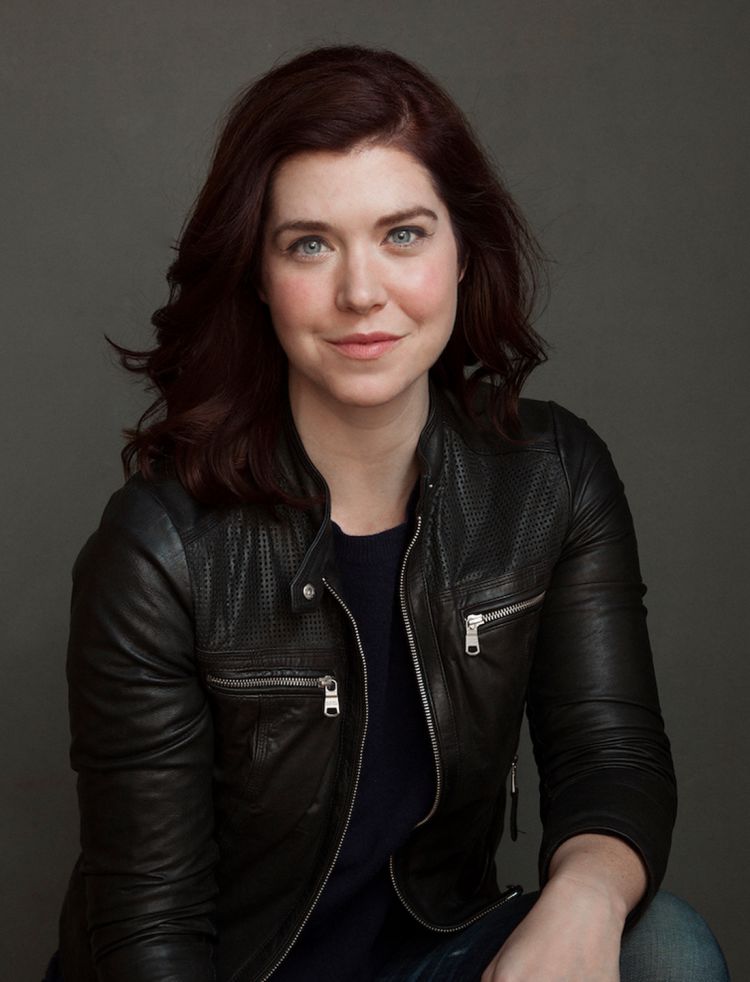 Christina Wallace, a Theater Emory alumna who won't buy into the "right-brain-versus-left-brain thing."
Christina Wallace, a Theater Emory alumna who won't buy into the "right-brain-versus-left-brain thing."
STANDING FOR SOMETHING
In late January 2018, Lauren Gunderson 03C found herself in an unfamiliar situation. She had just completed the first draft of her new play, "Natural Shocks," and she didn't know her next step. 
The fact that Gunderson had cranked out another quick-witted, female-centric work for the theater was no surprise. As America's most-produced playwright last year, the prolific Gunderson, who studied creative writing at Emory, is at home in all the stages of the playwriting process, but "Natural Shocks" was different.
"I'd never written a one-woman show, never written about guns—and certainly never written a one-woman comedy about guns," says Gunderson. 
An activist for most her life, this was not Gunderson's first reckoning with gun violence. On April 20, 1999, she watched along with the rest of the nation as the Columbine High School massacre unfolded on television. "It chilled me," says Gunderson. "It shocked me."
A high school junior, Gunderson was unwilling to stand by. 
"I organized a student protest at the Georgia statehouse; I went to Washington to speak to my senators. I was berated by our local conservative radio talk shows: called ignorant, naïve, and un-American."
And now, nearly two decades after Columbine and with the nation in the midst of yet another mass shooting in Parkland, Florida, Gunderson once again felt she must do something.
"I posted a call on Facebook saying, 'I just wrote this play. It's about guns. I need some help.' "
Enter Wallace. A Brooklyn-based entrepreneur, she knew immediately she wanted to help in any way she could. She and Gunderson go way back to their time as Emory undergrads, when Wallace, a theater studies and math double major, assistant-directed a Theater Emory production of Gunderson's play about Isaac Newton, "Leap."
"She wrote this incredibly funny play that involved math," says Wallace, "which was the first time I'd ever seen these two loves of my life intersecting." 
After reading "Natural Shocks," Wallace told Gunderson she believed the play needed to be shared as far and wide as possible and she was the person to help make that happen. "I woke up to an email the next morning that had a fifteen-point plan of action for how to do it, because that's Christina," says Gunderson.
And, so, with the help of Leah Hamos, Gunderson's theater agent with the Gersh Agency, the women embarked on a national campaign of theater activism.
They modeled the "Natural Shocks" campaign after a project Gunderson spearheaded a year earlier, when she made the rights to her play "The Taming" free to any theater company, group, or person who wanted to do a reading on Inauguration Day 2017. 
This time, "Natural Shocks" was available for regional and community theaters, colleges, and high schools to produce readings the weekend of April 20, 2018, the nineteenth anniversary of Columbine and the day of the National School Walkout. Royalties for the readings were waived, with Gunderson and her collaborators asking instead that events raise money for organizations addressing gun violence. 
The campaign was a resounding success. More than one hundred readings across forty-five states raised more than $50,000. Most important for Gunderson, women in communities across the nation gave voice to her funny and relatable character at the center of "Natural Shocks."
"Statistics melt around us. Large-scale history is hard to comprehend," says Gunderson. "That's part of what I love so much about theater—it puts issues on a human scale right in front of you, living and breathing in your space and time."
Wallace agrees. "Being able to bring this into a very visceral experience, with a live, breathing woman in the same space as the audience, I feel like that has more of an impact than all of the tweets and all of the Facebook re-posts."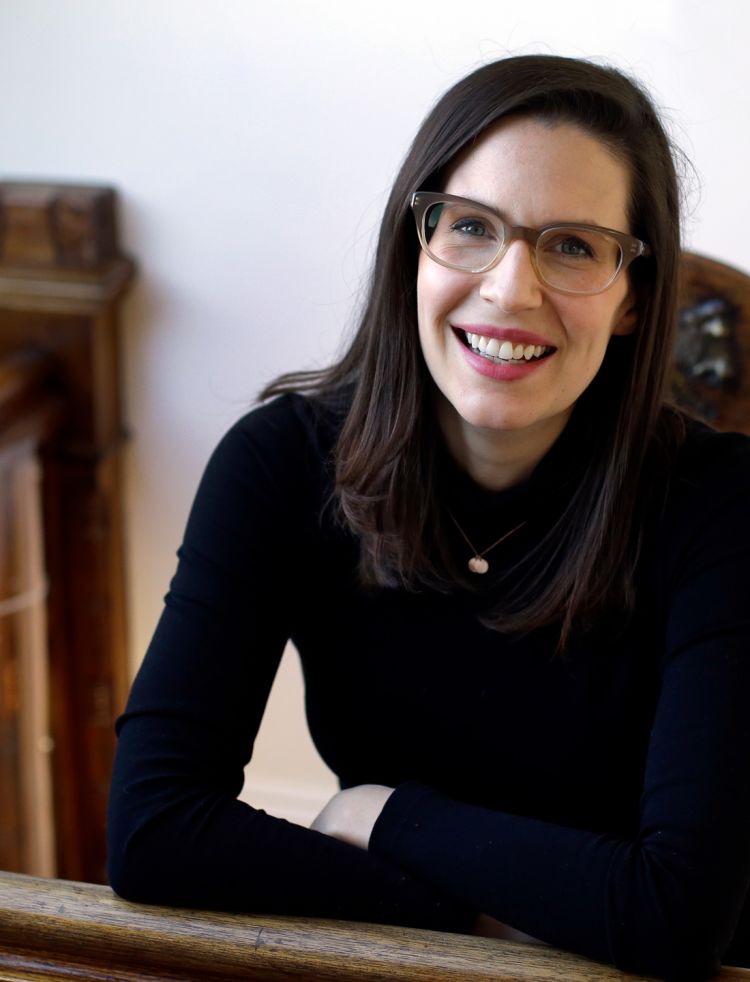 Lauren Gunderson, an Emory graduate who, last year, was America's most produced playwright.
Lauren Gunderson, an Emory graduate who, last year, was America's most produced playwright.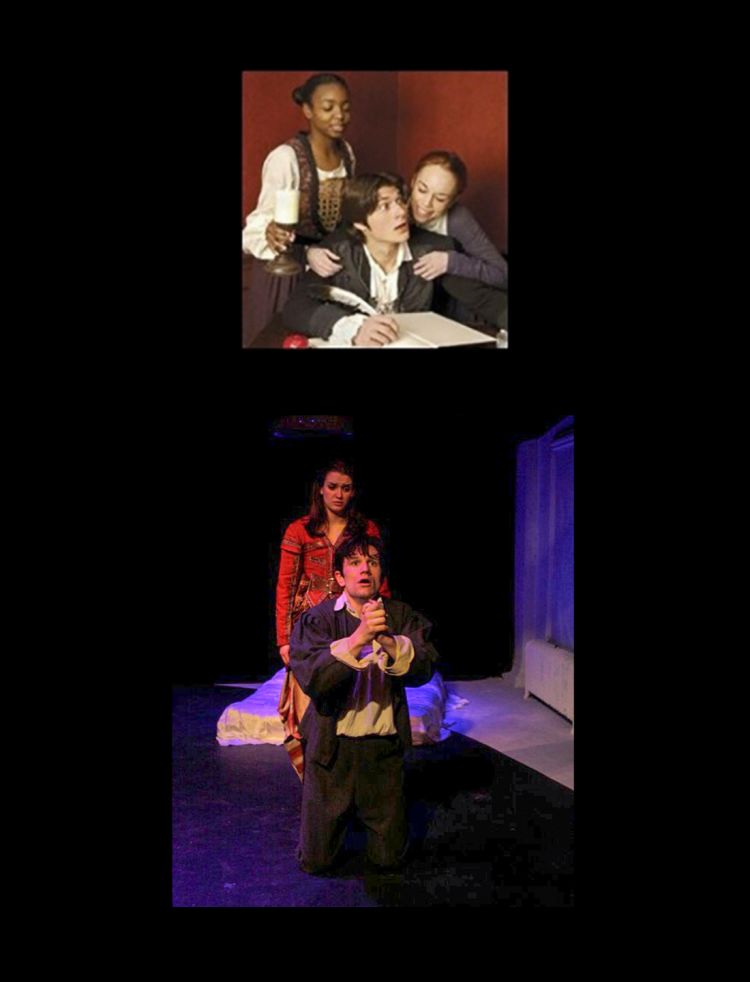 "Leap" was written while Gunderson was a student here. It was the first time a student play was produced by Theater Emory.
"Leap" was written while Gunderson was a student here. It was the first time a student play was produced by Theater Emory.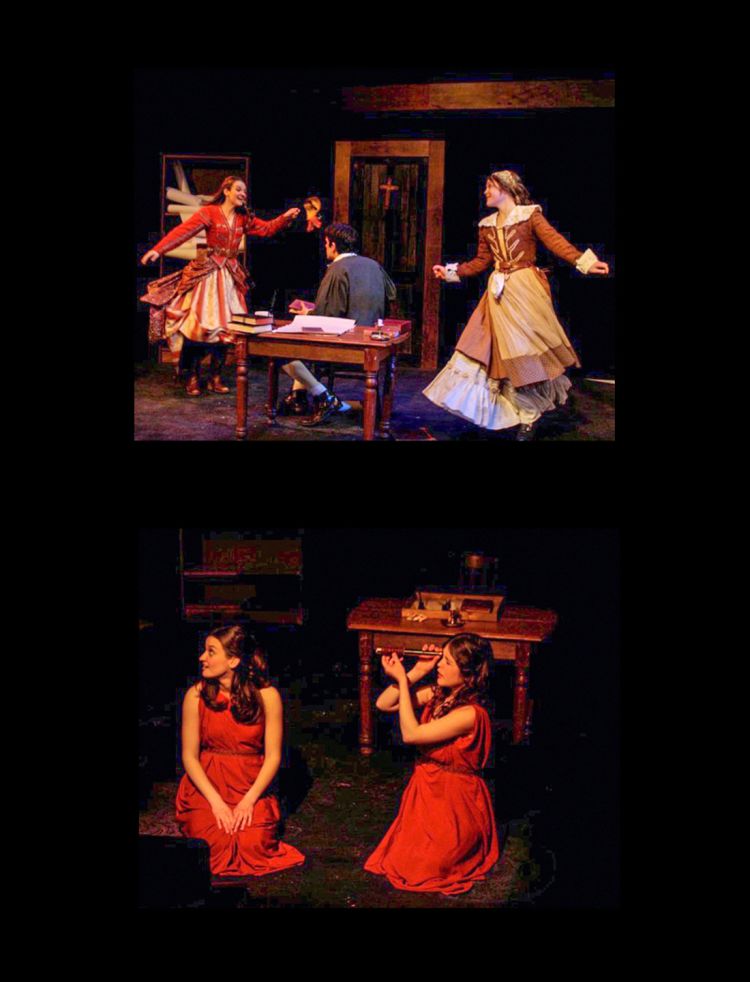 The play is an inventive synthesis of science, history, and magic with Isaac Newton and two young sisters at its center.
The play is an inventive synthesis of science, history, and magic with Isaac Newton and two young sisters at its center.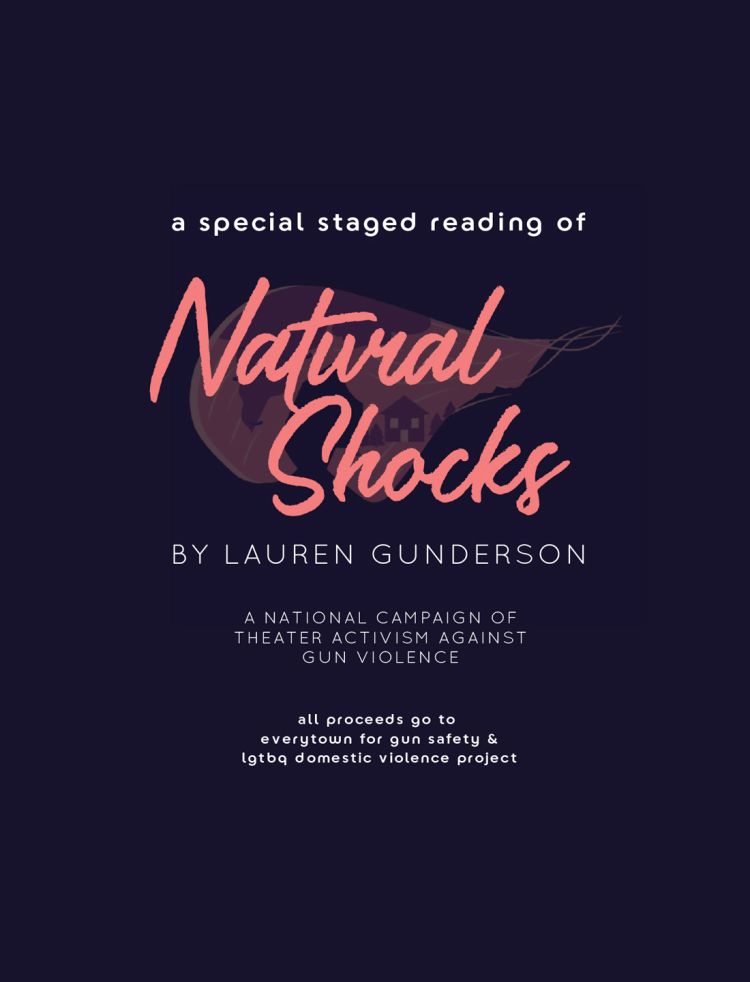 With the play "Natural Shocks," Gunderson launched a national campaign of theater activism against gun violence.
With the play "Natural Shocks," Gunderson launched a national campaign of theater activism against gun violence.
Gunderson's brightly burning star is still on the rise. She has been tapped by Pixar to pen one of their upcoming films and her play "I and You" premieres in London this October with "Game of Thrones" star Maisie Williams playing the lead role. 
This fall, the Women's Project Theater in New York City will produce "Natural Shocks," a first for Gunderson, who has never had a play premiere in New York. It is a happy ending to an unconventional narrative arc. 
"This play is a testament to making the thing how you want to make it," says Gunderson. "Every Emory student can hear that, in whatever field they're in. Do the thing exactly as you feel it needs to be done. Whether it's creative or business or law, do the thing that matters to you. So that's what we've done. And here we are."
By Emma Yarbrough 09C — Photos by Emory Photo/Video and Lauren Gunderson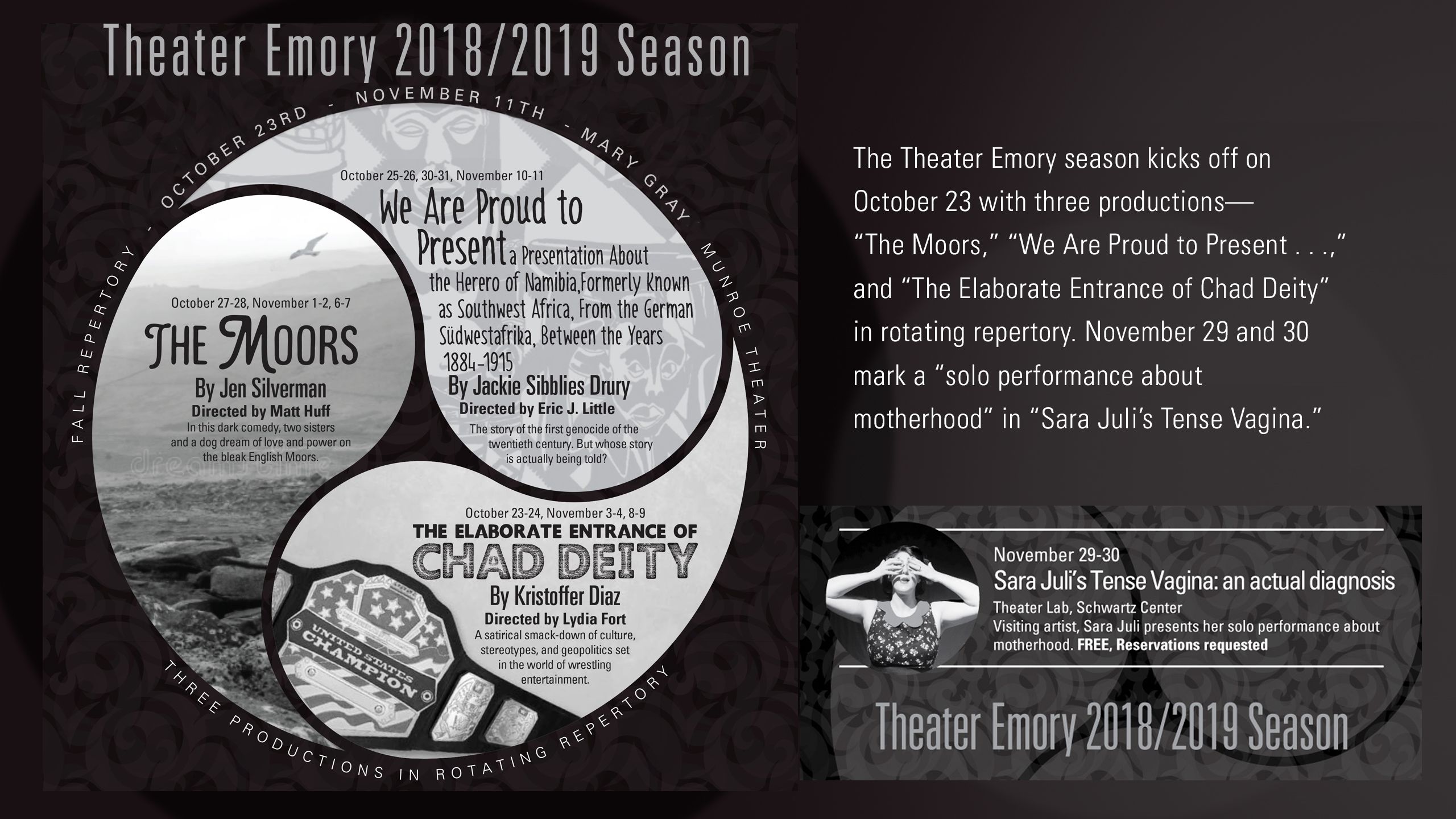 For more information on the season, see the Theater Emory site; for ticket information, see the Arts at Emory Box Office.
BUILDING CAPACITY
Emory's theater program—and other creative endeavors from creative writing and film and media studies to music—flourish when artists from outside Emory bring their gifts to our campus. Artists-in-Residence play a vital role in supporting students and inspiring faculty in the creative enterprise. Enhancing the resources for exposing students to practicing artists like the ones described here will strengthen the foundation of Emory College's outstanding arts programs and integrate the arts into the intellectual work of the entire university.
For more information about giving to the arts or supporting artists-in-residence, please contact Molly Griffith, senior director of development, at 404.727.5930 or molly.griffith@emory.edu.