One Emory:
Engaged for Impact
New strategic framework will guide Emory for the next decade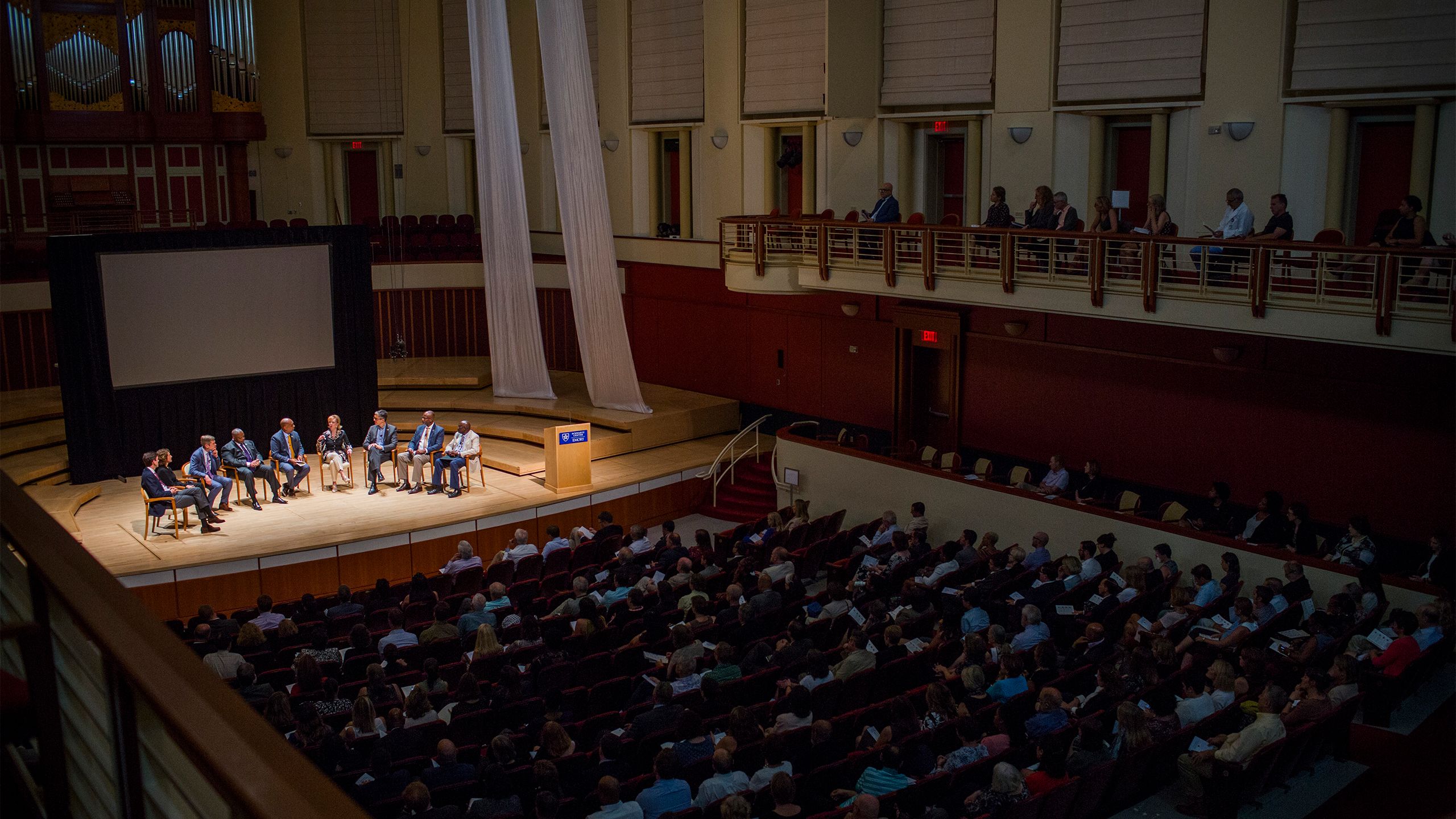 Emory President Claire E. Sterk and Provost Dwight A. McBride have announced a new strategic framework that builds upon the university's strengths to achieve even higher aspirations for academic eminence.

In a celebration Sept. 5 filled with music, dance and faculty dialogue, Sterk and McBride formally launched "One Emory: Engaged for Impact," a campus-wide initiative intended to help grow Emory's recognition around the world as a leading research university that fosters excellence and attracts world-class talent to innovate today and prepare leaders for the future.

Today, Emory stands as one of the nation's pre-eminent research universities, Sterk said. But current times call for reimagining the roles and responsibilities of research universities, she told a near-capacity crowd gathered in the Schwartz Center for Performing Arts.

"As a top research university, it's in our nature to keep reaching higher, to aim to have a much more significant impact than we already have," Sterk said.
"To me, what's really exciting about today is that we are able to bring our shared aspirations together to focus on where we want to be as a research university, as Emory — One Emory."

Work on the new strategic framework began a little over two years ago, when the Emory community was invited to share ideas for "Thinking and Acting Strategically" about the future of the university. Sterk, who served as Emory's provost at that time, was named Emory's 20th president in 2016.
McBride joined the university in 2017 as provost and executive vice president for academic affairs, and Sterk and McBride continued that conversation, spurring engagement across campus that focused on refining the university's shared ambition.
They listened very carefully, Sterk said. And what they heard back was a call for Emory to be more recognized — close to home and all over the world – as a leading research university, a dynamic, creative community dedicated to academic excellence, preparing engaged leaders for our rapidly changing world.
The result is "One Emory: Engaged for Impact," a strategic framework connecting all of the components of Emory University.
Sterk recommended thinking of the new framework as a roadmap — a living guide, a dynamic community agreement and an agenda for decision-making. It's also a document that may well evolve over time, which "we need to be open to," she emphasized.
"From my perspective, 'One Emory: Engaged for Impact' is a call for us to be reflective, but also to be pragmatic. To be creative and to be ambitious," Sterk said.
At the core of the plan are four intersecting pillars:
Faculty Excellence: To attract, inspire and retain top scholars, Emory "must remain committed to, and be better at, being an inclusive intellectual community," one that "understands the value of interdisciplinary collaboration," Sterk said. "We have an amazing faculty already in place, but it is through increased focus and renewed determination that we will achieve even more."
Academic Community of Choice: Emory will cultivate a thriving campus and compelling student experience, offering the most inclusive and financially accessible education among the country's top universities so students can discover their passions and prepare for a lifetime of impact.
Innovation through Scholarship and Creative Expression: The university will harness intellectual imagination and discovery to address 21st-century challenges, leading research and innovation in health sciences, natural and social sciences, the humanities and the arts to drive societal change for the common good.
Atlanta as a Gateway to the World: "We want to mobilize positive change for the world … to make Emory truly part of the civic fabric of Atlanta," Sterk emphasized. "We also want to ensure that Emory contributes to what Atlanta needs."
Sterk concluded with an invitation for action. "I strongly believe universities and places like Emory are called to serve as anchor institutions in their communities, to work in partnership," she said.
"What we do so well — and we need to stay committed to — is to do this with true partnerships, partnerships with our neighbors. Neighbors not just nearby, but all over the world. Because it is a core part of our reason for existing."
Achieving these bold aspirations will depend "on all of us, on all of Emory," she said.
"We will be One Emory, unified in purpose, driven in our dedication to the common good. We will embrace compassion for each other. We will be a university with a conscience."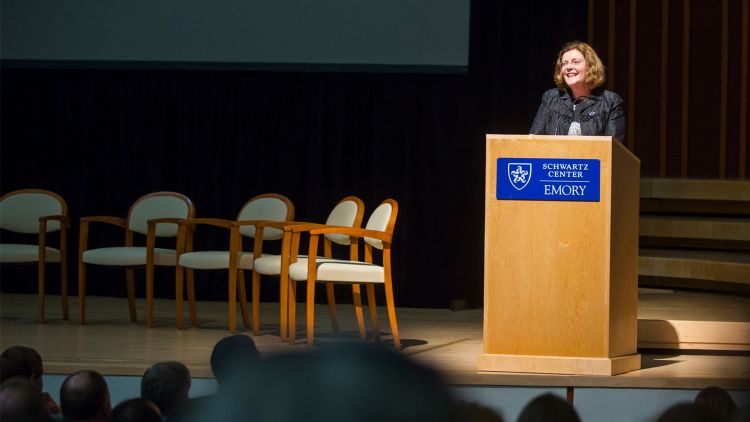 Shepherding the strategic framework will be McBride, who noted that "One Emory" is decidedly an academic plan for Emory's future.
"This plan really functions not only as a framework to guide us towards academic eminence, but also an invitation to focus all our efforts and energy on our academic priorities, and to put stakes in the ground in those areas that are essential to advancing Emory's recognition as an eminent research university," he said.
During his remarks, McBride detailed a few "early wins" accomplished over the past year, including:
Creation of a faculty distinction fund. An initial $75 million has been allocated to enhance not only the inclusive excellence of faculty, but also to support cross-disciplinary research.
More opportunities to highlight and celebrate faculty development and achievement, from reawakening the annual fall reception for new faculty and inaugurating a university-wide orientation for new tenure-track faculty to hosting the first-annual fall reception recognizing faculty who've been appointed to named or endowed professorships.
Plans to increase investment in graduate education and enhance support for PhD students.
Creation of a Taskforce on the Future of the Arts at Emory, which will make recommendations on how best to plan for a future that re-energizes the arts on Emory's campus and works in collaboration with other Atlanta institutions.
Re-engineered research infrastructure support that builds toward a more faculty-centered approach to supporting research and grants administration.
A distinguished faculty Task Force on the Future of the Basic Sciences at Emory will soon be completing its work of making recommendations on the possible big bets in the basic sciences at Emory that can fuel our eminence in these important areas.
Work continues to identify space for an Emory Faculty Club, an innovation hub to support a culture of innovation and entrepreneurship among students and faculty, and a Graduate Student Commons.
Concerted efforts to build a strong connection between Emory and Atlanta, through annexation into the City of Atlanta and the hiring of Dan Gordon as vice president and chief engagement officer to build partnerships and community engagement across Emory, Atlanta and the greater metropolitan region.

McBride then introduced a distinguished faculty panel to discuss the new framework. "Since this is an academic plan that rests on all of our shoulders, I think it's only fitting to hear from colleagues about how they are shaping their thoughts, research, scholarship, and pedagogy around the pillars of the plan," he said.
Panelists included:
Deborah Bruner, Robert W. Woodruff Professor of Nursing, Nell Hodgson Woodruff School of Nursing; professor of radiation oncology; and associate director of faculty mentorship, training and education, Winship Cancer Institute
Joseph Crespino, Jimmy Carter Professor of American History and chair of the Department of History
Michael Elliott, dean of Emory College of Arts and Sciences; professor of English
Emmanuel Lartey, L. Bevel Jones III Professor of Pastoral Theology, Care and Counseling
Susan Margulies, Emory Georgia Research Alliance Eminent Scholar in Injury Biomechanics; Wallace H. Coulter Chair of the Coulter Department of Biomedical Engineering at Georgia Tech
Charles Moore, professor of otolaryngology — head and neck; co-director, Center for Cranial Base Surgery; chief of service, otolaryngology — head and neck surgery, Grady Memorial Hospital
Gary Motley, professor of performance, director of jazz studies
Daniel Reynolds, assistant professor, film and media studies
Discussion touched upon how to best foster an inclusive culture of excellence, a dynamic intellectual community that enhances innovation and creativity, and an environment that celebrates faculty accomplishments; how to engage faculty in helping to enhance the undergraduate experience; how to create a physical campus environment that helps faculty and students succeed; and how to deepen Emory's engagement in Atlanta.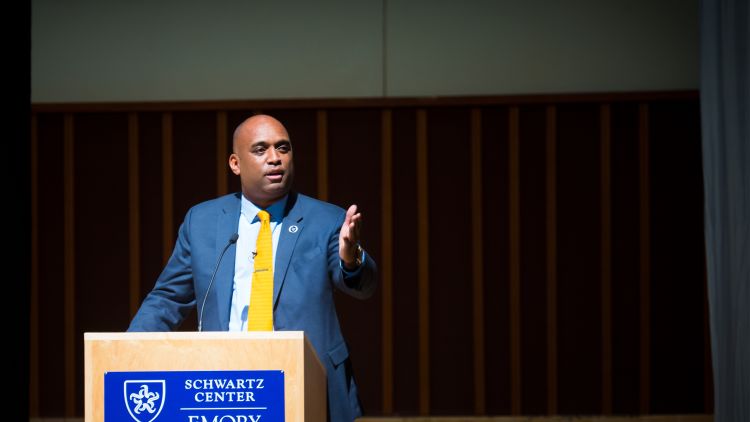 "Emory will be recognized as a leading research university that fosters excellence and attracts world-class talent to innovate today and prepare leaders for the future."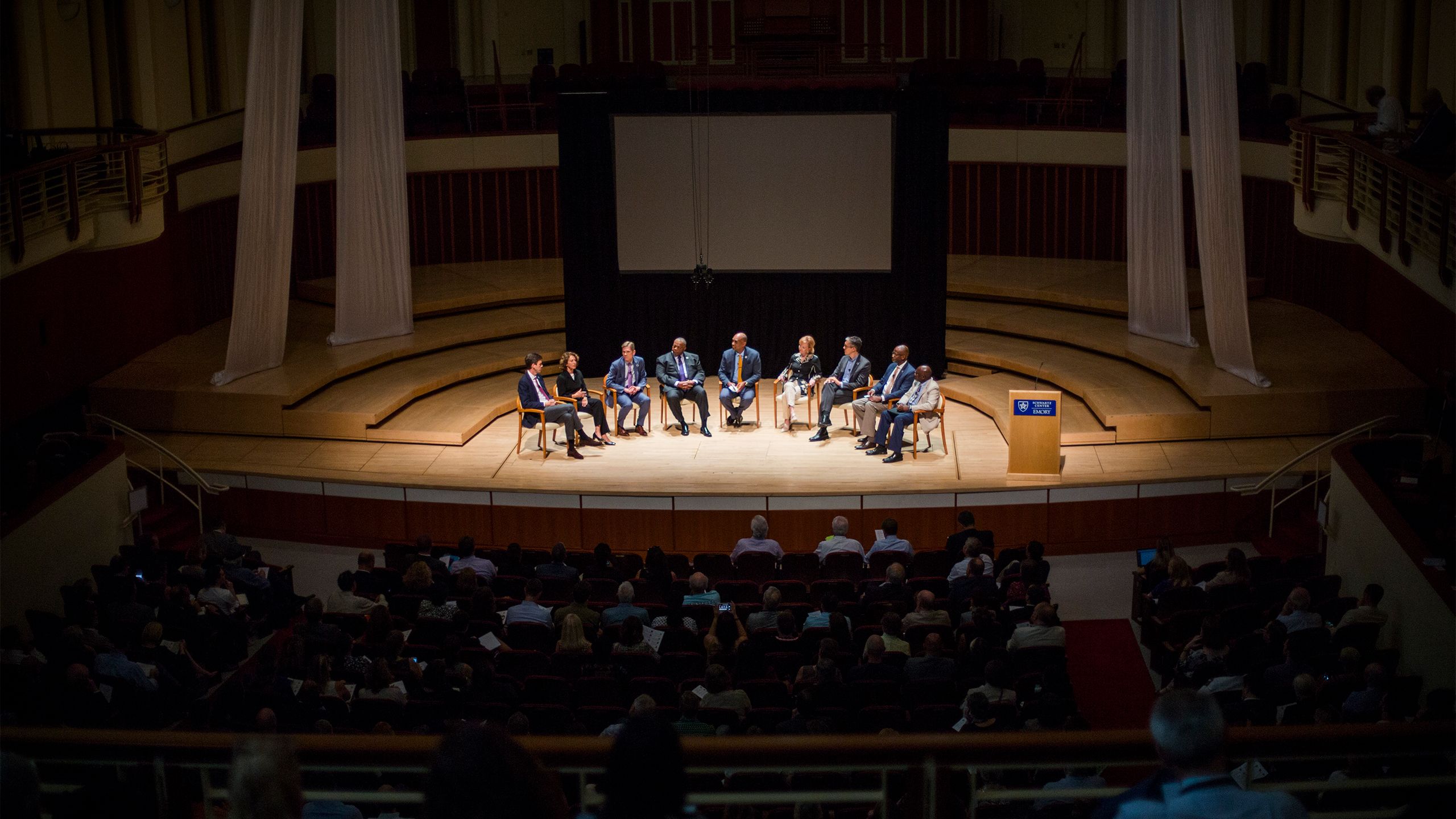 The event concluded with "A Convergence of Light, Sound and Movement," a musical and dance performance produced by Carlton Mackey, director of the Emory Ethics and Arts Program and assistant director of the Ethics and Servant Leadership Program, and choreographed by Lori Teague, director of Emory Dance and associate director of dance.

With soft music from cellist Okorie Johnson filling the room, four Emory Dance students posed quietly on a stage adorned with a large, silver vessel and soaring fabric columns representing the four pillars of the strategic framework.

One by one, the students began to dance, with movements graceful and sure. As they danced, each held a small orb that glowed with a color tied to a slide celebrating each of the four pillars.

Purple, faculty excellence. Red, academic community of choice. Yellow, innovation through scholarship and creative expression. Green, Atlanta as a gateway to the world.

As the music swelled, the dancers came together, moving in unison before gently placing each orb into the awaiting vessel, engraved with "One Emory" — a powerful representation of the framework's promise.

To learn more about "One Emory: Engaged for Impact," please visit the "Strategic Framework" page on the website of the Office of the President.