Critical Need |Critical Care
Emory is transforming the field of nursing
and becoming a force for the future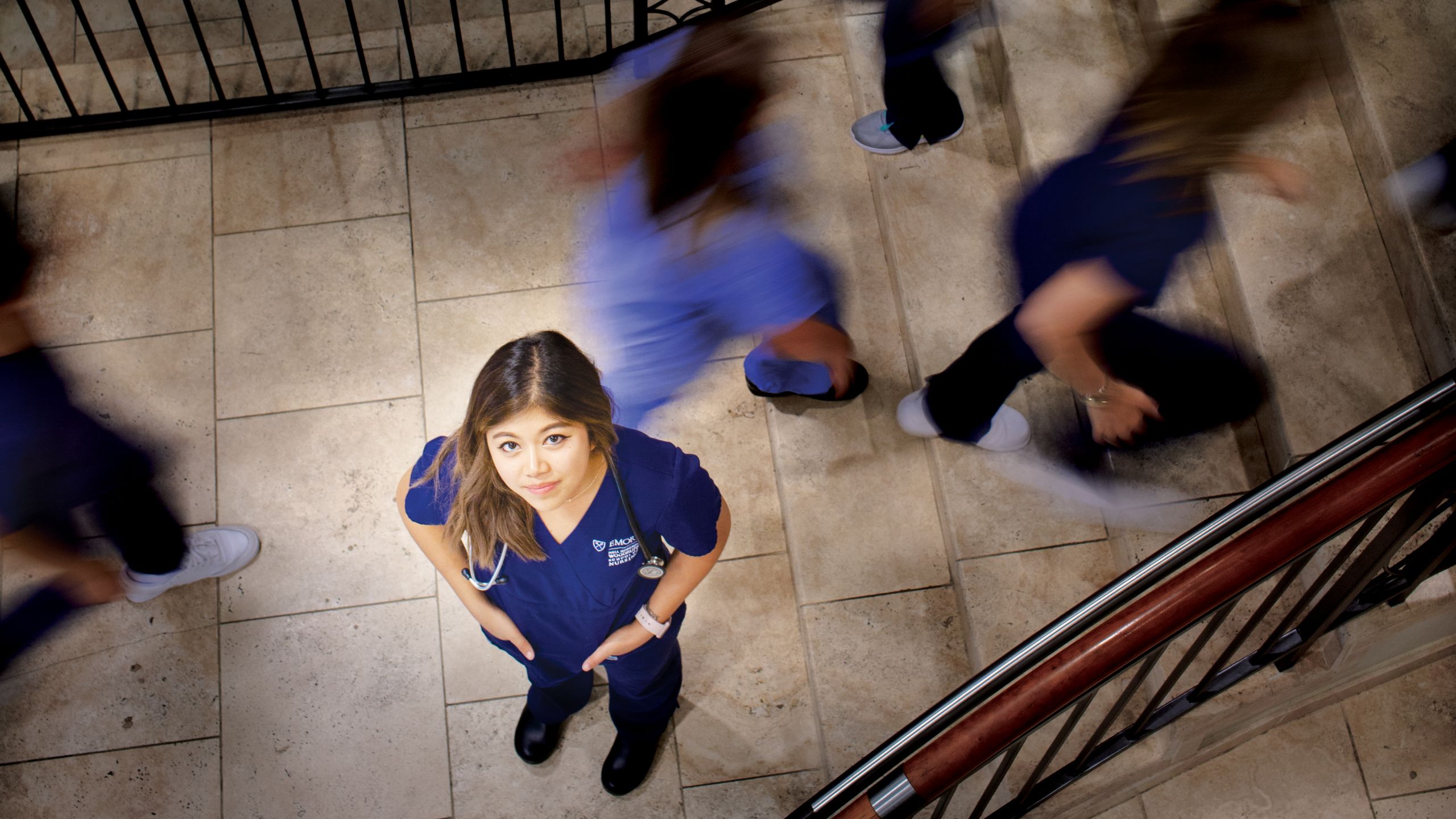 >>>HEART OF A NURSE
Just a few weeks ago, Stephanie Lee 17N (left) was caring for a patient in the infusion center at Emory's Winship Cancer Institute when a bell rang, and a loud cheer went up across the unit.
The bell is a welcome sound at Winship because it signals that a patient—in this case, an eighteen-year-old woman—has successfully completed a course of radiation and chemotherapy treatment. But Lee's patient, an older man, would not be so fortunate.

"I know that bell will never ring for us," his wife told Lee. "But that's not the bell that we need to hear."
Not long after, a different bell tolled, and Lee received a note from her patient's wife personally thanking her for her kindness during his final days. "Don't let the job turn you cold," the note read. "You have a special gift." Lee keeps the note in her bedside table drawer.

At twenty-four, Lee exudes a glowing warmth that seems unlikely to fade anytime soon, despite the realities of her nurse residency in ambulatory oncology. She's part of a cadre of young nurses entering the field during a time of grave public concern over a nursing shortage that could significantly affect health care systems by 2024. Lee has chosen to go directly into ambulatory care, specializing in outpatient services from the start of her career.

"During my senior practicum, I fell in love with my patients and the science behind oncology nursing," she says. "Now my boots are on the ground at the forefront of cancer research, helping to figure things out. I could have gone to medical school, but I realized that my heart is more that of a nurse than a physician. We just see things differently. It's a heart thing."

Lee credits Deena Gilland, vice president and chief nursing officer for ambulatory care services with Emory Healthcare and an instructor at Nell Hodgson Woodruff School of Nursing, for the guidance that pointed her boots down her current path. In partnership with the nursing school, Gilland created a required course in ambulatory care for seniors and the one-year residency program that already has scattered some sixteen new nurses across Emory Healthcare's 140 ambulatory care clinics.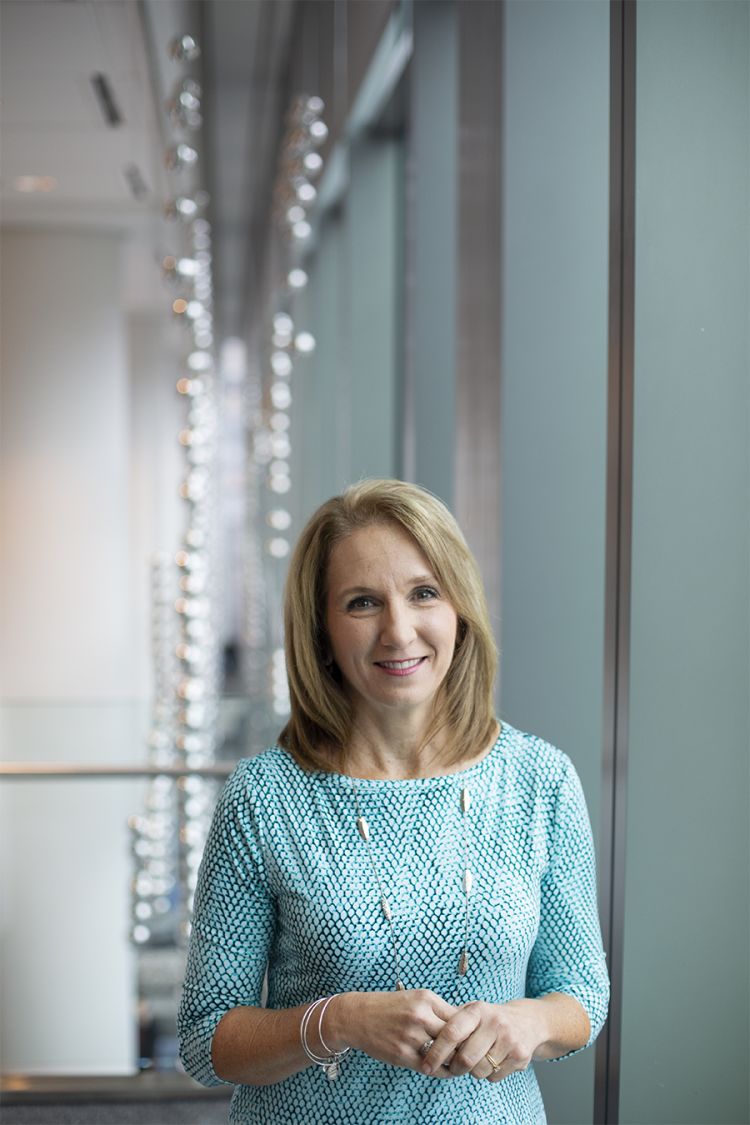 These efforts—among the first of their kind in the country— are helping to fill a critical need. According to the American Association of Colleges of Nursing, 55 percent of nurses today are age fifty or older and approaching retirement, and nurses in ambulatory care tend to be five to ten years older than those in acute care. Compounding the problem is health care systems' increasing reliance on outpatient services as they reduce hospital length-of-stay to cut down on both cost and infection risk.

The shift is a positive one for patients, says Gilland, but the demand for ambulatory care nurses is precariously close to outpacing supply.

"Everyone benefits," she says, "but we have to be able to deliver quality care in that setting. There is a need for RNs to provide that, but we have not been teaching our students to be that kind of nurse. And combined with the nursing shortage, it's a perfect storm."

In the eye of that storm is a wave of nurses reaching retirement age clashing with an aging baby-boomer population that will rely heavily on nursing care for at least two decades to come. The Bureau of Labor Statistics has projected more than a million emerging vacancies for registered nurses (RNs) by 2022. The problem varies from state to state, but according to a report published last summer by the US Department of Health and Human Services, Georgia ranks sixth among seven states where the demand for nurses will continue to outpace the supply, with a shortfall of more than two thousand full-time RNs and more than ten thousand advanced practice registered nurses (APRNs) predicted by 2030.

"We've been talking about the nursing shortage for a long time," Gilland says, "but now we're at the tipping point."

Experts and advocates say that part of the reason is Georgia's limited Nurse Practice Act (NPA), the section of state legislative code that defines licensed nurses' scope of authority. At last count, twenty-three states have adopted amendments to their NPAs that grant what's known as full practice authority, which significantly expands what nurses can do—such as evaluate patients, diagnose medical conditions, order and interpret tests, prescribe medications, and manage treatment plans. Another sixteen states have implemented reduced authority for nurses, which allows for increased responsibility that varies by state. Georgia's NPA remains in the category of restricted authority, limiting nurses to more historically traditional duties. Last year, a bill that would have granted Georgia nurses full practice authority was introduced in the state legislature, but it failed to advance.

Another confounding factor is that Georgia is a member of the Enhanced Nurse Licensure Compact, meaning that it issues nursing licenses that are valid in twenty-five other states. So, while the state limits nurses' authority here, it simultaneously offers them the credentials to go and practice elsewhere.

Georgia does have an advantage to offer nurses both present and future: One of the highest-ranked nursing schools in the country, positioned within a top-twenty-five health research center.
>>> AND THAT'S EMORY 
Last spring, Linda McCauley 79N, dean of Emory's Nell Hodgson Woodruff School of Nursing, invited faculty, students, and staff to gather for a special announcement. In 2014, Emory's nursing school was ranked twenty-first in the country. In 2015, it climbed to tenth, in 2016 to eighth, and last year to fourth. 
The most recent ranking places the nursing school third in the nation. The school's doctorate of nursing practice degree debuted at fifth.
For Josh Brown 18AMSN, the big news only reinforced what he already knew: that Emory nursing stands for excellence. "I applied to eleven schools," he said. "I got into all of them, but there was never really any question about it: I knew I wanted to go somewhere that would prepare me for the job and give me a leg up on the competition—somewhere with a national reputation. And that's Emory."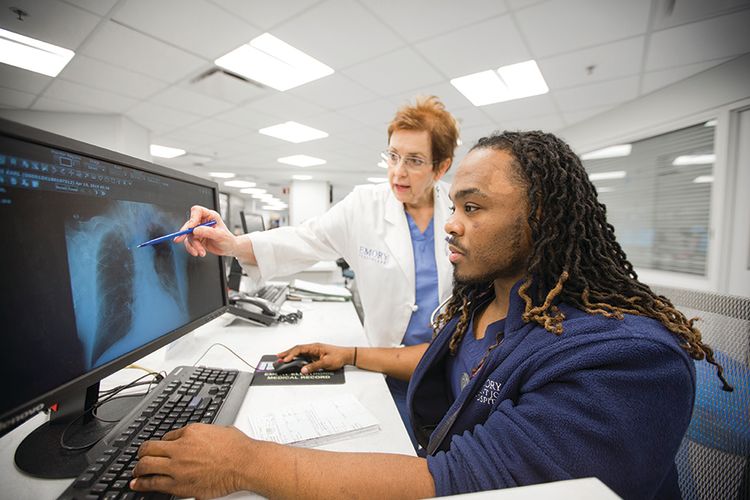 With its rapid rise from regional to national prominence, the school's applicant pool has predictably swelled—up some 213 percent since 2013, with a corresponding increase in the quality of the applicants. 
Emory's School of Nursing has emerged as something of a case study in institutional change—proof of the transformative power of visionary leadership. As McCauley tells it, that transformation began with, of all things, the school's website.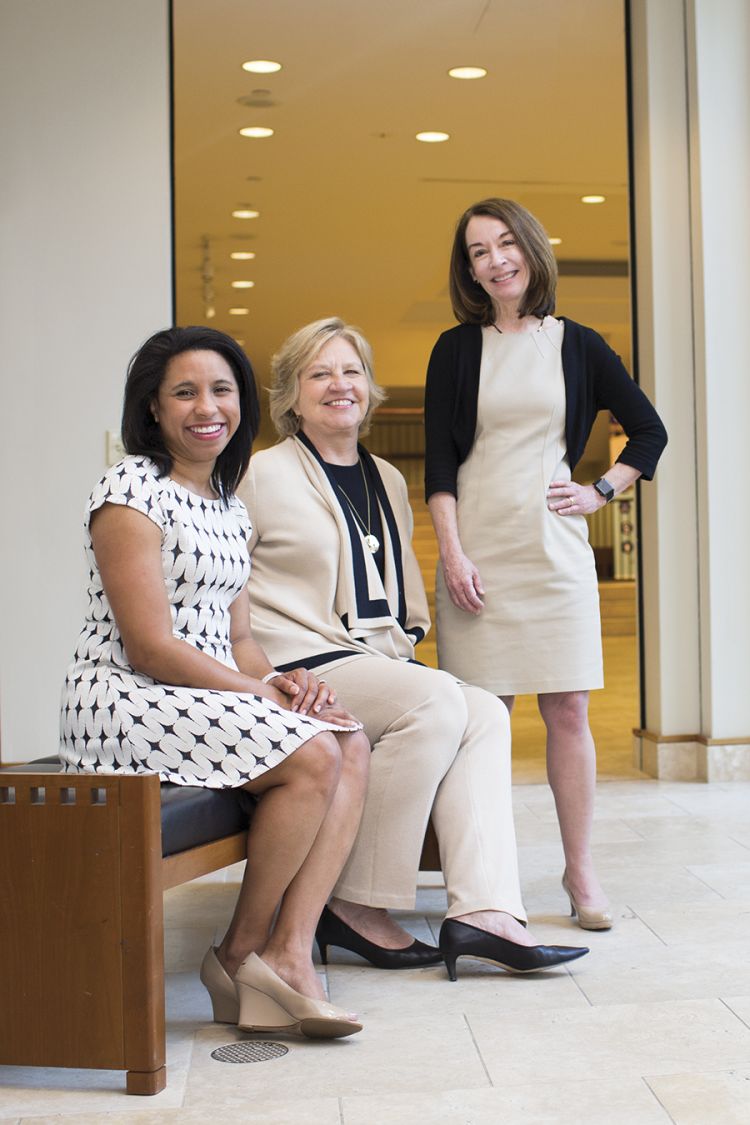 "I was going through it and I noticed there were faculty here who didn't have a bio," she said, recalling her earliest days on the job. "I thought, how can you be educating the future leaders in nursing if you can't write about what you're doing, what you're trying to influence?" 
Not one to hesitate, McCauley announced a new requirement: all faculty members had to post at least one paragraph describing their professional interests. And those without a terminal degree should set about getting one. 
What started with the website grew into something larger—an ethos of achievement. McCauley, herself an accomplished researcher in environmental health, lit a fire under the faculty that continues to burn. 
"There was this mentality that you could be a good teacher without being a scholar," she says. "But I really believe a big part of leadership is role- modeling behaviors. We have to show our students how far they can go—what a nurse can do, what a nurse can be." 
>>> A CULTURE OF SCHOLARSHIP 
Two years after Congress appropriated funding for the creation of the National Center for Nursing Research within the National Institutes of Health (NIH) in 1986, Sandra Dunbar arrived at Emory.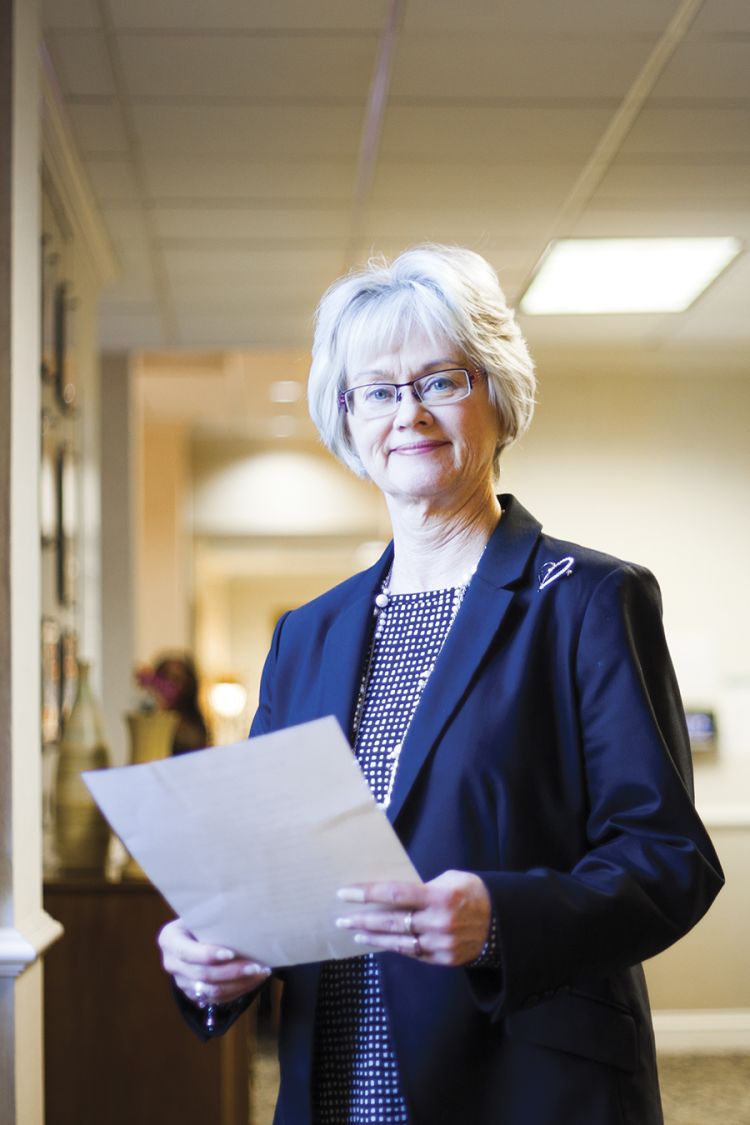 Nursing Research Hall-of-Famer Sandra Dunbar has focused on recruiting top faculty to position Emory's nursing school among the best in the nation.
"When I came here, the nursing school was located in what's now the Hospital Annex," Dunbar, Charles Howard Candler Professor of Cardiovascular Nursing and associate dean for academic advancement, recalls. "So much has changed since then, and a lot of it has come with investments in several focal areas of nursing science." 
Few faculty members have played a bigger role in those investments than Dunbar, an esteemed nurse-scientist with more than seventy peer-reviewed publications to her name. In 2013, in recognition of her contributions to cardiovascular care, Dunbar was inducted into the International Nursing Research Hall of Fame. 
Even as she continues to conduct research—her group recently completed a large study of caregivers of patients with complex cardiovascular disease—Dunbar oversees recruitment of nursing faculty. "I think one reason for the school's success is that we've continued to build on our strengths while also expanding into new areas," she says. "And a big part of that is making strategic hires." 
Example: Vicki Hertzberg, a highly regarded biostatistician and a veteran of Emory's Rollins School of Public Health, located just next door. Several years ago, as McCauley was grappling with questions about big data—what it meant for nursing as a discipline, and how it could help the school—she reached out to Hertzberg for advice. Weeks later, Hertzberg came on board to codirect the nursing school's new Center for Data Science (CDS), which aims to leverage the power of big data to support clinical decision making, disease surveillance, and population health management for improved health outcomes. 
"Data science is now a fundamental piece of our work here," says Elizabeth Corwin, associate dean for research and co-director of the CDS. "Before Vicki joined the faculty, we had to depend on others for that analysis." 
As Corwin sees it, McCauley has led a cultural overhaul that has, in turn, shifted the school's mission—from strictly supplying the nation's nursing needs to pushing the edges of the science and redefining the profession itself. 
"Linda had this vision for a 'culture of scholarship'—one that embraces risk and discovery and dissemination. And that's what we've created," Corwin says. "And there's a true feeling, I think, that when one person here succeeds, everyone does." 
>>> LEADERS IN NURSING RESEARCH 
In fiscal year 2016, Emory's School of Nursing ranked first among nursing schools in NIH funding, with $7.8 million in research grants, fellowships, training grants, and other awards, the highest total in the school's history. 
Although the school claimed fourth place last year, the projects that attracted that funding—core research endeavors targeting health disparities and health equity, pregnancy outcomes and infant health, palliative and cardiovascular care, cancer and HIV—continue to evolve, generating new opportunities for cross-discipline collaboration.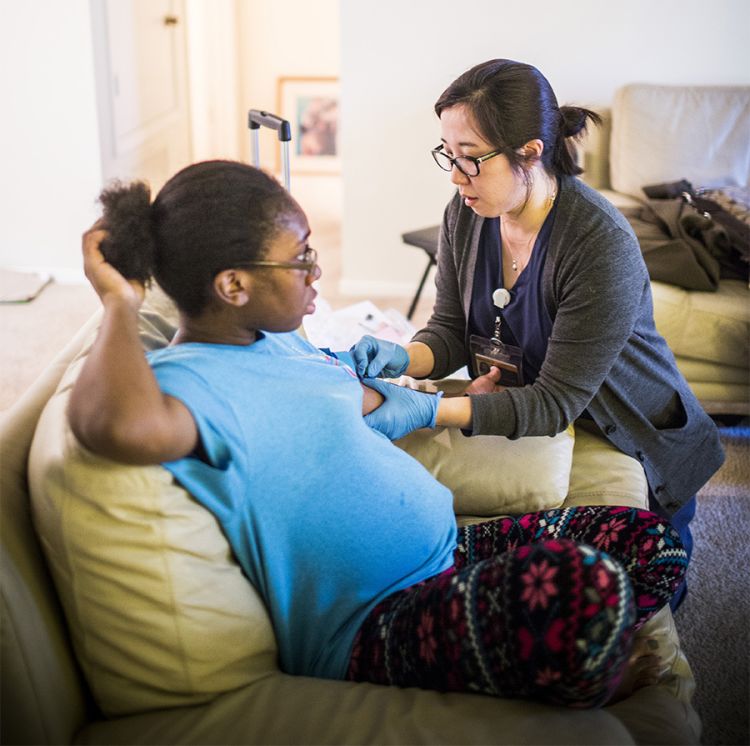 Perhaps the best example of this is the nursing school's NIH–funded maternal microbiome project, a longitudinal study led by Corwin and her colleague Anne Dunlop. Launched in 2014, the five-year project explores the contribution of the microbiome—the trillions of microorganisms that populate the human body—to preterm birth in urban African American women, a minority group at significantly greater risk of preterm birth than Caucasian women. 
"That health disparity has been around for decades," says Corwin, "and it's been hard to understand." 
That maternal microbiome study has spawned others. McCauley and Barry Ryan, a professor of environmental health at Rollins, received a grant to investigate exposure to environmental toxicants in pregnancy and the postpartum period. The largest NIH grant ever awarded to Emory's nursing school, it supported the formation of the Center for Children's Health, the Environment, the Microbiome, and Metabolomics (C-CHEM2)—one of fifteen children's environmental health centers in the US, the first based in a nursing school, and the only focused on the microbiome. With the C-CHEM2, McCauley envisions a vastly expanded role for environmental health in the education of Emory nursing students—becoming the lens through which they view their work, shaping every patient encounter. 
"The largest sector of the health care workforce is nursing," she says. "It's imperative, I think, that they have an understanding of the exposures we know can harm health." 
The school's leadership also has made a concerted effort to attract the country's best students, with new academic programs, an emphasis on diversity, and a faculty marked as much by its teaching prowess as its scholarly prestige. 
"Our student population has played a major role in our transformation," says Associate Dean and Chief Operating Officer Jasmine Hoffman, who oversees everything from admissions to student affairs, human resources, and information technology. "When I came on board in 2010, we were known as a regional leader, but now we have a national reputation and that's really been reflected in our student body." 
While the Southeast had long accounted for the vast majority of applicants, she says, new growth has come from all directions. Men are now about 10 percent of the school's students. 
"Students are responding to the health care marketplace," Hoffman says. "They might be in a career they're not passionate about or that's downsizing, and nurses are needed." 
Emory's accelerated BSN/MSN program allows students with a bachelor's degree to earn a BSN in just fifteen months, and an MSN in two and a half years. 
"I came to college thinking I would go into physical therapy," says Andy Kim 16C, a native of South Korea and an MSN student. "But I realized the AMSN program would be ideal because of the fast pace of the program and because Atlanta is a diverse city, and that's important to me—I wanted to stay here." 
For McCauley, it's students like Kim that represent success. "I had a trustee say to me once—you prepare nursing leaders; you don't prepare bedside nurses," she noted. "I said, well, that's not exactly true. We believe that the nurse at the bedside needs to be a leader." 
The Right Fit
Hiring and Keeping the Best Nurses
By Pam Auchmutey

Some years ago, June Connor 81MSN hired a nurse to work in a cardiology unit at Emory University Hospital (EUH). Weeks passed, and Connor sensed the young nurse was miserable. "She hated cardiology. It was so stressful to her," Connor recalls the nurse telling her. "Her real passion was women's health, and she had come to tell me she was thinking about leaving to work in labor and delivery (L&D) at another Atlanta hospital."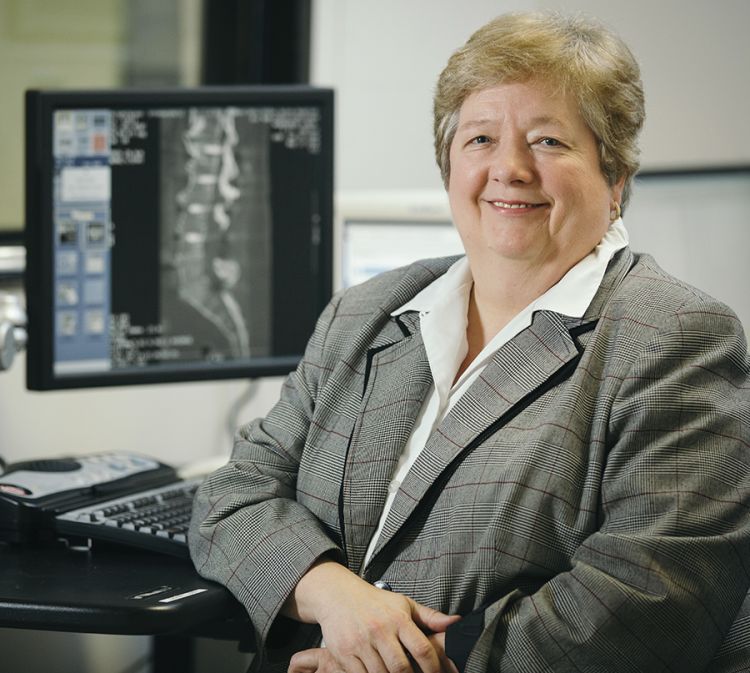 June Connor, now at the peak of a productive 40-plus-year career with Emory Healthcare, assists nurses with finding the right fit as their careers evolve.
Connor offered to help the nurse find another position in 
the Emory system. By the next pay period, the nurse was working in the L&D unit at what is now Emory University Hospital Midtown.
"She was extremely happy," says Connor. "That's what we're here to do—hire the most qualified nurses and help them find the best fit for their nursing career—as they start their career and as it develops."
Emory has been a good fit for Connor. In 1976, she joined EUH as a staff nurse and today serves as vice president of nursing operations at Emory Healthcare (EHC) and chief nursing officer/chief operating officer at Emory University Orthopaedics & Spine Hospital. Under her leadership, the hospital achieved Magnet status for nursing excellence in 2016.
Staying with the same health care system for 40-plus years is the exception rather than the rule, Connor admits. In this day and age, nurses often work for different employers to advance, find a better fit, and learn something new. However, at EHC, nurses have multiple opportunities to change specialties and institutions within a large academic health system. Connor wants to ensure that nurses who train and work at EHC remain there.
"Nurses are drawn here because we are part of an academic health center with seven hospitals—including three with Magnet status—and more than 50 clinics," she says. "Our applicants come from everywhere, but our main line is the School of Nursing. We know their graduates are academically well prepared and committed to high-quality patient care because they learned nursing practice in our health system."
Recruiting and retaining those nurses is the aim of the Emory Pipeline Workgroup led by Connor and Carolyn Clevenger 02MSN, associate dean for clinical and community partnerships at the School of Nursing. Their immediate task: developing an analytic model to track and grow the pipeline of Emory BSN graduates into EHC.
A first step was to develop a dictionary of common data terms for uniformity. The next step is to create a database to assess how Emory BSN students fare during the EHC hiring process and where they are hired, whether by EHC or another employer.
Amy Dorrill, associate dean for development and alumni relations at the School of Nursing, has played an integral role in building the analytic model by sharing alumni data from the school. Other key data sources include EHC Human Resources (HR) and exit surveys completed by nursing students when they graduate.
Initial data collection already has deepened understanding of how well BSN students perform. Do they interview well? Do they make eye contact during an interview? Do they talk about their previous experience before nursing school? Why are some graduates offered positions and some not?
"We now give feedback to the School of Nursing about how their graduates present during interviews," says Connor. "Our HR staff meets with students during class to coach them on how to interview and sell themselves. We cue them on what to highlight during the interview process to showcase the talents, personality, and skills they would bring to the care environment."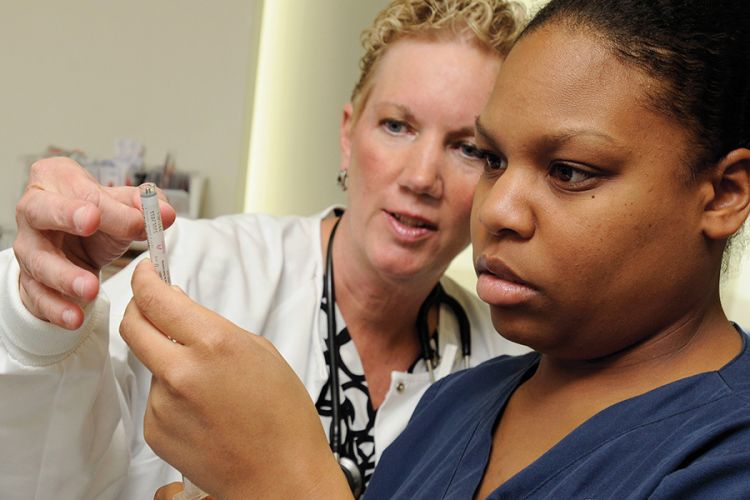 Feedback provided by EHC to the School of Nursing in turn benefits teaching. "It helps us improve our curriculum so that the next cohort of students will be that much better," says Clevenger.
Just as important, students can share in confidence why they turn down job offers from EHC. Such information, says Connor, "provides insight about what new graduates think about our health care system and how we can improve hiring and recruitment."
The Emory Pipeline Workgroup's efforts are gaining traction. As of February 2016, five BSN graduates entered EHC residency programs as new hires. A year later, 24 graduates began one-year residencies. This year, 68 graduates have been hired thus far, along with a director of retention to help nursing staff explore and develop their careers within the system.
Ultimately, as more data is collected, it will provide useful insight on retention and turnover rates after Emory graduates complete their residencies. "Our competition goes after our graduates after their 12-month contracts end," says Clevenger. "The information we gain will help us retain them as lifelong members of Emory Nursing."

Crossing the Bridge
It's been a year since Noreen Bernard EdD MS RN joined Emory Healthcare as vice president for professional nursing practice. When she comes to Emory's main campus for meetings, she often uses the pedestrian bridge to walk from Emory University Hospital to the School of Nursing.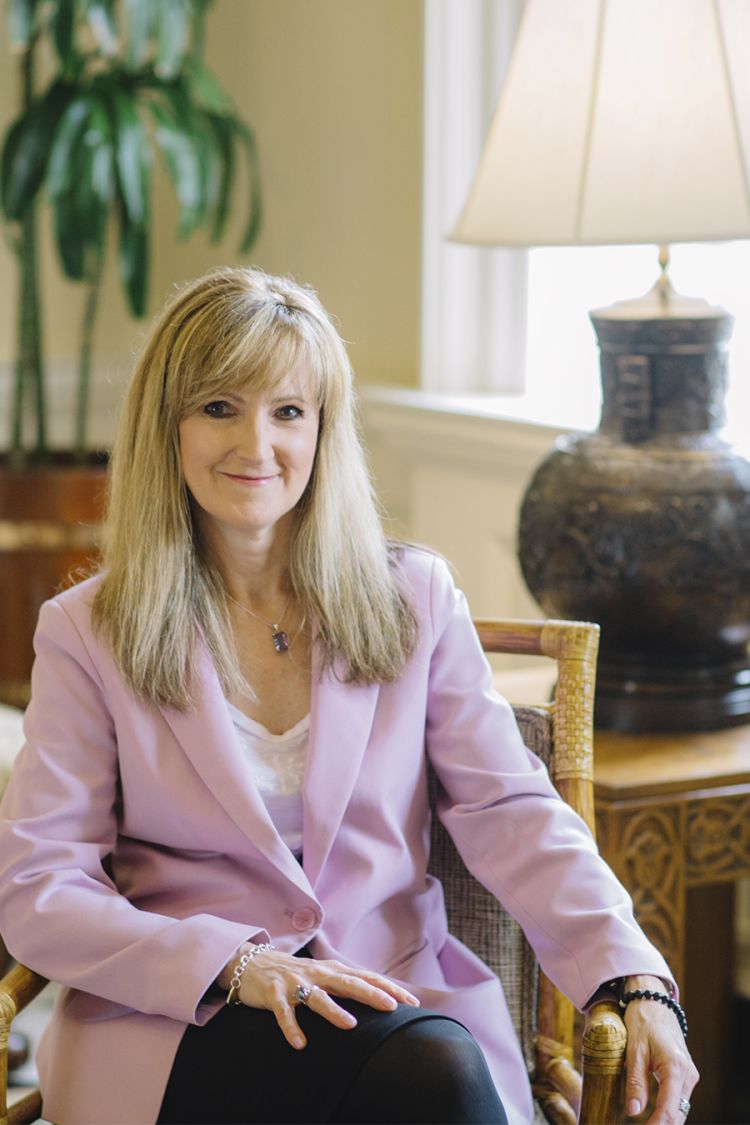 Noreen Bernard, vice president for professional nursing practice, ensures that the bridge is wide and open between the School of Nursing and Emory Healthcare.
In Bernard's mind, the bridge symbolizes the connections between EHC and the school. It also raises a question. 
"How do we take the great brains and all the great work that's happening with students and graduates of the school and bridge them into our nursing workforce?," says Bernard. "It's not limited to students in the baccalaureate program. We want to include students in the master's and DNP programs. There's a significant nursing shortage—everyone knows that. It's hard to find enough qualified experienced nurses."
One solution is the Emory Healthcare Scholars program. The new three-year program allows an EHC nurse to work and study to become an advanced practice provider in an area of critical need. Efforts are under way to recruit the first scholar. Initial plans call for the scholar to be a labor and delivery nurse who will enroll in the nurse-midwifery graduate program at the School of Nursing.
The EHC Scholars program is the direct result of an Emory Pipeline Workgroup discussion about the need for experienced labor and delivery nurses at Emory University Hospital Midtown stemming from a limited number of clinical rotation sites in women's health and nurse-midwifery for students to train. In the future, the EHC Scholars program is expected to help fill the need for advanced practice nurses in several specialty areas, including critical care.



BUILDING CAPACITY 
If you're interested in learning more about Emory's School of Nursing and supporting the education of nurse leaders, contact Amy Dorrill, associate dean of development, at 404.727.6264 or amy.dorrill@emory.edu.