Meet Emory's
Class of 2022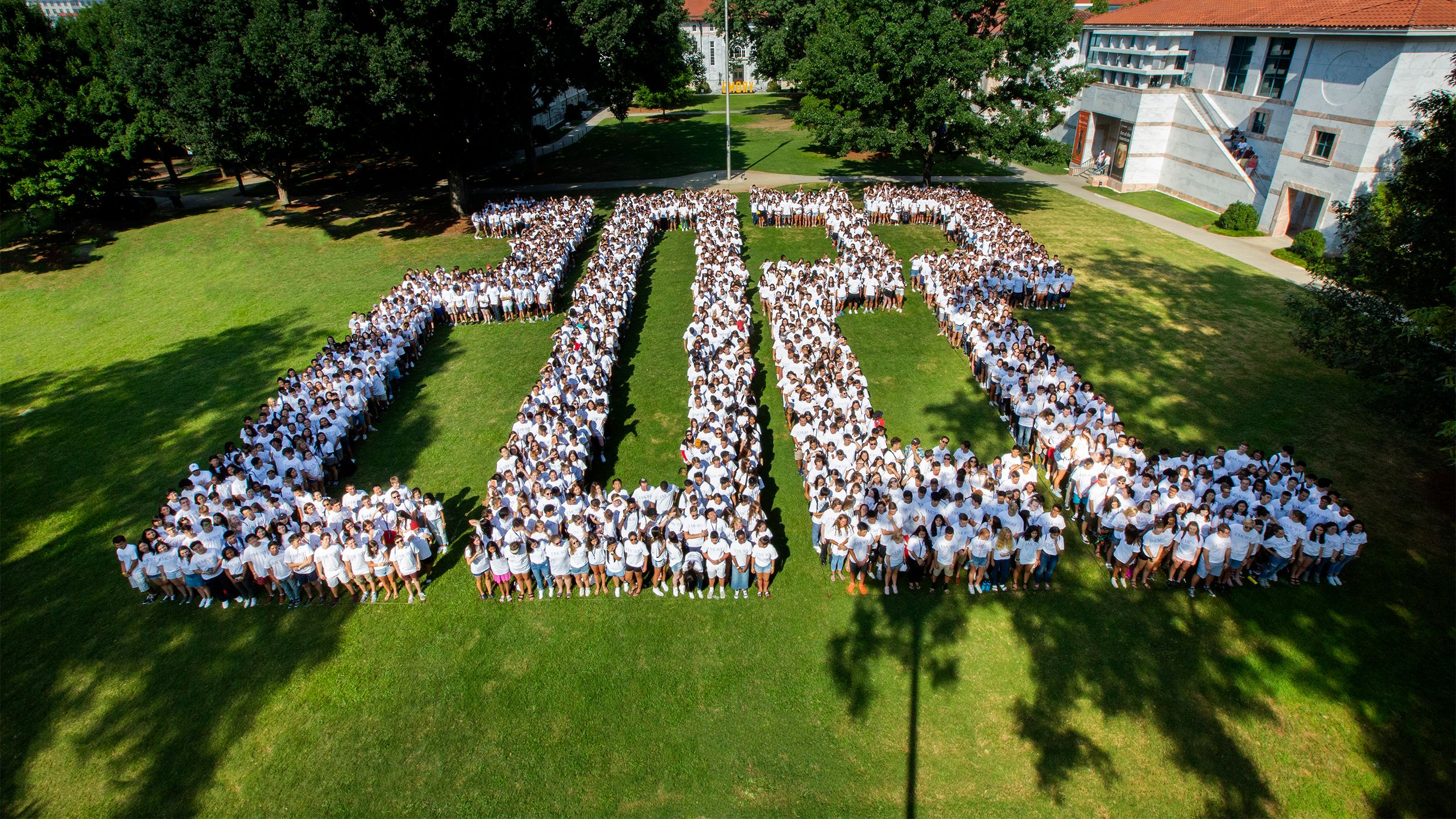 Carrying hopes and soaring expectations — along with a mountain of trunks, boxes and suitcases — Emory University's newest first-year class arrived on campus this week, eager to immerse themselves in the undergraduate experience.
Awaiting them were hundreds of volunteers ready to help with the exciting transition to college life. Student orientation leaders, residence assistants, university staff and Emory President Claire E. Sterk and her presidential leadership team were on hand to greet families, unpack cars and welcome first-year students into their new campus home.
"I'm thrilled to welcome the talented Class of 2022 to Emory," Sterk says. "I can't wait to see how their individual stories unfold over the next four years. These remarkable students are poised to make significant contributions to our world, and I know we will all benefit from their creativity and their dedication."
Before they even set foot on campus, the Class of 2022 was already making its mark. With 1,973 students set to begin their first-year experiences at Emory College of Arts and Sciences and Oxford College, it is officially the university's largest undergraduate class on record, drawn from a record-high applicant pool.
In recent years, that growth has been a steady trend, as more students discover the Emory difference. "As a leading research university with the liberal arts at its core, Emory offers students unparalleled opportunities to explore and expand their academic interests in an engaging and inclusive community," says Dwight A. McBride, provost and executive vice president of academic affairs.
Offering some of the nation's top academic scores, athletic, artistic and literary talents, and a deep record of community engagement, it's an impressive class, says John Latting, associate vice provost for enrollment and Emory's dean of admission.
"With this class, Emory continues to advance our ability to enroll the kinds of students that we most want to be here and who can benefit from the opportunities we offer," he says. "We're seeing advances in terms of academic preparation and the richness of perspectives that they bring in areas of culture, race, ethnicity, linguistic backgrounds, geography and talent."
"I am confident and, in fact, really happy about what I believe this group of people can accomplish in the future," he says. "I think the faculty will be delighted and the Emory community will really enjoy getting to know them."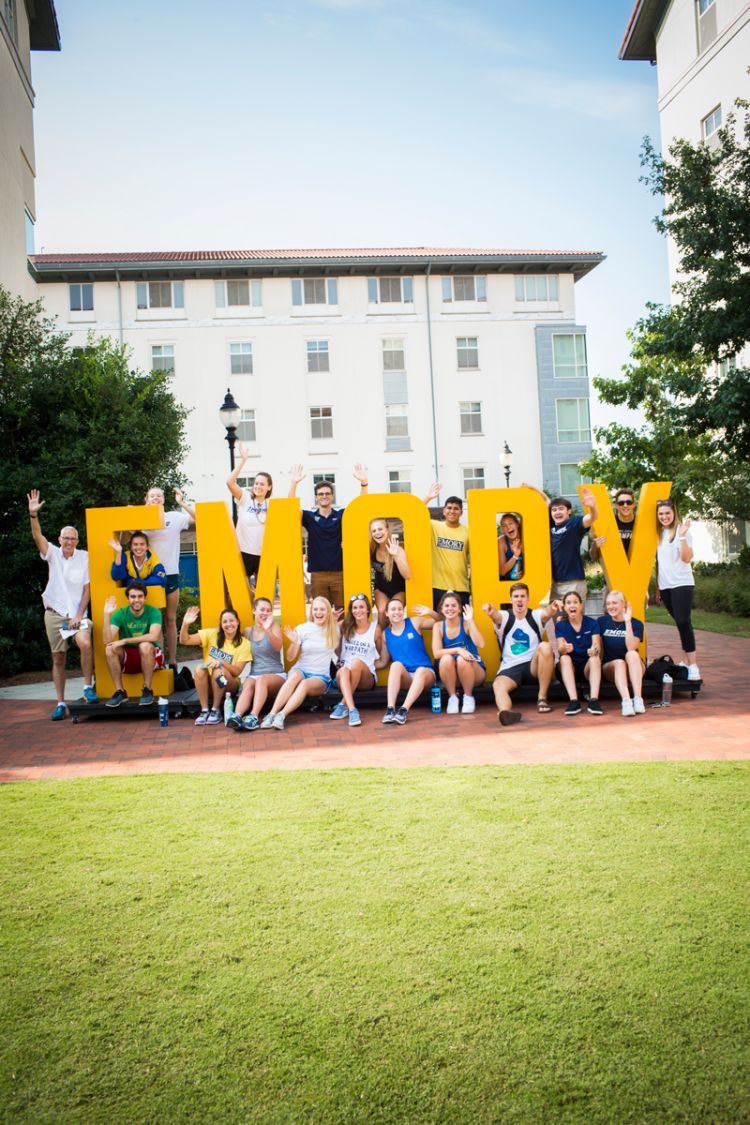 Welcome home
Emory University offers two unique starting points for prospective first-year students: They may apply to enter Emory College on the Atlanta campus or to study for their first two years at Oxford College, on Emory's original campus in Oxford, Georgia.

After the sophomore year, all students complete their undergraduate degree on the Atlanta campus through Emory College, Goizueta Business School or the Nell Hodgson Woodruff School of Nursing.

On Saturday, 1,440 first-year students, plus transfer students, began the four-day orientation for Emory College on the Atlanta campus — an introduction that ranged from moving into residence halls and meeting academic advisers to rousing Songfest practice, campus tours and peer discussions. Returning Emory students and continuing students from Oxford College moved in on Sunday.


Oxford College welcomed 533 first-year students, who moved in and began new student orientation on Friday. Sophomores at Oxford move in Tuesday, Aug. 28, in preparation for the first day of classes on Aug. 29. International students on both campuses began arriving throughout the last week.

"Everyone remembers the day they first moved to campus — there is definitely a special energy about the experience," says Michael Toney, director of new student programs for the Office of Undergraduate Education in Emory College.

"Our goal is to help create a dynamic environment that gives students an immediate sense of comfort and belonging," he says. "It really is a total campus effort."

At Emory College and Oxford College, faculty, staff and administrators are ready to help the incoming class discover the opportunities to be found at a liberal arts college rooted within a top research university.

"This is an exceptional class of students by every measure," says Emory College Dean Michael A. Elliott. "But what's truly exciting is the chance to see what they will discover and create over the next four years on our campus — and then what they will do with their Emory educations after they graduate."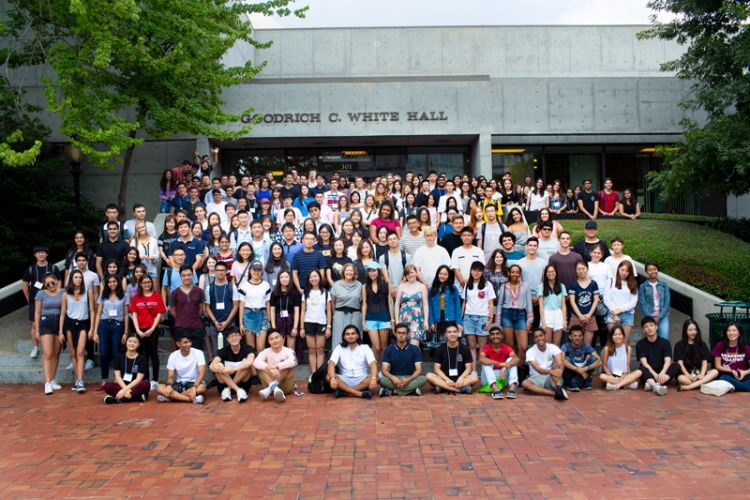 Drawn by Emory's strengths
On Sunday, the entire Class of 2022 — nearly 2,000 students from both Emory College and Oxford College — convened for what is likely the largest first-year class photo ever assembled on the Emory Quadrangle.
"We are welcoming not only the largest entering class in Oxford's history, but also its most highly credentialed," says Oxford College Dean Douglas A. Hicks. "Beyond their academic achievement and preparedness, they are students ready to learn, thrive and serve in our small-campus, close-knit community. I am delighted to dive into the 2018-19 academic year."

For both colleges, incoming students hail from across the U.S. and throughout the world, representing a broader range of cities and countries than ever before.

At Emory College, 17.3 percent of the first-year class are international students; at Oxford College, 16.1 percent of the entering class hail from outside the U.S. On both campuses, first-year students bring with them a diversity of geography, gender, socio-economic demographics and ethnicity.
Incoming students at Emory College and Oxford College offer a sweeping range of backgrounds and experiences (from first-generation students to children of Emory alumni), a variety of religious denominations and geographic roots that stretch from huge international cities to small towns and farming communities.

To assist students with acute financial need, this semester Emory has also enrolled 150 students through a partnership with the QuestBridge National College Match program, which helps outstanding low-income high school seniors gain admission and full four-year scholarships to the nation's most selective colleges.

Emory annually enrolls one of the largest QuestBridge cohorts in the country — a response to the university's commitment to diversity and an effort to ensure that an excellent liberal arts education is accessible for qualified students, Latting notes.

Collectively, they're drawn by Emory's strengths — a reputation for academic excellence, the opportunity to conduct meaningful research as an undergraduate, campus resources and distinguished faculty, the ability to pursue interdisciplinary scholarship at a global research university, and a beautiful campus.

In total, Emory University received 27,982 applications from undergraduate students vying to join the Class of 2022, a 16 percent rise over last year, marking the third consecutive year of a record-breaking growth.
Not only was the overall applicant pool up for the Class of 2022, the number of accepted students who elected to attend Emory College and Oxford College exceeded expectations.
In fact, the student yield was so high across both undergraduate colleges that for the first time in recent memory, Emory University did not enroll any first-year students who were waitlisted, says Latting.
"Emory University's appeal has never been stronger," he notes.
But beyond the numbers, the Class of 2022 is distinguished by the promise of what they will bring to the campus and the classroom. "We see a true spirit of the liberal arts in the incoming class," says Kelley Lips, dean of enrollment services at Oxford College.
"They've demonstrated interdisciplinary insights signaling they are ready to be challenged in the classroom and make significant contributions to the community."
New beginnings

Talk with some of Emory's new first-year students, and you'll discover a collection of unique academic journeys. A few already know their campus by heart. Others have little experience in the American South, but are eager to explore it.

Driving them all forward are bright, curious minds — each shaped by their own experiences, cultures and geographies, but ready to embrace the challenge of new beginnings.

Here are a few of their stories: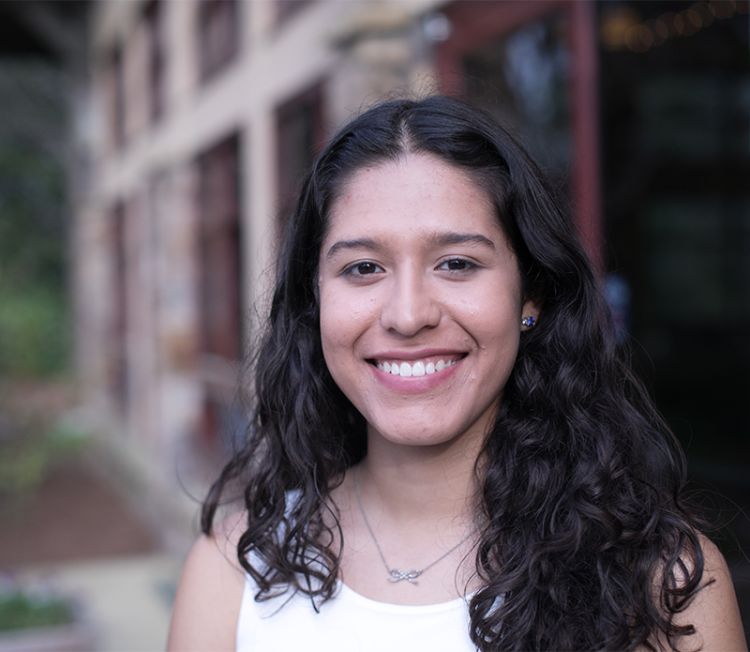 Dayra Leal Sanchez

Born in Mexico, Dayra Leal Sanchez was two years old when her father moved to the U.S. to seek work in the farm fields of California, returning home only a few weeks every year.

By the time she turned 8, he had secured the documents necessary to bring his family with him. And for the first time, Leal Sanchez understood what it was like to be seen as an outsider.

"Especially when I first moved here, I was the stranger," she recalls. "I didn't know any English, and I saw a lot of social and racial injustice around my neighborhood. I was able to see how much people really don't know about each other and how they were sometimes willing to ignore all that we have in common."

"I've always wanted to do something about it," she adds. "That's one reason I'm so interested in pursuing law."

It was during her first year of high school in Romoland, California, that Leal Sanchez stepped out and began to volunteer in her community. "Everything started with Key Club," she says. "I joined freshman year — didn't know anyone, but I joined anyway."

The student-led service program found her covering floats with flowers for the annual Rose Bowl parade, cleaning houses, collecting food and Christmas gifts for low-income families, and sponsoring running races to raise money for research into various illnesses.

Through volunteering, she felt acceptance, purpose and empowerment. Whatever Leal Sanchez does next, she knows it will involve striving to bring positive change to the world.

A high school mentor helped her apply to Emory; she was shocked when an email arrived from the Emory Scholars Program in Emory College announcing that Leal Sanchez was a finalist for a merit-based Robert W. Woodruff Scholarship.

"I came to campus for an interview and fell in love with the students, the staff — just everything about it," she recalls. "Emory was my top choice."

Learning that she would receive the signature Woodruff Scholarship, which will cover her expenses for four years, was overwhelming. "I was speechless," Leal Sanchez says.

"My parents were so stoked and excited, maybe even more than me," she adds. "All I've seen in them is the drive to work, work, work, work. It's been my goal to make sure their sacrifices weren't unanswered."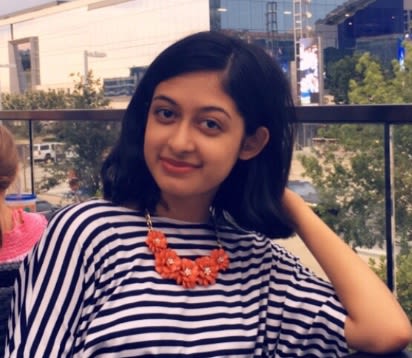 Paakhi Srivastava


For years, Paakhi Srivastava envisioned pursuing a career in medicine, dutifully filling her high school schedule with AP biology and chemistry classes.

But over time, she realized it was actually human psychology that most interested her.

That's how Srivastava became founder and president of her high school's first EQ (Emotional Intelligence) club, which inspires students to recognize emotions within themselves and others, allowing that information to guide healthy behavior and choices.

Through the club, she did outreach to students, teachers, parents and even members of her wider South Lake, Texas, community. Soon, she had launched a branch of the club at a local middle school. Her message focused on basic time and stress management skills, work that eventually resulted in a presentation at a regional TEDxYouth talk.

In the process, Srivastava learned something about herself. "What I actually enjoyed most about the EQ club was running and marketing the club," she recalls. "I told my Dad, 'I want to be an entrepreneur.'"

Inspired to take an economics class, Srivastava found that she not only enjoyed it, but was good at it. When it came time to apply to college, Srivastava sought strong business schools.

"I probably applied to 16 colleges," she recalls. "Emory was one of the best."

In April, Srivastava visited both Emory's Atlanta and Oxford campuses. Something about Oxford College "really opened my mind to how close-knit the community is, which I like," she says. "I come from a small town and have been looking forward to a transition into the college experience. This feels like a good step."

She was also impressed with the range of campus organizations and student leadership opportunities at Oxford. "There are only 400 to 500 students in each class and so many clubs, like around 40, which really surprised me," she says. "I don't know which ones I'll be joining, but I'm definitely interested in a lot of them — so many possibilities."

"It's definitely a whole new life," she says, "but I'm ready for it."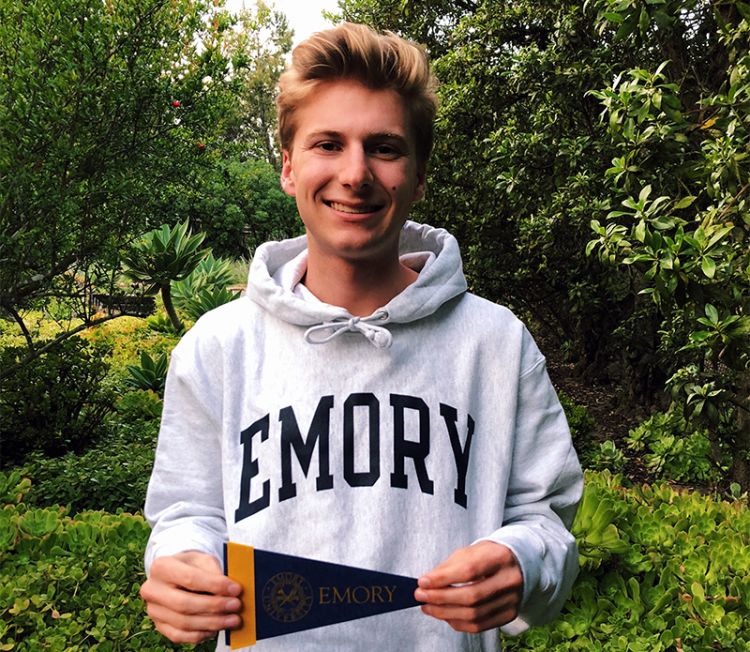 Jason Tayer


Early in the college application process, Jason Tayer already knew his academic interest. "It was environmental science," he says. "I was really set on majoring in it."

But during his senior year, an economics class changed everything. "I had a really great teacher and enjoyed the concepts I was learning," he recalls. "I could apply it to real world things."

As he transitions from his home in Del Mar, California, to Emory, Tayer expects his academic interests to continue to evolve. And given the interdisciplinary flexibility the university allows students in shaping their course of studies, he's excited about where that might lead.

"I'm looking forward to taking the kind of classes that I really want to take," he acknowledges.

Stepping into college life this week, Tayer is ready for the newness of everything that awaits. New world. New friends. New interests. Possibly, an entirely new academic direction.

He first learned about Emory from his high school counselors. When he was accepted into Emory College, Tayer began to research the university in earnest. And he was impressed by what he found.

"Everything seemed to check the boxes to make it the right fit for me," he says. "It was the perfect size, not too small or big, an attractive campus that's close to a city with a diverse, welcoming student body."

With a reputation for high academic standards, Tayer sensed he would find within Emory not only a vibrant intellectual community "where people really liked learning," but also a place that supported well-rounded students and engagement with the broader Atlanta community. For someone who's been active in school clubs and has volunteered with many community organizations in his hometown, experiences beyond the classroom are important.

Tayer has spent little time in the South, so the chance to explore an entirely different community and culture also excites him. "I knew I did not want to stay close at home, that was one of the big boxes I wanted to check," he laughs. "For me, it just feels good to be in a new environment and meeting new people."

In the end, that was what it came down to. Emory just felt right.

He committed without ever having stepped foot on campus.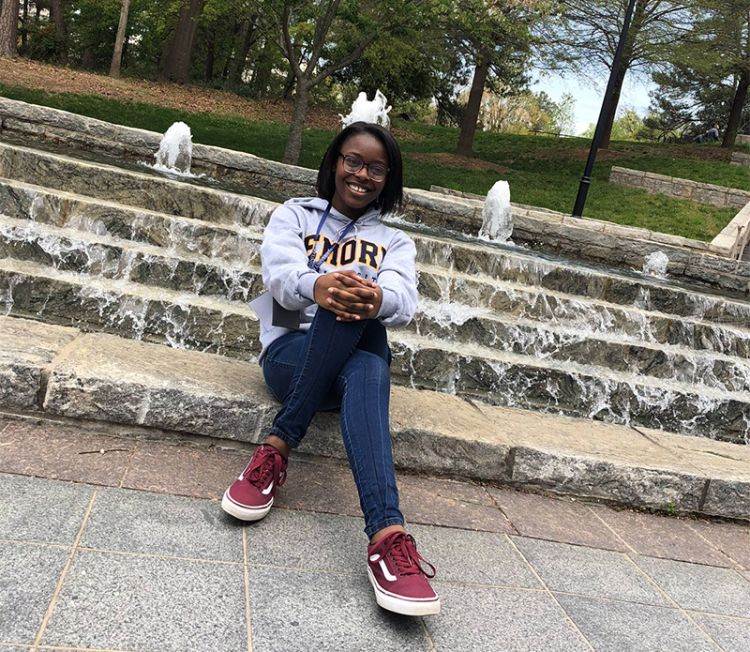 Breona Minefee


When you are the first in your family to go to college, the pressure is on. The pressure to make the right choice. The pressure to perform. The pressure to succeed.

So when Breona Minefee began looking at colleges, she sought a university that offered options. "At the time, I was considering nursing," she says. "But I'm also big on a sense of black community, and I like the thought of going somewhere that has a lot of student organizations."

The chance to visit the Atlanta campus for an Essence of Emory weekend — an invitation-only program for admitted students from underrepresented backgrounds who demonstrate high academic achievement — convinced her that she could find those connections in Emory College.

"I really like how comfortable I felt on campus," she says. "I had a lot of time to walk around by myself and I liked how open the students were. My hosts were great, and I was impressed that people randomly came up to sit with me in the dining hall."

Early on, Minefee knew she wanted to pursue a medical field. Nursing, she decided, would be a way to get there quickly. "I thought I would become a nurse, then eventually a mental health nurse practitioner," she explains.

Since committing to Emory, she already feels her horizons expanding. "Now I'm thinking maybe psychology or even public health," she says.

The options don't end there. In high school, Minefee was a standout in language studies, earning a silver medallion in the National Latin Exam. Attending a public high school focused on science and pre-medicine, "it was the only language we could take," she laughed. "But I liked the fact that Latin helps you learn so many other languages."

An avid reader and gifted creative writer, she looks forward to choosing classes that will allow her to explore wider interests. "For instance, I'm excited to be taking Korean," Minefee says. "That's something I could never have done in high school."

As she packed for her family's car trip from Cleveland, Ohio, to Atlanta, Minefee reflected on what lies ahead.

"I'm the oldest and I'm a first-generation college student. That is a lot of pressure," she says. "But it's also motivation to do something no one in my family has done before."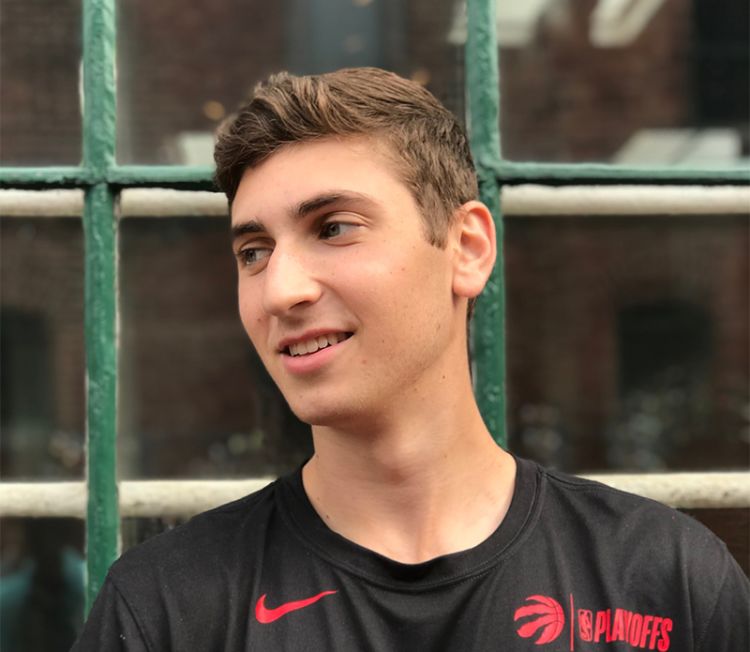 Aaron Gerber


Ask Aaron Gerber what drew his attention to Oxford College and he talks about the opportunity to blend two passions: academics and athletics.

This fall, he's excited for what awaits him in the classroom, but also for the chance to play basketball, working with Oxford College Athletic Director Roderick Stubbs, who is also the head men's basketball coach, and Timothy Terry, assistant basketball coach.

Coming from Lake Forest, California, Gerber recalls his first visit to Emory's Atlanta campus, where he was impressed with the pace of change and growth. "I like how everything is kept up to date," he says. "The Emory coach who gave us the tour said there is always a building under construction, and that impressed me."

At the same time, Gerber was seeking a smooth transition into college life.

Having attended a K-12 high school with a graduating class of 43 students, he knew campus life would be an adjustment. "When I say my classmates were like my brothers and sisters, that's an understatement," he laughs. "I've known my best friend since kindergarten. Looking at a college, I wanted that same feeling. And I like what I found at Oxford College."

Though Gerber considered larger Division-I schools, "I really wanted to keep my focus on basketball and my classes," he says. "I think Oxford will help me stay focused. I love the town, I love the trees, and coming from the Southern California desert, I love that I'll be able to experience all four seasons."

When it comes to academics, he's long had a business degree in mind. But physical therapy treatments following a recent ankle injury have also turned his attention toward medicine. "I went to a great physical therapist, just was mesmerized by what he was doing," he recalls.

Now, in addition to a BBA, Gerber is also interested in pursuing a minor that would allow him to explore some aspect of health and medicine.

"On the Atlanta campus, I love all the connections the university has with providing health care to Atlanta's professional sports teams," he says. "The Falcons, the Hawks, the Braves — it seems like Emory works with every major sports team, which is something you don't see very much where I live."

About this story: Written by Kimber Williams. Emory College photos and video by Ann Watson, Kay Hinton, Stephen Nowland and Corey Broman-Fulks. Oxford College photos by Jeff Roffman. Profile photos courtesy of students. Infographic by Angela Vellino. Editing and layout by Laura Douglas-Brown.