Honoring Emory's Class of 2018
173rd Commencement | May 14, 2018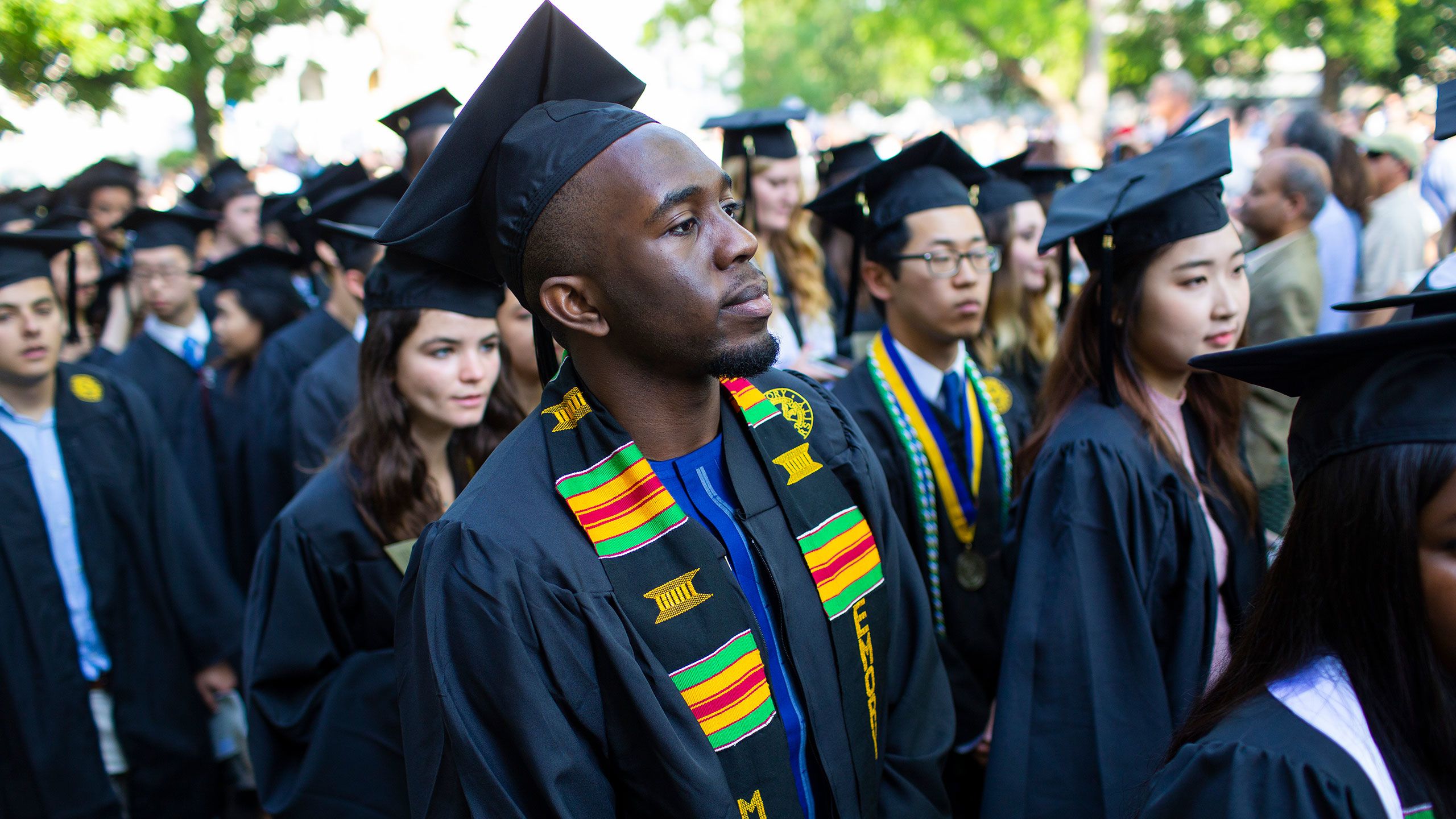 Emory's 173rd Commencement celebrates the past, present and future of the Class of 2018 as this year's graduates step forward to shape tomorrow's world.
As they prepare to embark on future plans, Emory's Class of 2018 was reminded that the shape of their lives — and the world around them — will often come down to the choices they make, both big and small.
In a keynote address woven with humor and advice gleaned from his own meteoric career, Emory alumnus and trailblazing entrepreneur Michael Dubin, co-founder and CEO of Dollar Shave Club, urged Emory graduates to think of time as an investment, cautioning that the little choices they make about how to spend it may prove to be even more important than the big ones.
"That is the word of the day: choices," Dubin said. "I believe if you want to live a life of purpose and happiness, you have to become familiar with the essence of choices."
Choices come in all shapes and sizes, he said, noting that not all of our most important choices present themselves as the obviously "important" ones. In the end, decisions such as where, with whom and how you choose to invest your time are where you will see your life grow.
As they move forward along their respective pathways, Dubin urged graduates to continue inviting new ideas into their lives. "New things, new people, and most importantly, new perspectives," he said. "If there was ever a time in our history that we needed access to perspectives different than our own, it is now."
The importance of being open to new experiences, cultures and perspectives in the lifelong quest for knowledge was echoed throughout the May 14 ceremony, as more than 4,850 students gathered for the conferral of degrees from the nine schools that comprise Emory University.
Welcoming some 15,000 celebrants gathered under soaring blue skies on the Emory Quadrangle, Emory President Claire E. Sterk recognized the Class of 2018 as a generation poised to create change.
"You are ready. You are driven. Your future accomplishments will stagger the imagination with all the positive contribution you will make in the world," she said.
"As you plan your future, keep an open mind, and the story of your life will reveal itself with time," Sterk noted.
Reflecting on earlier conversations she's had with this year's graduates, she recalled hearing threads of anticipation, hesitation and excitement about their next steps.
"Nobody knows what exactly lies ahead, but I can tell you this: I am convinced that you — the Emory Class of 2018 — will get it right," Sterk said. "Because you get it. You get Emory. You embrace our values: compassion, collaboration, integrity, optimism and boldness.
"Use these as your compass," she said. "Have confidence in yourself, and please have confidence in the world…
"You will do more than survive," Sterk predicted. "You will flourish."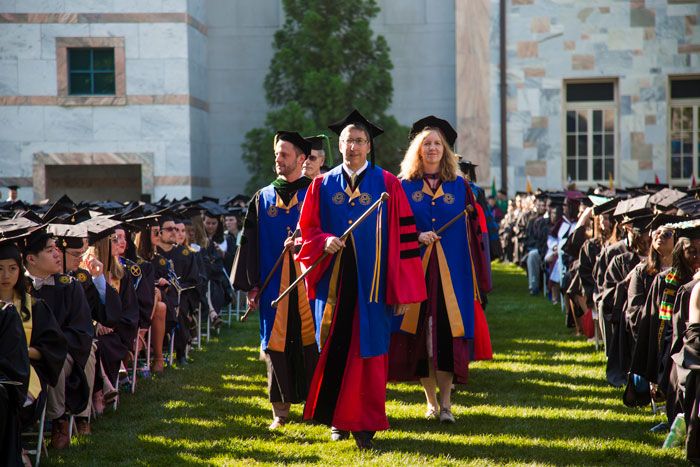 Steeped in tradition, Commencement begins with a procession of faculty and students onto the Quadrangle. Faculty Marshal Henry Bayerle, associate professor of classics, led the faculty, whose brightly colored robes represent the universities where they attained their highest degree.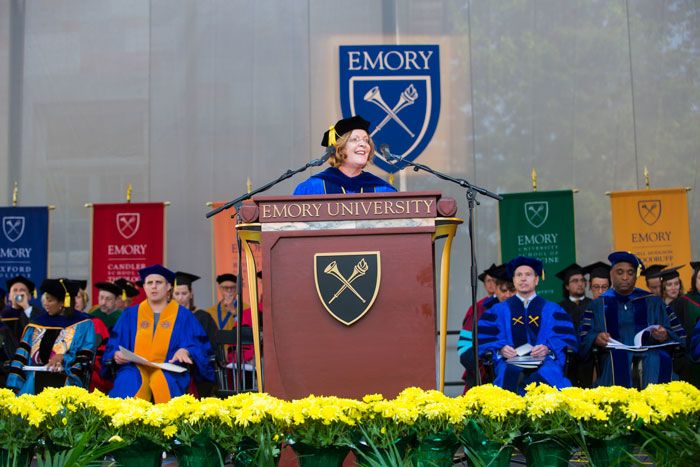 Emory University President Claire E. Sterk encouraged the Class of 2018 to make the values they embraced at Emory — compassion, collaboration, integrity, inclusion, optimism and boldness — their compass as they move out into the world.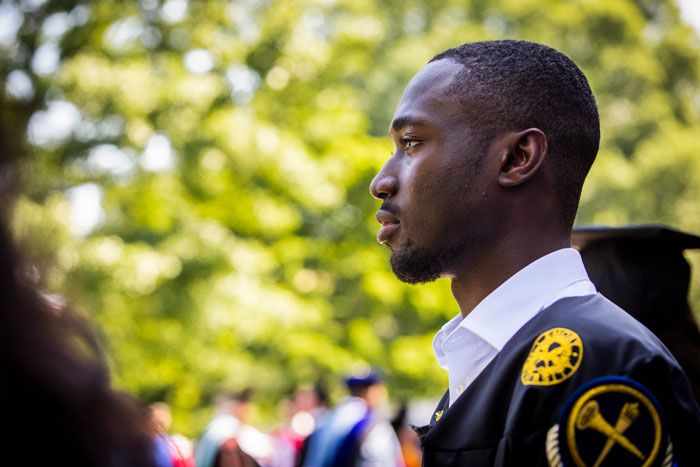 "As you plan your future, keep an open mind, and the story of your life will reveal itself with time," President Sterk told the Class of 2018.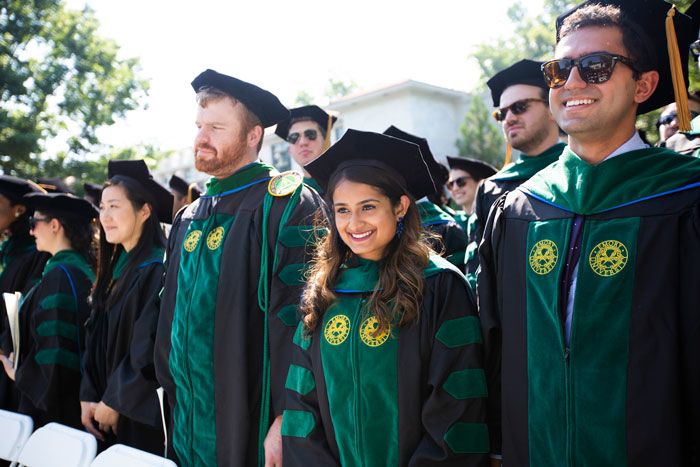 Graduates from the nine schools that make up Emory University were asked to stand as their degrees were officially conferred.
Choices big and small
In his keynote, Dubin said that it was not only an honor to return to Emory to address the Class of 2018, but also something of a shock. "I was not the best student at Emory University," he explained, with a good-natured grin.
Today, Dubin is recognized as an e-commerce wunderkind. Under his creativity and leadership, Dollar Shave Club has revolutionized the razor industry, selling directly to consumers with innovative ads and viral YouTube videos that are quirky, funny and memorable, helping the company emerge as the second-largest men's razor seller in the U.S.
In a move that made headlines on Wall Street, in 2016 Dollar Shave Club was sold to consumer goods conglomerate Unilever for $1 billion — at that time, one of the largest deals in e-commerce history.
But no one, Dubin suggested, could have possibly looked upon his Emory years and predicted that he would one day be back on campus to deliver a Commencement address.
By the beginning of his sophomore year, Dubin was declared ineligible to play for the men's varsity soccer team, for which he had been recruited. By spring of the following year, he had flunked Political Science 100 for the second time in back-to-back years. He graduated with a 2.6 grade point average.
Yet, despite a rocky academic start, "I turned out okay," Dubin assured the crowd. 
It helped that he was open to embracing the risks that come with trying new experiences. After graduating from Emory in 2001 with a bachelor's degree in history, Dubin moved to New York City to work as a page at NBC. There, he learned that many of the great writers and comedians on Saturday Night Live had been trained in improvisation and sketch comedy.
Intrigued, Dubin signed up for a class, "which led to eight years of classes and hundreds of hours of training," he recalled. It wasn't part of his professional plan, but something he pursued simply because "I just fell in love with the art form and wanted to learn it."
Those experiences would pay off when it came time for Dubin to write and perform in his first Dollar Shave Club commercial. And without those catchy commercials, "Dollar Shave Club would not have become a game-changing force in American business that it is," he said.
During the ceremony, Dubin was awarded an honorary doctor of humane letters degree, among a select group of guests to receive honorary degrees this year.
"It is humbling to share the stage with people like my fellow honorees, who have made such enormous impact in the arts, in eradicating hunger, and in ending apartheid," Dubin acknowledged.
"I sell razors on the internet — but they're great razors!" he quipped.
Looking in the "rear view mirror" of his journey, Dubin offered students a list of specific choices that he encouraged them to consider moving forward, including:
 Try new things. You can't foresee how disparate ideas will cross-pollinate across other areas of your life.
Don't do what everyone else is doing and don't worry about what everyone else is doing. No one can predict the future; follow your own passions. And be patient. Success takes a minute.
Get comfortable with being uncomfortable. Don't run from discomfort; lean into it. That's where the growth is.
Be kind to yourself. Things will go horribly wrong, and more than once. Know that your journey is not a linear path.
Study your failures. How could Dubin, who failed the same class twice, go on to lead a billion-dollar company? "Only by studying my failure," he said. Reflecting on his early years at Emory, Dubin knows he "will never waste a good opportunity again.
Ask for help. Seek out a mentor, a coach. People want to help you; let them help you, he said. Then help others.
Take responsibility for someone other than you and your family. "You have a degree from Emory University. You are the fortunate," he said. And the fortunate have an obligation to help those who are without such advantages.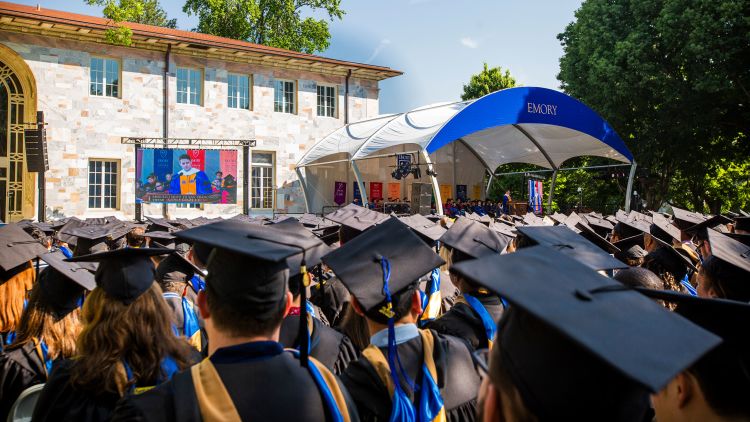 Diverse, accomplished graduates
Introducing Emory's Class of 2018, Sterk celebrated a diverse group of graduate and undergraduate students representing all U.S. states and territories and more than 100 foreign nations, whose flags rippled in the warm spring breeze on the Quadrangle.
It was a day steeped in a sense of both completion and new beginnings, one-last-time photographs and long hugs, as students, friends and families united with proud, shining eyes to honor hard-earned academic achievements.
Visitors came from near and far — from Alaska to Abu Dhabi, San Diego to Singapore — to cheer on their graduates and all that Emory has helped them accomplish.
Shery and Michael Gale flew in from Alaska to see their daughter, Bonnie Gale, receive a master's degree in public health with a focus on epidemiology.
From serving as a research assistant at both Emory University School of Medicine and the Centers for Disease Control and Prevention to participating as a graduate research intern last summer at the Aurum Institute in Johannesburg, South Africa, Gale's Emory experience was everything she had hoped it would be.
"It's been a great school, a great experience," Shery Gale said. "She got into nine or 10 schools of public health, but wanted an environment that promoted teamwork. When she visited Emory she could feel the difference."
Claudio and Shirley Citwar flew in from Abu Dhabi, United Arab Emirates, to see their son Eduardo Citwar receive a bachelor of business administration degree from Goizueta Business School.
Emory proved to be the perfect fit. "I think I gained a lot as a person," Eduardo Citwar reflected. "On top of what I gained academically and excellent resources, I got to know so many people."
"I am definitely a changed person," said Citwar, who plans to move to Rio de Janeiro, Brazil, to work for a family business.
Lynn Shields came down from Boston, Massachusetts, to see her daughter, Hannah Shields, receive a bachelor's degree in neuroscience. "She really wanted a college that offered research as an undergraduate, which she was thrilled to find here," Shields said. "She had great professors and an opportunity to work at Yerkes National Primate Research Center."
For Fred Kaissi, it was a bittersweet day. He was filled with pride to see his daughter, Emily Kaissi, receive her bachelor's degree in biology with a minor in public health, and thrilled to know that she has plans to attend medical school at Columbia University.
Midway through her studies at Emory, her mother died. But after taking a semester off, she returned, took classes during the summer and still managed to graduate on time, he explained, beaming. "I wish her mother could have been here, too," Kaissi said.
Behind the scenes the mood was celebratory, as Emory graduates lined up in robes and other academic regalia in preparation for the grand procession onto the Quadrangle, the traditional launch to the ceremony.
Doctoral candidate Kimberly Wagner received the good wishes of friends and family, including her parents, former Emory President James W. Wagner and his wife, Debbie. After completing her PhD in homiletics (the art of preaching), she has a tenure track teaching appointment as an assistant professor at the Lutheran School of Theology at Chicago.
As for her time at Emory, "it was wonderful," said Wagner, who also earned her master of divinity degree from Emory. "Such good professors here, that's what made the experience so special, the people who challenge you and cheer you on."
Behind the Michael C. Carlos Museum, where Emory College graduates gathered in a happy, boisterous enclave, Abigail Bacharach could barely contain her excitement.
After earning her bachelor's degree in neuroscience and behavioral biology, the New Jersey native has plans to work this summer as a research assistant at the Memorial Sloan Kettering Center in New York City, with plans to continue to medical school.
"Emory has been a great experience," she said. "I've met people from all over the world. Although I'm sad to see it end, I'm happy for what the future holds."
For William Heck, graduating with a bachelor's degree in English and creative writing, the future means returning to California for a job as a social media specialist with Samsung. For Cristin Hendrickson, a biophysics major from Dallas, Texas, it will mean teaching science to children in Namibia through the Peace Corps.
Looking back on his time at Emory, Edward Hernandez said that he will return to his hometown of Los Angeles, with not only a bachelor's degree in biology, but an appreciation for the broader lessons that Emory has offered.
"It's made me feel much more humble, and welcoming of other people and other ideas," he said.
Celebrating exceptional achievements
The Commencement ceremony also marked the presentation of university-wide honors to students, faculty and distinguished guests for service, leadership, teaching and mentorship, and lifetime achievements.
Among the honorees:
Jalyn Radziminski, who majored in linguistics and interdisciplinary studies with a human rights focus, was named the undergraduate recipient of the university's highest student honor, the Marion Luther Brittain Service Award.
Nicole Schladt, who earned the juris doctor at Emory's School of Law, was the graduate recipient of the Marion Luther Brittain Service Award.
Michelle Lampl, Charles Howard Candler Professor of Anthropology and director of the Center for the Study of Human Health, received the Exemplary Teacher Award through the United Methodist Church.
Dr. Charles E. Moore, professor of otolaryngology, head and neck surgery at the Emory School of Medicine and chief of otolaryngology at Grady Memorial Hospital, earned the Thomas Jefferson Award for significant service to the university.
Emory also conferred four honorary degrees. Prior to presenting the keynote address, Dubin received an honorary doctor of humane letters.
Honorary degrees were presented to the following distinguished guests:
Bill Bolling, founder of the Atlanta Food Bank.
Carmen de Lavallade, artist of dance, theater, film and television.
Gay J. McDougall, human rights lawyer who confronted apartheid in South Africa.
Learn more about the honorary degree recipients.
Experiencing display issues on your iPhone? Please make sure that your iOS is up-to-date in order to view all of the visual elements in this story.
Credits: Writing by Kimber Williams; photos and video by Ann Watson, Kay Hinton, Corey Broman-Fulks and Stephen Nowland; layout by Laura Douglas-Brown; editing by Leslie King and Laura Douglas-Brown; graphic by Elizabeth Hautau Karp; technical assistance by John Mills and Beth Savoy.