Top 17 of 2017
Take a look back at some of Emory's most-read stories of the year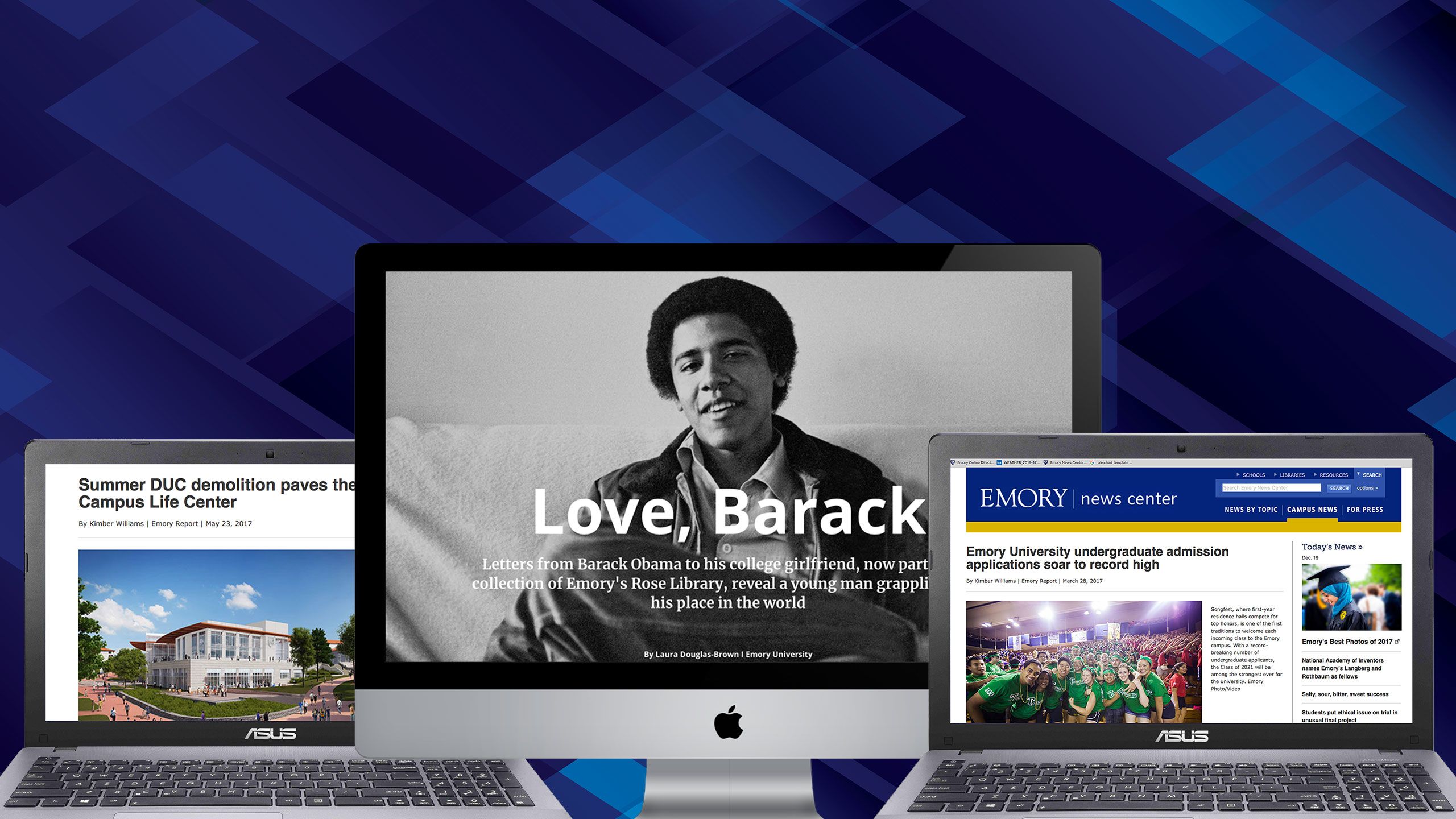 From research to rankings and even a Rhodes Scholar, here are 17 of the stories that drew the most readers to the Emory News Center in 2017:
The young author, writing to his girlfriend and pondering topics ranging from college classes to social class, could be any of us who ever wondered where we fit in the world. Except he went on to become the 44th president of the United States, the first African American to hold the highest office in the nation.
The series of letters written by Barack Obama to his then-girlfriend, Alexandra McNear, are now part of the collection of Emory's Stuart A. Rose Manuscript, Archives and Rare Book Library, where they are available to scholars and students by appointment.
Compounds derived from fire ant venom can reduce skin thickening and inflammation in a mouse model of psoriasis, Emory and Case Western scientists have shown. The results were published recently in Scientific Reports.
The findings could lead to new treatments for psoriasis, a common autoimmune skin disease. Topical steroids are now most frequently used for mild to moderate psoriasis, but they have side effects such as skin thinning and easy bruising.
Applications for Emory University's undergraduate programs hit an all-time high, with a record-breaking total applicant pool of 24,114 students seeking to join the Class of 2021, an increase of 19 percent over last year.
Both Emory College and Oxford College experienced double-digit increases in applications: Emory College applications were up 19 percent to 23,694 and Oxford College applications jumped 63 percent to 14,080. About 56 percent of applicants sought to be considered for admission to both colleges.
In a ceremony honoring both Emory's rich history and the bright promise of a bold future, Claire E. Sterk was inaugurated Feb. 8 as the university's 20th president.
With commitments to build an inclusive community, promote local and global engagement, and to lead by employing "Emory's enduring qualities of excellence, distinctiveness and relevance," Sterk, an internationally acclaimed public health researcher, formally accepted the charge of leadership in a service featuring music and poetry, distinguished guests and time-honored rituals.
"I am hopeful about the future because I know what the people at Emory are capable of accomplishing. We will be guided by what we stand for: knowledge, the pursuit of truth, evidence, rational reasoning and ethical principles," she said.
Graduating Emory University School of Medicine students gathered at noon March 17 for the greatly anticipated Match Day 2017 ceremony. The Emory students are among thousands nationwide who applied for residency positions at U.S. teaching hospitals through the National Residency Match Program.
"The Match Day ceremony is a long-awaited culmination of hard work and perseverance that always proves to be one of the most thrilling times in the lives of our medical students," says J. William Eley, executive associate dean for medical education and student affairs. "Today our students learned they are headed to some of the top programs both here at Emory and throughout the nation to begin their careers as physicians."
Emory University has been ranked 21st among the nation's top universities in the new 2018 Best Colleges guidebook from U.S. News & World Report.
Emory was also listed as 17th among national universities offering the "best value" to students based on a combination of academic quality and the average level of need-based financial aid.
Emory's Goizueta Business School, which is ranked separately from the university's main undergraduate program based on a peer survey of deans and senior faculty, was 15th in the undergraduate business rankings.
Emory programs also ranked highly in U.S. News & World Report's separate America's Best Graduate Schools guide.
Emory's Nell Hodgson Woodruff School of Nursing was ranked 4th in the nation. The school's Family Nurse Practitioner program ranked 8th in the country.
Goizueta Business School's full-time MBA program was 20th, its part-time MBA program 25th, and its Executive MBA program 17th.
Emory University School of Law ranked 22nd in the nation.
Emory University School of Medicine ranked 23rd nationally among research-oriented medical schools, and 34th among primary care schools.
Emory and Georgia Tech's joint Department of Biomedical Engineering PhD program ranked 3rd in the nation.
In August, Emory University welcomed the Class of 2021, a talented group of first-year students from all over the world. Along with duffel bags and dorm-room décor, they arrived with diverse stories of their academic journeys.
For some, the chance to study at Emory has been a long-held dream. For others, the opportunity to attend a top liberal arts research university represents a never-imagined goal now being realized through life-changing scholarship support.
With top academic scores, athletic and artistic achievements, and community engagement experiences, the Class of 2021 was selected from among a record-breaking number of applicants.
Emory University filed a petition June 27 to annex into the City of Atlanta. The Atlanta City Council approved the annexation at its Dec. 4 meeting, clearing the way for Emory to officially become part of Atlanta on Jan. 1, 2018.
"We are thrilled that the City Council has approved our annexation petition," says Emory University President Claire E. Sterk. "Working together, Emory University and the City of Atlanta will continue building a stronger future for neighborhoods across the metropolitan area. We enter this new stage of our relationship with enthusiasm and great optimism for what lies ahead."
The university, including its health care facilities on the Druid Hills campus, will remain in DeKalb County and also be part of the City of Atlanta.
"Emory is not leaving DeKalb County," says Sterk. "We remain steadfastly committed to our colleagues and neighbors in county leadership and beyond. Alongside the Centers for Disease Control and Prevention, Children's Healthcare of Atlanta and the other entities involved in annexation, we will pursue our shared mission of serving the common good in the greater metropolitan area and well beyond."
Christmas came early this year for Emory seniors Jaime Guberman and Felicia Kane with an unexpected and elaborate surprise — complete with some serious swag — that played out before a national audience Nov. 29 on "The Ellen DeGeneres Show."
The friends and roommates are both huge fans of the show. Back in the spring, when Guberman suggested they try to attend a taping, Kane found a place on the show's website for viewers to nominate a friend deserving of recognition and decided to try to surprise Guberman.
Fast forward to November, when the pair flew to California believing they were going to watch a taping of the show from a backstage marketing area.
But then DeGeneres called them to the stage.
Emory University senior Chelsea Jackson is one of 32 American college students selected as a 2018 Rhodes Scholar.
Jackson, a political science and African American Studies double major in Emory College of Arts and Sciences, is the university's 20th student to be selected for the prestigious scholarship that provides all expenses for two or three years of study at the University of Oxford in England. She also is the fourth woman and first African American student from Emory College to receive the scholarship.
Jackson has focused her undergraduate research and her community leadership on efforts to create a more equitable campus and Atlanta community.
On May 3, Emory University President Claire E. Sterk announced two key university leadership appointments.
"I am thrilled to announce the appointment of Dwight McBride, PhD, as provost and executive vice president of academic affairs, as well as the appointment of Christopher Augostini as executive vice president for business and administration," says Sterk.
"These two appointments will build upon Emory's exceptional leadership team. We look forward to working with Dwight and Chris, whose leadership and vision will help Emory realize its bold ambitions now and well into the future," says Sterk. 
Both McBride and Augostini began their tenures at Emory on July 1.
As Commencement festivities were winding down in early May, the Dobbs University Center was already being emptied, as workers began preparations for its demolition to make way for the construction of a new three-story Campus Life Center (CLC).
By the time students returned to campus in mid August, the DUC was gone. In its place will rise the new CLC, designed to provide inviting, flexible spaces for student dining, programming and community-building.
When completed, the new building will be approximately 132,000 gross square feet — a gain of about 61,000 gross square feet for Campus Life programming. The facility will feature a new campus restaurant and large multipurpose ballroom, along with conference rooms, offices and student lounges and recreational spaces.
A component of the skin mucus secreted by South Indian frogs can kill the H1 variety of influenza viruses, researchers from Emory Vaccine Center and the Rajiv Gandhi Center for Biotechnology in India have discovered.
Frogs' skins were known to secrete peptides that defend them against bacteria. The finding, published in the journal Immunity, suggests that the peptides represent a resource for antiviral drug discovery as well.
Anti-flu peptides could become handy when vaccines are unavailable, in the case of a new pandemic strain, or when circulating strains become resistant to current drugs, says senior author Joshy Jacob, associate professor of microbiology and immunology at Emory Vaccine Center and Emory University School of Medicine.
Emory anthropologist Jessica Thompson was at a human origins conference years ago when she heard a presenter lament: "Of course, there is no ancient DNA from Africa because of the poor preservation there."
That's when it clicked in Thompson's mind: Back in 2005, she had visited a place in Africa — the highlands of northern Malawi — that had neither extremes of heat or wetness, two main environmental factors that degrade DNA. She also knew that scant archaeological research had been done in the region, although a team had unearthed several ancient skeletons there decades ago.
Thompson's fateful trip laid the groundwork for discoveries of the oldest-known DNA from Africa. The journal Cell published an analysis of the new discoveries, filling in thousands of years of human prehistory of hunter-gatherers in Africa, led by Harvard geneticist David Reich.
Researchers from Emory University, led by professor Helen Mayberg, have found that specific patterns of activity on brain scans may help clinicians identify whether psychotherapy or antidepressant medication is more likely to help individual patients recover from depression.
The study, called PReDICT, randomly assigned patients to 12 weeks of treatment with one of two antidepressant medications or with cognitive behavioral therapy (CBT).
At the start of the study, patients underwent a functional MRI brain scan, which was then analyzed to see whether the outcome to CBT or medication depended on the state of the brain prior to starting treatment. The study results are published as two papers in the March 24 online issue of the American Journal of Psychiatry.
When Emory College sophomore Lucy Wainger attended this year's Decatur Book Festival session celebrating 2017's "The Best American Poetry" anthology, she had no idea she would be called to the stage by award-winning poet Jericho Brown to read her own work.
But Brown, director of Emory College's Creative Writing Program, had good reason: Wainger's poem "Scheherazade" had been selected by anthology editor and former U.S. Poet Laureate Natasha Trethewey to be included in the volume, alongside work from Joyce Carol Oates, Leonard Cohen, Sharon Olds, Robert Pinsky and other well-known poets.
Excitement built throughout 2017 for the opening of the new Emory University Hospital Tower. Employees got an early look at the gleaming new facility during a special "Day in the Life" test on June 28.
The 450,000-square-foot, $400 million state-of-the-art hospital tower, across Clifton Road from the current hospital, allows for an expansion of services and expert care, while creating an integrated and spacious environment for patients and their families.
Cancer patients, including surgical, medical oncology and bone marrow transplant patients, will be cared for in the new tower along with kidney, liver and pancreas transplant patients. The hospital's medical ICU and surgical ICU will also be located in the new building, along with other specialties.
The hospital addition comprises 232 patient beds, including 40 critical care beds, adding 128 net new beds to Emory University Hospital. Floors one and two opened July 31, along with an underground parking deck with 500 parking spaces. Patient floors began opening in August, with the first inpatient arriving Aug. 26, and the hospital tower became fully operational in late October.
More 2017 Year in Review stories:
The heart of Emory is the people who come here to learn, teach, work, help and heal. Meet just a few of the individuals and families from across the university who inspired us this year.
Every day, Emory photographers can be found from the classroom to the operating room, documenting the university's mission "to create, preserve, teach and apply knowledge in the service of humanity." View 12 of their best photos of the year.