Doctors on
the field
From the sidelines, team physicians respond to emergencies including concussions, broken bones, and cardiac arrests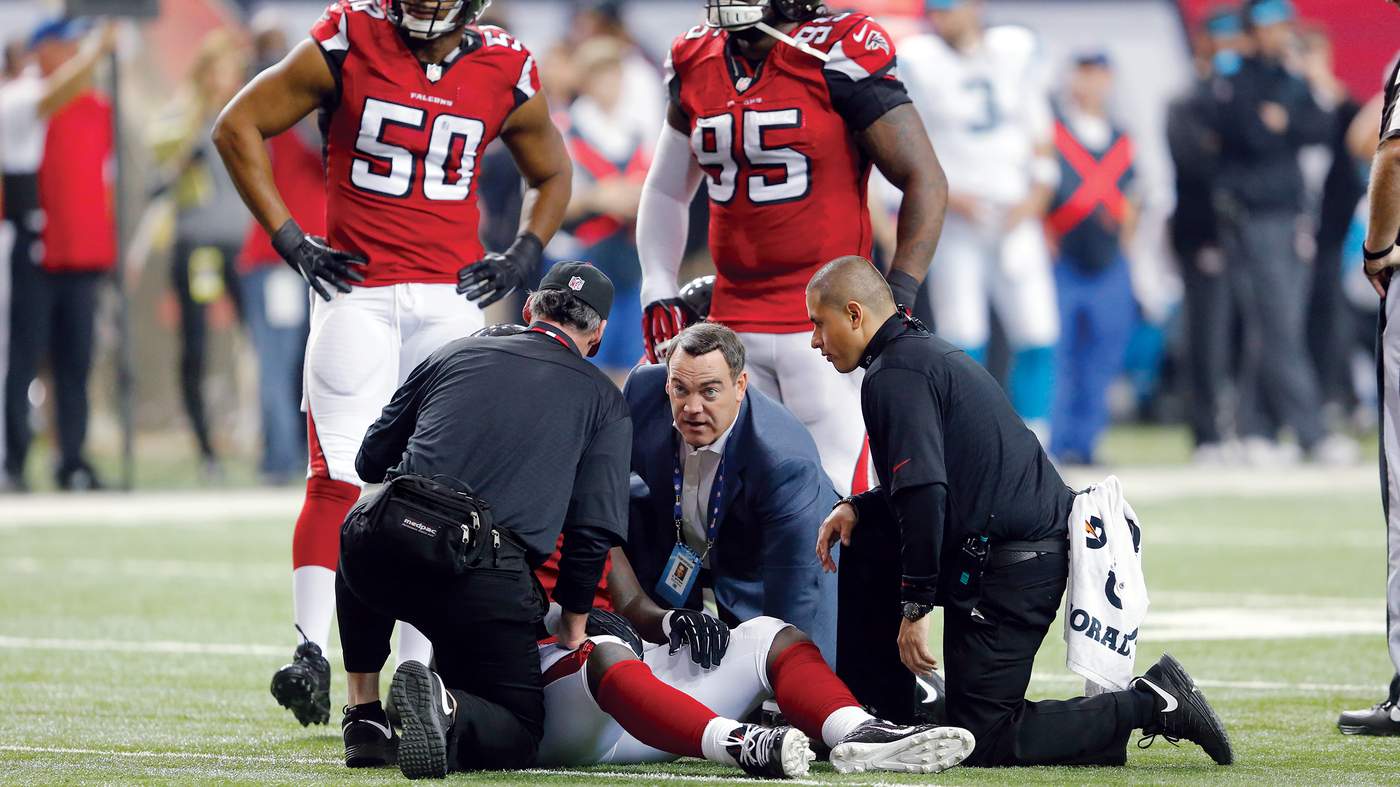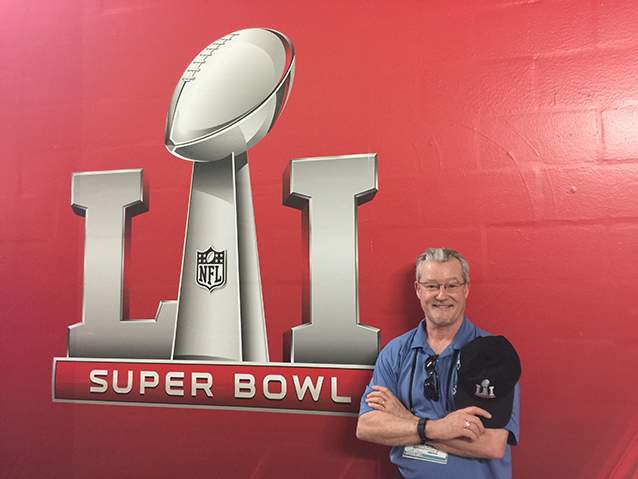 SAFETY AT THE SUPER BOWL
Go behind the scenes with Emory emergency medicine physician and NFL adviser Ric Martinez
Game Day
05:00 am As he's done before more than a score of Super Bowls, Dr. Ric Martinez has already downed his coffee and a hearty breakfast. He and his team—seven professionals with deep experience in emergency management, mass care, and public health and safety—don't know when they'll eat again. As senior medical adviser for the Super Bowl, Martinez helps prepare for everything from heart attacks to broken bones, food poisoning, flu outbreaks, bad weather, and biologic weapons. Every catastrophe is imagined and planned for.
Safety and security-wise, the Super Bowl ranks up there with world leadership summits and presidential nominating conventions, designated by the Department of Homeland Security as a "national special security event" and, in turn, a possible terrorist target. "We live in a world of threats," says Martinez, whose long-running stint has positioned him as one of the leading thinkers of mass gathering planning. "Yes, there is always planning for a terrorist attack. But we try to prepare for any eventuality—structural collapse, natural disasters, falls, hazardous waste. You name it, we've got it."
First stop is the headquarter hotel's convenience care clinic, staffed by local medical professionals. The clinic allows Martinez's team to help oversee the care of the large production staff needed for the game, treating sprained ankles or flu cases and keeping an eye out for illness trends. Next, Martinez, assistant professor of emergency medicine at Emory, is off to the stadium for morning orientation. He pulls into the parking lot, winding his way through plazas brimming with pre-game partyers. He flashes his ID and clears the hardened security perimeter. At the central command post, he's greeted by leaders of security, operations, environmental, transportation, and other departments with whom he's been meeting for the past year and half in preparation for this day.
10:15 am Martinez's team briefs the ushers, parking attendants, security guards, and vendors about what they can do to keep the expected crowds safe: how to recognize an emergency, whom to call, what to say, what to do until help arrives, and where the first aid stations are positioned throughout the stadium. Next stop is the field to review medical and emergency plans with team physicians, trainers, orthopaedists, and other specialists.
Physicians are on call 24/7 to facilitate care for the NFL "family," some 3,500 NFL personnel, broadcasters, media executives, and team staffers who arrive days before the game and may also need local health care. Plans are put in place for timely access to urgent and emergent care for ailments that could include flu, gastrointestinal illness, allergic reactions, stroke, or heart attack.
Noon The opening kickoff is seven hours away, but fans are already pouring through the just-opened gates. Martinez is in constant contact with the joint command post and his team: five other emergency medicine docs, a paramedic, and a firefighter. He's glued to his iPhone, monitoring text and video updates every few minutes from the command post that's been operating for more than a week: the electricity is out in one section of the stadium, a stalled shuttle bus is blocking one of the drop-off points, someone has slipped on a wet bathroom floor and injured her hip, and a woman is in early labor.
Security and a paramedic are summoned to a crowded area—a fan waiting in line has fainted, others are feeling the effects of the unexpected January heat. Guests are already being treated at first aid stations throughout the stadium.
07:00 pm During the pre-game and halftime shows, Martinez and his fellow physicians, along with multiple specialists, patrol the sidelines with oxygen, X-ray units, and ambulances at the ready. He carefully observes the hundreds of entertainers, photographers, and reporters going up and down the field and directs members of the medical team to be vigilant.
Area emergency rooms are busier than normal already from the increased traffic—both car and foot. But mostly, by game time, it's just about staying aware, alert, and responsive.
Martinez is posted near the 30-yard line, an extra set of eyes and ears and hands for the team physicians. Noting his vantage point behind the players, photographers, and referees, he jokes that once again this year, the most he'll see of the game itself is "plenty of people's butts."
"Mascot going down," Martinez radios to the command post, as he sprints toward the mascot wobbling near the stands. Martinez peels off the heavy foam costume to reveal a hulking 6-foot-four, 250-pound young man whose face is beet red. He's sweating profusely. "Pump him full of fluids and cool him down," he tells the medics who help the mascot off the field.
Later a defensive back goes down. His wrist cracks, bone digging into dirt. The player needs to get into surgery ASAP, Martinez tells central command, and a choreography of movements begins. Within minutes a cart is taking the player off the field and a pre-screened ambulance is waved through by security. It speeds the player to the hospital, where he's in the operating room within 45 minutes of the accident.
10:30 pm The game is over, but Martinez and his team are still on duty, helping facilitate after-game physicals and X-rays—it's the last game of the season, so all the injured players must be evaluated before they leave. More trips and falls are inevitable as thousands of fans pour out of the stadium and workers, vendors, and broadcasters close down. By day's end, the medical teams will have dealt with some 300 incidents and at least a dozen transports to area hospitals.
01:00 am The early morning hours: Martinez and his medical team, still pumped on adrenaline, head out to a post-game dinner where they'll watch reruns of the game, eat their first meal since yesterday's breakfast, and replay the day's medical highlights. Like a good coach, Martinez is constantly fine-tuning his team's contribution to the host city's preparedness efforts so that everyone from the players to the ticket takers, concessionaires, broadcasters, and fans can safely enjoy this once-a-year clash between football's finest.
Three weeks later: Martinez and Alex Isakov, his Emory colleague and medical team member, share lessons learned with the next host city. They tell local police, fire, medical, and other emergency services what to expect and what they'll need to do to get ready. "The Super Bowl is iconic, and we're happy to share what we've learned about how to make these large-scale events safe," Martinez says. "It's a great joy to do this work, both as a physician and as a sports fan."
And so Super Bowl goes for Ric Martinez. He's a key part of a complex, carefully orchestrated mass gathering that packs in 100,000 people—the equivalent of a small city, with all the accompanying issues of security, safety, and public health.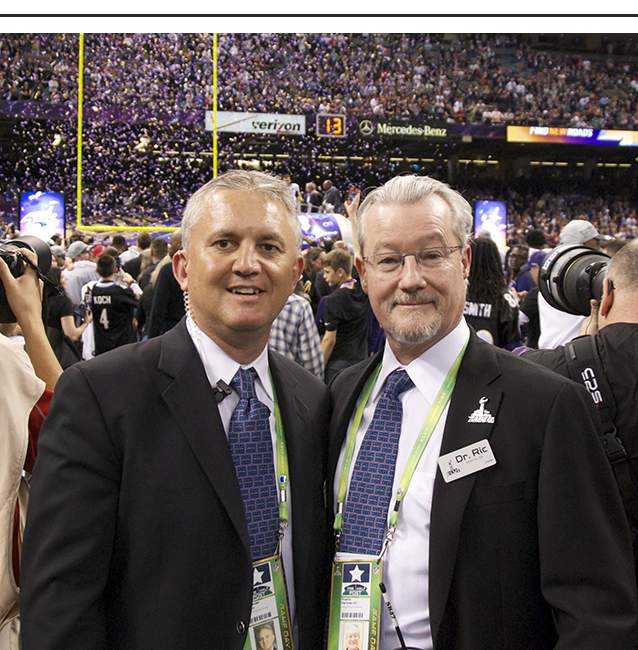 The handoff
Emergency medical response teams need to be prepared to provide urgent care while minimizing transports on Game Day, says Alex Isakov (left, with Martinez), director of prehospital and disaster medicine at Emory and of CEPAR (Emory's Center for Critical Event Preparedness and Response). "They need to be ready for the possibility of a mass casualty event, and to apply hemostatic dressings and tourniquets to control bleeding—interventions that a local responder may not routinely employ," he says. Martinez and Isakov were involved in Super Bowl LI in Houston and will start planning for Minnesota this coming year. "In every host city, we work with professionals dedicated to serving their community well," he says. "There is a distinct difference in how a venue plans for a regular season game and how they plan for the Super Bowl, because it is so complex and high profile." It's also an opportunity for those on the front lines to have robust dialogue with their counterparts in other cities, he says—to see how they are organized and to share ideas about disaster response.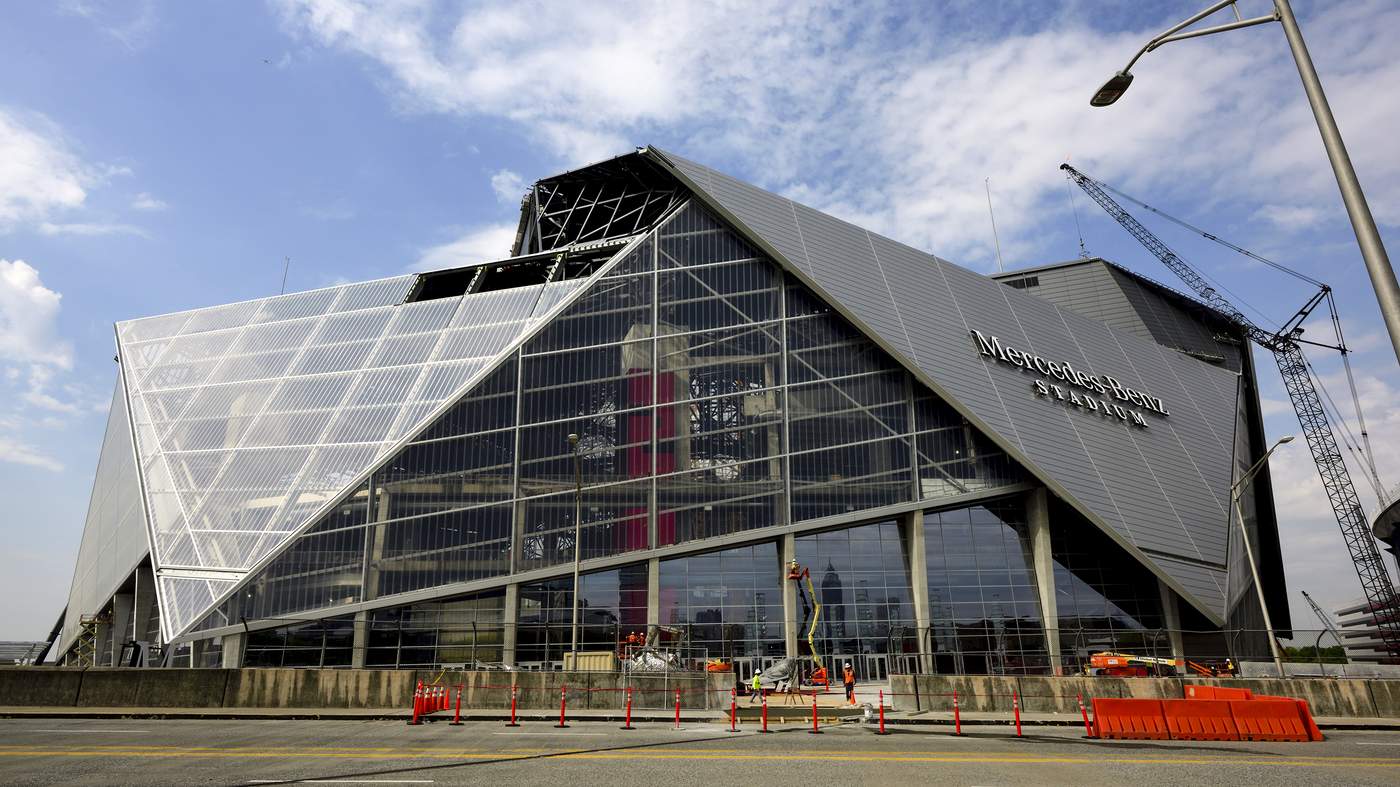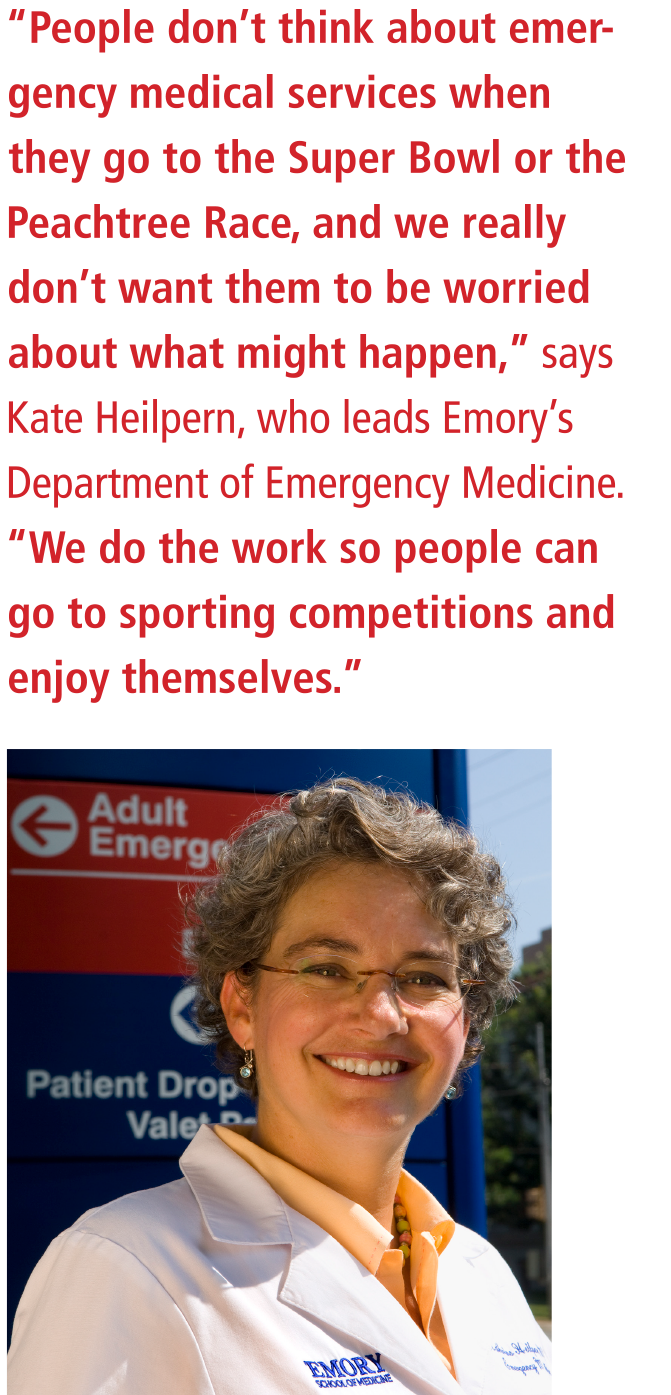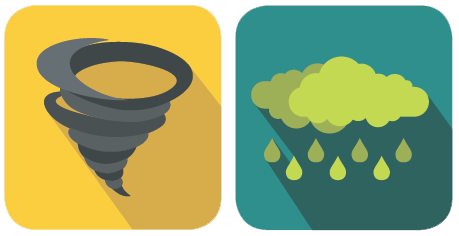 Natural Disasters
When a magnitude 6.9 earthquake hit the San Francisco Bay Area, prompting the city's 49ers to move games to Stanford Stadium while Candlestick Park was being repaired, the NFL realized it was unprepared for catastrophic events.
"Emergency care was something they didn't know much about," Martinez says. "They asked if we would work with them to make sure that they were doing everything they could to ensure that both the players and spectators had access to the best emergency care."
After a rise in mass event terrorist attacks worldwide, the NFL began to emphasize risk management and safety issues even more.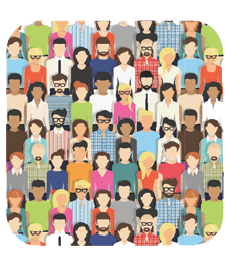 Securing a Pop-Up City
Today's Super Bowls are about more than the game. They are weeklong events, with local festivals, concerts, health screenings, and other activities across the region. Keeping the public safe starts well before the first kick-off and extends far beyond the players and the stadium.
In 2004, 200,000 people took part in festivities surrounding Super Bowl LI in Houston. For the 2017 Bowl, the city was expecting more than 1 million. Many of those visitors attended Super Bowl Live, a multi-day fan festival.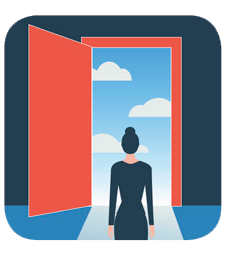 Please Proceed Calmly to the Nearest Exit
Evacuation videos similar to those on airlines are now the norm in most large stadiums. If you look at major events where people were injured or killed—even during terrorist attacks—the event is further complicated by people panicking and stampeding.
The emergency response team does simulations before the Bowl to make sure that evacuation routes are well designed and people can get out quickly, in an orderly fashion.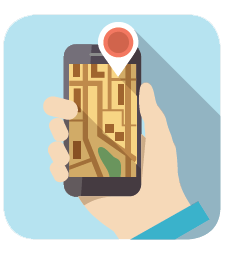 Follow the GPS
In addition to serving as backup for team physicians, the emergency response crew sets up systems of care for the players at their hotels and practice facilities as well as on Game Day, providing pre-loaded GPS units to the teams should they need to travel to clinics, hospitals, or imaging centers. "We work closely with state, local, and federal authorities," Martinez says. "When we put up a secure perimeter, you can't just call an ambulance because it won't be let in if it's not sanitized and X-rayed and sniffed."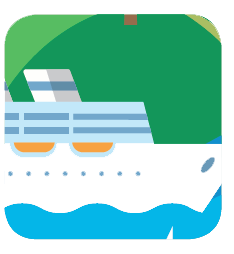 Cruise Ship Virus
In the weeks leading up to a Super Bowl in Miami, passengers from a cruise ship stayed in the NFL headquarters hotel. They left in their wake a stomach virus that within 48 hours had infected more than 120 members of the NFL "family." Emergency public health measures were put into place, including washing sheets every day and wiping down all bannisters and other surfaces several times a day. "We provided hand sanitizers and taught NFL staff to do the flu bump (tapping elbows) instead of shaking hands," Martinez says.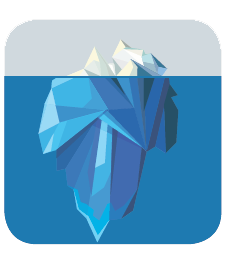 Ice, Ice, Baby
Because it's held in the winter months, fans can face severe weather hazards at wintry Super Bowls. At one game held in below-freezing temperatures, people were slipping and sliding, and a chunk of ice fell and hit a fan on the head. Ambulances couldn't get over the ice to respond to "terrible injuries like broken hips and elbows," Martinez says.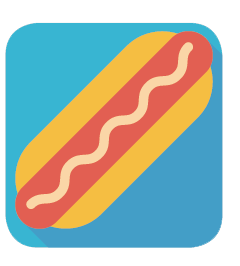 Mystery Meat
Mid-game at another Super Bowl, people started showing up with nausea and vomiting at first aid stations in one section of the stadium. The illness was tracked to tainted meat being sold by one vendor. Public health officials shut the vendor down and sent the meat to be tested.
No Shortage of Docs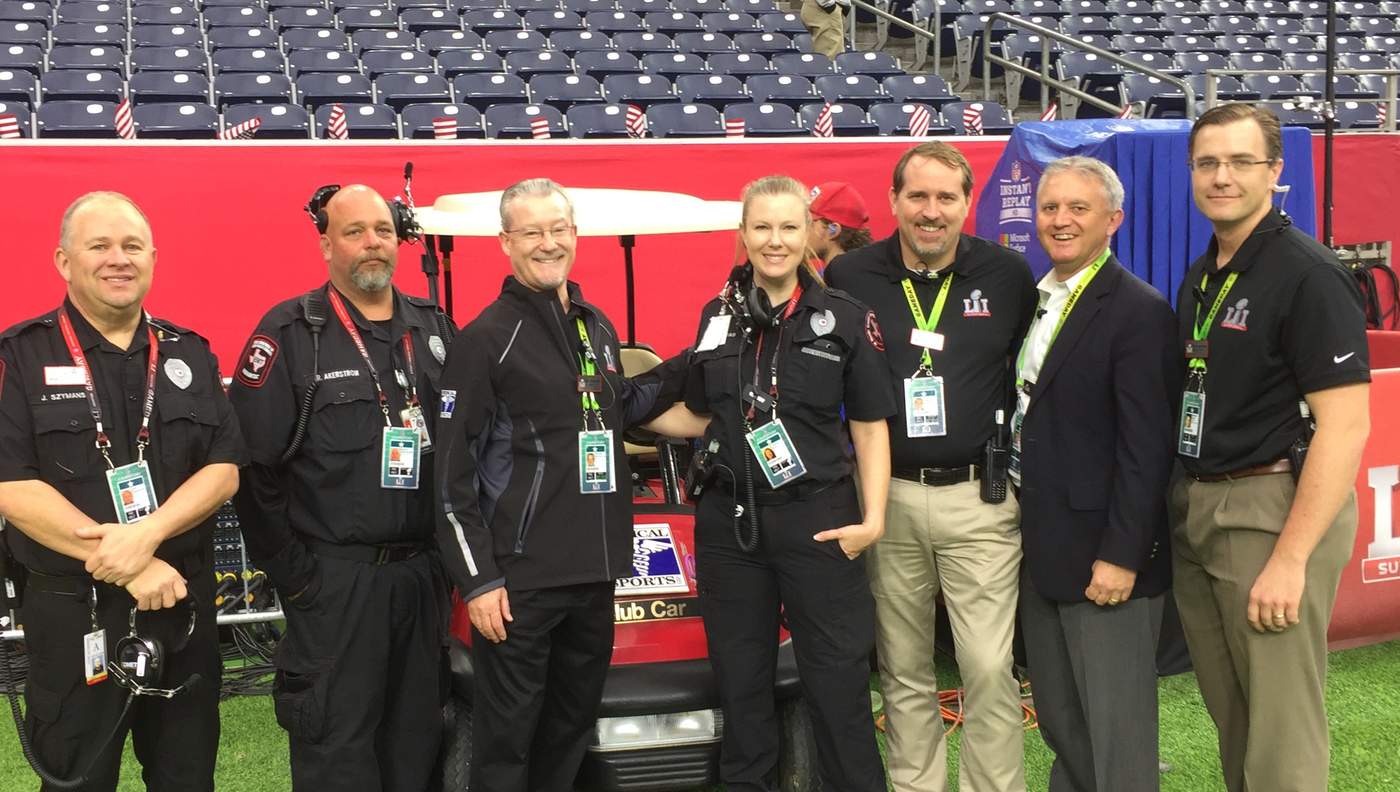 Doctor on the Field: Spero Karas
NO SHORTAGE OF DOCS: Lots of doctors are on the field, especially for big games—a head team physician and orthopedic surgeon, a second orthopedic surgeon, two medical physicians, and a league-mandated, unaffiliated neuro consultant. The other team has doctors as well.
LAYERS OF PROTECTION: An airway doctor is on the sidelines at all times so everyone knows where to find him. And the NFL mandates a spotter in the booth who has a 360-degree global view and who can review video.
PHYSICIAN FIRST: As a physician at the game, you're not a fan or coach, you're there to observe the players for injuries and to provide standard medical care.
MANTRA: Stay detached, stay clinical, and stay in the moment.
PREGAMING: A typical regimen includes hydration (oral or IV fluids); stretching; using light weights, bands, and rollers; and then massaging and taping right before the game.
RECOVERY: We make sure the guys get hydration, icing, and stretching after exertion. And we stress proper nutrition, rest, and sleep.
FALCONS FAN? My family and I love all of our hometown teams. Unfortunately, or fortunately for me, I am always working when the Falcons are on the field.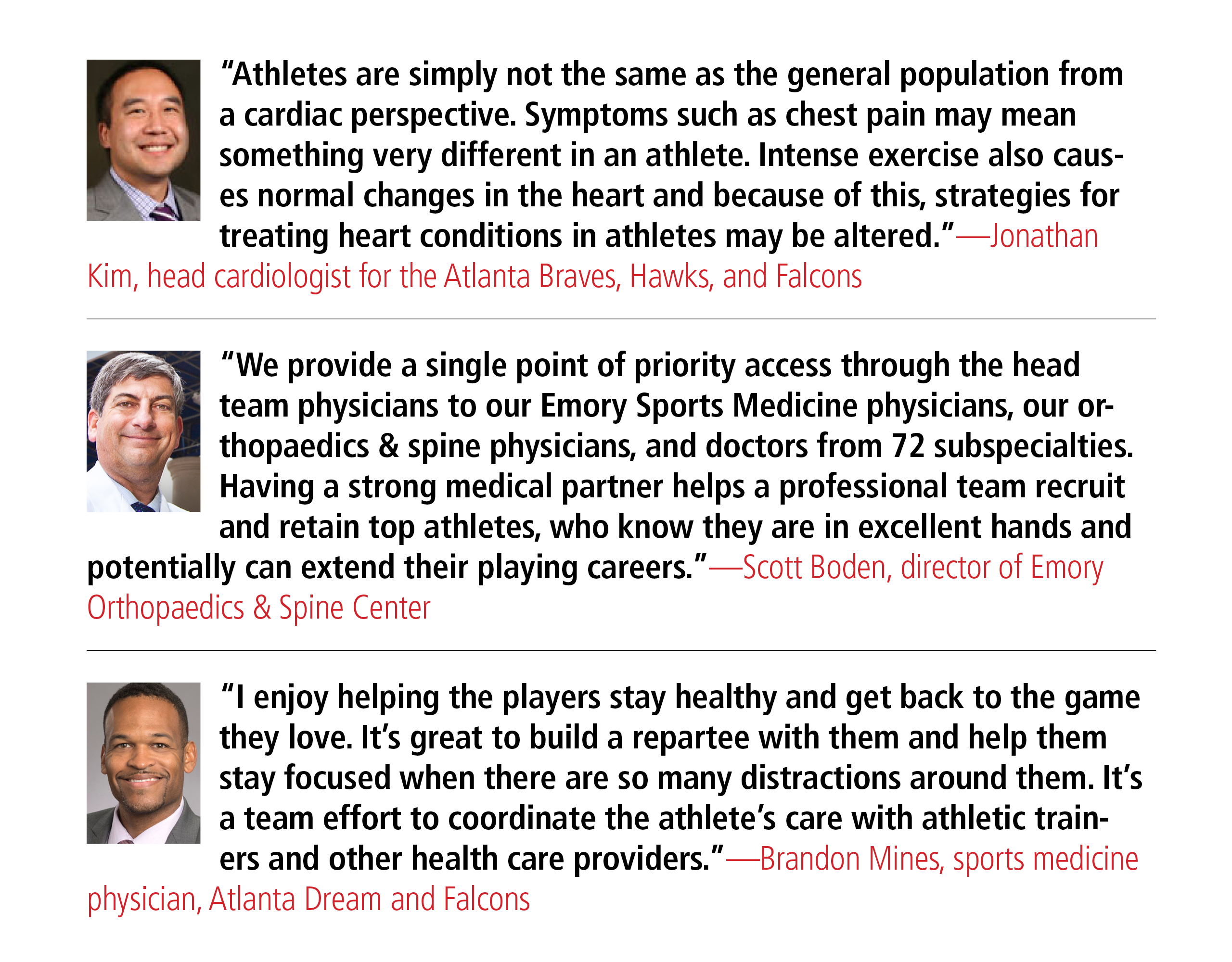 TEAM DOCS
Sports Medicine
Kyle Hammond, Hawks (head ortho), Braves, Northview High
Neeru Jayanthi, Johns Creek High
Spero Karas, Falcons, Braves
Lee Kneer, Braves, U.S. Soccer, Dunwoody High, North Springs High
Sam Labib, Oglethorpe College
Amadeus Mason, Tucker High, USA Track & Field (Olympics), Georgia Tech
Scott Maughon, Gwinnett Braves
Ken Mautner, Hawks (head), Braves, Pace Academy, Emory, Agnes Scott
Brandon Mines, Falcons (head medical), Dream (head), Atlanta Girls School
Oluseun Olufade, U.S. Soccer, Northview High, Emory, Georgia Tech
Mat Pombo, Berkmar High, Chattahoochee High
Jeff Webb, Braves, Falcons, Blessed Trinity High
John Xerogeanes,Georgia Tech, Atlanta Dream (head ortho), Braves
Cardiology
Jonathan Kim (head), Braves, Falcons, Hawks, Atlanta Dream, Georgia Tech, Peachtree Road Race
Ophthalmology
Anastasios Costarides (head), Falcons and Hawks Also, Jeremy Jones, John Kim, Joon Kim, Brent Hayek, Purnima Patel, and Baker Hubbard.
Day at the Races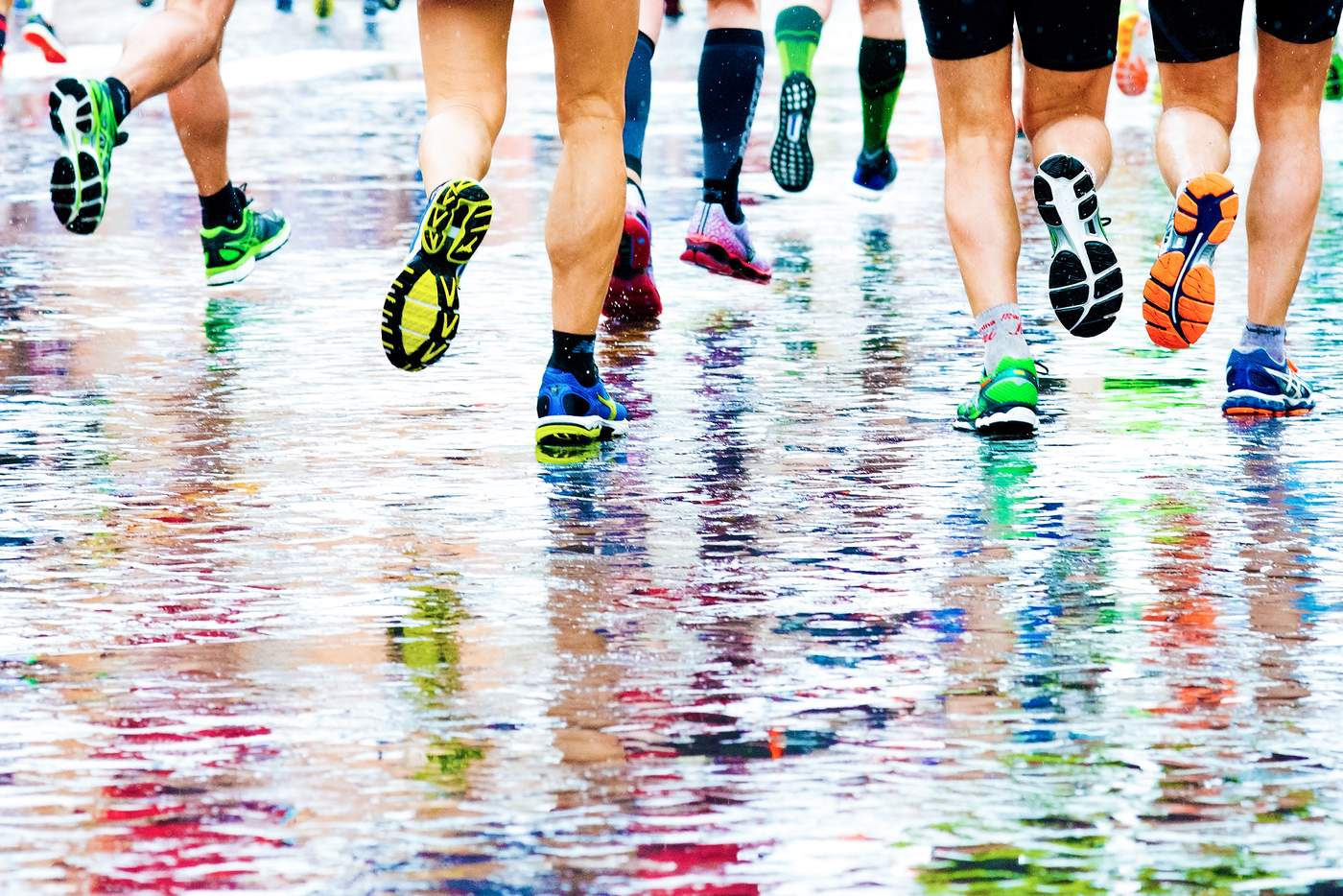 The toughest section of the Peachtree Road Race course is known as "Cardiac Hill," named for the medical emergencies—and near emergencies—that have taken place there.
Mass moving events like the Peachtree Road Race and the Publix Marathon pose different security challenges from large-scale stadium professional sporting events—namely, there are thousands of participants, any of whom could suffer injury or illness at any point along the route.
Shortly after Philip Shayne joined Emory's Department of Emergency Medicine, he volunteered to help provide medical support at the finish line of the Peachtree Road Race—now the largest 10K running event in the world.
"I was fascinated," remembers Shayne. "It's a pretty unique event—60,000 people having a good time, doing something many of them are not in shape to do. It's really a controlled disaster, but the Atlanta Track Club does a great job."
Running on July 4 in Atlanta is not a great idea, he says, and people running once a year is not optimal. "So we approach the Peachtree with a thoughtful, low-tech way to mitigate injury and rapidly take care of people aggressively right where they fall so we don't end up with scores of people in the hospital."
The strategy for responding to runners who become ill or injured must be dynamic and able to change moment to moment, says Arthur Yancey, associate professor at Emory and medical director of Grady EMS.
Thirteen pairs of highly trained paramedics on bikes as well as ambulances are stationed along the 6.2-mile course. During the race, these medical resources either peel off and return to the 911 services of the City of Atlanta or follow the last of the runners and eventually concentrate at Piedmont Park, where the race ends.
Since the Peachtree began in 1970, the bike teams have dealt with a total of 12 cardiac arrests in registered runners. Many credit the survival of nine of these runners to the bike team's quick response. Yancey and two Emory EMS fellows are usually based at Piedmont Park, while a recently graduated senior emergency medicine services fellow is posted in a satellite center where resources are dispatched to the site of anyone who has gone down along the course.
Shayne oversees activities in one of the three medical tents at the finish line and, with two attendings, supervises the interns (first-year residents) who help take care of patients. Before the race begins, he walks the interns through their responsibilities, reminding them about the trio of conditions—heat exhaustion, heat stroke, and dehydration—that most often bring runners and spectators into the medical tents. "Working a mass gathering like the Peachtree is a formative experience for them," he says. "They become a piece of a well-organized response to a well-recognized disease—heat illness. It introduces the interns to Atlanta, provides value to the community, and gives them an opportunity to give back. So it's a win, win, win."
The patients come in surges. First through the finish line are the wheelchair racers, then the nationally ranked athletes and the fit runners who want an elite time. They are followed by the "not-so-great athletes who are pushing themselves more than they should on an often hot, muggy morning, up and down the hilly course," says Shayne.
"If they actually finish, they're often not hydrated enough and fall out because of that."—medical director Lekshmi Kumar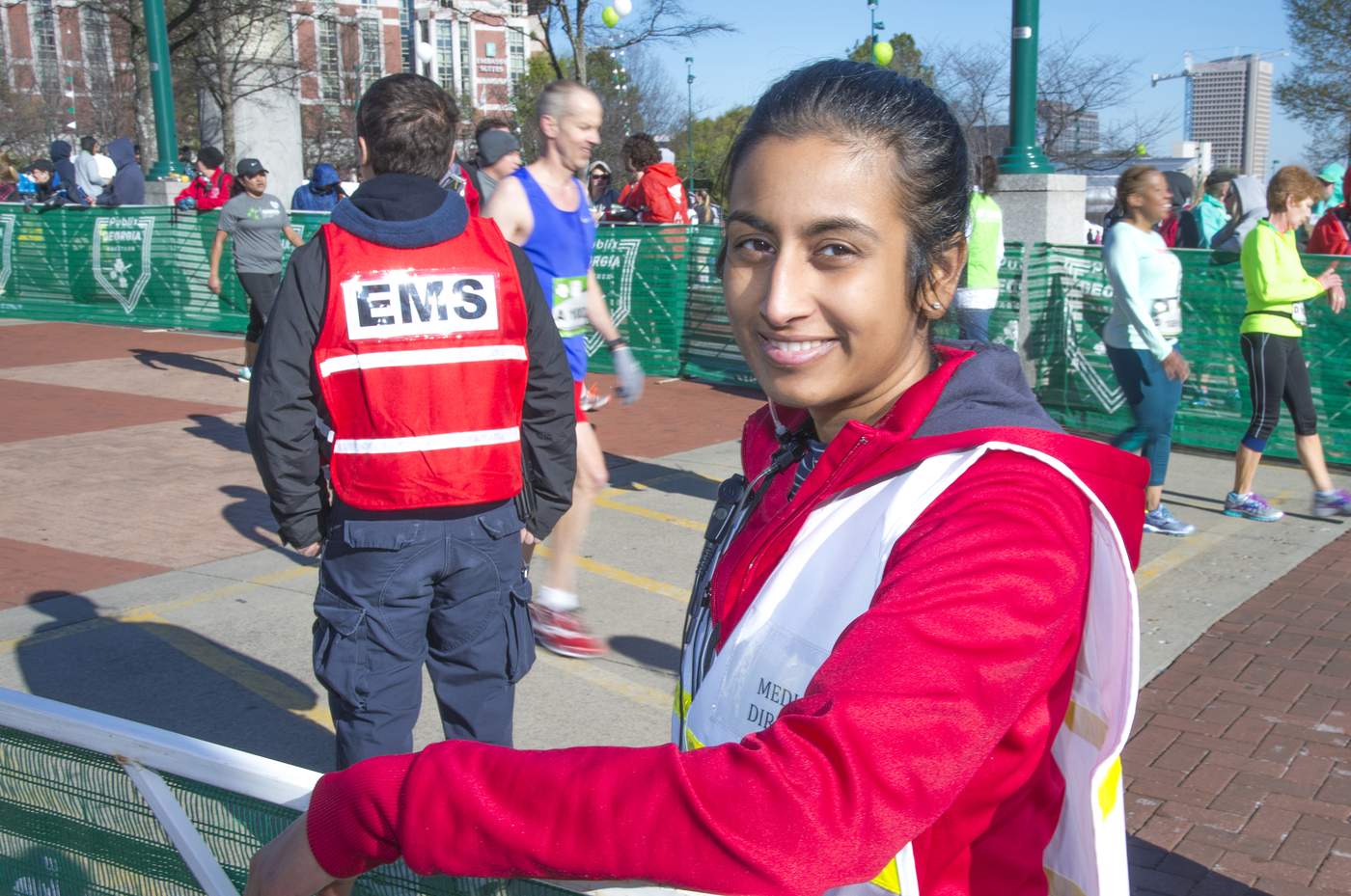 "This past year was the worst by far in my 20 years of doing this," he says. "It was so hot and so humid that people couldn't sweat and cool effectively."
The number of patients transported to Grady Hospital in 2016 bears that out. In a typical year, Grady EMS transports about a dozen patients from the tents to the emergency department. Last year, 28 patients ended up in the Grady ED and other area hospitals.
Preparations for events like the Peachtree and the Publix Marathon have intensified and become more formalized since the Boston Marathon bombings, with the federal government and public safety agencies taking a larger role in the planning.
In the event of a terrorist attack, law enforcement would become the lead agency, while EMS would handle triage and transport patients.
"Security is of the highest priority," says Yancey, who co-chaired the EMS subcommittee for the 1996 Olympic Games in Atlanta. "We have contingency plans so we can do our work effectively without becoming victims ourselves."
While the Peachtree poses many of its emergency care challenges at the finish line, the much longer Publix Georgia Marathon is not quite as predictable. Medical director Lekshmi Kumar, assistant professor of emergency medicine at Emory, checks weather reports almost compulsively in the days leading up to the March marathon, worrying if her team has stocked enough blankets to keep people warm and enough water to cool them off. "We've had super cold and hot years, so we have to be prepared for everything from hypothermia to dehydration," says Kumar.
Weather and distance—in this case, 26 miles over hill and dale through Fulton and DeKalb counties—can be hard on inexperienced runners. "If they actually finish, they're often not hydrated enough and fall out because of that," she says.
And the possibility of terrorism and other mass casualty incidents brings a host of concerns: "We set up evacuation points along the course and make sure that everybody knows where the closest point is," she says. "It's not a question of moving three or four people, it's about moving 16,000 people or more if (the event is) at the finish line where there are a lot of spectators and volunteers."
Each November before the marathon, representatives from all 911 response services throughout Fulton and DeKalb counties hash out the details of the race from a medical perspective. They ask each other, 'If this happens, what are we going to do and how are we going to do it?'
Then recruitment starts for some 75 Emory personnel—medical students, nurses, physicians, residents, sports medicine physicians, emergency medicine techs, and scribes—who will staff the race on the course, in the tents, and at the all-important finish line.