For Faculty and Staff of Emory University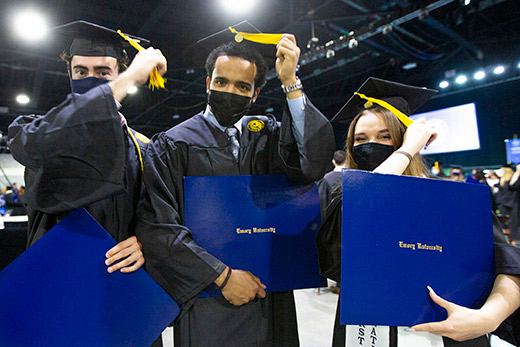 Celebrating the Class of 2021
Learn about this year's Commencement ceremonies, set for May 14-16 at the Georgia World Congress Center, including how to watch Dr. Anthony Fauci's address to Emory College graduates on Sunday.
---
---
| | | |
| --- | --- | --- |
| | | CLASS OF 2021: OXFORD COLLEGE |
Leaving a legacy of leadership and service at Oxford
Dylan Goldberg was the only student leader of a religious organization on the Oxford College campus last fall. He rose to the challenge, finding ways the Jewish Student Union could connect with everyone in the community.
---
---
---
| | | |
| --- | --- | --- |
| | | CLASS OF 2021: LANEY GRADUATE SCHOOL |
Personifying the importance of mentorship in graduate school
PhD student Alisina Bazrafshan's mentoring days began during college in Tehran. He continued that work while studying at Laney Graduate School, promoting the significance of higher education to underserved youth from refugee families in Atlanta.
---
| | | |
| --- | --- | --- |
| | | CLASS OF 2021: PUBLIC HEALTH |
A 'heart' for health, justice and helping others
Honored with a "Heart of Emory" award, MPH student and future HIV epidemiologist Nellie Garlow has dedicated her time to the COVID-19 Outbreak and Response Team, the Rollins Election Day Initiative, and more.
---
Connecting Candler and community during COVID-19
As a child, Alex Revelle recorded church services for members who couldn't leave their homes. Decades later, that knowledge proved invaluable during the pandemic and will continue to build connections wherever he serves.
---
---
---
🎙 Hear from outstanding students in the Class of 2021 in today's episode of Emory: In Case You Missed It, now available on your favorite podcast app. Listen and subscribe at Apple, Spotify or wherever you get your podcasts.
---
---
Share your thoughts to help improve Emory Report
Emory Report is the official email newsletter for all faculty and staff. To help us better serve you, please take our short annual readership survey. The survey takes less than 10 minutes and your answers will help us provide the information that matters most to you.
---
Emory University Commencement
Watch all ceremonies for Emory University's Class of 2021 graduates via livestream on the Commencement website. Ceremonies will be held Friday, Saturday and Sunday.
When: May 14, 2021 - May 16, 2021
Where: Online
Admission: Free
Oxford College Baccalaureate
In keeping with Oxford's tradition, the recorded interfaith ceremony will feature music, prayers led by student religious organizations and remarks from Oxford College Chaplain Lyn Pace.
When: May 14, 3:30 p.m.
Where: Online
Admission: Free
Multifaith Baccalaureate for the Class of 2021
Baccalaureate is an Emory Commencement tradition that formally celebrates the academic and personal journeys of the graduating senior class and sends the class into the world with music, prayers, inspiring reflections and blessings.
When: May 14, 4:30 p.m.
Where: Online
Admission: Free
Editor: Leigh DeLozier
Vice President for Enterprise Communications: Douglas Busk
Senior Vice President for Communications and Public Affairs: David Sandor

Emory Report is published by  Communications and Public Affairs
Read the Emory Report Guidelines
Copyright 2022 Emory University | All Rights Reserved
201 Dowman Drive, Atlanta, Georgia 30322 USA | 404.727.6123