For Faculty and Staff of Emory University
Tell us what you think: Emory Report is the official email newsletter for all faculty and staff. To help us better serve you, please take our short annual readership survey. The survey takes less than 10 minutes and your answers will help us provide the information that matters most to you.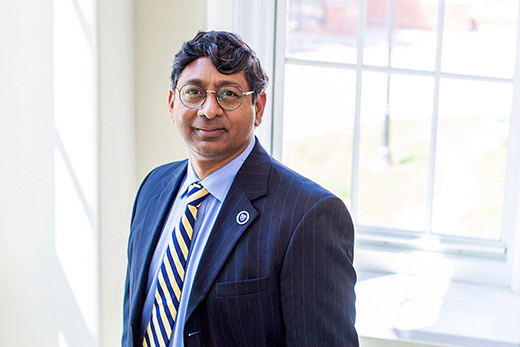 Get to know Emory's next provost
Bioengineering and higher education pioneer Ravi Bellamkonda returns to Emory on July 1, eager to lead the university's academic affairs and share wisdom learned from science, the humanities — and his goldendoodle, CJ.
---
---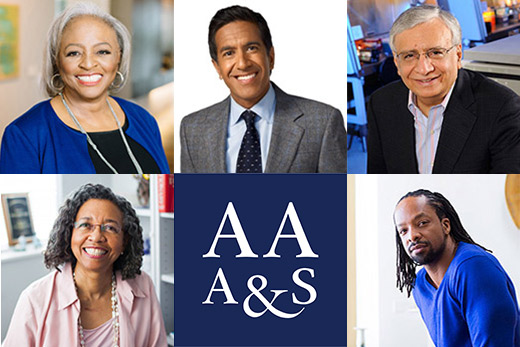 Five Emory professors elected to American Academy of Arts and Sciences
Faculty members Carol Anderson, Sanjay Gupta, Rafi Ahmed, Jericho Brown and Vanessa Siddle Walker have been elected to the American Academy of Arts and Sciences, one of the nation's oldest and most prestigious honorary societies.
---
---
Emory Lens: Solar panels on campus
In honor of Earth Day, see how Emory is installing solar panels across its Atlanta campus, which will generate approximately 10 percent of the university's peak energy requirements and reduce greenhouse gas emissions by about 4,300 metric tons.
🎙 Check out Emory: In Case You Missed It, a new audio update of the biggest news from the past week, now available on your favorite podcast app. Listen and subscribe at Apple, Spotify or wherever you get your podcasts. You can also listen and view with our interactive Giide.
Earth Day Sustainability Celebration
Celebrate this year's winners of the Sustainability Innovator Award, Outstanding Sustainability Representative Award and Lifetime Achievement Award, and learn ways to get involved.
When: April 23, 11:00 a.m.
Where: Online
Admission: Free; registration required
Panel Discussion: "An Evening with the Black Latinas Know Collective"
Learn from this group of Black Latina scholars, producers of innovative and important intellectual contributions to the intersectional study of race within Latinidad and Blackness. Presented by the Latinx Studies Faculty Initiative and the James Weldon Johnson Institute.
When: April 23, 5:00 p.m.
Where: Online
Admission: Free; registration required
Mid-Week Musical Reflections
Join Maury Allums, director of music, and the Emory Office of Spiritual and Religious Life in taking 15 minutes to breathe, relax and connect with others in our community.
When: April 28, 12:00 p.m.
Where: Online
Admission: Free
Community Gathering For Healing and Hope
After a year of living with the pandemic, political divisiveness and ongoing racial injustice and violence, join the Emory community to give voice to our experiences and feelings, acknowledge losses and grief, honor the sacrifices of unseen heroes, and bring a sense of initial closure to this time when so many have been away from campus.
When: April 30, 12:00 p.m.
Where: Online
Admission: Free
Editor: Leigh DeLozier
Vice President for Enterprise Communications: Douglas Busk
Senior Vice President for Communications and Public Affairs: David Sandor

Emory Report is published by  Communications and Public Affairs
Read the Emory Report Guidelines
Copyright 2022 Emory University | All Rights Reserved
201 Dowman Drive, Atlanta, Georgia 30322 USA | 404.727.6123