For Faculty and Staff of Emory University
🎙 Check out today's episode of Emory: In Case You Missed It, a new audio update of the biggest news from the past week, now available on your favorite podcast app. Listen and subscribe at Apple, Spotify or wherever you get your podcasts.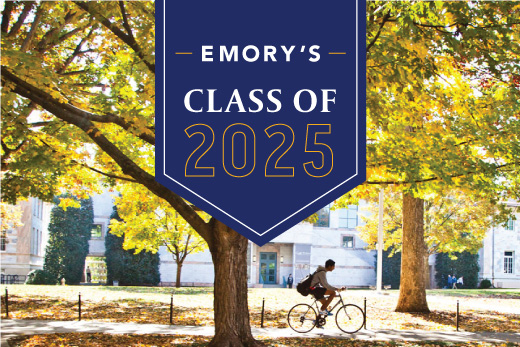 Emory's Class of 2025
Emory celebrates the stellar admitted Class of 2025, drawn from the largest and most diverse applicant pool in the university's history.
---
---
---
---
Emory vaccine registration is NOW OPEN: Today Georgia opened up vaccine eligibility to everyone over age 16. Please visit Emory Forward for more information on how Emory faculty, staff and students can register online for vaccination through Emory Healthcare. Appointments are available to the campus community across multiple locations, including an extended session this Saturday at the Emory Northlake Mall Vaccine Clinic. Vaccine appointments become available on a rolling basis, so continue monitoring availability as slots may open at additional Emory Healthcare locations or at different times.
The Hatchery's Birthday Party
Stop by The Hatchery, Emory Center for Innovation, to celebrate its first birthday with games, activities and giveaways. The fun continues until 5 p.m.
When: March 26, 9:00 a.m.
Where: The Hatchery, Emory Center for Innovation, 1578 Avenue Place, Suite 200
Admission: Free
Virtual Emory-Tibet Week Closing Ceremony
Join the Drepung Loseling monks of The Mystical Arts of Tibet for the final time of meditation and chanting and the closing ceremony for Emory-Tibet Week 2021.
When: March 27, 10:00 a.m.
Where: Online
Admission: Free; registration required
2021 Pride Awards
Watch the virtual celebration highlighting the contributions of our community members and celebrate graduating LGBTQ+ students.
When: March 30, 6:00 p.m.
Where: Online
Admission: Free; registration required
Editor: Leigh DeLozier
Vice President for Enterprise Communications: Douglas Busk
Senior Vice President for Communications and Public Affairs: David Sandor

Emory Report is published by  Communications and Public Affairs
Read the Emory Report Guidelines
Copyright 2022 Emory University | All Rights Reserved
201 Dowman Drive, Atlanta, Georgia 30322 USA | 404.727.6123