For Faculty and Staff of Emory University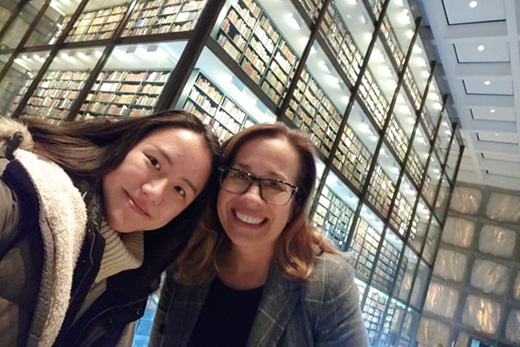 Emory student discovers unpublished manuscript by William Carlos Williams
Audrey Ruan, a student at Emory's Oxford College, and professor Sarah Higinbotham planned to spend a few days conducting research in Yale's rare book library. Neither expected Ruan to find an unpublished manuscript by poet and physician William Carlos Williams.
---
---
How the brain decides to make an effort
Research by Emory neuroscientists gives the first detailed view of human ventral striatum activity during three phases of effort-based decision-making — the anticipation of initiating an effort, the actual execution of the effort and the reward, or outcome, of the effort.
---
From hospital menu to holiday cookbook
Recipes from Mike Bacha, executive chef at Emory University Hospital, and research staff member Jessica Goldman were selected for a new holiday cookbook. Their submissions stemmed from participation in Emory Healthy Kitchen Collaborative.
---
---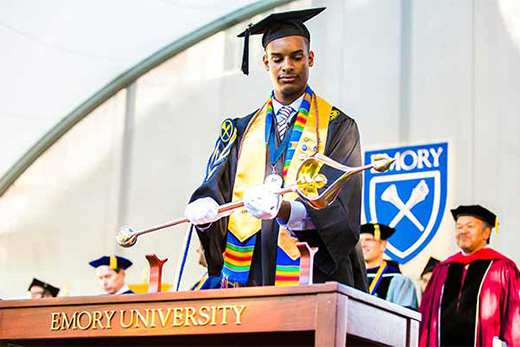 Emory updates plans for Commencement ceremonies in May 2021
Emory announces additional details about modified in-person Commencement ceremonies scheduled for May 14-16 at the Georgia World Congress Center, including dates and times for undergraduate, graduate and professional school diploma ceremonies for the Class of 2021.
Join Emory University President Gregory L. Fenves Tuesday, Dec. 8, at 12:30 p.m. for a Facebook Live discussion with Deborah Bruner, senior vice president of research at Emory, on the university's rapid research pivot to preventing and treating COVID-19, conducting research during a pandemic, tackling health disparities and looking ahead to the next generation of Emory research.
Connect and Cope: "Mental Music"
In this installment of Science Gallery Atlanta's virtual series, join Gary Motley and Dion Liverpool of Emory's music department for a discussion of mental music.
When: Dec. 4, 4:00 p.m.
Where: Online
Admission: Free
Advent Service of Song: Carols in the Chapel
Join the Candler community online for a service of seasonal carols. Watch the livestream on Facebook, Instagram or the Candler website.
When: Dec. 8, 11:30 a.m.
Where: Online
Admission: Free
Live Webcast: "The Necessity of Compassion for the Survival of Humanity"
Join His Holiness the Dalai Lama for a dialogue on compassion with Melani A. Walton (co-founder of the Rob and Melani Walton Foundation) and Sanjay Gupta (Emory faculty member and CNN chief medical correspondent). President Gregory L. Fenves will deliver a special message on behalf of Emory University.
When: Dec. 8, 10:30 p.m.
Where: Online
Admission: Free; registration requested
Connect and Cope: "Mindfulness"
Abigail Lott, assistant professor of psychiatry and behavioral sciences, discusses mindfulness in the fifth program in Science Gallery Atlanta's virtual series.
When: Dec. 9, 4:00 p.m.
Where: Online
Admission: Free
Editor: Leigh DeLozier
Vice President for Enterprise Communications: Douglas Busk
Senior Vice President for Communications and Public Affairs: David Sandor

Emory Report is published by  Communications and Public Affairs
Read the Emory Report Guidelines
Copyright 2022 Emory University | All Rights Reserved
201 Dowman Drive, Atlanta, Georgia 30322 USA | 404.727.6123