For Faculty and Staff of Emory University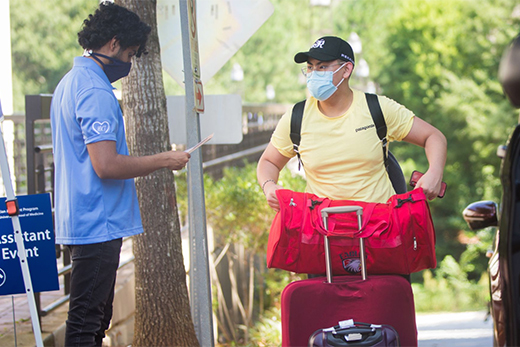 Meet the Class of 2024
Eager to begin their Emory experience, members of the Class of 2024 launched their academic journeys this week, prepared to embrace the adventure of college life — even as they know that it will be a year like no other.
---
---
---
First day of classes
Welcome back! Aug. 19 marked the first day of classes for Emory's undergraduate students, with new health and safety protocols in place for those who are learning on campus.
Working together for a safer campus community: Emory calls on all faculty, staff and students to recognize our responsibility to one another through the observance of community health standards. Read the Faculty and Staff Community Compact.
Introduction to Zotero
Learn quick and easy ways to use Zotero to save references and create bibliographies.
When: Aug. 25, 3:00 p.m.
Where: Online
Admission: Free; registration requested
Academic Production Team Drop-In
Drop in to ask the Academic Production Team your questions about online video etiquette, lighting, audio, equipment, storyboarding, flipped classroom projects, graphic design, visual aids and other media-related needs.
When: Aug. 26, 10:30 a.m.
Where: Online
Admission: Free; registration requested
Emory Climate Talks
Arunabha Ghosh, chief executive officer for the Council on Energy, Environment and Water, speaks on "Risks, Resilience, Rejuvenation: The Case for Shifting Sustainability from the Margin to the Mainstream."
When: Aug. 27, 9:45 a.m.
Where: Onilne
Admission: Free
Editor: Leigh DeLozier
Vice President for Enterprise Communications: Douglas Busk
Senior Vice President for Communications and Public Affairs: David Sandor

Emory Report is published by  Communications and Public Affairs
Read the Emory Report Guidelines
Copyright 2022 Emory University | All Rights Reserved
201 Dowman Drive, Atlanta, Georgia 30322 USA | 404.727.6123