For Faculty and Staff of Emory University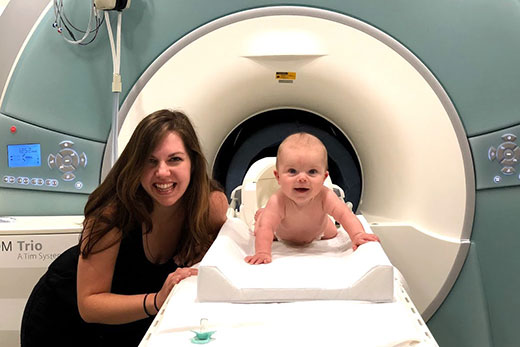 Earliest look at newborns' visual cortex reveals the minds babies are born with
Within hours of birth, a baby's gaze is drawn to faces. Now, brain scans of newborns reveal the neurobiology underlying this behavior, showing that as young as six days a baby's brain appears hardwired for the specialized tasks of seeing faces and seeing places.
---
---
---
Site preparations begin on new R. Randall Rollins Building
Construction begins this month on a 10-story facility to significantly expand Rollins School of Public Health. Site preparations include the installation of safety fencing and the carefully regulated process of tree removal and replacement.
---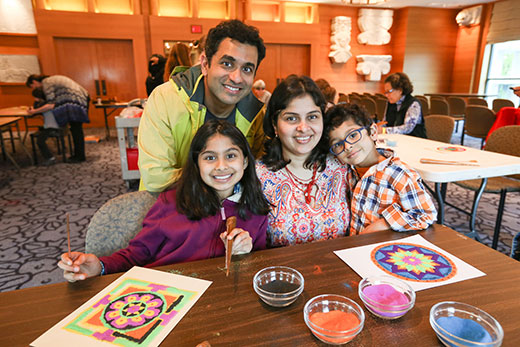 10 free things to do in March
Campus activities this month include enlightening lectures, multiple performances and the chance to create a sand painting reminiscent of a Tibetan mandala. Learn about these and other ways to have fun for free.
Travel and social distancing: Emory community members returning from countries with a CDC Level 3 health notice for coronavirus — China, Iran, Italy and South Korea — must wait 14 days before returning to campus. See the latest coronavirus updates for the Emory community.  
Save the date: The Provost Lecture Series continues next month, with former Surgeon General Jocelyn Elders speaking at 4 p.m. on Thursday, April 2. The program will be at the Schwartz Center for Performing Arts. There is no charge, but tickets are required for admission. Reserve your seat now.
Atlanta Master Chorale: "Questions and Queries"
Join the Chorale for its third concert of the season as they ponder questions and conundrums large and small. A second performance will be Saturday, March 7, at 8 p.m.
When: March 6, 8:00 p.m.
Where: Schwartz Center for Performing Arts, Emerson Concert Hall
Admission: $30; Emory faculty, staff and students are eligible for a discount
Movement Workshop: "Peace, Love, Vote"
The Dancing Flowers for Peace lead this workshop for women, connecting peace and transformation with dance. Movements are easily adaptable and no dance experience is necessary. Part of the event series "Embodied: A Celebration of Human Health and the Arts."
When: March 7, 12:30 p.m.
Where: Schwartz Center for Performing Arts, Tharp Rehearsal Hall
Admission: Free; register online
Author Tour and Art Workshop: "Warrior Queens"
Bring children ages 8-14 to hear author Vicky Shecter read about six historical rebel queens, then explore images and stories of warrior women with her in the galleries. After the tour, children will create their own warrior shields.
When: March 8, 1:00 p.m.
Where: Michael C. Carlos Museum
Admission:  $20 for members; $30 for nonmembers; online registration required
Editor: Laura Douglas-Brown
Vice President for Enterprise Communications: Doug Busk
Senior Vice President for Communications and Public Affairs: David B. Sandor

Emory Report is published by  Communications and Public Affairs
Read the Emory Report Guidelines
Copyright 2022 Emory University | All Rights Reserved
201 Dowman Drive, Atlanta, Georgia 30322 USA | 404.727.6123