For Faculty and Staff of Emory University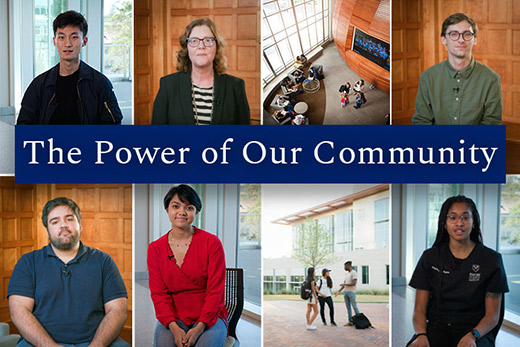 Video: Coronavirus and Emory
In a special message about coronavirus, President Claire E. Sterk, students and staff reflect on the personal impact of the global health crisis, encouraging everyone at Emory to remember that "you are part of a community of care" with resources available if you need them.
---
Coronavirus, community and compassion
The outbreak hits home for Emory, from faculty exploring possible treatments to a postdoctoral researcher who had to cancel the traditional wedding she had planned with her family in China.
---
Emory responds to coronavirus with empathy, support
"The outbreak of the novel coronavirus is a reminder of how connected we are as a global community," notes President Sterk, emphasizing Emory's support for Chinese students, researchers and faculty who are concerned for friends and family back home.
---
Stay informed: Emory is closely monitoring the coronavirus outbreak to protect students, faculty, staff and visitors. Read updates for our community, including frequently asked questions, tips for staying healthy during flu season and support resources.
Board of Trustees approves Presidential Selection Prospectus
Developed through extensive community engagement, the prospectus is in part a job description, but also includes the strategic opportunities, aspirations and values of Emory, as well as leadership qualities that will be pivotal as prospective candidates are recruited.
---
16th Annual Hamilton E. Holmes Memorial Lecture
Hear a lecture by Marshalyn Yeargin-Allsopp, the first black woman to graduate from Emory School of Medicine, who is currently the senior medical officer at the CDC.
When: Feb. 19, 5:00 p.m.
Where: School of Medicine, Room 110
Admission: Free; registration required
Poetry Reading with Nikki Giovanni
Celebrated activist poet Nikki Giovanni will read her work in an event that is free and open to the public. Seating will be limited, so plan to arrive early. Books and a limited-edition broadside will be for sale at the reading, with a signing immediately after.
When: Feb. 22, 4:00 p.m.
Where: Schwartz Center for Performing Arts
Admission: Free
Editor: Laura Douglas-Brown
Vice President for Enterprise Communications: Doug Busk
Senior Vice President for Communications and Public Affairs: David B. Sandor

Emory Report is published by  Communications and Public Affairs
Read the Emory Report Guidelines
Copyright 2022 Emory University | All Rights Reserved
201 Dowman Drive, Atlanta, Georgia 30322 USA | 404.727.6123