For Faculty and Staff of Emory University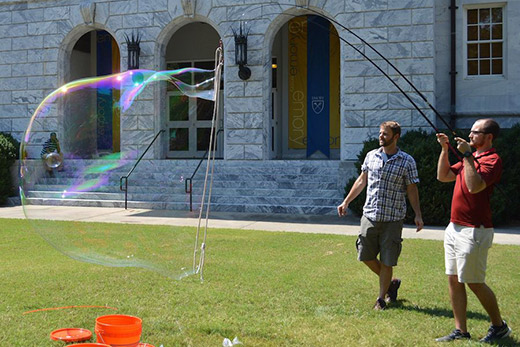 The physics of giant bubbles
A study inspired by street performers making gigantic soap bubbles led Emory scientists to a discovery in fluid mechanics: Mixing different molecular sizes of polymers within a solution increases the ability of a thin film to stretch without breaking. Plus, get a physicist's recipe for the biggest bubbles!
---
---
---
One Emory: Power of faculty engagement
Meet public health professor Kimberly Jacob Arriola, one of the people bringing the "One Emory" strategic framework to life, and learn how the Emory Impact Committee that she chairs is helping to foster collaboration across the university.
---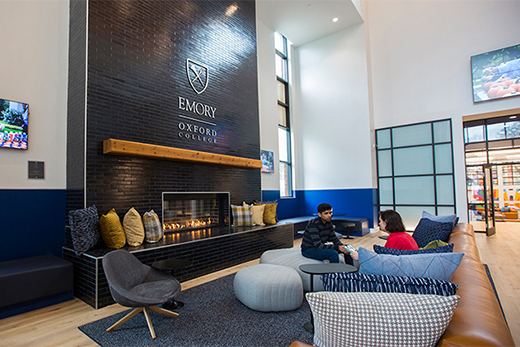 New Oxford Student Center opens to enhance student experiences
For the first time in its history, Oxford College has a place built specifically to support the life of students outside the classroom. The center opened to Oxford students in mid-January for spring semester 2020. Take a look inside and see all it has to offer.
Stay healthy: February is American Heart Month and the perfect time to think about health. It's easy to keep tabs on potential risk factors by checking your blood pressure, weight and other health stats at one of the blood pressure kiosks on campus.
---
---
Heart to heart
Jan. 30 |  Gina Price Lundberg and Rollins School of Public Health  |  Georgia Trend
Bob Mintzer with the Gary Motley Trio
End your week on a musical note with legendary saxophonist Bob Mintzer taking the stage with the Gary Motley Trio as part of Jazz Fest 2020.
When: Feb. 7, 8:00 p.m.
Where: Schwartz Center for Performing Arts, Emerson Concert Hall
Admission: $20 general admission; Emory faculty, staff and students are eligible for a discount
TheoEd Talks
TheoEd Talks is a faith-based speaker series that brings together leading thinkers in the church and the academy to give the talk of their lives in 20 minutes or less.
When: Feb. 9, 4:00 p.m.
Where: First Presbyterian Church of Atlanta
Admission: $15 general admission; free for students
A Feast of Words 2020
Join this annual celebration of faculty who authored or edited books published in 2019. Books will be available for purchase.
When: Feb. 10, 4:00 p.m.
Where: Michael C. Carlos Museum, Ackerman Hall
Admission: Free; registration required
Editor: Laura Douglas-Brown
Vice President for Enterprise Communications: Doug Busk
Senior Vice President for Communications and Public Affairs: David B. Sandor

Emory Report is published by  Communications and Public Affairs
Read the Emory Report Guidelines
Copyright 2022 Emory University | All Rights Reserved
201 Dowman Drive, Atlanta, Georgia 30322 USA | 404.727.6123