For Faculty and Staff of Emory University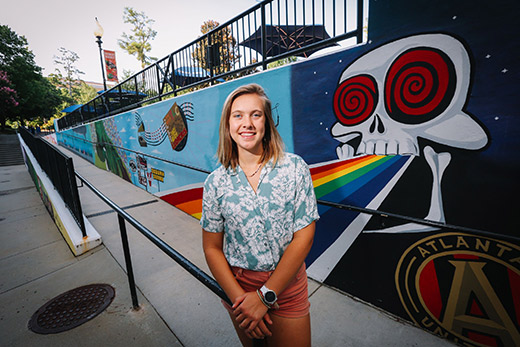 Students create campus mural to celebrate Atlanta
More than a dozen student artists, with majors ranging from business to biology, came together to create the vibrant tribute to Atlanta that fills the wall outside of Cox Hall. Find out the story behind this campus landmark.
---
Cadray named Emory's first university ombudsperson
Lynell Cadray has been appointed Emory's inaugural university ombudsperson and senior adviser to the president, a role that will provide the campus community with a new resource for informal conflict resolution.
---
Emory professors, alumna honored for recent books
Professor Jericho Brown's collection "The Tradition" is among 10 volumes longlisted for the National Book Award for poetry, joining honors for books by alumna Tressie McMillan Cottom and Emory professors Vanessa Siddle Walker, Lisa Dillman and Eric. L. Goldstein.
---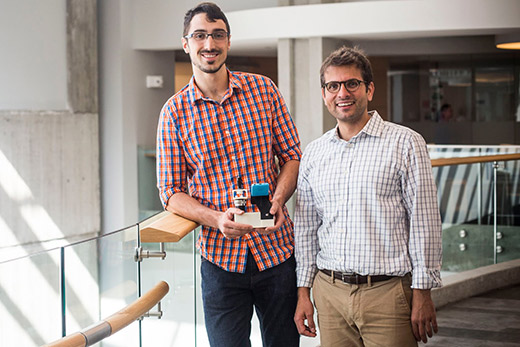 DNA 'origami' takes flight in emerging field of nano machines
Just as the steam engine set the stage for the Industrial Revolution, nanoscale devices made from DNA are opening up a new era in biomedical research and materials science. Emory graduate student Aaron Blanchard and chemistry professor Khalid Salaita are working at the forefront of DNA mechanotechnology.
Take or renew the Sustainability Pledge: Emory needs the active participation of the entire community to help meet the university's commitment to a sustainable campus. You can pledge to do three actions that are sustainable and encourage three friends to take the pledge. 
Performances: Boyfriend
Feminist rap cabaret performance artist Boyfriend brings her band, dancers, props and costumes for two shows, including Sept. 28 at 7 p.m.
When: Sept. 27, 7:30 p.m.
Where: Mary Gray Monroe Theater
Admission: Free
Women's Soccer: Emory vs. Centre College
Cheer on the Eagles when they play Centre College, then Rhodes College on Sunday, Sept. 29, at 2:30 p.m.
When: Sept. 28, 1:00 p.m.
Where: Woodruff PE Center
Admission: Free
Dance: "fence" by staibdance
This political and socially driven work by Emory Dance faculty George Staib will also be performed Oct. 4, 5 and 6.
When: Oct. 3, 7:30 p.m.
Where: Schwartz Center for Performing Arts, Dance Studio
Admission: $25, $20, $10
Editor: Laura Douglas-Brown
Vice President for Enterprise Communications: Doug Busk
Senior Vice President for Communications and Public Affairs: David B. Sandor

Emory Report is published by  Communications and Public Affairs
Read the Emory Report Guidelines
Copyright 2022 Emory University | All Rights Reserved
201 Dowman Drive, Atlanta, Georgia 30322 USA | 404.727.6123