For Faculty and Staff of Emory University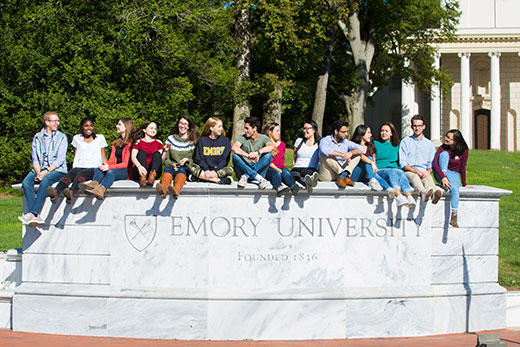 Emory's admitted Class of 2023: Ready to shape the future
Emory received 30,017 applications to be part of the Class of 2023, setting a new record for the university. Along with the growth in applications, admission officers saw an increase in students with high academic achievements and who embody Emory's values of innovation and leadership both inside the classroom and in their communities.
---
---
---
Rollins leads regional partners in national Hurricane Response Hub
Emory's Rollins School of Public Health has been chosen to serve as one of five regional technical assistance centers for the Hurricane Response Hub initiative, working to enhance disaster-related surveillance and environmental and occupational health recovery efforts.
---
---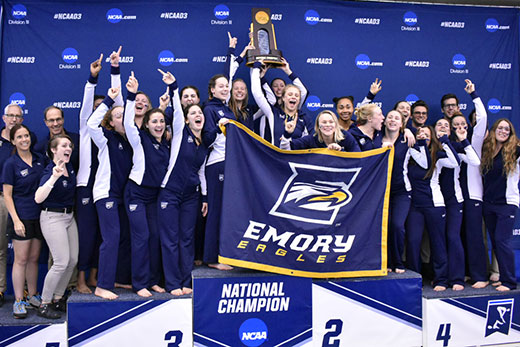 Emory women's swimming and diving wins 10th consecutive NCAA championship
The Emory University women's swimming and diving team captured its 10th consecutive and 12th overall NCAA Division III national championship, while the Emory men's team placed second in their NCAA national championship.
Walking at Emory: The Move More Challenge, Emory's annual fitness challenge, launched Monday and continues for the next six weeks. Walking at Emory offers useful resources for getting more steps, from campus walking groups to maps of areas to walk on Emory University and Emory Healthcare campuses.

Barenaked Voices: Student A Cappella Celebration
Emory's a cappella groups perform in this annual showcase with proceeds benefiting the Emory Counseling Center HelpLine and Active Minds.
When: March 28, 7:00 p.m.
Where: Schwartz Center for Performing Arts, Emerson Concert Hall
Admission: $5
WaterHub Tour
Tour the award-winning WaterHub with trained undergraduate and graduate students and learn how Emory is recycling millions of gallons of water.
When: March 29, 9:30 a.m.
Where: WaterHub at Peavine Drive
Admission: Free
Mozart at the Med School with the Vega Quartet
Emory's Vega String Quartet and William Ransom will perform a variety of selections from noon to 1 p.m. in the School of Medicine Building Lobby.
When: April 2, 12:00 p.m.
Where: James B. Williams Medical Education Building, Margaretta Taylor Lobby
Admission: Free
 
 

Korean Culture Fair
When: March 27, 11:00 a.m.
Where: Cannon Chapel, Randolph Courtyard
Admission: Free

 
 
 
 
 
 
 
 
 
 
 
 
 

Chamber Music Concert
When: March 29, 12:00 p.m.
Where: Michael C. Carlos Museum, Ackerman Hall
Admission: Free

 
 
Director of Communications and Content: Laura Douglas-Brown
Vice President for Enterprise Communications and Reputation Management: Doug Busk
Senior Vice President for Communications and Public Affairs: David B. Sandor

Emory Report is published by  Communications and Public Affairs
Read the Emory Report Guidelines
Copyright 2022 Emory University | All Rights Reserved
201 Dowman Drive, Atlanta, Georgia 30322 USA | 404.727.6123