For Faculty and Staff of Emory University
Tibet Week explores compassion in action in the world
Focused on "Engaging Compassion in Our World," Tibet Week 2019 features a packed slate of activities March 18-23, including opportunities to learn about Emory's new Center for Contemplative Science and Compassion-Based Ethics.
---
Campus free speech, academic freedom focus of conference
Set for March 21-23, "Academic Freedom and Free Speech on Campus" includes a keynote address by Emory professor Deborah Lipstadt and will explore issues ranging from academic freedom and free speech to campus protests, dissent and the role of "safe spaces."
---
Cast your vote to help Emory research advance in #STATMadness
Vote for Emory in STAT Madness, the bracket competition for biomedical research. Emory's 2019 entry covering a sepsis prediction technology beat Vanderbilt in the first round and is now up against a project from the University of Virginia; second-round voting ends tonight.
---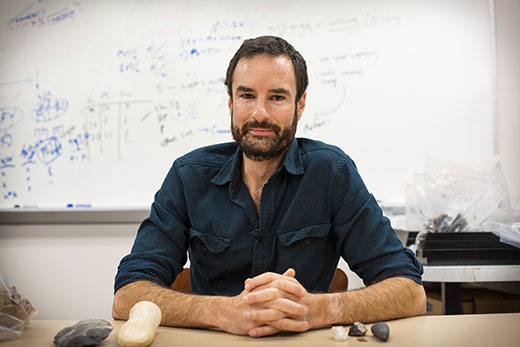 From Stone Age chips to microchips: How tiny tools made us human
Anthropologists have long made the case that tool-making is one of the key behaviors that separated our human ancestors from other primates. A new paper by an Emory anthropologist, however, argues that it was not tool-making that set hominins apart — it was the miniaturization of tools.
Tools for managing your work life: Emory partners with WorkPlace Options to provide access to an interactive online resource library covering topics such as parenting, aging, living and working. To sign in to the library, use "emory" as the username and "eagle" for the password. 
Bach Birthday Recital
Hear Emory organist Timothy Albrecht play selections by Bach on the piano, organ and harpsichord.
When: March 17, 4:00 p.m.
Where: Schwartz Center for Performing Arts, Emerson Concert Hall
Admission: Free
Film screening: "Denying Access: From NoDAPL to NoNAPL"
Filmmaker Jason Corwin presents his new documentary that chronicles the water protectors at Standing Rock and Seneca Territory working to oppose the Dakota Access and Northern Access Pipelines.
When: March 19, 7:00 p.m.
Where: White Hall, Room 103
Admission: Free
 
 
 

WaterHub Tour
When: March 18, 10:00 a.m.
Where: WaterHub, Peavine Creek Drive
Admission: Free

 
 
 
 
 
 
 
 
 
 
 
 
 
 
 
 
 
 
 
 
Director of Communications and Content: Laura Douglas-Brown
Vice President for Enterprise Communications and Reputation Management: Doug Busk
Senior Vice President for Communications and Public Affairs: David B. Sandor

Emory Report is published by  Communications and Public Affairs
Read the Emory Report Guidelines
Copyright 2022 Emory University | All Rights Reserved
201 Dowman Drive, Atlanta, Georgia 30322 USA | 404.727.6123