For Faculty and Staff of Emory University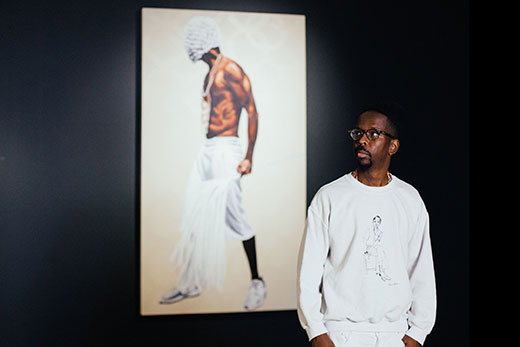 Exploring black masculinity through African spirituality
Acclaimed artist Fahamu Pecou's "DO or DIE" exhibition, based on his Emory PhD dissertation project, examines contemporary blackness through the lens of African spirituality. He joins a panel of scholars Thursday at the Carlos Museum to discuss "Black Masculinities in Art and Popular Culture."
---
Frederick to join faculty of Emory's Candler School of Theology
Noted scholar Marla F. Frederick has been named Asa Griggs Candler Professor of Religion and Culture at Candler School of Theology, effective in fall 2019. Frederick currently serves as professor of African and African American studies and the study of religion at Harvard.
---
Faculty, alumni works named finalists for notable book awards
The National Jewish Book Awards honored professor Eric L. Goldstein and alumna Samira K. Mehta in the American Jewish Studies category, while the Los Angeles Times Book Prize has honored professor Tayari Jones in fiction and professor Ruby Lal in history.
---
---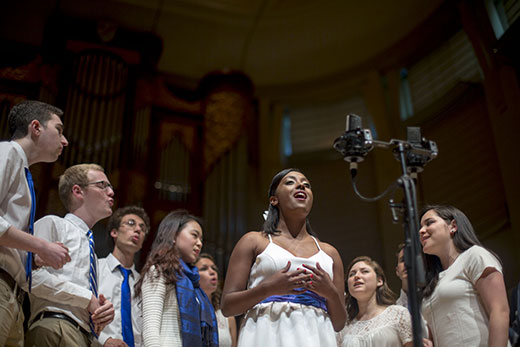 Popular 'Barenaked Voices' concert rounds out packed March arts calendar
Emory's March calendar is filled with special arts events, from the annual "Barenaked Voices" student a cappella showcase to a student-run film festival, "Science on Stage," honors performances and much more.
Charge your electric vehicle on campus: Level II electric vehicle charging stations powered by ChargePoint are located in the Clairmont Tower with two spaces; Peavine II parking deck with four spaces; and Oxford campus's Fleming parking lot with two spaces. 
Meet Me @ the Tunnel
This is the last day of the six-week session for the indoor walking group.
When: Feb. 27, 12:00 p.m.
Where: Emory University Hospital Tunnel, Entrance
Admission: Free
Sustainable Events Symposium
Enjoy a sampling of sustainable options from our caterers and discussion about sustainable events.
When: Feb. 27, 2:00 p.m.
Where: Michael C. Carlos Museum, Ackerman Hall
Admission: Free
Friends of Winship Presents Learn and Live: Clinical Trials
Hear experts on Winship Cancer Institute's innovative and cutting-edge clinical trials and get a tour through the new Phase I unit.
When: March 5, 12:00 p.m.
Where: Emory University Hospital Tower, 2nd floor conference room
Admission: Free; register by Feb. 26
Conversations on the Quad
Conversations on the Quad heads inside to the newly renovated Convocation Hall for a discussion of "honor." Douglas Hicks, dean of Oxford College, will give remarks at noon; event continues until 1:30 p.m.
When: March 7, 11:30 a.m.
Where: Convocation Hall
Admission: Free
 
 
 
 
 
 
 
 
 
 
 
 
 

Emory Wind Ensemble
When: March 2, 8:00 p.m.
Where: Schwartz Center for the Performing Arts, Emerson Concert Hall
Admission: Free

 
 
 
 
 
 
Director of Communications and Content: Laura Douglas-Brown
Vice President for Enterprise Communications and Reputation Management: Doug Busk
Senior Vice President for Communications and Public Affairs: David B. Sandor

Emory Report is published by  Communications and Public Affairs
Read the Emory Report Guidelines
Copyright 2022 Emory University | All Rights Reserved
201 Dowman Drive, Atlanta, Georgia 30322 USA | 404.727.6123