For Faculty and Staff of Emory University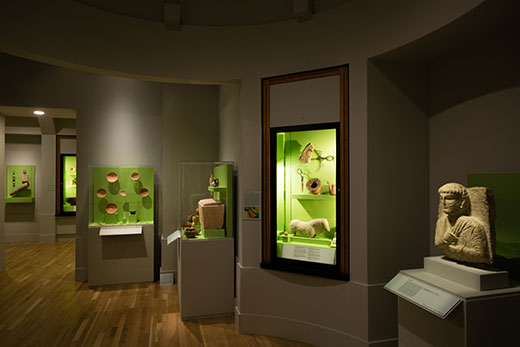 Renovated Near Eastern art galleries to open at Carlos Museum
The Morgens West Foundation Galleries of Ancient Near Eastern Art will open to the public on Saturday, Nov. 10, after a nine-month renovation. The artwork on view, which includes cuneiform tablets, pottery, carved stone and metal weaponry and coins, illustrates the deep connections between artistic representation, innovation and the landscape of the ancient Near East.
---
---
Emory community commemorates Veterans Day on Monday
At Emory, veterans are a valued and vital part of our community. As the university prepares for the 2018 Veterans Day ceremony on Monday, Nov. 12, explore how Emory supports veterans through innovative health care, legal aid, education benefits and more.
---
Children unable to distinguish real guns from toy guns in photos
A new research study found that a majority of children could not tell the difference between a real gun and a toy gun when presented with comparison photos. In contrast, a majority of parents, caregivers, and the children themselves were confident their children could distinguish between real and toy guns.
---
A new look for Emory's homepage: The main Emory University website, Emory.edu, debuts an engaging new look today. This "iterative refresh" is based on the research and content strategy for the full homepage redesign, slated to launch next year, and features elements of the new design direction of the future main site now.
Recycling Day at Emory Point
Bring your recyclables, including the hard-to-recycle items, to Emory Point until 4 p.m. Items accepted include electronics, household materials, paint, documents and more.
When: Nov. 9, 10:00 a.m.
Where: Emory Point, green space near The General Muir
Admission: Free
Emory Veterans Day Observance
Join in the annual tribute to active and retired members of America's armed services.
When: Nov. 12, 10:45 a.m.
Where: Emory Quadrangle
Admission: Free
 

WaterHub Tour
When: Nov. 9, 9:30 a.m.
Where: WaterHub at Peavine Creek Drive
Admission: Free

 
 
 
 
 
 
 
 
 

Chamber Music Concert
When: Nov. 11, 7:00 p.m.
Where: Schwartz Center for Performing Arts, Emerson Concert Hall
Admission: Free

 
 
 
 
 
 
 
 
 
 
 
 
 
 
 
Editor: Laura Douglas-Brown
Associate Vice President for University Communications: Nancy Seideman
Senior Vice President for Communications and Public Affairs: David B. Sandor

Emory Report is published by  Communications and Public Affairs
Read the Emory Report Guidelines
Copyright 2022 Emory University | All Rights Reserved
201 Dowman Drive, Atlanta, Georgia 30322 USA | 404.727.6123