For Faculty and Staff of Emory University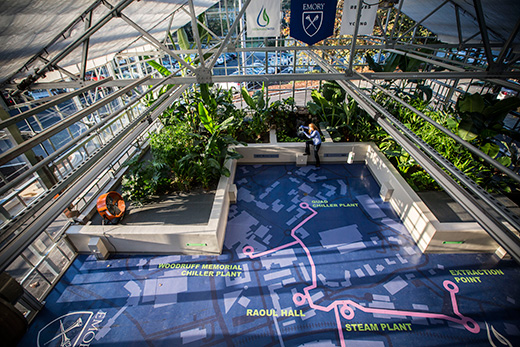 Emory receives prestigious national campus sustainability award
Emory's WaterHub, which uses processes that emulate natural ecological systems to reclaim wastewater, was honored with the 2018 Campus Sustainability Achievement Award. Learn how you can tour the innovative facility, which recently reached the milestone of recycling 200 million gallons of water.
---
Songbird data yields new theory for learning sensorimotor skills
Emory biophysicist Ilya Nemenman uses Bengalese finches to offer a new mathematical model for distribution of sensory errors in learning. The findings suggest that animals want to explore and keep track of a range of possibilities when learning something in order to compensate for variables.
---
Civil rights lawyer Bryan Stevenson to discuss mass incarceration
Lawyer Bryan Stevenson, author of the best-seller "Just Mercy," will discuss the American legal system, mass incarceration and social justice on Oct. 26. He will be joined by former client Anthony Ray Hinton, who served 28 years on death row before his conviction was overturned.
---
---
---
End of the outdoor swimming season: You still have a few days left to take a dip in the outdoor pool at the Student Activity and Academic Center on the Clairmont Campus. The pool is open until Nov. 1 and is heated to a minimum of 78 degrees. Faculty and staff may purchase discount memberships or use the $10 daily walk-up pass.
Sustainable Food Fair
Enjoy great-tasting, sustainable foods and learn facts that make you feel good about eating them at this annual event for sustainable eating.
When: Oct. 16, 11:30 a.m.
Where: Cox Bridge
Admission: Free; bring cash to support local vendors
Meet Me at Lullwater
Join the walk through beautiful Lullwater Preserve on this last day of the six-week walking group.
When: Oct. 17, 12:00 p.m.
Where: Lullwater Preserve, Clifton Road gate
Admission: Free
Three-Episode Screening: "Alfred Hitchcock Presents"
See "Revenge" (1955); "Lamb to the Slaughter" (1958) and "A Crime for Mothers" (1961), three episodes of Alfred Hitchcock's anthology television series.
When: Oct. 17, 7:30 p.m.
Where: White Hall, Room 208
Admission: Free
 
 
 
 
 
 
 
 
 
 
 

Latino Catholicism
When: Oct. 15, 7:30 p.m.
Where: Pitts Theology Library, Room 360
Admission: Free

 
 
 
 

WaterHub Tour
When: Oct. 16, 2:30 p.m.
Where: WaterHub at Peavine Creek Drive
Admission: Free

 
 
 
 
 
 
Editor: Laura Douglas-Brown
Associate Vice President for University Communications: Nancy Seideman
Senior Vice President for Communications and Public Affairs: David B. Sandor

Emory Report is published by  Communications and Public Affairs
Read the Emory Report Guidelines
Copyright 2022 Emory University | All Rights Reserved
201 Dowman Drive, Atlanta, Georgia 30322 USA | 404.727.6123