For Faculty and Staff of Emory University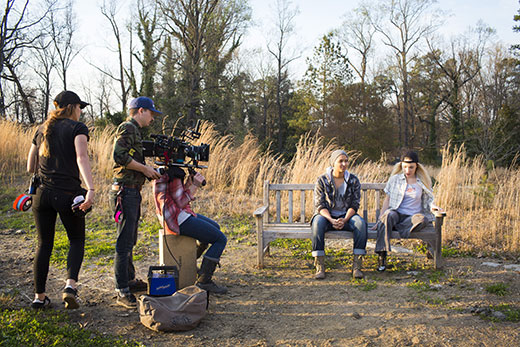 Film 'Fran K.' gives Emory students experience from page to stage to screen
Inspired by Mary Shelley's "Frankenstein" and produced through Emory's Screen Stages collaboration, "Fran K." wrestles with ethics in science and what makes a monster. It premieres April 29 on campus.
---
---
Virulence in 'Iraqibacter': potential Achilles' heel?
Emory microbiologists have identified a component of a genetic switch, which they call a potential "Achilles' heel," for a type of bacteria often associated with infections in soldiers returning from Iraq and Afghanistan.
---
Emory College course features new views of 'the city'
Students in professor Christina Crawford's course "The Architect and the City" explore how cities are shaped by the decisions of those in power and the impact on business, the environment, public health and more.
---
Governor proclaims April 25 'DNA Day in Georgia'
As Georgia and the National Institutes of Health celebrate DNA Day, marking the completion of sequencing the human genome 15 years ago, learn about 15 genomic advances and clinical programs from Emory and Children's Healthcare of Atlanta.
---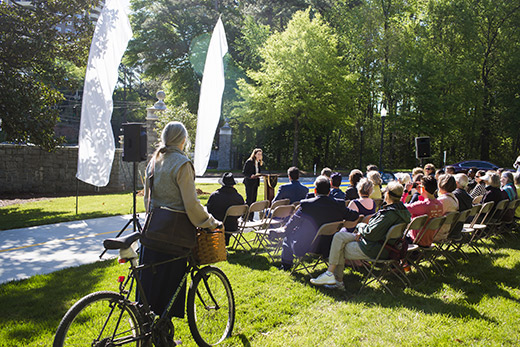 The PATH at Emory opens to acclaim
A partnership between Emory and the PATH Foundation has created a new bike/pedestrian path that will expand the local trail network and offer a safer alternative commute option. The new path officially opened April 20 with a ribbon-cutting ceremony.
Emory marks Denim Day to end sexual violence
The Emory community observed Denim Day on April 18, wearing jeans and other denim clothing to show support for survivors of sexual assault and the overall goal of ending interpersonal violence.
Download the LiveSafe app: Emory provides the LiveSafe personal safety mobile app to all faculty, staff and students to download for free. The app provides a quick, convenient and discreet way to communicate directly with Emory safety officials, enhancing your overall safety and allowing Emory University Police to better protect you.
Jazz on the Green
Bring friends and family and enjoy outdoor performances by the Emory Jazz Ensembles on this spring evening.
When: April 26, 6:00 p.m.
Where: Patterson Green
Admission: Free
Lecture: Joan Chittister on "Radical Spirit"
The author will present a lecture on her most recent book, "Radical Spirit: 12 Ways to Live a Free and Authentic Life."
When: April 29, 7:30 p.m.
Where: Cannon Chapel
Admission: $25 donation
 
 

WaterHub Tour
When: April 25, 11:00 a.m.
Where: WaterHub on Peavine Drive
Admission: Free

 
 
 
 
 

Canvas 101
When: April 26, 9:00 a.m.
Where: Online
Admission: Free

 
 
 
 
 
 
 
 
 
 
 
 
 
 
 
 

Canvas 101
When: May 1, 8:30 a.m.
Where: Online
Admission: Free

 
Editor: Laura Douglas-Brown
Associate Vice President for University Communications: Nancy Seideman
Senior Vice President for Communications and Public Affairs: David B. Sandor

Emory Report is published by  Communications and Public Affairs
Read the Emory Report Guidelines
Copyright 2022 Emory University | All Rights Reserved
201 Dowman Drive, Atlanta, Georgia 30322 USA | 404.727.6123