For Faculty and Staff of Emory University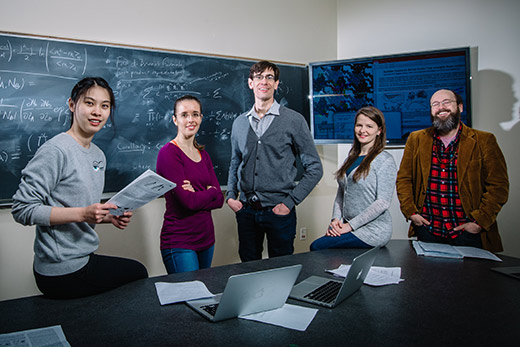 New method calculates equilibrium constant at the small scale
Mixing computational chemistry and theoretical math proved a winning formula for Emory chemist James Kindt and graduate students Xiaokun Zhang, Lara Patel, Olivia Beckwith and Robert Schneider. The result? A new, fast method to calculate equilibrium constants using small-scale simulations -- even when the Law of Mass Action does not apply.
---
---
Emory Alumni Association announces 2018 Emory Medal recipients
Emory's highest alumni award will be presented to H. Kenneth Walker, a physician and professor, and to nursing alumni Crystal Johnson, Laura Mitchell-Spurlock and Jason Slabach, who were part of the Emory Healthcare team that treated patients with Ebola virus disease.
---
---
---
School of Nursing in top five in NIH research funding for the past three years
Emory's Nell Hodgson Woodruff School of Nursing is once again among the top five nursing schools in the U.S. for funding from the National Institutes of Health. In 2017, the school received $7.8 million in NIH funding.
Emory Insider: Your Health
Tips for preventing and treating flu: This is proving to be a worse-than-usual flu season. Get tips and guidance from Emory experts to help mitigate the impact of the flu epidemic in our community.
Poetry reading: Erica Dawson
Poet Erica Dawson reads from her works. She will also join in a colloquium at 2 p.m. in Room N301 of the Callaway Memorial Center.
When: Feb. 7, 6:30 p.m.
Where: Woodruff Library, Jones Room
Admission: Free
Emory's Annual Camp & Learning Expo 2018
Get help with summer child care and enrichment with information from nearly 100 summer camps and quality academic programs for children aged 5-17.
When: Feb. 8, 10:00 a.m.
Where: Woodruff PE Center
Admission: Free
A Feast of Words
This annual celebration of Emory faculty authors or editors of books published in the last year will feature remarks and a toast from President Claire Sterk and Provost Dwight A. McBride.
When: Feb. 12, 4:00 p.m.
Where: Woodruff Library, Jones Room
Admission: Free
 
 

WaterHub Tour
When: Feb. 7, 11:00 a.m.
Where: WaterHub on Peavine Drive
Admission: Free

 
 
 
 
 
 
 
 
 
 
 
 
 
 
 
 
 
 
 
 
 
 
 
 
 
 
 
 
Editor: Laura Douglas-Brown
Associate Vice President for University Communications: Nancy Seideman
Interim Senior Vice President for Communications and Public Affairs: Vince Dollard

Emory Report is published by  Communications and Public Affairs
Read the Emory Report Guidelines
Copyright 2022 Emory University | All Rights Reserved
201 Dowman Drive, Atlanta, Georgia 30322 USA | 404.727.6123